Welcome to the Port Arthur Nationals Web Site
Welcome to the 2013 Season.

The menu on the left hand side of the screen should help guide you to anything posted for the Port Arthur Nationals. You can email information by clicking on my name below the ADMIN on the menu or by sending it to dkorchak@shaw.ca.

We are using this site as a means of communicating to our Players/Parents/Coaches about events within Port Arthur Nationals Little League.
Hopefully you will find it informative and entertaining as the year goes on.
Thanks for visiting,
Dwayne
Wednesday, July 24
Border Cats Little League Clinic at George Burke POSTPONED
This Clinic has been Postponed to Aug. 10th due to the weather on July 27th.
The Thunder Bay International Baseball Association presents a free Border Cats Little League Clinic at George Burke Diamonds on Saturday July 27th Aug. 10th from 11:00 a.m. to 1:00 pm for all Little Leaguers. Players are asked to bring their own glove and if possible, helmet and bat. Border Cat players and coaches will act as Clinicians. Registration will take place at 10:30 a.m on Saturday at the Concession Building. Participating Little Leaguers will also receive a coupon to redeem at the Border Cats box office for a Reserved Ticket to the Border Cats - Duluth Huskies game at 6:05 pm Saturday July 27th.
For more information, email info@tbibaseball.ca.
Thursday, June 6
2013 Season Year End Wind Up Bar B Que and Participation Awards
Year End Wind Up
Scheduled for June 22nd. Bar B Que, participation awards and baseball games for all age groups.
All the fun starts at 10am.
Friday, May 10
SEASON TO START ON MAY 13TH
Under Handouts you will find the Coach Pitch Schedule and Team Lists.
You will also find the 2013 House League Rules for Minor, Major, Junior and Senior.
Thursday, April 25
Background Criminal Checks required for Coaches
We have registered at www.MyBackcheck.com to enable you to get your background check online. If you would like to use this service, please email me with your request and I will send you an invitation email to get you started. The Cost is $39.00 and is paid on line. After you recieve your clearance you will then be compensated for the $39.00 from Port Arthur Nationals. Not going through the invite process will cost $59.00 and you may not be compensated.
For those that have gone to get theirs and have their reciepts. You can get your money back at the Park Clean Up Day .
Wednesday, February 27
2013 REGISTRATION
Registration is Held at George Burke Park in the Clubhouse
Dates and Times:
Tuesday March 26th - 6:00 - 8:00pm
Saturday March 30th - 11:00 - 2:00pm
Tuesday April 2nd - 6:00 - 8:00pm
Saturday April 6th - 11:00 - 2:00pm
Tuesday April 9th - 6:00 - 8:00pm
Tee Ball ..... .. ages 4-6….........…. .(play Monday and Wednesday)
Coach Pitch....ages 6-8...........…....(play Tuesday and Thursday)
Minor division…….ages 8-10…….. (play any day of the week)
Major Division……ages 11&12…..(play any day of the week)
Junior Division……ages 13&14…..(play any day of the week)
Senior Division…....ages 15 &16….(play any day of the week)
Big League………..ages 17-18…..(play any day of the week)
(age is determined as of April 30th )
Registration Form is available under Handouts if you would like to complete prior to arriving at the Clubhouse to register
Costs to Register are:
Remember that our fundraising through BOGO cards is part of your regsitration.
T- Ball/Coach Pitch = $50.00 + Fundraising BOGO cards listed below.
Minor and Major = $65.00 + Fundraising BOGO cards listed below
Junior / Senior / Big League = $75.00 + Fundraising BOGO cards listed below
Big League and Senior League will be combined through the regular season.
BOGO card prices are $15/card.
T-Ball / Coach Pitch - Sell 3 cards for $45.00 or there is a $25 buy out option.
Minor/Major/Junior/Senior/Big League -Sell 5 Cards for $75.00 or there is a $35 buy out option.
Player Evaluations
Will be held at the Lakehead University Hanger.
The evaluations are our process for balancing the skill level on the teams for the year in an attempt to keep the teams as fair as possible. Our team selection is prioritized on having family members play on the same team, then skill level and then Friends.
Coach Pitch Evaluations - April 15th - 6pm - 7pm
Minor Evaluations - April 15th 7pm - 8pm.
Major Evaluations - April 16th 6pm - 7pm.
Junior Evaluations - April 16th 7pm - 8pm.
Available to order at Registration are Long Sleeve T-Shirts and Hoodies
For More info Call 767-8556. Please leave a message and we will get in touch with you asap.
Volunteers needed! We are currently looking for volunteers for the 2013 season.
Coaching positions open in all divisions. Students looking for high school volunteer hours are also encouraged to contact the league. We require a "Criminal Records Check" completed for all Coaches. PA Nationals will cover this cost but you will need to start the process and hand in the Reciept as proof by April 20th. We ask that you bring a copy of the Records Check to the Concessions once recieved.
Helmet Policy
Major Players and up will be required to provide their own helmets. Discounts will be offered at a local sports retailer to help offset your costs. (approx. cost per helmet is $20)
Sponsorship
Sponsorship Levels are available both on team jerseys as well as with signage at the park. Contact Danny Nucci at 344-1632 for more information.
Park Clean Up Day
Is scheduled for May 5th .
A couple hours at the park to do some clean up around the diamonds move the equipment bins to each diamond and get to know your fellow Port Arthur National players, parents, coaches and executive.
Year End Wind Up
Scheduled for June 29th. Bar B Que, participation awards and baseball games for all age groups.
Monday, July 30
Thunder Bay All Stars Win Senior Little League Provincials
After Placing First in the Round Robin the All Stars met the Thunder Bay Selects in the provincial final and won 8 - 5 in extra innings. Team is Headed to Regina for the Nationals on Wednesday.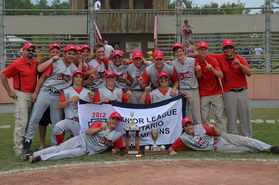 Ontario Champions


Monday, July 30


Team North wins District 3 Championship


It went 5 games but Team North comprised of PAN and PAC defeated the South 3 games to 2 to win the District 3 Championship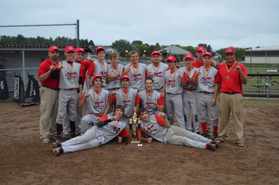 Senior Champions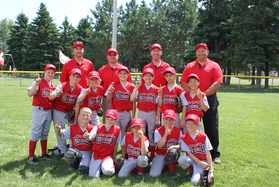 District 3 Minor Champions
Monday, July 16
Majors and Minors win District 3 Championships
The PA Nationals had a successful District 3 Tournament with wins this weekend in the Major and Minor Divisions.
Congratulations to Both Teams.
Both Teams now advance to the Provincial Championships in Ottawa and Windsor.
Good Luck to Both Teams at Provincials.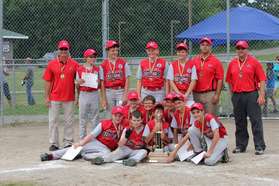 District 3 Major Champions

District 3 Champions
Wednesday, July 20


Junior All Stars win District 3 Championship




Our Junior All Stars defeated the Fort William Nationals 10 - 8 to move on to the Provicial Championship in Oakville.

The team went 3 - 1 in round robin play and went through the Playoffs undefeated.

The Team consists of: (Standing) Cody Veneruzzo, Brad Dutchak, Dave Martin - Coach, Brad Martin, Mark Suffak, Justin Migliazza, Nicholas Crupi, Dwayne Korchak - Manager, Nicholas Pontello - Coach, (Kneeling) Bryce Jorgenson, David Evans, Matthew Mustapic,(Front) Zachary Korchak and Kai Knudsen.



Thursday, July 5


Persian Man Reds Win Senior City Championship


The Persian Man Reds defeated the FWA Belbas Reds 6 - 4 at the Slovak Diamond on July 4th.