Poplar Tree Pirates: Welcome
POPLAR TREE PIRATES SWIM TEAM
Saturday August 2 NVSL All Stars @ Annandale
The Northern Virginia Swim League (NVSL), founded in 1956, has adopted the following mission statement: "
To develop in the children affected by this program – a love for the sport, advanced aquatic skills, teamwork and the principles of good sportsmanship
."
On the Pirate team, personal development is what is most important and for a swimmer that means improving your times. We believe that by establishing a healthy environment that encourages the kids to do their best, recognizes their contributions and is fun for the entire family, we will have met our goals.
We've all taken our kids to soccer or other sports and probably stood by as two or three parents ran the team. Swimming isn't like that. You can't run a swim program without parental help. In fact, it takes over 450 different parent activities over the course of our season to time, officiate, score a typical swim meet, perform pool set up and break down, running concessions or doing non-swimming team activities.
Swimming is unique in that there's a place on the team for anyone eighteen or younger who can swim across the pool without assistance. How many other sports have kids five years old to eighteen years old and their parents on the same team participating in the same competition?
We invite you and your family to think about joining the Pirate Swim Team family in 2014!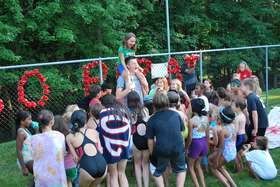 Go Pirates!