Plum Street Snoball: Plum Street News
Hours of Operation
Cream Ice Cream with condensed milk in our traditional pail
view full size
Our Uptown location has CLOSED for the 2013 snowball season, but will re-open for the 2014 season in mid-March of 2014. Our Metairie/Lafreniere Park location will remain OPEN year round and the hours of operation are Monday-Friday 2-8 and Sat-Sun 12-8. We also have a pumpkin patch on site during October.
We Cater too!
Tired of the same ol' party? Well, give us a call and we'll bring our snowball stand to YOU! We cater to just about anywhere and any type of event from birthday parties to wedding receptions. Our services provide 11 of our most popular flavors( strawberry, bubble gum, cherry, spearmint, grape, chocolate cream, coconut cream, cream ice cream, ice coffee cream, nectar cream, and sugar free pink lemonade),ice, cups (10oz), napkins, spoons, straws, table, servers, & extension cord. The only thing we need from you is electricity and we do the rest! Also, our homemade condensed milk and our famous small pails may be provided for an additional cost. So, just give us a call at 504-256-3298 or e-mail Toni@plumstreetsnoball.com to schedule your snowball party!
**Board of Health Approved with a Serve Safe Certificate and Insured.**
Tuesday, November 20
A 2nd Location in Metairie is NOW OPEN!!**
Proud to announce....we are NOW OPEN in our Lafreniere Park location near the new splash pad & carousel area Monday-Friday 2-8 & Sat & Sund 12-8pm. We will also have a PUMPKIN PATCH on site during the month of October on Fri, Sat & Sun while supplies last.
Purchase Plum St. Merchandise!! Click on Links Below!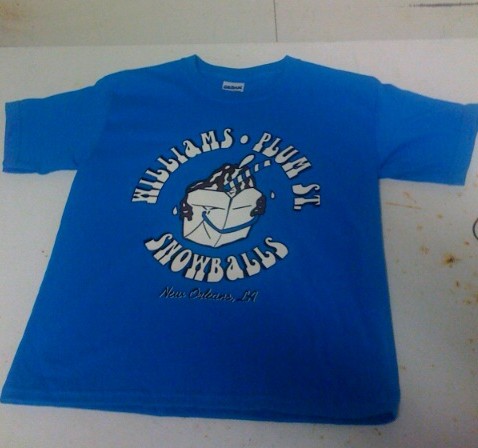 Plum St. T-shirt
~Original Plum St. T-Shirt $25.00
~Plum St. Bumper Sticker $3.00
~Womens T-shirt $32: Sizes(Sm-Lg) & Colors: black, purple & white
~Unisex T-Shirt $32: Sizes (M-XXL) & Colors: gray or purple
Wednesday, June 20
Arts Market of New Orleans
Come check out and support local artists while also enjoying a Plum St. Snowball! We will be at Palmer Park on the last Saturday of every month. See the following link for more information.
Sunday, March 18
French Quarter Festival 2012
The largest FREE music festival in the South during April 12th-15th.....features over 800 local musicians, more than 65 of New Orleans finest restruarants, family fun with two kids areas and fireworks fon the Mississippi River on Saturday, April 14th! So, make sure to stop by one of our 4 booths!
Jazz Fest 2012!
Our stand will again be in attendance at the 2012 New Orleans Jazz and Heritage Festival. Come find us on the grounds at the Jazz Fest to get one of our snowballs and enjoy a piece of what Plum Street Snoball stand is all about!
Wednesday, February 13
Wednesday at the square
Wednesday at the Square is a free, 12-week concert series with food and drink for sale to benefit the Young Leadership Council. Local artisans also sell their work in the Artist Village near the Camp Street entrance.
Location:
YLC Wednesday at the Square is located at Lafayette Square on St. Charles Avenue in the CBD across from Gallier Hall.
Time & Dates:
Concerts are held every Wednesday, 5:00 - 7:30 pm ending June 30th, rain or shine.
So come on over after a long day of work and enjoy a Plum St. Snoball and hear some great live music!
Tuesday, February 26
Make sure to vote for Plum St. for the Best Snowball Rated by Gambit Weekly
Check out the Gambit's top picks for New Orleans cuisines....especially the snowball section! We have had the best rating snoball stand for the last 5 years! So, please don't forget to vote for Plum St.!
Saturday, July 17
PLUM ST. ON FOOD NETWORK!!
Make sure to watch Plum St. featured on the new Food Network series called "A Kid In A Candy Store: Brain Freeze ", June 6th @7:30pm & again on June 12@ 4:30pm!
Sunday, February 27
Satchmo Fest 2011
Once again we'll be beating the NOLA heat by serving our famous snowballs at the 2011 Satchmo Summer Festival. We will have 2 booths at the OLD US Mint.
Monday, July 18
Check out the latest interview for the Southern Food & Beverage Museum
Tuesday, March 22
Check out the latest NOLA activities.....
Sunday, March 27
Recommended inflatable rental
Looking for a reliable and affordable Inflatable rental for your event. Check out Family Time Inflatables! They deliver to New Orleans, Metairie, Kenner & Harahan areas. For more info or reservations, please go to their website or call 504-858-8266.
Monday, August 1
Wall Street Journal Article