Plant City Little League: PCLL History
Plant City Little League History
The history of Plant City Little League began in 1953 when former Pittsburg Pirate & Plant City resident Truett "Rip" Sewell along with other concerned citizens (pictured below), drafted a formal request that established Plant City to obtain only the 2nd Little League Charter granted in the state of Florida for the start of the 1954 season. Sewell, an All-Star hurler who invented the blooper pitch, passed away in 1989, but his dream of having Little League baseball in Plant City lives on still today...
Below is the photo of the first board staff and the signing of the Charter that brought Little League Baseball to Plant City.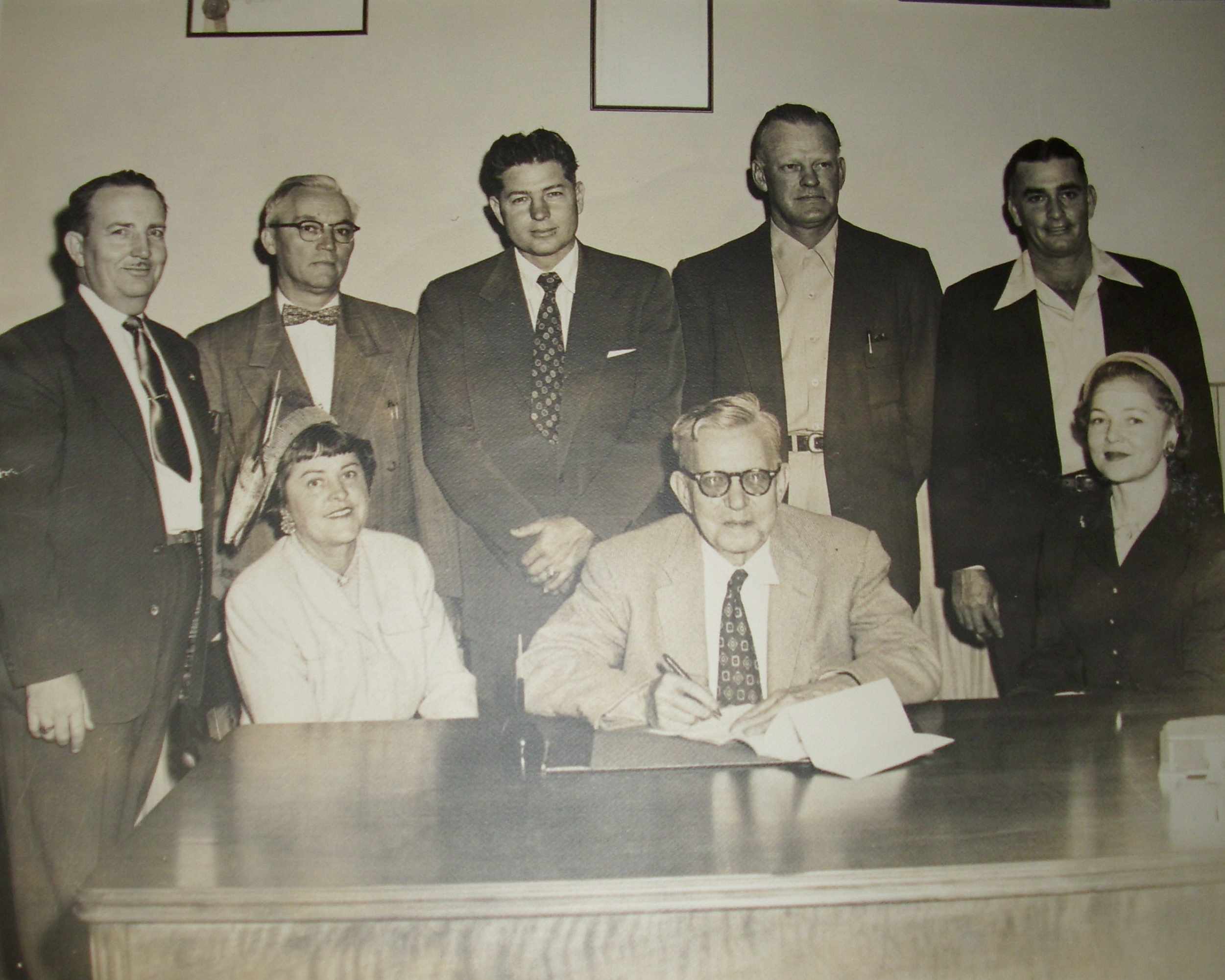 Top L to R: Harley Miller, Otis Andrews, Denton Cook, Truett "Rip" Sewell, and President Frank Moore.
Bottom L to R: Topsy Meriweather, Paul Buchman, and Irma Moody. (Photo is currently in PCLL Boardroom)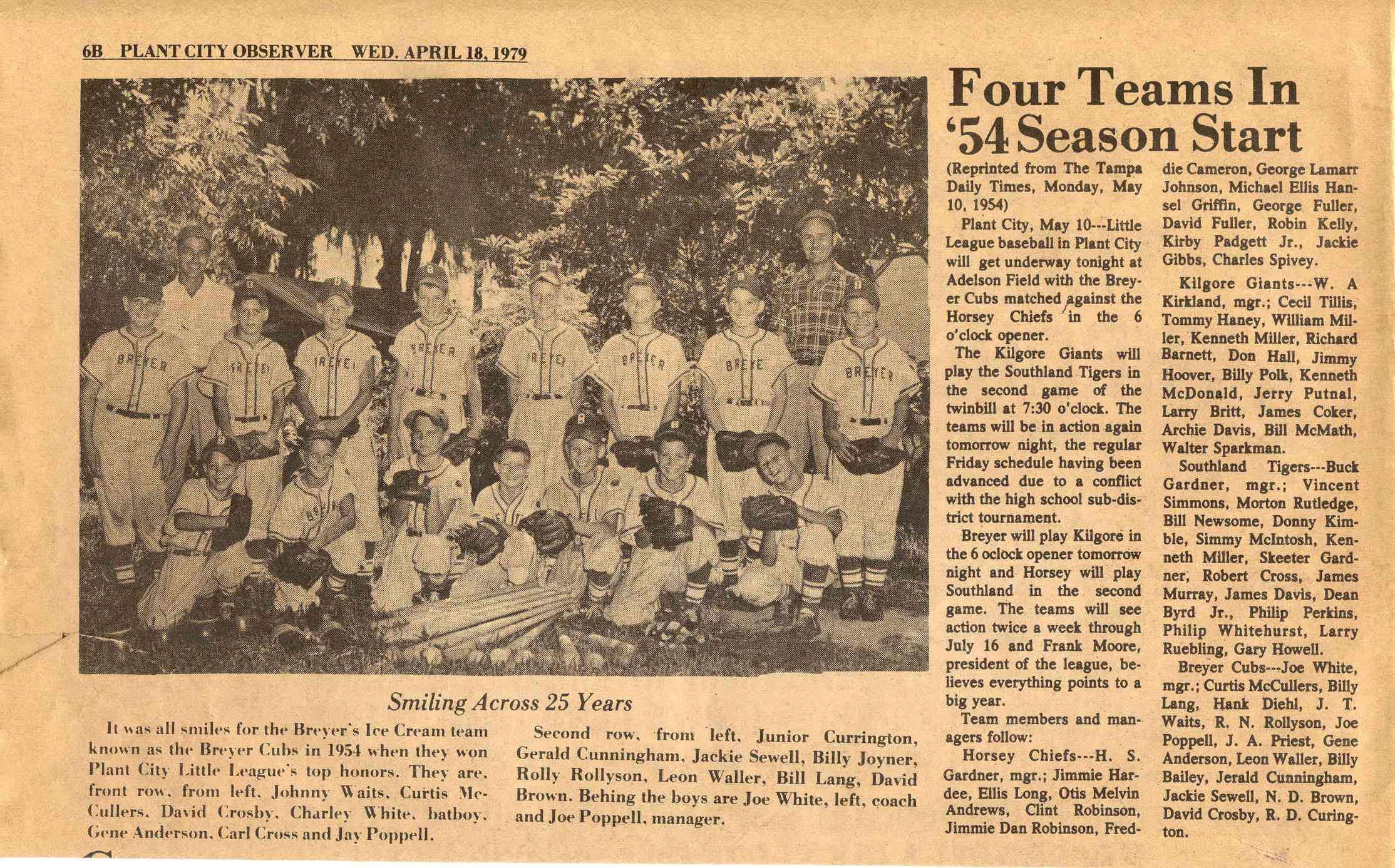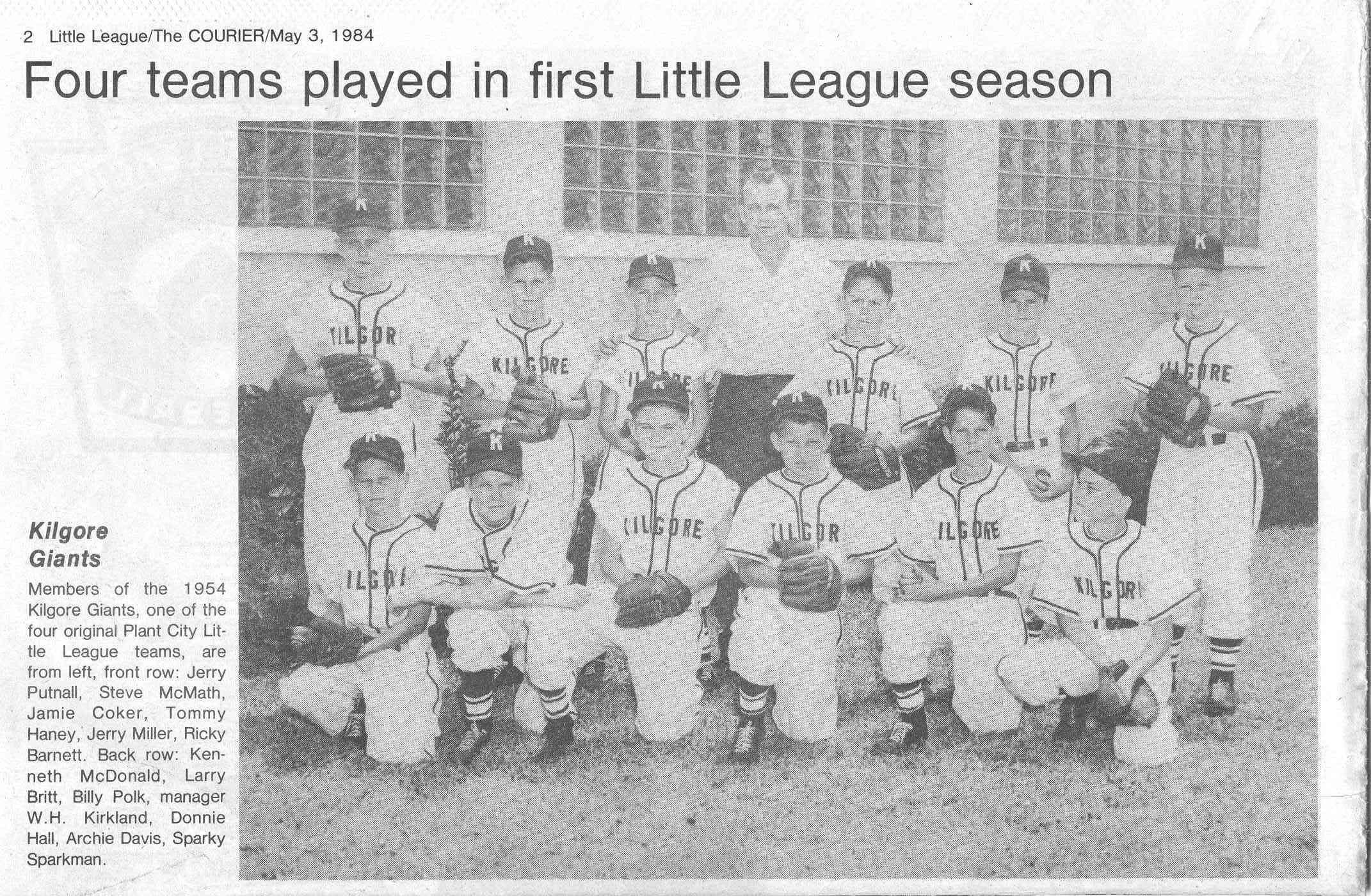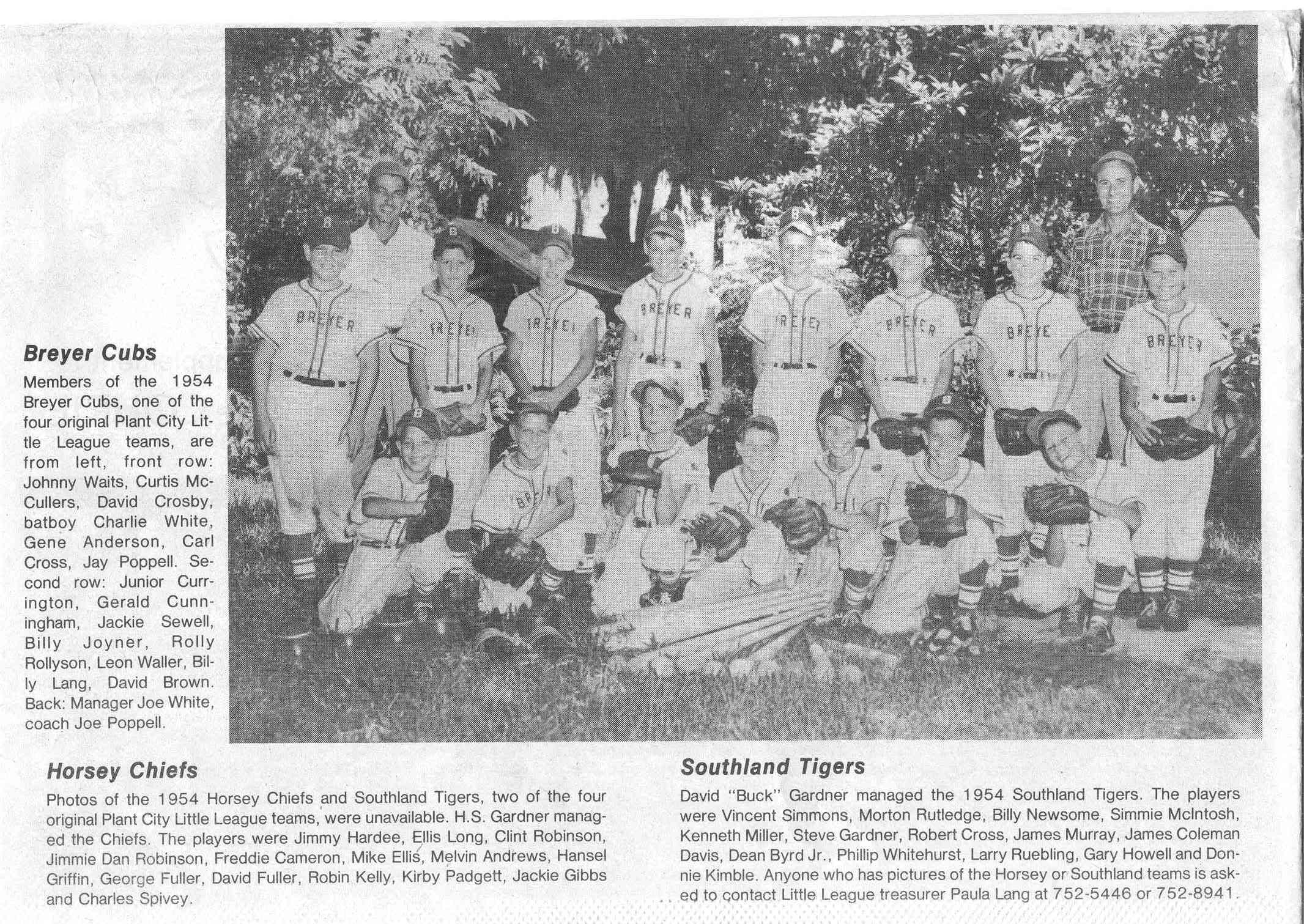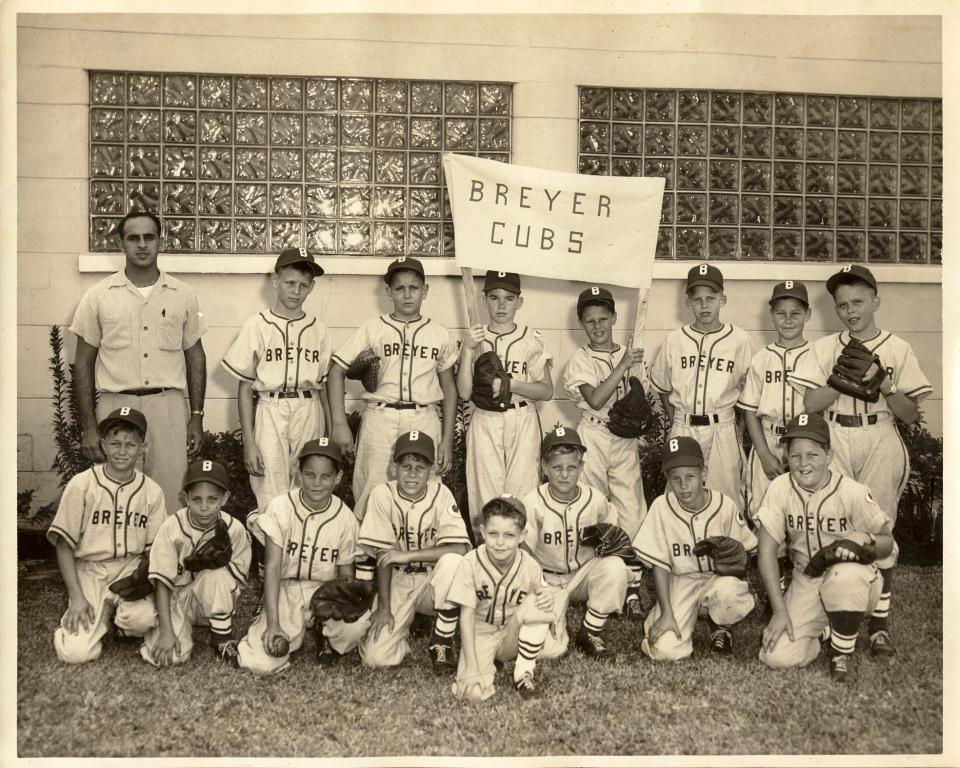 1954 Breyer Cubs - Plant City's first league champions (photo donated by Rolly Rollyson)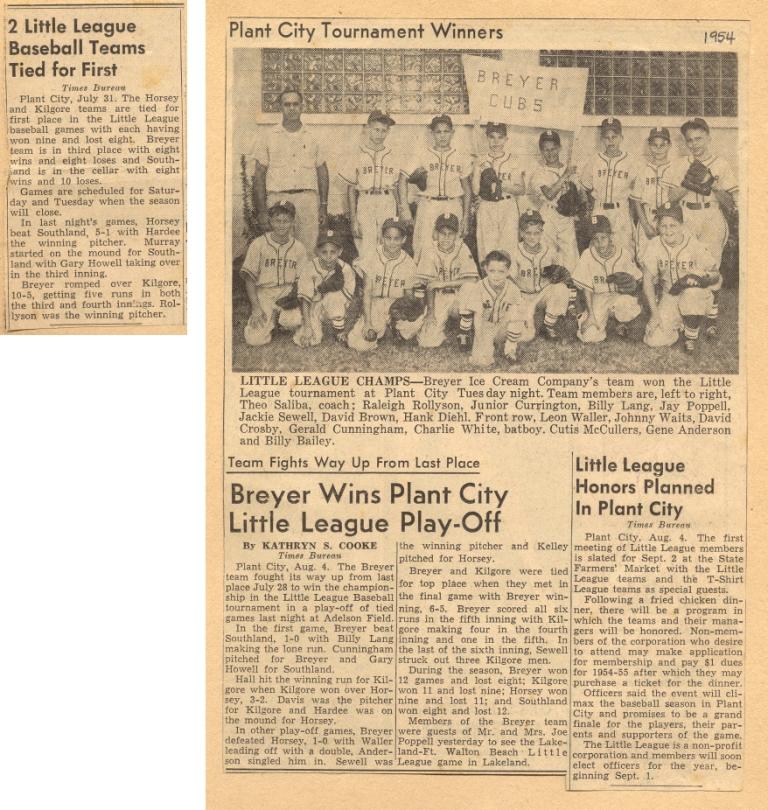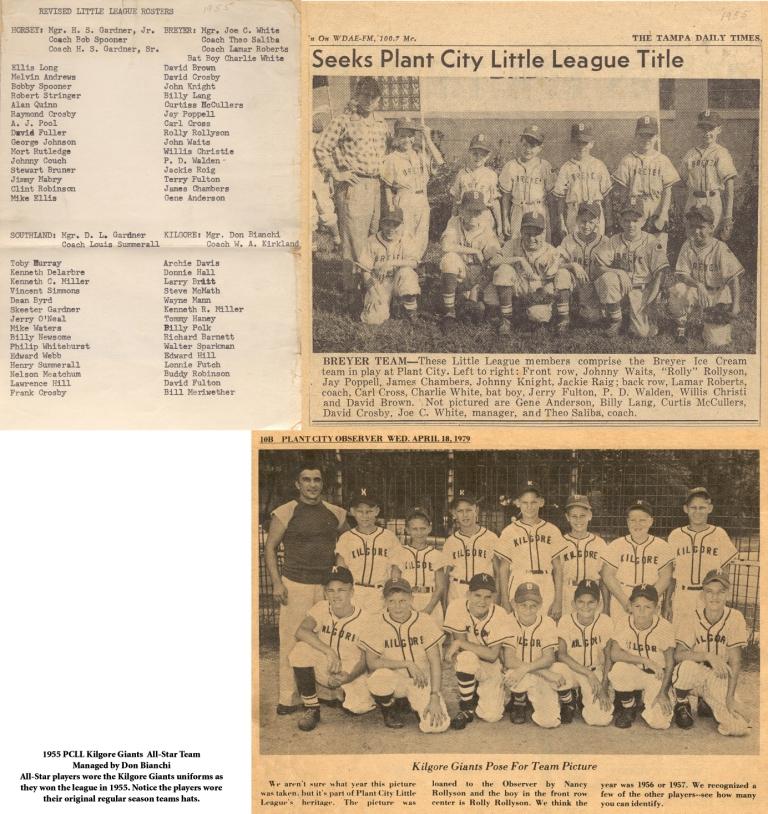 1955 Revised Little League Rosters and Kilgore All-Stars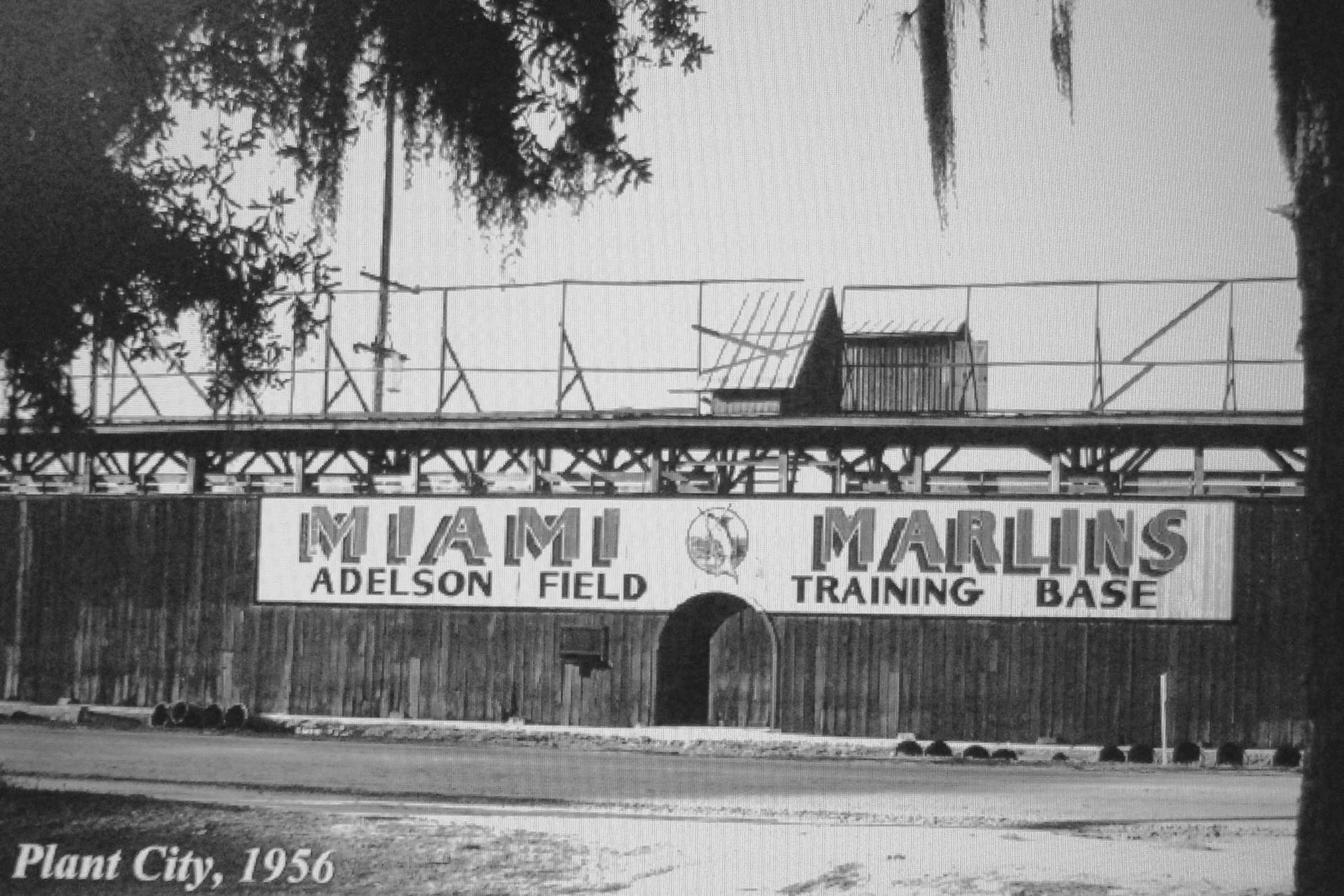 Adelson Field
was the original home of the early PCLL years and was also home to the Minor League Miami Marlins spring training in 1956. The field was named after Sam Adelson for his recruiting efforts of many big league teams like the 1925 Indy Indians to have their spring training here in Plant City. Even though days of spring games at Adelson Field is now long gone... the location currently plays host to the FL Strawberry Festival's midway ground festivities each year!
Plant City Little League also added 4 more teams in 1956...

1. Breyer Cubs
2. Horsey Chiefs
3. Kilgore Giants
4. Southland Tigers
5. Civitan
6. Kiwanis
7. Optomist
8. Rotary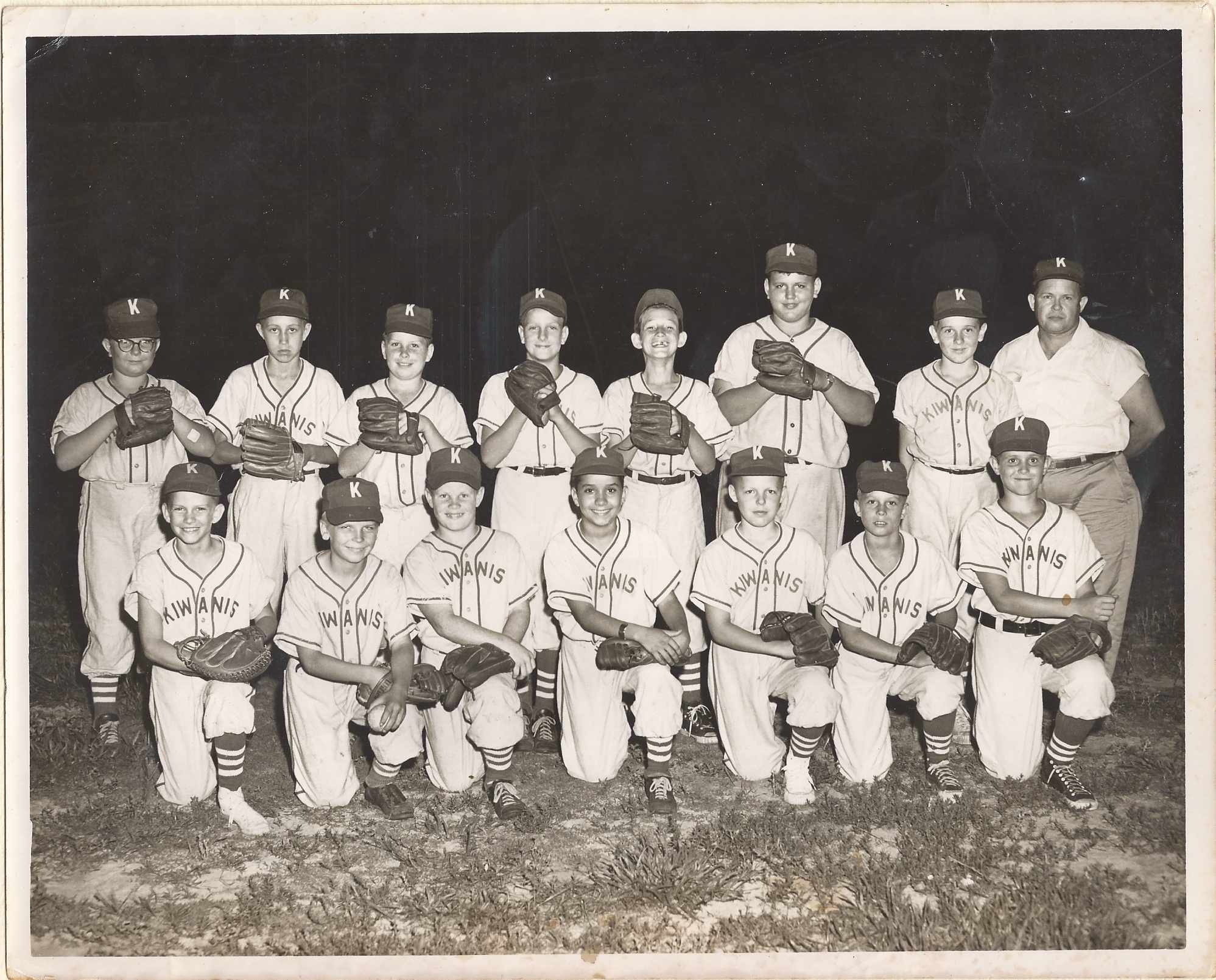 1956 Kiwanis team photo, coached by Mr. Haddock

(photo donated by Mr. John Grimes, in front row 2nd from left, holding the baseball)
Front L to R: Dennis Norman, John Grimes, Wiley Hale, Jacky Roig, ?
5th
?, Marvin Brown, ?
7th
?
Back L to R: ?
1st
?, ?
2nd
?, ?
3rd
?, Gerald Danley, ?
5th
?, Kenny Kirkland, ?
7th
?, Mgr. Haddock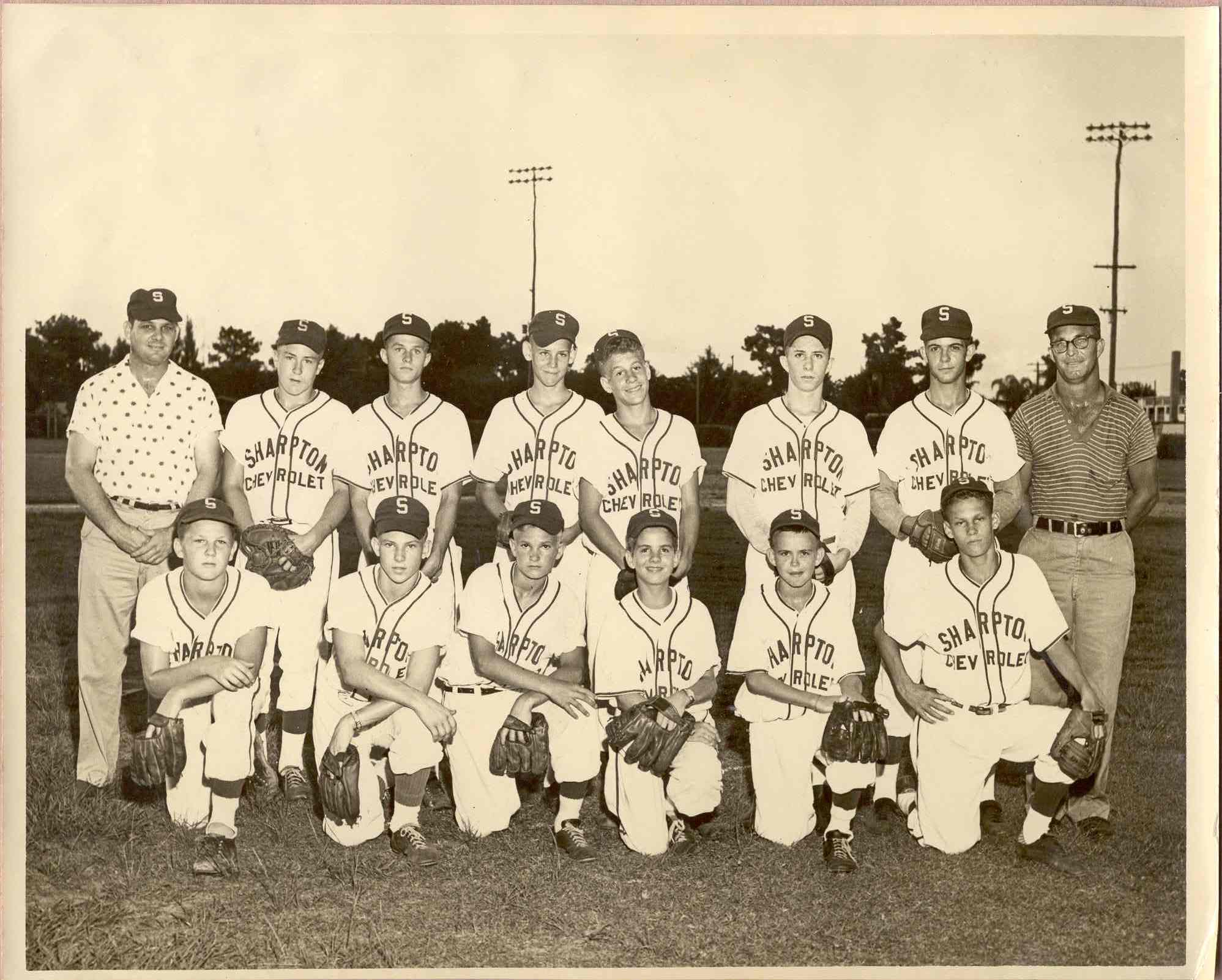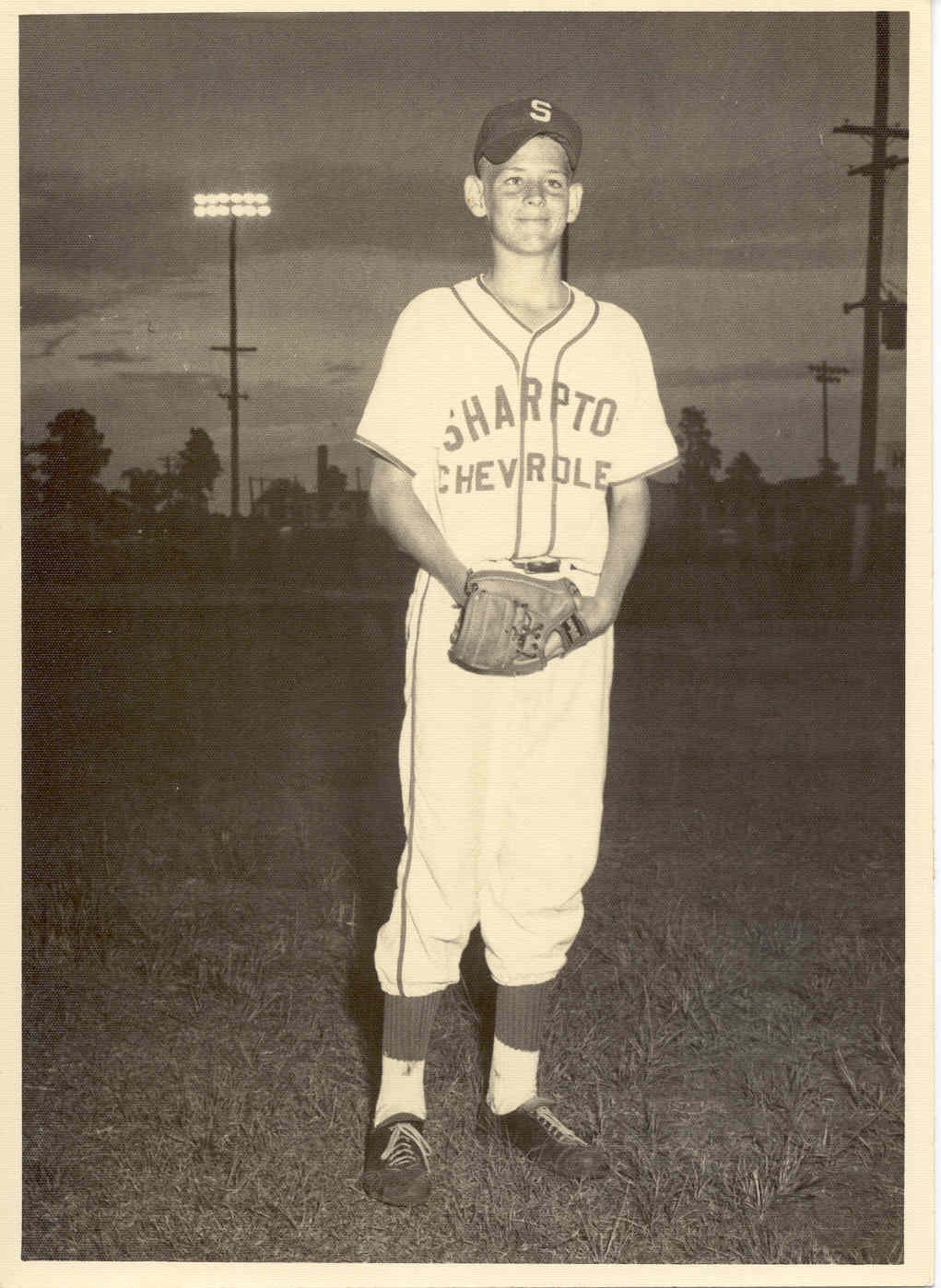 1957 Babe Ruth League - Sharpton Chevrolet Team, Rolly Rollyson (13)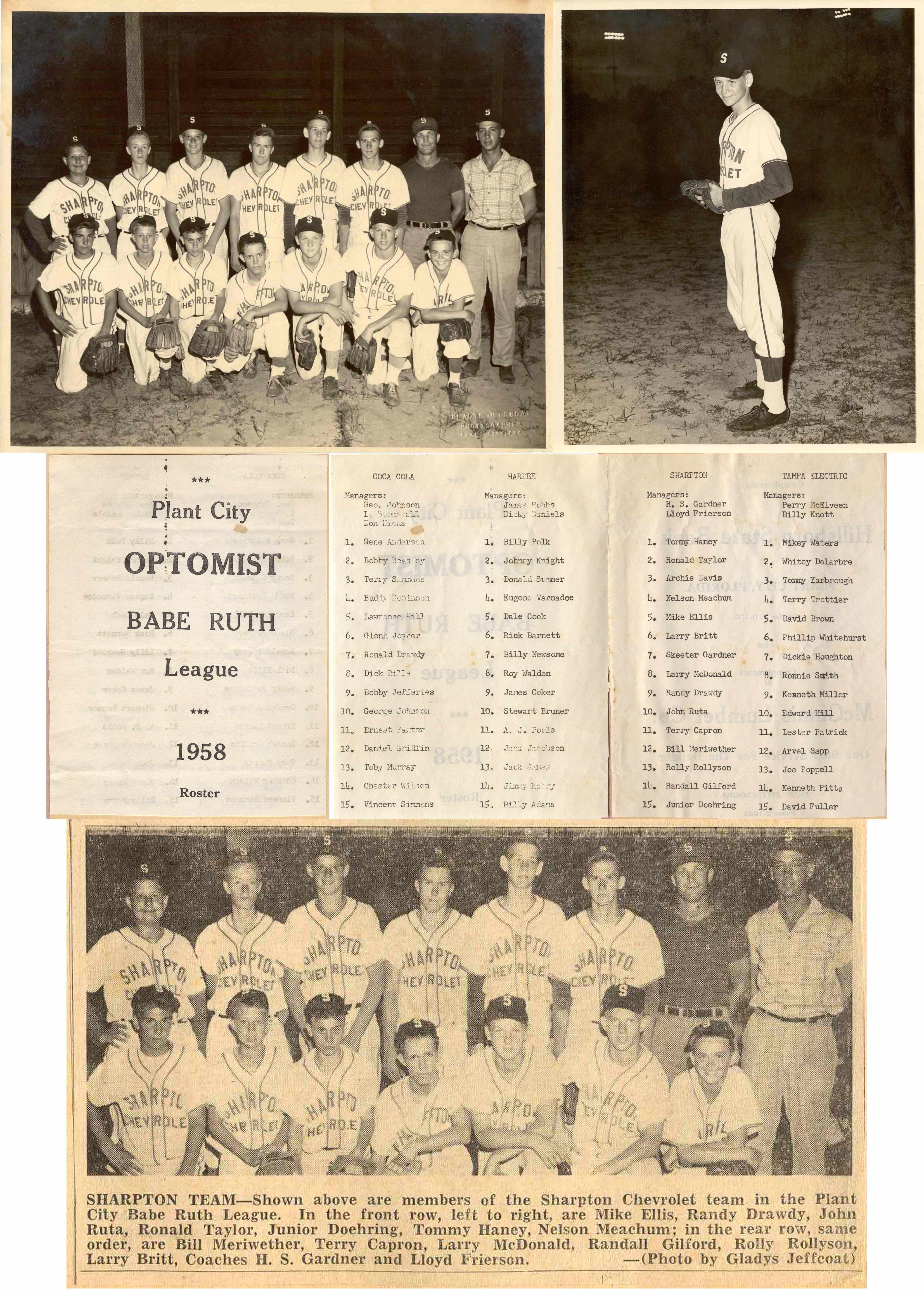 1958 Babe Ruth League Rosters and Sharpton Chevrolet Team, Rolly Rollyson (14)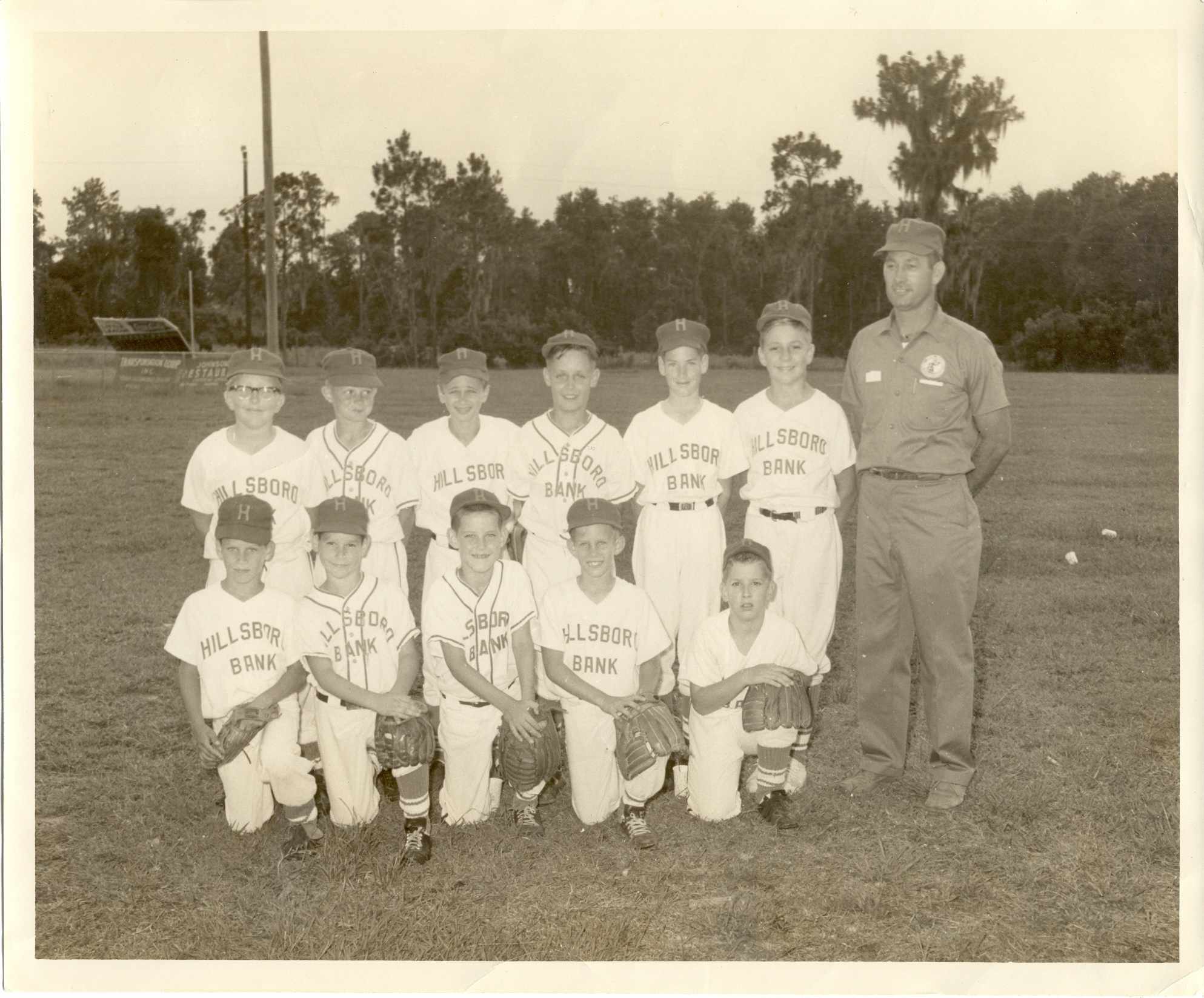 1966 Hillsboro Bank Team (photo donated by Gary Hopkins)

Front L/R: Keith Keene, Galloway, David Hawkins, Gary Hopkins, 5th Name?,
Back L/R: 1st Name ?, Doug Alderman, 3rd Name?, Palmer Simmons, Larry Hawkins, Billy Joyce, Coach Hopkins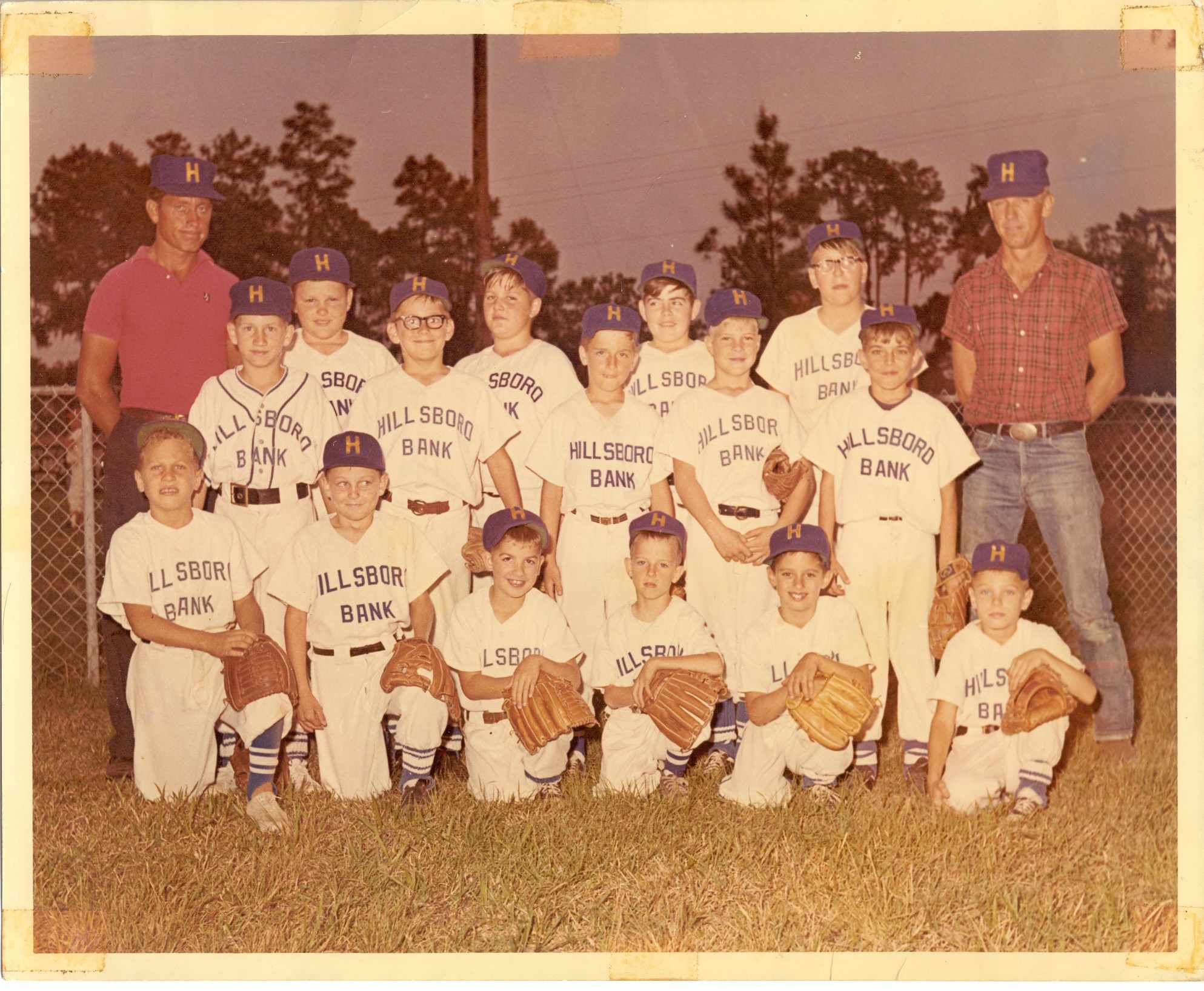 1967 Hillsboro Bank Team (photo donated by Ted Messick)
Front L/R: Teddy Mercer, 2nd Name?, 3rd Name?, 4th Name?, 5th Name?, 6th Name?,
Middle L/R: Ted Messick, Fletcher Keene, 3rd Name?, 4th Name?, 5th Name?,
Back L/R: Coach Webb, 2nd Name?, 3rd Name?, 4th Name?, Lewis Raulerson, Coach Brooks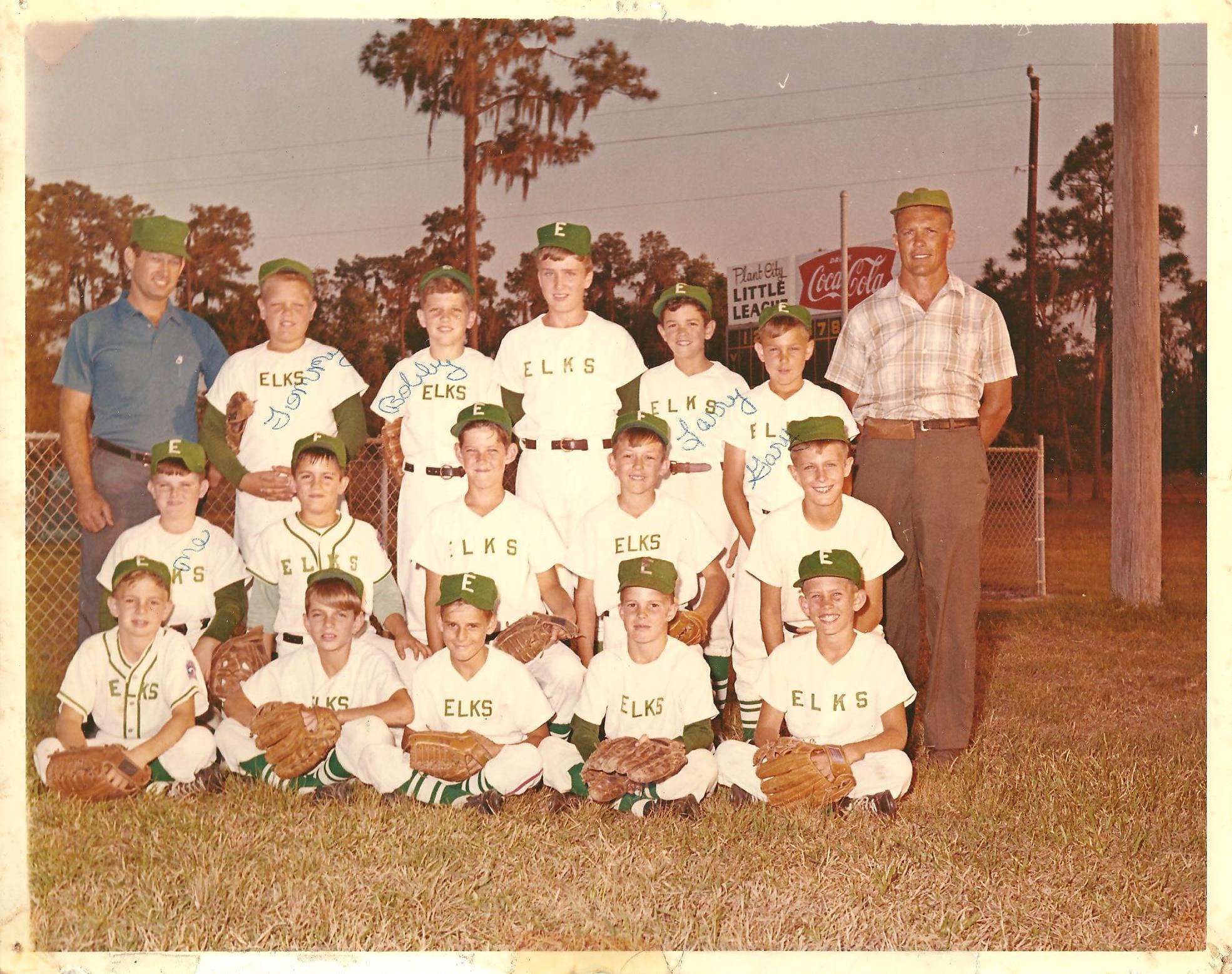 1968 Elks Club Team (photo donated by Billy Riley)
Front L/R: Tim Davis, Wallace Peacock, Kevin Layton, Terry Benefield, and Gary Hopkins.
Middle L/R: Billy Riley, Kenny Mohler, David Hawkins, 4th Name?, and Donny Salter.
Back L/R: Coach Hopkins, Tommy Daughtry, Bobby Craven, Rodney Cooper, Larry Mohler, Gary Tillman, and Coach Mohler (manager).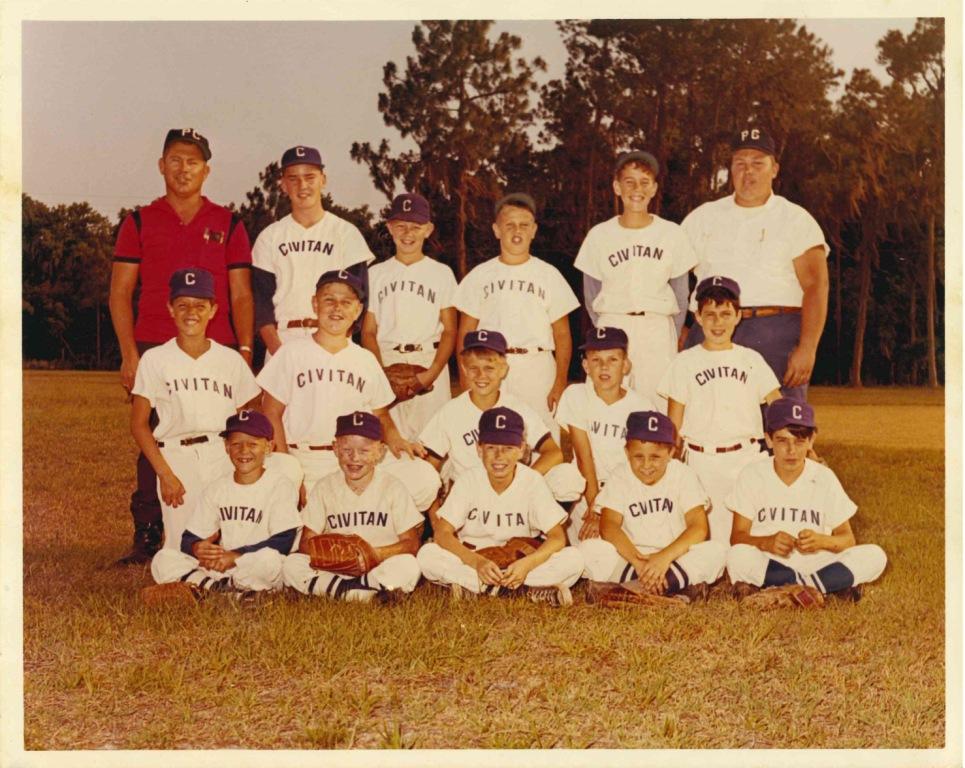 1968 Plant City Civitan Team (photo donated by Eddie Deese)

Front L/R: 1st, Tommy Collins, 3rd, 4th, 5th
Middle L/R: Eddie Deese, 2nd, 3rd, 4th, 5th
Back L/R: Coach, 1st, 2nd, 3rd, 4th, Coach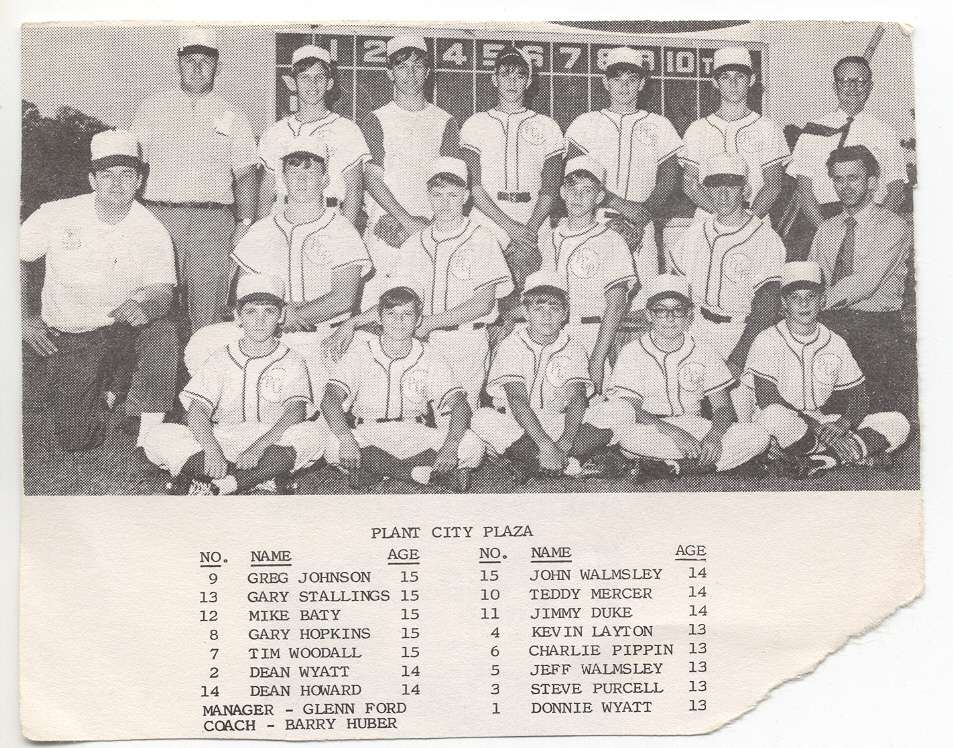 1969 Plant City Plaza - Babe Ruth Team (photo donated by Gary Hopkins)



1964 FL District 4 All-Star Tournament
1984 - PCLL 30th Anniversary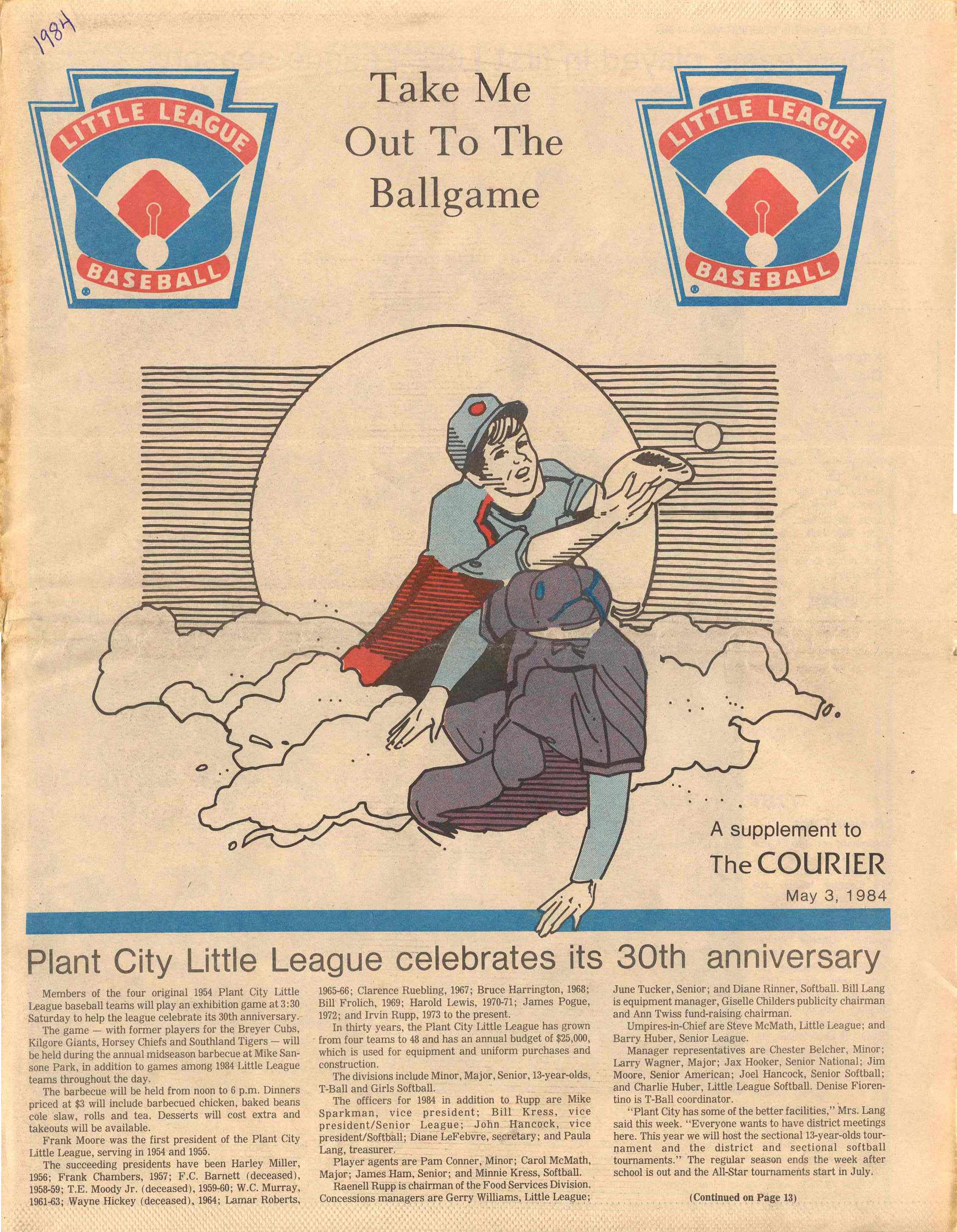 1984 News articles donated by Mrs. Eva Gayle Tripp (The daughter of long time President Irvin Rupp)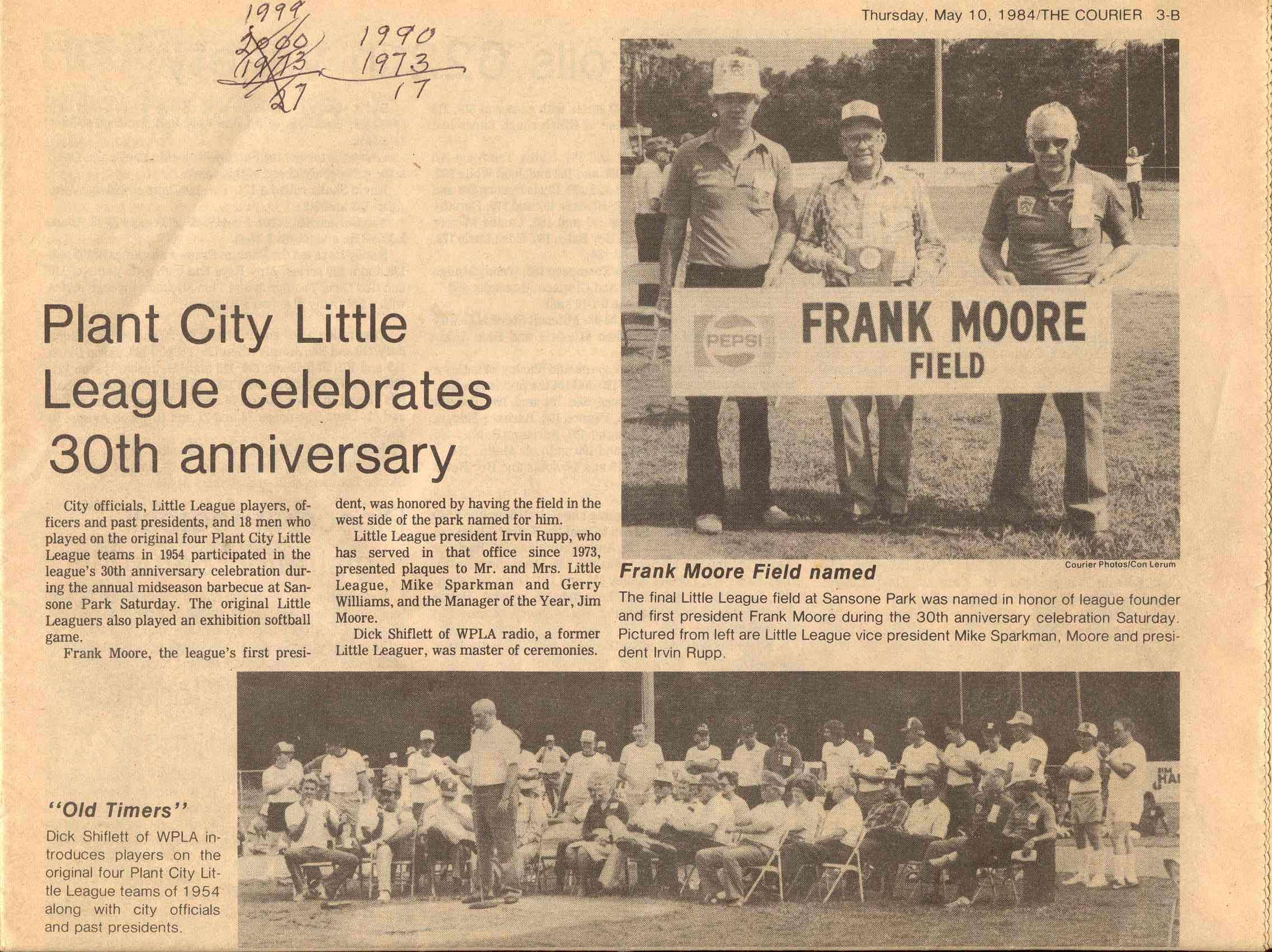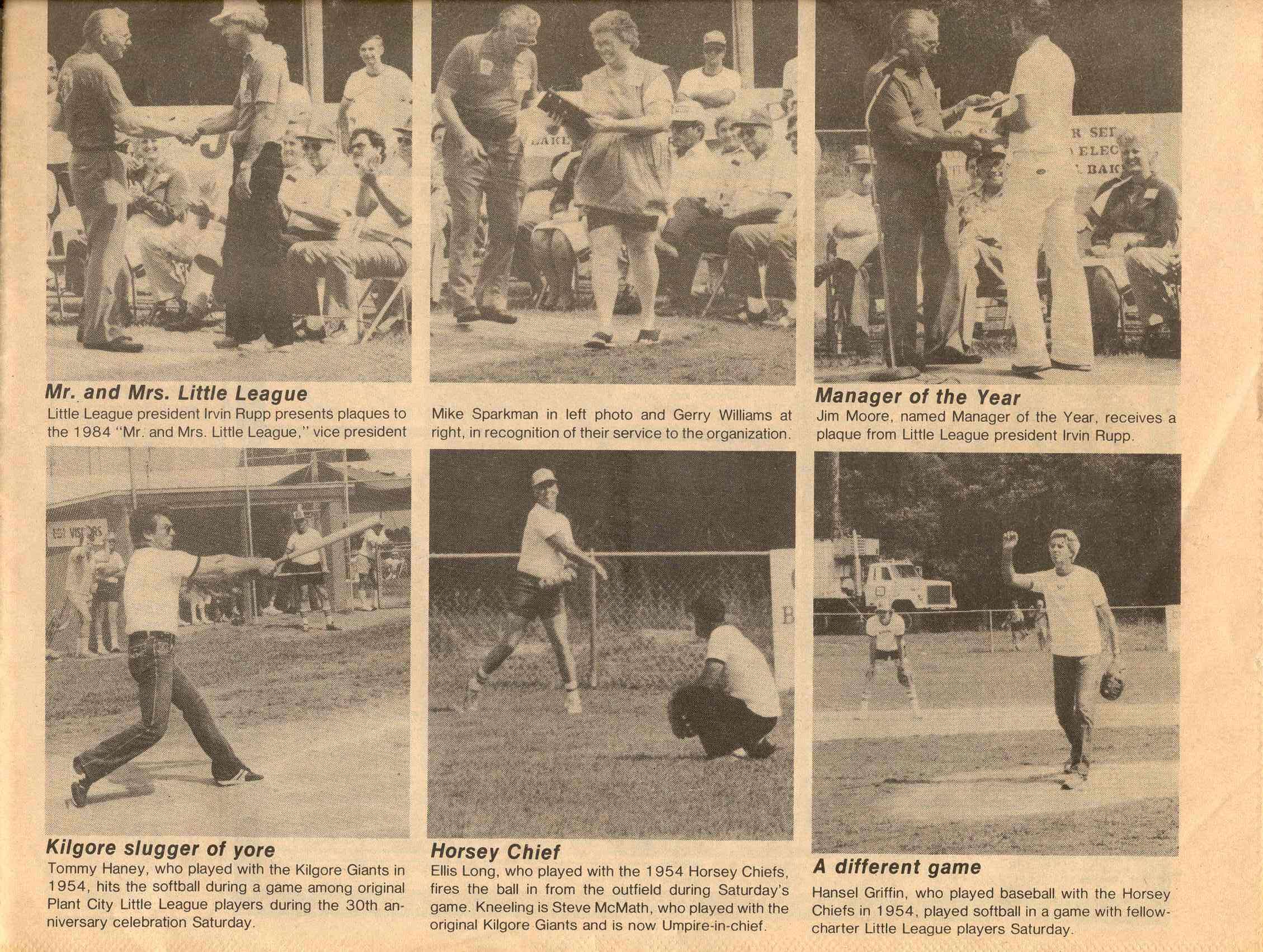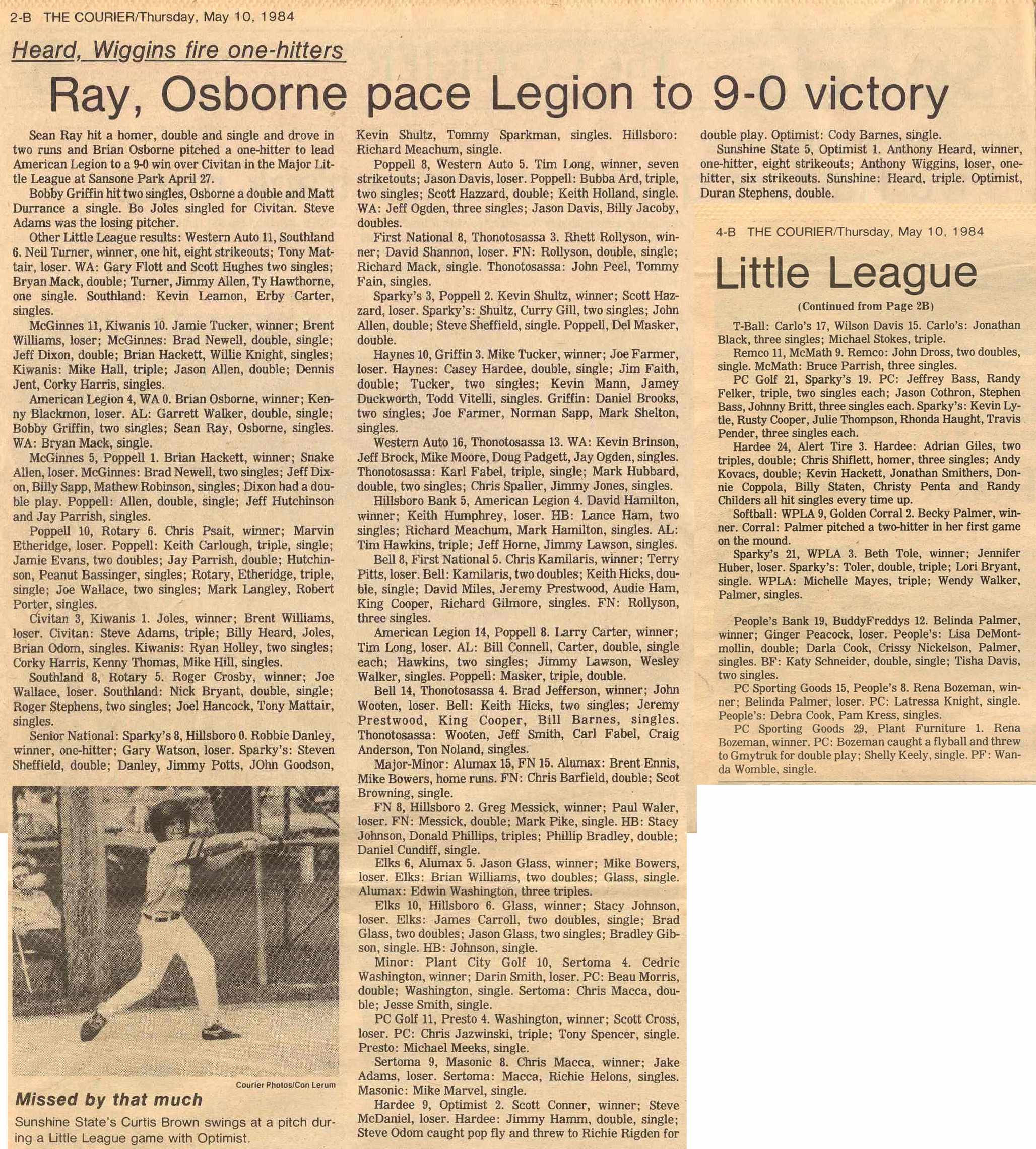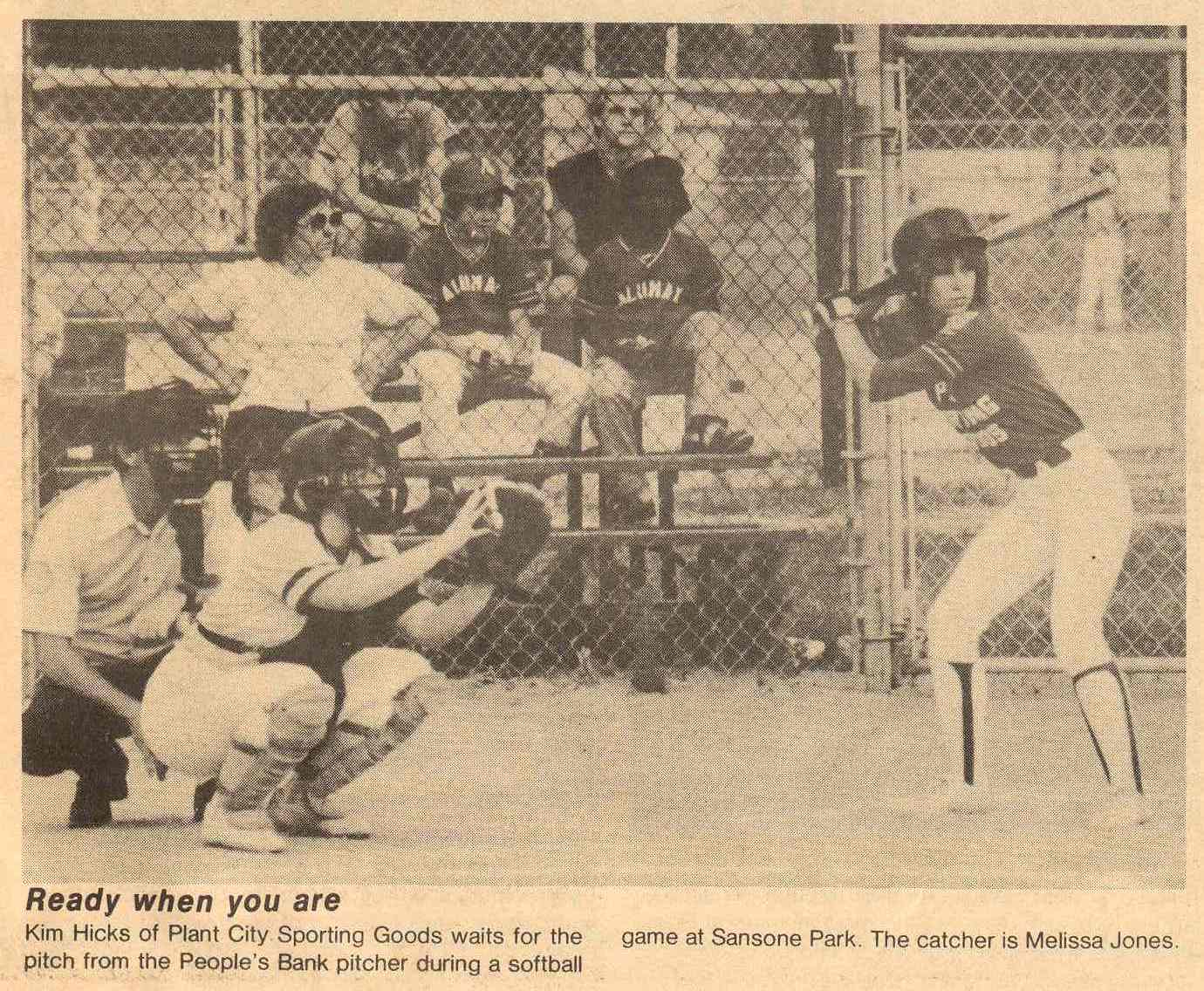 Past PCLL Presidents and Service Members
In Honor of our past PCLL Presidents and Service Members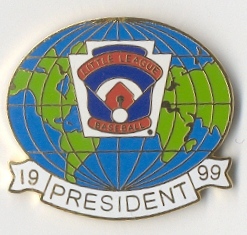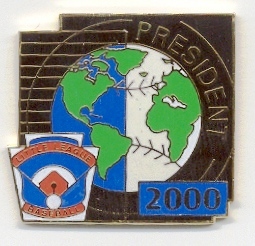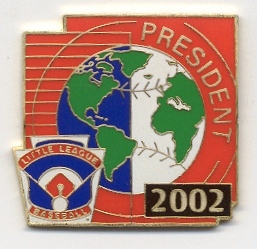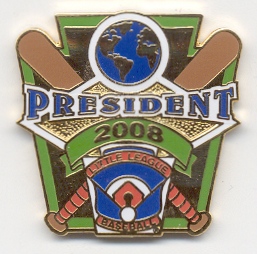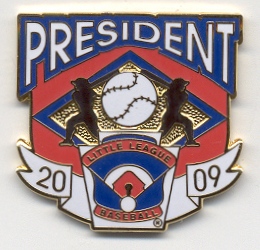 Past Presidents of Plant City Little League - EST. 1954
1. Frank Moore was the 1st PCLL President and served as such in 1954, & 1955
2. Harley Miller 1956
3. Frank Chambers 1957
4. F.C. Barnett 1958, 1959
5. T.E. Moody Jr. 1959, 1960
6. W.C. Murray 1961, 1962, 1963
7. Wayne Hickey 1964
8. Lamar Roberts 1965, 1966
9. Clarence Ruebling 1967
10. Bruce Harrington 1968
11. William Frohlich 1969
12. Harold Lewis 1970, 1971
13. James Pogue 1972
14. Irvin E. Rupp 1973, 1974, 1975, 1976, 1977, 1978, 1979, 1980, 1981, 1982, 1983, 1984, 1985, 1986, 1987, 1988, 1989, 1990
15. H.S. Gardner 1991, 1992
16. Keith Gray 1993
17. Mickey Smith 1994, 1995, 1996
18. Laura Carroll 1997
19. Mickey Smith 1998
20. David Osborne 1999, 2000, 2001, 2002, 2003, 2004
21. David Byars 2005, 2006, 2007, 2008, 2009, 2010
22. John Moore 2011, 2012, 2013

23. Cory Kirkland

2014, 2015
24

.

Ben Smith
2016
25. Johnie Goodson 2017 - Present
Plant City Little League Service Award
1972 Bill Murray
1973 Frank Moore
1974 Irvin Rupp & Raenell Rupp
1975 P.E. "Bud" Rentz
1976 Barry Huber & Glenda Loetscher
1977 Lee Terrell & JR Hamilton
1978 Jerry Winchester & J.O. Brownlee
1979 Barbara Reynolds & Eva Gail Tripp
1980 Paula Lang & Charlie Huber
1981 Bill Kress & Wilbur Jordan
1982 Bill Lang & Shirley Brandt
1983 John Hancock Jr. & Minnie Kress
1984 Mike Sparkman & Gerry Williams
1985 Steve McMath & Carol McMath
1986 Reed LeFebvre & Diane LeFebvre
1987 James Hughes & Pam Connor
1988 Jane Tucker & Ann Twiss
1989 Maggie Thomas & Laura Carroll

Plant City Little League Manager or Coach Award
1982 Jack Prestwood
1983 Steve Tindale
1984 Jim Moore
1985 Larry Kelley
1985 John Moore
1986 Paul Wood
1987 Terry Evans
1988 Micky Smith
1989 Terry Terrell
1990 Vern Dykstra

Luther Baldwin Memorial Award
Karen Porter 1986
Barbara Reynolds 1987
Bertha Gaschler 1988

Jim Faith Memorial Award
Randall "Peanut" Bassinger 1988

"It is with great honor, pride and appreciation that we, the board of directors of Plant City Little League, dedicate the new addition of the Aderholt building. It shall from this day forward, April 23rd, 1983 be known as the IRVIN E. RUPP BOARD ROOM, in recognition of his undying love for the youth of Plant City"

The original Plant City Little League Adreholt Building was built in 1975.






"Little League Baseball", "Little League", and "LL" are registered trademarks of Little League Baseball, Inc. Williamsport, PA 17701, and are used here for identification purposes only.

Old PCLL Photos