Pikes Peak Bass Masters: Team Series Reports!
Saturday, August 22
2015 Team Series #5-Summertime Slam!
Santos & Santos
win final Team Series event of 2015
adding to the club history along the way!
1st Place-Connor Santos/John Santos--(4.80)
2nd Place-Gary Bell/Brian White--(4.61)
3rd Place-Steve Cubbage/Rick Haman--(3.79)
The Pikes Peak Bass Masters hit a new mile stone today! We had our second "Father & Son" team win a PPBM Team Series Event! Considering that a team cannot fish together twice in one season, the odds are very much in favor of this never happening at all, let alone twice so far for our club!
More to come!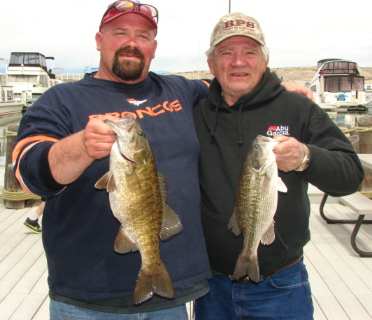 PPBM's First Father & Son winning team! 2013
Saturday, June 27
2015 Team Series #4-BBB
Darin Price & Ty Hughes
take a Run-Away win in the
~2015 Big Belly Brawl!~
1st Place-Darin Price/Ty Hughes--(3.71)
2nd Place-Dave Napier/Brendan Price--(2.58)
3rd Place-Fred Reese/Walt Scully--(2.46)
****************************************************
The water levels at Lake Pueblo are at a level unseen by many of our members. Mother Nature, in all her wisdom of taking care of the earth, has decided to give us the last 10 years of missing water all in one week. The lake, for all intents and purposes, is a brand new lake, never fished by anyone in the club.
Eighteen boats with partners attended this Team Series Event #4. All had expectations of finding the fish aggresively eating up in the flooded trees and bushes that were well behind the bank fishermen just a month ago. Not to be on this day! With some of the top names in Colorado bass fishing trying to figure out how to unlock the mystery of the bite the fish were found to be hard to find and were not going to come easily to the weigh-in scales.
The team of Darin Price & Ty Hughes, armed with fresh confidence derived from attending the Military Kids Day event the week prior, went back to the same areas trying to recreate their bigger fish catches. The plan worked better than even they could have expected. At one particular moment during the day, both found themselves unknowingly casting the same bait and landing it within feet of each other on a particular cast. Both hooked up on their own keeper fish and landed them at the same time. Although they caught about 25 fish for the day, including a couple other keepers, none would reach the weight of those two fish caught at the same time. Those two fish would take them to the head of the pack and solidify a win against the very good teams on this day.
The final weigh-in would find unfamiliar names the talk of this event! As tough as the fishing was this day, many of our club's newest members made a strong fishing statement today. Some of those that are not yet considered part of the club's "elite" group of names, that regularly light up the top spots in these events, are showing that the club's efforts to communicate and teach the technicalities to our members is paying off. Our members are getting better and better each year that they stay in this club. Many of us that had gotten comfortable with our knowledge of fishing, expecting that knowledge to take us to the top rungs at every event, are finding we must get off of "cruise control" and start deepening our fishing knowledge now, not later....or we will no longer be where we have been!
Congrats to all that made the money at this event! An awesome statement made! We hear ya!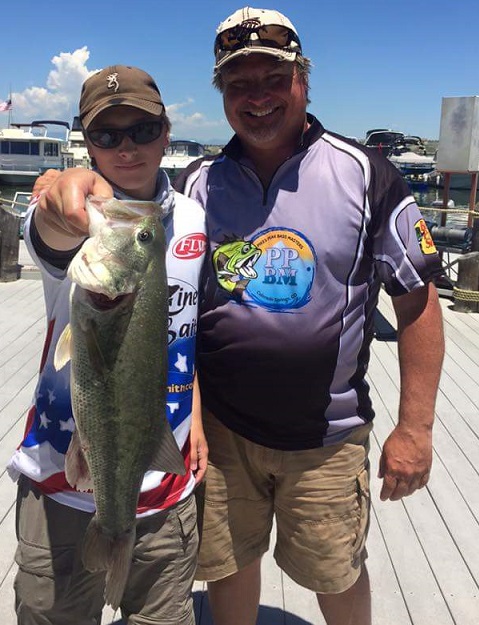 Brendan Price & Dave Napier take 2nd Place!
Saturday, May 16
2015 Team Series #3-MSM
Brown & Krueger
work their plan to win
~2015 Mid-Spring Madness!~
1st Place-Jerry Brown/Larry Krueger--(5.04)
2nd Place-Darin Price/Mike Grupp--(4.89)
3rd Place-Joe Conway/Brian White--(4.42)
"Good things come to those who wait!" Ever here that saying? Well it came true for Jerry Brown & Larry Krueger at this year's 3rd Team Series event of 2015, the "Mid-Spring Madness" tournament. Although both of these guys are always close by, the top spot had eluded them for all of their efforts to date. Now, both of them have tasted the fruit on the top, so expect to see them hanging around up there more often.
Brown & Krueger fished the 2 to 8 foot range, hoping to get into a couple of those spawning fish that have been moving in and nesting for over a week now. The slight stain of the water, keeping visibility down to about 4 or 5 feet in many areas, was no deterent to these guys, as they fished blind in the areas they knew should have bigger fish bedding. They succeedded in tapping into a couple of heavy fish, a 2.5 Largemouth and a 2.54 Smallie, giving them a 1/2-lb margin of victory over second place.
Darin Price & Mike Grupp decided it was time to show what they have learned fishing with the Pikes Peak Bass Masters over the past couple of years. The methods they used are a big secret, for now, but there was no secret about who probably had the biggest fish of the event. Their big fish, a 2.83 Largemouth, was not quite big enough to grab first place, but was big enough to grab $133 for big fish of the day! Way to go guys!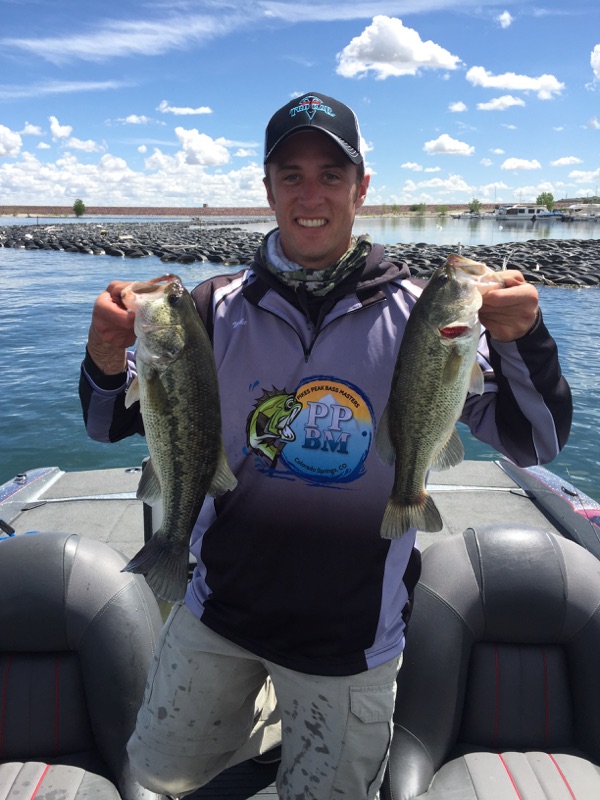 Mike Grupp with his and Darin's~Big Bass!~(2.83lbs)
Saturday, April 25
2015 Team Series #2-EBS
Choate & Napier
"quiet the chatter" at the
~2015 Earlybird Shootout!~
1st Place-Choate/Napier--(5.40) 2nd Place-Solverson/Garrett--(4.71)
3rd Place-Phillips/Cubbage--(4.58)
**
More to Come!
Sunday, March 22
2015 Team Series #1-JBJ
Gentzel & Cubbage win
big at the
"2015 Jerkbait Joust!"
1st Place-Cubbage/Gentzel--(3.90) 2nd Place-Ealey/Radney--(2.40)
3rd Place-Krueger/Garrett--(2.37)
**
More to Come!
Saturday, July 26
2014 Team Series #5-(Summertime Slam!)
Mininger/Conway win 2014
"Summertime Slam!"
1st Place-Conway/Mininger--(1.95) 2nd Place-Way/Austin--(1.71)
3rd Place-C.Santos/J.Santos--(1.32)
*****************************************************************************
Steve Way
"Shared Points"
Team Series Champion--2014!
Ok guys! It was bound to happen! For 2 seasons there had not been a repeat winner in any of the Team Series events....until now. Leave it to the team of Conway/Mininger to ruin that streak the PPBMs had been on! It would have to be said that these two hyper active guys may have a "lucky ora" following them around...or something. We do have to give it to them. Being part of a second team win, when it is so tough this year to get one, is good stuff.
With Pueblo Reservoir fishing the toughest it has in many years, this years team series has had some dismal weigh-ins like we haven't seen before. With only 3 keeper fish being weighed in by the 15 teams at this last event, yes only 3 fish, it was a crap shoot as to who would take home the $375 1st place cash. At this event, it was Joe Conway and partner Bob Mininger that managed to get the biggest fish on board for the day. Considering that they had a total of 4 bites total throughout the 5 hour day, with 3 of those coming in the last hour, and this winning fish was the first bite about 30 minutes into the day, I'd call them pretty lucky dudes!
Although being a victim of the "squeaker win" by those guys above, the team of Steve Way/Al Austin made a good charge for the top prize at this event also. Getting bumped by less than a quarter of a pound (4 ounces), they managed to hang on to a 2nd place finish and get the points associated with that spot. Those points were just enough to give Steve Way a 1 point final standings advantage over Conway. Conway had now been the only guy to be part of winning 2 of these team series events and still got caught by Way at the end! This finish to the season proves that the Team Series point system is working and no one is out until it is over!
Congrats to Steve Way.... Our PPBM 2014 "Shared Points" Team Series Champion!
Saturday, June 28
2014 Team Series #4-(Big Belly Brawl)
Allen/Austin team
win 2014
"Big Belly Brawl!"
1st Place-Allen/Austin--(4.19) 2nd Place-Way/Gatti--(3.39)
3rd Place-Giebel/Wiese--(2.83)
4th Place-Withee/Torres--(1.68) 5th Place-Brown/Napier--(1.42)
*********************************************************************
The 4th team series event of the season was going to be a throw down. Seventeen teams came together to go after the top prize of over $500 for this half day event. Based on past events this time of year, the weigh-in promised to be busy, with lots of fish coming in to the scales.....right?
It has been agreed upon that Pueblo Reservoir has been fishing difficult this year. The rains and the runoff have been keeping the water temps down and the fish guessing what the lake is going to do next...raise or lower again. It has also been keeping the fishermen guessing even more. Water temps are just now hanging around 70+ degrees on main lake and a just little more than that in the coves. This year, something was definitely different. The lake was going to be stingy for most, and most did not see that coming!
The team of Rod Allen and Al Austin came together to give this event a go. Rod had been fishing pretty regularly and thought he might have an idea of what was happening. Al was cutting his teeth on his first PPBM team event and is a good stick in his own right too, as he gave it a go to see how these events work. Together they figured that the Largemouth were just finishing up their spawning rituals and they decided they would focus on that pattern and see what happened. The short day gives you only one shot at getting it right, so they were "all in" and waited for the cards to fall.
They spent the morning back in the bays focusing on throwing to bushes in the 8 to 10 foot depth range, that also had fry swimming around them, in hopes the males were still guarding. The pattern worked to perfection as they pulled numerous fish and a few measured the 15" limit they needed to bring fish into the scales. Although two other teams brought in their first two fish limits of the season, Rod and Al brought in the best two fish limit for the day. Little did they know that their pattern would bring in the heaviest two fish limit of the 2014 Team Series season! With 4.19 in two fish, they trumped the second place team of Way/Gatti (3.39) and took home their first PPBM win, moving Rod Allen into the top spot in the team points race!
Saturday, May 24
2014 Team Series #3-(Mid-Spring Madness)
Conway/White team
win 2014
"Mid-Spring Madness!"
1st Place-Conway/White--(3.57) 2nd Place-Brown/Ealey--(3.44)
3rd Place-Phillips/Barron--(3.26)
4th Place-Cubbage/Boyd--(3.12) 5th Place-Allen/Way--(2.90)
__________________________________________________________
The 3rd PPBM Team Series event of the season received 15 boats (30 anglers) that were interested in taking on the Memorial Day weekend crowds and the bass, which have been more than stubborn this season, so far. The major rain storms that went through the area on Friday night, made the water a bit stained on main lake sections and a total log jamming mess in the backs of some of the favorite creeks. Water temps on main lake (60) were saying the bass had to be spawning somewhere, although the water was still dropping slightly like it has been for weeks.
Joe Conway and Brian White had planned to team up for this 3rd team event back in March. Conway, "Mr. Lucky", had already had a tournament win just a couple weeks prior and he was hoping to find the fish even more catchable this day than they were back then. White is still trying to figure out these colder Colorado lakes and was trying to put a plan together from the things he had learned about Pueblo Reservoir from the past few events he had competed in recently, and from listening to how Conway was saying he was intending to fish today. Together they thought they might be able to get something to work, but they would have to see, as neither of them were able to get out and pre-fish prior to this day.
They started out on the secondary points that produced the winning weight for Conway two weeks prior. They instantly caught aggressive fish that were good for a card tournament, but not today in this "keeper only" team event. The fish they did catch were telling a story and they were both trying to put the pages together to get a steady pattern happening for them.
With Conway throwing a reaction type bait up front and White throwing a slower moving, more "dead sticking" type of bait, they put together a winning team attack. Those fish that didn't take the reaction bait, but were still annoyed by it, would usually take the slower bait immediately after the reaction bait left the area. This proved to be the best presentation they had going for them and they discovered it within the first 30 minutes of the day. White was the first one to strike gold with a keeper just 10 minutes into the day. The second keeper also came by way of Mr. Whites bait just 30 minutes later.
Occasionally, the two anglers would spot a nesting fish down around 8' to 10' deep. Some were keepers and were decent bucks, but those would not help their overall limit weight by much, if at all. Occasionally a good fish was spotted on its bed, but both anglers had a hard time getting the hook stuck in some of those bedding bass that took their bait. Finally, after working a 2+lb bedding fish for over 30 minutes, and missing it 3 times when it bit their baits, they had to give up and head into the weigh-in for the setting up of the scales, etc. The weight they had would have to do, although they know they left another pound a and a half out there that was catchable.
Low and behold, the fish they had (3.57lbs) would prove to be just enough to snake past the team of Brown/Ealey-(3.44lbs), the team of Phillips/Barron-(3.26lbs), and the team of Cubbage/Boyd-(3.12), to take the 1st Place prize ($375) and the Big Bass award ($105) for this event!
Check back in the "Winning Ways" video link on the site for updates! Video of the baits and gear we used, and how we rigged them will be available soon!
Team Series Standings Team Series Schedule
Saturday, April 26
2014 Team Series #2-Earlybird Shootout
Cubbage/Phillips team
win 2014
"Earlybird Shootout!"
1st Place-Cubbage/Phillips--(2.88) 2nd Place-Choate/Way--(2.29)
3rd Place-Hughes/Radney--(1.78)
4th Place (Tie)-CSantos/Parton---Goldberg/Grupp--(1.68) ____________________________________________________
The "Early Bird Shootout" team event started out well with air temps in the 40's. Twenty one teams felt they could catch 2 keeper fish and take home the top prize in this, the second team event of the year! Main lake water temps were in the low 50's. A very respectable temp for this time of year and should have had the fish moving onto warming flats all over the lake, or very close to them, at least!
The team of Steve Cubbage and Derek Phillips started the day with expectations of a good Jerkbait bite all over the lake with some prime areas being their mainstay. Quickly into the day, they found the weather conditions of "cloudy, but dead calm" were not the perfect combination to fire up their pattern. Adjustments were going to have to be made throughout the 5+ hour event in order to find fish and then get them to bite.
Fishing hard all day, the two only managed one fish that barely managed to surpass the 15" mark. With 20 minutes left in the day's event, Steve decided that the sudden 15+ mph wind that had come up just 10 minutes earlier could help fire up one of their spots that hadn't yielded any keepers so far during the day. They made that move and caught a short fish right away. With 10 minutes left, they caught another fish that skimmed the 15" line. With that, they ran for the weigh-in to await the outcome of the two small Smallies they had onboard.
Knowing they had barely 2-1/2 lbs of fish, odds were not in their favor that they would fair well against this crew of big sticks from the front range. When all was said and done, those two Smallies weighed in at 2.88 lbs. Somehow, on this day, it was enough to beat out this super group. The 2nd place team, Choate/Way, having one fish of (2.29), was their closest contender, which was very close considering they had one fish.
Taking home $444 for their 1st place finish, they proved that every fish counts....always!
Saturday, March 22
2014 Team Series #1-Jerkbait Joust
Withee/Hunter 1st Place 2014 ~Jerkbait Joust~
Withee/Hunter team
win 2014
"Jerkbait Joust!"
1st Place-Withee/Hunter--(3.03)
2nd Place-Gentzel/Boyd--(1.76)
*
The first team event of 2014, the "Jerkbait Joust," was held on March 22nd. The membership participation was excellent again! This event set two records this day; the highest boat count to date of 22 boats, and the least amount of bass weighed in a PPBM Team Event! Two teams had other issues arise and could not make the event in the end, but a couple of those future contenders showed up to the weigh-in although, to show their support to the members braving the cold temps today.
The weather wasn't bad, but wasn't even close to good. The temperatures of the water, 42-46, far exceeded the temperature of the air, 18-35, for most of the fishing period. Only at the check in time of 12:30pm did the air get into the mid 40's and surpass the average water temps. The wind was not bad, but still felt like a piece of steel cutting through your body at various times during this event making it darn hard to remember why we do the crazy stuff we do!
The teams at this event consisted of some well known "sticks" from the Colorado bassin world. Some oldies, but goodies were Todd Gentzel, Jerry Brown, Bob Radney, Jimmy Choate, Steve Ealey, Brandon Boyd, Derek Phillips, Larry Krueger, Bob Zyer, Rod Allen, Joe Conway, and returning 2013 Team Champion-John Barron, just to name some. I know...a pretty scary list! Also attending were some of the newer "sticks," some we know and some we are just learning about, such as Connor Santos, Ty Hughes, Vince Carpio, Darin Price, Ron Giebel, and Dave Hughes, just to name some of those guys that attended. Both lists of names should make for some "smash-mouth bass fishing" any time they get together.......right? Wrong!
This cold March event showed all that attended how much stamina everyone competing possessed, but almost all teams did not get to present the best of their fishing skills. The dropping water, combined with the cold front coming in overnight, cooled the entire lake which had many of the bass just watching our baits go by them way to fast.....no matter how slow we retrieved it. The bass were just not going to bite on a regular basis on this day......how good you are at this game didn't matter.
Two teams put just enough of a plan together to come out on top today with each team catching one of the two elusive 15" keeper bass available today. The team of Dave Withee/Jack Hunter came out on top taking 1st place and Big Bass of the day at 3.03 lbs. The team of Todd Gentzel/Branden Boyd had the other bass that weighed in at 1.76 lbs, giving them a lock on 2nd place points. Congrats, Boys, on a very tough day of fishing!
Next team event will be held on April 26th. Predictions are that at least 10 teams will come in with 2 fish limits at this event! Be there or be square!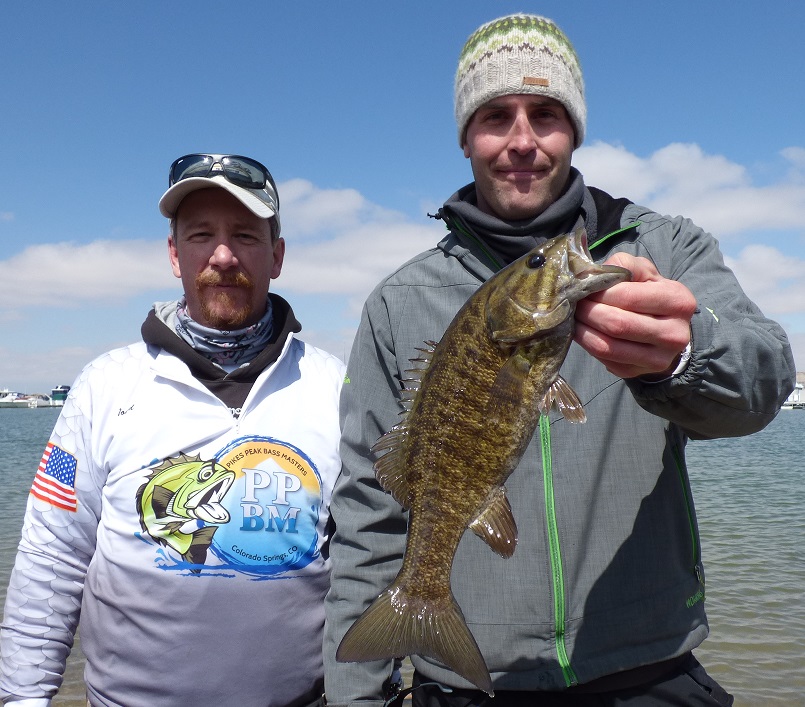 Gentzel/Boyd 2nd Place 2014 JBJ
Saturday, July 27
2013 Team #5 Winners!
Gentzel/Barron
win 2013 "Summertime Slam" Team-#5!
*
John Barron accused of using "Magic" as he
wins 2013 Team "Shared Points" title!
****************************************************
The final PPBM team event of the 2013 season was set up to be the most unpredictable event of the year, based on the way contestants finished in the prior events points standings. These team events being a "shared weight" format, makes it possible for anyone, boater or non-boater, to win the title. Based on this format, there were nine members (yes-9 members) that could end up being the overall winner of the title for this season's "Team Events."
There were at least three of those contending members that are non-boaters, but as past history would show, "no non-boater can win an open title against boaters." So many things would have to fall into place for some guys to win the title that it would be considered a miracle of sorts for some to pull it off. You know like the Cleveland Browns beating the New England Patriots when both needed a win to make the playoffs. Never ever going to happen........right?
In this particular event, guys like Steve Cubbage, Steve Ealey, Joe Conway and his partner Walt Scully, and even Eric Klopfer, were projected to finish well, as non of these guys had to win this event to take the title. Any of them could finish in the Top 3 and still win the title, dependent on how others finished. Seeing how they have all ended up in the Top 3 regularly, why would today be any different?
Oh yea,.....we forgot to mention John Barron, a non-boater, in that list above. John paired himself with Todd Gentzel for this final event. Knowing his position, John knew he would need a win plus all the other good anglers in contention to stumble miserably in order for him to take the title. (Right, and all the stars to align with the planets, and for all of Colorado's lakes to fill up with water this weekend during this unprecedented drought, and crazy notions like that), Definitely all of these could be considered "miracles" based on this club's talent pool and the record drought Colorado is in. Fishing with Todd is a good start when trying to pull off a miracle, but to get the other things to fall into place......yea, dream on!
Now, lets take your mind back to the title of this story as John Barron pulled off the unbelievable! Nobody saw him a comin'--Not even himself! Not only did he catch one of the two 3 lbrs his team weighed in to help himself solidify 1st place in this event (5.93 lbs), he had the fortune of everything else aligning as he needed! The moon and sun positioned themselves to make the fishing very tough, Conway and Scully blanked, Cubbage and Radney blanked, Klopfer and Santos blanked! By the end of the day, the only guy having a real shot at the title against Barron was Steve Ealey. Although Ealey's team made a great charge and caught their limit of two fish, the Barron team's strong weight made it necessary for Ealey's team needing a finish 2nd or better to make the title Mr. Ealey's! Unfortunately for Ealey, the team of Dave Withee/Jack Hunter slipped into 2nd place, and was followed by the last minute team that signed up of Jim Choate/Ty Hughes taking 3rd place. Both teams finishing just ounces ahead of Ealey's team, doomed Ealey to a 4th place finish and from getting enough points to take the title.
As it sits, Barron's (287 points) wins the title by 5 points over Ealey's and Cubbage's (282 points)! Talk about everything falling into place when a guy needs it too! How incredible is that?
Congrats to John Barron on an "awesome surprise finish" to an exciting 2013 team season and winning a whacky final day in the Team Events!
*
P.S.--Just a note: Updated forecasts say Colorado is expecting lots of rain across the state this weekend! Colorado lakes are projected to be filling up a bunch! Magical day, perhaps?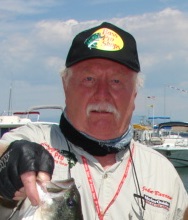 John Barron---2013 Team Event Champion!
Saturday, June 22
2013 Team #4 winners!
Klabon and Torres
win 2013 "Big Belly Brawl"
Team-#4!
What the heck? I am sure none of this event's contestants saw this comin'! What do you get when your club members help teach some of the greener guys how to catch some bass and then those same greener guys gain a bit of confidence? "Ka-pow!" - A very dangerous mixture creating a very strong team!
Mike Klabon and Louis Torres first made the decision to fish together this weekend, and then had to do some begging and pleading with the wives to get a half-day pass. I know what you are thinking...."Dang it! If only their wives would have held their ground, they wouldn't have made this event!" Well, the guys did their best "sad eyes impressions" and made it to the event just in time to show us all how much our club's teachings they have absorbed! Granted, this time of year, it pays to get a kicker fish (3.04 lb Smallie), but still....we had some of the best fishermen in the state together on these teams today!
Details of how they caught their winning weight are a little sketchy as they both have learned well from most of us about the art of misdirection when it comes to answering fishing technique questions. Mike and Louis said they "got lucky" when they started off in an area and pitched a tube, jig, or something to a rock and caught the 3-lb Smallie right off the bat. Then it was just a matter of weeding through the fish until they got the right fish to add to their limit (4.74 lbs) and complete the whoopin'! Lucky? Well guess what guys.....It takes a bit of "skill" to put yourself in a position to "get lucky."
Both Mike and Louis are fairly new to this game of catching the little green fish. To go out on a day like today, dropping water conditions, hot, sun high, and then "best the rest," is a feat worth talking about around the water cooler! This win by these guys is a very good reflection of what the Pikes Peak Bass Masters are trying to accomplish and we should all be as proud as these guys surely are of themselves for putting a winning pattern together today!
The club is creating some of the best dang bass fishermen in the state of Colorado, again! That will hopefully translate into our members becoming part of our Colorado state team, winning the top spot at the Divisional championship, and once again, someone from the Pikes Peak Bass Masters bringing home the National Division title to Colorado!
What would I say to the PPBM club members that have taken the time to better educate the newer guys as a major goal of our club experience..............."Mission accomplished" and "Bravo!"
A great team win by a couple of up and coming PPBM member stars on a very tough day on the water! Congrats once again!
Saturday, May 4
2013 Team #3 winners!
1st place with 5.07 lbs/Big Bass-2.78 lbs
Withee/Klopfer
win 2013 "Mid-Spring Madness"
Team-#3!
Eric Klopfer went out of club to invite a new boater, Dave Withee of the Springs Bassmasters, to the PPBM "Mid-Spring Madness" team event #3, in hopes of getting another good guy "to stick" into the PPBM realm of members. This was to be Dave's first time fishing with the PPBM in one of the team events.
It didn't take Dave and Eric very long to make a statement by bringing in two nice Largemouth bass weighing in at 5.07 lbs together and taking 1st place away from the rest of the group. One of their fish was caught on the outside of a cove next to deep water and the second from back inside in very shallow water. These winning fish prove that the bass are on the move and you will find them in different stages of habit this time of year.
With this win, Eric Klopfer climbs the "points standing ladder" and puts himself in strong contention for the end of the year memorial trophy! He is just a mere two points outside of the leaders and is sitting in 2nd place, yet he is only a mere two points ahead of the guy in 6th place!
The team of Steve Cubbage/Branden Boyd also made a move in the points standings by taking 2nd place with a couple of nice fish weighing in at 4.19 lbs.
The next team event, "The Big Belly Bash," will start the "point throw-outs," as only 3 finishes will be used to find the winner for this year. This next event should get everything all mixed up, start the separation of the leaders from the rest of the pack, and locate the guys that could stir things up with a good finish in the final events!
Are we having fun yet? You betcha!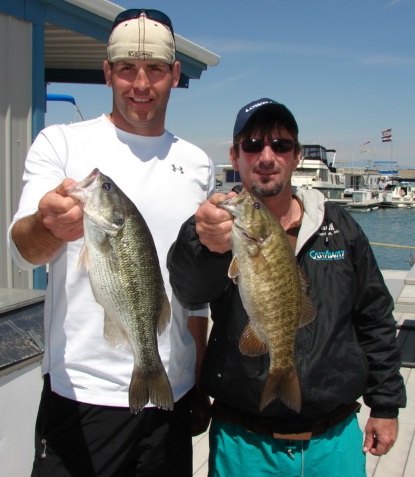 2nd place with 4.19 lbs
Saturday, April 20
2013 Team #2 winners!
Ealeys
win very tough 2013
"Early Bird Shootout" Team-#2!
Although the weather promised to be warmer than the days prior, the 2nd team event of the season was still a Colorado Spring morning with temperatures in the high 20's. Only days after a major cold front and dropping water conditions, both bad for a bass in transition, 9 teams got it together and made one heck of a showing for the tough conditions presented them.
The team of Steve Ealey Jr. and Sr. volunteered to show the rest of the group how it should be done. With fishing ability not to be matched today, they ran their patterns all over the lake and caught fish everywhere they went. Not only were they catching fish, but they were catching keepers! Lots of them! Well, at least enough to swim away with "1st place" by a good bit!
The Ealeys put a total of 6.15 lbs together for two fish, which included one nice 3.94 lb Smalley! Thinking that they had a lock on first place and probably the Big Bass award, their hopes were dashed for BB when the team of Phillips/Rathe came in with one heck of a Largemouth weighing in at 4.20 lbs! Unfortunately for the Big Bass team of the day, they couldn't find any other bass friends to go along for the ride to weigh-in and settled for 2nd place.
3rd place went to the team of Zyer/Barron! Weighing one good bass at 2.94 lbs, it was enough weight to hold off the fourth place team of Krueger/Scully by 3/4 of a pound. Although not getting into the money, Walt Scully's points for fourth, which forced everyone else not catching a fish to accept points for two places less, should keep him close to the "Points Leader-Mr. Ealey." We are coming at ya, Mr. Ealey and Mr. Scully!
Another great day on the water with Pikes Peak!
Saturday, March 30
2013 Team #1 winners!
Team
Bob Radney/Walt Scully
win 2013 "Jerkbait Joust" Team-#1!
The first "PPBM Team Event" of 2013 started off at 6:15 a.m. with air temps hanging around 35 degrees at the Pueblo Reservoir. Not a bad start, but still very chilly for a 55 mph run first thing in the morning! The sun did arrive later and warmed the air to a 67 degree high.
Six teams made the decision to challenge the colder water temps of this early season event with all members knowing that they could catch fish anytime of season on this water....if only the fish would cooperate! The main lake water temp hovered around 42 degrees in the morning with some of the backs of the creeks being around 47 degrees and stained. Most contestants were not sure if the fish had found the warmer water yet, but knew those areas needed to be checked out. As it turns out, the majority of the fish caught this day had not quite moved to the very backs, but were staging around the secondary points and/or transition areas not far from the back cuts in the creeks.
The team of Bob Radney/Walt Scully were forced out of their first choice fishing location by another boater that got the jump on them from the launch. Slightly bummed out on seeing the other angler heading into their first choice area, they chose to spin the boat out of that direction and try another area instead and start from scratch. As luck would have it, they drove themselves into a location that gave up a few good fish, including two good keeper bass, within the first hour of fishing. Sometimes things happen for a reason! It shall also be noted that those two "jerked" fish, a Spotted Bass and a Smallmouth Bass, was the only "two keeper fish limit" weighed in, giving this team a solid grasp on a 1st place finish with 3.84 pounds of bass.
Falling one fish short of first place was the team of Joe Conway/Daniel Barkus. This "one experienced and one green angler" team had the misfortune of the dreaded, crushing, "break-off" on a Crankbait late in the morning about 10:45. In an event this tough, all bites must be executed flawlessly. After the lost fish fiasco, they decided that the lack of time left in the event dictated a drastic scramble. They made the long run back to where they hoped the fish might be getting active with the warming of the waters. Within 15 minutes of stopping, and having only 40 minutes left in the event, they managed to get one good Largemouth Bass (2.13 lbs) to commit to a Lucky Craft Bevi Shad jerkbait, thrown with a 6' 6" Castaway Jerk and Twitch rod, on Berkely 10lb 100% Fluorocarbon line, with a Shimano Curado reel. The fish actually stayed hooked all the way to the boat and helped them to a 2nd place finish, just squeaking by the 3rd place team of Steve Cubbage/Steve Ealey (2.09 lbs) by a mere 4 hundreds of a pound!
************************************************************************
Aug. 11, 2012
Conway/Wise "stir the pot"
by winning the 5th Team event!
Nobody saw this coming, not even the Tournament Director for the event! What if the top 4 guys in contention for winning the first ever "Pikes Peak Memorial" trophy, could not get it done? What if none of the expected top guns in contention even weighed in a fish?
Well, that is exactly what happened....basically! Two of the top four expected performers at this last event, struggled to close the door on their oppenents, and opened the door for another contender instead. Troy Limmer had boat trouble and had to drop from the event at the last minute--Steve Cubbage (points leader), and his partner couldn't quite get to the mark of 15" all day--Todd Gentzel, yes...thee Mr. Pueblo Todd Gentzel, needing to take at least 3rd to take the win, but couldn't find a 15" fish to play along. Steve Ealey, needing to beat all of these guys to win the title, did just that, but needed one person filling in between him and the others to achieve the point spread needed to win the title out-right.
Instead of the obvious happening, the team of Joe Conway and Derrick Wise scrambled to put together a couple different patterns and pulled the two keeper fish needed to take the win and put the cabosh on the plans of the others in contention to win the trophy. The win caused a three-way tie at the top and has forced a "fish-off" to find out who will be the overall champion.
To win this particular team event, Conway and Wise worked the shallows with topwater baits for obvious "shad-chasing" fish. They used Pop-Rs, Buzzbaits, and a Heddon's Super Spook Junior, but found no keepers to be had. They decided to wait until the sun was up for a couple of hours and then went back to those same areas, where the fish were most active, and hoped a bigger one would be sucked up tight around the cover in those same shallower areas. Joe, using his Castaway 6'10" Jig and Worm(medium heavy) rod with Berkely Trilene 12lb XT line on a Shimano Curado reel, caught the first keeper fish from the side of a large branch in about 1.5' of water. The bait he refers to as his "M & M" and rigged with a 3/16 oz weight on a Gamakatsu #1 EWG hook, was the enticer for that keeper. Derrick caught the second keeper fish on the old school Bass Pro Spinnerbait, 3/8oz, in a silver shad color with a matching trailer grub. It had a large willow blade and small Colorado blade in silver.
Slight wind and small chop helped them by keeping the fish feeding at the bank and pretty aggressive right up until weigh-in time. A great win on a very tough day!
Vertical Horizon by JC
Sunday, June 10
Joe Conway and Fred Sander
Conway/Sander pull out a tough
win at 4th Team event!
The "Warm Weather Rally" team event held up to it's name with no wind and temperatures rising into the mid 90's before the 11:15am weigh-in had even started. It was warm all morning and that made the contestants have to adjust occordingly. Every team weighed in at least one keeper, so the adjustments were made and the competition was at it's best!
The team of Joe Conway and Fred Sander attacked the morning bite with surface baits and various crankbaits with great success on getting bites, but had a rough time getting fish to stay hooked. Those few good fish that had came unbuttoned in the morning, pushed the team into another mental mode to try and salvage the day.
Luckily for these guys, the switch of tactics worked. Although only getting 4 bites in the 2 hours after the tactic switch, they managed to get 2 nice fish in the boat, including the Big Bass of the day...at 2.76 lbs. The fish that got away did cause some hurt feelings and a bit of whinning for awhile, but lessons were learned (the main priority of this format) and the fish they brought in were good enough for a win. By taking the first place points away from any other competitiors, it has caused quite the stir in the points standings for the overall title!
Steve Cubbage jumps into the top spot, but needs a little luck and all the competitors to do well at the next event and push Gentzel and Limmer down the finish list in order to capture the overall title!
Saturday, May 19
Team of Boyd-Gentzel win Team #3!
Uh-Oh! Here comes Ealey!
Put two of the top club anglers together and what do you get.....a win of course! Todd Gentzel and Branden Boyd teamed up to put another whooopin' on the rest of us this last tournament. They fished hard all day in one of their favorite areas and were able to pull just enough to take the win. The win gives good points to both Gentzel and Boyd, but not enough to pull away from Ealey.
The team of Steve Ealey and Robert Radney put on a good showing and almost pulled the win finishing second. Good enough points to have Ealey take the overall points lead in the team events! Ealey knows he needs to win one of the next two events, and is hoping for everyone to do better and push Todd to place 3rd or less in the last two events, in order to have a chance at the "shared points" team title!
Looking into the rear view mirror their are a couple of others that are in position to create a mess for those trying to take the title....Cubbage, Limmer, Boyd, and even Kauffman are in great position to steal the title from those that look like a sure in!
Saturday, April 14
Team Kauffman-Cubbage
"squeak one by"
in 2nd Team Event!
Team Cubbage/Kauffman started the morning in the back of a southern cove. Although they both had several short strikes on their baits, they were still struggling to get anything to commit fully and get hooked. About 7:00am, Cubbage finally got a fish to stick on his bait and boated a Largemouth that looked like it would measure the required 15". It measured 16+" and they were on the board! Shortly after that, they boated a couple more Smallies that just didn't measure for them. They went out to main lake and tried their baits out there with no results. They decided to do some fishing in the back of another creek, which only produced a couple of dinks. It worked out that their one early morning keeper fish (2.18lbs), is all they could bring to the scales. That fish turned out to be enough to beat out second place by a mere .18 of a pound!
"It was a great day on the water that sharpened our skills for the rest of the season." (Info by Todd K.)
1st Place-2.18***2nd Place-2.00***3rd Place-1.67
With this win, Steve Cubbage takes the points lead in team events!
*
Saturday, March 24
Team Gentzel-Limmer
win 1st Team Event
of 2012!
We started out in a southern cove throwing what we thought would work this time of year. We started working in on one side of the cove, but Todd threw onto the other side with a totally different bait. It wasn't 2 minutes later he hooks up with a beautiful Largemouth that measured! After fishing in that area with nothing else biting, we quickly worked our way back around. Then, Todd decides to start throwing another bait. Making repeating casts that were nearly on the bank, he lands next to a log in the water just 3 feet off shore. I saw a fish boil immediately! That fish chased his bait up and over that log! I could see that the fish dropped the bait and Todd's line went slack. Then it tightened up and Todd set the hook! I wasn't sure what it was, having been catching large Shad all morning. A Shad was my first thought of what it might be. Then the real tug of war started and the fish started digging deep. I grabbed the net and was going to be ready when Todd brought it to the surface. Awesome! Our second keeper! We went the rest of the day with no up grades, but Todd did catch a big Walleye and that was how our day ended. (by Troy Limmer)