Pikes Peak Bass Masters: Indiv. Draw Reports!
Friday, September 18
2015 Championship-Ute Lake, NM
Derek Phillips
wins
2015 PPBM Championship!
Derek's story will be here soon!
Sunday, August 9
Draw #5-2015 (Navajo Reservoir)
Jerry Brown
snatches valuable points from AOY racers!
Wins Final Draw #5-Navajo Reservoir
More to come!
Saturday, July 25
Draw #4-2015 (P-LoTwilight)
Derek Phillips
steps through the "open door"
Wins Club Draw #4-Pueblo Twilight!
Winning at Pueblo for the Pikes Peak Bassmasters generally means you'd better have twelve to fourteen pounds to best the top guys at Pueblo. The top sticks for this body of water: Conway, Gentzel, Cubbage and Solverson are all known for producing those size bags consistently and with ease its seems to most. However, when things get tough, the door opens for someone else to better the best.
At the ramp, when the dock talk chatter started on how tough it was out on the water, it seemed Ty Hughes may have put together his first PPBM win. Partnered together, Ty and Derek Phillips scraped together bags that wree good enough to potentially edge out the top guys on the water. For Ty, fishing from the back of Bob Zyers boat, this accomplishment is extremely notable. Ty has slowly been honing his skills while fishing behind the best in the club. He is picking up on the little tricks and techniques that produce time after time on this body of water. The door for the win had seemed to have closed for many attendees. Even Derek, who had added his weight up in his own head incorrectly, offered his congratulations for the win to Ty, based on the "dock talk." Then Derek's bag totaled up. By a mere three ounces more than Ty's bag, Derek sealed the victory and secured his spot in the elusive Top 12 once again! He know has a chance to repeat in the TY-REX Construction Colorado Challenge Cup!

Derek's winning pattern came partially from the success of one of the best on Pueblo from thisa club. This sharing of knowledge is what our club is all about. As Ty's growing success is particularly attributed to information from some of the best in the club, so was some of Derek's today. Todd Gentzel's consistent success with a buzz bait kept Derek's focus maintained throughout the evening on the bait. His faith that in other top guys producing on this body of water with this bait gave him the confidence needed to make the bait work.

Derek's early success in the day came on Senkos and other small worms in areas near the dam in twelve to sixteen feet of water. During this period, he like most of the contestants, had opportunities to end the event early, but experienced a couple of set backs from the losing of what could have been a critical bass in his total weight, leaving the door open for all in the competion.......
Then he moved to coves in the mid lake area in search of improving his bag. He found himself working to the back of Peck Creek and was cut off by party boats and nearly left the creek. As he started his big motor and began to leave the area, a feeling and faith would have him go around all the boats to the very back of the cove and the buzz bait paid its dividends on the flats in the back of this creek. Sometimes persistence, faith, open doors and the willingness to stay focus pays dividends in this sport and certainly this time for Derek.
Sunday, July 12
Draw #3-2015 (Conchas)
Branden Boyd
"Hotter than New Mexico's Summer sun!"
Wins Club Draw #3-Lake Conchas!
Have you ever stood in a sauna for 5 hours...........fully dressed? Well that is what the anglers did this day over at Conchas Lake, NM. The heat index rose to a sweltering 114 degrees by the completion of this tournament! Now add "No Wind," nix, nada, nine, none, what so ever, and you have the makings of a heat stroke for sure! Not even a ripple was on the water today. That would surely position the fish differently, one would think. Day one, 20 mph winds all day, which again would position the fish so much differently than today. This event would come down to whom would adjust the best, if at all, as the changing weather was sure to make things tough bothg days.
Day 1 found only two guys unlocking the mystery of the fish in the windy conditions. Those two were separated from the pack by what seemed to be an unsurmountable couple of pounds. With the biggest fish of the day only busting into the upper 2 lbs, things looked pretty atainable for the two in the lead.
Then there was Day 2! On this day, dead calm, bluebird skies, water temp in the 80's. Without the wind to breakup the surface, the fish went down and tucked in around cover of somesort. Those that didn't adjust went belly up. Those that figured it out to late it was a boost to their points, but again.....too late.
Branden Boyd had a game plan for Day 1 that he figured out in practice......stay off the banks and fish the points as much as possible. Although he found some fish with his plan, they were not the weight he needed to be in the top spots. He had to settle for feeling comfortable sitting in the Top 10, as many of the other strong sticks were in the same predicament as he.....or worse.
Day 2 found Branden not making much of a change....at first. He caught his limit early on, but couldn't get away from the measley 6-lb range. With the heat beating him down and making him want to go hide under the console, he took note! Looking at the weather, dead calm, he decided to stay on the points, but to attack them deeper than he had been doing. Placing his boat in the 35' range, he and his partner made casts into the 15' range and brought their baits back through the 20-25' range. To their surprise, that is where the fish were hanging out for them! Both Branden Boyd and Ty Hughes made a move towards the top rung! For Ty, it was the "so much, but too late" scenario, as he brang in over 11 lbs, one of the biggest catches of the weekend. He only had a 2 lb+ day prior, but still managed to burst into the Top 5, capturing some much needed points in this crazy 2015 race for the Top 10!
Boyd made a more surprising move and just gained enough weight to eclipse the always present assault of Todd Gentzel on the first place spot. Todd took 2nd place, leaving the winners chair open for Boyd to have a seat. Boyd's mid-day adjustment separated him from the rest of the anglers and shoots him to over 10 points ahead of everyone else in the AOY race! Can he hold on?
Congrats to all those making the adjustments just in time!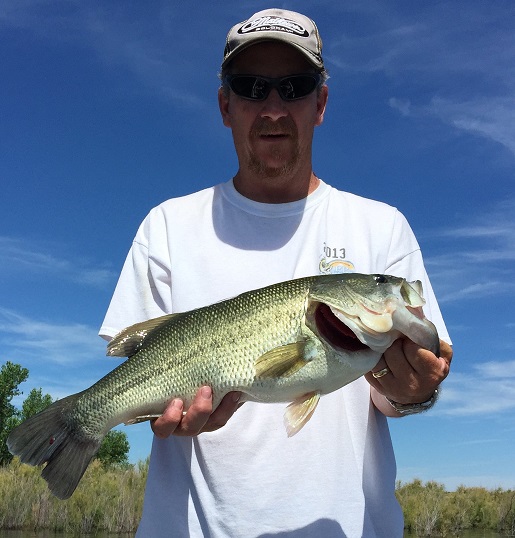 Gentzel takes 2nd place with a 5.12 in his bag!
Saturday, May 30
Club #2-2015 (Trinidad)
Dave Withee
"Dominates" the field!
Wins Trinidad-Draw #2, 2015!
This May has been recorded as the wettest in Colorado history. With weeks of rain, and even some very cool temperatures, Trinidad Lake, a high mountain cold water reservoir, has been getting more water than it has received in many years. The lake rose with 20 feet of that cold water in just about 10 days. That was bound to effect the fish bite, ready or not. Cold, muddy, water is what awaited the 43 anglers attempting to henance their points standings at the 2nd Draw tournament of 2015.
Most anglers had taken the time to practice some days prior to this event. For most, that just got their minds all twisted up, because of the tough fishing. Rumors flew about some of the best sticks in the west talking about possibly "blanking" at their first event ever!
Dave Withee was one of those that was discouraged by his pre-fish. Although not confident of his ability to scrape out one fish, let alone a five fish limit, he attacked the day by heading for an area known to have produced most of the fish over the past week or so. Little did Dave know that his decision would put him in the middle of a group of large Smallies that had started to stage up in that area. He fished for most of the morning with only one other boat around him. That lack of pressure gave both boats a head start on loading up on some of the biggest fish to be weighed in this day. Through the morning hours, it didnt take long for word to get out on that area producing good fish. Many other boats tried their luck in the area, but it was too late. The big fish had felt all the pressure and they had headed back for their secret haunts, back from where they had come from, once again.
Dave managed to capture a super large sack of fish for the conditions at a staggering 13 lbs-1 ounce, giving him his first PPBM win since joining the club. His five fish limit weight will always be remembered as a "blow out" at Trinidad, as it easily doubled the weights of the average 6 lb limits that were getting caught.
With 15 minutes to go, Ron Giebel made his last casts count. He tossed his crankbait around the same cover he had beaten up earlier hoping to find one last small straggler bass that had forgotten to get deep with the rest of the bunch. To his surprise, his rod bowed down as he hooked into one fish that had forgotten to go with its buddies. This fish weighed in at 3 lb-15 ounces and catapulted him from a probable 13th place finish into 2nd place and gave him the Big Bass Award for the day!
Great Job, fellers!
Saturday, May 9
Club #1-2015 (Pueblo Res)
Branden Boyd breaks the 3-way tie!
Wins 2015 Season Opener
at Pueblo Res!
More to Come!
Sunday, September 28
Club Championship 2014-Wilson Lake, KS
Todd Gentzel
wins the
2014 Club Championship!
GENTZEL CAPTURES THE 2014 PPBM CHAMPIONSHIP CRANKIN'
The 2014 Pikes Peak Club Championship could have been anyone's game this year. The door was wide open for a number of the 21 guys attending to step up and win a major event. But the separation at the top of the event happened early on as Day 1 leaders deducted that a crankbait bite was on in certain locales. The top guys capitalized on that bite quickly and made their moves early. The lesson here was each of the top guys detected the pattern, but all of them did it just a little differently. Everyone also knows that when the crankbait bite is good, Gentzel is the guy to watch...
As the action heats up on Day 1, Ron Giebel found fish on the outside edges of the grass on main south points and pulled in a limit that put him in third place after the time was up for the first day. Mike Garrett, Ron's non-boater backed him up fishing similar with a limit placing him in 5th. These two teamed up to win 1st place Day Money. Todd Gentzel made a run to the dam first thing and had his limit within 20 minutes fishing a deep crankbait and a square bill crankbait. He worked other areas to find additional bass and upgraded his sack to finished the day in 2nd place only 8 ounces behind Derek Phillips. Derek started in the same region of the lake as Todd and Ron, but his success didn't come until later in the day when he began bouncing from point to point focusing on sloping rock windblown banks with grass beds. Derek fished a Lucky Craft shallow running crankbait between the bank and the grass to catch his bag.
At the start of Day 2, Todd and Derek both started on the dam. Todd went back to his sweet spot on the dam and started his working on his limit right away. Todd finished out his limit by running main lake points and culled up the last few minutes to edge Derek out from winning back to back Championships. Todd's non-boater Vince Carpio managed to scrape up the bass that Todd left behind to earn the team 1st place Day 2 money.
Derek was unable to capitalize on any bass on the dam and then beginning repeating his steps from Day 1. Although Derek put together a respectable limit later in the day, the difference was he struggled to keep his bass buttoned up on Day 2. Behind Derek on Day 2, Mike Garrett continued to put bass in the boat and moved from 5th all the way to 3rd for the tournament. Mike worked hard behind his boaters, fishing both plastics and crankbaits on both days. He made the most of his opportunities earn himself a podium spot that he hasn't enjoyed for a few years.
Don Evans finished the tournament out with over 12 pounds earning him a top five spot and Ron Giebel finished out the tournament with over 11 pounds, edging out Brian White for 5th place.
Sunday, August 10
Qualifier #5 2014-Norton, KS
Steve Cubbage
wins Norton event and takes the
PPBM-2014 "AOY" title!
1st--Cubbage (19 lbs-4 oz) 2nd--Conway (16 lbs-12 oz) 3rd--Jerry Brown (16 lbs-4 oz)
*****************************************************************
The Pikes Peak Bass Masters have crowned a new "King of the Hill!" After another year of close finishes, Todd Gentzel, the reigning 3 consecutive PPBM-AOY title winner (reigning-The period during which a monarch rules), was ran down and bumped from the throne by Steve Cubbage, another one of this state's most dominate bass anglers to ever come along!
This last event of 2014, held at Norton Lake in Kansas, had a lot on the line for many of the clubs anglers, as evident in the prior article below this one. None of the races, in this final event for positions, is more coveted than the "AOY" title! This title shows which angler had the most consistent ability to adapt to every situation all year. A very tough job to do against the mess of great anglers this club has spawned over the years.
In 2014, there were 3 guys that pulled away from the pack leaving no doubt has to who might be that guy. Gentzel, Cubbage, and Conway were all in perfect position to win the title. All 3 needed certain "realistic scenarios" to take place at this last qualifying tournament for themselves to win the title. Two of them needed to win the event to start their chance at the title, and one needed to finish only second and he could not be beaten. Yet all 3 needed to depended on the other 2 to do their best and end up in the top spots in order to fend off the others from the title. Fun stuff to watch and be part of this year!
Norton Reservoir in Kansas has been like most other lakes in the west and has been hit by drought conditions pretty badly. The water being down approximately 12 to 14' over the past years didn't help the anglers lock in on much of a pattern. The bass were scattered and mostly chasing shad pods out somewhere on the lake. Timing was everything.
Steve Cubbage found a school of feeding bass first thing in the morning on the first day of this two day event. His limit would be completed by 9:30am on Day 1 and it would included a behemoth 3.5 lber that would be the anchor to hold his weight lead throughout the entire event. With a total of 11+ the first day, Steve would take the lead by 2 lbs and and never look back..........except on Day 2, at 11:00 am, when he only had 2 fish on the card with 2 hours to fish! At that time he felt the title slipping away and was looking over his shoulder constantly, from side to side, for a short while. With Jerry Brown hot on his tail in second place, and Conway just behind him in 3rd place, Steve knew he was in trouble if he didn't finish up his limit and close this deal out on this most important of days.
With 2 hours to go, Steve made a "title grabbing decision" to leave his main pattern and go after a smaller limit of fish to close the door on the rest. He decided to start tossing a Senko in the hopes of pulling those last 3 fish he needed to finish his limit, no matter how small they may be, to put another couple rungs between him and the guys crawling up the ladder behind him. His plan worked and he completed the tournament with only a 2 pound spread, meaning he needed every bit of those last 3 little limit fish, which included a 13 oz fish!
Not only did Steve do exactly what he needed to put himself in position to win the title of AOY, he still had to count on other anglers trying to win also, which he was hoping would put a space or two between himself and Gentzel, as he still needed Gentzel to finish 6 points below him for the title to go his way. Gentzel had his worst start to a two day event and stumbled too much on Day 1 to make the full come back, but still charged the finish line like a bull at the end, only making it to 5th place. Exactly what Steve needed to happen for him to take the title away from a guy that held on to the "AOY" title dynasty for the past 3 years!
Congratulations goes to Steve Cubbage!........your "2014 PPBM Angle of the Year!"
Sunday, July 13
Qualifier #4 2014-Pueblo Nite
Todd Gentzel
wins 2014
Pueblo Nite event!
1st--Gentzel (9 lbs-2 oz) 2nd--Cubbage (8 lbs-6 oz) 3rd--Hughes, TY (7 lbs-15 oz)
************************************************************************
Pueblo Reservoir has been fishing tougher than most of the PPBM club members have ever seen. With most members at a loss as to how to attack the lake this year, fishing this "nite" event would not be an easy task for anyone. That fact alone, which leaves an open door for anyone to make a big points move in the standings, drew many of the anglers out to this years "nite" event.
Mother Nature again decided she would play a big part in deciding the outcome of this event, causing a delay in the start until 8pm and dumping a steady rain on us from start to about 1:00am the next morning. If a PPBM angler hadn't been mentally tested before, this was his day. Focusing on the task at hand, and not the fact that his shoes were soaked, hands were wrinkled, and sleeves were wet and cold clear up to his elbow, anglers fought the conditions and created a good race in the end.
Unfortunately, there is nothing special here to report about techniques. The margin of victory at the end of this event was not the spread we are used to, but still had the usual suspects wrestling for the top spots....again. Their techniques were no different than anyone else's, so why do they keep seeming to be at the top? How do they do it year after year? Who knows, but we must go after them and stay steady! One day the win will be one of us guys chasing those guys that are always in the top spots!
Stay tuned for the "Winning Ways!" videos and learn what the guys did to pull off this event.
Saturday, June 21
Qualifier #3 2014-Trinidad, CO
Steve Cubbage
"works his plan"
and wins at the Equalizer!
1st--Cubbage (9 lbs-8 oz) 2nd--Phillips (8 lbs-10 oz) 3rd--White (8 lbs-6 oz)
Trinidad Reservoir, being nestled in the foothills west of Trinidad, CO, has always been a difficult lake to figure out at any time of season. This event would be no different, as rising water from cold run-off and a stain that anglers were not used to, was the issue of this day. All the contenders know that this lake can "make you or break you" for the season in the points race. This lake is known as the points standing's "Equalizer" for the Pikes Peak Bass Masters and it is guaranteed to upset the standings, as always!
There is always a guy or two that can put enough of a plan together to make a run for the top spot at these tournaments and get some much needed points against the rest of the field. Steve Cubbage had been down to the lake a week prior to try and see what he could figure out. Knowing the lake was always difficult, he knew a "pre-fish" is a must on this lake, if a guy wants to have any chance of getting into the top 5 of this skilled group. Although the winds were bad that day, he thought he had figured out what stage the fish were in and maybe what the fish were doing. He decided to stay with his plan today and see how far it would take him.
Steve's plan was to focus on some Largemouth that he felt had just gotten to the nests this year. He had an area that he felt had bedded fish around, only based on the way they bit in practice, not because he could see them in the muddy water. Come tournament morning, and prior to going after the bedded fish, Steve made the decision to try for a few nice Smallies first. That plan proved to be a good one, as Steve set into a 3lb Smallie that was surely going to make it tough for all the competitors to gain ground on catching him. Both of Steve's plans created a charge for the top that no one could run down. Last years winner, Derek Phillips, could only muster 2nd place this year, as Steve's run "bested the rest" by just enough to show that he had the best plan of this day.
Congrats to Steve on another win against the best field of anglers in the state of Colorado!
Sunday, June 1
Qualifier #2 2014-Wilson Lake, KS
Joe Conway
"Drags" to a win at
Wilson Lake!
1st--Conway (23 lbs-13 oz) 2nd--Gentzel (21 lbs-11 oz) 3rd--Cubbage (19 lbs-9 oz)
Wilson Lake, KS is one of the better bass lakes in range of the Pikes Peak Bass Masters club. Members, after hearing the ranting of how great the fishing was over there, attended this years event with great expectations. Wilson did not disappoint this weekend's competitiors, which may be one of our largest attended "out of state" events in years.
Joe Conway has been on a little role as of late. He finished 2nd here at Wilson last year, and was expecting to do well again, although the conditions were way different this time. Getting in some good days of practice was going to be key to doing well this year. Unfortunately, work kept Joe from getting the "Day and one half" of practice he was hoping for and he had to settle for one day only.
Prior to getting on the water, Joe listened to the findings of a couple of the other anglers that had practiced the day before. Based on their findings that the Largemouth were very skinny, and the water temp was in the upper 60's, Joe decided the Largemouth would be in the early stages of post spawn and weigh less than normal, and the Smallies would have been post spawning for a few weeks already making them heavier by now. Joe decided he would target the recovered and hopefully heavier Smallies for this event.
During that one practice day, Joe found a stretch of bank that held some pretty decent Smallies that would frequent the area. The decision was made that he would try and get these fish that should keep a guy in the race for the top spot. They may not be winning fish, but they were Top 10 fish and plentiful! Luckily for Joe, more big fish were passing through the area more often than he thought. Both he and his first days partner brought in respectful bags that first day, Joe's limit giving him a 1-lb lead on the group, which is always important against this group of skilled anglers chasing him.
Day 2 brought more of the same type fish for Joe, but he did not have the same type of luck this day. Breaking of a good 3-lb bass early, just before the net, and then another on the hook set just 10 minutes after that, Joe thought the Zebra muscles in his area were going to end his charge for the top spot. Fortunately for Joe, the second day was tough for all the competitors. His weight for this second day, although not as heavy as it could have been nor what he had hoped, was again 1-lb above the rest of the field giving Joe his second win this season and adding much needed points for the AOY race.
Saturday, May 10
Qualifier #1 2014-Pueblo Reservoir
Joe Conway
wins 2014 "Season Opener"
at Pueblo Reservoir!
1st--Conway (11lbs-13oz) 2nd--Gentzel (8lbs-9oz) 3rd--Boyd (8lbs-2oz)
The 2014 Pikes Peak Bass Master season opener started off with conditions that couldn't have been much better. Weather forecasts were for slight winds and some precipitation later in the day, but that would be well after the boats would be off the lake. The air temperature of 70+ was to be the norm for the day....Awesome!
The lake had been drawing down slightly over the past couple of weeks and was trying hard to warm up with the warmer days we had been experiencing for those same couple of weeks. The heat did not boost the water temp as much as most thought it would. The warming air only caused more melt off in the high country, which in turn was sending cold water down into the lake. Those cooler waters coming in were keeping the lake at a steady 55 to 58 on main lake, and barely into the 60's in the coves. Usually the anglers and the fish are dealing with main lake water temps in the low 60's by this time of year. The anglers were going to have to adjust a bunch, as the fish were being affected by the crazy water conditions more than usual.
The 36 anglers all took off with hopes of guessing correctly on what the fish were doing with all this transitioning weather and temps going on. Most anglers went westward to the warmer waters looking for those heavy Largemouth that should be showing up more shallow and could be very catchable. Some went to the main lake bluffs in hopes of catching the heavy Kentucky Spots or bigger Smallies that were staging, but had not yet moved to spawning areas in the bays. Others planned on the early activity of the Smallies' spawning rituals hoping they would be making a move for the flats off of secondary points somewhere. Which anglers would guess right?
More to come!!!
Next up, Wilson Lake, KS, May 31st-June 1st!
Angler Standings Qualifying Schedule
Saturday, September 14
Club Championship~2013~
Derek Phillips wins
2013 PPBM Championship
at Norton Lake!
The Pikes Peak Bass Masters' 2013 club Championship was held on Norton Lake, KS again this year. This lake has become one of the favorite fishing spots for the Pikes Peak Bass Masters. The lake hot spots are well known to all members, but it is still quite difficult to get the right bites to get a win in a tournament on this water.
Day 1 found the fish biting fairly well for most anglers with a few of the guys getting into some of the two pounders needed to make a run for the top spots. The weather and the bite was a bit different on this day, compared to what the anglers had going on the practice day. Adjustments needed to be made in order for competitors to separate themselves from the pack.
The first day's weigh-in found Dave Withee sitting at the top with a 10 lb-10 oz limit. Hot on Dave's tail was Derek Phillips with a 10 lb-8 oz limit. Coming in at third, and finding himself only a few ounces out of second and in a great position for the win, was Robert Radney. Bob has endured some physical setbacks this year and a win here...again...would show that he is truly "back" as they say. All the anglers in the Top 10 were within 2 lbs of the lead, so it was anyone's game!
Here is how it all went down as reported by the winner himself, Derek Phillips!
On Day 1, I was thrilled to have Bob Radney returning to a club Championship and getting drawn to go out with me. I had visited him in the hospital and have watched him get better and better through his recovery. Last year, when he won Norton, he had fished the first day of that event with me and found a good pattern fishing behind me. His first day total and his efforts to execute flawlessly on the second day, won him that tournament. Given his limited mobility today, I elected to do several things on the first day in order to allow him better opportunities to be successful. I started by doing some "pitching" into my usual areas on the lake with Bob throwing a spinnerbait behind me.
All in all, Day 1 was a roller coaster for me, as the fish didn't seem to want to eat my "Flipping baits", (Gene Larew Salt Craw, Strike King Rage Craw, nor my Yamamato Kreature Bait) and were mostly just chasing them out of the cover. I made a few mistakes this day, one of which was swinging a decent fish into the boat using my Loomis Frog Rod 7'-9", only to hit him against the drivers console, and then having to watch it fall back into the water. With limited success for both of us in my main areas, we later made the move to the dam and hoped to find more willing fish to help Bob finish his limit. I had to adapt a bit through the day, and settled on a 1/4 oz Eagle Claw Tungsten weight paired with a Trokar TK130 5/0 Flipping hook as my main weapon, but probably did not adapt near soon enough to better my limit for the day. I focused on a 1' to 4' depth of water around the brush and used a Shimano Core 50 reel with 20 lb Seaguar Invizx line to get the fish out of the jungle and into the boat. My efforts for Day 1 gave me 10 pounds 8 ounces. On this first day, I learned that I was in second place behind Dave Withee by just 2 ounces, with my partner Bob Radney just ounces behind me in third place. As Todd Gentzel put it to me, "its much better to be close on Day 1 and not have that definite target on your back for Day 2." I sincerely agreed...:-) That evening, as we all do, I evaluated my decisions and the fish's actions on Day 1, and came up with some adjustments for Day 2. I truly expected that Dave Withee was on the fish to win and if conditions didn't change for him he would be set for victory as long as his Day 2 partner Bob Radney didn't catch more than Dave from the back of the boat in his choosen area.
My Day 2 partner, Vince Carpio, was also wonderful to fish with. As we all know, Vince is a superior finesse fisherman, but that usually doesn't blend well with my plan to be "Pitching and Flipping" in the sticks. Vince, being the trooper that he is, made some adjustments, asked good questions as we went along, and jumped right into my technique. His efforts were rewarded with a 3 pound Largemouth along a wind-blown bank.
I made a decision, with less than 20 minutes to go, to move to an area that I hadn't practiced in, but felt it was very similar to what I had been fishing. On what would be my last cast, I hooked a 3 pound 11 ounce Largemouth on a long pitch back into the thick stuff and managed to hang on during the long tussle and I got him in. That fish gave me nearly a 2 pound upgrade, which I felt may have sealed the win....until I heard rumor of Bob Radney's last second heroic actions of catching a nearly five pound bass as well. My Day 2 had gone much smoother in execution, although I still lost a couple of fish here and there in the thicker stuff we were fishing. I had to stay after it and keep pounding the water, or as Mike Iconelli always says, and "never give up," but did I do enough?
As fate would have it, it was a tough day on the water for most, and Bob Radney's big bass wasn't enough to overtake my weight. I was blessed with another day of having a double digit weigh-in at this tournament and I would somehow pull off another Pikes Peak Bass Master club win.
I am personally both honored and priviledge to fish with the members of the Pikes Peak Bass Masters, all whom are well known and respected fishermen of Colorado. I feel more blessed to have edged out the very best this weekend. For anyone considering this club, you will find your outings with these gentlemen, fun, educational and a rewarding experience! I would recommend this club to anyone who loves bass fishing!
Thanks to all,
Derek
Sunday, August 25
Club #5-Night Tourney-Pueblo Res.
Gentzel wins Club #5!
Wins "AOY" for third year in a row!
The final event of the Pikes Peak Bass Masters regular season came to an end this weekend! Anglers were very excited about this night tournament as anyone could win and advance their points into the Top 12, the Top 10, or even into the AOY title.
With the AOY title on the line, there was no obvious clear-cut winner that was going to walk off with the title. Joe Conway, leader for the title by points at this time, was sitting pretty. A win and the title was his. A second place finish and the title was his. Both are very hard to make happen with this group, so Conway had to consider the worst case scenario. If Todd Gentzel won the event, as he is always chasing the win at these night events on Pueblo (actually any event on Pueblo), then Conway would need a minimum of a 3rd place finish to tie in the points standings and hope Todd didn't catch a bigger "tie breaking" fish for the year. These positions were not the best spot to be in for Conway or for Gentzel, but not a bad spot either.
Another angler that planned on making waves was Steve Cubbage. He was in a position to win the top spot of the Top 10 qualifiers and wanted it bad. With Steve fishing so hard, the odds were in Joe's favor that Steve may actually take the 1st place position himself, or at least push Todd down a place, aiding the AOY title to go Conway's way, if Conway finished high enough in the standings to help himself.
The night began with the weather in the high 80's and the water level actually on the rise. Every angler had a different idea as to how they needed to fish and where. Most stayed main lake with a few running back in coves and some to the muddy west end, all in hopes of catching the elusive "kicker fish."
Although many fish were caught, not many limits crossed the 8-lb threshold for the entire tournament. It was heard that both Todd Gentzel and Steve Cubbage only had 7+ lbs at 4:30am and no 'kicker fish" in their bag. Conway was setting on 10-lbs by 1:00am, had a 3-lb "kicker fish" in his limit, and unfortunately, had some mishaps early on that changed the landscape for him. He could have easily had a solid 11+ lbs for the night, but it wasn't meant to be this time.
With only a couple of hours left to go, both Cubbage and Gentzel made mental adjustments that proved just how far they have graduated into a different level of competitor over this past year. They both added important pounds to their limits and changed the outcome of what looked to be Conway's title. In those couple of early morning hours, Gentzel upgraded his weight to an 11+ lb limit. Cubbage upgraded to a 10-lb limit and pulled right along side Conway heading across the finish line!
At the weigh-in, many anglers did what they had hoped to do in the points race. Scully, paired together with and needing to beat Zyer to gain enough points to make the Top 12, just squeezed past Zyer and came away with just enough points needed to make the Top 12 "Challenge Cup". Limmer finished well and squeaked into the Top 10 on the very bottom rung! Whew! Others weren't so lucky and ended up just on the outskirts of where they wanted to be.
Gentzel took 1st place with his 11+lbs and did what he needed to do...win, and then sit there with his hands tied and wait and see what happens below him. Conway's 10-lb even limit was short of what he thought he would need to be in the Top 2 and take the title, but maybe enough to do it anyway, listening to the 7 lb average weight chatter from the other anglers.....Then there was Steve Cubbage. Cubbage weighed 10 lbs-1 oz taking the 2nd place slot and bumping Conway into 3rd place by 1oz.
Without that 1 ounce by Cubbage, Conway takes 2nd place and the story ends here with Conway having the needed points and winning AOY......but not so fast. The finishes put Conway and Gentzel into a tie for the AOY title. The tie breaker..."big fish" of the season. Conway had a 3-2 he caught in the first tourney of the year to beat Gentzel out of 1st place back then and has rode on that big fish for 3-1/2 months. On this night, one of the fish that helped Gentzel attain his 11-lb weight was a 3 lb-5 oz heartbreaker! There in lies how this season ends....a total of 4 different ounces of misery for Conway, with the AOY tie breaker going to Todd Gentzel, our 2013 AOY, and a 3-peat performance of that feat to boot!
Congrats to Todd Gentzel for a great win and keeping that "never give up" attitude literally right to the very end!
Sunday, August 11
Club #4-Norton Lake, KS
Steve Cubbage
wins Club #4
at Norton Lake, KS!
Norton Lake, Kansas was the 4th stop for the Pikes Peak Bass Masters club series in route to the "AOY" and Top 10 titles, as well as the Ferguson Cup Challenge qualification. Contenders at this two day event were hoping to have a good finish in order to solidify their point standings in those races.
Norton Lake was on the drop, as are most lakes in this part of the country, with water levels low and water temps in the 80's under mostly sunny skies. The low water conditions had the "bass cover" that anglers were used to finding on this lake a little more scarce. This event's anglers were going to need to dig deep into their knowledge of bass fishing in order to be a top contender at this event.
Steve Cubbage started this two day event with a giant lead after Day 1. Catching some good fish fairly early in the day, and then packing on the weight with a 4lb-4oz behemoth later in the day, Steve's 13lb-7oz weigh-in for Day 1 was a full 3 pounds ahead of his closest threat! He was followed by Frank Bianchi (10lbs-10oz), Joe Conway (10lbs-7oz), and Larry Krueger (10lbs-1oz). There were more anglers, known as "club power houses", well within striking distance of the win, if Steve didn't perform on Day 2. All were determined to keep Steve from relaxing right to the very end!
Day 2 found the weather just a little different. With slightly overcast skies the fish were not as easy to pinpoint. Many anglers struggled to reproduce their first days catch and others found the weather to their advantage and piled on the weight. When it was all said and done, Steve's 8lb-10oz Day 2 left the door open a squeak for the rest of the field. Frank Bianchi, Derek Phillips, and Todd Gentzel all weighed in 11-lb weights to make a hard charge for the top spot.
When the dust cleared at the Day 2 weigh-in, Steve's 3 pound lead was just too much for this group to overcome on this lake. His 22lb-1oz total was enough to get him 1st place and his first ever club win! Frank Bianchi fished the most consistent, and actually better than everyone else, but could only lock down a 2nd place finish with 21lb-8oz. Derek Phillips was off his game slightly on Day 1 and still finished 3rd place with 21lb-2oz. All three of these anglers did themselves well in the overall point standings with their finishes and have locked themselves into the Top 10, and the Championships to follow! Great job, fellas!
******
This event also heated up the "AOY" race to the boiling point! Joe Conway, leading that race for now, didn't add to the point spread he has from his chasers like he had hoped in this event. "Back to Back" AOY title holder, Todd Gentzel, who's points are right on Conway's behind, struggled on Day 1 and was poised to stumble hard at this event. He pulled it together on Day 2, bringing in one of the 11 pound bags, and regained some very valuable points needed to keep him in the run for a "3-peat" of the "AOY" title. Had he continued his fumbling of the ball, as on Day 1, he would have all but handed the title over to what looks like it could be a "AOY" title for Joe Conway. Also lurking just below Todd and threatening hard in this "AOY" points race is Vince Carpio. He has but only to finish high and for Conway and Gentzel to stumble some and it is his title!
Basically, no one is safe, or even comfortable, at this last tournament of the year! With the last club series event being a night tournament at Pueblo Reservoir (which is always anybody's to win), and with all the jockeying for position in the races ("AOY", Top 10, and Top 12), the stage has been set for the final event to actually "count big" for everyone and promises to be the most exciting event we've had this year!
Now, as it sets, all bets are off............or rather all bets are on!
Sunday, July 14
Club #3-Wilson Lake, KS
Vince Carpio
wins Club #3
at "hot" Wilson Lake, KS!
It has been written that the young guns in the Pikes Peak Bass Masters club are fast becoming some of the greater anglers in the state. It is also been stated that these same anglers that are getting better, make for a better club and for much greater competition for all members. Alright, young guns!----Enough already! Give us a break! Come on, Man!
The tournament at Wilson Lake, KS was like any other tournament this club has had in Kansas this time of year......hot, windy, and very muggy! The air temp was 104 on practice day. Yep, 104! Then it was 106 on Saturday! Lots of sweating and lots of drinking of water were taking place, you can be assured!
The water temp was hanging around 78-80, or so, and the fish were doing their summer routines all over the lake. Contestants found a number of patterns working.....Cranking, Fluke-ing, Pop-r-ing, Zara spooking, Buzz bait-ing, Jig-ing, Worm-ing, C-rigging, you name it and the fish were eating it..........somewhere. Ah, there in lies the game!
Vince Carpio was paired with Joe Conway and started Day 1 fishing a rocky point off of a flat. The bite was not what it was the day prior, so Vince adapted to what the conditions were, and to what Joe was throwing, and managed to pull 2 fish and lose a fish from the back of the boat in the time they fished that spot. Feeling the need to move, as Joe hadn't any fish, they got out of that area and headed for another spot of confidence.
Vince was fishing behind a guy that wasn't going to give up any fish easily, so if he wanted to compete, he would have to adapt constantly to what was happening in front of him. The next area found the fish waiting for them to arrive. Vince and Joe limited within an hour! The great thing was no one else showed up for 2 hours, so they had all those fish to themselves! Vince did what he needed to do behind Conway and ended up catching some good fish from the back of the boat, placing him in 3rd place at the Day 1 weigh-in (11 lbs), a mere few ounces behind the leader....Joe Conway(11 lbs-9 oz.)
Day 2 found Vince in another predicament. He was paired with back-to-back PPBM "AOY" Todd Gentzel. This pairing could be a good thing, or it could be a very, very bad thing! Todd is known for vacuuming up the fish in front of folks, so Vince was going to have to adapt, once again, and depend on his discovered patterns from the day prior to be able to stay in this game. Hopefully he could make his patterns work behind a guy like Todd too.
Vince, again, did what he had to do to survive being paired with one of the club's strongest threats. Vince adapted behind Todd and scored big on Day 2, bringing in the weekends' biggest bag (12 lbs). He ended the day with a 2 day total of (23 lbs), which was 1 lb better than Conway's (22 lb) 2nd place finish.
Another awesome finish by one of this club's most improved anglers! Congrats on your first club win, Mr. Carpio!
**********************************************************
Sunday, June 9
Club #2-Trinidad Lake, CO
Derek Phillips
wins Club #2 at a tough
Trinidad Reservoir!
Trinidad Reservoir was again on the drop, although water levels are already lower than normal. With water temperatures at the right spot (60's) for the fish to get up close to the banks and start their spawning, many fish were caught between the instinct to do so, and the instinct to back off the banks due to dropping water levels. The winds blew early on Day 1, with some cloud cover getting fish to stay shallow a bit longer, and kept the air temps a bit nippy most of the morning. The wind came and went in little gusts throughout the afternoon, keeping temps comfortable, around the high 70's. Day 2 started the same, but had clear skies followed by dead calm by 10:30am, making it hot (88) and sending the fish a little deeper in the clearer parts of the lake.
Most of the contestants at this event found fish regularly, but had a hard time getting the "bigger bite" consistently. The Day 1 weigh-in saw a some newer names at the top of the list chasing the leader, Derek Phillips. Derek had brought in an impressive 13+ lbs and was being chased by Steve Cubbage, Todd Gentzel, and the club's youngest contestant, Connor Santos, in that order. All of these anglers had brought in 'double digit' weights when the majority were struggling to get 7 lbs of fish.
Day 2 was tougher for all, but at the end of this day, a strong charge by Steve Cubbage (22.03 lbs total for the two days), fell short by under a pound. Steve watched all his hard work for the weekend, his chance to make up the first day's deficit, and his chances for his first win in very tough conditions, disappear in slow motion and in just a matter of seconds, as a 3+lb fish he had hooked late on this last day, jumped and threw his bait back at him, sending Steve to his knees while dropping his face into his hands in disbelief.
Derek threw a tube on main lake points for most of this event, but mixed in a Rapala Crankin Rap when conditions warranted. Derek's catch on Day 2 wasn't the best of the day, but was just what he needed to give him a total of 23.03 lbs, fending off the rest of the crowd and giving him the win of the Club's 2nd tournament of the year! He receives the all important 1st place-100 points in route to the 2013 "AOY" award!
******************************************************
Saturday, May 11
Club #1-Pueblo Reservoir, CO
Conway wins
2013 "Season Opener"
at Pueblo Res!
The season opening tournament for the Pike Peak Bassmasters took place this weekend at Pueblo Reservoir. The weather decided it was time to cooperate with one of this club's early season tournaments.......for once. Temperatures were predicted to be 45 at launch and into the 70's sometime during the day. Mother nature decided to wait until after 10:00am to start the warm up into the 70's, as most contestants had to keep their jackets on until that time.
The fish were/are still in transition and traveling from their deep water haunts towards the backs of the coves and to the points and flats. They were catchable to most the anglers and the size was pretty average across the board for all contestants. With Crankbaits being the preferred choice of bait for many of the anglers, others found different techniques worked better for them.
Joe Conway started catching fish from the start of the day, but chose to use a Lucky Craft Bevy Shad jerkbait, thrown with a Castaway SB2, 5' 9" rod and a Curado baitcasting reel, along with 8 lb Berkley 100% Fluorocarbon line. He threw this set-up in the same cove amongst all the other anglers that were busy throwing crankbaits, etc. It proved to be the bait for him, as he had four fish in the boat by 6:45am, and was well on his way to getting his hoped for 7-lb limit to get things started. He tried other methods for awhile, to eliminate potential patterns for the day, and finally caught his 5th fish around 8:00am, a 2 lb-9 oz Smallie. That good fish was caught by throwing a 3/16 oz Falcon Tackle 2-1/4" tube into key areas along the channel walls. He used a Castaway 7' Medium Action Spinning rod paired with a Shimano Stradic Cl4 spinning reel full of Berkley 8 lb XT line, to get the tube to act like he wanted it to. Once this pattern was established, Joe caught better fish throughout the day.
Coming into the final hours of the day, Joe and his partner, Louis Torres, decided they needed to find an area that would get Louis 2 more fish to complete his limit. The area where Joe wanted to go had a fisherman fishing past it very slowly, so they decided to hang out and fish within eye-sight of the other angler, until the area was vacated. Then they could investigate and see if there were any fish left behind. In the minutes spent waiting for the special area to open up, Joe was fortunate enough to catch a 3 lb-2 oz Largemouth to add to his limit. What a nice "kicker" upgrade!
About 20 minutes after that big fish catch, and only an hour to go in the tourney, they made their way over to the section of flats that they knew held some "shale steppings" out in deeper water where good Smallies had congregated this time of year in the past. The two immediately caught fish and had a flurry of 6 fish getting caught in a matter of 15 minutes or so. Unfortunately, only one was caught by Louis, but the fish were eating up Joe's set up. Fearing that Louis would not get his limit and there chances for "Day Money" would slide away, Joe handed over his Castaway rod and bait set up to Louis in hopes that he would catch his final fish needed in his limit.
Louis received numerous bites, but needed more time than they had left to adjust to the new gear and be able to hook a fish. Time was ticking away fast and pressure was enormous on Louis! With about 20 minutes left to go in the event, Joe decided he needed to demonstrate a cast to Louis and show him how he should do the "Conway drag" with the tube and how to better notice the subtle pick-up of a Smallie. In that moment of demonstration, Joe hooked and caught a Smallie that weighed in at 1 lb -14 oz, culling a 1-13, and that would be his last fish of the day. Louis did catch his final fish right after that and they were off to weigh-in!
Turns out that the one ounce cull in the final minutes, gave Joe a weight of 11 lb-6 oz for the day, and slid him into the position of a tie for 1st place with the two time PPBM "AOY," Todd Gentzel. As luck would have it, this time, Joe's big Largemouth, caught while waiting for "the good spot" to open up, was the tie breaking fish that gave him a big win over Todd to start the season! A tough break for 2nd place finisher, Todd G., as he fished a winning style today. As everyone knows.........that's fishing!
Next up, Trinidad, June 8th-9th. Sign up at the June 3rd meeting!
******************************************************************
FishinHoleGriffith by JC