Pikes Peak Bass Masters: FLW/TBF Updates!
Friday, June 13
Derek Phillips-TBF Nationals!
Derek Phillips
qualifies for a
National appearance!
Derek Phillips, of the Pikes Peak Bass Masters, finished 5th overall at the TBF Southwestern Divisional event at Lake Havasu, AZ, and finished 2nd on the Colorado State Team standings (by a mere 13oz), qualifying him to attend this next TBF National event!
By not giving up, after a little bit of a rough start, Derek got progressively better throughout the 3 day event. He ran down and bumped out the 2012 National qualifier and local area "Super Stick," Greg Gizzi, of Fountain Valley Bass Club, and took away from Greg what appeared to be sure lock on a second appearance in 3 years to the TBF National event!
Derek has been to a Western Divisional before, but noticed he had to work harder than ever before to mentally stay in the race at this event. What he says he learned this time is that, "Dang! There sure are some super good sticks at this level now days!"
With technology the way it is, guys are better than ever before at this game we play. You can not have a bad day and win one of these type of events...period. The TBF Southwestern Divisional has only 59 guys to beat at this time and Derek beat 55 of those. That is a big deal, folks, when you consider many of those guys he beat fish that lake regularly! At a BASS Western Divisional, you will have 131 good sticks like you to contend with and that is an even larger task to manage! No stumbling hard at the gate or you will be well down on the final results list...guaranteed! The skill level today at these events, will not wait for you to get it together and you have to be "mentally all in" every day!
Here are the facts......things can change around you at these events very fast. You can only control what you do....and then see where you fall at the end. Derek is sure to be playing this event over and over in his head and now kicking himself for not getting it together faster. He knows he could have won this entire event, and for sure won the Colorado top spot as a boater. Unfortunately, we don't get "do overs" and another chance to fix any mistakes, but wish we could, because we know we could have done better. A guy gets only one quick flash of an opportunity to get it right.....then its gone and its over. A guy can only work hard and wait to see where his efforts place him at the end. If he is lucky, he may be rewarded!
Congratulations are in order....AGAIN...for Derek Phillips on a great finish in a tough event!
*
*
*
Just a note:
At the state level we can get away with stumbling bad and still actually win the state qualifier at the end. It has been proven time and again. What a guy can get away with at the state level isn't always good enough for a Divisional showing, or for a guy planning on going to Nationals. That shows a distinct difference in skill levels from one stage to another, as bass club members climb the ladder of success. Each step/stage is a different experience.
Qualifying for, and attending, a Divisional event "is the only way a bass club angler can realize what it takes to compete at this higher level" and perhaps make the decision to cross the threshold into higher skill level events. Our state BOD's for both entities should consider making the "Divisional Experience," that means being on a state team, a priority, by making it easily available and affordable to all state members that may want to "test the waters" of where they stand against other great sticks from throughout the Western Division!
***********************************************************
Tuesday, April 8
Gentzel/Way Nationals-2104
Gentzel and Way
go National!
Well its here! Todd Gentzel and Steve Way headed off to their first ever trips to a National bass fishing championship! Here is where a guy either separates himself a little more from the norm, or he realizes he needs to do some more work. Either way, getting to this point is still an awesome accomplishment that many of you reading this are striving for, but may never have the experience of getting here!
Todd-(non-boater) and Steve-(boater) are practicing together in the days leading up to the actual tournament dates. Although it has been tough out there for most anglers to date, Todd and Steve are putting a little something together that will hopefully take them through the crowd and to the top. The actual event starts on 10th-12th. We will keep you up to date here on the site, so stay tuned!
Day 1 Results
Coming soon!
*
*
*
Sunday, February 9
TBF STQT 2014
2014 TBF
State Qualifier
dates are set!
The 2014 STQT dates are slated for September 20th-21st to be held at Pueblo Reservoir. More information can found contacting Brandon at fishsqueezer22@yahoo.com
Friday, August 16
Colorado TBF State Qualifying!
Pikes Peak Bass Masters
shoot for the Top 6
at 2013 TBF State Qualifier!
*
****Practice Day!****
Team Todd Gentzel/Troy Limmer, team Derek Phillips/Mike Rathe, and team Dave Withee/Daren Price(SBC), are all attempting to be representatives of the Pikes Peak Bass Masters on this years TBF state team by fishing the qualifier at Norton Lake, KS. All of these guys have been fishing at the top of their game and should make PPBM proud.
The practice day was cloudy and cooler, which had the fish scattered a bit. Patterns were scattered also, but not for our guys. They locked in on what they figured out last week and had great success recreating the luck they produced back then again on this day. With the patterns destine to change tomorrow with the changing of the weather, chances are most teams will not make the adaption and struggle to stay with the Pikes Peak boys. We shall see! Stay tuned!
*
****Day 1 Results****
Pikes Peak Bass Masters
where expected after Day 1!
This year the PPBM group, with it's base core being some of the state's top anglers, has caused each member to bring out their best "A-game" at every club event, which has caused them to do the same at every outside event this year! The PPBM club atmosphere has grown into the best bass club in the state and is now helping to produce the top anglers in the state....hands down!
Day 1 found the anglers dealing with a different day than their practice day. Instead of the scattered fish with overcast conditions the contestants are dealing with high sun and calm conditions. That should tighten up the fish to cover and create some better "hand to hand" combat in that cover. Only the better "Flippers" will figure it out, as the fish aren't everywhere under everything. Only those willing to pitch every inch of cover and risk moving around a little, will have the advantage on those sitting still waiting for schools to arrive. With high sun, the majority of the fish are predicted not to be moving much, so the anglers will have to move to the fish......unless you are in an area that has less cover, but has lots of bait getting eaten in that area regularly! Ah......gotta love this game of guessing!
Day 1 at the Colorado TBF State Qualifier-Norton, KS, found Pike Peak Bass Masters representatives right where they were expected to be....near the top! The team of Derek Phillips/Mike Rathe did as they expected and brought in a great limit of 11.82 lbs placing them in 2nd place, just ounces from leading. The team of Todd Gentzel/Troy Limmer also produced what they were hoping, 9.92 lbs, and are in 4th place, right in the mix of teams that are in the Top 6 set to make the State team!
Will they hold their positions after the Day 2 weigh-in? This guy bets "yes" and we will surely be sending at least two PPBM teams (1/3 of the state team) to the TBF Western Divisional event!
*
****Day 2 Final Results****
Well, it looks like our boys took a beating and still did what they needed to do at this event! Phillips/Rathe fell to 4th place. Gentzel/Limmer fell to the edge of the cliff and finished in 6th place! Seeing how 6th place was the overall goal, as 1st gets the same thing as 6th, our guys should be pretty happy! Way to go fellers! We will be looking forward to your Western Divisional bout with the rest of the Top 6! Congrats!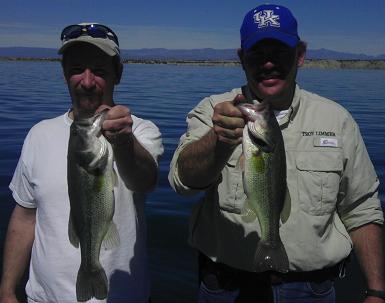 Gentzel and Limmer
May 3rd, 2013
Steve Way
gets his first
Divisional win......Finally!
Well, it appears that good things do come to those that wait....and wait....and wait! Finally, Mr. Steve Way of the Springs Bassmasters and definitely one of the top 10 in the State of Colorado for bass fishing, comes away with the title of Colorado representative to the National event!
After many years of coming "oh so close," Steve finally put it together enough to take the checkered flag. He fished hard on this last day of the TBF SW-Divisional event at Lake Havasu and fished like he knew he needed to do, but still had lots of hardships throughout the day. He had produced 7 bites on the "frog" and only caught 2. He managed to get just as many bites on a "Flipping bait" and lost 5!
Steve thought that the day was going to end as the other attempts at winning one of these Divisional events had ended for him. He had fish get off at the boat more times today than he can ever remember happening to him. Was it going to end like the times before with him reaching out to grab the crown, only to have it ripped away by a broken line or a smart fish getting some good leverage on his bait and tossing it over his head? Not this time!
Steve managed only 4 fish today, but they weighed 12+ pounds! He just knew that he had fell short again by not finishing his limit, but had no idea that Matt Massey was having a "Steve day" also somewhere on the lake. The only difference being that Matt only brought in 3 fish, which at this level is leaving the door too wide open, so Steve stepped on through!
This is Steve's first ever Divisional win and it has been a long time coming! He is at the doorstep of winning the "Living the Dream" package and should be our horse in that race. Stay tuned for more details on when and where Steve gets to chase his dream!
Congrats to you Steve, from the Pikes Peak Bassmasters!
May 3rd, 2013
Gentzel and Limmer
at TBF
South Western Divisional!
Both Todd and Troy have a good idea what they want to do in an attempt to win their titles at this weeks South Western Divisional Championship on Lake Havasu! They have to get by some really good Colorado fishermen to reach the titles, but both say they can do it!
Stay tuned for updates starting tonight on what is going down out on the desert lake!
Update!---Wednesday morning
Gentzel is boat #21 and Limmer is #29, both 3rd flight for this mornings launch! Gentzel is planning an attack on a stretch he believes he may be able to get close to twenty pounds out of tomorrow, providing his partner agrees with the strategy and "fishes with him instead of against him." Limmer is more at the mercy of his boater, to a point, but will be getting his share of the time and hopes to put together a big weight himself. They will be getting me information at the end of each weigh-in.
"Go get em' boys!"
Update!--Day #1--Wednesday May 1st!
Matt Massey leads after Day 1 with 12+. The weather turned atrocious with winds around 25-30+ mph sustained and gusts to 40 mph.
Todd had the misfortune of what he calls a silly "Rookie mistake." He attempted the swing of a late fish (guessed to be about 2 lbs) instead of waiting for the Co-angler to get the net into the water and it came off. He ended up weighing only 4 fish for a total of 9+ lbs and is sitting in the middle of the pack heading into tomorrow. Winds are to remain the same, so it should be interesting to see what transpires!
Troy is right there behind Mr. Gentzel and is also hoping to get to waters that were unfishable for him today by the weather and the time used by the other contestant going to his own spots. He to lost what was guesstimated by his Boater as a 5-6 lber on its way to the boat. Those type of boo boos can crush you mentally throughout the day and into tomorrow. Shake it off guys!
Both are in good spirits and believe they are still sitting well in the mix. They most likely learned another thing or two about fishing at the next level, as we all do every time we take this step. Mistakes need to be kept to a minimum, or rather to nothing, in order to get through to the top position in an event like this, so they both need to "get to work" and take back a little lost ground from today. More tomorrow night!
Update!--Day #2--Thursday May 2nd!
The TBF South Western Divisional is cancelled for today because of winds, I would suppose. That leaves our guys "one day to catch up to Matt Massey." That could be a blessing if our boys can get one of those big bags they know are active out there. Those lost fish of yesterday, for both Todd and Troy, loom bigger today than it did yesterday. They got to get past the mental part of those losses and get to work tomorrow chasing the big uns! Could be one giant come back and a very exciting finish! Go get em' boys!
Update!--Day #3--Friday (Final Day) May 3rd!
The day started off with a slight breeze that never developed into anything for our guys to worry about...kind of. The wind was the nemesis of our anglers over two days because of it's strength. Now, it was because of the lack of wind that our guys had to work their butts off as the fish tightened up and wouldn't come out in the sun to play!
Todd went for the win, as he said he was going to do......which also means he was willing to lose bad in trying to do that. That is a big part of this game..."You must be prepared to lose in order to win." He only weighed 3 fish today, 3 fish that weighed in at 9+ pounds! The right type of fish, just not enough of them. Dang it! Todd's catch put him in 3rd place overall for the Colorado team. Matt Massey was in 1st for two days and fell to second as he was over taken by a really good southern Colorado fisherman in his own right...Steve Way! Steve wins the boater slot for this upcoming National event! Massey wins the Co-Angler spot but......Hmmmm? Is that Massey's style?......To be in the back of someone else's boat............I don't think so. Maybe he gives the chance to attend the National event to someone that has never been there yet. Maybe he gives it to the 3rd place guy.....That be Mr. Gentzel! We'll have to wait and see!
Troy struggled a bit today and ended up in 7th on the team. I believe they said only one Colorado guy brought in a limit today, which shows how tough it was out there.
Wow! What a neat finish and still the possibility of our guy going to the Nationals! Great work guys! Be prepared to tell us lots of stories when you return.
April 8th, 2013
Greg Gizzi goes to
TBF National Championship
April 8th-13th!
Greg Gizzi, one of Colorado's best bass fishermen, is set to compete at the TBF National event to be held at Grand Lake, OK! Greg is not a member of the Pikes Peak Bass Masters, but he is part of the Bass anglers family here in Colorado. Greg is a member of the Fountain Valley Bass Club in southern Colorado. All that make it to this level could use everyone's well wishes at such an extremely tough physical and mentally draining event!
Good Luck, Greg! Bring home a title to Colorado!
January 14th, 2013
Pikes Peak Bass Masters
Todd Gentzel and Troy Limmer
qualify for the
TBF Divisional Championship!
Todd Gentzel and Troy Limmer teamed up to take on some of the states best anglers and walked away with a second place finish and a slot on the TBF Colorado State Team!
Todd and Troy, the only members of the Pikes Peak Bass Masters that made the team, will represent our club at the TBF Western Divisional Championships come next April 29th-May 3rd, 2013 at Lake Havasu, AZ.
They should be hitting the lake close to full spawn and they stand a great chance at becoming the National contenders from the Colorado team!
"Go get em, boys!"