Pikes Peak Bass Masters: Team Series Schedule 2016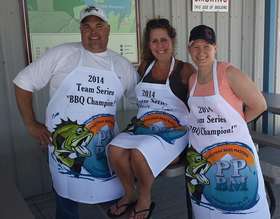 Jack & Cheryl Hunter and Dee Withee
Team Schedule-2016
Steve Way-2014 Team "Shared Points" Champion
Team events are ran from "Safelite - 12:00 p.m.", from the Pueblo Reservoir South Shore ramp and marina. Live weigh-in is on the south marina east beach. Lunch will be served immediately after weigh-in!
(Interested parties are invited to fish one (1) event as a non-member!*)
All events are a two (2) "keeper" bass limit.
All other PPBM tournament rules apply!
2016 Team Series Schedule
Team #1------------------------March 26th
Team #2-----------------------April 16th
Team #3--------------------June 4th
Team #4------------------------July 23rd
Team #5------------------September 10th
2015 Team Series Schedule
Team #1 (March 21st)--------- "Jerkbait Joust" Cubbage/Gentzel
Team #2 (April 25th)-- "Early Bird Shoot Out" Choate/Napier
Team #3 (May 16th)---- "Mid-Spring Madness" Brown/Krueger
Team #4 (June 27th)-------- "Big Belly Brawl" D.Price/T.Hughes
Team #5 (August 22nd)----- "Summertime Slam" Santos/Santos
*
*
Dave Napier--2015 "Shared Points" Team Series Champion!
**************************************************
*
*-"Potential" members are invited to attend (1) event without being a paid PPBM member!
(Potential member must be partnered with an active member!)
*
Entry, Payout, and Point System
Hotdogs and/or Brauts,Potato/Macaroni Salad, and Chips will be served at every event for lunch!
Please buy drinks at South Marina store!
(***Winners of prior event are asked to be the cooks at next event!***)


Entry will be $60 per team...$10 per team "Big Bass" pot ($70 total)
Payout will be based on $50 of entry after $10 is removed, per entry, for food & expenses:
1st--50%
2nd--30%
3rd--20%
(1 position per every 4 boats)
Big Bass is 100% payout to two positions:
1st--70%
2nd--30%

Points are awarded to team members based on finish, with a declining point system:
1st---100 each
2nd--95 each
3rd--92 each
4th--90 each
5th--89 each
etc.
***************************************
"Points are shared! Partners get the same points!"
Teams not catching fish receive points that are two positions below the last team to catch fish.
~~~~~ Partners are not to fish with each other more than once in a season! ~~~~~
"Team Champion" will be from a contestant's best 3 events!
The PPBM member with the most points at end of the season is awarded the
"PPBM Memorial Trophy"
in memory of loved ones we have all lost over the years!
FamilyTradition by JC