Pikes Peak Bass Masters: BASS/CBN Updates!
Friday, April 11
PPBM go for State Team!
Pikes Peak Bass Masters'
send 10 to Colorado BASS Nation
State Qualifier!
The Pikes Peak Bass Masters has 10 members heading to the 2014 Colorado State Qualifier! Joe Conway, Larry Krueger, Derek Phillips, John Robertson, Carey Goldberg head up the boater side. Frank Bianchi, Bob Howard, Mike Rathe, Connor Santos, and Walt Scully will head up the non-boaters.
This event will host only 22 boats, or 44 members, which make great odds for our club to come out of this with 50% of the slots available on the team! They will all be working together, so stay tuned and see how they fair this week starting 3 days from now!
~~~~Practice Report~~~~
Day 1-(Sunday)
Winds in the 40s. Many did not venture out. Krueger and Conway went to protected cove to launch and went out. Tough day. Connor catches a 4+. Krueger and Bianchi catch a 2+. Water temp 54-56 main lake, 56-58 backs.
Day 2-(Monday)
27 degrees at 7:00am. Slight winds about 25-30. 11:00 brought snow....yes, snow. Home, Sweet, Home! Connor catches a 3, then a 5, then Conway catches a 3. Worst day, best fishing. Krueger catches a small fish. Patterns are developing. Air temp was 37 for a high. Water was at 54-56 all day.
Day 3- (Tuesday)
Winds at a minimum-9 mph. Patterns verified. Conway catches a 3. Derek Phillips is on some good fish. Others are struggling slightly, even with info on what to look for as patterns. Water warms to 60. Air is 61 for the high.
~~~~Tournament Time!~~~~
STQT-Day 1 (Wednesday)
Patterns held out for a few of the guys. Connor Santos jumps into Top 10 with a 12.70 lbs. Derek Phillips leads the Colorado STQT with 19+ lbs. Joe Conway is in 13th with 7.75 lbs and looking to climb the ladder. Others from the club are hanging close also, but need some of the better sized fish to add to their catches.
STQT-Day 2 (Thursday)
Derek Phillips brings in another load and can quit fishing if he wants to and will still make the state team. Connor Santos stumbled and only caught 2 fish, but was fortunate that those 2 fish weighed 8.02 lbs allowing him to hold position at 6th place! Conway dropped a couple fish off of his crankbait and only brings 2 fish to the scale weighing 3.22lbs, but only drops to 14th keeping him in the hunt. Other PPBM members are still struggling. Frank Bianchi making a climb from the dungeon with 3 nice fish weighing in at 10+ lbs. Frank has the 3rd place overall boater tomorrow and should be fine!
STQT-Day3 (Friday)
Derek Phillips blows everyone out with a total of 50.33 lbs weighed in and makes the 2015 Colorado State Team. Connor Santos crumbled under the changing conditions, but didn't give up. He caught one fish at the very end of the tournament day to give him hope of a miricale. Little did Connor know that his never ending perseverance all day long would create his own ending to the story he wanted for his first ever attempt at trying for a Colorado BASS State Team. That one 2+ lb fish he worked all day for was just enough to send him into the Top 10, as he takes his position on the 2015 Colorado State Team in 8th place! Joe Conway crashed slightly again and weighed in only 3 fish at 8.59 lbs, putting him into the 13th spot. Some anglers from positions below him caught fish pushing Joe off of the State Team "by less than one pound!" Yikes!
Sunday, February 9
CBN STQT for 2014
CBN State Qualifier
dates set for 2014
The 2014 dates were set for April 13th-18th at Grand Lake, OK. It appears that the launch will take place out of the Martin's Landing marina. Get you rooms reserved and get yourself signed up for the first step in getting to the "Bassmasters Classic!"
For more information contact Larry Krueger at larryakrueger@yahoo.com!
Sunday, June 3
Frank Villa wins 2012 National slot!
Frank Villa takes
2012 BASS Western Divisional title for Colorado!
With 50 mph gusts and sestained 35 mph winds on almost every day of the event, fireman and family man, Frank Villa, made the best of his boater draws, made the best out of every situation that came up, made the right choices throughout the event, fished his way into the Colorado National contender record books, and into his destiny of being crowned the Colorado representative to the National event set for Oct. 20th, 2012 on Lake Wheeler in Alabama!
Frank overcame strong boaters to pull his limits behind them and lead the event for the Colorado team,"wire to wire!" Not easy at all with some of the best in the entire west on the Colorado team chasing after his tail end! A great win for Frank and even more of a win for Colorado, as Frank couldn't be a better personality to represent Colorado at the Nationals......even if we had to hand pick him!
From all of the Pikes Peak Bassmasters...."Go get em' Frank!"
Saturday, April 16
PPBM leads the 2012 CBN State Team
Conway
takes pole position for
2012 B.A.S.S.
Colorado State Team!
Joe Conway of Colorado Springs, CO, a member of the Pikes Peak Bassmasters, put together a big final Day 3 weight (17.95), after stumbling on Day 1 (4.32 lbs), to slam the door on the rest of the field and win the 2012 B.A.S.S. Colorado State Qualifier Tournament at Missouri's Truman Reservoir. Conway will lead the 12 man 2012 team into the Western Divisional Championship in May next year at the Flaming Gorge in Wyoming.
Also making the team from the Pikes Peak Bassmasters was Chris Dombkowski, who overcame massive boat troubles on Day 2 to maintain his and his non-boater competitors chances on making the team and then he did just that!
Congrats to both on making the 2012 Colorado State Team!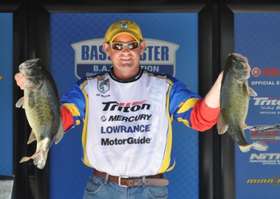 Ed McCaw-Colorado's representative to the Nationals
Saturday, May 14
Colorado wins Western Division Championship
Colorado wins
B.A.S.S. Western Division
Championship!
***********************************************************************************************
Colorado put together the best team effort ever experienced by a 12 man Colorado BASS team and put a hurtin' of over 30 lbs on the rest of the 10 states attending the Divisional tournament at Navajo Reservoir, NM. for the win. Considering that Colorado has only won the title twice, once in 1990 and 2011, it is really a big deal to the state members of the Colorado B.A.S.S. Federation!
Unlike the first time in 1990, B.A.S.S. has stepped up to the plate and is "the only circuit offering a boat valued at $37,000 waiting for the champions" at the Divisional event. What a really big deal for the state members of this team! With potentially that kind of money going to the state team members, including the youth contenders parents, that could mean up to $2,000 for each member! How sweet is that!
If you are not a member of a B.A.S.S. club, you are "missing the boat," as they say!
Congrats to Ed McCaw, the top finisher for Colorado at the Divisional and headed to the National event as Colorado's representative!
Get er' done, Ed!
visit the; Durango Herold
***********************************************