Pikes Peak Bass Masters: Draw Tourney Schedule
CLUB SEASON SCHEDULE
Branden Boyd--2013 TD (5 lb-13 oz Trinidad Smallie)
2015 PPBM Tournament Coming Soon!
2014 "AOY"- STEVE CUBBAGE 2014 "Championship Winner"- TODD GENTZEL
Join us today for the 2015 Season by contacting any officer and completing a "Membership Application" at the next Monthly Meeting! Make the "Top 12" and be invited to the "No Entry Fee, Challenge Cup.
New to the club? Check out the---> "Angler's Checklist"
************************************************************
***( ---> Printable 2014 Schedule Link <--- )***
2013 "AOY"-Todd Gentzel 2013 "Championship Winner"- Derek Phillips Fish at least 3 club tournaments, finish in the "Top 10," and get a club Jersey and plaque!
**2014 PPBM Tournament Schedule**
April 13th-18th (BASS Nation State Qualifier-Grand Lake, OK) Derek Phillips of PPBM wins
May 10th (Sat) Pueblo Res, CO Conway wins
May 31st-June 1st (2 day-Sat/Sun) Wilson Lake, KS Conway wins
June 21st (Sat) Trinidad Res, CO Cubbage wins
June 14th (Military Kids Fishing Day-Pueblo Res.)
July 12th-13th (Sat-Sun) Pueblo Res, CO--Night Tourney to Sun Morn Gentzel wins "PPBM RULES"
August 9th-10th (Sat-Sun) Norton Res.-Norton, KS Cubbage wins
2014 Championship Dates *
Sept 27th-28th (2 day-Sat/Sun) Wilson Lake, KS Gentzel wins
(2 week "off limits period" for the Championship starts at "12:01 am" Sept. 13th.)
***( ---> Printable Schedule Link <--- )***
Team Schedule Link Tournament News!
>
 ("Membership Applications" available at monthly meetings!)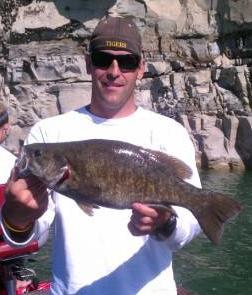 4+ lb Trinidad Smallie!
James Bond Theme