Pikes Peak Bass Masters: Welcome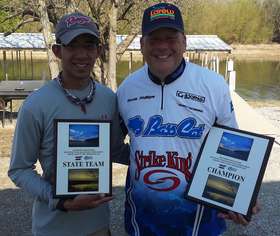 Connor Santos & Derek Phillips make the 2015 Colorado State Team!
(May 5th)-Larry Krueger~Bass boating etiquette!
***Click pics for more info!***
Welcome to the Pikes Peak Bass Masters!
"No boat necessary to join and fish with us!"
The Pikes Peak Bass Masters is the largest bass fishing club in Southern Colorado! Started in 1986, all of our members are committed to teaching the fundamentals of competitive bass fishing to all that join our club! This club offers "individual & team tournament opportunities" for fun filled days of learning bass fishing, while out on the water with great bass fishermen, in some pretty awesome bass boats!
This club is both B.A.S.S and FLW affiliated, so the Pikes Peak Bass Masters is your "one stop shop" bass club for competitive bass fishing in Colorado!
Join us and instantly become a member of the Colorado B.A.S.S. Nation! You can then also join and be part of the TBF --all through joining this one bass club! Both bass entities have "State level events" that are the ultimate stepping stones into a "Bass Fishing World Championship!"
Having over 25 years of attempts, by hundreds of members in the various Colorado bass clubs, the state of Colorado has only produced (3) anglers that were able to fish their way into a bass fishing world championship. Two of those 3 anglers came out of the Pikes Peak Bass Masters!
"If you want to compete with the rest.....learn with the best!"
*********************
We meet on the "first (1st) Monday" of every month at the Bass Pro Shops, 13012 Bass Pro Drive, 80921, located here in Colorado Springs, CO. Come meet some of the "best in the west" for dinner, adult beverages, and fish stories at 6pm. The formal club meeting starts at 7pm.
"Guest Speaker" for May 5th---> Larry Krueger (Bass Boating Etiquette)
*
New to the club? Check out the --> "ANGLER'S CHECKLIST"
*
For additional information, contact any of our officers listed in the "Board of Directors".
Calendar of Events Tournament Schedule Team Schedule SunriseTables
"Click pics for more info!"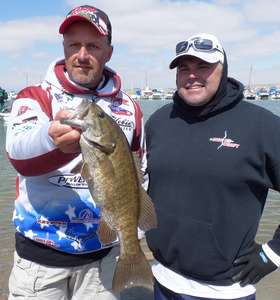 (March 22nd) Dave Withee & Jack Hunter win ~Jerkbait Joust~
Mission Impossible Theme