Pikes Peak Bass Masters: Welcome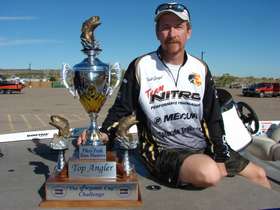 (Oct. 19th)-Todd Gentzel repeats as Challenge Cup Champion! Click pics for more!
Ryan Wood of Broomfield, CO becomes a World Champion!
***Click pics for more info!***
Welcome to the Pikes Peak Bass Masters!
"No boat necessary to join and fish with us!"
The Pikes Peak Bass Masters is the largest bass fishing club in Southern Colorado! Started in 1986, all of our members are committed to teaching the fundamentals of competitive bass fishing to all that join our club! This club offers "individual & team tournament opportunities" for fun filled days of learning bass fishing, while out on the water with great bass fishermen, in some pretty awesome bass boats!
This club is both B.A.S.S and FLW affiliated, so the Pikes Peak Bass Masters is your "one stop shop" bass club for competitive bass fishing in Colorado!
Join us and instantly become a member of the Colorado B.A.S.S. Nation! You can then also join and be part of the TBF --all through joining this one bass club! Both bass entities have "State level events" that are the ultimate stepping stones into a "Bass Fishing World Championship!"
Having over 25 years of attempts, by hundreds of members in the various Colorado bass clubs, the state of Colorado has only produced (3) anglers that were able to fish their way into a bass fishing world championship. Two of those 3 anglers came out of the Pikes Peak Bass Masters!
"If you want to compete with the rest.....learn with the best!"
*********************
~~~~~~~~~Breaking News!~~~~~~~~~
1) Ryan Wood stopped by to visit the Pikes Peak Bass Masters at our Novermber 4th meeting to share his experience in winning the Junior World Championship. He shared his efforts to gain local knowledge on the body of water they were to fish and the personal efforts he made in his successful attempt to best the other competitors. Hearty congratulations to Ryan on his success at the biggest stage for youth anglers and we look forward to seeing this young angler's success story in the future!
2) The members of the Pikes Peak Bass Masters recently unanimously voted Joe Conway as the 2013 Pikes Peak Bass Masters Sportsman of the Year. Joe's nomination was based on numerous attributes, including the organizing of the club Team Tournaments, the implementation of the The Challenge Cup, orchestrating these Web Pages, and other varies promotions of the club. Joe has single handedly collected numerous sponsors for the club and is never selfish with his knowledge about fishing with anyone. Joe's drive to both promote the sport of bass fishing and the Pikes Peak Bass Masters was second to none this year. Congratulations to Joe on receiving this honor and many thanks for his dedication and drive!
We meet on the "first (1st) Monday" of every month at the 3 Margaritas, 3956 N. Academy Blvd, 80917, located here in Colorado Springs, CO. Come meet some of the "best in the west" for dinner, adult beverages, and fish stories at 6pm. The formal club meeting starts at 7pm.
For additional information, contact any of our officers listed in the "Board of Directors".
Calendar of Events Tournament Schedule Team Schedule SunriseTables
"Click pics for more info!"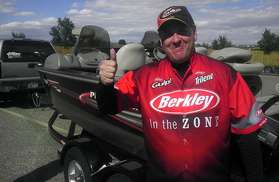 (Oct. 12th) Mike Rathe rocks the Challenge Cup!
Mission Impossible Theme