On The Road With Pat Neshek: Press
Thursday, July 26
USA Today Sports Weekly - Paul White - Week of June 20th
http://www.usatoday.com/sports/baseball/2007-06-20-sidearmers_N.htm
One of my favorite articles,
A LINE DRIVE HIT Pat Neshek's arm so hard he couldn't throw a ball overhand. Cla Meredith was trying to look cool like a big-leaguer — a big-league shortstop. Joe Smith figured anything was worth a try after getting cut from his college team.
Those unlikely events are what created the careers of three of baseball's top young relief pitchers, a trio that has burst onto the major league scene over the past two seasons with more in common than attention-grabbing streaks of excellence. Neshek, Meredith and Smith are sidearmers, once an anathema to coaches and always a curiosity to fans.
"Ah, you want to talk about the slingers, huh?" says Meredith, the 24-year-old traded to the San Diego Padres in May 2006 when the Boston Red Sox desperately wanted catcher Doug Mirabelli and his ability to handle knuckleball pitcher Tim Wakefield.
Meredith arguably turned out to be more valuable to his team, which also got starting catcher Josh Bard in the deal. In 2006, he produced a 1.07 ERA in 502/3 innings, including a Padres-record 332/3 scoreless-inning streak from July 18-Sept. 12.
Meredith's streak began 11 days after Neshek, now 26, made his debut with the Twins. Neshek allowed a run in his sixth appearance but, by the end of August, he had a 1.05 ERA, three wins, six holds and a prominent place in one of baseball's top bullpens.
FIND MORE STORIES IN: Twins | Padres | Pitchers | Chad Bradford | Kent Tekulve | Neshek
He was 3-0 with a 1.10 ERA in 31 games this season through Sunday.
Smith's turn came this year, when he was a surprise choice to make the Mets' bullpen out of spring training, just nine months removed from pitching at Wright State University in Dayton, Ohio.
Smith, 23, didn't allow a run until May 12, his 18th appearance, and has held the opposition scoreless in 29 of his 32 games for a 2.48 ERA.
So, here come the sidearmers, right?
Maybe, though nobody keeps records of how many sidearmers are in the majors at a particular time.
"Historically, it runs in cycles," says Pittsburgh Pirates major league advance scout Kent Tekulve, whom Meredith would qualify as too extreme for his fraternity of "slingers."
TEKULVE SPENT 16 years in the major leagues as a submariner, the even-rarer group that takes sidearming to another — lower — level, nearly touching the ground as they release the ball. The most notable current submariner is Baltimore's Chad Bradford, who's in his 10th big-league season and on his fifth team.
"Bradford, he's different," Meredith says, laughing. "He's not one of us."
But he is part of this small fraternity of pitchers who share the experiences of confounding coaches, scaring scouts and often finding themselves expendable.
The instant success of Meredith, Neshek and Smith might signal a change in that thinking.
"I think one reason (sidearming and submarining are) coming back is people are more willing to take kids and try it," Tekulve says. "They're willing to allow kids to throw that way. It has become a little more acceptable. I was told all through the minors not to do it. But I kept getting people out, and they're not going to release you if you keep getting people out."
Tekulve got people out for 1,050 big-league games from 1974-89. He had 184 saves is spite of the common belief around baseball that his style is more conducive to injuries.
Sidearmers and submariners generally aren't any more prone to elbow and shoulder injuries than three-quarters or over-the-top pitchers, according to Glenn Fleisig, research director at the American Sports Medicine Institute in Birmingham, Ala. Fleisig, who has studied the mechanics of thousands of pitchers, says most of them form about a 90-degree angle between their arm and trunk when they pitch, regardless of their pitching styles, and that elbow and shoulder injuries occur when pitchers' arm angles deviate by about 10 degrees.
"It's very reasonable that some styles are more stressful on the back," Fleisig says. "My guess is that it's more likely those who are extreme over-the-top or extreme submariners have more stress on their lower back."
Even so, submarining could be the most natural motion.
"Think about it," Padres manager Bud Black says. As he talks, he walks across his office to demonstrate how we walk with our arms at our sides in a swinging motion rather than over our heads in a manner more similar to an overhand pitching motion. "That's why a softball pitcher can go out there day after day."
"The (sidearm or submarine) style is more effective because of the deception and the release point," Black says. "It's different than what you see maybe for weeks and months (during a major league season)."
It had been years for many players when Tekulve came along.
"I was a rare bird because there had been a lull for about a 10-year period," Tekulve says. "There was me and Quis (late Kansas City closer Dan Quisenberry) and then it kind of died out again for a while."
THE LIST OF FAMOUS PITCHERS who threw with an arm angle perpendicular to the body or lower is short. Hall of Fame fireballer Walter Johnson threw sidearm. So did Dennis Eckersley, another Hall of Famer who excelled as a starter and a reliever. Ewell "The Whip" Blackwell was 6-6 with long arms and a long stride toward third base before he released the ball seemingly from a point far to the left of right-hander hitters. He won 22 games, throwing six shutouts, for the 1947 Cincinnati Reds.
Most of the submariners have been relievers, relying on their quirky deliveries to keep hitters off-balance for short periods. Before Tekulve and Quisenberry, who had 244 saves in a 12-year career spent mostly with Kansas City, were Dick Hyde and Ted Abernathy. Hyde had a 1.75 ERA, a 10-3 record and 18 saves for the 1958 Washington Senators. Abernathy had 31 saves and 1361/3 innings in relief for the 1965 Chicago Cubs, emphasizing the durability of the submariners.
Perhaps the most infamous submariner was Carl Mays, who hit and killed Ray Chapman with a pitch to the head in 1920.
The submarining style is even more popular in Japan, where fewer pitchers are hard throwers, and deceptive pitching styles are considered more valuable than in America. The most extreme submariner in any country at any time is Shunsuke Watanabe, known as Mr. Sub-Marine (hyphenated because he plays for the Chiba Lotte Marines).
Watanabe, a starter who was part of Japan's World Baseball Classic championship team, wears a pad on his right knee because his leg used to get bloodied as he dragged it parallel to the ground on every pitch. Watanabe also often skins his knuckles, something Bradford can relate to.
Bradford has lost his grip on a pitch when his hand hit the ground during games. "Four or five times," he says. "I don't purposely try to get that low."
HARDLY ANY OF THE sidearmers and submariners set out to get that low.
Smith didn't make the team at Wright State throwing overhand as a freshman in 2003. He came back the next season with the sidearm delivery, saved 22 games over three seasons with a 1.53 ERA and was taken by the Mets in the third round of last year's draft.
Meredith made his college team at Virginia Commonwealth but soon discovered he needed more than the 87-mph fastball that got most hitters out as a prep player at Meadowbrook High in Richmond, Va. He also played shortstop and, he says, "Like anybody else, I imitated major leaguers. At shortstop, I would get nonchalant and big-league it to first" with a sidearm throw.
"My dad said why don't you sling one once in a while (as a pitcher) to freeze a guy."
He did and began to drop down his arm more often at VCU.
"I got lower and lower, and my slider started getting tighter," says Meredith, who was taken by Boston in the sixth round of the 2004 draft.
Neshek's delivery changed after a line drive off his right forearm in his last game for Park Center (Minn.) High School in 1999. He was good enough throwing overhand to have been drafted by the Twins that year, but he chose to go to Butler University instead. During the summer between high school and college, the pain in Neshek's arm kept him from throwing overhand, both as a pitcher and shortstop. He ended up with a unique, herky-jerky motion.
"I don't understand it, but it works," Neshek says. "I don't even know how you'd teach it. I think the advantage I have is my deception because of where the ball comes out of my hands. Guys have trouble finding out when it comes out of my hands."
Neshek keeps his throwing arm behind his body longer than most sidearmers do. That also produces enough difference in his torque that he generates more velocity (a fastball in the low 90s) and has a cut fastball that breaks more sharply than other sidearmers' pitches.
That's the same advantage Tekulve had.
"The thing that was unique with me was that I was able to throw 88-89, maybe hit 90 on a good day with the wind at my back," says Tekulve, one of 10 players to pitch in more than 1,000 major league games.
"Quisenberry would hit 82-83, but he was all about movement and location. The harder you can throw it, the later the movement. These kids are better at generating more last-minute movement. The faster the ball gets up to the plate, the farther it has gone before the seams take effect and make the ball break. If you could throw the ball 120 mph, it would be straight because it would get to the catcher before it would start to break."
WHETHER THE ARM IS straight out or precariously close to the dirt of the mound, the results are similar.
"It's such an efficient way to pitch," Tekulve says. "These days, the parks are smaller, the ball is livelier, the bats are harder. But nobody has yet … hit a ground ball out of the ballpark. Unless somebody hits one right over (first or third base), the hits are most likely singles. If you don't walk anybody, they have to hit .500 against you in an inning to score. They have to get three hits before you get three outs, plus you have the advantage of the possibility of a double play."
"You can count on ground balls," says Black, a former pitching coach who also was Quisenberry's teammate for seven seasons with the Royals. "There's a place in a bullpen for a sidearmer. You would think more guys in the minors who can't get over the hump would try it."
During his 11 seasons as a major league manager, Buck Showalter had a policy of asking pitchers who might otherwise be released if, as a last resort, they would try lowering their arm slots. He tried to make sure his bullpens always included a sidearmer.
"Hitters fall in love with where the body is, not the release point," Showalter says. "You can negate a left-handed or right-handed bat at a key point in the game (with a sidearmer). That doesn't always mean striking him out. That can just mean keeping him in the ballpark. Bradford is a whole different look. I've even seen left-handers have trouble with him. With him, the release point is on the rubber."
Showalter managed Dan Plesac, a rare left-handed sidearmer, with Arizona in 2000.
"He understood his job," Showalter says. "You could leave him in to face a left-right-left situation. He knew his job was to get the two left-handers, and he could pitch around the right-hander. If the guy would get himself out on pitches out of the zone, OK. Most of these guys don't have egos. They know it's all about getting a lot of ground balls."
Tekulve says a particularly feeble ground ball he induced is one of the highlights of his career. Because he faced right- and left-handers as a closer, Tekulve had to develop a strategy to handle lefties.
"I would throw sinkers away," he says. "They would try to pull them and ground out to second. Then some of them figured out they should try to hit the ball the other way. So, it was back to me. I could either throw softer, so they'd end up grounding to second again, or fool them with back-door breaking balls. That's when I developed the choke fastball."
The pitch is held further back toward the palm of the hand to reduce velocity. Tekulve used one against lefty slugger Kirk Gibson of the Dodgers in a key situation.
"I got Gibson to tear up a bat rack," he says. "I threw an 80-mph choke fastball, and he hit a little dribbler in front of the plate. He's cussing and yelling and smashing things in the dugout, and I'm out there laughing. It was wonderful. That was a great moment."
WHILE SIDEARMERS AND submariners always will be something of a novelty act, Tekulve sees indications the numbers will increase.
"Most of us who did it when I was pitching were long, lanky guys with long arms and long legs," he says. Tekulve was 6-4 and 180 pounds when he played. "I was a leverage pitcher. We weren't as strong as other guys, but this was a way to develop torque and generate velocity and movement. Now we're seeing more guys of different sizes because of better training methods."
But the training and coaching of this rare breed of pitchers remains difficult. Few coaches are familiar with the sidearming or submarining styles. Orioles pitching coach Leo Mazzone says that when the team acquired Bradford he studied tapes to learn the pitcher's motion well enough to realize when his mechanics might be breaking down.
Lefty Mike Myers of the Yankees, who was converted to a reliever by the Detroit Tigers in 1995 and tried sidearming at the suggestion of Hall of Famer Al Kaline, was traded to Milwaukee before the 1998 season.
"Don Rowe was the pitching coach (with the Brewers)," Myers says. "The first day he said to me, 'I have no idea. You have to teach me how you throw.' "
Myers loves to teach his style of pitching.
"If I come across a guy who's interested, I go ahead and try to teach him," he says. "When I was with Colorado, I worked with some minor league guys. With Arizona, left-hander Javier Lopez. If I teach too many guys, it's not going to help me because hitters will see it more often. But I'm going to do it."
Their pitching styles may have become more commonplace in the majors, but sidearmers and submariners continue to form a special exclusive bond.
Contributing: Bob Nightengale, Daniel Paulling
Some other submariners past and present: Player Major league career
Carl Mays, RHP 1915-1929
Elden Auker, RHP 1933-1942
Ted Abernathy, RHP 1955-1972
Kent Tekulve, RHP 1974-1989
Dan Quisenberry, RHP 1979-1990
Mike Myers, LHP 1995-
Byung-Hyun Kim, RHP 1999-
Some other sidearmers past and present: Player Major league career
Walter Johnson, RHP 1907-1927
Ewell Blackwell, RHP 1942-1955
Dennis Eckersley, RHP 1975-1998
John Tudor, LHP 1979-1990
Zane Smith, LHP 1984-1996
Dan Plesac, LHP 1986-2003
Cla Meredith, RHP 2005-
Pat Neshek, RHP 2006-
Tekulve's take
Kent Tekulve breaks down some of the nuances of pitching sidearm and submarine style:
"There really isn't much difference. I actually threw sidearm with a tilt. If you look closely at any of them, the farther they go down, the more the body is tilted. You still need to maintain a 90-degree angle between your arm and your body. Watch Bradford. It's not like a bowling swing where his arm is hanging straight down.
"The most difficult thing is the breaking ball. The fastball is natural because as it comes off your hand it has a natural overspin.
"The lower you are with your delivery, the more your fingers are likely to be pointed straight down. That will naturally give you more sink. When you're up to the side, the fingers are pointed out, which gives the ball more (side-to-side) run. Remember, when you put your hand out and bend your wrist, the wrist actually turns because of the bone structure. That's how you get the overspin.
"The body mechanics are almost like a golf swing. I got velocity because I had Tiger (Woods') hip action in my skinny body.
"Most of it is extension. I've watched video of myself and it looks absolutely dreadful. But it's easier on the arm than it looks. The arm is just dragging behind. The rest of your body is pulling it through. When you get sore, it's in your legs and back."
Thursday, July 26
Toronto Star - July 23rd, 2007 - Sunaya Sapurji
Twins hurler Neshek leading a double life:
Internet-savvy reliever has thriving website for collectors and fans
Jul 23, 2007 04:30 AM
Sunaya Sapurji
Sports Reporter
The letters, like the emails and packages with baseballs and photos, pour in daily.
Then there are cards to mail out, items to sign, a blog to update, and a message board to moderate.
Being the boss of a small online empire is a demanding job. Especially when after work, you have to pitch to Sammy Sosa with the game on the line.
Such is life for Internet impresario Pat Neshek, who works almost as hard at his hobby as he does his paid profession — relief pitcher with the Minnesota Twins.
"I always wanted to know what pro athletes did before games, on off days and in their spare time so I said if I ever got drafted I would start a website," says Neshek via email his preferred mode of communication.
The reliever's site — On The Road with Pat Neshek — started in 2004 when he was in the minors and features one of his favourite pursuits: collecting sports memorabilia.
"One of these days though, I might have to look into insuring (my cards)," says the right-hander, adding to his lengthy to-do list.
He updates his blog regularly, often lamenting his internet connection on the road.
Read the site and you'll learn tonight's trip to the Rogers Centre with the Twins will be his first since arriving in the majors last year.
On his message board you can find threads that include blogs from former Twin and current Jays farmhand Mike Venafro (who posts as happylefty) and the Twins' 18-year-old batboy, Adam Hanson (twinsbb17).
The majority of Neshek's posts deal honestly with the minutiae of his life in the majors — the gruelling schedule, a packed subway ride to Shea Stadium and how his family will room with him on the road if they can find cheap airfare to wherever he's playing.
It's not exactly a life of caviar and Cristal — and that's a large part of Neshek's charm.
"He just seems like me, except that he can throw 90 miles an hour," says fan and fellow card collector Dan Rosendahl, 33, who has been following the site since 2004 from his home in Denton, Tex.
Neshek's an average Joe who still, in the off-season, will hang out at Minnesota Wild games to collect autographs from hockey players.
"I thought (Pittsburgh Penguin) Georges Laraque was being rude one time because he signed my card and only put his initials," says Neshek. "He did it for every other collector there (and) we were all mad. Turns out that is how he signs every time, he stops, takes his time and signs every card the same way."
His passion for sports is refreshing. Unlike Barry Bonds or Curt Schilling, who use the Internet to sidestep the media, Neshek appears sincere.
"I really don't know how to describe this but I'm the fan/collector/guy that somehow managed to get to the big leagues," writes Neshek on his blog.
He has used the Internet to his advantage. When nominated for the major league All-Star Game Final Vote, the sidearm hurler put out a call to the Neshek Nation and fans rallied around the "Pitch in for Pat" campaign, though he eventually lost to Boston's Hideki Okajima.
The 26-year-old has also turned his site into a barter-based cottage industry of collectables.
"(Send) any signed hockey card or baseball player card with (a self addressed stamped envelope) to me and I will put one of my signed cards in," says Neshek.
And though Neshek prefers cards of the sporting variety, he's open to accept anything.
"Someone from Manitoba sent me a 1970's Village People card signed by a couple of the members, that made me laugh," says Neshek. "You see a lot of different things, old baseball players that are hard to find, hockey players that are deceased — you never know what is going to come in."
He says he gets more mail than anyone else on the Twins and it usually takes an hour or two to sift through it, but it's an adventure, like the time someone mysterious sent him a microchip without explanation.
"Didn't know what it was or if it was a tracking device so I tossed it in the garbage," says Neshek. The Brooklyn Park, Minn., native says he's 'lost count' of how many cards he has with many of his new trades going into a box until he can catalogue them in the off-season.
All of which are currently uninsured.
"If they were all lost to a fire tomorrow I would start up a new collection," says Neshek. "It's more about the thrill than the value to me."
TALK TO ME
Minnesota Twins pitcher Pat Neshek has turned his popular website On The Road With Pat Neshek (www.patneshek.com) into another avenue to add to his mounting card collection.
Send him an autograph card with a self addressed stamped envelop and he'll send you one of his own autographed back. All his trades are done on a strictly barter basis, no money is exchanged. Since collecting autographs is part of his hobby, Neshek also spends his downtime in the off-season "hunting" signatures from fellow athletes.
The Star's Sunaya Sapurji picked the reliever's brain about his vast card collection and his tricks of the trade:
Q: Will you collect any trading card (eg. Desert Storm card set) or does it have to be sports related?
A. To tell you the truth I like hockey and baseball the best but if it's an oddball signed card like Desert Storm, I get a kick out of it.
Q: So how do you catalog your cards?
A. I use to put them all in a-z order and did until this season has started. Right now everything that isn't cataloged is in a box waiting for the off-season and it drives me nuts...I think I have obsessive compulsive disorder about it.
Q. Do you have one card that you consider your prized possession?
A. Not really, I have a lot of stuff. My motto is quantity over quality in the world of autographing! One of my favs is (once) I wrote to Hank Aaron for a signed card, sent it to his home (address) in 4th grade and got it back signed in 7th grade. I totally forgot what I sent him.
Q. Do you ever eat the gum (in card packs) that tastes like sawdust?
A. If it's older than 6 months it's going to disintegrate in seconds... don't eat it.
Q. What do you do with your doubles?
A. Keep 'em, quantity is king.
Q. What are your thoughts are on the emotional attachments people make while collecting autographs. I mean, it's more than just a signature – a lot of times it's the story of how you got the autograph that gives it value.
A. That's what I always liked about autographs, it's a hunt. You go out and know you might not get one guy to sign but you know there will be a story that you'll never forget. It's a fun way to kill time and hangout and forget about everything for a couple hours. Plus you might get the big star to sign something for you, it's a win-win situation.
Q. Is there any player who flat out said "No"?
A. There are a few, for some reason Paul Kariya seems to be the toughest guy lately.
Q. Has your view of card collecting/autographed hunting changed since becoming a pro athlete?
A: Nope, it just kind of showed me that athletes are in a rush sometimes and can't please everyone all the time.
Q. What are some of the most important tools needed to be a top notch 'grapher?
A. Info, being able to recognize faces, being able to know where to get a player.
Q. Has anyone ever recognized you during an autograph hunt?
A. Not really, a couple people did double takes last year.
Q. You posted a really funny letter once on the site from a guy who wanted 10 baseballs signed and inscribed by (Justin) Morneau and (Joe) Mauer to give to his wedding party ... do you get requests like this often?
A. I get about up to 5 of these request a week...I don't blame people for trying but it's a tired act.
Q. What's the most inappropriate place someone has asked you for an autograph? Are there unwritten rules to follow?
A. Lots of unwritten rules, we don't sign DURING games. A lot of times I get in a hurry and have to be at the field and am late so I might not being able to sign. If you are honest with the collectors than they usually can understand why you can't sign. They hate it when you use the same excuse everyday.
Tuesday, August 14
Sporting News - August 9th, 2007 - Pat Borzi
Out Of Control With A Plan
Pat Borzi
He keeps his socks high and his cap low, and his funky sidearm delivery falls somewhere in between. Twins setup reliever Pat Neshek regularly proves that Hall of Fame pitcher Walter Johnson was right when he said, "You can't hit what you can't see."
Neshek, a 26-year-old righthander from the Minneapolis suburb of Brooklyn Park, has been baffling hitters and piling up strikeouts -- 115 in 90 2⁄3 career innings -- since getting called up last July by his home team. He has been one of the best late-inning relievers in baseball this season, posting a 6-1 record with a 2.01 ERA and allowing 27 hits in 53 2⁄3 innings.
As he begins his motion, the 6-3 Neshek bends low as if emulating the knuckle-scraping delivery of Orioles reliever Chad Bradford. But Neshek releases the ball higher than Bradford, and picking it up in the blur of his arms and legs is tough for hitters -- and catchers. When warming up Neshek at the Metrodome, backup catcher Mike Redmond shoos Twins infielders from the mound, fearful of losing a pitch in a white jersey.
"They've got to move so I don't wear one," Redmond says.
Neshek finishes each pitch by bringing his right hand high, and he frequently pumps a fist after strikeouts. One such celebration drew a glare from Yankees shortstop Derek Jeter.
"That's just him," Twins pitching coach Rick Anderson says. "He's goofy, but it's not intended to show anybody up. He may look like he's out of control, but he's got a plan."
The windup ... and the pitch
Batting in his final high school game, the switch-hitting Neshek blocked a pitch with his right arm. The impact left a lump on the inside of his forearm --- a lump he still has --- and caused searing pain in his wrist whenever he threw.
"I don't know if a vein exploded or what," Neshek says.
Even a specialist wasn't sure what was wrong. But while playing for a summer league team in Kansas City, Neshek discovered he could throw sidearm without pain --- and with better movement and deception. Even after he could throw without discomfort several months later, Neshek stuck with the new arm angle. Three years later, after setting Butler University records for strikeouts in a game (18), season and career, he was drafted in the sixth round by the Twins, who had taken Neshek in the 45th round coming out of high school a few years earlier.
A harder thrower than most sidearmers, Neshek delivers a low-90s fastball, a slider and a changeup from the same four-seam grip. He added the change this year to better handle lefties, who hit .244 against him in 2006, compared with .140 by righties. Now, lefthanders (.130 average) are hitting worse against him than righthanders (.165).
Another oddity: When working from the windup, Neshek slides his plant foot from the third base side to the first base side of the rubber before he releases the ball, defying just about every rule of balance and mechanics. "I haven't seen anyone do that," Anderson says. Neshek didn't even realize he does this until early July when he heard Yankees announcers talking about it on a replay telecast. From the stretch, Neshek's foot hugs the first base side.
No one in the Twins' organization has tampered with Neshek's delivery. "That was always something I was worried about when they drafted me," Neshek says, "but not a word was said."
The batter's eye
After taking a strike and a ball from Neshek in a July 17 game, Tigers third baseman Brandon Inge turned to catcher Joe Mauer and said, "It's impossible to pick up a release point from this guy. You've got to be kidding me."
Inge grounded into an inning-ending force play. That was the only time in five career at-bats against Neshek that Inge hadn't struck out.
"You can't see the ball until it's 10 feet from you," Inge says. "So my approach is, presume he's going to be in the strike zone and start your swing in the strike zone. When you pick up the ball, then you make the adjustment."
In the same game, Tigers catcher Pudge Rodriguez tried doing that and swung through three sliders. The next night, after again striking out on three pitches, Rodriguez flipped the bat in his hands as he walked back to the dugout.
"Usually you find some little thing in a guy's delivery that's your trigger, and that's how you start making contact," Inge says. "With him, we haven't quite figured it out yet."
At spring training in 2006, Torii Hunter and Rondell White took a look at Neshek throwing batting practice and refused to get in the cage against him. Minor leaguer Tommy Watkins gave it a try. Neshek drilled him in the kneecap.
"Now you see why I didn't want to hit off him," Hunter says.
A true web gem
A college roommate and teammate, Paul Beck, introduced Neshek to the world of collecting autographs and memorabilia while they were at Butler. Beck knew which hotels to stake out when teams and bands came to Indianapolis. Among Neshek's best scores: getting Allen Iverson to sign a baseball, the only item Neshek had with him at the time.
In the spring of 2004, he created "On The Road With Pat Neshek," a website used to communicate with other collectors and "graphers."
By 2006, his blog had grown so popular that Neshek won an Internet vote for a spot on the International League All-Star team. And after a spirited campaign to land on this year's A.L. All-Star team, he finished third behind Boston's Hideki Okajima and Detroit's Jeremy Bonderman.
Neshek's blog posts offer glimpses into the life of a major leaguer. But it's his regular-guy mentality that makes him so endearing. Most afternoons before batting practice, Neshek can be found at his locker showing off baseball cards to teammates or answering mail.
The essence of Neshek can be summarized in this post: "I wake up each day and can't believe how I got here and am thankful to even touch the uniform! If I wasn't playing baseball I would probably be the guy who was coming home from work and planning a night around baseball ... what games to go to, which minor league games to get autographs, which guy to take on my fantasy team ... "
Neshek's teammates understand his passion. When Jason Tyner hit his first major league homer on July 28, after more than 1,200 career at-bats, he cracked that Neshek may have already sold the ball on eBay before the game ended.
Neshek's website also offers Twins items for sale or trade. Outfielder Michael Cuddyer once exchanged an autographed glove for a Michael Jordan-signed basketball. And Johan Santana swapped a dozen autographed balls for 50 signed by Hall of Famers like Nolan Ryan and Satchel Paige.
"That was unbelievable," Neshek says. "I was like,'Don't I get a finder's fee?' "
Neshek's web savvy doesn't just benefit his teammates. He had to wear a witch's costume as part of a rookie prank last season, and he later sold the getup on eBay for $252. He donated the money to Pets In Distress, a Florida animal shelter where Neshek and his wife, Stephanee, adopted their dog Juicy.
It's clear that Neshek's sidearm delivery isn't the only thing that makes him unorthodox.
---
This is . . . Pat Neshek
Favorite TV show: The Simpsons or Beavis and Butt-Head.
Favorite road city: Milwaukee. "I hate the road. I don't really like too many other places."
Favorite kind of restaurant: Vietnamese or Chinese.
Favorite website, other than his own: eBay.
Most prized autograph: Kirby Puckett's, on a baseball. "I was 5 years old. He lived in my hometown, and he was doing (a signing) at a car dealership."
Autograph I wish I had: Christy Mathewson's.
Best thing about living in Minnesota: "Clean air, clean water, very exercise-friendly, lots of outdoor stuff to do."
If not playing baseball, I would be: A financial adviser.
Last CD listened to: "Mutter," by Rammstein, a German metal band.


Thursday, July 26
New York Times - LYNN ZINSER - July 6th, 2007
A Twin Will Keep Blogging Despite Losing an All-Star Vote:
Neshek has had a spectacular season, pitching with a sidearm style so funky it makes people stop and watch out of sheer amazement. Neshek hoped that unique style — along with his everyman-hits-the-majors personality that he shares with fans through a blog — would get him voted into next week's All-Star Game as the final fan-selected American League selection.
But it hardly helped that the final moments of his campaign coincided with the bottom of the eighth inning at Yankee Stadium yesterday, when Hideki Matsui launched one of Neshek's fastballs into the right-field bleachers for the winning runs in a 7-6 Yankees' victory.
"It's baseball," Neshek said later, smiling but shaking his head. "It all comes around."
Neshek finished third in the voting for the All-Star spot, won in the American League by Boston pitcher Hideki Okajima and in the National League by San Diego pitcher Chris Young.
This was Neshek's first loss in a season that has included 41 1/3 innings, 51 strikeouts and only 17 hits. On Wednesday, Neshek had overpowered three Yankees in a perfect inning. He got two quick strikeouts yesterday before walking Derek Jeter and yielding Matsui's blast.
"He crushed it pretty good," Neshek said.
It was the perfect everyman-hits-the-majors reaction, which comes easy to Neshek, who had based his All-Star campaign on a promise to share his experience via his fan-friendly blog.
At 26, in his first full season in the majors, Neshek said he still remembered wondering what his idols' lives were like when he was a fan, chasing players around for autographs.
Growing up in Brooklyn Park, Minn., Neshek had many idols who were N.H.L. players. He wanted to know what they did on trips and what they thought about during games. After he was drafted, he wanted everyone to know what baseball life was like from the inside.
"When I started, people were real interested in it," he said of the blog. "I got to Triple-A, it got more hits. When I got called up here, it got pretty crazy. Now this. A lot of people read it and get a kick out of it. They learn about us."
Neshek, though, is hardly your average pitcher. The difference shows the minute he trots in from the bullpen, wearing his socks high, old-school style.
On the mound, he is a bundle of energy, pacing, hoisting his pants, slapping his mitt. He gets the ball and wants to throw it immediately. One of the few directions his coaches give him is to slow down.
"He's a freak," Twins Manager Ron Gardenhire said affectionately. "He's quirky, like all relievers. Most relievers have some kind of zany thing. If you really try to watch him and say, 'Well, mechanically he's sound,' forget it. You just let him do it."
When he is done fidgeting, Neshek throws from a strange sidearm motion that ends with him hopping toward the plate. The entire routine makes him look somewhat like a rabid squirrel.
Gardenhire said he loved watching hitters cringe in the on-deck circle.
"Ideally, you like something like that out of the bullpen," said Rick Anderson, the Twins' pitching coach. "If everybody you're bringing in has the same, three-quarter arm slot, there's nothing different. With him a little bit of a freak, throwing from down here and jerky, that's what makes him so successful. Guys can't see the ball."
Neshek did not come by his style naturally, or voluntarily. In his final high school game, he was hit on the right wrist with a pitch while batting. The pain forced him to throw sidearm, even though he felt he was throwing normally. Once it worked, he stuck with it.
He had been drafted by the Twins in the 45th round out of high school before his transformation and again, in the sixth round, after he pitched sidearm at Butler University. Now, he has become the rare sidearm pitcher who can throw in the low 90s.
"It was a blessing in disguise," Neshek said. "Obviously I had the ability because I was drafted throwing overhand, but who knows what would have happened? It's definitely the key to why I am where I am."
But Neshek clearly does not forget who he was as a young fan. It prompted him to write his blog, to tell fans he takes the subway to games when he can, that his family bunks with him in hotel rooms at times and how his wife, Stephanee, enjoyed the Twins' last trip to New York.
His blog prompted one fan to post a video on YouTube about staying online for days on end to continuously vote for Neshek for the All-Star slot. Neshek said he did not know the fan but loved the video.
"I'll have to send him a jersey or something," Neshek said. "He made me laugh."
The campaign ended poorly, but Neshek will blog onward.
Monday, July 30
Pioneer Press - July 30th, 2007 - Bob Sansevere
PAT NESHEK TALKS BOB SANSEVERE LISTENS 'WEIRD IN A GOOD WAY'
It's not a goal of mine to become a closer. Nobody is better than Joe Nathan. I'd love to back him up for the rest of my life.
When I was in fifth grade, I swallowed a half dollar and almost died. I was holding it above my head and looking at it, and it fell in my mouth. I must have had a gag reflex, and I swallowed it. My mom tried to give me the Heimlich and nothing worked, so she rushed me to the emergency room. They knocked me out and got it out. They said my breathing (area) was less than pencil size. We kept the half dollar. It's at my parents' house. It was called the Paul Bunyan Lucky Half Dollar, but it wasn't too lucky. It was a big sucker.
When I was a kid, I wanted to grow up to be a baseball player.
I collect baseball cards. I like building sets and try to finish them. And I like autographs. My favorite autographed card is the Kirby Puckett card I got when I was 5. It was his rookie year, and it was his old signature. It said, "To Patrick, Best Wishes, Kirby Puckett." He did it at a car dealership in Brooklyn Park. That was pretty neat.
Kirby lived a couple of blocks from us. We'd go ride our bikes to try to catch him mowing the lawn. We never saw him mowing. We hoped on Halloween he'd be giving out candy, but he never did. I actually sold his wife, Tonya, hockey candy bars when I was 9 or 10. She let me come into the house, and I got a tour of it. But he was at spring training. She said, "Kirby loves these candy bars." She bought a box from me. It was my best sale of the day.
If I had a time machine, I think it would be fun to go back to the 1700s or 1800s and see a different world. Today, we're always running our cars, and back then it would be fun to have a lot of land and a log cabin. It would be interesting.
My favorite cartoon growing up was Beavis and Butthead. I was 13 years old, and they would do some topics on there and you went, "Wow, what does that mean?"
If I could have any super power, I'd want to fly.
In high school, I only played baseball. I played in C leagues in hockey and basketball. I did it at the same time. Once I got to the 10th grade, it was all baseball from then on.
I grew up in Brooklyn Park and went to Park Center. I went to high school with (former University of Minnesota star hockey player) Krissy Wendell. She was a year younger than me. I played Little League with her. We were on the same all-star team. My brother went to the Little League World Series with Krissy the next year. I was too old to be on that team. Krissy was pretty good. It was always like, "Oh, you're facing the girl." We'd try to strike her out and not let her do anything. She ended up hitting a double off me. It went off the wall. She almost took me deep. All the guys on the team would get on you. She was really, really, really good. She was better than all the guys.
My parents have had the biggest influence on me. My mom has the athletic ability in the family. She ran track in college. My dad didn't play a sport. I didn't get anything from him. He was the guy who always tried. He gave us all the tools to succeed. He was the guy who started up the league in the backyard with all the kids. He would fill up the van and take us to the Metrodome.
My dad's claim to fame was this: He always told us when we were little that he played for the Dodgers. We believed him. It turned out it was a Vero Beach Dodgers A-ball game. We used to live in Florida for a few years, and he got called out of the stands. He had a ticket, so he got to go on the field and hit off Fernando Valenzuela. It was like if you hit a car, you won the car. I guess he made contact and missed the car by five feet, he says. He always said he played for the Dodgers. All the neighborhood kids believed him: "Your dad's a major leaguer." No, it's not true.
I think my dad really made baseball fun for us. He never pushed me and my brothers to play. When he put baseball in front of us, that's what I wanted to do.
The best day of my life had to be getting called up by the Twins last year - July 7th in Texas. Another big day was the day I graduated from high school. I pitched a shutout that day in the state tournament and was drafted by the Twins in the 46th round. I got drafted again by the Twins in the sixth round out of college.
My last meal would be the egg rolls from this place in Brooklyn Park. The egg rolls there are unbelievable. That would be my last meal, for sure. I'd wash them down with carrot juice.
My teammates would be surprised to know that I'm a big vegetable juice and fruit juice guy.
When I was in high school, I never missed watching "The Simpsons."
Do I ever get tired of updating my Web site (www.patneshek.com)? Not really. I've always said if it ever gets old, I'll shut it down in a second. I'm not under any obligation to do it. My first year doing it (2004), I felt I had to update it every day. Now, whenever I feel like it, I update it. It's a couple of updates a week.
You can find humor in anything. I like people who like to have fun. I like to be around people who make things lively.
I have two favorite movies: "The Pianist" and "The Count of Monte Cristo." I read the book and I like all the movie versions of it.
My favorite book is "All Quiet on the Western Front." It kind of relates to baseball. You play all year. You're with the same guys. You could die any day by doing bad. It's a different kind of dying than in the book. I read it when I was in the Arizona Fall League, and I said, "Man, this is a pretty good book."
I went to school for finance, so I'd probably be some type of financial adviser if I didn't play baseball.
If I wasn't playing baseball, I'd probably be watching the Twins down at the Dome here.
The toughest thing about my job is dealing with failure.
What makes me angry? People who think they're more than they are.
I'd want my friends to describe me as weird and fun - but weird in a good way.
The first purchase I made after I was drafted was I bought my mom's car. I put the rest in the stock market and lost it all. It was about $60,000. It was a good learning experience.
I like hard rock and heavy metal. My favorite bands are Chimaira and Lamb of God.
I don't sing. Simon Cowell would say my voice was "terrible. ... Get off the stage."
My wife is just like me. We're both nut jobs. We love doing crazy things. We get off on stupid humor. I actually met her on my Web site. She was down in Florida and went to a Tampa Bay Devil Rays game when they were playing the Twins in 2004. She talked to (Twins clubhouse attendant) Wayne Hattaway and he's like, "Hey, can I sign your poster too." She wondered who he was, so she Googled the Minnesota Twins to try to find his name and my site came up. So, she e-mailed me and asked if I knew this old guy. I said, "Oh, that's Wayne." She said, "just wondering who he was." We talked a lot. I got sent down from double A to Fort Myers and that was the closest minor league park to where she lived. We met and hit it off.
The best advice I ever got was to stick to something.
The worst advice was from my dad. I was going to buy a condo with the money I got when I signed my first contract. He told me to put it into stocks and double it so then I'd have money and a house. That backfired.
I want my epitaph to say, "Here lies Pat Neshek, who never took life seriously and always had fun."
Bob Sansevere can be reached at bsansevere@pioneerpress.com.
Thursday, July 26
ESPN Page 2 - Johan Keri - April 23rd, 2007
Neshek is king of eBay and the mound:
Pat Neshek is a hard-core collector of baseball and hockey cards, a huge fan of "The Simpsons" and one of the most entertaining bloggers around. He also happens to be one of the most dominant relief pitchers in baseball. In his rookie season last year, Neshek befuddled American League hitters with a sidearm right-handed delivery and nasty stuff, posting a 2.19 ERA, nearly 13 strikeouts per nine innings and a strikeout-to-walk rate of nearly 8-to-1. Now in his first full big league season, he's a key cog for one of the best bullpens in the majors. Page 2 sat down with Neshek to discuss his funky pitching motion, his jones for collecting and the perks of being a major leaguer:
Page 2: Who was your favorite player growing up?
Pat Neshek: Tony Gwynn. I loved how he studied videotape really seriously. It was pretty neat, how he could pick things up from pitchers by studying their tendencies. Growing up in Minnesota with no cable, the coverage wasn't great back then. But when I did get to see Gwynn hit, it was amazing to see how he could go to the opposite field against anyone.
P2: I take it you wanted to be a hitter before you became a pitcher, then? Did you think you'd be good enough to make it to the majors?
Neshek: When you're little, you always hope you can make it to the big leagues. Then as you get older, you hope you can develop into something, at least. In high school in Minnesota, I made the team as a sophomore, played shortstop, went to state, got pretty good. Pete LaCock, who used to play for the Kansas City Royals, wanted me to go to a junior college in California to play shortstop. But the scouts I spoke to wanted me to pitch -- my arm was my best tool. I took that route to college. Obviously I made the right choice.
P2: So how'd you develop that down-under pitching style?
Neshek: The Twins originally drafted me out of high school. In my very last game of high-school ball, a pitch came at my head. I protected myself with my arm and got hit pretty hard. I had trouble throwing from short, it felt like there was tearing in my wrist. The only position I could throw from was sidearm. So I head to college, and at this point, I'm throwing sidearm all the time as a pitcher. The coach says to me, "You might want to take a look at yourself on videotape, you're not the guy I recruited." But I had this unique style that was tough for hitters to pick up, and I was throwing in the 90s. Even today, it feels like I'm throwing from a three-quarters slot, not from the angle I do, which really is sidearm.
So I never meant [my motion] to be how it turned out. When I got hurt, it was the only way I could pitch that didn't produce pain when I threw. It just feels very natural for me. The Twins drafted me again out of college, from Butler, and I've stayed with it ever since.
P2: The Bulldogs looked great in the tourney this year …
Neshek: They had a great run. It's too bad they always have to play Florida.
P2: One of the things you've talked about a lot on your blog is your long journey through the minor leagues. Did you get discouraged after a while, thinking they might not call you up?
Getty Images
You're just a likely to find Pat dominating on the mound as you are on eBay.
Neshek: I've always put up really good numbers, and they drafted me pretty high [sixth round, 2002]. With the Twins, though -- not so much with their first and second-round guys but with their other guys -- they want to see you prove yourself. They're different than some other teams that call guys up really fast. Matt Garza last year was a rarity -- it usually takes awhile for a prospect to make it to the majors with the Twins.
Last year, I was having an unreal season, 13 strikeouts per 9 innings. By the time it got to June, I was thinking, "Man, this is getting annoying, I know I can pitch up there." It's happened to other guys I've played with too, and it can get frustrating.
P2: So tell me about the day you finally got the call …
Neshek: The Twins were doing some moves, and by this point I was saying, "When is it going to happen?" It was far beyond the point when I'd get excited, more of a feeling of being relieved. It was like, "Finally!" Then it was nervousness. Will my teammates be cool with me, will they pull the usual rookie hazing stuff, those kinds of things. I got a call at 11 a.m., and I had to get on a flight at 1:30 p.m. that day. My wife and I just grabbed a bunch of things, and our dog, and made it on the flight …
P2: What kind of dog? That couldn't have been easy …
Neshek: A little wiener dog, so it wasn't too bad. We took him along, then we had to smuggle him into the hotel. And it's the big leagues, so it's this really nice hotel that doesn't allow dogs, of course. The dog starts barking in the room, and all I could think was, "You're going to get me sent back to the minors!"
The first game was in Texas, and my parents came down. It's my first day in the majors and we're getting blown out. Usually when a guy gets called up, you might have to wait a week to get in there. But sure enough, they'd gone through a few pitchers, so they brought me in for the 7th inning. The first batter I faced was Kevin Mench. I got two strikes on him. I tried to put him away with a slider, hung it, and he ripped it up the middle. And I'm thinking, "You can't get away with a pitch like that here, these guys are too good." But then I retired something like the next 20 guys I faced over the next few games. It was a big relief to get established like that. But it was scary, for sure. You have to have your best stuff.
P2: It had to help that you had one of the best bullpens in MLB around to pick you up, right? Not every pitcher gets to break onto a pitching staff with Joe Nathan, Juan Rincon, Jesse Crain and Dennys Reyes around to help out …
Neshek: Oh, no question. Those guys all take their jobs so seriously, which is how I approach the game too. If you leave a guy on, they're trying to get out of the inning and help you out at the same time. When someone does well, you want to match him. Guys are going out and competing, and it's fun to be out there in that environment. It's great to be a part of that as a rookie, to take all that in.
P2: There are a bunch of other really good arms coming up in the organization too. Glen Perkins, Kevin Slowey, Scott Baker. It sounds like it's fun to compete, but if you don't compete, you could lose your job with all that talent around, right?
Neshek: When I got put on the 40-man [roster] last year, I said, "If I don't do something quick, I'm going to get passed by guys coming up in the minors." I mean, we released a lot of guys in spring training on the minor league side that were pretty darn good pitchers.
P2: Are you happy with your role now as a set-up man? Do you have aspirations of becoming a future closer?
Neshek: Not really. I could if they wanted me to do it, and I did it in the minors for a while. But Joe Nathan is one of the best, we're in great shape with him back there. I like the role I'm in now.
P2: What have you found to be the biggest differences between the minors and the majors so far?
Neshek: The lifestyle is pretty crazy, the money getting thrown around. You don't think about it on the field, but it can really help your family out. I'm just coming up, so it's not the same as some of the more established guys, of course, but it definitely helps. One of the biggest things I've noticed, though, is the degree of scouting, all the videotape and tools you have available. You can really find out what hitters are trying to do every at-bat. I rely a lot on that. It's nice to have that reassuring evidence, especially when you've already got a hunch about a hitter.
P2: That goes back to the Tony Gwynn influence, right? You're taking the traits you admired in Gwynn and applying it to your own pitching …
Neshek: Yeah, definitely. [Tuesday] night was the first time for me facing the Mariners, so I wanted to look at some things first. It's definitely tougher for me facing a team that first time. It's their first time facing me too, but I'd rather face them the fifth or sixth time, when I know their tendencies better. I feel like I can have more success that way. They know me better by then too, but that's when the matchups really start getting fun.
P2: A lot of your success relies on deception, though -- on your sidearm motion that's hard for batters to pick up the first time. Wouldn't they have a better chance of hitting you, the more they get used to your delivery?
Neshek: Well, I faced plenty of guys in the minors a bunch of times, and they never picked up on it, never really figured me out.
P2: Well, to be fair, it's not just the motion in your case. You're not exactly throwing slop out there, so it's different than facing some of the softer-tossing sidearm guys, someone like a Dan Quisenberry maybe …
Neshek: That's the other thing. I can get it up to about 94. A lot of sidearm guys don't throw that hard, for sure. But you're really starting to see more sidearmers coming into the league now, and more of them are bringing heat. Wes Littleton for Texas, Cla Meredith with the Padres. Joe Smith with the Mets went to Wright State [a rival school of Butler's in the Horizon League] … he throws hard too.
P2: It would seem like a smart idea for teams to seek out sidearm pitchers, wouldn't it? Isn't there a lot less strain on the arm when you throw that way?
Neshek: Oh, definitely. You might get a little sore sometimes. But you're sore in different places. It's never in the front of your shoulder, and that's where guys tear their rotator cuff. It's very rare that you'd get elbow soreness. Maybe a little if I'm really stretched out on back-to-back nights. But when I do get sore, it's more in the muscles behind the shoulder. The worst thing I'll get is a little tendinitis.
P2: Are your training methods different as a sidearm pitcher than they might be for a more conventional pitcher?
Neshek: Not really. I like to do a lot of lifting for my legs, that's where my strength comes from when I'm pitching. It's just basically getting in the gym, nothing too different. Normally you're supposed to lose velocity as you get older. But I feel like I'm getting stronger and throwing harder.
P2: What's your repertoire of pitches?
Neshek: Fastball-slider, mostly. The slider's been my bread and butter, it's the biggest reason for me having success against right-handed hitters -- a lot of guys end up swinging through it. With the deception in the delivery, they can have a lot of trouble picking up the ball. Then to lefties, I mix in a changeup.
P2: You mentioned working on the change against lefties. Last year you were almost unhittable against righties [.140 AVG/.159 OBP/.221 SLG], but lefties hit for a lot of power against you [.244/.300/.511]. Are you throwing the changeup more because of what happened last season, to try to adjust?
Neshek: When I was in college, my changeup was one of my better pitches. But when I came up, I could blow guys away with the fastball or throw a slider, so I didn't need it much. I'd never thought that much about splits. But then in the minors at one point people were saying "lefties are hitting .360 against you." So you have to make some adjustments. The changeup has been pretty good so far. It shows hitters I have another pitch.
P2: You were saying before that you didn't look at splits much when you first started out. But given what we see on your blog, it seems like you're pretty Web-savvy, and there are obviously a lot of stats out there if you want to find them. Do you consider yourself something of a stats guy now?
Neshek: I really like looking at my own stats, to see how I can improve. My college coach used to say, "try to walk a guy every three innings, at most," so that's always been a goal of mine. WHIP, ERA, K's per 9, all that stuff I like to look at. It's fun to compare to other guys, to see how other pitchers stack up. I'll also do that for hitters. I like seeing guys' strikeouts to walks, if they're taking pitches or if they're more aggressive. Any information you can pick up can help.
P2: I have to admit, even though you were a relatively unknown rookie, I owned you in every fantasy or simulation league I was in last year, your numbers were that good. My editor, who's also a stats guy, also had you on his fantasy team. Do you know that you have a following among statheads?
Neshek (laughs): That's great! I was just on ESPN.com today actually, looking at all the different stats. There's so much information out there, sometimes you'll get an obscure stat that might stick out. Maybe I do well in a certain park, or I have some trouble in day games. I'll dig up anything I can find.
P2: OK, so we have to get into your card collecting. For people who don't know, you trade baseball and hockey cards with people on your Web site, and you use the message boards to chat with people, and also to make all kinds of deals for different cards. I joked how I would trade you a 1958 Mickey Mantle card for a picture of Homer sleeping on the couch. Then a few days later, you dig up an old Simpsons card of Homer sleeping on the couch, and demand the Mantle card. I'll see what I can do about the Mantle card. In the meantime, what are your top three "Simpsons" episodes?
Neshek: Oh man, that's tough. Anything from the first three seasons. The baseball episode has to be up there. That's what I'd do almost every day in high school, come home, "The Simpsons" would be on at 5 on Fox. I even got my dad hooked on it. My wife and I went to Best Buy the other day, and we saw all the DVDs that are out now. We might have to get those.
P2: Back to card collecting. You're 26 years old -- wouldn't that make you more likely to grow up with video games than baseball cards?
Neshek: When I went to college, I had a teammate who was a serious collector, and he'd also sell stuff on eBay. So he'd say, "Hey, you want to go see the Pacers tomorrow? We can get their autographs." And I'd say, "You can't get the Pacers' autographs, there's no way." We'd go, and everyone would sign, and I thought, "Holy cow, this is awesome!" I really got into it that way.
I always said if I ever played in the minors, and especially if I made the majors, I'd let people in on it as much as possible. So when I started the site, I found that I could do trades with people, use my own cards and help my collection, and also make it fun for them.
P2: The site's grown a lot since then, right?
Neshek: It's gotten pretty crazy. When I started it in spring training 2004, I was getting three hits a day. Then it grew to about 10, and kept growing. The site had about 150,000 hits on it by the time I got called up, then 350,000 by the end of my rookie season. Now it's over 470,000, with about 1,500 hits a day. I don't want to change it or make it a better-looking site. I have no desire to make money from it. I like keeping it the way it is, with that raggedy feel.
P2: You have a questionnaire that you've used to interview a bunch of your minor league teammates. I'm going to steal one of those questions and ask you: If you could have an autograph from anyone in the sports world, past or present, who would it be?
Neshek: That's tough to say. My favorite card was always a Kirby Puckett one I've had for a while. It was during his rookie year, and he had a different autograph then. I just like to collect whatever I can find. I always went autographing, and hockey players always seemed to be the most fan friendly, with baseball players right behind. It's always something that's just meant to be fun. It's like a hobby within a hobby, and everybody's trying to outdo everyone.
P2: Have you run across other major league players who are big collectors?
Neshek: A lot of guys collect baseballs or signed jerseys. Often they're closet collectors. Someone mentions something about a jersey, and suddenly a guy will say, "I've got a Mantle one!" [Top Yankees pitching prospect] Phil Hughes is a graded card collector. Brad Lidge, I think, is a pretty big collector. In spring training, my locker was next to Mike Venafro -- I really got him into collecting. Some guys want to do it, but they don't know how to go about it. Oh, and Dmitri Young. He's a big collector, he likes the '50s and '60s stuff. He'll say to guys, "If you can find it, I'll buy it."
P2: Do you ever ask players from other teams to sign a card, or contribute a piece of memorabilia? It's got to be tempting, if you're playing against Roger Clemens or someone like that, to ask, isn't it?
Neshek: I never did it last year. This year, we were playing the Yankees, and I wanted to do it. I went over to the bat boy and sent a card over to be signed. That was the first time I'd done that. I usually don't like getting into people's business, but some signatures are tough to get. The thing is, if I ever needed something, there are all these fans who would go out and get it for me, then trade with me on the site. It's amazing how much they really reach out.
P2: Do you collect your own cards?
Neshek: Yeah, and it's crazy what's happened with that. When I was starting out, people would always ask me, "When are you going to get a baseball card?" Now, because of [the attention drawn to] my cards through my Web site, they're top sellers!
My favorite one is from A-ball. They were taking pitchers off the mound, and having them pose. I said I wanted to do something different. So I just took a pen, wrote a fake autograph on a ball, and that was my rookie card, fake-signing a ball. It's a rare one they only made one of. So the card went up for auction. One guy bid $150, I said I'd bid $200, which is my limit … and this kid bids $600! I told him, "I'll be back to buy that from you, when that thing's worth nothing."
Thursday, July 26
Star Tribune - La Veller E. Neal III - July 17th, 2007
In recent weeks, we have learned that Pat Neshek has auctioned off one of Michael Cuddyer's gloves and that Gilbert Arenas wants to buy an island. We have seen what Tiger Woods' baby looks like, heard how Curt Schilling faltered against Colorado and digested Mark Cuban's thoughts on his colonoscopy.
The common thread here is that all this knowledge was released by those celebrities on their blogs or websites. Everyone else seems to do it, so why can't the people of sports join the blog party?
Neshek, Arenas, Woods, Schilling and Cuban are part of the growing society of sports insiders who have the intimate details fans crave and don't mind revealing them.
"An athlete's blog only has value if he/she is honest and forthcoming with it," Will Leitch, editor of the popular sports website deadspin.com, wrote in an e-mail. "A PR blog only to sell merchandise and make the athlete look like a hero is a waste of time for all involved. No matter who's writing it, if a blog isn't interesting, people won't come back."
Neshek a trendsetter
Neshek, the Twins' sidearming relief pitcher from Brooklyn Park, has a bookmark-worthy site. He said his website, www.patneshek.com, had around 150,000 hits on it when he was called up to the majors just more than a year ago. A check on Saturday revealed more than 650,000 hits.
He said he merely wanted to start a website as a minor leaguer in 2004 to talk about what goes on behind the scenes and discuss memorabilia -- he's a big collector -- but it has been more than he expected.
"I think it's going to be a big part of the game, and I think a lot more athletes will do it just for the exposure to fan bases," Neshek said. "I think that will generate a lot of interest for that individual athlete and make a name for players. And some may use it as a way to make money, too."
Teammates are thinking about entering the blogosphere. Twins outfielder Michael Cuddyer is interested but wonders about the demands on his time. Twins ace Johan Santana is having a site developed with the help of his agent.
"We are going to go beyond just being a baseball player," said Santana, who wasn't sure when his official site would be up and running. "It will be a chance for people to get to know you, have time to chat or let people know what's going on around you."
Some are more active on their sites than others. Neshek posts frequently and provides photos. Arenas, the Washington Wizards scoring machine nicknamed "Agent Zero," has used his blog at www.nba.com to trash-talk to opposing teams and discuss his rehab from knee surgery. Recently he broke news about dumping his trainer: "I had to fire him and kick him to the curb," Arenas wrote.
Memorabilia exchange
Neshek has built his collection of memorabilia through his site. He has auctioned off his equipment, not for money but for certified memorabilia. Teammates saw some of the things he exchanged online and wanted in.
Santana offered a dozen signed baseballs and received 50 balls signed by Hall of Famers, including Nolan Ryan and Satchel Paige. Cuddyer offered one of his gloves on Neshek's site and landed a basketball autographed by Michael Jordan.
"I'm not going to spend money to buy it," Cuddyer said, "but it was cool to be able to make that trade. The guy who traded it was obviously ecstatic to have my glove. It worked out for everybody."
Athletes are providing fans with insights that might not end up in the newspaper. And they are finding out that discussion of even the most mundane matters, such as going shopping, gets responses.
Wal-Mart shoppers
Tigers outfielder Curtis Granderson blogs three times a week and does a Q&A every other week for ESPN.com, and he also has a MySpace page. ESPN has asked him to focus on the lighter side of the game instead of the nuts and bolts of baseball. But even he didn't expect people to respond to the fact that he shops at Wal-Mart.
"I thought about what I can talk about that will make people who know me or don't know me want to read this," Granderson said. "It's amazing how many people want to get inside you and know just a little bit about you."
Boston pitcher Schilling's blog, www.38pitches.com, includes detailed self-analysis of his starts that can extend much longer than the typical game story covering the same start in the Boston Globe. He also promotes his charity work. And he takes on fans during sometimes-feisty Q&A sessions, especially Yankees fans.
"That's the best you can do? Yankee fans everywhere should be ashamed to call you a member. Oh and install a spellchecker," Schilling responded recently when someone claimed he makes excuses and is washed up.
The advantage for the sports figures is that they can control and grow their relationships with fans through blogs. However, their posts sometimes can get them in trouble.
In 2006, Cuban, the Dallas Mavericks owner, was fined $100,000 by the NBA for criticizing the selection of referees for the playoffs on his site www.blogmaverick.com.
When Neshek was still in the minors in 2005, he wrote at the trade deadline that he was "very surprised" when the Twins didn't make a deal. He also has expressed disappointment when certain players were released. Twins General Manager Terry Ryan said he once heard complaints from his staff about a Neshek post but hasn't held it against him.
"As long as it doesn't interfere with his performance and as long as it doesn't go over the line," Ryan said. "As you can see, I don't really care."
So the proliferation of blogs and websites by athletes will continue -- though it doesn't appear likely that blogging about colonoscopies and trips to Wal-Mart will soon lead to a world without sportswriters.
"The tough thing is originality," Granderson said, "so I give [the media] a ton of credit for being diversified day to day, week to week, month to month with your stories because ... I can see how ideas can start to get a little stale."
Thursday, July 26
The Capital Times - Michael Gluskin - July 10th, 2007
In many ways, Pat Neshek was an ideal candidate for Major League Baseball's online final vote campaign, which took place last week. Five players from each league were nominated to become All-Stars, with the fans voting to determine the winner.
Neshek is one of baseball's most Internet-savvy players, writing a blog on a regular basis. The blog has given the 26-year-old Madison native somewhat of a cult following among certain baseball fans, who helped him get elected to the Triple-A All-Star team last season in a similar online vote. But Neshek didn't end up playing in that game because he was promoted to the majors shortly before the contest.
The Minnesota Twins reliever won't be playing in tonight's All-Star Game, either, because he didn't win the final vote contest. But his nomination helped increase Neshek's exposure and recognition to casual baseball fans.
Once nominated, Neshek immediately began a campaign for his cause on his blog. Neshek's fans joined in by casting volumes of votes and creating videos for his candidacy on YouTube. The reliever made and distributed T-shirts reading "Pitch in for Pat" and "Vote Neshek."
The reliever's enthusiasm for the vote was easily apparent through the T-shirts and his blog.
"WOW, how cool is getting nominated," Neshek wrote at his blog. "I don't know what to say it's unreal to even think about. But man I need you guys to vote, vote and vote."
Neshek's campaign encouraged voters to pull an all-nighter on the final night of the contest, and it endorsed a running mate, San Diego Padres pitcher Chris Young.
While Young won his election, Neshek fell short in the American League race. He finished third overall, behind winner Hideki Okajima of the Boston Red Sox and Jeremy Bonderman of the Detroit Tigers. Final vote results aren't released, a fact that irked Neshek, so it's not known how close he came to winning the race.
After the voting finished, Neshek wrote this message to his fans: "Thank you to everyone who participated in the Final Vote. It was a fun time and great to see everyone getting into it."
Even without being an All-Star, Neshek has made an impression during his first full season in the majors. He has become a reliable reliever in the American League, posting a 1.70 ERA through 42 1/3 innings. Opponents are hitting .129 against Neshek, and he has 52 strikeouts. Some of his success can be attributed to his unusual delivery.
Neshek does not throw in a traditional over-the-top style. Instead, he drops his right arm and throws in more of a sidearm fashion. While Neshek says he doesn't know why he throws this way, he writes on his Web site that he was hit in the forearm during his last high school game. After the injury, it hurt him to throw in a normal style and the only way he could play catch was from a three-quarters or sidearm angle.
Neshek recently received national notoriety for his style, when he was featured in a cover story of USA Today's Sports Weekly in late June. The story showcased pitchers who don't use traditional mechanics in their delivery, with Neshek certainly falling in that category.
Neshek didn't live in Madison for a long time, as his family moved to Florida for his father's job shortly after Neshek's birth. He still has relatives in the area and throughout Wisconsin, many of whom gathered to watch the Twins face the Brewers at Miller Park in mid-May .
Patricia Plourde, Neshek's grandmother who lives in Platteville, said more than 150 people with some connection to Neshek tailgated before one of the games. The group attended all of the games and Plourde actively follows her grandson's career.
"You tell anybody your grandson's playing with the Twins, and they act like you're a celebrity," she said. "It's really something."
While Neshek now plays most of his games up north at the Metrodome, he spent the 2000 season as a member of the Wisconsin Woodchucks in the Northwoods League, playing in Wausau for a few months. In 11 games, he went 4-5 with a 3.23 ERA. Two years later, the Twins drafted Neshek in the sixth round (182nd overall), and he signed with Minnesota shortly after.
Neshek certainly has come a long way since being a Woodchuck. Down the road, if he keeps up his impressive numbers, he will continue to garner national recognition and maybe one day take part in an All-Star Game.
Patriot News Sunday August 21st 2005
Excellent article written by famed journalist Andrew Linker.
At The Yard - October 2005 Issue
AT THE YARD took a look around and found these interesting young men taking up residence on pitching mounds at the different levels of Minor League Baseball. Three different personalities, all from different backgrounds, but striving for the same goal – a home on a major league mound.
LOGGING ON TO PAT NESHEK
Webmaster, Autograph Collector… and Closer
Cards, Computers and Curveballs: Neshek may make baseball his career, but it also runs over into his different hobbies.
THE ROUGH-AND-READY BASEBALL PLAYER of yesteryear wouldn't know what to make of New Britain Rock Cats relief pitcher Pat Neshek.
Emerging from a game that once featured spike-sharpening, tobacco-chewing ruffians, comes a Webmaster—a ballplayer who maintains his own website. Neshek has spent parts of three seasons with the Double-A Eastern League affiliate of the Minnesota Twins, but his site—On the Road with Pat Neshek—has been around much longer.
A visit to http://eteamz.active.com/PatNeshek will tell you what you need to know about the cerebral young righthander from Brooklyn Park, Minnesota; whose deceptive sidearm delivery may send right-handed batters looking for a "Learn How to Bunt" link.
It doesn't take long to discover that Neshek's diary-like entries come directly from the heart of a true baseball fan, and insight about such fan-oriented issues as autograph collecting are rare coming from such a source. Neshek, a serious autograph hound, conducts chats and forges relationships with collectors who read his site and come to games around the Eastern League.
"One of my buddies, Paul Beck—we played baseball at Butler (University in Indianapolis) together—we always got autographs after Triple-A games," Neshek said. "We used to sit behind the dugout and hound all the players. He said, 'Wouldn't it be cool if we made the minors we could do a journal on the Internet?' We wanted to do autographs at first and then we decided we could put anything we wanted on there."
"[Autograph chatter] is what started the website. It's kind of shifted away a little bit, but I'd like to get back to that. If I had all the time in the world to write, it would probably be about seventy-five percent autographs."
Questions on Neshek's message board often discuss how willing a player is to sign multiple autographs, something with which he has no problem. Others however, deem multiple signings as exploitation.
One signature seeker complained that Neshek's teammate— Twins outfield prospect Alex Romero—only signs once. Others are interested in the recent influx of top prospects to New Britain, as first-round picks centerfielder Denard Span, third baseman Matt Moses, and starting pitcher Glen Perkins joined the Rock Cats at mid-season.
Few baseball subjects are off-limits. Neshek went so far as to deliver a jab at the Twins when pitcher Jeff Randazzo was yanked off the team bus just before a roadtrip and handed his release. He also offered a question to Eastern League schedule-makers—'Why give teams off days on the road when all they can do is sit in a hotel?'
"I try not to go into some things too much," he said. "I just keep it up with what happens. Nobody has told me to stop. There's probably a fine line, but I don't see anything wrong with it right now. I can always go back and update it."
Neshek relishes building a keepsake that will store the memories of his career; a career that is getting a boost as he sharpens his mentality for closing out games. The 25-year-old entered August, fifth in the league in saves with 16, while owning a 5-3, 2.35 mark.
"I've been getting opportunities. That's what I like," said Neshek, who employs a delivery with a higher release point than submariners like Boston's knuckle-scraper Chad Bradford. "My stats in the minors have always been pretty good. Last year, I was pitching in [mop-up] games. When I get out there in closing situations with the game on the line, that's where I tend to shine."
Although Neshek hasn't received notoriety as a top prospect, he is no worse than on the fringe. His numbers in Class A were lights-out.
In 2002, at Elizabethton in the Appalachian League, he posted 15 saves with a 0.99 ERA in 23 games. Neshek started at Quad City in the Low-A Midwest League the next year, and was dominant—0.52 ERA and a team-best 14 saves—before he shot up the organizational ladder joining the Fort Myers Miracle on June 23, and later New Britain on August 12.
Last year with the Rock Cats, he was 2-1 with a 3.86 ERA in 26 relief appearances, but was demoted to Fort Myers in mid-July, where he led the Miracle with 10 saves.
Neshek said that even a big-league promotion—always possible with the small-market Twins—would not alter his outlook on reaching out to fans. One aspect he may be forced to change is offering his autograph through the website, which costs him only $50 a year to maintain, but generates a fair amount of paperwork.
"It got kind of out of control," he said. "I had my e-mail on there and I was getting like ten e-mails a day. It kind of got old after writing back to like the 200th person two weeks in. I don't mind the [snail-mail] letters, but I had to tone it down."
Neshek doesn't advertise the site, but an Internet search of his name and the site will turn up at the top of the list.
"Nobody knew about it at first but every now and then somebody will say, 'My girlfriend found it.' (Rock Cats pitcher) Justin Olson said, 'Hey, my mom found your site, it's a great site.' The only advertising I've done is by word of mouth."
Rest assured that logging on will not spread a virus, but there are no other guarantees, especially for free-swinging right-handed hitters.
--Ken Kipshez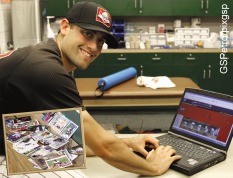 Check Out At The Yards Excellent Site
Sunday, April 16
Rochester Democrat & Chronicle - By Jim Mandelaro - April 5th 2006
Pat Neshek has found a place to live in Rochester.
He recently had a mob boss autograph a baseball for him.
And his girlfriend and father will be driving his car up from Florida this week.
How do we know all this? Just check out patneshek.com, a Web site owned and operated by Pat Neshek, the Rochester Red Wings' new bullpen closer.
"I started it about two years ago," the right-hander says. "It's a great way to let fans know what life is like for a player."
Neshek's life is certainly interesting enough to be documented. Here's a player who grew up 10 minutes from the Metrodome in Minneapolis and is now one recall away from pitching for his hometown team.
"The Twins had a lot of deals (on tickets) when I was young, and this was when no one was going to games," he says. "My dad would fill up the whole van with my friends and we'd go down there."
Neshek is an autograph collector with nearly 5,000 in his collection — everyone from Baseball Hall of Famers to his recent addition, former Colombo crime family mob boss Michael Franzese, who spoke to Twins minor-leaguers last week about the ills of gambling.
He's only the second non-baseball player to sign a baseball for Neshek, with NBA star Allen Iverson being the first.
Neshek also owns thousands of baseball and hockey cards, and therein lies a major reason for his Web site.
"It's a chance to tell people what I do, but also to talk to other autograph seekers and card collectors," he says. "We had a team site at Butler (University) and we'd come home and write about the funny things that happened. All of our parents would read it, and it kind of grew from there."
Neshek is full of fascinating stories.
Like the time he was selling candy bars and knocked on the door of his idol, Kirby Puckett.
"He lived in Brooklyn Park (Minn.) just like me," Neshek says. "(His wife) Tonya let me in. She said 'Oh, Kirby loves candy bars.' He was in spring training, and here I am in his house. It was amazing."
Neshek later landed Puckett's signature on two 8-by-10's and a baseball at a car dealership. He was shaken by Puckett's sudden death at age 45 last month.
"It hurts," he says. "My girlfriend was crying. That's her favorite player, too. My dad got choked up. And the more I thought about it, I started crying."
Then there is Neshek's unusual side-armed delivery. It happened by chance.
"In high school I got hit by a pitch in my last game," he says. "The Twins had actually drafted me the day before, and I was throwing overhand. I couldn't pitch the whole summer, so I played shortstop and just started throwing (side-armed)."
Neshek, who still has a bump on the inside of his arm from being hit, decided against turning pro and moved on to Butler. When his college coaches saw him throw, they were stunned.
"They were like 'This isn't the guy we recruited.' I didn't even know I was doing it, but it worked and I stayed with it."
Who can argue with success? The Twins selected Neshek again in the sixth round of the 2002 draft, and he has fashioned a 14-10 record, 2.22 earned-run average and 68 saves in four seasons. Last year, he was added to the Twins' 40-man roster.
"He's got a real funky motion that's deceptive to hitters," says Wings manager Stan Cliburn, Neshek's skipper at Double-A New Britain the past two years.
Neshek began the 2004 season at New Britain but was asked to go back a level to Single-A Fort Myers and become a closer.
"I wasn't very happy about that," he says.
He led the Miracle with 10 saves, and added two with New Britain. Last year, he paced the Rock Cats with 24 saves, leading all Twins minor-leaguers, and averaged 10.4 strikeouts per nine innings.
"I think (the demotion) turned this guy's whole career around," Cliburn says. "He's on a mission, and he's looking as good as I've ever seen him."
The 6-foot-3, 205-pound Neshek throws a fastball in the low 90s and a slider. He mixes in a changeup when facing lefties.
The Twins are loaded with quality relievers, but at 25 Neshek is moving up the charts quickly and hopes a strong season can land him in the majors.
Neshek doesn't project the intimidating demeanor of your prototypical closer. In fact, he's happy-go-lucky and fan friendly.
"I like meeting fans at the game," he says. "I never thought I would. I thought it would be a distraction. But I like it now."
So if you want to know how he's doing this summer, just ask him. Better yet, read all about it at patneshek.com
Saturday, April 1
Rochester Red Wings Interview 2006 Winter Interview
FURIOUS 5 INTERVIEW: PAT NESHEK
It's the RedWingsBaseball.com Furious 5: five minutes with a Red Wings player - past, present or future - and a nonstop, fast and furious, Ramones-like barrage of at least 15 minutes' worth of questions packed into one interview. Some questions are serious, some are not - follow along as the player tries to determine which questions are which.
The Player: Relief Pitcher Pat Neshek (KNEE-shack)
Furious 5 Interview Date: 1/28/06, TwinsFest 2006 at the Metrodome
Length of Interview: 5 minutes
Number of Questions asked: 36
Reliever Pat Neshek is an interesting - yes, that's the word we'll use right now - young man with an equally interesting pro career so far, and a delivery that's a bit more difficult to define. New Wings manager Stan Cliburn described Neshek as having "a real awkward, funky delivery that's unorthodox" in an 2004 Red Wings yearbook article about Twins prospects.
Pat's impressive rookie season of 2002 (0.99 ERA, 15 saves in 23 games for Elizabethton) was followed by a three-level swing in 2003. In 2004, he was part of a crowded Double-A bullpen scene in New Britain - with Beau Kemp, Travis Bowyer, and Bobby Korecky among others. Pat was sent back to Ft. Myers in 2004 so he could be the full-time closer, and ended up leading the club in saves. Back in Double-A in 2005, he was 6-4 with a 2.19 ERA and 95 strikeouts in 82 1/3 innings pitched; his 24 saves were tops in the Twins system. He is expected to be the stopper for Cliburn in Rochester this season.
RedWingsBaseball.com: A great season at New Britain as the closer in 2005, after what could be literally referred to as an up and down season in 2004 – when you began the season at Double-A, then headed back to Class-A Fort Myers. What are your goals for 2006?
Pat Neshek: Getting to the big leagues would be the number one goal, and I know I can't do that without pitching really well at Rochester and showing I can get people out in all kinds of situations.
RWB.com: And now coaching in Rochester, two guys you played for in New Britain: Stan and Stu Cliburn. What's it playing for them, and what it'll be like having them in Rochester?
PN: They're baseball gamers, the game is their whole life. It's going to be fun playing for them again, and I'm really glad they're getting the chance to move up too.
RWB.com: You've had your web site, PatNeshek.com, for a while and it's a really interesting look at a minor league player's life. How did you get started with the whole web site thing – did you put it together yourself, did you have a techie geek friend html it for you?
PN: My college roommate was a big autograph collector and he thought it would be cool if I just did a journal, and just update it with weird stuff. We had one for Butler baseball, where I went to school, and it was just all kinds of wacky insider stuff. Since I've had the site as a pro pitcher, I've had a lot of reaction from fans that they like the site a lot.
RWB.com: What software do you use to update your site?
PN: I just use eteamz, it's a site and not specific software. It pretty much does all the coding for me.
RWB.com: How many domain names do you own?
PN: Two. Neshek.com and Pat Neshek.com
RWB.com: Any plans to buy up all the other domain extensions, like PatNeshek.org or .biz?
PN: No. I just want to own the dot-com names.
RWB.com: You're from Brooklyn Park, Minnesota. Governor Jesse the Body Ventura – wasn't he the mayor there?
PN: Yes, I voted for him.
RWB.com: Some Minnesota questions for you…the state nickname "The Land of 10,000 Lakes." Is the actual number of lakes closer to 8,000, 12,000 or 15,000?
PN: I think it is 15,000.
RWB.com: That is correct according to the Automobile Association of America. The Mayowood Mansion was the home of which brother, William or Charles?
PN: Don't know.
RWB.com: It was Charles. Your state has many nicknames: The Land of 10,000 Lakes, The Gopher State, Land of Sky Blue Water, and Star of the North. Which is your favorite?
PN: Land of 10,000 Lakes
RWB.com: Greatest pro wrestler from Minnesota: Verne Gagne, Jesse Ventura or Mr. Perfect Curt Hennig?
PN: Mr. Perfect.
RWB.com: Who's more of an athlete: a pro golfer or a pro wrestler?
PN: A pro golfer, I guess.
RWB.com: What is the first thing you look for in a new town: a good steakhouse, yoga class, golf course, or library?
PN: Probably a library.
RWB.com: Favorite pre-game meal?
PN: Fruits and vegetables.
RWB.com: Conan O'Brien, or Jimmy Kimmel?
PN: Conan O'Brien.
RWB.com: Leno or Letterman?
PN: Letterman.
RWB.com: True or false: The Ramones are the greatest American rock band ever.
PN: False.
RWB.com: "American Idol"or "Survivor"?
PN: "Survivor."
RWB.com: Would you ever work for Donald Trump?
PN: Maybe.
RWB.com: How many e-mail accounts do you have?
Four. No, five.
RWB.com: Your favorite holiday?
PN: Christmas.
RWB.com: Is the glass half-empty, or half-full?
PN: Half-full.
RWB.com: Your favorite pizza topping?
PN: Pineapple.
RWB.com: You usually come out of the bullpen with a crunching, crazy metal-ish song by….what is that band name again?
PN: Chimaira.
RWB.com: Are they a Japanese death thrash band, are they progressive alt-new metal, how do you describe them?
PN: It's the new wave of North American heavy metal, they're from Ohio.
RWB.com: Who are the bands you listen to the most?
PN: Lamb of God and Chimaira.
(Editor's Note: If you'd like to get a feel for the type of music Pat's into, check out this excerpt from Lamb of God, a tender ballad called "Purified"....Note: this song contains extreme high-speed guitar sounds, gut-wrenching vocals, and is more like Metallica than Manilow)
RWB.com: What was the last animated show you watched?
PN: "Beavis and Butt-Head."
RWB.com: When they eventually make a live action "Beavis and Butt-Head" movie, name a couple of clubhouse candidates to play Beavis and Butt-Head.
PN: Kevin Cameron and me.
RWB.com: Food Network or The Discovery Channel?
PN: Discovery Channel.
RWB.com: "CSI" or "American Idol?"
PN: "American Idol."
RWB.com: Should Madonna continue making provocative videos, or should she stick to writing children's books?
PN: Books.
RWB.com: iPods…how do they actually get all those songs into the iPod?
PN: I can't figure out how they get on there.
RWB.com: What's the worst reality show you've ever seen?
PN: That "Sweet 16" show on MTV.
RWB.com: The Chinese New Year is this week, fill in the blank: it's the Year of the ...
PN: Chicken…..no, I think that was last year….monkey….I'll go with monkey.
RWB.com: This is in fact the Year of the Dog. The last karaoke song you sang?
PN: I don't sing karaoke.
RWB.com: Howard Stern or Rush Limbaugh?
PN: Howard.
Seth Speaks Interview #2
Q&A with Pat Neshek
Twins Relief Pitching Prospect
Good Morning everyone! Quick update on "The Stone." I don't know. I could just leave it at that. I haven't had any pain since about Friday, but nothing has "passed" either. So, this morning, when you read this, I may be at the hospital getting another CT scan to find out what is going on. Hopefully we'll know more then!
I know that yesterday I said that I would be posting a Questions for Seth article here and asked for you to e-mail me a few questions. Because I am so excited about today's Q&A with Pat Neshek, I decided to post it right away today. Because of that, I will be posting your questions for me on Friday. (Note - There will be no new posting tomorrow, Thanksgiving, so be sure to come back on Friday!) I did receive a bunch of great questions from you, but can still use more. So, if there is anything you would like me to answer or respond to, simply send me an e-mail and I'll do my best to respond.
A couple of quick links:
First, Happy Thanksgiving to everyone! Be sure to check out my annual Thanksgiving posting. In it, you will find plenty of former ball players with names associated with Thanksgiving. I should probably add the name of Felix "Pumpkin" Pie to the list as he could be the Cubs CF this year. Of course, his name is pronounced (pee-AY), but that's ok.
Since tomorrow is Thanksgiving, do me a favor and check out a really great site written by a contributor to this site, Dewey Moede. It is called Dewey's Daily Cup and it frequently offers very positive and caring and sometimes inspirational thoughts. So, please take a minute and check it out. (Note - I have added Dewey's site to the list of sites on the left, under the Twins-related sites. So please, bookmark it and check it out daily if you like.)
Secondly, from the title of today's entry, you know that I am posting a Question and Answer segment with one of the Twins stop relief pitching prospects. Well, in a way, I've got two Q&A's for you today. Over at MLB.com, there is a Q&A with Jesse Crain, the Twins rookie reliever. Check that out too.
_________________________________________________________________________________________________________________________________
Now, back to the topic at hand today... I am thrilled to post another Question and Answer session with Pat Neshek. If you missed it, Pat's First Q&A for this site was late in February, before spring training. He was really excited about heading to minor league camp, looking to improve on what was a disappointing, or weird, 2004 season for him.
Pat came through with a really great 2005 season at AA New Britain. He spent the entire season as the Rock Cats closer. Overall, he went 6-4 with a 2.19 ERA. He led the league with 24 saves. His WHIP was 1.09, and he struck out about 10.5 hitters per nine innings. As we know, Pat is a side-winding righty blessed with a fastball that reaches 93-94 miles per hour. His website, On the Road with Pat Neshek, is one of the great places to learn first-hand the life of a minor league ball player. As you know, last Friday, the Twins made it official that they decided to add him to their 40 man roster, protecting him from the Rule V draft. Really, what it means is that the Twins are very high on his abilities and what he can be and how he can contributed to the Twins major league club. Essentially, he now gets three options, or three years to stick with the Twins. Fact is, he would probably be ready to help the Twins bullpen in 2006. At this point, it is really about getting an opportunity and a roster spot opening up to him. It is yet another case of how strong the Twins pitching staff is. It isn't just starting pitchers, but guys like Travis Bowyer, Willie Eyre and Pat Neshek are ready to help in the bullpen too.
On another note, Pat has always been great to me, always willing to answer my questions. Sometimes after I hit send, I feel bad, that maybe I asked something a little too much. But he always answers the questions with honesty and I certainly appreciate that. I don't know Pat personally, but just from reading his website, and from his responses and from the time he takes for fans and others, he seems to be a great guy, a hard worker and certainly has the will to drive himself. I really have no doubt that Pat Neshek will be a Minnesota Twins reliever. Maybe not until September 2006, or maybe even 2007, but I really believe that he will make it. And when he does, I'll be able to write on here that his website is one of the great places to learn first-hand the life of a Major League Ball Player!
Thank you to Pat for taking the time to answer my questions. I always end up asking too many questions and telling the subject of the Q&A that they really don't need to answer each question. I know that they are busy and are working out and have family and other commitments to take care of. But Pat took the time to answer every single question for me. And again, I really, really appreciate that!
If you have any comments for me or Mr. Neshek, please e-mail me, and I will try to answer your questions or forward them on to him and see if we can get you an answer.
And, when you are done reading this, be sure to check out the World of B site. He is a former high school teammate and friend of Pat Neshek's. He recently did a Q&A with Pat that is very entertaining. His questions are far more creative than mine! But again, read mine first! Please!
Let the Questions Begin!
SethSpeaks: Alright, the first time we had a Q&A was right before you were off to minor league training camp in March. Just last week, you found out that you were added to the Twins 40 man roster which means that you not only get to, but are required to go to Major League Spring Training. How excited were you to hear the news that you were added to the 40 man roster?
Pat Neshek: Again Seth, thanks for having me answer some questions on your site. It's always a pleasure! Getting added to the 40-man roster was probably some of the best news I have ever heard in my life. It ranks right up there with getting drafted or signing a letter of intent to play D1 baseball. I think it is even more sweet than getting drafted or anything because I really put a lot into this season and the past off-season. You also have every guy in the organization striving to get on the roster and these are some talented guys not college guys or rookie ball players. So when you add all that together and the level where we compete it really means a lot.
SethSpeaks: What was the reaction to those closest to you, those who know how hard you worked to get to where you are?
Pat Neshek: Well I think everyone in my family knew what it meant because I have been talking about it for the last three years. My dad and I would always talk on the phone and 40-man roster speculation came up a bunch of times. We both knew I had an excellent year but wondered if there were so many spots open, who they were keeping and what the Twins were thinking about me. You never really know until they actually put you on. When I got the call I immediately called my dad and let him know the good news. My girlfriend Stephanee knew that I wanted to get on the roster and that was one of our goals this past year. When I got off the phone I smiled really big and she knew exactly what happened. My mom messed around with me and said "what does that mean?" I wanted to hang up the phone because I thought she was serious but then she turned it around and said she was joking. My brother Paul was pumped because he knows that I pretty much have to be on the 40-man to get called up to the Twins. He told me that if I can hurry up and get up to the Dome we would be the only Player/Grounds Crew combo in the Big Leagues. My brother Jake was also excited more so because I get to go to Big League camp! My friends for the last couple years ask me when are you going to get called up or questions like that and I would reply whenever I can get on the 40-man roster. Not a lot of people understand that you pretty much have to be on the roster to get called up, if you're not on it you're going to have to have a lot of luck and a hell of a season. Most of my friends were pretty fired up when I told them the news, hey why not give some shout outs!!! Shane Stegeman, Ryan Lundervold, Paul Beck, Rex Eaton and Jason Cierlik, you guys rock!
SethSpeaks: On your site, you commented that with this, you are working twice as hard at this point as you were a year ago. What does your offseason workout consist of? Have you developed your own training program, or do you use a program set up for you by the Twins?
Pat Neshek: Well it's a little of both. The Twins always give out a workout program that the strength coach made. It's a very good work out and I usually stick to this. Right now I am running about 6 days a week usually around 30 mins right now. In the next couple weeks I am going to mix in sprints during two days a week. I pretty much am right on que with the Twins strength program, lift 4 days then an off day and back on again for 4 days. The main difference in last year is the running and some of the lifts I have been doing. Last year was pretty much the first year I took the off-season pretty serious. Another thing that I am building on this year is what I eat. I have been shifting more towards eating whole foods…natural foods…stuff that comes from the earth. I started doing this last year and to be honest I don't really get tired or out of energy anymore. I've been juicing vegetables 2-3 times a day focusing on mostly carrot/kale/spinach (it sounds terrible but it's not too bad and probably the best stuff in the world to drink.) Stephanee also cooks me some great meals every night!
SethSpeaks: OK, let's just talk for a few questions about your 2005 season. Overall, how happy were you with your performance this year?
Pat Neshek: Very happy, I never felt tired, my arm didn't hurt and I pitched A LOT not to mention the many times I got up and never went in. It was an excellent year and I think I was most proud about how consistent I was with everything that was thrown at me.
SethSpeaks: You had 24 saves in the Eastern League. However, how often did you just pitch one inning? From a distance, it appears that the closers in the Twins farm system are pitching two or even three innings. It made your job tougher and yet the results more impressive. Do you think that those experiences, often coming into the game in the 7th or 8th inning prepares you more for a role with the major league club?
Pat Neshek: I think from June on I really didn't have too many outings that were only 1 inning long, 2 inning outings were pretty normal. What was tough was pitching back to back to back days doing more than one inning and this happened a couple times. Stu is really easy to play for, he always told me if I feel tired or pain just to let him know and I could take a day off. I think there was one time this season where I asked him to have a day off. I think coming into games early in the game definitely helps because ultimately my role in the big leagues will probably not be closing!
SethSpeaks: Do you look at your statistics throughout the season? If so, which stats do you look at?
Pat Neshek: Yeah I'm pretty obsessive about stats. I always look at era, hits per inning, k's per 9, bb's per 9 and avg against. That's pretty much it for me. Other guys and coaches care about other things but me it's def the above. At the level I'm at if I can have a k ratio that's over 10 I'm happy. If I can walk 1 guy every three innings or more I'm happy. If I can give up a lot less hits than innings pitched I'm happy. If those things are where I want them the ERA should be fine. I also look at first pitch strikes, total strikes and pitch selection. The Twins keep these stats and after every game you can check them out. Radar gun speeds are also fun to look at:)!
SethSpeaks: Saves are nice and Wins are great, but they really don't tell the story of how well a pitcher pitches. Your WHIP was 1.09, which is excellent. You averaged 10.4 strikeouts per nine innings which is right up there with the tops in the Twins organization. 4.5 K/BB is also very good. Do any of these types of numbers mean anything to you, or do you maybe just track that you did your job in X games out of the 55 games that you pitched in?
Pat Neshek: Well I guess individually you want to do those things well and that's what I strive to do, those stats you mentioned are on the top of my lists. But really what you are doing out there is competing. When you get on the mound you don't think about any of that stuff…walking guys, giving up hits blah blah blah, you want to close out the game and get out of there no matter what it takes. Everything is fueled by your competitiveness and instinct to win when you get on the hill. When the game is over I usually look at the stats and see where I need to improve. From this you can change things when you get on the mound or try to get better. Your stats tell a story and it's your job to figure out what type of pitcher you are and master your game. You can always get better and that's what makes baseball awesome. I also think a big part of my game is studying hitters and seeing what type they are. Do they swing first pitch, will they be up there hacking, are they quick and like to bunt. When you understand what type of hitter they are you get a plan. Mix all this together and can kind of see how I approach the game.
SethSpeaks: You have pretty much solely been a reliever in your pro career. What is your mentality when you go into the game?
Pat Neshek: Get outs, strike outs, ground outs, whatever, just get outs. If you make the pitches, the hitters will get themselves out and that's what I try to do. Whenever I go into the game I have a lot of nervous energy and that is what I live for, it's do or die late in the game and I know they are going to bring everything at me and they know I'm coming at them hard. The game is a lot about luck and a lot about being prepared. Even the best closers in the game get beat up and you have to accept this. If you have a bad night, throw it away and get ready tomorrow. It's kind of scary if you sit back and think about a bad outing because you question yourself. The quicker you can realize it's just a game and you lost that night the better you will be!
SethSpeaks: Tell us a little about the other guys that you spent much time with in the New Britain bullpen.
Pat Neshek: Great guys, never a dull moment, always a laugh. We like to have a lot of fun and that's what happens almost every night. If we didn't have fun we would go insane!
SethSpeaks: Any PG-13 rated stories that you can tell us about?
Pat Neshek: There's a bunch but I think the funniest of the year involved the bullpen and the grounds crew. We would get bored a lot of times and design images on the bullpens and sometimes we would get cup games going with the goal of seeing how many cups you can float in the air and get to stand in the dirt. Well we thought it would be cool to make a cup game "Hole" We dug a three foot by three foot hole about 8 inches into the ground and played cups for a couple games. Well the grounds crew got mad and filled in the hole. Well we dug it back up and kept playing. Also we designed a cool logo of New Britain in the mounds…(Yes we get bored easy and it sounds really dumb but to us it was relief!) Well the next day the grounds crew spray painted "Grow up" on the mounds. Stu our pitching coach flipped out and said something like what the heck is going on. Well we stopped playing cups and stopped the designing on the mounds. The next day on the bullpen bench was a bunch of writing talking crap about all the players. Well it took about 2 seconds to see who wrote it (grounds crew.) We kept writing back until pretty much the entire bench was covered in…lets say crap talk haha. Well to make a long story short Stu talked to the head grounds crew and we settled our differences. Just one of the funny little stories from the year.
SethSpeaks: Alright, when the season ended, the team asked you to play Winter League ball down in Venezuela. Many of your New Britain teammates, and others in the Twins organization are playing down there. What were the factors you used to decide not to go down there to play?
Pat Neshek: The main factor was that I wanted to get some rest. Two years ago I played in the Arizona Fall League after a long season of getting promoted twice and playing on three different teams it got old. When the fall league got over in December I felt worn out. Next thing you know it's late February and spring training is coming around. I really just needed a rest. So when Venezuela came around this year I thought about and really wanted to do it but I knew I would get burned out. Plus I wanted to lift all the time and run and do other things away from the field. I'm very happy that I did not go this season and can rest my arm and get ready for the upcoming season!
SethSpeaks: Just asking for an opinion here, but I have noticed that when pitchers have moved from Ft. Myers to New Britain, they generally struggle with control. Maybe I'm wrong, but we have seen it with numerous players. What is that jump from Hi-A ball to AA like? Are strike zones smaller? Are the hitters just more advanced and professional? Maybe some combination of the two?
Pat Neshek: Basically bigger crowds, guys who take the game a lot more serious and are older players. The balls fly more in the EL and the parks are smaller. It's a hitters league. Guys will crush mistakes and when you make a mistake, you know, and pray they don't hit it.
SethSpeaks: Baseball is a game of frequent adjustments. Have you found that you had to adjust from last season, from the beginning of the season, or even from game to game?
Pat Neshek: It's game to game for the most part at least for me. Sometimes it's team to team. Like I said you have to know your game and make adjustments when you feel they are needed.
SethSpeaks: Scouting reports are obviously a big part of the game, even in the minor leagues. Do the pitchers and catchers meet before each game or each series, and generally, what types of things are discussed?
Pat Neshek: Not really, sometimes when a guy is on a tear or has kicked our butts earlier in the season the coaches will say something. It's basically up to the pitcher to make their own scouting reports and not many guys do. I usually discuss what pitches I want to throw a hitter. Such things like "I'm going to go fastball, fastball slider" or "This guy cannot touch the slider, lets go at him hard and see what he does." I like meeting with the catcher to discuss the first pitch of the inning and who is coming up, I'm not sure if other guys are like this.
SethSpeaks: When you're on the mound, and the hitter is a highly touted prospect like Lastings Milledge or Eric Duncan, do you think anything different or can't you really afford to?
Pat Neshek: To me a name really doesn't mean much when I'm on the mound. I kind of think it's funny how some guys are prospects and how some guys don't get any credit. For the most part every player is the same and really doesn't stick out too much from the other. What you have to look out for is a guy with a hot bat, that's scary. I use to always watch for big names my first couple years in pro ball and think they were better. Things have changed a little!
SethSpeaks: Since I brought it up. Who are some of the guys that you faced this year that you just know are going to be stars?
Pat Neshek: Man there were a lot. I liked Chris Ray, Mike Jacobs, Brad Snyder, Ryan Zimmerman, Brett Harper, Anderson Hernandez, Joel Zumaya, Donald Kelly, Chris Begg, Brian Wilson, Chris Durbin, David Murphy, Jon Lester, Bronson Sardinha and Ben Julianel to name a bunch
SethSpeaks: When you see guys like Jeff Franceour or Jeremy Hermida or others called up from AA and be so successful, what does it make you think? Eager for a shot? Confidence, knowing you may be closer than you thought?
Pat Neshek: It's cool seeing guys you played against do well and wish that you could someday get the call. It's funny because we played Franceour in his first minor league game. I came in to close the game with 2 outs in the 9th and bases loaded. I hung a change up and he crushed it to the warning track (I thought it was gone) and the outfielder caught it!
SethSpeaks: Along those lines, you've played with a number of the Twins. How do you feel when former teammates get "The Call"?
Pat Neshek: Awesome because I know that it's everyone's dream that plays this game to get up there.
SethSpeaks: Being relatively close, are there a few things that you feel you still need to work on technically, mechanically or other, or is it really just about getting the opportunity?
Pat Neshek: There are a lot of things to do, basically stay in shape and staying on top of the game. When you have those in place then it becomes just getting the opportunity.
SethSpeaks: How has the website been going? Do you still enjoy writing for it when you have a chance?
Pat Neshek: Yeah, I think I enjoyed it a lot more this year than the previous year. The first year I felt controlled to write every night. Now I write whenever I feel like it and the fans have been excellent. I like where it has went!
SethSpeaks: Do you ever worry about saying "too much" and someone from the Twins organization reading it and getting upset?
Pat Neshek: Not really. I'm pretty good, I think, with what I say and if I think I went too far I usually ask my mom what she thinks.
SethSpeaks: What kind of feedback have you received from other players, coaches or the Twins management?
Pat Neshek: They love it and ask me how I set it up because they want one for themselves. I think some guys are jealous jk. I bet in the next 20 years it will be very common for most players to have sites and I bet most of them will try to interact with fans. It should be interesting to see.
SethSpeaks: Do you have any plans for it throughout the offseason?
Pat Neshek: Too update whenever and see how the autograph scene is treating people and also to be there to answer questions for fans.
SethSpeaks: Finally, I'm going to do a little more of the "Lightning-round" as we did last time. Just 10-20 words on the following players, if you don't mind. I know that you answered this on some of these guys a year ago, but after another year, probably know them even better:
Pat Neshek:
Francisco Liriano – Like I said before dominating, will be a good one
Levale Speigner – Gamer, competes and is hard nosed on the mound
Justin Olson – Throws gas and is RIPPED
Jim Abbott – Man he pitched awesome during the 2nd half
Matt Yeatman – Red Neck, Wore The Same Blue Shirt style the entire year
John Thomas – Funny funny guy, it's very hard not to like him
Kevin Cameron – Underrated – Deserves a shot – Probably best cutter in the minors –
Jason Miller – Same as Cameron – Sneaky – Funny funny guy also
Daylon Childress – Competes, never gives up, funny guy in the bullpen
Jannio Gutierrez – coolest VZ guy I ever met, he's one to watch if gets chance
Errol Simonitsch – Smart – Cool, laid back guy, Can't say anything bad about!
Nick Blackburn – Knows how to pitch, good guy

Dan Matienzo – Probably the funniest guy on the team, Can Hit, He's been my sleeper to make it up to the bigs since the Cape Cod league.
Doug Deeds – Best hitter on the team, really really underrated…I don't know why
Alex Romero – Great hitter will be in bigs soon
James Tomlin – Fast, funny can track down nearly any ball
Denard Span – Same as Tomlin, can track down nearly anything, love how he plays.
Luis Jimenez – Big dude, Probably hit the farthest balls in BP I have ever seen in my life
Gil Velasquez – Excellent infielder, saved my butt many times
JR Taylor – Can flat out hit, he always gets left behind a level and I was pumped to finally play with him again this year. He's going to surprise some people
Tommy Watkins – Team captain, funny guy, community guy, Could run for mayor of New Britain people love him wherever he goes.
Matt Moses – Young, plays hard, darn good power
Felix Molina – Another underrated guy who can hit, wouldn't surprise me if he hit over .300
Luis Maza – What can I say the best fielder I have ever played with and he can hit.
Bryan Kennedy – Gamer, always played no matter how hurt he was, Leader
Kyle Phillips – Young guy, great catcher, picked me up nicely and helped my game
Gabby Torres – Leader, good guy, good player and excellent catcher, knows how to call a game

SethSpeaks: Finally, do you have additional plans or goals heading into next spring training than you did a year ago?

Pat Neshek: Not really just keep doing what I've been doing and I should be fine.

SethSpeaks: That's it. Really, I promise! I thank you again, very much, for this.

Pat, thank you again very, very much for taking the time to answer all of these questions so soon and so thoroughly. I know that you're incredibly busy, so it means a lot that you were able to do this.


Seth Speaks Interview #1
Q&A with Pat Neshek
Good Monday morning to everyone! I hope that everyone had a great weekend! The Wolves lost again. The Gophers men's team won again! The NFL Combine's took place. Last night, the Oscars were on. I will talk about a number of random topics at the end of today's posting, so be sure to check those out.
Today, I am excited to bring you a fun Q&A with another Twins prospect. As you all know, I am a huge fan of the Twins minor league system. When I discussed my Top 25 Twins prospects in September, I also mentioned that the Twins system is so deep that there are literally 30 or 40 players in the system that will either play with the Twins or another big league club at some time in the future.
About a month ago, I got an e-mail from Pat Neshek. Of course, I thought that was cool! I'm always excited to get e-mail responses from people associated with the Twins. Since that time, I have perused his incredible website and we have exchanged a few e-mails. I asked him if he would consider doing a Q&A for my site, and he said he wouldn't mind that at all.
I started thinking of questions, hoping I could come up with 10-12 good questions. Well, as you will see below, I asked a LOT of questions and Pat was gracious enough to answer each of them. We discuss growing up and playing ball in high school, the recruiting and signing processes, the Cape Cod League, his minor league career, his website, autographs, and much more. I really think that you will enjoy it. If you have any questions for me or Pat, please e-mail me. So, here you go. Enjoy!
SethSpeaks: First, thank you again, very much, for taking the time to answer these questions. I'm sure you're plenty busy getting ready for spring training. Thanks!
SethSpeaks: You grew up in Minnesota, which in itself causes a few questions. First, who were your favorite players growing up? Did you go to many Twins games at the Dome?
Neshek: First off, thanks for having me on SethSpeaks, I love the site.
Yep I grew up in Brooklyn Park and attended Park Center. My house is about 10-15 minutes from the Dome so it was a short drive away. We went to many games growing up. My dad would always come home with the $1 Upper Deck GA tickets and tell us to invite as many neighborhood friends as we could and go to the game. We probably went to a game every two weeks with about 8-10 neighbor kids packed into an ugly Mitsubishi Van/Bus. As we got older and in High school the Twins had the $60 season tickets so we had to get two sets of those and had those until I went away to school. I loved going to the games because that is the time when the Twins were in last place, and you could walk down and sit in the lower level and have about ten rows to yourself...You would get a foul ball almost every night haha. But it was great seeing the other teams come in and watching how the players went about their business. Some of my favorite players back then were Kirby because he lived in Brooklyn Park, guys like (Tim McIntosh, Tim Laudner all BP natives) and the entire Oakland A's team, they were stacked (every baseball kid between the ages of 7-11 during the late 80's had a favorite A's player, I guarantee it!).
SethSpeaks: Second, I remember playing high school ball in the spring in Minnesota. For those that don't know what that means, it means, practicing inside for a month before your first scheduled game, which, of course, gets postponed because of snow. What were your memories of high school baseball in Minnesota? Were you able to do anything throughout the winter to stay sharp?
Neshek: Yeah, you got that exactly right. I played Hockey/Basketball until my sophomore year and then went with baseball full time. Every second of that year baseball was on my mind. Yep, a month before the first game would be the first indoor practice. We practiced on the basketball court in PC and the balls would fly 120mph at you when taking infield. You could only long toss about 90 feet and the lighting was terrible. Jeff Stoll is the PC head coach and coached me at PC, I remember one time during my senior year in in-door practice he wanted us to throw live to batters in the in-door cage that had the worst lighting ever. The first pitcher Brandon Broxey got on the mound and threw a pitch that almost hit one of the hitters in the face. The hitter didn't ever see the ball and refused to get back into the box. Stoll then told the pitchers to slow it down and work on mechanics when we threw. That's how winter ball was you worked out to try and get in some kind of playing form even though it wasn't that good. In BP they have a place called Line Drive and they had a deal something like $100 bucks for unlimited hitting from October to March, this definitely beat live pitching inside PC.
SethSpeaks: I understand you played in some winter league games as well?
Neshek: Yep you are right I did play in a winter league in St. Paul. Back in 1996 Dave Winfield's brother Steve opened up an indoor doom called the Rice/Arlington Sports dome. It was perfect for baseball and other sports like soccer and football. I have so many funny memories of that place. The field was about 250 down the lines and 310 to center, the mound was a plastic roll out mound, the league was wood bat only and the balls were made of about 50% rubber, the dugouts were about 10 feet away from the plate with a little plastic fence to protect guys from fall balls and the ceiling could easily be hit if you threw a ball into the air as far as you could. It didn't matter to me...It was baseball. In 1997 my dad asked me if I would like to get a bunch of BP guys together to form a team at the sports dome because they were trying to get a winter league team together. It was great, the games were all scheduled to start between 10-1 at night...I'm not lying. It was so cool to come in at 1 in the morning with a snowstorm outside and play a game. After about the first months kids started to not show up and we would have to play with 5 guys on each team, if less than that would show up we would have a home run derby and the paid umpire on hand would have to stay and judge the game. It was a blast and I did that from my freshman year to my senior year. So that's where most of my high school weekends were spent! Sadly enough I heard that the dome was taken down a couple years ago due to money issues.
SethSpeaks: The Twins drafted you out of high school, yet you chose to go to Butler. First, how hard was it to turn down the chance to play in the Twins Organization? Second, what was that process like after the draft? What were the factors you used to decide to go to college? Third, was that in any way different (aside from the obvious monetary differences) than the recruitment process? What made you decide to go to Butler?
Neshek: Well it was really unexpected for me to get taken by the Twins because I never talked to them I just filled out a Questionnaire and never heard back from them. I talked to a couple other teams during the summer before my senior year...Reds, Pirate and White Sox and they said high things about me. I was picked in the 45th round so it wasn't that hard to turn down. Yeah it was the hometown team but I knew in college I would turn into a better pitcher + I could get my degree. The recruiting process was a different story. My whole objective was to find a school where I could walk in and be a starter my freshman year. I basically thought to myself I have three years to get ready for the draft why would I want to waste it at a big school and be a reliever or worst be red-shirted. I probably would've pitched a bunch at other schools but I couldn't take the chance on being left in the dust. I got letters from all the top schools but two stuck out to me in my head, Butler and Creighton. They were both perfect matches for me Div 1 schools, I had a heck of a time picking out the right school. But in the end it came down to who I trusted the most and that was Steve Farley @ Butler, I wouldn't have changed a thing.
SethSpeaks: You had a successful career at Butler. You got to play in the Cape Cod League one summer. What was that experience like? Is the movie Summer Catch at all accurate? Who did you get to pitch with and against? Any PG-level stories of the Cape life?
Neshek: I couldn't have done it without the guys on the team @ Butler, they were the best, in fact we have page dedicated to those years, www.eteamz.com/butlerbaseball
The thing about Cape Cod that was crazy is that it almost never happened. Coach Farley at Butler begged the Gateman GM John Wylde to put me on the team. After about 2 months Mr. Wylde agreed to make me a temp player for the first two weeks. During those two weeks I was 3-0 with 2 saves...I got a full contract after the two weeks were up! It was probably the best experience of my life. You always hear about the Cape League when you grow up or if you know anything about baseball. You always hear stories like 1 in 4 guys makes it to the big leagues. Going into it I knew this was the place to either make or break what I wanted. They put me in the closer role and I ran with it, I gave up only 1 run the entire summer. The best memory I have was all the guys on the team and how well we got together. If I were a GM I would've drafted that entire team and kept us all together. We ended up winning the league championship and everyone but 1 guy on the team was drafted. Stories, there were a lot of them...the mom in the movie wasn't something that was made up according to guys I know that played in Chatham, there weren't any parties or at least anything I was aware of. Summer Catch portrayed it okay, that movie came out the same time I was there and we got to go to a private screening. Everyone liked the movie until the end, guys were booing the movie and some even left 5 mins before the thing ended.
SethSpeaks: In 2002, the Twins took you with their 6th round pick. Was the process to sign you any different at that point?
Neshek: Very different. Like I said before going to Butler I had three years to prepare for the draft. During that time most of my life was focused on getting better. I would sit in class and think about what I need to do to get better, write goals down stuff like that. After my summer in the Cape League I talked to all but two teams for the draft. Every day a new questionnaire would arrive or a scout would be in town and want to have a meeting. It was crazy but I liked the attention and it made me more focused on baseball. I told every scout I talked to that I was signing that year (junior year) and I was ready to begin playing professionally.
SethSpeaks: After signing, you pretty much dominated the Rookie League. 2003 was an excellent year for you, pitching well at three minor league levels. Describe yourself as a pitcher. I know you're a side-winder (and you've explained why very well on your site), but what pitches do you throw? What would you consider your out pitch?
Neshek: Yeah that year was crazy; I was moving up every month and never really got a chance to breathe. After the season I got invited to play in the Arizona Fall League and lived in AZ for two months. At the end of the season I took a week off and slept, the time off was priceless. I guess if I were to describe myself I would say that I'm a guy looking to come at you, compete, throw in the zone and not let up looking to strike the batter out. Yeah it's a different arm angle from most guys. I throw a four seam/two seem fastball, slider, change up from a little above sidearm and a sinker that I throw submarine. My fastball is usually my out pitch but if my slider is on I go with that.
SethSpeaks: John Manuel of Baseball America was asked in a chat session this winter about who he would consider some 'sleeper prospects' in the Twins organization. In his response, he wrote, "Pat Neshek struggled this year, but he's funky enough to be an effective middle reliever down the line."
I look at your 2004 numbers and they are solid, but how would you describe your 2004 season?
Neshek: The weirdest season of my life. I never really understood what happened. On my website I updated it every day of the season until August, you can kind of get a sense of what happened. But even I am kind of puzzled. I thought I would be closing to start the season because of my success in my previous 2 years, but the first game I was setting up. It didn't bother me that much but it had me a little puzzled. The season went along and slowly by slowly I was pitching in different situations, tie games, down by a run. I would sit in the bullpen for weeks at a time before I would pitch again then I would get hot for three straight days and pitch 3 straight days, it never made that much sense to me but that's how baseball is sometimes...A lot of inconsistencies. It got to the point where Twins officials saw I wasn't being used that much (35ings in July) and they sent me back to Ft Myers to pitch everyday. I wasn't happy about my era but it was still a point under the Eastern League average. I was really mad about going back to Ft Myers but I knew I would pitch more. In about a month in Ft Myers I had 2o innings pitched in one month, then the hurricanes and rain came, that was a crazy time.
SethSpeaks: As a middle reliever in the Twins organization and looking up at the likes of Joe Nathan, Juan Rincon, Grant Balfour and Jesse Crain, what do you think? Is it exciting to be a key cog in a very deep and strong minor league system, knowing that when you reach The Show, it will be earned? Is it frustrating?
Neshek: Yeah it's pretty exciting especially playing in the Twins org and being from Brooklyn Park. The guys the Twins have turned out over the years is impressive they have to lead the Bigs in major leaguers produced. Oh yeah if you make it up with the Twins it is well earned. Sometimes it can be frustrating seeing other guys that I have played with make it to the bigs and knowing that if they played for a different team they would probably be at a lower level. In the end though if it's meant to be, it's meant to be. Things work in weird ways.
SethSpeaks: The minor league season ended in September. What is your off-season schedule and routine? I know you moved down to Florida to be able to work out more. What types of things do you do to get ready for the next season?
Neshek: September I took off and relaxed in Minnesota. I started weight lifting and running back in October. I started throwing in January, with bullpens starting in February.
SethSpeaks: When does minor league camp start?
Neshek: March 10th we report.
SethSpeaks: Do you have any set goals for the 2005 campaign? Where do you see yourself pitching this year? What does the organization tell you at the end of a season, or before spring camp to let you know what you need to do?
Neshek: Goals are to compete and dominate and to stick to my lifting routine. If this can be done I will have a successful year. I'll most likely start the season New Britain. I am not on the 40 man roster so there's a little roadblock in getting to Minnesota but I'll be giving it my all and not let up. They don't tell you much at the end of the season; they give you your ticket or driving money to get home and that is that. Around December they send you a packet with a questionnaire asking question like who do you want your roommate to be and if you'll be driving or flying. In February you get a letter that states the reporting times and where to show up. That's about it, you decide if you want to get better or not.
SethSpeaks: You also have your own website www.patneshek.com Obviously, as a baseball fan, I enjoy reading your thoughts on the games throughout the season, and including your opinions. There are a lot of us that can only wish to be in that situation, so it's fun to read.
Neshek: Thanks a lot, that's the whole point of me running the site.
SethSpeaks: How long have you been running the site?
Neshek: I started it the first week of March 2004.
SethSpeaks: What made you decide to start it?
Neshek: My roommate sy Butler Paul Beck & I thought it would be awesome if I would make a site about only autographs and tell stories of what I encountered, we both read the CJ Nitkowski site back in the day and were kind of inspired by that and I signed up for wireless internet and would have the ability to be on the internet while on the bus after a game. We figured no player has ever done that before and we ran with the idea.
SethSpeaks: Your site is a little different in that you also write a lot about autographs. From reading it, obviously you are an autograph collector yourself. Who are some of your prized autographs?
Neshek: Yeah I love the autograph scene. During my freshman year Paul got me to go graphing with him. After about two trips I was hooked. Instead of partying on the weekends during college we would go after autographs, NBA teams, NFL, NHL and NCAA College & Football and Musicians. At first I didn't care about autographs and sold a lot of what I got on eBay to have money for pizza every weekend and to buy minor league cards. When the minor league season came around we hit up Indy in force and had some great times. It's not so much the autograph that I like but more so every autograph trip has a story, something you'll never forgot. That's what I love about auto's. There are a lot of favorites; I love the NHL the most followed by minor league baseball & heavy metal bands.
SethSpeaks: What does it feel now when you have someone come up to you and ask for your autograph?
Neshek: I love it but more so I like hearing from the people getting the autographs and the stories they have, they have the best information in the world.
SethSpeaks: Do you have any advice or tips for autograph collectors that you could share?
Neshek: Get guys to sign when they are young because they can get impossible the closer they are to the big leagues.
Tips from me, don't ask me to get other guys to sign your items, getting guys before/after the game in the parking lot is the best place to get players.
SethSpeaks: As a card collector myself, what is it like to have real baseball cards of yourself?
Neshek: Again I love and truly appreciate having cards, it's something you dream about when you are a kid. I just wish I could get in a set like Bowman, Topps or even a Just Minors set:) It seems they make cards for the same 100 prospects; graphers want to see different names and would pay good money if they would bring in other players to the set.
SethSpeaks: And finally, just a rapid-fire, word association about some of your current or former teammates (10 words or less - if possible, of course):
Neshek:
Scott Baker - Quiet, Top Five Hardest Workers In System
Boof Bonser - Determined, Competes
Rob Bowen - Reminds me of a Big League Vet with 20yrs of MLB Service
Travis Bowyer - Machine, Horse, Crazy Stength, Same as G Jones but a pitcher
Jesse Crain - Nice Guy, Focused, Good Friend
JD Durbin - Cocky, Loud, Funny, Hard To Not Like
Garrett Jones - Mirror Image Of Bowyer But A Hitter
Beau Kemp - Warrior, You can tell he'll get to the bigs in some way, I love how he goes about things, work ethic
Bobby Korecky - Sly, Funny, Smart, Cleaver, Uses head to outsmart hitters
Jason Kubel - Shy, Quiet, Driven, 10 years ahead of players his age
Francisco Liriano - Fastest Lefty I have seen in awhile, throws gas, nice guy
Kevin Cameron - Throws Gas, Funny, Vital To The Bullpen
Jake Mauer - Funny, Friendly, Business Smarts, Smart, Excellent Work Ethic
Joe Mauer - Loves Baseball, Nice, Hard Worker
Luis Maza - Underrated, Could play in the bigs right now and do well, Big League Fielder
Trent Oeltjen - Always Makes Contact, Plays the game hard
Alex Romero - Underrated, Great Hitter, Great Outfielder, Nice Guy
Scott Tyler - Big Ox, Funny, Crazy, Young
Kevin West - Determined, Clutch, Big Game Player, Team Player, The Man
SethSpeaks: And one last two-part question, what are the best and worst parts of minor league life?
Neshek: Worst is being away from family, moving and being subject to what the Twins want to do with you, best is the ability to play baseball everyday.
SethSpeaks: And on that note, thank you very much again for taking some of your valuable time to answer a bunch of questions! I certainly wish you an excellent spring and a great 2005 season!
I hope you enjoyed the Q&A. Be sure to stop by Pat's website and check it out. If you have any comments or suggestions would be welcomed!
Fort Myers News Press August 2004
By CHRIS UMPIERRE
Fort Myers News Press
Pat Neshek starts his delivery by bending down at the waist. The right-handed pitcher crouches so low his glove nearly kicks up dirt.
Then Neshek straightens up and flings the ball home at a sidearm angle.
The delivery is funky, unique and effective. The Fort Myers Miracle closer, who joined the team last month, has a 0.93 ERA and six saves through Wednesday. Neshek, a three-year pro, entered this season with a 1.55 ERA and 32 saves.
"Minor-league hitters, especially in the lower levels, are not used to seeing pitches at that angle," Miracle manager Jose Marzan said. "It works for him."
Neshek didn't purposely create his delivery. It happened by accident.
The 6-foot-2, 205-pound Neshek was hit on his right forearm by a line drive during his last high school game in Brooklyn Park, Minn. When he returned from the injury two weeks later, Neshek — who had always thrown the ball over the top — was pitching sidearm.
"I didn't notice I was doing it until I got to college, and I saw myself on video," Neshek said.
Neshek tried to change his delivery at Butler University in Indianapolis, attempting to make himself "look normal." After a few failed attempts, he gave up.
His statistics were just too good to change back. Neshek holds Butler's single-game (18), single-season (118) and career strikeout (280) records.
Marzan said Neshek's sidearm delivery is effective because he can throw hard at that angle. Neshek's fastball tops out at 92 mph.
Neshek recently met Philadelphia Phillies farmhand C.J. Woodrow, the batter who injured him in high school. Neshek still has a lump on his forearm.
"Man," Neshek told Woodrow, "look what you did to me."
"I'm sorry," Woodrow said.
"No," Neshek said. "I think that was the best thing that could have happened to me."
World Of B Interview
INTERVIEW WITH PAT NESHEK
By: B -- 11/2/05
The following is an interview I conducted with my old pal Pat Neshek. Neshek is a relief pitcher in the Twins' minor league farm system, one of the franchise's most talented prospects. After a dominant 2005 season at the AA level, all signs are pointing to Neshek making it to The Show next season.
Pat and I have been close pals for over ten years. Besides playing baseball together, we also played on the same basketball team (he was great, I was going through an embarrassing chunky phase – I was Dennis Scott without the jump shot) and the same hockey team (we were both awesome, though we mostly just cared about picking fights). We've kept in touch throughout the past few years, and he was recently gracious enough to take some time out of his strict schedule of running wind sprints and listening to the latest in European death metal to answer a few of my lame questions.
***
What are the best and worst parts about playing professional baseball?
I would say the best part is the lifestyle, such as getting up whenever you want, going to bed whenever, traveling and not having to go to an office everyday and sit in traffic. I also love the feeling of competing everyday and trying to make opponents look terrible at the plate.
The worst is how repetitive your life becomes. Everyday is pretty much like the one before. You have to find something to take your mind away from the park; for me it's music and computer games. Talking on the phone with my parents and Stephanee helps a lot also.
As you know, we have a minor league team in Minnesota called the St. Paul Saints. The Saints games are known for the crazy atmosphere; there is always a silly gimmick for the fans between innings (sometimes during). Every night is something like Bat Night, Kids Night, Trivia Night, Bring Your Mistress Night, Dress Like a Peanut Night... you get my drift. It feels more like a circus-y sideshow, and while it's entertaining I'm not sure many people care one way or another about the actual game. My question is: would you rather play in front of less people with fewer distractions, or a crowded stadium like Midway with all the gimmicky action diverting the fans' attention?
Well, ever since Elizabethton [the Twins A level team] most games we play have between 5,000-8,000 people a night. Owning a minor league team has becomes a very profitable business in the last couple years. Promotions are good for the game because they bring in tons of people every night and lots of money.
When I sit in the bullpens some nights I wonder things like "Does anyone know what type of game they are watching." I bet that three out of four of the people that go to games do not know what or who they are watching. Even the Northwoods League (college summer league) drew tons of fans when I played there and for the most part fans didn't know they were watching marginal college players. I love having lots of fans in the seats – it adds a ton of atmosphere to the field. As a player you don't even notice the crowd when you are playing, so the more the merrier.
You have dominated at every professional level you've played at, but because of the crowded Twins farm system you haven't been called up to The Show yet. Be honest: what major league teams would you have been on in 2005?
A lot of guys I have played with got called up with other teams, and some of them didn't have quite as good stats that I have had in my career and this season. I would guess that I would've got a shot with 1/3 of the teams just going on comparable stats with people that did make it up. The Twins are stacked and it does get frustrating at times not getting credit. I'm pretty sure I opened some eyes up this year and it will get me some looks for next year.
What is your all-time favorite sports movie? (If you say Varsity Blues I will come down to Florida and murder you in your sleep)
I don't know; Sandlot is pretty cool because that was pretty much how our neighborhood was back in the day. Also when we moved down the road to our new house and you helped build the field with us across the road – at least I think it was you. [B's note: no, it was not me. I was too fat for manual labor.]
Who has the best curveball in the majors? Best changeup? Best slider?
Zito, Santana, Lidge.
Who are three minor leaguers/rookies that you've played with or against that you predict will be future all-stars?
This year in the Eastern League I would say the top three are Mike Jacobs, Joel Zumaya and Ryan Zimmerman.
What is one secret you can share with us about a current or former teammate? Some examples: Does Fran Liriano sleep with a blankie? Does JD Durbin list "Erin Brockovich" as his favorite movie? Does Jesse Crain wear a "banana hammock" when he's out clubbing? These are the sort of things I need to know.
There are some funny ones but I'm going to hold back on this one so I don't lose my job!
Are there a ton of groupies on the road? Have any of your teammates "taken one for the team" and brought home a fat chick? (You don't have to share his name) And if this happens, is there relentless teasing from the teammates or is the guy treated with respect for his bravery?
You played college baseball so you know how it goes. Yes, yes and yes. And no to the last one.
Have you gotten over the time senior year of high school when we missed our chance to go to State in the last inning? (I'll admit I have never gotten over that and I don't think I will.)
It still bothers me a little because it ruined the best day of my life! That would've been one hell of a day: we graduated, would've gone to state and I got drafted. Yeah, that really sucked losing since we kicked their asses in the first game. All I remember is a ball going by me just out of my reach in game 2… that kind of summed up the game. It sucks because I hated that MG [Maple Grove] team so much.
If I could win any game in my lifetime so far it would've been that game. I still have that Cable 12 game on TV and watch it every now and then questioning some moves that Stoll [our head coach] made. [B's note: we took the lead in the bottom of the 6 th when Pat singled me in from second – one of the coolest moments of my sports life. Our right fielder made two errors on the final inning and we lost 3-1. I am forever scarred; it's true (and Pat agrees), you never care about sports as much as you did in high school.]
What is your favorite high school memory, baseball or otherwise?
I always loved playing baseball at the sports dome in St. Paul every weekend in the winter. Going to State and coming in third my sophomore year was probably the best baseball memory.
The best game was easily the win over Osseo my sophomore year to go to state. Ummmm, high school memory too many to name. Any team my dad coached was classic, basketball/baseball.
Playing hockey with you was frickin' awesome because we only played to check kids and get into fights. School was fun because there were so many different types of people and they all had a story and most of the kids were nuts.
My funniest memory of high school was one time we had a pepfest in the gym for the basketball team – to make a long story short, some nerdy pepfest MC with a microphone got on another MC's shoulders and proceeded to try and dunk a basketball. He hung on the rim too long and his partner thought he was free to hang on the rim and let go. Well, he fell and it lives on as one of the funniest things I ever seen. The kid was ok. If he got hurt it wouldn't have been as funny - - - Do you remember that? [B's note: this was probably the hardest I ever laughed in high school. The nerdy short MC got on the nerdy tall MC's shoulders to dunk a basketball, but when he hung on the rim and the tall guy kept walking, the nerdy short guy fell straight on his back, in slow motion, in front of the entire student body. Then he got up and tried laughing it off but was obviously embarrassed and probably in pain. Keep in mind these were geeky attention-hog theatre types… a classic memory.]
Your "top 20 music" section on your website kind of scares me. I am obsessed with music yet I don't know any of your top bands. What is your favorite genre of music? If you were forced to perform karaoke, what song would you choose to sing?
You should give them a shot; you probably would like most of the stuff. I have seen many different types of names for metal type music and I think the polite thing to call it is "Active Rock," so that's what I call it. Basically stuff that pumps me up…a good riff, good sounding guitar solo, drums: loud, fast stuff that makes you want to jump into a pit. I really haven't grown out of it and I don't think I will until I stop playing ball, if that.
If you remember we always use to listen to new acts back in the day that no one else heard of. Stuff that had a nice beat and flowed. The stuff I listen to today hasn't really changed at all and I'm sure if we were 16 again we would be listening to this stuff and some more alternative bands.
My five favorite TV shows are The Daily Show, Arrested Development, Project Greenlight, King of Queens and Scrubs. What are yours? Do you watch The O.C.? I just started and I kind of love it.
I don't know, I think it would go: South Park, Best Week Ever, Baseball Tonight, most things on the Discovery channel and whatever crime story that's on A&E. The reality stuff is also awesome and gets me hooked in the off-season. Laguna Beach is really a terrible show but I can't seem to stay away from it. Same with that Sweet Sixteen show because it makes me want to kick those kids' asses when it gets over.
Sunday, April 16
Minneapolis Star Tribune - By Patrick Reusse - April 4th 2006
A bullpen option: Neshek
The Twins enter tonight's opener talking up the bullpen as a strength. They are saying this even though Juan Rincon is way behind schedule and the plan is to use Jesse Crain in the eighth inning, a duty for which he might not be equipped. Add the fact there are two untested rookies in the bullpen -- Willie Eyre (coming off a mediocre spring) and Francisco Liriano (no relief experience) -- and that optimism might be misplaced.
This could be a season when there's a late-April shakeup in the bullpen, and the pitcher to watch for a setup role is Pat Neshek, 25, a righthander from Brooklyn Park. Neshek throws from the side, and he throws hard.
Righthanded hitters are going to give ground against him, and he has been working on a changeup that moves away as a weapon for lefthanders.
Neshek had 24 saves at Class AA New Britain last season. He will start this season at Class AAA Rochester, probably as the closer.
New Britain Herald Article - June 12th 2005
Neshek a force on mound and online
06/12/2005
The rough-and-ready baseball player of yesteryear wouldn't know what to make of New Britain Rock Cats closer Pat Neshek.
Among the list of spike-sharpeners like Ty Cobb and multitude of tobacco-chewing ruffians comes a webmaster. That's right, a ballplayer whose sideline is maintaining his own website.
A visit to http://eteamz.active.com/PatNeshek will tell you most of what you need to know about the cerebral young right-hander from Brooklyn Park, Minn., whose sidearm delivery may send right-handed batters looking for a "Learn How to Bunt" link. It doesn't take long to surmise that Neshek's diary-like entries come directly from the heart of a true fan of the game.
"One of my buddies Paul Beck - we played baseball at Butler (University in Indianapolis) together - we always got autographs after Triple-A games," Neshek said. "We used to sit behind the dugout and hound all the players. He said, 'Wouldn't it be cool if we made the minors we could do a journal on the Internet?' We wanted to do autographs at first and then we decided we could put anything we wanted on there."
Neshek went so far as to deliver a jab to his employer - the Minnesota Twins - when fellow hurler Jeff Randazzo was yanked off the team bus before a road trip and given his release. He also offered a suggestion to the Eastern League schedule-makers - why give teams off days on the road when all they can do is sit in a hotel?
"I try not to go into some things too much," he said. "I just keep it up with what happens. Nobody has told me to stop. There's probably a fine line but I don't see anything wrong with it right now. I can always go back and update it."
Neshek relishes the thought of building on a keepsake that will keep the memories of his career alive, a career that is getting a boost as he develops the mentality of closing out games. Neshek leads the Rock Cats in saves with nine and has a 2.45 ERA with 42 strikeouts and just 12 walks in 33 innings.
"Twenty years from now I'll have something to go back to and look at what I was going through," he said. "I've even looked back to see what happened last year at this time."
He said that even a promotion to the big leagues - something that is never beyond the realm of possibility with the Twins - would not alter his outlook on reaching out to fans. One aspect he may be forced to change is offering his autograph through the website, which costs him $50 a year to maintain.
"It got kind of out of control," he said. "I had my e-mail on there and I was getting like 10 e-mails a day. It kind of got old after writing back to like the 200th person two weeks in. I don't mind the (snail-mail) letters but I had to tone it down."
Neshek doesn't advertise the site but a simple search of his name will turn it up at the top of the list.
"Nobody knew about it at first but every now and then somebody will say, 'My girlfriend found it.' (Rock Cats pitcher) Justin Olson said, 'Hey, my Mom found your site. It's a great site.' The only advertising I've done is by word of mouth."
And rest assured that logging on will not spread a virus but there are no other guarantees, especially for free-swinging right-handed hitters
The Patriot News
Rock Cats polish off sweep of Senators
August 15th 2005
Andrew Linker
This was the matchup to anticipate, the one that was going to decide the game.
The Senators had the tying run on second base with two outs in the eighth and Ryan Zimmerman at the plate.
Waiting for him was Pat Neshek, one of the premier closers in the Class AA Eastern League.
The two previously met Thursday in the opener of the four-game series on City Island. That night, Zimmerman launched one of Neshek's fastballs over the left-field wall for a ninth-inning homer that merely delayed a victory for New Britain.
They met again yesterday in the final pivotal moment in a game of moments, and everyone in the crowd of 2,624 was stuck to their seats watching. Not that they had much choice, having been melted into the aluminum stands by the triple-digit temperatures that baked the island.
This time, only sliders came out of Neshek's funky, Ted Abernathy-like underhand delivery.
Three of them.
Strike one. Strike two. Groundout to third baseman Matt Moses.
End of inning. End of threat. End of any real hope for Harrisburg, which lost 6-5 as the Rock Cats completed a four-game sweep to revive their hopes of reaching the EL playoffs from the Northern Division while further diminishing those of the Senators (57-65) in the South.
The formal end came after Dee Haynes opened the ninth with a single to center. Neshek then easily retired Cristian Guerrero on a fly to center fielder Denard Span before striking out Josh Labandeira and Josh Emmerick.
The save was Neshek's third in the series and 20th overall. He seemed assured of that in the eighth by retiring the dangerous Zimmerman, who in just two months has gone from being the Washington Nationals' first-round draft choice out of the University of Virginia to being their best prospect.
The chance came after Larry Broadway doubled to left off Errol Simonitsch (5-4) with two outs in the eighth. Neshek suddenly found himself in another save situation.
"I figured he was going to try to win the game there," Neshek said of Zimmerman. "I was watching him the whole series, and I thought he was going to try to pull the ball to left. My slider was on when I was throwing it in the bullpen. He was only going to hit it if I hung one."
Each of the three sliders he threw to Zimmerman moved farther off the plate and closer to the ground before Zimmerman finally grounded out.
"I noticed he always brings his [front] leg way up, and I said, 'Man, why don't I just throw him a slider?'" Neshek said. "If I did that the last time [on Thursday], I would have had him. I don't think I'll ever throw him a fastball again."
The bottom half of the Senators' lineup nearly cost Simonitsch.
Six of the their first eight hits and four of their five RBIs came from Haynes, Guerrero, Labandeira and Emmerick -- the Nos. 6-9 hitters. Those six hits came in the first four innings as Harrisburg built a 5-3 lead, capped by Guerrero's two-run homer to left-center.
The Senators went without another hit off Simonitsch until Broadway's two-out double in the eighth.
By then, the Cats (57-65) had rallied for three runs in the eighth off Armando Galarraga and Saul Rivera (3-3).
Tommy Watkins, the Cats' No. 9 hitter, started the rally by lifting Galarraga's first pitch of the eighth over the left-field wall for only his third homer in 271 at-bats.
Span then lined a single to center to chase Galarraga.
A fine play by Labandeira in the hole at shortstop saved a hit by Moses, but Doug Deeds followed with a single to left to move Span to third. One out later, Luis Jimenez doubled to right-center, scoring Span and Deeds for a 6-5 lead.