On The Road With Pat Neshek: Grapher HallOFame
Be The Next Grapher Profiled
If you want to be featured in the Grapher section please Personal Message me on the Message Board on the homepage.
Once this happens I will send you a questionaire to fill out like the ones already on here! We need some graphers to be profiled so write to me!!!
Thursday, March 11
Name: Peter Gourlie
Hometown: Merrill, WI (currently live near Milwaukee, WI)
Home park/Graphing Stomping Grounds: Miller Park
Nickname: Peteloaf, or Loafski
Best Autograph Moment: Brewers just clinched the Wild Card, and I was first row behind their dugout. Eric Gagne got up on the dugout, sprayed the fans with champagne, and other players followed. I had worked on a team ball, and only needed 3 more signatures, one of which was CC Sabathia. CC got up there, sprayed us, and signed up and down the dugout, including my team ball! This moment is one I can easily remember, because now hanging in right field entrance at Miller Park is a picture of Prince Fielder on top of the dugout that day, and in the lower right corner is me!
Runner up: Last year, Phillies vs. Brewers at Miller Park. I was wearing my Brewers hat, but a Matt Stairs Phillies jersey (because I can't find a Matt Stairs Brewers jersey). Matt Stairs came up to bat during batting practice, we yelled and waved (because we are the Matt Stairs Fan Club from when he was a Brewer back in 2002), and he tossed me a ball. After BP, we tried to get him to come over, but he jogged into the dugout. A few minutes later, a clubhouse attendant came out and handed me a bat, saying it was from Matt. He autographed his batting practice bat and gave it to me! One of the best moments of my autographing career!
Worst autograph moment: Back to the same team ball (2008 Brewers). At the ball drop where we lower a bag down with stuff to sign, Mike Rivera stopped and said he'd sign stuff for us. One of us sent a card and a blue sharpie, and I sent my beloved team ball and a blue pen. Well, Mike signed the card, and proceeded to sign my team ball… in blue sharpie. It's ok though, because it is the sentimental value and the great story behind the signature that I really enjoy. But when it happened, we were a bit bummed out! And now, we call him Mike "The Sharpie" Rivera.
Runner Up: Nomar Garciaparra outright saying no to signing my ball with 3 sigs on it already in pen, because he had a sharpie in his hand and didn't want to grab my pen. I was disappointed to say the least.
Other Reasons for being in the HALL of FAME: I come up with awesome nicknames for our favorite players, and they sign them on some of my memorabilia. Corey "The Condor" Hart is one our favorite guys! Also, I try to get almost all of my autographs in person. I believe part of the nostalgia of receiving an autograph is being able to say thank you, to ask questions, and to be able to listen to some of their stories.
Athlete that hates you the most and why: I don't think any player really hates me, but I know the ushers are not fond of us banging on our sign chanting Lets Go Brewers out in right field. It's loud as hell, and really gets the fans in the bleachers fired up to cheer our team!
Misc Info: One night, I had the pleasure of listening to Trevor Hoffman tell stories about his career, including why his entrance music is "Hells Bells" by ACDC.
Mark DiFelice can sing karaoke very well. I witnessed this firsthand. And he signed a ball for us.
Any other crazy stories or things that have happened during graphing: During Spring Training in AZ during 2009, we made up Corey "The Condor" Hart T-shirts. I'm pretty sure the whole team knew who we were by the end of our week vacation, and Vinny Rottino asked for a shirt, and we traded a shirt for autographs. Corey always waves at us and signs whatever we got, even though we have now run out of stuff to get signed.
Second great story, last year down at Wrigley before a Cubs/Brewers game, we were out trying to catch the Brewers as they got out of their cabs. Not only did a bunch of them sign, but Jeff Suppan stayed out by us, chatting and joking for almost 20 minutes! He signed my current team piece, a picture of Miller Park on canvas, along with David "Stormy" Weathers and a bunch of other guys. Suppan definitely is one of the best guys to talk to while graphing!
Motto: The 3 P's. Politeness, and persistence lead to payoff!
Saturday, August 9
Hall O Famer
Name: Steve Gross
http://i30.photobucket.com/albums/c318/bolts939/33.jpg
Hometown: From NYC… now in Florida
Home park/Graphing Stomping Grounds: The Sports Autograph Capital of the world (Tampa Bay).
Nickname: Thankfully I don't have one when it comes to this! Mostly just being called obsessed, determined and a sports nut.
Best Autograph Moment: I was at Lightning practice in 2003 and asked Nik Khabibulin for his stick and he gave it to me and signed it. He was/is my favorite player!!
Runner up: When I was at Legends Field at spring training in 1997 (the year after the Yanks won the World Series) I got there early and got a great spot right by the dugout for the start of practice (now they don't let people stand there). I brought my bat and as soon as all the Yankees started coming out of the dugout, they all signed my bat. Almost every single player including Jeter, O'Neil, Tino etc. Not only that but when a player was signing the bat the next player coming out just waited till they were done so they could sign my bat. I was shocked! Does that happen anymore?
Worst autograph moment: Just for traumatic reasons… When I was 11 in 1992; I went to Phillies spring camp at the Carpenter complex in Clearwater. I got a few graphs but nothing big to write home about. Fortunately I was standing where the players were going in and I saw Darren "Dutch" Daulton. I was so excited to finally see a big time player (the great Pat Combs was the only other player that I could remember getting who was some sort of a name). Well unfortunately for me, Darren decided to sign for these 2 older guys next to me and that was it. To top it off he actually kidded around with the 2 older guys about not signing for me and then went inside the locker room. I was sooo crushed. What?!?!?!? How can this be?!?! How can a player sign for older adults and brush off the kid?! I have never seen that to this day. Players always try and get the kids first. But not for good o'l Dutch.
Runner Up: The hotel down here for visiting MLB teams is a real pain in the ass. Security gets real tight when any team comes. So I'd have to say when I waited a few hours for the Angels to come out. I was real low key and didn't move around to much. I saw Vladimir Guerrero come out and there was no one else around but me. I go up to him and he said "No sign". Nooooooo I was crushed.. I was the only person there!!!. That was pretty bad.
Other Reasons for being in the HALL of FAME: Now that I am in Florida… I go to either a practice or spring game almost every day during Spring Training. I also check out all the visiting NHL teams that come down here.
Athlete that hates you the most and why: I am usually not the one to piss off players just because I'm not that guy who has 5 items for each player. So because of that I rarely irritate a player. I probably annoy Vinny Lecavalier just because I go to many Lightning games, practices and events and I always seem to have something else for him to sign and I am sure he remembers me and thinks I am a dealer. Vinny I swear I am not a dealer!!!!
Runner Up:
And just because this happened to me recently.. I was at the team hotel for the Bruins and Hall of Famer Johnny Bucyk was traveling with the team. I was the ONLY person to go up to him while they were going on the bus and I asked him for an autograph. His response? "Don't you guys have anything better else to do" in a real nasty tone. I was shocked but I stayed my cool and he signed my team photo anyways. Oh well Johnny.
Misc Info: I work in TV and w/ MLB.
Any other crazy stories or things that have happened during graphing: I was at the airport trying to get some WWE guys. When Ric Flair hops off the plane and immediately signals to me and about 3 other guys that he has no intention of signing. I was mad but started to walk away. The other guys just followed him so I stayed behind those guys. Anyways they kept asking him and he kept screaming at them that he wasn't going to sign because he is with his wife (whatever that means). So finally the other guys stand about 100 feet behind him at his rental car counter.. he looks back and says he is not going to sign and was real angry about it.. but for some reason he started to smile and walked over and signed. Wow that was weird. Oh well. Thanks Ric.. Whooooooooooo
Motto: ALWAYS keep trying (legally!!)... you never know if the athlete/celeb will finally give you an auto.
Saturday, August 9
HOF
Name: Brittany
Hometown: Howard County, Maryland
Homepark/Graphing Stomping Grounds: Oriole Park at Camden Yards
Nickname: B
Best Autograph Moment:
- Meeting Brooks Robinson for the second time. He had previously signed a print of his Norman Rockwell painting, and taken a picture with me. At the next signing, he asked if we were going to do it again, and inscribed the picture "Brittany, You're looking great." He was supposed to charge for inscriptions outside of his HOF one, but he didn't, and then made sure to have time to take the picture with me again.
-Miguel Tejada waiting for me after a game. It was a fireworks night, and I left the park early to get a headstart on graphing the players. He had just come up the ramp into the players lot and was putting things in the back of his car. Miguel saw me and motioned for me to get out my ball and pen. After he signed for me, he left before anyone else came out, and winked at me the next day, laughing at what he had done.
Runner up: Worst autograph moment:
- Rob Bell signing over the Miguel Tejada autograph the next night. The parking lot was dark, and he spun the ball in his hand before signing. Had he not spun it, he would have had a blank spot to sign, but he ended up signing right on top of Miguel Tejada.
Other Reasons For Being in the HALLOFAME:
- I'm more than happy to help people with their collections, and am known to give a little kid my spot in line or a signed baseball card if they are upset about not getting autographs and having to leave.
- The parking lot security and ushers know my friends and I, and will often bend the rules slightly to help us out, and we've never asked them too.
Athlete that hates you the most and why:
- Aubrey Huff. He doesn't seem to like Baltimore fans in general, and is a huge jerk when it comes to signing.
Misc Info:
- I've gotten very good at recognizing what cars players drive, and can figure out what players have left just by the cars left in the lot, and can often even say who left with another player.
- I was invited to a private Orioles event as a reporter, and when I went to talk to Jamie Walker, he asked me if I went to games and sat by the bullpen. For 15 minutes before I was able to ask him my questions, he was asking how I'd been and if I'd be sitting by the bullpen the next year.
Any other crazy stories or things that have happened during graphing:
-Kevin Millar, after signing during Spring Training, remembered that I had complimented him on his Porshe, and made it a point to honk at me every night when he left games
- Steve Klein nearly ran me over when I was crossing the street and he was signing for another fan. He had taken his foot off the break just as I passed in front of the grill of his SUV. When I made it over to his car window, and was about to ask if he would mind signing, he roared off...his face beet red.
-Rob Bell, while talking to my friends and I after a game, recognized me from sitting near the bullpen and suddenly pulled out his cell phone, called another player, left him a message, and then when the player called back, shoved the phone in my face. He was good friends with my favorite player, and knew the two of us would get a kick out of it.
-Sam Snider asking me if I needed help with my college homework, and throwing his Batting Practice hat at me after the last game of the season. He also thanked me for coming to so many games (40+ in 2007) and sitting through the entire 30-3 loss, plus the doubleheader after it.
Motto:
Always be polite and do not demand an autograph. Yelling at a player that you provide their paycheck will not encourage them to sign. Also, take a chance and listen to a player when they are talking to you 1 on 1...you never know what you may learn from them, or what they'll end up doing.
http://i231.photobucket.com/albums/ee137/BMSequestrian/JayandIdos.jpg
http://i231.photobucket.com/albums/ee137/BMSequestrian/RobBell1.jpg
The first photo is from 2006, during Fan Appreciation Weekend and the second is right before Rob Bell shoved his phone in my face.
Sunday, January 20
The First Female Is Inducted
Name: Shannon Asbury
Hometown: Jackson, Michigan
Homepark/Graphing Stomping Grounds: Comerica Park and anywhere I can someone to sign.
Nickname: Shanny
Best Autograph Moment: After years of trying to meet my favorite racecar driver Mark Martin it finally happened. I waited for him at the airport because I knew he had an appearance to fly out to, so when he got out of the car I ran over to him and told him how big of a fan of his I was and he signed for me.
Runner up: Getting Derek Jeter to sign for me even though Jorge Posada told him we had followed them. I guess since I told him how much I loved him, he decided to sign.
Worst autograph moment: Trying to get Brendan Shanahan at the Joe, he just waved and drove by. He is my favorite hockey player and I probably won't ever get another chance to ask him.
Other Reasons For Being in the HALLOFAME: Getting autographs is my #1 hobby. I spend most of my time either getting them in person or through the mail. I don't know too many other females who enjoy collecting autographs as much as I do.
Athlete that hates you the most and why: None that I know of.
Misc Info: I currently attend college and am a Pharmacy Technician. I hope to work with a sports team one day.
Any other crazy stories or things that have happened during graphing: Ashley Judd wouldn't sign a book I had for her, she said it has false information in it about her, but she ended up signing an index card for me instead.
Motto: I don't really have one.
Saturday, August 9
Another New Member
Name: Anthony Shupenko
Hometown: Garfield, New Jersey
Homepark/Graphing Stomping Grounds: Shea and Yankee Stadium, Cooperstown, Yogi Berra Museum.
Nickname: The T206 Kid
Best autograph moment: When I went to the 2007 Hall of Fame game and got autographs from Roy Halladay, Sal Fasano, Johnny Podres, Fergie Jenkins, and Earl Weaver.
Runner up: I volunteer at the Yogi Berra Museum and about 2 years ago Duke Snider showed for a book signing,, being in the same room with Duke Snider and Yogi Berra was a dream come true, I was speachless,, I just took it all in, listening to their stories, it was a day that I will never forget.
Other moments: Meeting Darryl Strawberry and he signed my 1986 World Series program for me.
My favorite autos: My Carl Hubbell signed HOF plaque, My Billy Butler signed bat, my Josh Beckett signed photo, my Yogi Berra signed ball, and my Pat Neshek ball (the coolest looking sig ever)
My Favorite cards: T206 Fred Tenney, T206 Mordecai Brown, 1968 Mickey Mantle, 1968 Johnny Bench rookis, and my 1956 Roy Campanella
Worst moment: Getting snubbed by Mike Piazza or when my brother and me went to a Mickey Rivers signing at the card show in my town and he was a no show, and missing the chance of meeting Sandy Koufax.
Other Reasons For Being in the HALLOFAME: This will be the only Hall of Fame that I wont have to pay addmision to get in, I have 490 autos, most ttm and I enjoy every one. Every autograph to me is like a painting, they are all works of art, especially Pats with his baseball stitches
Player that hates me: I think Dale Berra, I never asked him for an auto or anything, but every time I see him he looks at me strange.
Misc Info: I attend Felician College in NJ, were my major is sports marketing and management, I have been to the hall of fame 11 times in 6 years, and I have been a volunteer at the Yogi Berra Museum for 3 years. I have a huge T206 collection with cards of Mordecai Brown, Rube Waddell, Joe Tinker and others.
Me on the left with Duke Snider and my brother Chris [IMG]http://i129.photobucket.com/albums/p239/tonys1987/l_ba32dd10cdd5f4bb6d7ba65b2d736c1a.jpg[/IMG]
Sunday, January 20
2 New Members To The Hall
Name: Jared and Justin Crast
From: Phoenix, New York (Syracuse)
Homepark/Graphing Areas: Alliance Bank Stadium (Syracuse), NYSEG Stadium, Doubleday Field, Falcon Park, War Memorial, Carrier Dome, Frontier Field, St. John's Fisher College- Bill's Camp, Boxing Hall of Fame (Canastota), Baseball Hall of Fame, and last but not least Jacob's Field in Cleveland.
Best Autograph Moments:
There are too many to pick from. But there are three that we both agree on as some of our best moments. #1. Getting the 2007 Indians on a team bat over the course of three days. Then coming back and getting some of them during the playoffs. Ryan Garko signed for us before Game 4 of the ALCS and talked with everyone there. Jensen Lewis commented me on the photo that I took prior to the playoffs which he was signing. I talked with him for a little bit, nice guy. #2. Having floor seats for the 2007 Pro Football Hall of Fame Induction, which is all together one of my favorite moments in my life. We got Bruce Smith and Andre Reed. We are both big Bills fans and we were there for Thurman Thomas, and happened to run into the whole team from the early 90's! I got my picture with Frank Reich, and I wanted one with Bruce Smith, but the autograph was enough for me. He is pretty intimidating, I did shake his hand though and told him he would be up on the stage soon. He has some big mitts! The capper on that night with watching the induction with former players surrounding us (Leon Lett, Jay Novacek, Frank Reich, Darryl Talley, Steve Tasker, Andre Reed, ie.) was getting my picture with Emmitt Smith. He didn't want to sign, but he was classy enough to take a picture with me. A word of advice to anyone who goes to Canton this year or in the future, bring plenty of graphing materials. #3. Getting Gary Carter for free in Binghamton. It doesn't sound as big as the others (we have also gotten numerous HOF'ers in person for free), but the story behind it is pretty funny. He was a roving hitting and catching instructor, and it was a year after he had just got inducted. We waited for him before the game with no luck, and we didn't even spot him. So, to say the least we were pretty pissed that he didn't show up. We thought we had been handed some faulty information when we were in Syracuse 'graphing the day before. I went down to the concourse to see if maybe he was sneaking around, and I guy told me that he left in the second inning. Something sounded fishy about it, and it seemed like he didn't know wth he was talking about. So, we waited after the game by the B-Mets locker room (why not we had made the hour and half trek down there for him), and we waited…and waited…and waited, and finally Carter comes out with a bag in hand. He says, "God, you guys are patient", and put down his bag and started signing for the collectors who decided to stay to after 11. That guy I mentioned earlier was gone, sucks to be him was on my mind then. My brother and I both got him SS on an OMLB first. We figured that was good enough to get that. But, then we saw other guys getting him again. So, we did something we never usually do, we went back and again. Hey, we waited there all of that time, we had to make it worth it! The funny part was he kept saying, "Where the hell are all of you people coming from". There were only about 8 or so there and he must have signed around 30-35 items after saying he was only doing one. My brother and I took our hats off and went back got him with no problem. Then we took our glasses off and got him. In the nature of this game I have found that changing disguises helps out with getting more autographs from a player of Carter's caliber.
Worst Moment:
For the both of us I feel that being passed over numerous times by Cal Ripken at the Red Carpet Gala last year in C'Town and at the Golf Course is ours. For my brother it would probably have to be not getting Doug Flutie at Bills Camp in '98 after being right in front of him numerous times. There are some others, but none really stand out. We get over not getting a player pretty easily. There is nothing we can do to change there signing habits.
Dumbest Moments:
I will add this to my profile. 1. Giving Bills Safety Donte Whitner an Aaron Schobel 8x10 to sign during the team autograph session. He was cool about though, and he gave me time to get his photo out. They had stuck together somehow. If anyone has been there you know that they only give you like fifteen minutes to get the whole team. Not nearly enough time and you have to run around. Then add in the time of trying to dry mini's before putting them away, and that takes away from your time. 2. Getting Boxing Hall of Famer Ralph Citra on a Carlos Ortiz photo. I thought he was Ortiz. Not one of my proudest moments.
Funniest Moments:
There are always funny moments when getting autographs at ABS in Syracuse. One of the local collectors is a pretty funny guy and most of the time players make fun of him. He acts like the players are supposed to know him. He messes up some of the players names, he kept calling Jake Gautreau, Jack and Jack Hannahan, Jake. Everyone there knows each other so we have our own little jokes going around. You guys just have to be there, it is a blast to graph there. Some funny moments with players are: Homer Bailey coming out with a "buck knife" attached to his holey jeans, a pretty weird guy I must say. Everybody had a smirk on their faces when he signed. Watching Mark Bellhorn sneak out of a back entrance. Please, like everyone was waiting for you. We couldn't stop laughing over that fact that he did that. Watching Ben Sheets trying to lift up a concrete barrier after betting us he could, and he then actually asked us for a ride home! Having Ken Norton choke me (fake) in my photo op with him near the hotel in Canastota.
Athlete that hates us the most:
Kelly Shoppach told me to get behind a fence that was set up for Curt Schilling (at Syracuse) to go through when he arrived. MLB rehabbers get special treatment here. He was a real d ick about it, and each time he looked at me funny when I saw him.
John Ford-Griffin, it is not often that I get as many cards of player signed as I did by him. Let's just say he got sick of signing the same 50 cards! For my brother Adam Hyzdu and him are feuding! My brother got a BoSox yearbook signed the year they won the Championship by him. After he signed it he said "I already signed this" (there are facsimiles of the players autos on each page), my brother jokingly said yeah, because he thought he was joking around. But, Hyzdu was not joking, He kept saying "You knew", and had a weird look on his face. He creeping me out a little bit. Maybe he was high.
Last but not least, Jacoby Ellsbury. I don't know what it is but refused to sign for us after just looking at us blankly.
Other Reasons for being in the Hall of Fame:
Getting autographs is a big part of our lives. We don't sell any of our things (not in it for the money) and don't plan to unless we desperately need too. We have grown too fond of our every piece in our collection to part ways with them. When we are getting autographs we go at it the right way. We are always polite, and usually don't get a guy more than twice at one sitting, and we never push to the front of the line. We wait our turn and let the kids get them first. It usually ends with us getting a better auto and they are always more cordial and friendlier. I give photos to players that want them that I have taken. Players like Andy Sonnanstine, Brad Snyder, Alexi Casilla, Lance Cormier, Denard Span are just a few who I have given photos to. We also give our cards away if players ask to have one. Our collection combined must over the 10,000 mark for autographed items. We have a good variety to it too. We don't just collect baseball, but we have signed boxing gloves, pucks, footballs, helmets, ie. We got just about anything, team bats and balls, game used items, the list goes on. But, more importantly this hobby has given my brother and I the chance to "bond". It is something that we do together, and has really made us inseperable. The moments of being in the midst of greatness as well are good enough as well (Cooperstown, Canastota).
Misc. info:
Jared- I go to college at Oswego State University. I'm a Junior Adolescence Education major with a minor in History (I have a 3.7 gpa). In Laman's terms I'm going to be a History teacher pretty soon. I'm also pursuing a career in coaching high school baseball. I also want to get involved in politics sometime in the future. Before college I played organized baseball for thirteen years (still play a little now and then). I was on my school's varsity team and played right field. My senior year I was named "Mr. Baseball" for my passion for the game. I wear a lot of baseball related shirts, and as a family we travel to a lot of stadiums. We also go to at least three Indians games each year in Cleveland.
Justin- he is a substitute teacher for two local school districts, and he graduated from Oswego. He is currently going back to school to get certified to teach Earth Science to go along with his Social Studies certification. He wants pursue a career in coaching basketball as well. He played while he was in high school, and was not too bad (good shot blocker, and could hit the three ball, he is 6' 5").
We are both big Cleveland Indians fans, sorry Pat, but you are still our favorite player!
Wednesday, January 9
8th Member Inducted
Name: Matt Carlson
From: Apple Valley, MN
Graphing Area: Minneapolis, St. Paul (Rice Park)
Best Autograph moment: Getting Team Russia for the World Cup 2004. They where the best signers. Every time they came out from practice everyone signed. Some of the highlights where getting Alexander Ovechkin to sign 8 pucks at one time, Ilya Kovalchuk on a total of 12 items, Pavel Datsyuk on 10, Vladislav Tretiak on 3 pucks. I hope they do a World Cup again all the teams where great and very easy to get.
Runner up: One year when the Twins where in the playoffs playing the Yankees I got to the hotel at about 8am on a off day. Roger Clemens came out and there where only 2 of us there, we asked him to sign and he said later when he came back. We though we where in trouble since we knew alot more people would be showing up. But The Rocket came back about a hour later and we where still the only 2 out there and he had 2 backs in each hand. Before we could ask him to sign he said come over here guys put down all the backs signed for each of us.
Worst moment: David Justice was walking and signing and i was next to him when someone bumped in to me so then i bumped in to David. He turned and got about 3 inches from my face and started yelling "why you bumping in to me you?, Why!!" I said i was sorry and that someone bumped me. He then smiled said it was OK grabed my book and nice both cards and gave me the best autograph i have ever gotten from him.
Funniest moment: It would be a toss up. Either watching Joe Randa open the cab door and hitting a someone on a bike. The biker then flew over the hood of the cab and the cab driver got out and want to beat the biker but the hotel doorman and security jumped in before he could do it. The other one would be watching Keith Tkachuk walk another St. Paul grapher right into a light pole.
Reasons for Hall of Fame: Being the first one to have Pat's studio Photofile photo, Getting game used bats from Torri Hunter (has given me 7 of them), Justin Morneau (given me 2), and Frank Thomas. Getting 3 game used sticks from Marian Gaborik.
Random stuff: Helped Pat get some hockey graphs, Getting to play basketball with and against a few former local NBA players including Sam Jacobson, John Thomas, Troy Bell, and Chris Carr. A Local newstation did a story on autographs and had me mic'd up for about 3 hours. Ron Arrest gave me his phone number.
Wednesday, January 9
Devin Makes It To The Hall
Name: Devin Tollefson
From: Chatfield,MN
My graphing areas: metrodome, free sit down signings
Nickname-devo DT big D

Best autograph moment-getting Harmon Killebrew at Twinsfest in 2005 it was my first year there and killer was the first auto i got there and he has to be one of the nicest guy i have meet (2nd to Pat
)

Runner-up best moment- My runner up moment would be a toss up between meeting Pat at twins fest in 2007 or meeting Joe Mauer and Justin Morneau in the same week!! but i have to pick meeting Mauer and Morneau. i meet Mauer at the Twins Caravan in roch in 2006 (along with Tony Oliva and some others signing) i got 2 things signed by him that day. and at twinsfest later that week i finally meet Morneau and i got a ss omlb ( with out #) so thats my runner up moment.

Worst moment:well i think alot of people have this one but being shut down by A-Rod when i was 12. but the real worst moment is only getting 1 auto at 5 games this year ( Bert Blyleven)
Reasons for Hall of Fame- because graphing is my 2nd life!!
Me and The MVP at 2007 Twinsfest
Friday, January 4
6th Addition Has Just Been Inducted
Name: Dan Rosendahl (drosenda on the board)
From: St. Cloud, Minnesota, now living in Denton, TX
My graphing areas: The Rangers Ballpark in Arlington, TX and Dr. Pepper Star Center, home of the Dallas Stars practice facility
Nickname-Rosie
Best autograph moment-Getting Jack Morris to sign here in Texas while the Twins were in town last year. I was waiting outside the dugout, when this older guy stepped on the lip of the dugout, and looked up into the stands. Without hesitating, I was like "Jack?", and he looked at me and ducked back into the dugout. I was so disappointed, but I didn't give up hope. I watched the 1991 World Series from start to finish, and the WS MVP was one signature I was dying to get. So I wandered up to the announcers booth, which is accessible in the Rangers Ballpark via a concourse that goes underneath their window to the stadium. I waited, saw him lean over (I was the only one there), and I called out to him. I was so excited when he motioned for me to toss up the ball, and he gave me a sweetspot signature. I thanked him for the memories, and that was that. The thrill was that he seemed 'tough' at the dugout, but he probably didn't want to be bothered by tons of requests.
Runner-up best moment
Using my Spanish to get various Twins 'toughies', like Johan Santana, Carlos Silva and Luis Castillo (my story is similar to Derek's) and getting Pat Neshek at his MLB debut (he signed his 1st MLB autograph for me on a team signed bat)
Worst moment: Not really a bad moment in my memory, I have never pissed off a player or anything, but I do remember a moment of extreme deception:
It was 2001 Spring Training, I was at a Reds game versus the KC Royals. George Brett was a Royals coach, and we were all drooling, waiting for him to come in from batting practice. Well, right at the end of BP, a different KC Royals coach hit a popup near the graphers crowd. We all looked up, and Brett sprinted into the dugout. We looked up, and were completely fooled by the ploy. It is more funny than anything, but if a guy would just say 'no', that would garner more respect from me.
Reasons for Hall of Fame: I consider myself simply a collector, trying to add more players and variety to my collection. I like to acquire memorabilia first hand, instead of spending money. I have acquired a Twins lineup card, a game used bat from a Dodgers prospect, and a game used shirt from Pat. I have seen a few players like Terry Mulholland, Kyle Davies and Chris Capuano who all sign through the mail, and thanked them for doing this for fans. Most of all, to be in Pat's grapher HOF, I was at his debut, have given him pictures and the newspaper article from his debut, and my wife is the photographer of the well known "first pitch photo" that shows Pat sizing up Kevin Mench. I enjoy treating players like Pat and other good signers with respect, so they know their generosity is appreciated.
Misc info (what I do when I'm not graphing):
I am a high school teacher in Flower Mound, TX, I teach Spanish (hence the autograph successes). I also referee high school basketball games in the Dallas, TX area.
Random graphing stories:
-Had an awesome experience getting Brett Hull, I was wearing my Minnesota-Duluth jersey at the time, and he loved it.
-I made this cheesy homemade shirt for a Harmon Killebrew signing here in Texas in 2001. It was an old white T-shirt that I made an iron-on of the number 573 for, which is the Killer's career HR total. Well, as I got to him in the autograph line (40 bucks a signature, not bad), he signed my ball, and then saw my shirt. He really liked it, and voluntarily gave me a 2nd autograph for free. I have since framed the fabric with the 573 and the autograph, it looks sweet as anything.
Thursday, January 3
5th Induction Into The Hall O Fame
Name: Derek


Hometown: Originally Severna Park Maryland, now St Cloud MN

Homepark/Graphing Stomping Grounds: was Camden Yards, now the Metrodome

Nickname: D

Best Autograph Moment: This year was finally getting Luis Castillo in Milwaukee. He walked out ignored people and wouldn't sign. I asked him if he would sign in Spanish, and he turned around stopped, and signed for me and went on his way. My first time getting him after chasing him around everywhere.


Runner up: It is a three way tie between getting Gary Sheffield, Chipper Jones, and Travis Hafner this year. Just being right next to guys like that, superstars, was unreal. It was really cool to get there graphs.


Worst autograph moment: This year was probably having to work on the day that Andruw Jones, John Smoltz and Chipper Jones signed at the Braves hotel, at least I got Chipper the next day.


Other Reasons For Being in the HALLOFAME: Just because I love collecting and I give back to the players for taking the time to sign stuff for me. Some of the guys like getting cards of themselves they don't have or other things. It is just a lot of fun interacting with the players and establishing relationships I guess you could say with some of them. I also have my collection showcased on www.freewebs.com/derekbrutger


Athlete that hates him the most and why: Probably Kelly Shoppach because he told me that in MLB they are not allowed to sign autographs during batting practice and I told him he was full of it, this guy is a piece of work honestly. I can't wait to get my setter of him done so I do not have to deal with him ever again.


Misc Info: I'm 23 years old and am working on completing my Business Management Degree at St. Cloud State.

Any other crazy stories or things that have happened during graphing:
Some of you know that I started this in 2006 where I would put a rope through my autograph book and lower it down the loading dock to get guys to sign at the Dome (Now a lot of people are doing it but its cool). It worked great and some of the guys got a real kick out of it. Rondell White called me the "rope man" and Bert Blyleven asked me if i was trolling for fish. Most guys I think appreciate the effort as if i am going to do something like that, I'm obviously not selling the stuff or whatever.

Another one of my personal favorites is Rey Ordonez when he was with the Tampa Bay Devil Rays. Me and three other people were waiting outside the Marriott in Baltimore and I asked Rey if he would sign for me. (I was 15 at the time) He yelled at me and asked me if I had a job and why was I bugging him. After he reemed me out, he signed 4/4 and went on his way...weird...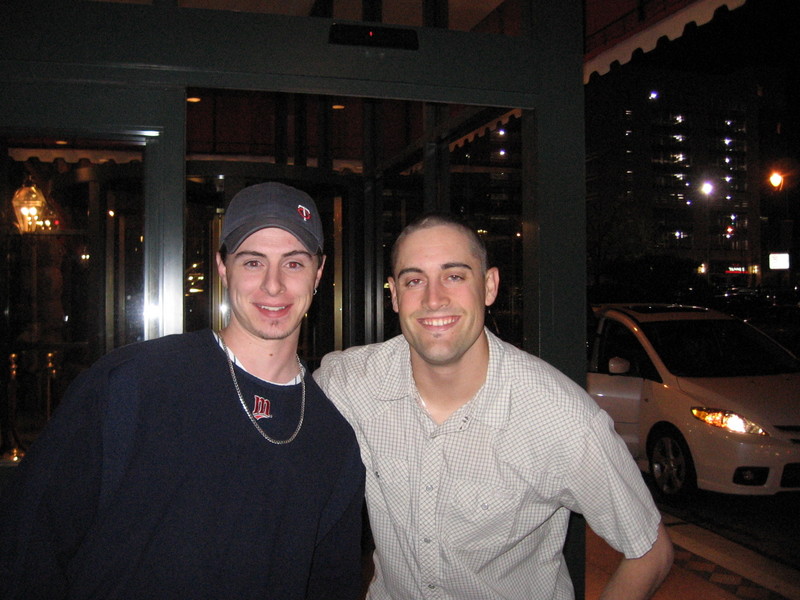 Thursday, January 3
4th Addition To The Hall O Fame
Name: Derick Kelly
Hometown: Prairie du Chien, WI but attending UW-Milwaukee
Homepark/Graphing Stomping Grounds: Miller Park/Hotels in Milwaukee and occasional trips to Cedar Rapids in the MWL.
Nickname: DK (among a host of others I have)
Best Autograph Moment: It's kind of a two parter. The day after Josh Hanc0ck died, the Cardinals were in Milwaukee. So I decided to make and print off a condolence card for the Cardinals team. I headed down to the team's hotel to give the guys my condolences in person. For the first time ever I kept my cards and sharpies in my bag and I didn't go for autographs. All the veteran players really seemed to appreciate the condolences and holding off on asking for autographs for a day. I had Jim Edmonds face to face and he thanked me for the condolences and he really seemed to appreciate it as he ended up signing at the stadium that night.
When the Cardinals came into Milwaukee in late September, most of the team seemed really loosened up towards signing, especially Albert Pujols. In fact Albert came right over to the small group of us waiting and before anyone asked started signing for all 7 of us waiting. I would like to believe that me being nice and giving these guys condolences when they really needed it helped in the long run with the relationship between players and graphers.
Runner up: Non-sports related but getting "Weird Al" Yankovic ip after a September 2007 concert in Milwaukee on a DVD cover. Since I am a huge "Weird Al" fan, meeting him and finally getting his autograph was an awesome experience. It was also the same week I got among others - Albert Pujols, Jim Edmonds x2 and Tony Gwynn in person. Greatest week of my life.
Worst autograph moment: Getting shot down by John Shelby in a 2 on 1 situation outside the Pirates hotel in 2007. "Mr. Sunshine" John claimed he had gotten the 2 of us waiting many times since 1991 so he wasn't going to sign for us. Needless to say, neither one of us have ever gotten him. Thanks Johnny Boy...
Other Reasons For Being in the Hall of Fame: I like to help other people and collectors out. I really enjoy giving kids who don't have cards of players cards so they can have something for that player to sign for themselves instead of pieces of paper, hats etc. I also try to answer questions new collectors have after visiting my website (www.dksbaseballcards.com).
Athlete that hates him the most and why: I have only had one really nasty situation, with former Giants pitcher and current broadcaster Mike Krukow. On the last day of the Giants - Brewers series in late September 2006, I was waiting at the Giants hotel for a couple of guys I had not managed to get 2 days earlier in the series, including Mike Krukow for my 1989 Donruss set. So when Mr. Krukow came out, I of course asked him, "Mr. Krukow, could you please sign a card for me?". He replies, "I GOT YOU YESTERDAY!" I replied that I was not there the previous day but he continued to insist that I was and that he had gotten me. Finally after about the 4th time telling him that I was not there the previous day he comes over and grabs my sharpie and signs my set card angerily while saying under his breath "at least it's a nice day out" and then threw the sharpie down on my book. I was SOOOOO pissed off at his attitude towards me that I almost ripped up my setter right then and there but luckily Mr. Nice Guy Steve Kline came out and was the cool guy he always is.
Misc Info: Junior student at the University of Wisconsin-Milwaukee, I would like to work behind the scenes in Major League Baseball after graduation.
Any other crazy stories or things that have happened during graphing: Getting a shout out here on the site in Jan. 2006 from Pat for giving him 32 signed cards for his collection. It was awesome! I knew that I had finally made it as a grapher by making it onto this site!
Wednesday, January 2
HallOFame Inducts Another Member
Name: Kevin Horne
Hometown: Williamsport, Pennsylvania
Homepark/Graphing Stomping Grounds: Camden Yards
Nickname: The Racker
Best Autograph Moment: Last year, I had spent the entire day since 7 AM at the airport in Cooperstown acquiring autographs from Hall of Famers coming in for induction weekend. The last player came in around midnight, and it was now 2:30 AM. The crowd had lessened from about 60 people to only 5. I was packing up my stuff ready to leave when one of the graphers spots Steve Carlton coming down the stairs. Mr. Carlton is notorious for being a pain in the butt for collectors, and I had never gotten him for free in the 20 or so times I had seen him before. As we was hovering over the baggage claim, I asked "Mr. Carlton, can you please sign for us? You lucked out there was about 60 people here earlier!" He didn't budge. Another collector asked. Same reaction. Typical Steve Carlton, we all concurred.
But luck was on our side. The bags that were on the baggage claim were from another flight, and not Carlton's. The passengers were informed that it would be another 30 minutes until they had their bags. Carlton turned around and said, "Well, since you said please." He then stood there and signed about 50 items for the 6 of us, and I ended up with 8 (I ran out). Everyone was in shock, and it was the first time in many years he signed for free in Cooperstown.
Runner up: In 2006, Alex Rodriguez exited Camden Yards with his wife. Being the Yankees, there was 300 people out there and they just pounced him. He of course said no and kept walking. I would not give up so easily. I followed him at a safe distance for about 12 blocks around Baltimore, sharpie and 8x10 in hand. I would ask him every 10 minutes or so and would get the same no.
Finally, it was just myself, Arod, and his wife in an alley behind the hotel. It was do or die, as they were about to enter the hotel. I bolted in front of him, raised my voice 3 octaves, and asked "Mr. Rodriguez, you are my favorite player and I would die to have your autograph!" (Hey, you gotta do what you gotta do). Sure enough, he looked over his shoulder to see if no one was around, and gave me an every letter signauture on my 8x10. 2 hours of following Arod through all the back alleys in Baltimore and I landed the graph!
Worst autograph moment: I was at the 2006 All Star week in Pittsburgh. I had made out well throughout the week, but there was certainly room for improvement. After the homerun derby, I had the idea that I could make reservations in the hotel resteraunt on the second floor, and I could peer down into the lobby and hop on the elevator when I saw a player walk in and go up. I was the only person in the resteraunt. I ordered a coke and patiently watched. This worked very well at first, as I was able to snag Grady Sizemore, Tom Glavine, Ivan Rodriguez and others with no security in my way.
Then, I saw Derek Jeter come into the lobby. I had not gotten Jeter since 2004 and had an authentic jersey to get him on. This was my golden opportunity. I snuck out and began to head toward the elevators when to my dismay I heard "NOT SO FAST!" I turn around and there are 2 Pennsylvania state troopers booking it toward me. "We saw you on the cameras. You know there is to be ABSOLUTELY NO AUTOGRAPHS!!!" I quickly let out "Oh, sorry, I'll just be going to my room (no, I didn't actually stay there.)"
My pleas did not work. Jeter got on the elevator, and I was led out of the hotel and across the street, one state trooper on each side of me. "If you come onto our property again i will have you arrested for trespassing." Needless to say I did not mess with the hotel the rest of the week!
Other Reasons For Being in the HALLOFAME: Rackage. Got 12 players on over 100 cards each in 2007. Brought in over 6,000 graphs last year and 20,000 overall.
Athlete that hates him the most and why: Hmmm, there are 2. that come to mind First is Justin Morneau, the toughest signer in the American League. He is impossible, so I make it a hobby to annoy him as much as possible whenever I see him. Second is Joe Savery, Phillies first rounder. Cut me off for autographs after 2 games last year!
Misc Info: #1 Pat Neshek player collector, play baseball for my High School, heading to Penn State after I graduate
Any other crazy stories or things that have happened during graphing: Myself and other Baltimore graphers getting Pat to sign some crazy personalizations on our photos last year. Get ready pat, we've thought of some more!
Monday, December 31
New Grapher Profiled
Name: Buddy
Hometown: St Paul, MN
Homepark/Graphing Stomping Grounds: Metrodome/Target Center
Nickname: Frodo
Best Autograph Moment That Almost Never Happened: Getting Michael Jordan at the Trent Tucker Celebrity Golf Tournament. At the Trent Tucker Golf Tournament, he needed to run the length of the course to make it back to where Michael Jordan was. Security told him he couldn't go where he was going so he ran on the course and almost got hit in the head with the ball. He made it back in time to get Jordan though

Runner up: Getting his Larry Walker authentic jersey signed as Walker is his favorite player.

Worst autograph moment: When LeBron James came out straight to him and signed the page in his book instead of the cards.

Other Reasons For Being Grapher of the Month: Puts in the most time of any grapher, nice and is thoughtful in giving cards away.

Athlete that hates him the most: Moises Alou - Frodo asked Alou for an autograph twice in the same series. Alou recognized him from the first day and screamed at him telling him to not ask him again. Alou angrily got in a cab and drove away.


Misc Info: Has over a million unsigned cards. Only took one day off graphing a baseball team in 2006.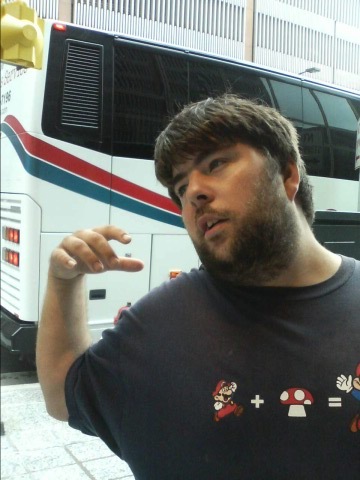 Frodo Missing The Bus
August Grapher Of The Month - Bruce From Columbus, OH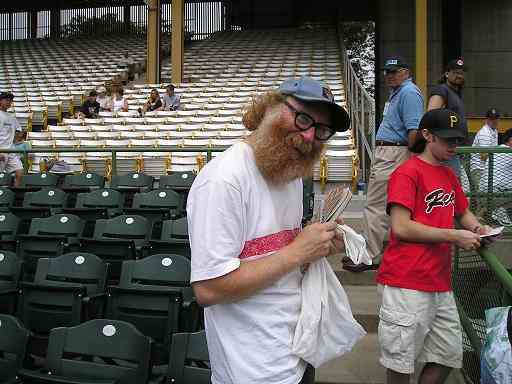 The Master Waiting For His Prey
August Grapher of the Month
Name: Bruce
Hometown: Columbus, OH
Homepark: Cooper Stadium
Nickname: Wolfman
Best Autograph Moment: When Kelly Wunsch told him that he smelled like SHI*! Kelly came in on rehab earlier this year and Bruce gave him an autographed photo of himself.
Runner up: Stopping his car in the middle of an intersection during a green light and rolling down his window to get Bryan Berard of the
Blackhawks. Berard signed and then Bruce kept on going as cars were
beeping at him.
Worst autograph moment: When his basment flooded and he had Montana rookies floating in his basement.
Other Reasons For Being Grapher of the Month: His house has cards stacked from the floor to the ceiling and there are only
small paths to walk. Rumor has it that there are dead bodies there also.
Athlete that hates him the most: Hop Cassidy. He runs from him everyday.
Misc Info: Has trash in his car up to the windows in the front
and back so he doesn't have to give people a ride,
He has more signed pieces than everyone I know combined!
If you know someone who should be the grapher of the month, please pm me. Bruce is a tough act to follow, but we will see what we can do!