Parkway Little League, Saint Paul, Minnesota: 13 yo Team
Friday, February 7
Hello to all 13-year old Players and Parents/Guardians
Friday Feb. 7th
Hello to all 13-year old Players and Parents/Guardians,
I would like to thank you for being a part of Parkway over the past few years!
If you are proud to have played at Parkway, we have an opportunity for you.
Parkway will be sponsoring a team in the 13-year old league at East Twins Babe Ruth League this summer.
We have 42 players from last year that are eligible to try out for this team.
We need a roster of 12 or 13 players only Parkway players are eligible to register to try out,
no others will be accepted.
There is a possibility of sponsoring 2 teams this year with the large amount of players eligible to try out.
If your player turns 13 by July 31st, 2014, they may also try out under Babe Ruth guidelines.
We will not be holding team spots for 12 year old players if they do not make the Parkway 13 team.
Eligible players must have played 2 of the last 3 yrs at Parkway
(1yr 12U and 1yr 10U) or (2yrs of 12U)
Please try to make it to one of the first two registration sessions, see below.
While you can come to any of the sessions, we would like to get an early count of players attending try outs.
Once this is finalized, you will be contacted with information about the tryouts happening in mid-March.
The Manager (Head Coach) for the 13U Team is still being finalized.
Registration Sessions:
Thursday, February 27 5:30 PM - 7:30 PM Returning Players
Saturday, March 1st 10 AM – 2 PM Returning Players
Thursday, March 6th 5:30 PM - 7:30 PM All Players
Saturday, March 8th 10 AM – Noon All Players
What you need to bring with you to registration:
1) Completed Registration form, photo release, Code of Conduct, Player Waiver and Medical Release forms
2) Copy of player's birth certificate.
3) Registration money - check or cash only. Must be paid at registration.
4) Your player(s)! – They will be sized for uniforms at registration.
5) you may also download the tryout location form, it gives dates and times of tryouts
Parents/Guardians –
the cost of the East Twins program is higher than at Parkway, so the fees for this team will be more
than you have paid in recent years.
The East Twins season begins in early May and the playoffs begin following the 4th of July week.
Teams will play approximately 20 games for the season. The Manager may also register for outside tournaments
If your player registers and does not make the Parkway team, your money will be refunded and there will still be time to register at East Twins for another team. For more information on East Twins, check out their website
Once again, thanks for choosing Parkway! Please feel free to contact me with any questions or concerns.
My e-mail isTschiss2@hotmail.com, this is the most convenient method, or you can contact me on my cell phone at
651-295-9648.
Together, we can make this a great season and a fun experience for our teens!
See you at the ballpark!
Traci Schissel
Tryout Manager
Handout:
13YO Registration Forms
Thursday, March 8
EAST TWINS BABE RUTH LEAGUE
Parkway W St Paul Champs 13-AA.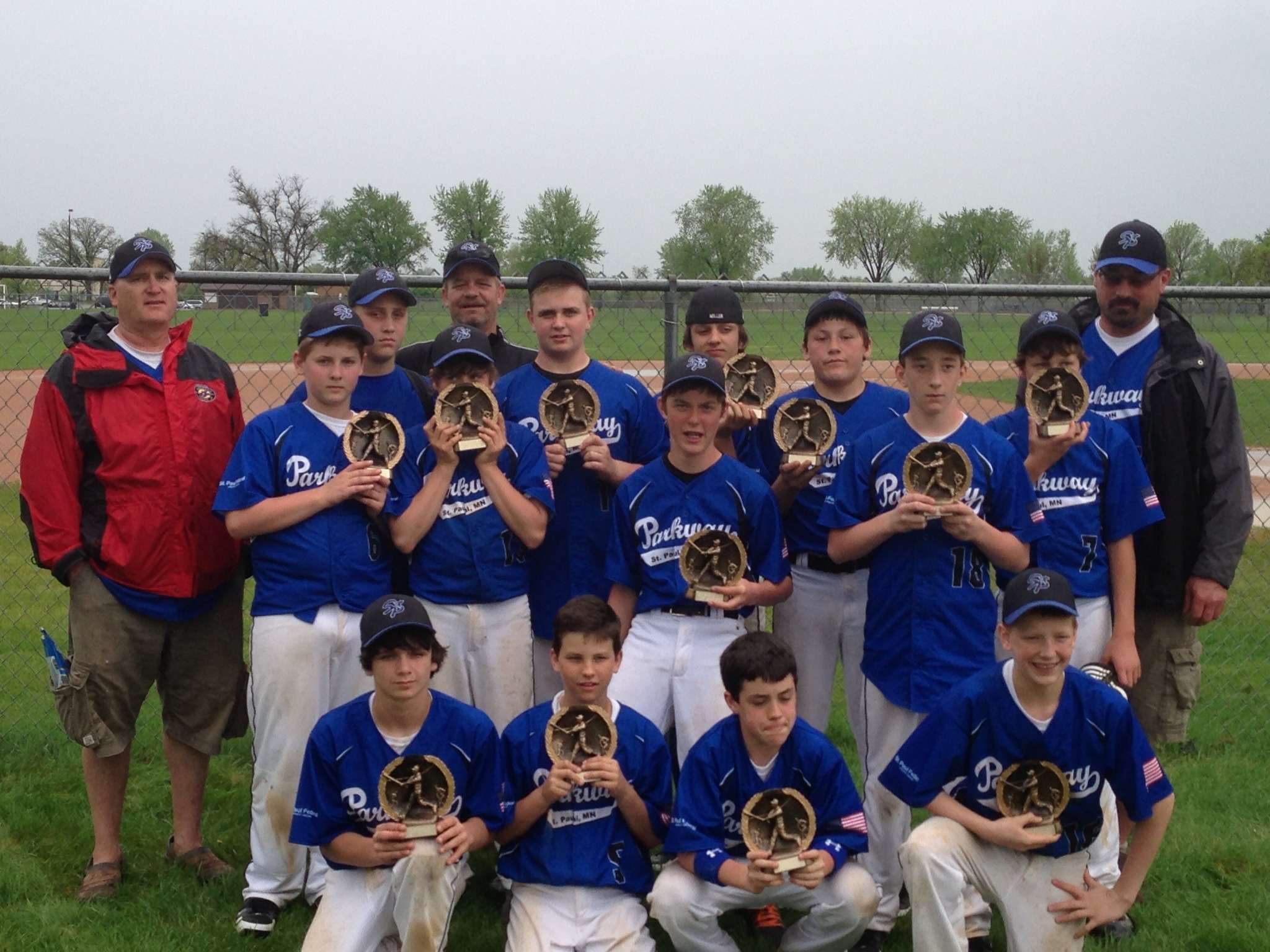 2013 Brooklyn Park 13-AA Champs