Parkway Little League, Saint Paul, Minnesota: 13 yo Team
Tuesday, March 25
Hello to all 13-year old Players and Parents/Guardians
Congratulations to Dane Lange the 2015 Parkway 13 yr old Head Coach!
Dane can be contacted at: ParkwayLL13UCoach@gmail.com
Dane has Coached at the 18U level for the last 3 yrs
We are excited that Dane is interested in coaching the 13s for years to come. He has also showed interest in helping and putting on coaching clinics for the Parkway coaches at the younger levels.
Players eligible for the 2015- 13U Team are:
Thadeus C, Lorenzo R, Joe G, Cade M (2014-LL Orioles)
Edward C, Alex F, Peter E, Nick H, Dominick L (2014-LL Cardinals)
Anthony G, Kyler L, John H, Ben C, Sean M, Andrius A, Anders L, Jonathon P, Trey A, Eric F (2014-LL BlueJays)
Drake T, Thomas H, Connor B (2014- LL Pirates)
Brandon O, Ben K, Cole F, Goody B, Jared R, Jalen S (2014- LL Dodgers)
Joe T, Peter H, Theo L, Matt R, Kedues S, Dillon S, Ansten S, Kieran A (2014- LL Giants)
we have a total of 36 eligible players
Parents/Guardians –
Because of concerns of the Parkway parents, the Parkway Board has decided to register our 13U team/teams in the MBL league. If we get enough players registered we will register (2) teams, (1) AA team and (1) A team.
We are making this change to ensure our players will be playing against their own age groups. This will also reduce the amount of driving, keeping our players in the East Metro Area.
More information will be made available as it is finalized.
If your player registers and does not make the Parkway team, your money will be refunded and there will still be time to register at East Twins or for another team. For more information on East Twins, check out their website
Once again, thanks for choosing Parkway! Please feel free to contact me with any questions or concerns.
My e-mail isTschiss2@hotmail.com, this is the most convenient method, or you can contact me on my cell phone at
651-295-9648.
Together, we can make this a great season and a fun experience for our teens!
See you at the ballpark!
Traci Schissel
Tryout Manager
Handout:
13YO Registration Forms
Thursday, March 8
EAST TWINS BABE RUTH LEAGUE
Parkway W St Paul Champs 13-AA.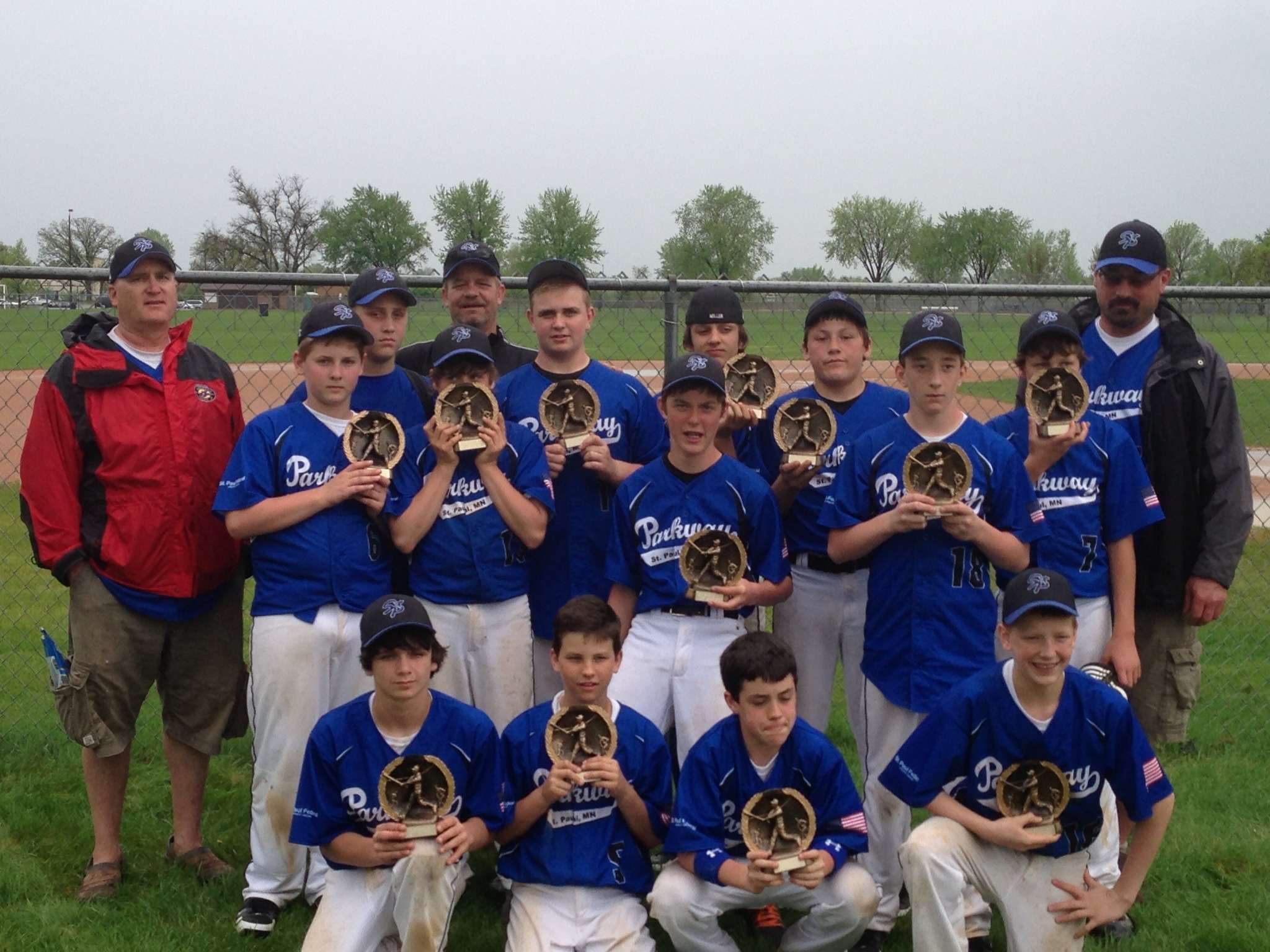 2013 Brooklyn Park 13-AA Champs
Friday, June 6
2012