Parkland Rangers: Welcome
Upcoming Practices
Date
Event
Time
Location
Wed 12/17
Team Workouts
3:45 PM - 7:30 PM
Boze's
Thu 12/18
Video Session
6:00 PM - 6:30 PM
Credit Union Place
Thu 12/18
Practice
7:00 PM - 8:30 PM
Credit Union Place
Tue 12/23
Practice
6:00 PM - 7:30 PM
Credit Union Place
Wed 12/24
Team Workouts
3:45 PM - 7:30 PM
Boze's
Chad Kilimnik opens scoring against Norman , Sunday
Rangers Win three straight at home
By Doug Zywina
Herald Reporter
After a bit of a stumble which saw the Parkland Rangers win just three of eight games, the Manitoba AAA Midget Hockey League squad has righted the ship, winning three in a row and four of their last five games.
The winning streak began last Wednesday when the Rangers beat the Brandon Wheat Kings 4-1, in Dauphin.
Brett Evans made 49 saves and Joshua Tripp and Daniel Chartrand had a goal and two assists each to lead Parkland to the victory. Tyler Jubenvill and Tyler Derkach had the other goals, while Jesse Lawrence replied for Brandon. Luke Zacharias made 37 saves in taking the loss.
On Saturday, Matthew Greening had two goals, including the overtime winner, and added an assist to lead the Rangers to a 3-2 win over the Central Plains Capitals, in Swan River.
Tripp had the other goal for Parkland. Nathan Wall and Ryan Sinclair had the Central Plains goals.
Evans made 25 saves for the win, while Connor Nichol stopped 29 shots in the loss.
On Sunday in Dauphin, Tripp continued to have a hot hand, netting three goals to lead the Rangers to a 5-1 win over the Norman North Stars.
Chad Kilimnik and Derkach also scored for the Rangers and Evans stopped 28 shots for the win.
Hayden Yaremko broke Evans' shutout bid with a power-play goal with 4:09 left to play.
Connor Failkner stopped 26 shots in taking the loss.
Evans was named Chicken Chef Player of the Week after posting a 1.33 GAA and .962 save percentage in the three victories.
The Rangers now sit with a record of 14-8-0-1 for 29 points, good for fifth place, one point behind the Winnipeg Thrashers.
Rangers coach Doug Hedley felt defenceman Branden Storey was one of Parkland's best players, Sunday.
"He was physical, he moved the puck well, got out of trouble a lot and made a good first pass," he said.
"It was a good team effort. We kept the energy up, we had a lot of guys working hard. A little bit of penalty trouble in the third period, but we got through it. It was a good, solid weekend. We needed to take care of business and we did."
Hedley has been pleased with the effort in recent games, beginning with the comeback win over the Interlake Lightning, Nov. 28.
"The Wild game (Nov. 29) was a lot of energy, very good. We had opportunities to tie the game. And it just carried over into the next week. We had an outstanding effort against Brandon. I thought our team-first attitude and work ethic against Brandon was one of the best we've had all year," he said.
Jubenvill and Connor Dewar were recently named to the U-16 Team Manitoba exhibition roster, which will compete at the Shattuck-St. Mary's Jamboree, Dec. 12 to 14 in Fairbault, Minn. Team Manitoba will play five games over the three days.
Hedley said the two players were deserving of the selection.
"Jube's had a tough go with his eye injury. But he's one of our top guys and moving the puck really well. That's part of his game. He sees the ice, moves the puck and jumps in the play. He's very deserving," he said.
"And Dews is coming on lately. He's always had opportunities all season, but now he's starting to find some finish and has good line combinations with him."
Parkland's blueline has taken a bit of a hit with Andrew Liwiski out with an injury and Brayden North gone to deal with some off-ice issues. And several weeks ago, Ryland Nernberg left the team.
The Rangers called up Brendan Bogoslowski from the Dauphin Clippers high school team for the games against Brandon and Norman and Greening also saw time on the blueline, where he played well.
"Greener sees the ice well. He's patient with the puck and that's a big part of the game back there. He's moving the puck, making a good first pass and he's been solid for us," Hedley said.
The Rangers will have another stiff test when they host the league-leading Winnipeg Wild, Saturday in Dauphin at 7:30 p.m. On Sunday, the Yellowhead Chiefs visit Credit Union Place at 2 p.m.
Prior to the game against Brandon, the Rangers presented a cheque for $306 to the Canadian Cancer Society, with the proceeds coming from fund-raising efforts throughout the month of November.
Check out more Pics and Video Action on The Parkland Rangers Facebook page at : https://www.facebook.com/pages/The-Parkland-Rangers/1391583884416648?ref=br_tf
Should you have any questions or concerns please feel free to contact us at parklandrangers@mymts.net
The Parkland Rangers are pleased to announce that they have been awarded the 2015 Midget AAA Telus Cup Regional Hockey Tournament, April 2-5 at Credit Union Place in Dauphin!
Friday, November 28
News Release – 2015 Telus Cup Midget West Regional
November 27th 2014
News Release – 2015 Telus Cup Midget West Regional
(Committee formed and tournament passes now on sale. )
(DAUPHIN, Manitoba) The 2015 West Regional Telus Committee has been formed and is well on their way to planning the 2015 TELUS CUP MIDGET WEST REGIONAL tournament to be held April 2nd- 5th 2015 at Credit Union Place in Dauphin Manitoba. Advance adult week-end passes are now on sale for only $35.00 and that gets you in for every game of the tournament, 12 and under will be free. In an attempt to keep this event family friendly in terms of cost, the committee decided to make tickets very affordable in order to subject as many people as possible to the Parkland Rangers program and the excitement of some of the best Midget hockey in Canada. This also keeps in line with our approach to making the weekend, "A Celebration of Parkland Minor Hockey. ''
Tournament Co-chair Sandy Ellingson says, "This event is all about putting on an entertaining week-end of hockey and promoting Midget AAA Hockey as a great place for Parkland hockey players to develop their skills." Marketing Chair, Allan Truman goes on to say "The host team, the Parkland Ranger's, are truly a regional team. Parkland is made up of just eight minor hockey associations who will all be instrumental in marketing this tournament, in addition to sharing in the proceeds.
Competing in the West Region Telus Cup are qualifying teams from Northwest Ontario, Manitoba and Saskatchewan along with the host team the Parkland Rangers. The tournament will feature four teams in a round robin format culminating with the West Region Championship final, sending the winner to the 2015 Telus Cup National Championship in Riviere-du-Loup Quebec.
Tickets are available at Parkland area Credit Unions and from representatives of local hockey associations in the Parkland. To reserve your tickets just email teluswesttickets@mymts.net. Follow for updates on our Facebook Page and Twitter: @TC_WR_Dauphin.
For information on the host city, accommodations, restaurants and more, go to http://www.tourismdauphin.ca/
Tournament Co-Chair
Sandy Ellingson
204 734-2707
Marketing Committee
Allan Truman
204 638-323
2014 Home opener vs Central Plains
Tuesday, November 18
Pink the Rink Donation
Prior to Saturday's November 8th game vs the Kenora Thistles the Rangers presented a cheque for $423 to the Canadian Cancer Society. The funds were raised through the team's Pink and Rink event.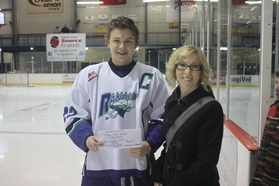 Donation to Cancer Society
Pisew Falls
Located on the Grass River, Pisew Falls has a vertical drop of 13 metres (42.7 feet). The falls can be viewed from an observation platform, and a short 0.5 km (0.3 mile) hike leads to the Rotary Bridge which crosses the Grass River just below the falls. The bridge provides access to a trail which leads to the top of the falls.