PYAA: Registration Info
Saturday, May 22
Registration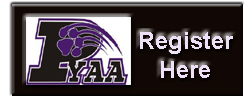 ---
NEW 8/30/2011 - All registrations must include payment at the time of registration. Mail-in payments will no longer be accepted. This has been done to help reduce the amount of time our sport volunteers are spending managing the paid vs unpaid registrations and trying to collect payments.
Online registration will accept a credit card payment or an e-check payment.
Walk-in registrations to our office may pay by cash, money order, check or credit card.
We thank you for your understanding.
---
Questions about registration may be sent to our
Office Manager.
Or you may contact your sport representative directly by going to our main page and then to the sport sub-site.
Friday, February 22
Registration General Information
The following information is general to all sports within PYAA. If you need specific information regarding ...