PEARL RIVER LITTLE LEAGUE: Kayser-Brady Tournament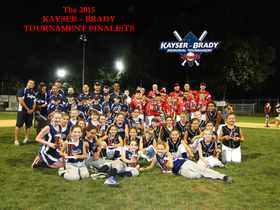 2015 KBT Finalists
2015 KAYSER-BRADY TOURNAMENT HOME PAGE
WELCOME TO THE 2015 (12th ANNUAL) KAYSER-BRADY MEMORIAL TOURNAMENT -- July 18 - 29
(7/26/15): Once again, we thank the coaches, players and the families for participating in the tournament. We hope that all have had fun and enjoyed the experience. We have heard exactly that from many of the families, and we volunteers, and the Kayser and Brady families who have been at the field all week, believe that the enjoyment and sportsmanship shown by the players and their families are far more important than which teams ultimately win the titles. When we see the players laughing after a game, win or lose, and making friends among other teams, we know that Billy and Alicia are proud, because that was their trademark.
HAVERSTRAW REPEATS AS KAYSER TOURNAMENT CHAMPION; NEW CITY WINS FIRST BRADY TITLE -- DETAILS IN GAME SUMMARIES BELOW....
2015 Kayser Tournament Schedules, Standings & Scores (updated through 7/29)

2015 Brady Tournament Schedule, Standings & Scores (updated through 7/29)
2015 Kayser Tournament Game Summaries and Pitch Counts (updated through 7/29).
2015 Brady Tournament Game Summaries and Innings Pitched (updated through 7/29)
SEE PHOTOS -- GO TO KAYSER-BRADY 2015 PHOTO SITE
**** PHOTOS FROM WEDNESDAY'S FINAL GAMES HAVE BEEN UPLOADED - USE LINK ABOVE *** USE THE PASSWORD OR THE BUTTON TO REQUEST THE PASSWORD. (updated through 7/29).
2015 Kayser Tournament Procedures
2015 Brady Tournament Procedures
Introduction to the Kayser-Brady Tournament:
Billy Kayser was a 16-year-old Pearl River High School student who died tragically on April 3, 2003. Alicia Brady was a 15-year old Pearl River High School student who died tragically on February 26 1992. At almost the same age, 11 years apart, their lives ended in much the same way, both as passengers in car accidents. Now more than two decades after Alicia died and 12 years after Billy died, they are reunited at the little league to, hopefully, pass on their love of the game and instill new friendships to a new generation. Both Alicia and Billy were talented and popular young adults. They loved and enjoyed life, their friends and sports. Foundations in each of their names were formed shortly after their passing to promote and develop the same qualities and characteristics within the community's youth. Their foundations award annual scholarships to students and athletes that demonstrate the same qualities both Billy and Alicia exemplified in their short lives. These scholarships are awarded to enable children to continue their academic and athletic pursuits and hopefully, to do so with the same zest for life that Alicia and Billy always showed. Some of the happiest times they had were spent on the fields of the Pearl River Little League and in holding a tournament in their memory we hope to instill in each 9 yr old that plays in these games, the same love for the game that both Billy and Alicia had. Although they loved to win, having fun playing was just as important. If you didn't win, shake it off and get ready for the next game. As Billy always said, "There's No Crying in Baseball". It was his favorite saying. Hopefully your children will have as much fun playing in these games as we know Billy and Alicia would. More importantly, another reason for the tournament is to keep the memory of Alicia and Billy alive. As parents who have lived through this tragedy, our greatest hope is that our children are never forgotten. By holding these tournaments and watching your children play in memory of our children, you have helped to keep their memories strong and their lights shining brightly. You have also given us the chance to go back and relive some wonderful memories of a time of innocence and fun. This means more to us than anything else ever could. (dk)

On behalf of the Kayser and Brady families, the Pearl River Little League and the children of our community, you have our heartfelt thanks, may God Bless you all.
PARKING AT ANDERSON FIELD: DOWNLOAD PARKING PASS (Link)
We welcome visiting teams to Anderson Fields this All-Star season. For those of you who have not visited us before, our land is owned by the American Legion James Anderson Post, and there is very little room for parking. Fortunately, our neighbor, Verizon Wireless, has made their parking lot available, as long as we respect their rules, and ask our guests to do so, as well. Please park only in the Visitor spaces, and avoid the reserved spaces and private areas. Please do not, under any circumstances, park along the curbs near the entrance to the fields. CLICK THE LINK ABOVE FOR THE PARKING PASS.
PREVIOUS CHAMPIONS:
| | | | |
| --- | --- | --- | --- |
| Year | Kayser Champion | | Brady Champion |
| | | | |
| 2004 | West Nyack L.L. | | Pearl River L.L. |
| 2005 | Pearl River L.L. | | Stony Point L.L. |
| 2006 | South Orangetown L.L. | | Clarkstown |
| 2007 | Stony Point L.L. | | Pearl River L.L. |
| 2008 | Stony Point L.L. | | Clarkstown |
| 2009 | Pearl River L.L. | | Pearl River L.L. |
| 2010 | Pearl River L.L. | | Clarkstown |
| 2011 | Suffern L.L. | | Nanuet L.L. |
| 2012 | West Nyack L.L. | | Nanuet L.L. |
| 2013 | Stony Point L.L. | | South Orangetown L.L. |
| 2014 | Haverstraw L.L. | | Nanuet L.L. |
See the following links for a look back to previous Kayser-Brady tournaments:
2015 Kayser Tournament Schedules & Scores
2015 Brady Tournament Schedule & Scores
2015 Kayser Tournament Game Summaries and Pitch Counts
2015 Brady Tournament Game Summaries and Innings Pitched
2014 KAYSER-BRADY TOURNAMENT HOME PAGE
2014 Kayser Tournament Schedule and Scores
2014 Brady Tournament Schedule and Scores
2014 Kayser Tournament Game Summaries and Pitch Counts
2014 Brady Tournament Game Summaries and Innings Pitched
2013 KAYSER-BRADY TOURNAMENT HOME PAGE
2013 Kayser Tournament Schedule and Scores
2013 Brady Tournament Schedule and Scores
2013 Kayser Tournament Game Summaries and Pitch Counts
2013 Brady Tournament Game Summaries and Innings Pitched
2012 KAYSER-BRADY TOURNAMENT HOME PAGE
2012 Brady Tournament Schedule & Scores
2012 Kayser Tournament Schedule & Scores
2012 Kayser Tournament Game Summaries and Pitch Counts
2012 Brady Tournament Game Summaries and Innings Pitched
2011 KAYSER-BRADY TOURNAMENT HOME PAGE
2011 Kayser Tournament Schedule & Scores
2011 Brady Tournament Schedule & Scores
2011 Kayser Tournament Game Summaries and Pitch Counts
2011 Brady Tournament Game Summaries and Innings Pitched
2010 KAYSER-BRADY TOURNAMENT HOME PAGE
2010 Kayser Tournament Schedule & Scores
2010 Brady Tournament Schedule & Scores
2010 Kayser Tournament Game Summaries
2010 Brady Tournament Game Summaries
2009 KAYSER-BRADY TOURNAMENT HOME PAGE
2009 Kayser Tournament Schedule and Scores
2009 Brady Tournament Schedule and Scores
2009 Kayser Tournament Game Summaries
2009 Brady Tournament Game Summaries
2008 KAYSER - BRADY TOURNAMENT HOME PAGE
2007 KAYSER-BRADY TOURNAMENT HOME PAGE
2006 KAYSER - BRADY HOME PAGE