PEARL RIVER LITTLE LEAGUE: Welcome
The PEARL RIVER LITTLE LEAGUE is based in Pearl River (Rockland County, New York), and is a member league of N.Y. District 18 of Little League, Inc.PRLL features baseball and softball programs for boys and girls aged 5 to 16. PRLL was founded in 1953 and was incorporated and began play in 1954.
---
GO TO THE NEW PRLL WEBSITE FOR THE SPRING 2016 SEASON (LINK)
(The Registration process for Spring 2016 is included in the new site.)
THE PRLL WEBSITE HAS CHANGED WEBSITE HOSTS AND FORMAT (OUR WEB ADDRESS - WWW.PRLL.ORG HAS BEEN TRANSFERRED). CONTENT ON THIS SITE WILL BE DELETED SOON, AND MANY ARTICLES AND PHOTOS WILL NOT RETURN ON THE NEW SITE. IF YOU WISH TO DOWNLOAD OR COPY ANYTHING, DO SO NOW. ANY QUESTIONS, PLEASE WRITE TO WEBSITE@PRLL.ORG. (ADDENDUM: ALL PRLL NEWS ARTICLES THROUGH 2014 HAVE BEEN DELETED. COPIES IN SIMPLIFIED FORMAT HAVE BEEN MAINTAINED. FOR INFO, WRITE TO website@prll.org ).
See the 2015 SEASON HOME PAGE (Link)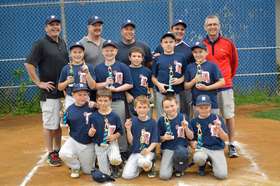 2015 AAA CHAMPIONS