PEARL RIVER LITTLE LEAGUE: Welcome
PRLL Softball 11's - D-18 and Section 4 Champs
The PEARL RIVER LITTLE LEAGUE is based in Pearl River (Rockland County, New York), and is a member league of N.Y. District 18 of Little League, Inc.PRLL features baseball and softball programs for boys and girls aged 5 to 16. PRLL was founded in 1953 and was incorporated and began play in 1954.
---
The Pearl River Little League Board of Directors would like to give each parent or guardian an opportunity to evaluate your child's manager and coaches by completing the Manager Evaluation Form.
Your candid feedback is important. Board members are not able to watch every manager or coach during the season, so we rely heavily on the information provided by parents or guardians through the Manager Evaluation Form. PRLL will use these evaluations to help identify the most qualified managers and coaches for next season's managers and coaches. By submitting the Manager Evaluation Form, you are helping to ensure that we provide the best baseball and softball instructors and role models for our children.
Managers and coaches are NOT given copies of their evaluations. Your individual responses will be kept strictly confidential.
Click on the link to access the form: Manager Eval Form
Please take a few minutes to complete this form. You may drop it off at the Hopper. Give it to the director on duty and he or she will put it in the drop safe or return it to the address shown below:
Pearl River Little League P.O. Box 125 Pearl River, N.Y. 10965
Please write in the lower right hand corner of the envelope: "Confidential - MEF" (Manager Evaluation Form).
Alternatively, the completed form can be emailed to president@prll.org
Thank You,
Pearl River Little League
---
THE KAYSER AND BRADY FAMILIES WISH TO SINCERELY THANK ALL THE PARTICPATING LEAGUES, PLAYERS, MANAGERS, COACHES AND PARENTS FOR ANOTHER SUCCESSFUL KAYSER-BRADY TOURNAMENT, WHICH WILL ASSIST THE MEMORIAL FOUNDATIONS IN ADDING TO THE OVER $75,000 IN SCHOLARSHIPS THAT HAVE BEEN AWARDED, AND IN PLAYING AND ATTENDING THE GAMES IN AN ATMOSPHERE OF SPORTSMANSHIP AND FRIENDSHIP BEFITTING THE MEMORIES OF BILLY KAYSER AND ALICIA BRADY, WHO EXCELLED IN THOSE QUALTIES. See the Our Town post-Kayser/Brady tournament article by John Thompson
CONGRATULATIONS TO THE 2014 PRLL DIVISION CHAMPIONS !!

Major Boys: GIANTS

Major Girls: PRIDE

Boys AAA: ROYALS

Girls Minors: INFERNO (see page bottom)

Boys AA: RANGERS

SEE PHOTOS OF BOYS' DIVISION CHAMPIONS

CONGRATULATIONS to Team "Inferno" on winning the Minor Girls TOC Championship

at Nanuet on June 18!!!

The girls beat the host team, Nanuet, on Tuesday 11-7

and again on

Wednesday, 9-3.

The team is managed by Mike Woods, and coaches are

Anthony Esposito, Billy Donnelly and Marc Travaglino

SEE BRACKETS FOR DISTRICT 18 TOURNAMENTS

Click this link to check the progress of PRLL's teams in the All-Star Tournament (including District 18 and Section 4 titles for the 11 year-old girls)

The 11 yr-old girls won their opener in the NY Section 4 tournament, 15-3 over Pine Bush, with help from Grace O'Hanlon's grand slam homer and a one-hitter from pitcher Julia Kinnally.

The 11yr-old girls won the NY Section 4 Championship defeating Wappinger Falls 11-0. The team pounded out 12 hits behind a combined no hitter from Kinnally and Barresi. They advanced to the title round of the NYS Finals in Chatham NYand finished second in NY State.

The 9 yr-old boys and girls played in the Kayser-Brady Memorial Tournament July 13-24 at Anderson Fields.
***************************************************************************
Questions for Parking or Hopper (kitchen):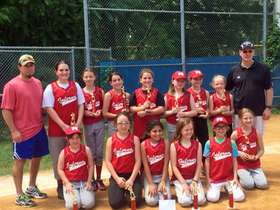 2014 Girls Minors & T of C Champs