California Blues- Shock 96 (U18 GIRLS - 2013/2014): Welcome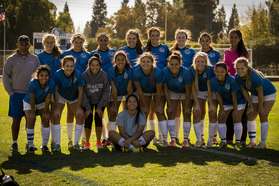 2013 Nor Cal Premier Fall League Champions!
Saturday, November 16
U18G California Blues Shock 96 (Ortega)
---
Shock 96 is a CYSA Division I and US Club competitive team. Our team embraces the mission of our club, California Blues. As a team we strive to develop our technical, tactical, physical, and psychological skills. We demand honor and respect for all those involved in this "beautiful game" not only on the field but off the field. For more information about our team, please email our coach Luis Ortega at OrtegaJLuis11@gmail.com .
---
Notable Accomplishments:
-2013 Nor Cal Premier Fall League Gold Region 6/7/8 CHAMPIONS!

-2013 Pleasanton Rage College Showcase SEMIFINALIST (Gold 2 Division)

-2013 Northern California Spring Showcase FINALIST!

-2012 Placer United Cup Gold CHAMPIONS
-2012 Santa Cruz Beach Championships CHAMPIONS
-2011/2012 Nor Cal Premier State Cup (Silver) CHAMPIONS
-2012 Northern California Spring Showcase Platinum Division SEMIFINALIST
-2012 JJ Minor Memorial Tournament SEMIFINALIST
-2011 CCSL Fall League Valley Gold Division CHAMPIONS (7-0-1 Record)
-2011 Soccer By The Bay SEMIFINALIST


-2011 Davis Legacy College Showcase FINALIST (Championship Division)
-2011 Pro-Am Beach SoccerSEMIFINALIST
-2011 Northern California Spring Showcase Platinum West Division FINALIST
-2011JJ Minor Memorial Tournament CHAMPIONS
-2010 CCSL Regional Gold Division 2nd Place (8-2 Record)
-2010 Nor Cal Premier Spring League CHAMPIONS-Silver Division






---