Orland Knights: General Information
ABOUT US
The Orland Knights Football and Cheerleading program has provided athletic and social opportunities for the youth of Orland Park and surrounding towns since 1981. Orland Knights Football and Cheerleading is a family oriented program that strongly encourages the active participation of immediate and extended family members.
FOOTBALL INFORMATION
Orland Knights are members of the Greater Chicagoland Youth Football Federation and play full contact, tackle football in the Metro Youth Football League. Orland Knights player development philosophy stresses good sportsmanship, mastery of football fundamentals, and teamwork. The goal is to have fun, guide the players toward becoming strong, ethical young men and win games.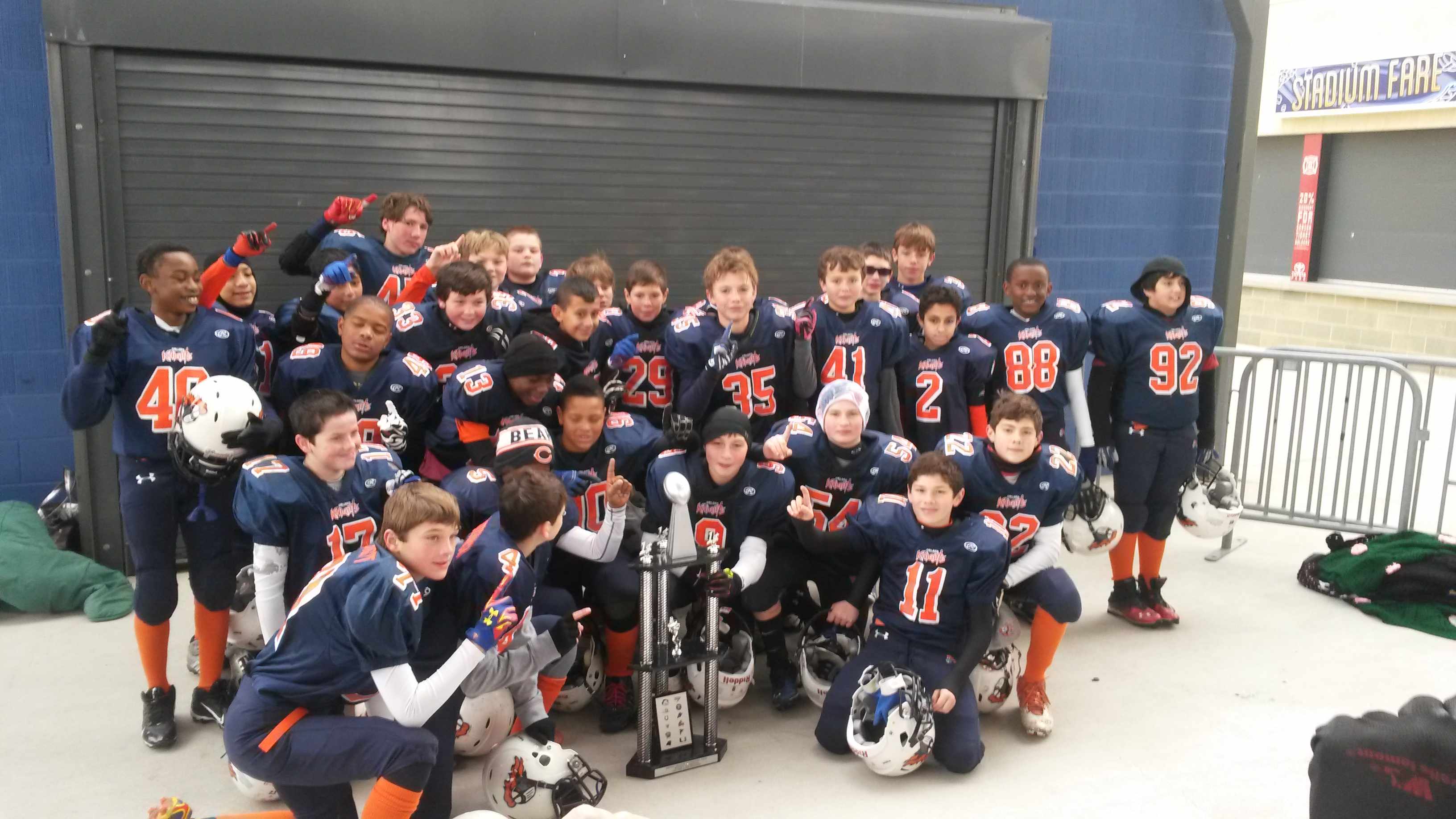 Super Pee Wee: 1st & 2nd Grade, 6-7 years old, cannot turn 8 before Sept. 1, 2015, Max weight 85 lbs.
Pee Wee: 3rd & 4th Grade, 8-9 years old, cannot turn 10 before Sept. 1, 2015, Max weight 100 lbs.
Widget: 5th & 6th Grade, 10-11 years old, cannot turn 12 before Sept. 1, 2015, Max weight 125 lbs.
Junior: 7th & 8th Grade, 12-13 years old, cannot turn 14 before Sept. 1, 2015, Max weight 155 lbs.
CHEERLEADING INFORMATION
The Orland Knights Cheerleading program teaches girls the fundamentals of cheerleading, develops athleticism, and offers camaraderie with other young ladies.
Cheer Lite: Kindergarten, 5 years old
Super Pee Wee: 1st & 2nd Grade, 6 & 7 years old
Pee Wee: 3rd & 4th Grade, 8 & 9 years old
Widget: 5th & 6th Grade, 10 & 11 years old
Junior: 7th & 8th Grade, 12 & 13 years old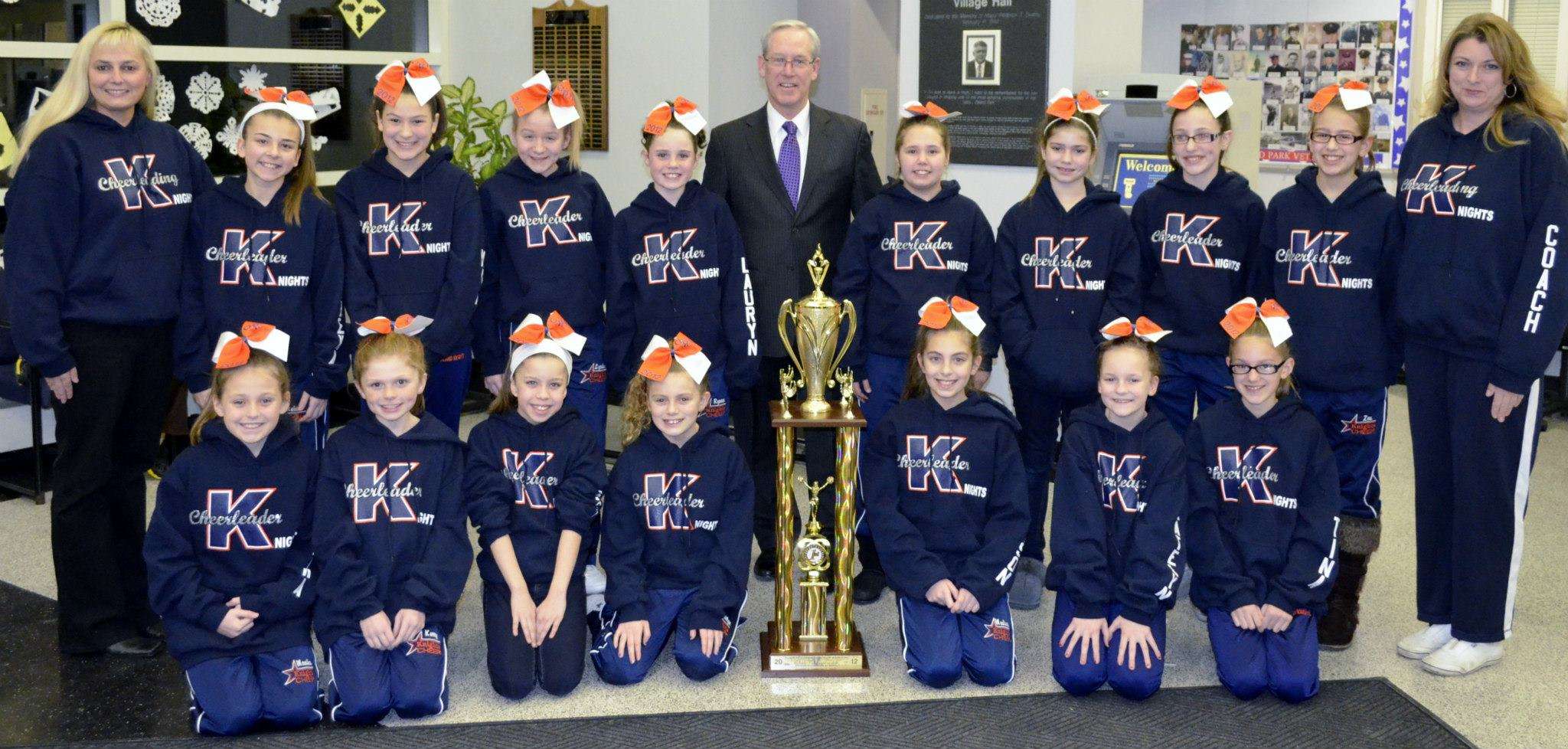 W
GAME TIMES
Unless otherwise specified, games are scheduled to start at the following times. Players and Cheerleaders are required to arrive before each game at the time specified by their coach.
Super Pee Wee Pee Wee Widget Junior
10:00 AM 12:00 PM 1:30 PM 3:00 PM


PRACTICE SCHEDULE
Practices start on Monday August 3, 2015.
Practices are Monday through Friday from 6 p.m.-8 p.m. and Tuesday, Wednesday & Thursday after Labor Day.
Centennial Park (West Ave) Fields 2 & 3.
Attendance at Practice: It is very important to attend practices. We know there are vacations planned and other obligations to attend to, but these practices are critical to a successful season. A big issue with our football team is "wanting players who want to play." If you are playing soccer or baseball, or any other sport at the same time, you need to decide which is more important. Absences due to another sport will be taken into consideration when starting positions and playing time are determined. Once the season begins, we will only practice 3 days a week. If you do not attend the last practice before a game, you will not be allowed to start the game on Sunday. This means you will sit out at least the first "series" of plays for the game. If the player taking your spot is playing particularly well, it could affect the next series and beyond, as well.
Position Tryouts: If you would like to try out for a specific position, please bring that issue to a coach either before or after practice. Also, be sure to do this during the first week or two of practice. Please do not ask during practice or at any time on game days.
Equipment: The coaches will instruct you when to start wearing full equipment to practice. If you forget a piece of equipment, you will not be allowed to practice. When you receive your equipment, please take the time to try it all on, making sure it fits and that every piece is where it should be. Please do not chew your mouth guards!! You will be given one at equipment handout, and any mouth guards after that will have to be purchased.
Water: The weather will most likely be quite warm during our practice, so please remember to bring water (or Gatorade) to practice. Each player is responsible for bringing his own drink. We will take plenty of water breaks, and each player needs to have something to drink. Also, we ask that players be careful of what they eat before practice. It is good to not eat for at least 2 hours before the start of practice.
Attitude: The coaches will be looking for players with good "football attitudes." This attitude includes a willingness to listen, a desire to play good, hard-nosed football, and good sportsmanship. This is a complex game that involves a lot of players, and it takes a lot of hard work to be successful as a team.
Playing Time: The amount of playing time for each player will be determined by several factors. As stated above, attendance at practice is a big one. Attitude displayed at practice is another big consideration. The number of players on the roster we have going into the season will also be considered. We will do our best to see that each player gets playing time during each game. Our
Team Goal: We play in a very competitive league. It is no secret that there are teams in our league that will not guarantee anyone any playing time at all. They play to win, period. As stated above, we will try to get every player into each game. However, we will be trying to win games as well. This is a fun game, and the coaches will do everything in their power to keep it fun. At the same time, we cannot lose sight of the competitive nature of the game. The coaches will find that perfect balance of having fun and being competitive at the same time.