Orcutt Babe Ruth: Welcome
Friday, July 7
2017 ALL-STARS
2017 13-Year Old Babe Ruth All-Stars
The 13-year old Babe Ruth District All-Star Tournament hosted by Lompoc Babe Ruth has completed with the Lompoc 13s winning the District 6 Championship. (Note: some scores were not retrieved for the 13-yr old bracket, however scores were entered as 1-0 for the winner to advance the bracket. 1-0 scores may not reflect the actual score)
2017 14-Year Old Babe Ruth All-Stars
The 14-year old Babe Ruth District All-Star Tournament hosted by Orcutt Babe Ruth has completed. Congratulations to the Orcutt 14s on winning the District 6 Championship!
2017 15-Year Old Babe Ruth All-Stars
The 15-year old Babe Ruth District All-Star Tournament hosted by Santa Maria Babe Ruth has completed with the Lompoc 15s winning the District 6 Championship.

FIELD MAINTENANCE
Thank you coaches, parents, and players for putting in time to dress the field after each game, and pre-game preps. Your efforts contribute to the quality conditions of the field to provide a safe playing surface and keep maintenance costs down. Your effort and time is appreciated.
Important Dates and Information - 2017
******All new players to Orcutt Babe Ruth must bring Original Birth Certificate and proof of residency inside our boundaries or a report card prooving the player attends an Orcutt School. Parents will also need to sign a Consent to Treat form.
Season: Playing season April 1, 2017 through mid-June.
Background Checks: The league completes sex offender registry checks on all board members, managers, coaches and other persons assisting teams and/or having regular access to your kids.
Coaching Certifications: All managers and coaches in Babe Ruth baseball must complete or have already completed the Babe Ruth baseball coaching certification process. The certification can be completed online at the following link: http://www.baberuthcoaching.org/coaches/. You will need to purchase the program which is approximately $20. Once you have completed the certification and have provided Orcutt Babe Ruth with copy of your certification we will fully reimburse you for the cost.
Babe Ruth Bat Requirements: The latest policies regarding bats compliant for 13-15 year old Babe Ruth play can be found at the following link: http://www.baberuthleague.org/bat-rules.aspx.
Scorekeeping: Home teams are responsible for providing a scorekeeper for their game. Failure to provide a scorekeeper may lead to game forfeiture. For a tutorial on how to keep a score book please visit the following link: http://www.eteamz.com/vadistrict5/files/keepingscorebaseball04wo.pdf
Regular Season Rules Reminder
(refer to the 2017 Babe Ruth League, Inc. Baseball Rules and Regulations & Official Playing Rules booklet for complete wording and other rules) Page 11 - 0.06
Pitching Limitation - Local League Play SUMMARY: 0.06.1 - Pitchers can pitch 7 innings maximum per calendar week 0.06.2 - The calendar week is Monday thru Sunday 0.06.3 - If a pitcher has pitched in more than 3 innings in a game, that pitcher must have 2 days rest before pitching in another game 0.06.4 - Games where an ineligible/illegal pitcher pitches will be forfeited
Substitution Summary (refer to Re-Entry Rule and Explanation page 12; Rules 3.03, 3.04, 3.05, 3.06, 3.07, 3.08, and 4.04) - A 9-man batting order is to be used. Substitute players must play 9 consecutive defensive outs and bat once before removal from the game for the player substituted for to re-enter (re-entry ONLY in the same batting order spot).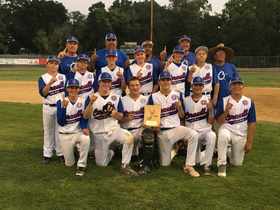 2016 Orcutt Babe Ruth 13-yr old All-Stars - Central California State Champions
Wednesday, June 14
2017 13-Year Old District Tournament
Wednesday, June 14
2017 14-Year Old District Tournament
Wednesday, June 14
2017 15-Year Old District Tournament