HONOR THE GAME




Welcome to Optimist Lacrosse, a community lacrosse program sponsored by the Rose Tree-Media Optimist Club for boys and girls, grades 1-8, who reside in the Rose Tree-Media School District. Founded in 1987, we are a charter member of the Southeastern Pennsylvania Youth Lacrosse Association ("SEPYLA") for boys and a member of the Philadelphia Area Schoolgirls Association ("PAGLA") for girls.

Through teaching and playing competitively the Native American game of lacrosse, we strive to instill in our players a sense of dedication, self-discipline, self-confidence, appreciation for hard work, teamwork and other values expressed in the Optimist Creed. Lacrosse, by its very nature, demands much in the development of the skills to be able use one's stick effectively and in physical effort. At all times, we seek to "Honor the Game" of lacrosse by effort, enthusiasm and sportsmanship. While we do not always "play to win", we always demand that players play like they want to win.

Current news about registration and events is on "My Site News" which can be accessed from the menu on the left. Specific information about our programs, equipment and the sport itself can be found under "Handouts" , also on the menu on the left. We hope that you will, at least, encourage your son or daughter to give lacrosse a try.



Saturday, April 18


One Week to Laxapalooza!






Saturday, April 25 is a very special day for new and old members of our lacrosse community. Optimist boys and girls youth teams, Optimist and Penncrest lacrosse alumni and the Penncrest Girl's and Boys' Varsity and Junior Varsity teams play to honor the game of lacrosse. To add to the celebration, the Penncrest Optimist Club is presenting a music festival. All funds raised today are for the NK Smiles Scholarship Fund. This scholarship was named for the late Norman Kelly, Jr., a beloved teacher, coach and friend.

Parents and friends too can "Honor the Game" and assist in our efforts to raise funds for these scholarships in three ways:

1. Volunteer a few hours of your time. Sign up through this link:

http://www.signupgenius.com/go/30e0944aeaa23a75-volunteers2

2. Donate food or beverages to the Snack Bar through this link:

www.SignUpGenius.com/go/10C0F4CACAF2BA64-20141/

3. Make a tax-deductible donation directly to the N.K Smiles Scholarship Fund through this link: http://www.penncrestlaxstore.com/Laxapalooza_Donation/p2969663_14021567.aspx

Many Thanks



Saturday, April 18


Optimist Lacrosse Teamwear on Sale Now!






For sale until April 28 is a wide variety of Optimist shirts, hoodies, sweats, jackets and hats. Please use this link to check it out and order:

https://optimist.itemorder.com/sale



Saturday, December 28


Click Here to Register for The Spring Lacrosse Season






This link will connect you with our on-line registration system offered through League One:

https://active.leagueone.com/Olr/Pages/Welcome.aspx?ClubId=13976



Monday, June 9


Congratulations Penncrest Boys Lacrosse Team - 2014 State Champions




Congratulations to the 2014 Penncrest Boys Lacrosse team and the coaches for winning the Pennsylvania Lacrosse Championship. All the players started playing with Optimist Lacrosse. The formula that makes champions is very clear: practice, heart and teamwork.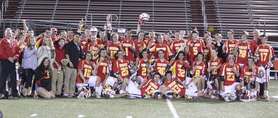 2014 Pennsylvania State Champions
Message From Onondaga Redhawks
The Onondaga tribe is one of the six members of the Iroquois Nation. In 1994, Optimist Lacrosse players and families hosted Onondaga players in a weekend of friendly competition. The following Statement appears on their lacrosse website. It explains why lacrosse is more than just a game.
Lacrosse is a game that has been played by the Onondagas and the Haudenosaunee people for countless centuries. The Onondagas consider the game to be a very spiritual game given to them by the Creator and is still played at Onondaga as a spiritual and healing game for the people. In the late 1800's at Onondaga, the Haudenosaunee prophet named Handsome Lake requested the game of lacrosse be played as one of his last wishes before he made his journey back to the Creator's land. The game was played in his honor and assisted him to fulfill his journey.
The Onondagas call the game Dey-Hon-Tshi-Gwa'-Ehs which translated to mean, "they bump hips". The young people are told by the elders that the game is to be respected and to respect your opponent as they also have been given the gift to play the game. Players of all ages from Onondaga participate in an annual spiritual game. The game is played for the spiritual benefit of the Nation and for all those who play the game.
The Onondagas have a long and proud tradition of playing the game and extend their hand to everyone to join them in preserving and playing the oldest team sport in North America,
Dey-Hon-Tshi-Gwa'-Ehs
Optimist Creed
Promise Yourself-
To be so strong that nothing can disturb your peace of mind.
To talk health, happiness and prosperity to every person you meet.
To make all your friends feel that there is something in them.
To look at the sunny side of everything and make your optimism come true.
To think only of the best, to work only for the best, and to expect only the best.
To be just as enthusiastic about the success of others as you are about your own.
To forget the mistakes of the past and press on to the greater achievements of the future.
To wear a cheerful countenance at all times and give every living creature you meet a smile.
To give so much time to the improvement of yourself that you have no time to criticize others.
To be too large for worry, too noble for anger, too strong for fear, and too happy to permit the presence of trouble