Oconee United: Our Sponsors
Clemson Family Dentistry
875 Old Clemson Highway
Seneca, South Carolina
29678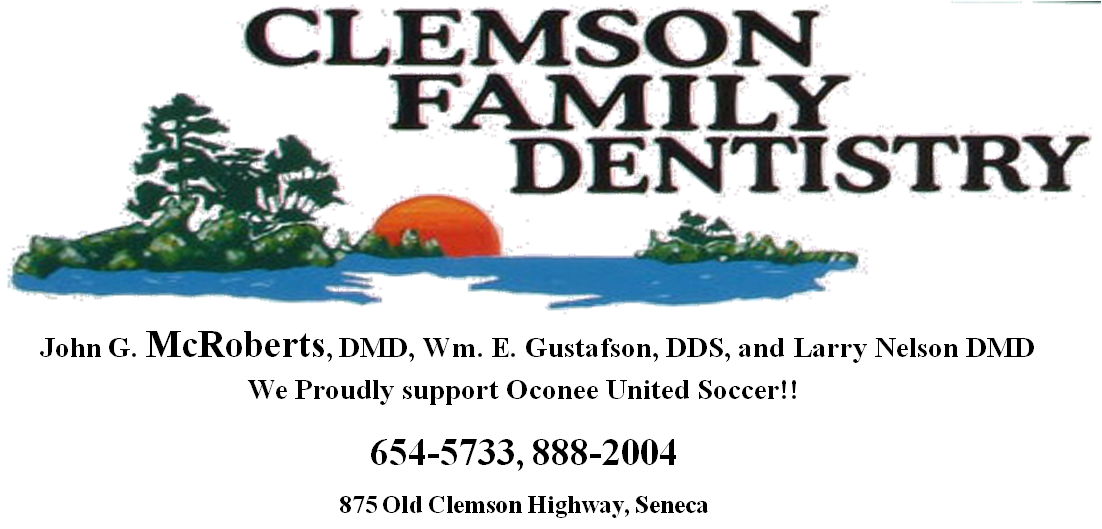 Diamond T
604 Hwy 182
Fair Play, South Carolina
29643


Diamond T is a FULL line embroider, with 20 embroidery machines and three screen printing machines to provide school and sport apparel.

Estes Heating and Air
1011 Anderson Street
West Union, South Carolina
29696


Lake Keowee Dental
304 N Catherine Street
Walhalla, South Carolina
29691


You can't always judge a book by its cover. Take Lake Keowee Dental, for example. Some people see our clean, modern offices and state-of-the-art dental technology and assume that we are expensive. We're not. Other people see our location in Walhalla, SC as being too far away. It's not. In fact, our patients come from as far away as Georgia and North Carolina and beyond. They come for our exceptional care, our warmth, our friendliness and our beautiful results. No matter where in the world our patients come from, their friends and neighbors always see them coming... a smile away.
Phone: 864-638-6690

Marcengill Insurance Agency, Inc.
721 West North First St
Seneca, South Carolina
29678



Phone: (864) 882-8373
Real Estate of America
110 Catherine Street
Walhalla, South Carolina
29691

Reflections Auto Glass
3249 S Highway 11
Westminster, South Carolina
29693

Subway
The Appliance Guys
202 Park Avenue
Salem, South Carolina
29676


Do you need to have your home appliances repair? Do you want reliable, factory-trained technicians who provide professional in-home service? Do you hope their company stands behind its guys with a 60-day warranty? Do you dream of a company that values your time? If any answer is "yes", call The Appliance Guys!
Phone: 864-888-7791
Upstate Adventure Boot Camp
Westminster Music Hall
101 West Main Street
Westminster, South Carolina
29693



Phone: 864-784-1857