Oakland Baseball Club: Welcome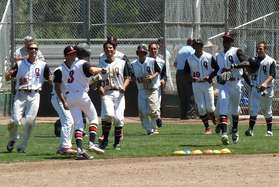 OBC celebrates early-season win
Welcome to the site for the
Oakland Baseball Club (OBC)
. OBC is not a baseball academy, not a showcase team, nor are we a recreational league team. We are a baseball team comprised of coaches and players with the focus of playing fundamental baseball the way it was meant to be played—
HARD!!


OBC competes in the 18U Northern California Connie Mack Summer League, one of the most competitive 18U baseball leagues in the country, and in the new 16U Mickey Mantle League.

OBC's 18U team plays in the Coastal League against the California Smoke, Headfirst Bercovich and Alameda Black Sox. These teams all have excellent reputations.
Other teams in the Northern California Connie Mack Summer League are Club All Star, Danville Hoots, Delta Indians, Trosky East Bay Lookouts, EDH Vipers, EJ Sport Warriors, Lodi Baseball, Nor Cal Baseball, Club Payter's Grill, Sonoma County Rebels and West Lane Mets.

The Mickey Mantle League for 16U teams also includes the Danville Hoots, Trosky East Bay Lookouts, EDH Vipers, EJ Sport Titans, Hard 90, Headfirst Gamers, Nor Cal Baseball, Sonoma County Rebels and Treasure Island Pirates.

The Mickey Mantle League will provide a very competitive environment for players with aspirations to be outstanding varsity high school players.
While we understand the importance of winning in competitive sports, our focus is on winning through player development. We cannot promise "the yellow brick road" to the next level but we can deliver the platform for players to be seen as they develop their skills, gain valuable game experience and measure their skills against some of the best competition in Northern California and the West Coast!
Our all-wood bat schedule is always very competitive and ambitious (See our game schedule). In addition to Connie Mack summer league games, OBC plays in such Northern California tournaments as the NorCal Select Summer Kickoff, Hardtke Summer Series and Headfirst Tourney. The 16U Mickey Mantle team will also play in three Northern California tournaments. Competition is against top regional opponents.
The summer concludes for the 18U team at the weekly-long Phil Singer Summer Classic, its annual season-ending tournament in the San Diego area, when it plays teams from all over the nation!
OBC plays its home games at Bishop O'Dowd High School. League and tournament games are played at fields such as, Santa Clara University, University of San Francisco, St. Mary's College, Sacramento State University, University of Pacific, UC Davis and other top baseball parks.
Since its inception in 2007, OBC has drawn players from the Oakland high schools and surrounding communities in the East Bay.
If this platform speaks to you, contact us here at Oaklandbaseballclub@gmail.com for more information about our program. We appreciate your interest and most of all we hope to see you at the yard this summer!