Chicago Out Burst Girls Fastpitch Softball: Welcome
Chicago Out Burst Tryout 16-18U Sunday Aug 24th 12:30-3:30 Onahan Grade School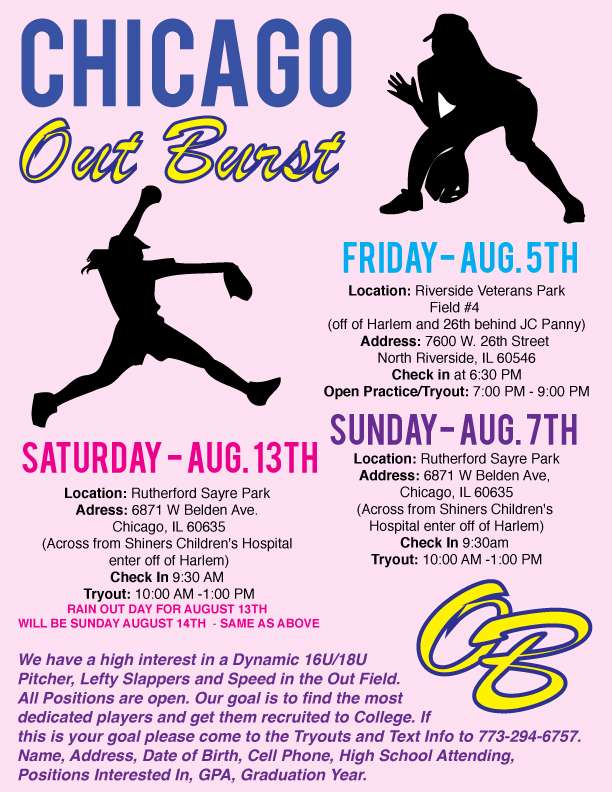 Chicago Out Burst 18U Gold Team is looking for a
Strong #1 Pitcher
who is looking to play in college and wants to get a lot of pitching time and exposure. We attend many college exposure events and will help assist you in the recruiting process. We play in Gold, PGF and ASA events.

Some of the College Exposures Events are:
Pennsbury Invitational Showcase
Sparks Pumpkin Fest College Exposure
Betcher DeMarini Play for You College Exposure
Blue Chip College Exposure
St. Louis Fall Showcase
Ohio Buckeye Elite Showcase

We also attend other events such as Midwest PGF in Indianapolis, Naperville PGF, Moline ASA, Elk Grove PGF, Chicago Metro ASA.

We have access to NFCA College Recruiting Camps in Pennsbury, Ohio Stingrays and Betcher Play For You College Recruiting Camps. We offer a great path to college recruiting and help you along the way.
If interested please email or text Eileen to talk more about the spot. Email at outburst007@aol.com or text at 773-294-6757.
*********************************************
TRYOUTS SATURDAY AUGUST 16TH, 2014



Any questions please contact Eileen via email at outburst007@aol.com or text at 773-294-6757.
*********************************************
FOR FURTHER TRY OUT INFORMATION & DETAILS ABOUT
TEAM OUT BURST SOFTBALL
LIKE US ON FACEBOOK
AT CHICAGO OUT BURST
www.facebook.com/ChicagoOutBurstSoftball
*********************************************
CHASE MACHAIN #9: LEWIS UNIVERSITY, ILLINOIS

HANNAH RHEA #80: LAKELAND COLLEGE, WISCONSIN
BETH CHELMOWSKI #40: DEPAUW UNIVERSITY, INDIANA
TATIANA GONZALEZ #30: LAKELAND COLLEGE, WISCONSIN
EMALY BURNS #55: DOMINICAN UNIVERSITY, ILLINOIS
*********************************************
*********************************************
14U Chicago Out Burst at Nationals in Columbus, Ohio
12U playing in the playground - 2013
Dont Stop Believin by Journey