Oak Creek Knights Baseball: Welcome
Oak Creek Knights Baseball
WIAA State Champions 2003, 2004, 2005, 2012
Conference Champions
1975, 1979, 1988, 2003, 2005, 2006, 2008, 2009, 2011, 2013, 2014, 2015
Thursday, July 23
Ellifson's 70 career walks already a school record!
Junior DJ Ellifson has compiled a school record 70 walks through his first three varsity baseball seasons. The previous record of 59 career walks was held by Bryan "Buzz" Gitlewski, who set the mark in three varsity seasons (2000-2001, 2003). Gitlewski missed all of the 2002 season with a torn labrum. With one more season to play, Ellifson is sure to add to a total that will be very difficult to touch!
Thursday, July 23
2015 Offense sets school record for walks with 185 (previous record of 152 came in 2009)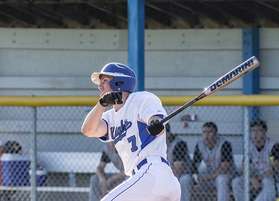 Doran Turchin: The first 40-40-40 Knight
Thursday, July 23
Turchin becomes the first 40-40-40 player in school history
For those that were able to witness Doran Turchin's game winning two run walk-off double against Greendale in the sectional final, it should come as no surprise that the senior captain is among one of the greatest Knights to ever put on an Oak Creek baseball jersey. If further proof was needed, Turchin became the first player in school history to collect 40 or more hits, runs, and RBI's in the same season. In 2015, Turchin collected 40 hits, 41 runs, and 40 RBI's.
The four year starter also broke four career school records:
Games Played: 127 (previous record of 118 held by Josh Jesko)
Hits: 146 (previous record of 140 held by JT Schneider)
RBI's: 121 (previous record of 92 held by Tony Harper and Eric Semmelhack)
Total Bases: 219 (previous record of 217 held by JT Schneider)
Thursday, July 23
7 Knights recognized by GMC coaches on All-Conference Team!
1st Team Pitcher: Matt Hamilton (Junior)
1st Team Infield: Alex Binelas (Freshman)
1st Team Infield: Doran Turchin (Senior)
1st Team Outfield: Josh Duchniak (Senior)
2nd Team Pitcher: Mitchel Makarewicz (Senior)
2nd Team Outfield: DJ Ellifson (Junior)
Honorable Mention Catcher: Gannon Goldensoph (Junior)
GMC Player of the Year: Doran Turchin
GMC Coach of the Year: Scott Holler
Thursday, July 23
All Six Seniors earn GMC Senior Scholar Athlete Award
For all the team and individual awards that the Oak Creek Knights earned this season, the most important is the fact that all six seniors graduated with a cumulative grade point average of 3.5 or higher. For their efforts, each of them is recognized by the Greater Metro Conference as Senior Scholar Athletes. Congratulations to the following seniors and we thank you for four incredible years of dedication to the baseball program. We wish you the best next year as each of you moves on to bigger and better things!
Brad Bautch: UW-Whitewater
Josh Duchniak: UW-Madison
Mitchel Makarewicz: Xavier University
Ryan Farr: UW-Whitewater
Doran Turchin: University of Illinois
Steve Stilwell: UW-Whitewater
Thursday, July 23
Knights fall to Sabers in Sectional Final 2-1; finish season with 27-6 record (click headline for article from Oak Creek NOW)
Thursday, July 23
Knights advance to 14th consecutive WIAA Sectional with 10-8 win over Hale...top Greendale in Semi's (click headline for article from Oak Creek NOW)
Saturday, July 4
Turchin locks it down. Senior shuts down B. Central to give Knights sole possesion of conference title!
Click the headline to view the article on the game from the Milwaukee Journal Sentinel.
Thursday, July 2
Three-Peat! Knights are CONFERENCE CHAMPS once again!
For the third consecutive season, the Oak Creek Knights are champions of the Greater Metro Conference. The Knights (21-3 overall, 13-3 GMC) defeated West Allis Hale 4-3 Tuesday night at Hale to claim not only their third straight title, but their 8th conference championship in the past 11 seasons.
The Seniors led the way in this one. Senior Mitchel Makarewicz turned in his best performance of the season on the mound in going six strong innings. Mak struck out six and walked only two batters while scattering four hits. The turning point in the game came in the bottom of the fifth inning when Hale put runners on second and third with nobody on base, trailing the Knights 3-1. Mitchel responded by striking out the next three batters to end the Hale threat. After an RBI single by Junior Matt Hamilton in the top of the seventh made it 4-1, Hale mounted a comeback in the bottom of the seventh inning. With the tying run on second and two outs, Senior Doran Turchin was summoned to the mound to record the final out by getting Hale's cleanup hitter to ground out to Joey Ricther at third base to end the game. Senior Josh Duchniak recorded two hits and an RBI on the night to continue his outstanding senior campaign. The Knights now have two conference games remaining in the regular season. They will host Brookfield Central Thursday night at 5:30, which will also be parent's night, and then wrap up the regular season against West Allis Central on the road at McCarty Park at 1:00 on Friday.
Thursday, July 2
Two wins at Whitewater give the Knights their 13th consecutive season with 20 or more wins...a Wisconsin state record!
Thursday, July 2
"Spark plugs" emerge at Whitewater! Kent, Traxel and Fluegel shine, Turchin sharp on the mound!
For the past six season the Oak Creek Knights have traveled to UW-Whitewater at the end of June to close out what always ends up being a long week. And each year, a few unsung heros emerge and seem to step up big for the Knights. This year it was Juniors Alec Kent, RJ Traxel, and Sophomore Dylan Fluegel that rose to the occasion. In game one against Nicolet, Fluegel was masterful for six innings, striking out five hitters while allowing only four hits and two walks to pick up second win of the season on the mound. Dylan also helped himself at the plate, going 1-3 with 2 RBI's. Kent got the start at second base and took advantage of his opportunity. He finished 3-4 with a double and a run scored, boosting his average over .500 for the season. Junior RJ Traxel got the start behind the dish and performed well both offensively and defensively, going 2-3 with 3 RBI's, including a two run double in the fifth to put the game out of reach.
In game 2 of the day, the Knights got off to a 6-0 lead after two innings over Kettle Moraine and didn't look back. Senior Doran Turchin was the story of this one. The senior captain. who bypassed his selection to the WBCA All-Star Classic in order to be with his Oak Creek teammates in Whitewater, shined on the mound and at the plate. In his first appearance on the mound for the season, Turchin turned in a quality start in earning the win. He pitched five innings, struck out six and walked only two batters. At the plate, he went 3-4 to lead the Knights' eleven hit attack and he also scored three runs and drove in two runs in coming up a home run short of the cycle. Freshman Alex Binelas added a 2-3 performance with 3 RBI's as well.
Thursday, July 2
Night to forget at the Falls!
Thursday, July 2
Knight for a Cause raises $2,300 for Autism Speaks foundation
Words can't describe the gratitude and emotion that my family felt last Friday night at Abendschein Park when we saw the support of the players, families, and friends that came out to support our Knight for a Cause game. We raised over $2,300 for Autism Speaks with all of your help and my family as well as other families affected by Autism will be forever grateful.
In our two years of hosting this game, our baseball program has now raised $4,000 for Autism Awareness and research. A special thanks to our seniors for coming up with this idea a few years ago....you are a special group and I will miss each of you dearly next season. Also, thank you to the parents and friends of the program that took the time to bake goods, donate items and work the stand the night of the game. Thank you to the Bleacher Bunch Board members for allowing this game to take place again this year and supporting a great cause. Again, you are all special people with big hearts.
Thanks to Jay Kalski at Ultimate Team Sports for donating the t-shirts that were sold at the game, as well as Jeff and Annette Fluegel of Aqua Spa and Salon for donating back nearly the $300 they won in the 50/50 rafffle. Please click the headline to read the nice piece written by Steve Tietz of the Oak Creek NOW.
-Coach Holler
Thursday, July 2
Knights fall to Franklin 12-8. Sabers capitalize on Knights' rough night on the mound!
Thursday, July 2
Binelas, Mak lead charge over Red Raiders!
A Senior Captain and a young pup led the way on June 25th for the Knights as Senior
Mitchel Makarewicz
pitched five strong innings and Freshman
Alex Binelas
collected three of the Knights six hits in a 6-2 conference win over Tosa East at home. Mak struck out five hitters in five innings and scattered six hits against a feisty Tosa East lineup. Binelas went 3-3 with 2 runs scored and an RBI to his team leading total of 34. Senior firstbaseman and captain
Steve Stilwell
added two RBI's on the night, providing stability for the Knights throughout the lineup.
Thursday, July 2
17 hit attack leads Knights past Marquette! Six Knights collect two or more hits in romp!
4-5, 3-5, 2-5, 2-4, 2-4, 2-2.....that was the offensive box score for the Knights' top six hitters on June 23rd when they defeated conference for Marquette University High School 13-4 at MATC Oak Creek. Senior
Josh Duchniak
kept his average well above .400 for the season with a 4-5 performance that included 3 runs scored and 2 RBI's for the leadoff hitter. Fellow senior
Mitchel Makarewicz
collected 3 hits, including two doubles, 2 runs scored, and 3 RBI's in the contest. Seniors
Doran Turchin
and
Steve Stilwell, Freshman Alex Binelas, and Junior DJ Ellifson
also collected two hits for the Knights in the offensive onslaught. That was plenty of run support for
Junior Matt Hamilton
, who improved to 6-0 on the mound this season by pitching five innings, striking out six and allowing only one walk.
Saturday, June 20
Bats stay hot on Graduation Eve!
Saturday they walked across the stage...Friday night they ran around the bases.....Seniors Doran Turchin and Josh Duchniak got their graduation celebrations started a bit early Friday night as the two combined to go 5-7 with five runs scored and four RBI's in the Knights' 11-4 conference win over Brookfield East Friday night on the road. The win improved the Knights to 16-1 overall and 10-1 in GMC play. In addtion to Duke and Doran, Juniors Matt Hamilton and DJ Ellifson added big nights with Hamilton going 2-4 and driving in four runs, including a three run double in the fourth, while Ellifson went 3-3 with a double and two RBI's.
On the mound, three Knight pitchers held Brookfield East to six hits for the game. Junior Kurtis Sippy battled through three innings before giving way to Sophomore Dylan Fluegal. Fluegal allowed one walk and two hits in two innings of play to earn his first victory of the season. Senior Mitchel Makarewicz pitched two strong innings to close out the Spartans. Next up for the Knights will be Franklin this Monday. The 5:30 contest marks the second annual "Knight for a Cause" game and all the proceeds generated at the game will be donated to Autism Speaks. Hope to see you out at the park Monday night!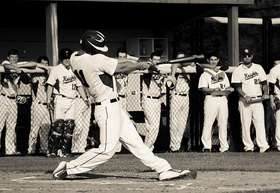 Mitchel Makarewicz
Saturday, June 20
"Grand" victory over Hamilton gives Knights 2 game lead in conference standings!
The second round of GMC conference play began Thursday night at Abendschein Park with first place Oak Creek taking on second place Sussex Hamilton. In what was expected to be a pitcher's dual earlier in the day, turned out to be a good old fashioned slugfest, with the Knights coming out on top 15-7 and taking a two game lead in the conference standings over Sussex. For the first time in school history, the Knights connected for two grand slams in the same game. Senior Doran Turchin connected for the first "grand salomi" with a booming shot to left field in the third inning. The blast put the Knights on top 10-2 and that would add another to carry an 11-2 lead into the sixth inning. Sussex then mounted a comeback of their own to cut the lead to 11-7 with a five run sixth.
As he has done time and time again this season, Senior Mitchel Makarewicz came up with the knockout punch by drilling a line drive grand slam to left in the bottom of the sixth to get the four runs right back and put the Knights up 15-7. Mak finished the game with 5 RBI's while Turchin drove in 4. Freshman Alex Binelas collected two more hits while adding two runs and an RBI, and Matt Hamilton continued his recent surge at the plate going 2-4 with an RBI. Hamilton improved to 5-0 on the mound in earning the victory. Senior Josh Duchniak took nicely to his move to the top of the batting order by reaching base in all five of his plate appearances. "Duke" doubled, walked four times, scored three runs, and drove in one. The win moved the Knights to 15-1 on the season and 9-1 in GMC play.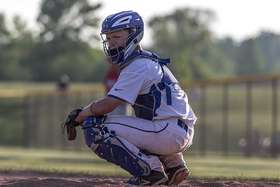 Gannon Goldensoph
Saturday, June 20
Ellifson goes the distance over the Falls!
Junior
DJ Ellifson
was magnificent Wednesday night at Abendschein Park as he pitched a complete game in leading the Knights to a 3-2 win over conference rival Menomonee Falls. For the game, Ellifson scattered five hits and struck out four in the victory. A pivotal point in the game came in the top of the sixth when Ellifson struck out Falls' top player Ty Weber looking with runners on second and third with two outs and the Knights clinging to a 3-2 lead. Offensively the Knights were led by senior
Doran Turchin.
After a two out double in the first, Turchin was brought home by Freshman
Alex Binelas
on an RBI single. The with the game tied at 1-1 in the bottom of the fifth, once again it was Turchin who delivered a run scoring triple with one out and then again was driven in by Binelas as he collected his team leading 23rd RBI. Junior
Gannon Goldensoph
lifted his average over .300 for the season, going 2-2 on the night.
Wednesday, June 17
Pictures available from Mrs. Flick! Click headline to view.
Wednesday, June 17
Back on track versus WAC!
The offense continued to be a bit stagnant but the Knights got themselves back in the win column Tuesday night at Abendschein Park with a 7-3 victory over West Allis Central. The Knights (13-1 overall; 7-1 GMC) mustered only four hits int the game, two of which came off the bat of Senior
Josh Duchniak
, who drove in three runs with a double and two run single to lead the Knights offense. Junior
Tyler Bujanowski
battled for four innings to earn the win in his first career varsity start. "Buj" tallied two K's before giving way int he sixth to Sophomore
Dylan Fluegal
. Central took advantage of some Oak Creek errors to cut the lead to 7-3 after six before Junior closer
Joey Richter
struck out the side in the seventh to preserve the victory. The Knights will be back in action Wednesday night at home against Menomonee Falls to wrap up round 1 of the conference season.
Wednesday, June 17
Winning streak snapped at 12 as Knights fall to BC 5-2!
Wednesday, June 17
K'd UP! Hamilton fans 13, carries no-hitter into sixth in win over Hale
Junior Matt Hamilton improved to 4-0 on the season and struck out a career high 13 batters Friday night as the Knights remained undefeated with a 5-0 win over West Allis Hale. Hamilton was nearly perfect into the sixth, having walked only one before giving up his first hit of the game. For the year Hamilton has still not yet allowed an earned run in 21 innings of work. Junior closer Joey Richter closed the door in the seventh in relief. The win improved the Knights to 12-0 overall and 6-0 in the GMC!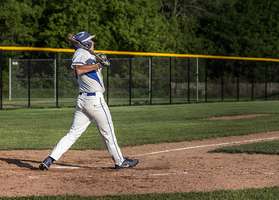 Josh Duchniak
Wednesday, June 17
Knights handle SM behind Duke's Dagger!
Senior
Josh Duchniak
delievered a booming three run home run in the fourth inning last Wednesday to break a 3-3 tie with South Milwaukee and the Knights went on to win the game 10-3. Junior
Kurtis Sippy
picked up the win going four innings and striking out five. Sophomore
Dylan Fluegal
picked up the save throwing three shutout innings of relief, striking out four. Offensively, Junior
Matt Hamilton
had a big night at the plate collecting three hits and four RBI's. Senior
Doran Turchin
and Freshman
Alex Binelas
also added two hits and two runs scored, with Binelas adding two RBI's as well. The win improved the Knights record to 11-0.
Wednesday, June 10
Strong finish gives Knights their best start in school history at 10-0!
For the third straight game the Knights struggled to string hits together and were actually being no-hit by Tosa East as they headed into the fifth inning Tuesday night at Breitlow Field. However, they did hold a 1-0 thanks to some quality baserunning and situational hitting, which has been a staple for the Knights in their school best 10-0 start. The bats finallly awoke in the sixth and seventh as the Knights took a 2-1 lead after six, and 6-1 lead into the seventh. Junior Mitch Magyar battled for 3 1/3 innings without giving up a run but did run into some trouble in the fourth. That's when Tyler Bujanowski worked out of a bases loaded, one out jam by inducing an inning ending double play. Bujanowski was strong in the fifth and gave way to Junior workhorse Joey "The Bulldog" Richter. Joey picked up his first save of the season by pitching two scoreless frames to hold off the Red Raiders. Mitchel Makarewicz, Matt Hamilton, and Josh Duchniak all provided two out RBI hits on the evening, and sophomore Dylan Fluegal also added a pinch hit RBI single in the seventh in his first career varsity at-bat. The Knights now stand at 10-0 overall and 5-0 in the GMC heading into their Wednesday evening non-conference game with South Milwaukee at home.
Note: Junior DJ Ellifson tied 2003 Grad Buzz Gitlewski for the all-time school walks record Tuesday night when he collected the 59th walk of his career.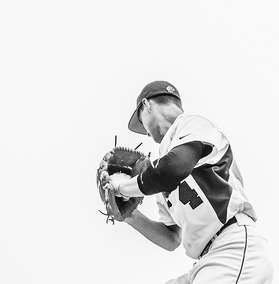 Junior DJ Ellifson
Wednesday, June 10
Ellifson's strong start leads Oak Creek past Marquette!
Junior
DJ Ellifson
turned in a quality start Monday night at Abendschein Park as the Oak Creek Knights defeated GMC rival Marquette University High School 3-2 to improve to 9-0 overall and 4-0 in the GMC. Ellifson pitched six innings, striking out six with only one walk and two hits. Fellow junior
Matt Hamilton
came on in the seventh to pick up his first save of the season. Offensively, the Knights were held in check for most of the Knights with only two hits, however they were able to take advantage of 3 Marquette errors, 6 walks, and two hit batters. Freshman
Alex Binelas
kept his average well above .500 for the season as he collected the Knights only two hits and drove in 2 of the Knights' three runs on the night.
Wednesday, June 10
Offense stays hot in win over IKE!
The Knights (8-0 overall) defeated New Berlin Eisenhower 13-7 in a non-conference game this past Saturday at Abendschein Park. Junior
Kurtis Sippy
was very sharp on the mound, striking out 7 batters in four innings of work, while allowing only one walk to earn the win. Sippy exited the game with a 12-1 lead before IKE was able to string together some hits late and push the game to the full seven innings. Offensively, the Knights were led by Seniors
Josh Duchniak
(2-3, Run, RBI) and
Mitchel Makarewicz
(2-3, 2 runs, 2 RBI). Freshman
Alex Binelas
delivered a big blow when he connectd for a grand slam in the fourth inning, his second home run of the season.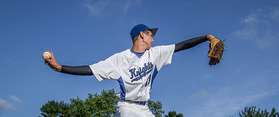 Senior Mitchel Makarewicz
Friday, June 5
School's out, bats out!
The Oak Creek Knights stayed undefeated Friday night as they erupted for 14 runs on 13 hits in a 14-2 victory over rival Franklin. The Knights (7-0 overall; 3-0 GMC) hung a five spot on the Sabers in the first inning and added four more in the second inning to open up a 9-0 lead for Senior righthander Mitchel Makarewicz. The Xavier recruit responded by striking out the side in the first and holding Franklin hitless until the fifth inning when they finally got their first hit of the game. "Mak" improved to 2-0 on the young season in pitching the complete game.
Offensively, a season high five Knights had multi-hit games, led by senior Doran Turchin's 3-5 performance that included two homeruns, six RBI's, and three runs scored. Fellow seniors Makarewicz (2-4; 2B, 2 RBI's) and Steve Stilwell (2-3, 2B, 2 RBI's) were joined by Junior Matt Hamilton (2-4, RBI) and Freshman Alex Binelas (2-4) in leading the offensive outburst. The Knights will be back in action Saturday at 3pm for a non-conference tilt with New Berlin Eisenhower at Abendschein Park.
Friday, June 5
Turning back "the Pack" for win number 6!
The Knights were tested Wednesday night at Abendschein as they took on the Cudahy Packers in a non-conference matchup. The Knights fell behind early 1-0 but rallied in the bottom of the third with three runs on two hits and two walks. Senior
Doran Turchin
singled to drive in Junior
DJ Ellifson
with the first run, and Freshman
Alex Binelas
followed with a single to score Junior
Alec Kent
. Turchin would come around to score on a wild pitch and the score would hold up til the sixth when the Packers cut the lead to 3-2. Cudahy continued to battle and fought back to tie the score in the top of the seventh at 3-3. After two walks and an error by Cudahy in the bottom of the seventh, a wild pitch allowed Ellifson to score the winning run and the Knights extended their winning streak to six games. For the night, five Oak Creek pitchers scattered seven hits while striking out ten.
Friday, June 5
Hamilton shuts down Chargers in early season GMC test!
Junior righthander Matt Hamilton was dominant Monday night at Sussex Hamilton as he pitched a complete game shutout as the Knights defeated the Chargers 2-0. Hamilton (3-0) struck out seven hitters and allowed only one walk and four hits in keeping the Sussex hitters off balance all night long. An RBI single by freshman Alex Binelas in the first inning gave the Knights an early lead on Sussex ace and UWM recruit Alex Fischer. A two out single by senior outfielder Mitchel Makarewicz plated Binelas in the sixth inning to give the Knights a big insurance run before Hamilton shut down a potential Chargers rally in the seventh.
Saturday, May 30
Big Innings lead Knights to GMC opener win!
The Knights did all their damage in two innings Thursday night at Abendschein Park as they opened up conference play against Brookfield East. A four run first and a four run fourth proved to be more than enough for the Knights pitching staff as they defeated the Spartans 8-2. The first inning scoring was highlighted by a two run double from senior shortstop Doran Turchin (2-4; 2 runs; 3 RBI's) and an RBI single from junior catcher Gannon Goldensoph (1-3; RBI). In the fourth inning, Turchin once again drove in a run with a booming triple to center. On the very next pitch, freshman thirdbaseman Alex Binelas (1-3; 2 RBI) connected for his first career varsity homerun as he launched a belt high fastball over the wall in deep right. Senior Josh Duchniak stayed hot at the plate, collecting his second consecutive two hit game in as many nights.
On the mound, senior righthander Mitchel Makarewicz kept the East hitters off balance and collected four K's in five innings of work to earn his first win of the young season. Juniors Mitch Magyar and Joey Richter each tossed scoreless frames to close out the Spartans and move the Knights to 4-0 overall and 1-0 in the GMC. The Knights will look to stay hot when they face Cudahy in a non-conference tilt at Arthur Abendschein Park at 1:00 on Saturday.
Saturday, May 30
Downin the "Dukes"
A highly anticipated non-conference showdown between the Oak Creek Knights and the Whitefish Bay Blue Dukes turned out to be a bit one-sided Wednesday night. The Knights used an eight run sixth inning to break the game wide open and finish off the Dukes by a final score of 13-2 in six innings. This marked the third straight game the Knights had defeated their opponent via the ten-run rule!
Junior Matt Hamilton dominated the Dukes for five strong innings, striking out six and walking none in picking up his second win of the young season. Hamilton's two run double in the third inning broke a 1-1 tie and the Knights never looked back after that. Fellow Junior DJ Ellifson (3-4; 4 RBI, 3 runs) connected for the Knights' first home run of the season in the fourth inning, a towering 2 run shot down the right field line. Seniors Josh Duchniak (2-3; 2 runs, BB) and Ryan Farr (2-2, 3 runs, 2 walks) combined to reach base in seven of their eight plate appearances. Freshman thirdbaseman Alex Binelas saw his impressive string of reaching base in 12 straight plate appearances to start the season snapped in the sixth inning when he hit a run scoring ground out to first. The win improved the Knights to 3-0 on the season.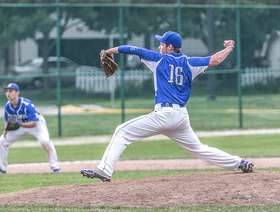 Matt Hamilton was one of several stars for the Knights Saturday
Sunday, May 24
Opening Day downright "OFFENSIVE" for Knights!
The 2015 season opened with a bang for the Knights Saturday night at Frame Park. In the season opener against Waukesha North, the Knights erupted for 11 runs on 11 hits and the pitching staff held the Northstars to one hit as the game ended in an 11-0 victory in five innings. Freshman third baseman Alex Binelas (2-2; 3 runs, 2 walks, RBI, 2 stolen bases) got things started for the Knights in the top of the second inning with a triple to left-center. Junior pitcher Matt Hamilton (2-2; 3 RBI) followed up with a booming double to plate the Knights first run of the night. An RBI groundout by senior outfielder Mitchel Makarewicz gave the Knights a 2-0 lead after two. A two run single by Hamilton highlighted a three run third inning for the Knights and they would tack on six more runs before finally closing the night out 11-0 after five. Junior outfielder D.J. Ellifson collected two booming triples in the game and finished 3-4 with 3 runs scored and 2 RBI's. Senior outfielder Brad Bautch added two hits and two runs scored as he set the table for Ellifson at the top of the order.
On the mound, Hamilton (W, 2IP, 4K's) and Juniors Mitch Magyar (IP, 3 K's), Tyler Bujanowski (IP, K) and Kurtis Sippy (IP, 2 K's) issued only two walks and one hit for the night as Waukesha North failed to get a runner to third the entire game.
In the nightcap against Waukesha South, the Knights picked up right where they left off in game one as they tallied 17 runs on 13 hits and took advantage of 12 walks issued by the Blackshirts. Four Knights collected muti-hit games, once again led by Binelas and Hamilton. Each collected five RBI's in the game. Binelas capped a varsity debut to remember by finishing the twinbill 4-4 with 5 walks, 6 RBI's, 4 runs scored, 3 stolen bases, and reaching base in all nine of his plate appearances. Not to be outdone, Hamilton, collected 8 RBI from the five hole and went 7-7 in quality at-bats. Junior catcher Gannon Goldensoph played outstanding behind the dish in both games and reached base in all four of his plate appearances against South, going 2-2 with an RBI and 2 walks. Senior Ryan Farr started his senior campaign in style as well going 2-2 with 2 runs scored and a stolen base. On the mound, three Knight pitchers battled a tough strike zone for five innings but were able to hold the Blackshirts to three hits. Ellifson earned the win, pitching 2 2/3 innings of relief and ending a South threat in the second inning. Joey "The Bulldog" Richter shut down South in the 5th inning to secure the 17-5 win.
The Knights will travel to Whitefish Bay on Wednesday for a non-conference tilt with one of the top teams in the North Shore conference before opening up GMC play at home on Thursday against Brookfield East.
Wednesday, May 20
Restaurant Vouchers 2015 Season
Please support Oak Creek Baseball by eating at the following sponsors this season. Please clip the coupon and bring it with you to the restaurant and the Bleacher Bunch will receive a portion of the proceeds on that particular evening. Thank you very much to Wendy's, Perkins, and Chili's for being supporters of Oak Creek Baseball.
Handout:
Restaurant Vouchers 2015 Season
Wednesday, May 20
Congratulations to former Knight Jesse Sustachek on being named Honorable Mention All-Conference for UW-Oshkosh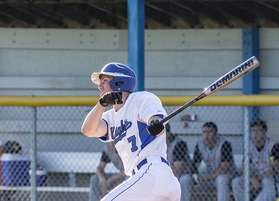 Doran Turchin
Monday, May 4
Doran Turchin named pre-season All-American by Perfect Game Baseball
Knights Senior captain
Doran Turchin
has been named to the Perfect Game USA pre-season All American Team. Turchin, a four year starter for the Knights who will play at Illinois next season, is recognized as a high honorable mention pick nation wide, and a 1st Team All Central Region player by Perfect Game USA. Congratulations to Doran on this recognition!
Monday, May 4
D.J. Ellifson commits to St. Cloud State University
D.J. Ellifson commits to St. Cloud State
Congratulations to Junior OF/P D.J. Ellifson for accepting a baseball scholarship to play college baseball at St. Cloud State University. St. Cloud State is an NCAA D2 school that participates in the NCIS conference. Currently, they hold a 47-3 record and are ranked #2 in the country.
Ellifson, a varsity starter since his freshman year, was named 1st Team All-Conference outfielder as a sophomore after batting leadoff and hitting just under .400 for the season. He also set the school record for walks in a single season and threw a complete game no-hitter while being a mainstay in the Knights conference championship rotation. Congratualations to D.J. and his family on this tremendous honor.
Thursday, January 29
2015 GMC Tournament Championship to played at Kapco Park!
It was recently announced that there will be a new format for the Greater Metro Conference tournament beginning this season. The first two rounds will be hosted at the home field of the highest seeded team, and the championship game will be held at Kapco Park at Concordia University, the site of the annual State Summer Tournament. The GMC is excited about the excitement this new tournament format will bring to its players and fans!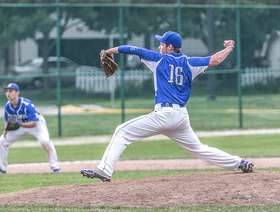 Matt Hamilton commits to Illinois State
Saturday, January 24
Matt Hamilton commits to Illinois State
Junior pitcher/OF
Matt Hamilton
has verbally comitted to play college baseball at Illinois State University. Hamilton is a two year letterwinner for the Knights and is primed to have a big season on the mound and at the plate for the Knights in 2015. Illinois State competes at the division 1 level in the Missouri Valley Conference, and last season had 7 players selected in the MLB draft and sign professional contracts. Congratulations to Matt and his family on the scholarship!
Wednesday, January 7
Former Knight Hayden Krimmer signs contract with Eau Claire Express
Former Knight Hayden Krimmer
Hayden Krimmer, a 2013 OCHS graduate, has signed a contract to play baseball for the Eau Claire Express next Summer. The Express play in the Northwoods League that features some of the top college talent from around the country. Hayden was a part of the 2012 OCHS WIAA state baseball championship team, and 2 time 1st team all-state player.
He currently attends Winona State University. Hayden's Freshman season yielded a 5-3 record, with a team high 37 strikeouts. Hayden finished the season with a complete game victory against Wayne State University to take the WSU Warriors into the NSIC conference championship. The Eau Claire Express are scheduled to play the Lakeshore Chinooks at Kapco Field June 9th and 10th. Congratulations to Hayden and his family on this great accomplishment as he continues his baseball career!
Wednesday, December 31
New 8' fence installation complete at Abendschein
Since 2005 Abendschein Park has received consistent upgrades to the baseball facility. Included in those upgrades has been the addition of dugouts, twenty foot professional foul poles, outfield wind screen, electric scoreboard, batting cage with synthetic turf, sponsor banners, a bullpen fence, a new backstop screen, a bathroom and concession building with actual running water and electricity, and now.....an 8 foot high fence all around the field.
Many thanks to Bleacher Bunch president Steve Bautch for spearheading this fencing project and the Bleacher Bunch board and members for their support. Also, a big thank you to the City of Oak Creek, and the Oak Creek-Franklin School District for their joint efforts in helping make the new fence a reality.
Wednesday, December 31
Makarewicz and Turchin sign national letters of intent
Mitchel Makarewicz and Doran Turchin sign their LOI next to '12 state trophy
Seniors
Mitchel Makarewicz
(Xavier University) and
Doran Turchin
(University of Illinois) signed their national letters of intent in front of family and friends at Oak Creek High School on November 12th. The four year varsity letter winners posed for a picture next to the 2012 state championship trophy that they both helped bring home three years ago.

All time Knight's leader in hitting, Joey Gribble, named Head JV Coach
Wednesday, December 31
Old Faces in New Places on 2015 Coaching Staff!
The 2015 Oak Creek Baseball coaching staff will feature some familiar faces, with some movement taking place within the program. Long-time coach Joel Paar will serve as a "roving instructor" at various levels in the program throughout the season. Stepping in as head coach of the Junior Varsity squad will be veteran varsity assistant and former all-state Knight, Joey Gribble. He will be assisted on the JV once again by another former Knight and current collegiate player at Culver-Stockton University, Ryan Ungerecht.
Taking over Gribble's role as director of in game scouting will be 2014 grad and all conference performer, Matt Hargreaves. Veteran assistants Warren Smith and Tyler Zemla will also be back with the varsity squad in 2015. The program is excited about these changes as the program continues to add assistants that were former players and always did things the "Knight Way" during their playing days at Oak Creek and can teach the game and program philosophies at a high level.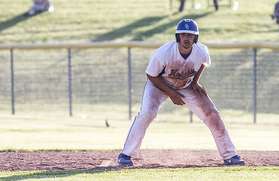 Matt Hargreaves returns in 2015 as assistant coach