Oak Creek Knights Baseball: Welcome
Oak Creek Knights Baseball
WIAA State Champions 2003, 2004, 2005, 2012
Conference Champions
1975, 1979, 1988, 2003, 2005, 2006, 2008, 2009, 2011, 2013, 2014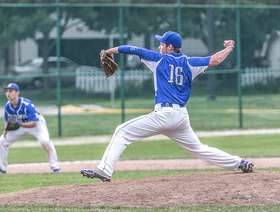 Matt Hamilton was one of several stars for the Knights Saturday
Sunday, May 24
Opening Day downright "OFFENSIVE" for Knights!
The 2015 season opened with a bang for the Knights Saturday night at Frame Park. In the season opener against Waukesha North, the Knights erupted for 11 runs on 11 hits and the pitching staff held the Northstars to one hit as the game ended in an 11-0 victory in five innings. Freshman third baseman Alex Binelas (2-2; 3 runs, 2 walks, RBI, 2 stolen bases) got things started for the Knights in the top of the second inning with a triple to left-center. Junior pitcher Matt Hamilton (2-2; 3 RBI) followed up with a booming double to plate the Knights first run of the night. An RBI groundout by senior outfielder Mitchel Makarewicz gave the Knights a 2-0 lead after two. A two run single by Hamilton highlighted a three run third inning for the Knights and they would tack on six more runs before finally closing the night out 11-0 after five. Junior outfielder D.J. Ellifson collected two booming triples in the game and finished 3-4 with 3 runs scored and 2 RBI's. Senior outfielder Brad Bautch added two hits and two runs scored as he set the table for Ellifson at the top of the order.
On the mound, Hamilton (W, 2IP, 4K's) and Juniors Mitch Magyar (IP, 3 K's), Tyler Bujanowski (IP, K) and Kurtis Sippy (IP, 2 K's) issued only two walks and one hit for the night as Waukesha North failed to get a runner to third the entire game.
In the nightcap against Waukesha South, the Knights picked up right where they left off in game one as they tallied 17 runs on 13 hits and took advantage of 12 walks issued by the Blackshirts. Four Knights collected muti-hit games, once again led by Binelas and Hamilton. Each collected five RBI's in the game. Binelas capped a varsity debut to remember by finishing the twinbill 4-4 with 5 walks, 6 RBI's, 4 runs scored, 3 stolen bases, and reaching base in all nine of his plate appearances. Not to be outdone, Hamilton, collected 8 RBI from the five hole and went 7-7 in quality at-bats. Junior catcher Gannon Goldensoph played outstanding behind the dish in both games and reached base in all four of his plate appearances against South, going 2-2 with an RBI and 2 walks. Senior Ryan Farr started his senior campaign in style as well going 2-2 with 2 runs scored and a stolen base. On the mound, three Knight pitchers battled a tough strike zone for five innings but were able to hold the Blackshirts to three hits. Ellifson earned the win, pitching 2 2/3 innings of relief and ending a South threat in the second inning. Joey "The Bulldog" Richter shut down South in the 5th inning to secure the 17-5 win.
The Knights will travel to Whitefish Bay on Wednesday for a non-conference tilt with one of the top teams in the North Shore conference before opening up GMC play at home on Thursday against Brookfield East.
Thursday, May 21
1st Annual Bleacher Bunch Bean Bag Toss Tournament
Handout:
Bean Bag Tournament
Wednesday, May 20
Oak Creek Baseball Apparel now available for ordering on-line! Click the KollegeTown files to open and view the two different on-line stores!
Anyone may order from either store. Stores will be open for 10 days and items will be received within three weeks of the stores closing date. Items will ship to Oak Creek High School and then be distributed by Coach Holler.
Handout:
KollegeTown On-Line Stores
Wednesday, May 20
Restaurant Vouchers 2015 Season
Please support Oak Creek Baseball by eating at the following sponsors this season. Please clip the coupon and bring it with you to the restaurant and the Bleacher Bunch will receive a portion of the proceeds on that particular evening. Thank you very much to Wendy's, Perkins, and Chili's for being supporters of Oak Creek Baseball.
Handout:
Restaurant Vouchers 2015 Season
Wednesday, May 20
Congratulations to former Knight Jesse Sustachek on being named Honorable Mention All-Conference for UW-Oshkosh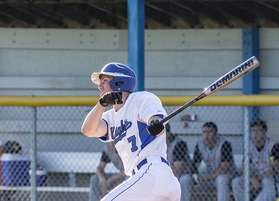 Doran Turchin
Monday, May 4
Doran Turchin named pre-season All-American by Perfect Game Baseball
Knights Senior captain
Doran Turchin
has been named to the Perfect Game USA pre-season All American Team. Turchin, a four year starter for the Knights who will play at Illinois next season, is recognized as a high honorable mention pick nation wide, and a 1st Team All Central Region player by Perfect Game USA. Congratulations to Doran on this recognition!
Monday, May 4
D.J. Ellifson commits to St. Cloud State University
D.J. Ellifson commits to St. Cloud State
Congratulations to Junior OF/P D.J. Ellifson for accepting a baseball scholarship to play college baseball at St. Cloud State University. St. Cloud State is an NCAA D2 school that participates in the NCIS conference. Currently, they hold a 47-3 record and are ranked #2 in the country.
Ellifson, a varsity starter since his freshman year, was named 1st Team All-Conference outfielder as a sophomore after batting leadoff and hitting just under .400 for the season. He also set the school record for walks in a single season and threw a complete game no-hitter while being a mainstay in the Knights conference championship rotation. Congratualations to D.J. and his family on this tremendous honor.
Thursday, January 29
2015 GMC Tournament Championship to played at Kapco Park!
It was recently announced that there will be a new format for the Greater Metro Conference tournament beginning this season. The first two rounds will be hosted at the home field of the highest seeded team, and the championship game will be held at Kapco Park at Concordia University, the site of the annual State Summer Tournament. The GMC is excited about the excitement this new tournament format will bring to its players and fans!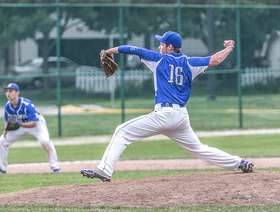 Matt Hamilton commits to Illinois State
Saturday, January 24
Matt Hamilton commits to Illinois State
Junior pitcher/OF
Matt Hamilton
has verbally comitted to play college baseball at Illinois State University. Hamilton is a two year letterwinner for the Knights and is primed to have a big season on the mound and at the plate for the Knights in 2015. Illinois State competes at the division 1 level in the Missouri Valley Conference, and last season had 7 players selected in the MLB draft and sign professional contracts. Congratulations to Matt and his family on the scholarship!
Wednesday, January 7
Former Knight Hayden Krimmer signs contract with Eau Claire Express
Former Knight Hayden Krimmer
Hayden Krimmer, a 2013 OCHS graduate, has signed a contract to play baseball for the Eau Claire Express next Summer. The Express play in the Northwoods League that features some of the top college talent from around the country. Hayden was a part of the 2012 OCHS WIAA state baseball championship team, and 2 time 1st team all-state player.
He currently attends Winona State University. Hayden's Freshman season yielded a 5-3 record, with a team high 37 strikeouts. Hayden finished the season with a complete game victory against Wayne State University to take the WSU Warriors into the NSIC conference championship. The Eau Claire Express are scheduled to play the Lakeshore Chinooks at Kapco Field June 9th and 10th. Congratulations to Hayden and his family on this great accomplishment as he continues his baseball career!
Wednesday, December 31
New 8' fence installation complete at Abendschein
Since 2005 Abendschein Park has received consistent upgrades to the baseball facility. Included in those upgrades has been the addition of dugouts, twenty foot professional foul poles, outfield wind screen, electric scoreboard, batting cage with synthetic turf, sponsor banners, a bullpen fence, a new backstop screen, a bathroom and concession building with actual running water and electricity, and now.....an 8 foot high fence all around the field.
Many thanks to Bleacher Bunch president Steve Bautch for spearheading this fencing project and the Bleacher Bunch board and members for their support. Also, a big thank you to the City of Oak Creek, and the Oak Creek-Franklin School District for their joint efforts in helping make the new fence a reality.
Wednesday, December 31
Makarewicz and Turchin sign national letters of intent
Mitchel Makarewicz and Doran Turchin sign their LOI next to '12 state trophy
Seniors
Mitchel Makarewicz
(Xavier University) and
Doran Turchin
(University of Illinois) signed their national letters of intent in front of family and friends at Oak Creek High School on November 12th. The four year varsity letter winners posed for a picture next to the 2012 state championship trophy that they both helped bring home three years ago.

All time Knight's leader in hitting, Joey Gribble, named Head JV Coach
Wednesday, December 31
Old Faces in New Places on 2015 Coaching Staff!
The 2015 Oak Creek Baseball coaching staff will feature some familiar faces, with some movement taking place within the program. Long-time coach Joel Paar will serve as a "roving instructor" at various levels in the program throughout the season. Stepping in as head coach of the Junior Varsity squad will be veteran varsity assistant and former all-state Knight, Joey Gribble. He will be assisted on the JV once again by another former Knight and current collegiate player at Culver-Stockton University, Ryan Ungerecht.
Taking over Gribble's role as director of in game scouting will be 2014 grad and all conference performer, Matt Hargreaves. Veteran assistants Warren Smith and Tyler Zemla will also be back with the varsity squad in 2015. The program is excited about these changes as the program continues to add assistants that were former players and always did things the "Knight Way" during their playing days at Oak Creek and can teach the game and program philosophies at a high level.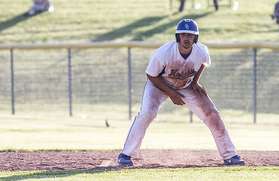 Matt Hargreaves returns in 2015 as assistant coach