Oak Creek Knights Baseball : Welcome
Oak Creek Knights Baseball
WIAA State Champions 2003, 2004, 2005, 2012
Conference Champions
1975, 1979, 1988, 2003, 2005, 2006,
2008, 2009, 2011, 2013, 2014, 2015, 2016, 2017
Friday, March 30
Binelas, Ellifson, Wagner and Wanker to serve as Captains in 2018!
The Oak Creek Knights coaching staff has announced that Seniors
Alex Binelas, Ben Ellifson, Jackson Wagner, and Nick Wanker
have been named the captains of the 2018 varsity squad. Binelas has been a starter on the varsity squad since his freshman year and is committed to the University of Louisville. Ellifson enters his third season on the varsity after being named 1st team All GMC Pitcher in 2017. He is committed to Carroll University. Wagner played a major role in the Knights 2017 GMC championship and 28-4 finish, and will be counted on to provide leadership both offensively and defensively in 2018. Wanker has committed to UW-LaCrosse to pitch next season as the right hander is primed to be one of the top arms in the state this season, as well as contributing at first base!
Thursday, July 13
GMC Tournament Champs! Knights close regular season at 27-3!
Click the headline to view GMC tournament story from NOW newspapers.
Thursday, July 13
GMC Champions for the 5th year in a row!
When the 2015 Knights won the Greater Metro Conference title, they became the first team to win the Greater Metro conference three years in a row. The 2016 squad extended that record with a fourth straight conference title, and now...the 2017 team has extended that ever impressive record even further. With a 2-1 victory over Brookfield Central on June 30, the 2017 squad tied a conference record by finishing the conference season at 16-2 (same record the 2016 squad had)!
Once again it was senior Alex Behr getting it done on the mound as he lowered his conference ERA under 1.00 by scattering four hits and striking out two Lancers. He also picked two runners off of first in the contest. Junior Logan Oelschlager battled through in the sixth and seventh innings to record the save. The Knights managed only three hits all night with an RBI single from Ben Stanke and a sac fly from Jayson Walczak-Zelem providing the only scoring of the evening.
Thursday, July 13
Gehl's 6 RBI night leads offensive onslaught over WA Central!
Senior
Mitch Gehl
had a night to remember June 29th as he drove in 6 runs in a 25-3 Knights win over West Allis Central. Gehl (3-5) collected a two run single in the second, and two run doubles in the fourth and fifth innings. Seniors
Ben Stanke
(2-3; 4 RBI's);
Luke Posig
(3-4, 2 RBI),
Jarrod Kaczanowski
(2-4, 2 RBI), and Junior
Kevin Wolf
(2-2; 3 RBI) all had multi-hit and RBI performances in the route of the Bulldogs.
Thursday, July 13
Holding down Hamilton!
Senior
Dylan Fluegel
turned in his best outing of the senior and junior
Ben Ellifson
slammed the door as the Knights defeated Sussex Hamilton 3-0 at home to move to 19-1 on the season. Fluegel pitched six scoreless innings, striking out a season high 8 while allowing only five baserunners. Ellifson k'd one in the top of the seventh to record the save. Offensively, an RBI single by
Luke Posig
in the fifth and a two run single by Fluegel in the sixth proved to be all the scoring the Knights would need to secure the win!
Thursday, July 13
Mr. Consistent Ben Ellifson strikes again at the Falls!
Click headline link to view article from Steve Tietz.
Thursday, July 13
Knights fall to Brookfield East 5-6!
The 2017 Knights came up three wins short of tying the school record winning streak of 19 when they fell to Brookfield East 5-6 at home on June 20th, ending their winning streak at 16-0. A four run first from Brookfield East was answered by the Knights in the bottom half of the first with a 5 spot, but that was all the runs the Knights would muster as Brookfield East pulled out the victory.
Thursday, July 13
Seniors step up in close win over Tosa East to stretch winning streak to 16!
It was a different affair the second time around with Tosa East as the Knights found themselves deadlocked in a 0-0 tie as they headed to the bottom of the fifth at home on June 17th. With one out in the fifth, senior
Matt Kasar
drew a walk and came round to score on an RBI triple from
Ben Stanke
to give the Knights a 1-0 lead.
Luke Posig
followed suit with a triple of his own in the very next at bat, and then was brought home immediately on an RBI single from another senior,
Bobby Smith
.
Alex Behr
was steady on the mound once again, earning the win by pitching 5 2/3 innings of scoreless baseball, striking out three and walking only two. Junior
Jackson Wagner
came on in relief to pick up the save and preserve the Knights winning streak at 16!
Thursday, July 13
Wild one at Marquette!
Trailing 8-6 in the top of the seventh with one out, senior Bobby Smith worked an impressive walk to start what would turn out to be the Knights' best rallly of the season. Senior Collin Jordan then followed up with reaching on an error by the Marquette third baseman. That set the tone for freshman Gunnar Doyle (2-3; 2 runs, 2 RBI) who hit a booming double to right center to score Smith and put runners at second and third with one out and the Knights now trailing by one.
After senior Dylan Fluegel was hit by a pitch to load the bases, senior Rickey Acevedo was called on to pinch hit. Acevedo responded by ripping the first pitch he saw to right field for a two run single and give the Knights the lead. An error by the rightfielder allowed the ball to get all the way to the wall and bring all three Knights around to score and make it a 10-8 lead as Acevedo ended up at third base.
As if that wasn't enough drama, Marquette cut the lead to 10-9 and had the bases loaded with two outs in the bottom of the seventh with Logan Oelschlager on the mound for the Knights. Facing Michigan State recruit, Peter Ahn, Oelschlager battled Ahn to a full count and finally struck him out looking to end the game and keep the Knights undefeated at 10-0 in the conference and 16-0 overall.
Thursday, July 13
Knights run the table in first round of GMC play with 4-0 win over BC!
The Knights finished the first half of the conference season at a perfect 9-0 in league play as junior
Ben Ellifson
pitched his first career complete game shutout at home. Ellifson struck out five, walked none, and scattered four hits to improve to 3-0 on the mound. It's a good thing Ben was dealing as the Knights offense mustered only 7 hits against BC, with Freshman
Gunnar Doyle (
2-3, RBI) and Senior
Dylan Fluegel
(2-3 RBI) leading the way. With the win, the Knights moved to 14-0 overall.
Thursday, July 13
Six run sixth inning saves OC on the road!
Regardless of their record, the West Allis Hale Huskies always give the Oak Creek Knights a wild game. June 12th was no different. Trailing 5-4 into the fifth inning, the Knights offense woke up and scored six runs to put some distance between themselves and the Huskies in what had been a frustrating game to that point. The Knights managed to score those six runs on only three hits, as Hale pitchers issued five walks in the inning and comitted an error.
Alex Binelas
(4-4; 3 runs; 4 RBI) delivered the knockout blow, a three run triple, as the Knights went on to win the game by a final score of 13-6 just before a wild wind storm took over Belich Field.
Thursday, July 13
Posig gets his wish....earns win on the mound!
For two years
Luke Posig
had lobbied with the coaching staff to start a game on the mound at the varsity level....and on Saturday, June 11th his wish came true. The senior was thrust into action in a long week for the Knights as they took on South Milwaukee on the road. Luke responded with four solid innings, striking out three and not walking a single batter as the Knights defeated the Rockets 12-2 in six innings. Junior
Logan Oelschlager
came on for two innings of work in relief and struck out five of the six batters he faced. Posig led the offenisve attack as well, going 3-4 with 4 RBI's.
Thursday, July 13
11 runs makes it 11 in a row!
Senior
Alex Behr
went the distance on the mound Friday night as the Knights defeated WA Central 11-1 in six innings. "The Behr" held Central to three hits, while striking out 1 and walking only 1 to improve to 3-0 on the season. Junior
Jackson Wagner
went 2-3 with a walk and an RBI, as did
Ben Stanke
, and
Alex Binelas
added three hits, two runs scored, and an RBI for good measure.
Thursday, July 13
The Beat goes on! Knights win 10th straight!
A balanced attack led the Knights to a 7-2 road win on June 8th over Sussex Hamilton. Junior
Alex Binelas
improved to 2-0 on the mound, pitching six solid innings with six strikeouts. Binelas allowed only four baserunners to reach all night. Offensively,
Matt Kasar
(2-3, BB) and
Luke Posig
(2-3, BB) continued to be on base machines, as they each reached base three times, scored a run, and drove in three runs a piece!
Thursday, July 13
Fluegel shines as Knights outhit the Falls 13-3 in lopsided victory!
In the history of the OC-Falls GMC series' over the years, there had never been a game that ended via the 10 run rule...that is until June 7th of 2017. The Knights poured in 8 runs in the first two innings and 12 runs by the top of the fifth to run away with a 12-2 victory at Abendschein Park. Senior
Dylan Fluegel
was dealing on the mound, earning the complete game victory by striking out three and scattering three hits in five innings of work. Five Knights had multi-hit games in the victory:
Matt Kasar
(2-2; 2 runs);
Alex Binelas
(2-3; run, 2 RBI);
Ben Stanke
(3-4; 2 RBI);
Luke Posig
(2-3; HR; 2 runs, 3 RBI); and
Jarrod Kaczanowski
(3-3; 2 runs, HR, 3 RBI).
Thursday, July 13
A Walk in the Park!
Usually when a team scores 15 runs in a game, it meant the offense was really going well. In a 15-2 victory over Tosa East on June 6th, however, the Knights offense actually only collected seven hits, but were the beneficiaries of 12 Tosa East walks. A seven run first inning by the offense that lasted nearly 45 minutes was more than enough for Knights starter
Nick Wanker
. Nick struck out two in three innings to earn his second win of the season. Junior
Alex Binelas
(2-3; triple) and Senior
Ben Stanke
(2-2; HR) each had multi-hit games and drove in three runs a piece.
Thursday, July 13
Ellifson takes down the Spartans!
Junior
Ben Ellifson
turned in a masterful performance on the road at Brookfield East as the Knights moved to 7-0 overall and 3-0 in the GMC with a hard fought 4-2 victory on June 5th. Ellifson struck out six in 6 2/3 innings pitched, with the new pitch count rule the only thing preventing him from picking up the complete game. Junior
Kevin Wolf
came on to record the one out save, his second of the season. Once again,
Luke Posig
collected two hits and two RBI's to lead the offense, as did senior first baseman
Bobby Smith
(2-3; 2 RBI's)
Thursday, July 13
Fox Cities doesn't scare the "Behr!"
Senior
Alex Behr
turned in another masterpiece on June 4th as the Knights travelved to Fox Cities Stadium in Appleton for a non-conference tilt with the Greendale Panthers. Behr tossed 4 2/3 scoreless innnigs and struck out four to improve to 2-0 on the young season. A four run third inning for the Knights was highlighted by a three run triple from
Ben Stanke
(1-2). Fellow senior
Luke Posig's
(3-3; 2 RBI's) two run double in the sixth put the game out of reach as the Knights improved to 6-0 with the 9-4 victory.
Thursday, July 13
Binelas does double duty as Knights top Franklin!
Junior
Alex Binelas
made his return presence felt June 2nd at Abendschein Park. The 2016 GMC player of the Year held the Sabers to one run, while striking out seven in pitching a complete game for the Knights as they won 3-1 in the early GMC showdown. At the plate, Binelas went 2-2 with a walk and drove in two of the Knigthts' three runs, including a two run single in the fourth to score
Jarrod Kaczanowski
and
Jackson Wagner
that broke a 1-1 tie.
Thursday, July 13
Leaders of the Pack!
Senior
Alex Behr
and
Jackson Wagner
combined to shut out the Cudahy Packers as the Knights improved to 4-0 with a 5-0 win on May 30th. Behr pitched 4 1/3 scoreless innings, striking out one and scattering four hits, while Wagner did not allow a hit in the final 2 2/3 innings. Senior
Matt Kasar
picked up another 3 hit performance in the early going of the season, and senior
Jarrod Kaczanowski
collected his first mult-hit varsity game, going 2-3 with a run and an RBI.
Thursday, July 13
20 in 2! Knights offense carries the day at Frame Park!
The Knights offense erupted for 20 runs in 2 non-confernece games on Saturday, May 27th to improve to 3-0 on the young season. In game one against Waukesha South, Seniors Luke Posig (HR, 3 RBI) and Matt Kasar (3 RBI) each collected 3 hits to lead the 13 hit attack in a 11-5 win over the Blackshirts. Juniors Hunter Paro and Jackson Wagner combined for 6 strikeouts and 3 walks to hold down the South offense.
In game two at Frame Park, the Knights spotted New Berlin Eisenhower 4 first inning runs to open the game, but quickly answered back with 6 runs of their own in the first two innings and held on for an exciting 9-7 victory. Junior Nick Wanker was phenomonal in relief, striking out 5, walking 2, and allowing only 1 hit in 4 1/3 innings. Fellow junior Kevin Wolf nailed down the save pitching the final 1 2/3 innings. Senior Bobby Smith led the offense with 2 RBI's and his first home run of the season.
Thursday, July 13
Knights flip the script on Marquette in season opener!
What a difference a year makes! The 2016 home opener against Marquette High was one to forget, with the Knights committing 15 errors en route to a blowout loss. The 2017 season opener resembled nothing from that game a year ago as the Knights did not commit a single error and walked only one. The Knights got fantastic pitching from the junior contingency of
Ben Ellifson, Nick Wanker, and Kevin Wolf
to earn a hard fought 7-4 victory. The Knights tallied four runs in the bottom of the fifth inning to break a 3-3 tie, with four straight consecutive RBI at bats from seniors
Bobby Smith, Alex Behr, Collin Jordan, and Jayson Walczak-Zelem
. Wolf earned his first career varsisty win by working 2 1/3 innings of relief, striking out one and scattering three hits. Ellifson started and held the Hilltoppers to only 3 hits in four innings of work. Senior
Luke Posig
picked up where he left off in 2016, going 3-4 with 3 RBI's to pace the offense.
Wednesday, May 24
8 Former Knights wrap up their 2017 Collegiate seasons
Here is a run down of how our former baseball alumni fared during their 2017 collegiate seasons:
D.J. Ellifson- Freshman (OF/P)-MSOE
Ellifson overcame an early season thumb injury and finished the season 33-99 at the plate for a .333 average to go along with 20 runs scored and 19 RBI's. He collected 5 doubles, 2 triples, and one home run. His on base percentage was a solid .452. D.J. also went 3-0 on the mound in six appearances. For his efforts, he was named the Northern Athletic Collegiate Conference Freshman of the Year!
Doran Turchin-Sophomore (OF)-University of Illinois
Turchin was once again the starting Centerfielder all season long for the Illini. After a slow start, he came on strong in the second half of the season and finished with a .275 batting average (46-167). He had 11 doubles and 8 Home runs to go along with 19 RBI's and 33 runs scored. Each of those categories ranked him third on the team.
Jesse Sustachek-Junior (P)- University of Wisconsin-Oshkosh
Jesse had a solid junior season on the mound, going 6-3 on the mound to lead the Titans in wins. He posted a 3.82 ERA in 66 innings pitched, and struck out 34. For his efforts, he was named Honorable Mention All-WIAC.
Matt Hamilton-Freshman (P)-Madison College
Hamilton appeared in 4 games for Madison College, including 2 starts. He posted a 1.54 ERA in 11 innings with 9 strikeouts.
Tyler Bujanowski-Freshman (P)-Des Moines Area Community College
"Buj" saw action in 8 games, including 3 starts, and went 1-1 with a 5.89 ERA in 19 innings pitched.
Nate Schoemann-Freshman (3B)-St. Mary's University of Minnesota
Nate saw action in four games, going 1-4 with a run scored.
Hayden Krimmer-Senior (P)-Winona State University
Krimmer capped his career at Winona by once again being at the top of the rotation for Winona State. He finished the season 1-3 with 39 K's in 52 innings pitched for the Warriors.
Kurtis Sippy-Freshman (P)-College of Lake County
Kurtis posted a 3-3 record in 10 appearances (4 starts). He struck out 22 batters in 23 innings for the season.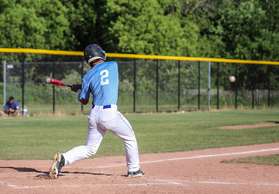 Senior Captain Luke Posig
Wednesday, May 24
Binelas and Posig named team captains for 2017 season!
Junior
Alex Binelas
and Senior
Luke Posig
will serve as captains of the varsity team this season. Binelas enters his second season as a captain. The shortstop/pitcher has been a varsity starter since his freshman season, a two time all conference pick, the conference player of the year, and was also named all state last season. Posig, the Knights starting centerfielder, burst onto the varsity scene last season by hitting ove .450 with 34 runs scored and 34 RBI's en route to being named all conference and all-state!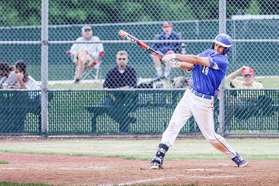 Junior Captain Alex Binelas
Wednesday, May 24
Knights open up Tomorrow Night versus Marquette
Come on out to Abendschein Park tomorrow night to watch the 2017 Knights open up the season. The Knights are coming off a 31-3 season in 2016, which saw them capture their 4th straight Greater Metro Conference Championship, and their 9th conference title in the past 12 years. They also qualified for the state tournament for the 7th time in the past 14 seasons!
Wednesday, May 24
Knights collect over 150 bags of clothes for Easter Seals!
Thanks to everyone that contributed to our first annual clothing drive that brought in over 150 large bags of clothing for Easter Seals. It was a great turnout and we are already looking forward to making this a yearly event!
Thursday, January 26
Fluegel and Behr make college committments
Congratulations to seniors
Dylan Fluegel
and
Alex Behr
on committing to continue their baseball careers next Fall. Fluegel will play at Concordia University-WI, and Behr will play at Marian University. Congratulations to both players on this accomplishment.
Sunday, July 3
Knight for a Cause game raises $2,200 for Autism Speaks
A special thank you to all the fans, parents and players from Oak Creek and Menomonee Falls as the annual "Knight for a Cause" game was once again a huge success. The game brought in over $2,000 for Autism Speaks foundation for the third consecutive season. A big thank you to all of the parents and family members that contributed baked goods, donation items, and their time to make this night a great success! Thanks to KollegeTown Sports for donating the t-shirts for the event and our "friend" of the program for his donation of the grand prize, a 43" 4K television. Thanks to everyone for all their efforts!