Oak Creek Knights Baseball: Welcome
Oak Creek Knights Baseball
WIAA State Champions 2003, 2004, 2005, 2012
Conference Champions
1975, 1979, 1988, 2003, 2005, 2006,
2008, 2009, 2011, 2013, 2014, 2015, 2016
Wednesday, May 24
8 Former Knights wrap up their 2017 Collegiate seasons
Here is a run down of how our former baseball alumni fared during their 2017 collegiate seasons:
D.J. Ellifson- Freshman (OF/P)-MSOE
Ellifson overcame an early season thumb injury and finished the season 33-99 at the plate for a .333 average to go along with 20 runs scored and 19 RBI's. He collected 5 doubles, 2 triples, and one home run. His on base percentage was a solid .452. D.J. also went 3-0 on the mound in six appearances. For his efforts, he was named the Northern Athletic Collegiate Conference Freshman of the Year!
Doran Turchin-Sophomore (OF)-University of Illinois
Turchin was once again the starting Centerfielder all season long for the Illini. After a slow start, he came on strong in the second half of the season and finished with a .275 batting average (46-167). He had 11 doubles and 8 Home runs to go along with 19 RBI's and 33 runs scored. Each of those categories ranked him third on the team.
Jesse Sustachek-Junior (P)- University of Wisconsin-Oshkosh
Jesse had a solid junior season on the mound, going 6-3 on the mound to lead the Titans in wins. He posted a 3.82 ERA in 66 innings pitched, and struck out 34. For his efforts, he was named Honorable Mention All-WIAC.
Matt Hamilton-Freshman (P)-Madison College
Hamilton appeared in 4 games for Madison College, including 2 starts. He posted a 1.54 ERA in 11 innings with 9 strikeouts.
Tyler Bujanowski-Freshman (P)-Des Moines Area Community College
"Buj" saw action in 8 games, including 3 starts, and went 1-1 with a 5.89 ERA in 19 innings pitched.
Nate Schoemann-Freshman (3B)-St. Mary's University of Minnesota
Nate saw action in four games, going 1-4 with a run scored.
Hayden Krimmer-Senior (P)-Winona State University
Krimmer capped his career at Winona by once again being at the top of the rotation for Winona State. He finished the season 1-3 with 39 K's in 52 innings pitched for the Warriors.
Kurtis Sippy-Freshman (P)-College of Lake County
Kurtis posted a 3-3 record in 10 appearances (4 starts). He struck out 22 batters in 23 innings for the season.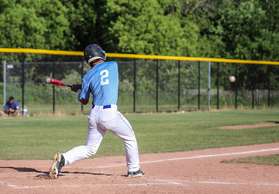 Senior Captain Luke Posig
Wednesday, May 24
Binelas and Posig named team captains for 2017 season!
Junior
Alex Binelas
and Senior
Luke Posig
will serve as captains of the varsity team this season. Binelas enters his second season as a captain. The shortstop/pitcher has been a varsity starter since his freshman season, a two time all conference pick, the conference player of the year, and was also named all state last season. Posig, the Knights starting centerfielder, burst onto the varsity scene last season by hitting ove .450 with 34 runs scored and 34 RBI's en route to being named all conference and all-state!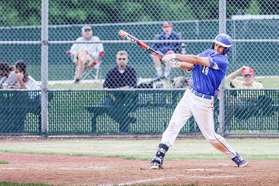 Junior Captain Alex Binelas
Wednesday, May 24
Knights open up Tomorrow Night versus Marquette
Come on out to Abendschein Park tomorrow night to watch the 2017 Knights open up the season. The Knights are coming off a 31-3 season in 2016, which saw them capture their 4th straight Greater Metro Conference Championship, and their 9th conference title in the past 12 years. They also qualified for the state tournament for the 7th time in the past 14 seasons!
Wednesday, May 24
Knights collect over 150 bags of clothes for Easter Seals!
Thanks to everyone that contributed to our first annual clothing drive that brought in over 150 large bags of clothing for Easter Seals. It was a great turnout and we are already looking forward to making this a yearly event!
Thursday, January 26
Fluegel and Behr make college committments
Congratulations to seniors
Dylan Fluegel
and
Alex Behr
on committing to continue their baseball careers next Fall. Fluegel will play at Concordia University-WI, and Behr will play at Marian University. Congratulations to both players on this accomplishment.
Sunday, July 3
Knight for a Cause game raises $2,200 for Autism Speaks
A special thank you to all the fans, parents and players from Oak Creek and Menomonee Falls as the annual "Knight for a Cause" game was once again a huge success. The game brought in over $2,000 for Autism Speaks foundation for the third consecutive season. A big thank you to all of the parents and family members that contributed baked goods, donation items, and their time to make this night a great success! Thanks to KollegeTown Sports for donating the t-shirts for the event and our "friend" of the program for his donation of the grand prize, a 43" 4K television. Thanks to everyone for all their efforts!