Oak Creek Knights Baseball: Welcome
Oak Creek Knights Baseball
WIAA State Champions 2003, 2004, 2005, 2012
Conference Champions
1975, 1979, 1988, 2003, 2005, 2006, 2008, 2009, 2011, 2013
Friday, March 7
2014 Oak Creek Baseball Apparel from Nike now available for purchase!
Handout:
2014 Apparel Flyer

2010 Grad Tyler Zemla returns in 2014
Monday, January 27
Former Knights great Tyler Zemla to join coaching staff for 2014 season!
The 2014 Varsity coaching staff will feature one of the best players the program has ever had as Tyler Zemla will return to the varsity coaching staff. Zemla is currently completing his senior season of college baseball at Winona State and will graduate in May with a degree in secondary education.
This season he will serve as the bench coach on gameday and assist primarily with the pitchers, catchers, and firstbaseman during practice. Zemla was a first team all-state utility player back in 2010 for the Knights, and was also named the CNI Newspapers Suburban Player of the Year. He ranks in the top ten in several offensive and pitching categories. The program is excited to welcome back Coach Zemla on a full time basis and wish him the best during his senior campaign at Winona State.
Monday, January 27
2014 Schedules: All 3 levels
Handout:
2104 Schedules-All three levels
Monday, January 27
Congratulations to Dave Chandre on his award winning photo from the 2012 baseball season!
Dave Chandre
always wows us with his pictures each season so it should come as no surprise that one of his photos of the Oak Creek Knights baseball team has been selected to be in the Capture Wisconsin 2014 Calendar. Click on the link above to view the photo and congratulations again to Dave. Thanks for all you do for our baseball program!
Monday, January 27
Open Gym Schedule
All open gyms are Monday nights in the auxillary gym. Pitchers and Catchers report from 7:00-8:30. Position players report 8:30-9:30.
February 3, 10, 17
March 3, 10, 24, 31
April 7, 14
After April 14th there may be additional opportunities to have some outdoor open gyms on the football field. Those dates will be announced if they become available.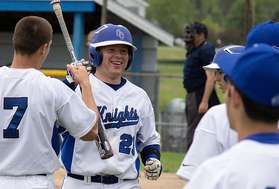 Senior Jesse Sustachek
Thursday, November 21
Senior Duo to play college baseball at UW-Oshkosh
Congratulations to Seniors
Mitch Hart
and
Jesse Sustachek
on their recent committments to play college baseball next fall at UW-Oshkosh. Hart, a senior firstbaseman, was named 2nd team All-GMC on the infield for the Knights in 2013. Sustachek was named honorable mention All-GMC as a pitcher and also served as the team's designated hitter in 2013, in addition to being a member of the 2012 state championship team his sophomore year. Congratulations to both players and their families on this accomplishment!
Senior Mitch Hart
Tuesday, October 1
2013 NOW Newspapers All-Suburban Baseball Team
1st Team Utility: Hayden Krimmer (Senior)
1st Team Outfield: Dakota Slone (Senior)
Honorable Mention Infield: Mitch Hart (Junior)
Honorable Mention Infield: Doran Turchin (Sophomore)
Honorable Mention Catcher: Luke Swerdlow (Senior)
Honorable Mention Outfield: Matt Hamilton (Freshman)
High Honorable Mention Coach: Scott Holler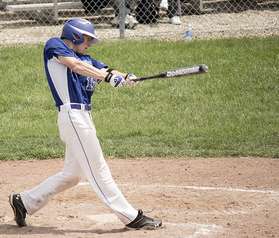 Dakota Slone
Wednesday, July 24
Krimmer and Slone named to WBCA All-State Team!
Wisconsin Baseball Coaches Association
1st Team All-State: Infield-Hayden Krimmer
Honorable Mention All-State: Outfield-Dakota Slone
Congratulations to Seniors Hayden Krimmer and Dakota Slone for being named to the WBCA All-State Teams. Krimmer led the Knights with a .449 batting average, a .526 on base percentage, a .673 slugging percentage, 44 hits, 11 doubles, and 40 RBI's. He also led the team in several pitching categories, posting a 7-0 record with 2 saves, a 0.99 ERA, 74 K's, 56.2 innings pitched and a 0.83 WHIP. Opponents hit only .158 against him and he added 4 complete games and 3 shutouts. He joins J.T. Schneider as the only Knights to be named All-State twice in their careers.
Slone continued to be "Mr. Consistent" for the second year in a row and was rewarded by coaches around the state after he hit .410 with an on base percentage of .510. He also scored 23 runs, drove in 15 from the lead off spot, and stole 17 bases on the season despite playing in only 26 games due to a late season wrist injury. Struck out only four times in 107 plate appearances and played a terrific centerfield, committing only one error all season long.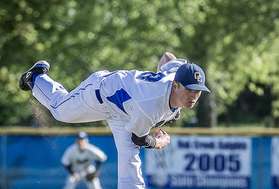 Hayden Krimmer
Wednesday, July 24
Ten Knights recognized by conference coaches on All-GMC Team!
1st Team All-Greater Metro
Utility: Hayden Krimmer-Senior
Outfield: Dakota Slone-Senior
2nd Team All-Greater Metro
Infield: Doran Turchin-Sophomore
Infield: Mitch Hart-Junior
Outfield-Matt Hamilton-Freshman
Honorable Mention
Pitcher: Jesse Sustachek-Junior
Pitcher: Mitchel Makarewicz-Sophomore
Pitcher: Colton Giessel-Senior
Infield: Matt Hargreaves-Junior
Infield: Nathan Veloz-Sophomore
Coach of the Year: Scott Holler
Oak Creek will take on Muskego at 11am on Monday
Saturday, July 13
On to Sectional Monday! Knights take down Rockets 9-3 in Regional
For the 12th straight season the Oak Creek Knights advanced to the WIAA Sectional on Monday with a 9-3 victory over South Milwaukee Friday night at Abendschein Park. The Knights pounded out 12 hits in the contest as Senior Ace
Hayden Krimmer
(7-0) led the way on the mound and at the plate. Krimmer pitched five innings to earn the win, giving him 26 for his career, the most in school history. He struck out five and did not walk a batter in the contest while allowing only two hits. At the plate, Krimmer helped his own cause by going 3-4 with a two run homer and four RBI's. Junior
Mitch Hart
added two hits as well, as he followed Krimmer's fourth inning homer with a booming solo shot of his own to take over the team lead with four home runs on the season. Freshman
Matt Hamilton
went 2-4 with an RBI double in the Knights' two run third inning. Oak Creek scored in all but two innings as they now advance to face Muskego at 11am on Monday in the sectional semi-final. Franklin will play New Berlin West in the other sectional semi-final at 2pm, with the sectional final set to begin at approximately 5pm. All sectional games will be held at Whitnall High School.
Saturday, July 13
WIAA Sectional Schedule
Monday, July 15 (All games at Whitnall High School)
11am Muskego vs. Oak Creek
2pm Franklin vs. New Berlin West
5pm Sectional Championship
Tuesday, July 9
Knights become first team to win GMC regular season title and Conference Tournament title as Sustachek shines! Click for article from Journal Sent.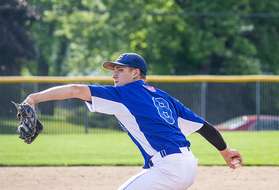 Hayden Krimmer makes history Wednesday night against BE!
Wednesday, July 3
Krimmer offers up his own history lesson on the eve of our nation's birthday!
Tomorrow we'll all celebrate the Independence of the United States and all that goes with the great history of the signing of Declaration of Independence on July 4th, 1776....but tonight, the Oak Creek Knights offered up their own history lesson on the baseball diamond. The Knights defeated Brookfield East 4-2 in the semi-finals of the conference tournament to advance to Friday's championship game at 4pm against Franklin. The win was the 20th of the season for the Knights, marking 11 consecutive seasons with at least 20 or more wins for the varsity squad. The Knights are the only program in Wisconsin that can stake claim to that long of a streak of 20 or more wins.
The other piece of program history came on the mound, where Hayden Krimmer picked up his 25th career victory. The win ties him with Tony Butler for the most in school history, a record that many believed to be untouchable when Butler graduated in 2006. Krimmer pitched six strong innings against a quality Brookfield East lineup to improve to 6-0 on the season, striking out 8 and scattering five hits. Sophomore Mitchel Makarewicz came on in the seventh to slam the door and pick up his first save of the season. Offensively, the Knights were led by Dakota Slone's 2-3 performance and Krimmer added two RBI's as well. The Knights worked several quality at-bats early in the contest, including bases loaded walks from Freshman D.J. Ellifson and Junior Matt Hargreaves as the Knights jumped out to a 4-0 lead after two, which proved to be enough for the victory. The Knights will now look to become the first team to win both the regular season conference championship and the conference tournament since it began four years ago.
Tuesday, July 2
Knights advance in Greater Metro Conference Tournament with 14-3 victory!
The Oak Creek Knights came out swinging in round one of the 2013 GMC Tournament and defeated Tosa East 14-3 in five innings Tuesday night at Abendschein Park. The Knights took a two run lead in the bottom of the first on RBI singles by Juniors Matt Hargreaves (3-3, 3 runs, 3 RBI) and Mitch Hart (2-4, HR, 3 RBI). After Tosa East took a 3-2 lead after their half of the the third, the Knights responded with four runs in their bottom half of the third to go up 6-3. After an RBI double by Senior Hayden Krimmer (2-4, 2 runs, 3 RBI), Sophomore Doran Turchin connected for a booming two run homer to left-center. The next batter, Junior Jesse Sustachek followed suit with a solo home run of his own to left. The Knights then sent 8 consecutive batters to the plate in the bottom of the fifth....and all 8 of them scored. Hart put the game away with a walk-off homer to deep left-center. Senior Colton Giessel improved to 6-0 on the season with the complete game win, scattering eight hits over five innings while striking out two.
The Knights (19-6)will now travel to Brookfield Central High School for round two of the GMC Tournament. They will face Brookfield East at 4:30 pm on Wednesday. In the other winner's bracket matchup, Franklin will play Marquette at 2pm.
There will be $5 gate fee for the conference tournament for all fans.
Monday, July 1
Two For Two! Knights make quick work of Marquette, trounce Cudahy to improve to 18-6 overall
Junior Matt Hargreaves has been a catalyst on offense and defense for OC!
The day started and ended well for the Oak Creek Knights Monday! In the continuation of a suspended game with Marquette (tied 5-5 after 9 innings) the Knights tallied a run quickly in their half of the the tenth. Junior Matt Hargreaves led off the inning with a single, and Senior Hayden Krimmer followed with a walk. Junior Mitch Hart then bunted both runners to second and third setting the stage for Freshman Matt Hamilton's line drive sacrfice fly to centerfield to score Hargreaves. Krimmer then quickly set down the Hilltoppers 1, 2, 3 in the botttom of the seventh inning to earn the save. Junior Mitchel Makarewicz earned the win after working the 8th and 9th innings previously. Junior Jesse Sustachek didn't factor in the decision but pitched a tremendous game before running out of gas in the seventh inning when Marquette rallied to tie the game at four. This game completed the regular season GMC schedule for the Knights and they finished with a 15-3 conference record, three games ahead of second place Franklin (12-6 in the GMC).
In the nightcap non-conference tilt with Cudahy, freshman Matt Hamilton pitched a complete game as the Knights rolled to a 17-1 victory and improved to 18-6 overall. The Knights got contributions up and down the lineup in the victory. Eight Knights had muti-hit games as the team connected for a season high twenty hits. Leading the charge was Krimmer with a 3-4 performance with a home run and 4 RBI's. DJ Ellifson (2-3, 2 RBI, 2 runs), Tyler Ungerecht (2-2, 2 RBI), Mitch Hart (2-3, RBI), Matt Hamilton (2-4, 2 runs, RBI), Doran Turchin (2-3, 2 runs, RBI), Alex Sneed (2-3, 2 runs, RBI) and Mitchel Makarewicz (2-2, 2 runs, RBI) all had multi-hit games in the victory.
Monday, July 1
Knights earn #1 seed, first round bye in WIAA Sectional!
Top Portion of Bracket
Tuesday, July 9th
#1 Oak Creek-BYE
#9 West Allis Hale at #8 South Milwaukee 5pm (Winner to play at Oak Creek-Friday, July12 5:30pm)
#12 Cudahy at #5 Whitnall 5:00 pm
#13 St. Francis at #4 Muskego 5:30pm
Lower Portion of Bracket
Tuesday, July 9th
# 2 NB West and #3 Franklin-BYE

#10 West Allis Central at #7 Greendale (Winner to play at New Berlin West-Friday, July 12 5:00pm)
#11 Greenfield at #6 New Berlin Eisenhower (Winner to play at Franklin-Friday, July 12 5:30pm)
Monday, July 1
Knights to host Tosa East in first round of GMC Tournament at 5:30 Tuesday night! Click handout to view bracket
Thursday, June 27
CONFERENCE CHAMPS! Giessel earns two wins to lead Knights to 6th GMC title in past nine years!
It was a long day for the Oak Creek Knights....but it was definitely time well spent. The Knights improved to 16-4 overall and 14-3 in the Greater Metro Conference with wins over West Allis Hale and West Allis Central. The wins assure the Knights sole posession of the Greater Metro Conference regular season championship, the program's sixth GMC title in the past nine seasons.
In game one of the day at Abendschein Park, the Knights defeated West Allis Hale 8-7 in a back and forth affair. After jumping out to a 3-0 lead in the first, Hale cut the lead to 3-2 before the Knights extended it back to 6-2 after three innings. After both teams notched single tallies in the fourth inning, Hale stormed back with a four run fifth to tie the game at 7-7. Freshman Matt Hamilton singled with one out in the bottom of the sixth and moved over to second on Sophomore Doran Turchin's bunt single. A fielder's choice left Hamilton at third with two outs....and in a week where it seemed like the Knights were catching very few breaks, they finally caught one when Hamilton was able to score the go-ahead run on a passed ball. Senior Colton Giessel pitched three strong innings of relief of Freshman D.J. Ellifson to preserve the victory, striking out two and allowing only three hits. Junior Mitch Hart continued his recent hot streak, going 2-3 with 3 runs scored for the Knights.
In game two the Knights had to travel to West Allis Central and they came out swinging early. A four run first inning was highlighted by run scoring doubles from Senior Hayden Krimmer (2-5, Run, RBI) and Sophomore Doran Turchin (1-3, Run, RBI) as the Knights connected for four hits in the inning. The Knights took a 5-0 lead in the second when Mitch Hart connected for a two out triple to the gap in right center to score Senior Dakota Slone. After Central tallied 3 runs in the third inning to make it a 5-3 game, the Knights put the game away in the top of the seventh when they scored four runs on two hits, four walks, and a Central error. Once again it was Senior Colton Giessel coming on in relief to earn the victory and improve to 5-0 on the season. The senior struck out four and did not allow a run in relief of Freshman Matt Hamilton, who battled through three innings and put the Knights in a position to win the game. In addition to Krimmer, three other Knights tallied multi-hit games as Slone (2-4, 2 runs, RBI, 3 SB), Junior Matt Hargreaves (2-4, Run), and Freshman D.J. Ellifson (2-4) all added to the Knights' 11 hit attack.
The Knights will now travel to UW-Whitewater on Saturday for a double header. They will face Nicolet at 1:30 and Kettle Moraine at 6:30 pm.
On Monday, the Knights will travel to MATC-Oak Creek to finish their suspended game with Marquette from this past Thursday, which will conclude the conference regular season schedule. That game is tied 5-5 in the top of the 10th, and will be played at 1pm. The Knights will then come back home for parent's night for a 5:30 non-conference game with Cudahy that same evening.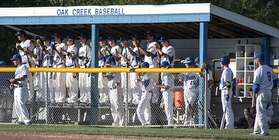 Knights take down Brookfield Central 10-0 in five innings!
Friday, June 21
Krimmer in complete command as Knights dominate Brookfield Central!
Senior Hayden Krimmer took the mound Thursday night like a man on a mission...inching the Knights closer to a Greater Metro Conference Championship. The Knights' bats and gloves responded behind him as well as they made quick work of second place Brookfield Central, 10-0 in fiving innings. After Krimmer (3-3, 2 RBI's) singled home Junior Matt Hargreaves in the first inning, the Knights erupted for six runs in the third inning. The Knights sent ten batters to the plate in the third, taking advantage of three walks and pounding out four hits in the inning. Freshman Matt Hamilton and Jesse Sustachek both delievered two run doubles in the frame. The score stood at 7-0 into the top of the fifth when Sophomore Ryan Farr (2-3, run, RBI), Freshman D.J. Ellifson, and Senior Dakota Slone reached consecutively with one out and all came around to score. Slone drove in Farr and Sophomore Doran Turchin and Krimmer delievered RBI singles to close out the scoring.
On the mound, Krimmer allowed a lone bloop single in the first inning and coasted after that. He struck out five and did not allow a walk as Brookfield Central failed to have a runner reach second base all night. The win moved Krimmer to 5-0 on the season. The Knights now hold a 14-3 overall record and a 12-2 mark in GMC play with four conference games to play. For up to date GMC standings click on the link on the left hand side of the screen.
Monday, June 17
Knight's train keeps chugging along with "Giessel" Fuel!
Senior Colton Giessel improves to 3-0 Monday night at Tosa East
On a night when the Knights needed a little relief from the bullpen, Senior right-hander
Colton Giessel
was once again up to the challenge. Giessel relieved freshman
Matt Hamilton
, who battled through 3 2/3 innings, and held host Tosa East in check for 1 1/3 innings while the bats got warmed up. Freshman
DJ Ellifson
worked an efficient two final frames on the mound and the result was an 11-4 GMC win over Tosa East. Leading 6-4 in the fourth, Giessel got Tosa's four hitter to ground out to first with the tying run on first.
The Knights finally broke the game open in the sixth inning when they erupted for five runs. Sophomore
Doran Turchin
(1-1, 2 runs, RBI) doubled home Junior
Matt Hargreaves
, and following a single from Senior
Hayden Krimmer
(2-4, 3 runs, RBI), Freshman Matt Hamilton added a sac fly to make it 9-4. Juniors
Mitch Hart
(1-2, run, 2 RBI's) and
Jesse Sustachek
(1-4, 2BI's) put the final touches on Tosa East with run scoring hits to make it 11-4. Ellifson would record two strikeouts in the final two frames without allowing a walk, and also added two more hits himself at the plate as the young freshman continues to impress. The Knights (13-2 overall; 11-1 GMC) will host Menomonee Falls Tuesday night at Abendschein Park.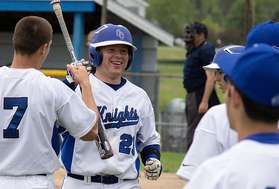 Junior Jesse Sustachek had a career night Friday against Brook. East
Friday, June 14
Sustachek keeps Knights "Rowing!"
Junior Jesse Sustachek did it all for the Knights Friday night as he earned the win on the mound and belted a booming opposite field two run home run in the bottom of the third as the Knights earned a big conference victory over Brookfield East by a score of 6-3. The Knights now stand at 12-2 overall and sit atop the Greater Metro Conference standings with a 10-1 record in conference play.
The Knights jumped on East's Griffin Lynch, one of the top pitchers in the conference, early. The Knights got on the board in the first when Senior Hayden Krimmer drove in Sophomore Doran Turchin with a base hit to right. Sophomore Nathan Veloz (2-3, run, RBI) singled home a run in the second, and Junior Matt Hargreaves (3-3, RBI) had his best game of the season offensively, highlighted by a run scoring single in the second as well. After a two out double by Sophomore Mitchel Makarewicz plated Freshman Matt Hamilton, Sustachek delievered what would prove to be the knockout blow in the bottom of the third.
On the mound, Sustachek scattered four hits over fiving innings, while striking out three to earn the win. Hamilton worked a scoreless sixth and Krimmer picked up the save to close out the Spartans. The Knights will now travel to Tosa East Monday night for a 5:30 GMC tilt with the Red Raiders.
Friday, June 14
Knights jump out early, continue winning ways versus West Allis Central!
Senior Luke Swerdlow has been solid behind the dish for the Knights
The Oak Creek Knights staked starting pitcher
Mitchel Makarewicz
to a 10-0 lead after two innings Thursday night at Abendschein Park and that proved to be more than enough. The Knights went on to win 11-1 in six innings as sophomore
Nathan Veloz
blasted a solo homer to right to lead off the bottom of the sixth to end the game via the mercy rule. Makarewicz picked up the win, going four strong innings while striking out four and allowing only one hit. Freshman
DJ Ellifson
added two scoreless innings in relief in addition to going 2-2 at the plate with a triple and 3 RBI's. Senior
Hayden Krimmer
had another multi-hit game (2-3) and Makarewicz helped his own cause with a three run double in the Knights' nine run second inning.
Thursday, June 13
"Topping the Toppers!"
After jumping out to a 4-0 lead Tuesday night at home against Marquette, it appeared as though the Knights were going to coast to victory over Marquette. The Hilltoppers had other ideas. They responded with four runs in the fourth , one in the fifth and two in the sixth. After trimming the score to 7-5 heading into the bottom of the sixth inning the Knights would need a little late inning heroics to pull out the victory.
Sophomore Nate Veloz led off the sixth with a pinch hit single down the line in right. Sophomore Ryan Farr followed with a single to right and Dakota Slone bunted both runners into scoring position. After Junior Matt Hargreaves was hit by a pitch, Sophomore Doran Turchin singled sharply to left to score one and leave the Knights trailing by one. After a strikeout left the Knights with the bases loaded and two outs, Freshman Matt Hamilton found himself behind in the count 0-2. The freshman showed tremendous focus and laced a two run single to right to give the Knights an 8-7 lead. Hamilton then went out to the mound and struck out the side against the Hilltoppers to preserve the victory for Oak Creek.
Thursday, June 13
Knights rally past Hale Huskies in extra innings behind Krimmer, Hart and Hamilton!
Hayden Krimmer improved to 4-0 on the mound Monday at Hale
The usual back and forth affairs that have become common in the Hale-Oak Creek rivalry the past few seasons continued Monday night at West Allis Hale. The Knights trailed 3-2 in the fifth inning before Junior Mitch Hart (3-4, 3 RBI's) connected for a booming three run homer to left field to give the Knights a 5-3 lead. The Huskies answered with two in the bottom half of the sixth. After a leadoff double by senior Dakota Slone in the top of the eighth, junior Matt Hargreaves gave the Knights the lead with an RBI single to left. After stealing second, Hargreaves then scored on Senior Hayden Krimmer's RBI single to right center. Krimmer (3-3, 2 RBI's) came on to pitch the final two innings of the game to pick up his fourth win of the season. Freshman Matt Hamilton continued his torrid pace at the plate, picking up a career high 4 hits while adding a run scored, an RBI, and a stolen base.
Monday, June 10
2009 Grad Robert Weiss earns ABCA Gold Glove Award! (click link for full article)
Congratulations to former Oak Creek shortstop
Robert Weiss
on winning the Division 3 Gold Glove Award at shortstop. Weiss helped lead Concordia-Chicago to the College World Series this past season. What a tremendous way to cap off an outstanding collegiate career for this fomer Knight!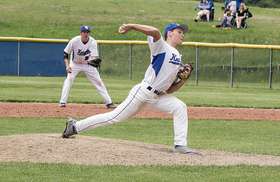 Freshman Matt Hamilton picked up the win Friday at Sussex
Sunday, June 9
Pitching staff holds Sussex to three runs over two games to help Knights complete weekly sweep!
The Oak Creek Knights continue to strive to get better night in and night out, and they continued that trend Wednesday and Friday night versus Sussex Hamilton as they won both games of the season series to improve to 8-1 overall and 6-1 in the GMC.
Game 1 Recap (Wednesday): Sophomore Nathan Veloz and Senior Colton Giessel teamed up on the mound for the second time in five days and the result was once again a Knights victory. Veloz tossed three innings, striking out one and scattering four hits before giving way to Giessel, who finished off Hamiltion in the final four frames with four strikeouts and allowing only one hit. Offensively the Knights broke open a 2-2 tie in the fourth by putting up four runs and then added another five spot in the fifth inning which would be more than enough in the 11-2 victory. Junior Mitch Hart led the 14 hit attack going 3-3 with 3 runs scored. Senior Dakota Slone (2-3, 2 runs, RBI) and Junior Matt Hargreaves (2-5, run, RBI) continued to do the job at the top of the order while Doran Turchin, Hayden Krimmer (3), Matt Hamilton, Veloz, and Ryan Farr (2) all added RBI's as well, as the Knights got production up and down the lineup.
Game 2 Recap (Friday): The Knights called on the "Freshmen Duo" of Matt Hamilton and DJ Ellifson Friday night at Sussex to bring home a perfect week. The two calmly responded to their first taste of the Greater Metro Conference by combining to strike out nine, scatter six hits, and most impressively walk only one. Hamilton earned his first varsity win, striking out 7 in five shutout innings. Ellifson, fresh off his no-hitter against the Menomonee Falls JV team on Monday, worked the final two innings and struck out two while picking up his defense and working out of a bases loaded-one out jam in the sixth. Offensively, Senior Hayden Krimmer delivered the big hit of the night when he connected for a three double in the Knights' third inning to put them up 4-0. Doran Turchin also added an RBI single and that would prove to be all the Knights would need on the night. Next up the Knights will travel to West Allis Hale on Monday for a conference matchup at 5:30 against the Huskies.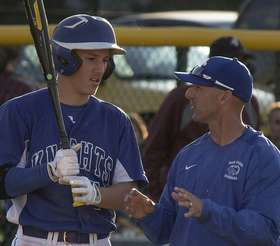 Sophomore Utility Man Doran Turchin is off to a strong start in '13!
Wednesday, June 5
Turchin's 2-run blast lifts Knights over Franklin 5-3!
Committing 6 errors and 5 walks usually does not add up to a victory.....but the Oak Creek Knights found a way to overcome those "freebies" Tuesday night at Abendschein Park as they defeated rival Franklin 5-3 on cold June night. With the win, the Knights improved to 6-1 overall and 4-1 in the GMC. Sophomore
Mitchell Makarewicz
picked up the win, allowing only 1 earned run and two hits in four innings of work. Junior
Jesse Sustachek
picked up the save, holding the Sabers scoreless and recording five strikeouts over the final three innings. Offensively, the Knights mustered just four hits but took adavantage of nine walks and hit batters by the Sabers pitching staff. The big blow of the night was a two-run homer from Sophomore
Doran Turchin
in the bottom of the fourth inning. The homerun broke a 3-3 tie and proved to be the game-winning hit. The Knights will next host Sussex Hamilton Wednesday night at 5:30.
Monday, June 3
"Knockin' down the door" at the Falls!
The Oak Creek Knights improved to 5-1 overall and 3-1 in the GMC with a 5-1 victory over Menomonee Falls Monday night at Trenary Field. Senior
Hayden Krimmer
picked up his third win of the season to improve to 3-0 on the young season. Krimmer once again pitched a complete game for the Knights, striking out 6. After allowing a run in the first after a walk and two singles, Krimmer was masterful, allowing only one more hit the rest of the way.
Offensively the Knights erupted for double digit hits again (11) as four Knights collected two or more hits. Sophomore first baseman
Nathan Veloz
drove in 3 runs on the night, going 2-2 with two doubles, a sac fly, and a key bases loaded walk in the Knights' three-run sixth. Senior
Dakota Slone
(3-5, RBI), Sophomore
Mitchel Makarewicz
(2-4, run) and Freshman
Matt Hamilton
(2-4, 3 runs) added big nights offensively. The win brings the Knights back to even with Menomonee Falls in the early going of the GMC race, as this was the first loss on the season for the Indians. The Knights will look to get back at it Tuesday night at home against rival Franklin.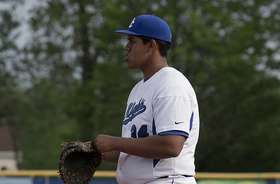 Sophomore Nathan Veloz drove in 3 at the Falls Monday night!
Saturday, June 1
Balanced attack gets Knights back on track!
Senior Dakota Slone drove in two runs Saturday afternoon.
Senior
Dakota Slone
and Freshman
Matt Hamilton
led a seven hit attack for the Knights Saturday afternoon as the Knights defeated Greendale 7-3. Slone finished the day 2-3 with a run scored and two RBI's, while Hamilton went 3-3 with two runs scored in his first varsity start. Sophomore
Nathan Veloz
, Senior
Colton Giessel
and Hamilton held Greendale to five hits on the mound. Juniors
Matt Hargreaves
and
Mitch Hart
added RBI singles and sophomore
Ryan Farr
reached base twice in three plate appearances and added two runs scored. The Knights will now travel to Menomonee Falls Monday night for a showdown with the undefeated Indians.
Wednesday, May 29
"Go the Distance!" Krimmer shuts down Brookfield East as Knights win 2-0
Senior captain
Hayden Krimmer
continued his early season dominance Wednesday night at Brookfield East as the senior pitched a complete game shutout in the Knights' 2-0 win. Krimmer struck out a career high 11, while allowing only 3 hits on the night in improving to 2-0 on the young season. Offensively the Knights were not able to find a rhythm but were able to scratch across two runs in the top of the sixth. Junior
Matt Hargreaves
and Sophomore
Doran Turchin
were able to score on a bizzare wild pitch and a throwing error combo by the BE catcher on the same play. Turchin finished the night 2-3. Oak Creek (3-0) will now host Brookfield Central Friday night at 5:30.
Monday, May 27
Tim Ungerecht Memorial Scholarship winners announced!
Congratulations to Dakota Slone and Tyler Ungerecht for being named the co-recipients of the annual Tim Ungerecht Memorial Scholarship. Tim was a man that placed strong emphasis on character, work ethic, honesty, and simply helping the people around you be better off. Both of these young men exemplify those characteristics and have been instrumental parts of the baseball program for four years with how they carried themselves on and off the field. Next fall Dakota will attend UW-Stevens Point and Tyler will attend UW-Platteville. Congratulations to Dakota and Tyler!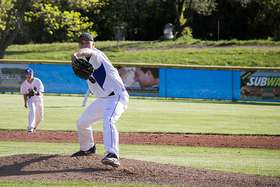 Hayden Krimmer will play in the WBCA All-Star Classic!
Monday, May 27
Hayden Krimmer selected to participate in WBCA All-Star Classic!
Congratulations to senior captain Hayden Krimmer for being selected by the Wisconsin Baseball Coaches Association to participate in the annual All-Star Classic. The two day tournament will take place on June 28th and 29th in Oshkosh, and feature the top high school players in the state from both the spring and summer seasons. Krimmer becomes the 12th Knight to be selected to participate in the classic.
Oak Creek Knight Participants in the WBCA All-Star Classic:
Bob Malecki-2000
Chase McCulloch-2001
Mike Jacobsen-2004
Peter Dooley-Coach-2004
Jerry Brown-2005
Tony Butler-2006
Scott Holler-Coach-2009
Eric Semmelhack-2009
J.T. Schneider-2009
Bobby Widenski-2009
Josh Jesko-2011
Hayden Krimmer-2013
Saturday, May 25
Check out photos from Mr. Chandre and Mrs. Flick via their Flickr page!
Saturday, May 25
Swingin' and Slingin' in Slinger!
The Knights picked up where they left off Friday night when they traveled to Slinger for a Saturday afternoon tilt with the Owls of the North Shore Conference. Oak Creek (2-0) scored two runs in the first, second, and fourth innings, before adding a six spot in the top half of inning number 5. That would be more than enough to end the game at 12-1 in five innings as three Knights pitchers held Slinger (1-1) to one run on four hits. Sophomore Mitchel Makarewicz, junior Jesse Sustachek, and senior Colten Giessel worked quickly and efficiently for the Knights on the mound.
Offensively, sophomore Doran Turchin drove in four runs with two run singles in the second and third innings. Senior Dakota Slone added two hits, scored three runs, and stole his first two bases of the young season. Sustachek and junior Mitch Hart added two hits apiece, while Hayden Krimmer and sophomore Steve Stilwell each had two run doubles in the six-run fifth inning for the Knights. The Knights will travel to Menomonee Falls Tuesday night for a 5pm GMC showdown with the Indians.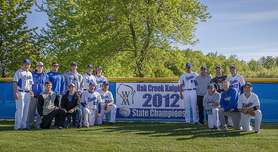 The 2012 State Champions unveil the title banner Friday night!
Friday, May 24
Opening in Style!
After unveiling the 2012 State Championship banner prior to the season opener Friday night at Abendschein Park, the 2013 Knights made quick work of visiting Tosa East. The Knights scored in every inning en route to a 12-0 victory in five innings. Senior captain Hayden Krimmer picked up his first win of the season, tossing a complete game shutout. Krimmer struck out nine and allowed only two hits. He helped himself offensively, going 2-3 with a home run and 3 RBI's. Sophomore Mitchel Makarewicz had a night to remember as he blasted two home runs and a double, finishing the night 3-3 with 5 RBI's. Junior Jesse Sustachek also had a three hit performance and drove in 3 runs, and senior captain Dakota Slone added two hits, including an RBI double. The Knights will now travel to Slinger tomorrow morning for a non-conference tilt with the Owls.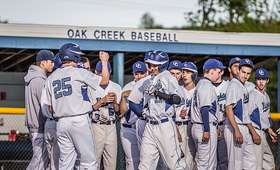 Mitchel Makarewicz connected for 2 home runs on opening day!
Monday, March 4
Dakota Slone commits to play collegiately at UW-Stevens Point!
Congratulations to senior
Dakota Slone
for recently committing to continue his baseball career at UW-Stevens Point next year. Slone was named 2nd Team All-GMC in the outfield in 2012 after hitting .413 and leading the Knights with 22 stolen bases. Slone was also named to the Academic All-State Team. Congratulations again to Dakota and his family on this accomplishment!
Thursday, December 27
Oak Creek Patch recognizes 2012 State Championship as one of the year's top stories!
Saturday, September 22
Hayden Krimmer commits to play collegiately at Winona State University!
Senior Hayden Krimmer verbally committed to Winona State University Saturday afternoon. The all-state utility player will join former Knight, Tyler Zemla, on the Winona State roster in the fall of 2013. Congratulations to Hayden and his family on the scholarship!