Oak Creek Knights Baseball: Welcome
Oak Creek Knights Baseball
WIAA State Champions 2003, 2004, 2005, 2012
Conference Champions
1975, 1979, 1988, 2003, 2005, 2006, 2008, 2009, 2011, 2013, 2014
Thursday, January 29
2015 Schedules-All Levels
Handout:
2015 Schedules-All Levels
Thursday, January 29
2015 GMC Tournament Championship to played at Kapco Park!
It was recently announced that there will be a new format for the Greater Metro Conference tournament beginning this season. The first two rounds will be hosted at the home field of the highest seeded team, and the championship game will be held at Kapco Park at Concordia University, the site of the annual State Summer Tournament. The GMC is excited about the excitement this new tournament format will bring to its players and fans!
Thursday, January 29
2015 Bowling Fundraiser a Success!
Thank you to everyone that came out to Papa Luigi's in South Milwaukee this past Sunday for the annual Bleacher Bunch Bowling Fundraiser. We were able to raise over $2,000 for the baseball program. A huge thank you to
Dawn and Bill Ellifson
for spearheading this event and taking time out of their busy schedules to make sure the event was a success.Thanks to
Steve and Cindy Bautch
as well for their time workign at the event. Thanks to
Sal Purpora
at Papa Luigi's for allowing us to hold the event there, and to
Jeff Sports
, and everyone that donated something for the silent auction and raffle prizes.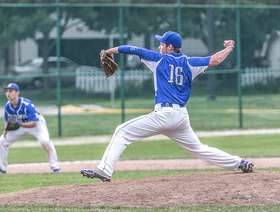 Matt Hamilton commits to Illinois State
Saturday, January 24
Matt Hamilton commits to Illinois State
Junior pitcher/OF
Matt Hamilton
has verbally comitted to play college baseball at Illinois State University. Hamilton is a two year letterwinner for the Knights and is primed to have a big season on the mound and at the plate for the Knights in 2015. Illinois State competes at the division 1 level in the Missouri Valley Conference, and last season had 7 players selected in the MLB draft and sign professional contracts. Congratulations to Matt and his family on the scholarship!
Wednesday, January 7
Former Knight Hayden Krimmer signs contract with Eau Claire Express
Former Knight Hayden Krimmer
Hayden Krimmer, a 2013 OCHS graduate, has signed a contract to play baseball for the Eau Claire Express next Summer. The Express play in the Northwoods League that features some of the top college talent from around the country. Hayden was a part of the 2012 OCHS WIAA state baseball championship team, and 2 time 1st team all-state player.
He currently attends Winona State University. Hayden's Freshman season yielded a 5-3 record, with a team high 37 strikeouts. Hayden finished the season with a complete game victory against Wayne State University to take the WSU Warriors into the NSIC conference championship. The Eau Claire Express are scheduled to play the Lakeshore Chinooks at Kapco Field June 9th and 10th. Congratulations to Hayden and his family on this great accomplishment as he continues his baseball career!
Wednesday, December 31
New 8' fence installation complete at Abendschein
Since 2005 Abendschein Park has received consistent upgrades to the baseball facility. Included in those upgrades has been the addition of dugouts, twenty foot professional foul poles, outfield wind screen, electric scoreboard, batting cage with synthetic turf, sponsor banners, a bullpen fence, a new backstop screen, a bathroom and concession building with actual running water and electricity, and now.....an 8 foot high fence all around the field.
Many thanks to Bleacher Bunch president Steve Bautch for spearheading this fencing project and the Bleacher Bunch board and members for their support. Also, a big thank you to the City of Oak Creek, and the Oak Creek-Franklin School District for their joint efforts in helping make the new fence a reality.
Wednesday, December 31
Makarewicz and Turchin sign national letters of intent
Mitchel Makarewicz and Doran Turchin sign their LOI next to '12 state trophy
Seniors
Mitchel Makarewicz
(Xavier University) and
Doran Turchin
(University of Illinois) signed their national letters of intent in front of family and friends at Oak Creek High School on November 12th. The four year varsity letter winners posed for a picture next to the 2012 state championship trophy that they both helped bring home three years ago.

All time Knight's leader in hitting, Joey Gribble, named Head JV Coach
Wednesday, December 31
Old Faces in New Places on 2015 Coaching Staff!
The 2015 Oak Creek Baseball coaching staff will feature some familiar faces, with some movement taking place within the program. Long-time coach Joel Paar will serve as a "roving instructor" at various levels in the program throughout the season. Stepping in as head coach of the Junior Varsity squad will be veteran varsity assistant and former all-state Knight, Joey Gribble. He will be assisted on the JV once again by another former Knight and current collegiate player at Culver-Stockton University, Ryan Ungerecht.
Taking over Gribble's role as director of in game scouting will be 2014 grad and all conference performer, Matt Hargreaves. Veteran assistants Warren Smith and Tyler Zemla will also be back with the varsity squad in 2015. The program is excited about these changes as the program continues to add assistants that were former players and always did things the "Knight Way" during their playing days at Oak Creek and can teach the game and program philosophies at a high level.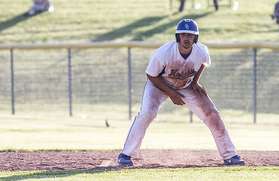 Matt Hargreaves returns in 2015 as assistant coach