Northeast Nightmare: Welcome
Thank you for visiting our site!
ANNOUNCING: NIGHTMARE MERGES WITH RI THUNDER GOLD
We are pleased to announce the merger of the Rhode Island Thunder Gold and the Northeast Nightmare. The organization will continue under the name "Rhode Island Thunder Gold". By combining the two most prolific organizations in New England we are looking forward to continued success during the 2013-2014 season. The Rhode Island Thunder Gold will roster teams from 10U to 18U Showcase. Under the leadership and direction of Dave Lotti, Rhode Island Thunder Gold teams will train year-round and compete in local, regional, and nationally recognized tournaments.

We are in the process of organizing our coaching staff's for the 2013-2014 season. Any interested coaching candidates (managers or assistants) should contact Ed Lincoln by phone 401-529-8975 or email nenightmareed@verizon.net. During the training and player development process, the organization will supply teams with highly knowledgeable consultants and trainers. Our goal is to provide our players the ability to m aximize their internal potential and enhance the success of each Thunder team.

Tryouts for the Rhode Island Thunder Gold will be announced in the upcoming days. If you have any questions, or would like to schedule a private tryout for our Showcase Teams please contact Dave Lotti by phone at
401-374-4934 or email boo2kay@aol.com. For questions regarding our youth teams, please contact Ed Lincoln by phone at 401-529-8975 or email nenightmareed@verizon.
Welcome to the home page for the Northeast Nightmare Organization.
We invite you to explore our various team pages listed on the left menu
and to check back here often for updates and news.
Thank you!

Northeast Nightmare, Inc. is a premier travel girl's fastpitch softball organization that consists of teams at the 10U, 12U, 14U and 18U College Showcase levels with players from RI, MA & CT. The Nightmare teams work all year to be prepared to compete in ASA, USSSA and PONY tournaments. The Nightmare Organization provides an environment where players are able to learn and excel. We emphasize that with dedication, hard work and a positive attitude as well as understanding the fundamentals and strategy of the game, will produce results. Becoming solid athletes, supportive teammates and displaying good sportsmanship are a must for our Nightmare players.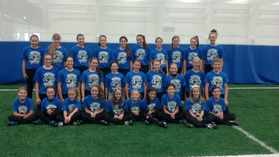 2012/2013 Nightmare Teams 14U, 12U, 10U