( 9U ) Round Rock Express: Express News
Saturday, March 17
GMBL Code of Conduct
In the HANDOUTS section of this website, is the GMBL Code of Conduct. All parents are required to read and understand the rules therein. If you have any questions, please ask Coach Jay.
Handout:
Code of Conduct
Saturday, July 1
Congratulations to the Spring 2006 Rookie American League Tournament Champions -- Athletics!!!
What a great season and tournament!! We outscored our opponents this year 168 to 111 runs and outhit our opponents 291 hits to 182 hits. One third of our hits were extra-base hits!
Small ball wins games...Big Ball wins Championships. And we proved that! Great job A's!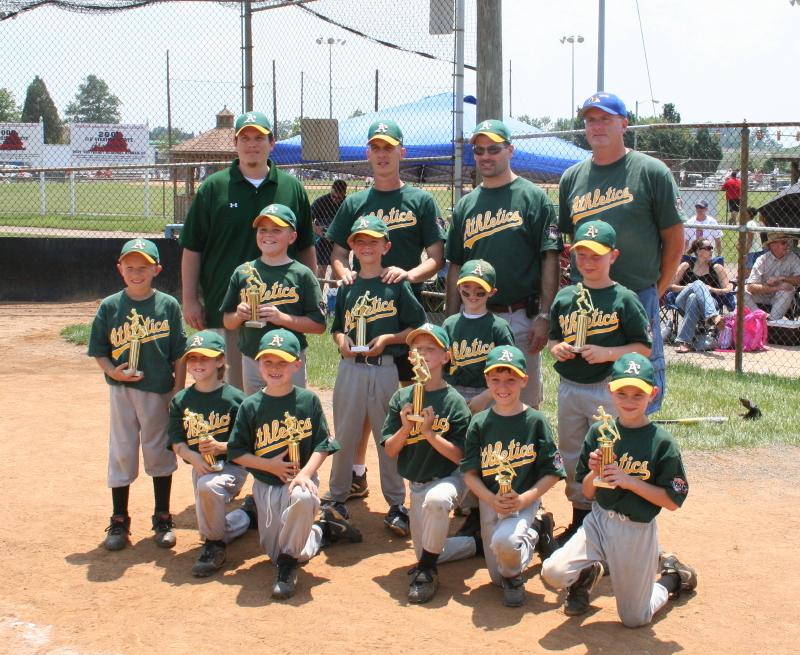 American League Champions!
Wednesday, June 14
Our All-Stars
Congratulations to John Hissong and Donald Hoad for being selected to represent the A's on the 2006 Spring Rookie American League All-Star team!
Friday, April 28
Spring 2006 American League Tournament Team
Congratulations to the following Athletics who were selected to play for the 2006 GMBL Rookie American League Tournament Team and will represent the league and Manassas in the Cal Ripken District VIII, Virginia State and Southeast Regional tournaments.

Sam Braley
Trey Shepard
Tyler Withers
Hit Stick
Click on the image to go to website...
A lot of you have asked how to get the Swift Stik. Coach Hoyle will be bringing eight of them to purchase at the next hitting clinic on September 4th. They will be $27 each, which is cheaper than you can get elsewhere.

It can also be bought at Modell's in Manassas. If they are out of them, you can also order online. Just click on the image here and it will take you to the website.
Wednesday, March 16
Equipment Needed
The only equipment needed by our players, outside of what GMBL provides, is the following:
Socks (Solid, Black)
"cup" (Everyone must wear one!!)
Glove (time to trade in those small T-ball gloves...they will need a bigger glove to be able to catch the ball this year)
Bat (See the email from Coach Hoyle in his article about bats on this page)

We also suggest the following:
helmet (we have helmets...but with lice going around the schools, this may be a good buy!!)
Batting gloves (not mandatory...but will help with grip and lessen stinging of the hands)

Friday, June 10
Dodger's Finish Third in Regular Season
A great season for a young team. Out of the top 5 teams in our division, 4 of them have mostly 8 year olds and have over a year experience together. And the Dodgers managed to end up right there with them all. This means we are the third seed in tournament, playing next Thursday against the Tigers. Great job this year everyone...and now we have to concentrate on playing our best in the tournament!!
Monday, June 27
Congratulations to the 2005 American League All-Star Team
The 2005 American League All-Star Team beat the National League All-Star team 11-6.

Ryan and Gordon were selected by their fellow Dodgers to represent them on the team! Both Ryan and Gordon had outstanding games, and were only two of four on the team of 16 players that played the whole game. Congratulations to both of them.
Congratulations to Two Dodgers for Being Selcted to the GMBL American 8u District Tournament Team!
We would like to congratulate Chris V. and Trey for making the GMBL 8u District Tournament Team, which calls themselves the Manassas Slammers.

These two will represent GMBL in the Cal Ripken District VIII Tournament at the end of June. Should they win, they will go on to the Cal Ripken Virginia State Tournament a week later. And if they win that, they will participate in the Cal Ripken SouthEast Regional Tournament in Florida in late July.

Good luck to both Chris and Trey!!