North Forsyth High School Soccer : News
Saturday, April 27
NF Soccer Supports Special Olympics Fundraiser
On Saturday, April 13, several NF Soccer players participated in the county-wide car wash competition hosted to raise funds for Special Olypics. The NFHS event raised over $1600.
Pictured (left-right): Harry R., Brianna E., Gabby B., and Val B.
Saturday, April 27
Pictured Brianna E. and friend.
Tuesday, April 9
Maddox to Become a Viking
Picture:
Back row- AD Turner (NFHS), Dana Maddox (mother), Coach Chapman (NFHS),
Front row- Reese Maddox (sister), Brandon Maddox (father), Chandler, Peyton Maddox (sister)
Maddox to Become a Viking
Chandler Maddox has been playing soccer since she was 4 years old. "I wanted to follow in my sister's footsteps" says Maddox, "she was amazing." Now, the little sister is becoming a collegiate athlete. On February 28, Chandler signed her letter of intent to play soccer at Berry College in Rome, GA for the 2013 season. Chandler's soccer career started at North Atlanta Soccer Association and later moved to the local United Futbol Academy. Over the years, Chandler has developed her soccer skills to playing on the Athena A team under Coach Jerome Samuels, and at the Varsity Level for North Forsyth over the last 3 years. While playing at North, Chandler has received numerous awards and accolades for her play; such as Defensive Player of the Year in 9th grade, MVP in 10th grade, and named to the 2011 All-Region Team, all while serving as 2-time Captain for the Lady Raiders. "Chandler is an essential member of our team "explains NFHS Coach Dana Chapman. "She is an asset in every area of the game, so much so it is difficult to play her in only one position. She is a true leader that is looked up to on the soccer field, off of the soccer field, and in the classroom. We will greatly miss her and her talents next year, but wish her nothing but continued success and accomplishments."For the Berry Vikings, Maddox will play on the flank, particularly on the left. Coach Lorenzo Canalis is looking forward to have Chandler join his team and has big plans for her. "Chandler has very good skills, vision, and most importantly poise on the ball when under pressure. She will help us tremendously in keeping possession while working the ball out of the back. On top of her soccer ability, she has impressed me with her personality, demeanor, and eagerness to contribute to our program." Maddox was equally impressed with Berry when she went on a campus visit. "Berry's campus is beautiful, so I can go out and adventure whenever I want. It has everything I was looking for [in a college]. It's a small school and it has soccer to push me athletically, WinShape to push me religiously, and academics to push me intellectually," says Chandler.At Berry, Chandler plans to major in Biology or Chemistry and brings numerous academic qualifications to ensure her success. Chandler currently has a 4.2 GPA and is President of both the Science National Honor Society and the Environmental Sustainability Clubs of America. Chandler's plans are just as impressive when graduating from Berry. "I'm going to join the Peace Corps for a few years and do environmental research," she said. "And then hopefully become a researcher in a third world country." While looking forward to her future, Chandler does not want to forget her past as a Lady Raider. "I love my team. I will miss playing for the Raiders and the team feeling that I get when I'm out on the field with the other girls." Chandler also wants to thank her parents for their encouragement and pushing her throughout her soccer years. Maddox will continue on in her senior season with the NFHS soccer team as they play through the rest of their spring season.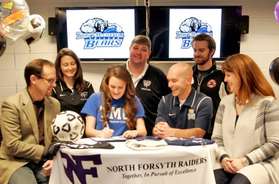 Tuesday, March 26
Ebert Signs to Play Soccer for TMC Bears
Women's Soccer -
Tue, Mar. 19, 2013
Brianna Ebert of North Forsyth High School's Lady Raiders loves the game of soccer. She is ecstatic to have the opportunity to continue playing the game she loves at the next level. On February 28, Brianna signed her letter of intent to join the Truett McConnell College Soccer Team for the 2013 season.
Brianna, a product of the now United Futbol Academy, has been playing organized soccer since the age of 7 when "her parents needed her out of the house" says Ebert. However, at the age of 11 she was hooked. Since that time Brianna has continued to raise her caliber of play until she most recently reached the Athena B level under UFA Coach Eric Swanburg. During her 2012 fall season, she was named both Captain and MVP of her team. She has also been an integral part of the North Forsyth Soccer Program as well. Playing Junior Varsity only her freshman year, Bri has been playing at the Varsity level ever since. NFHS is currently competing in the difficult Region 6 AAAAAA where Brianna is getting significant playing time while being a leader on and off of the field. "She is an asset to our team," says NFHS Coach Dana Chapman. "She works extremely hard and holds herself, as well as her teammates, to a high standard of competition."
TMC Head Coach David McDowell had a very familiar first impression of Brianna. "I met Brianna first on a campus visit, and I was immediately impressed with her personality and character. She meshed well with the girls and really had the Christian character that is so important at our school. Then when I saw Brianna play I was impressed by her overall work rate and drive on the field. I'm excited to see her progress and develop in our system. She has great potential with her hard work and determination." The decision for Ebert to attend college at Truett McConnell was a fairly easy decision. "I just don't want to stop playing! I feel like Truett is a great place to continue that because when I went to visit, the girls and the coach really hit home. It's a Christian environment, which is how I've always been raised, and it was a great experience when I so easily fit in with the team," says Ebert. Ebert is planning on following in her family tradition and earning her Early Childhood Education degree with an endorsement in special education. "Even though I'm going to miss being a Lady Raider, I hope [the girls know] that I will always believe in them." Brianna also wants to thank the rest of her 2013 senior soccer girls as well as her parents for always encouraging her along the way. Ebert will continue on in her senior season with the NFHS soccer team as they play through late spring.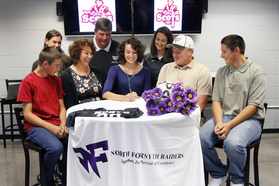 Friday, June 14
Billstrom Headed to Maryville College
Back Row- Val Billstrom (sister), AD Nathan Turner (NFHS), Coach Chapman (NFHS)
Front Row- Thor Billstrom (brother), Kym Billstrom (mother), Gabby, Steve Billstrom (father), Patrick Billstrom (brother)
North Forsyth's Gabrielle Billstrom has officially signed her letter of intent to play soccer for (Div. III) Maryville College in Tennessee in the fall.
Gabby's soccer career started when she was only 5 years old when her mom signed her up to play the sport. She then spent her years playing around the area where she lastly competed with the local United Futbol Academy Athena A select team.
While at North, Billstrom played 3 years of varsity soccer and served as a two-time captain for the Lady Raiders. She finished her career at NFHS in the spring while holding a 3.8 GPA with honors in Math, German Studies, and History. "Gabby will be missed," says NFHS Head Coach Dana Chapman. "She was a role model for our team both in practices and games. I am so thankful that I had the chance to coach Gabby and not only see her soccer skills shine but also see her truly blossom into the leader she became to the other girls."
When asked about her future college, Billstrom stated: "I was approached by this small liberal arts school after a tournament, and I was immediately interested in the size of the school and the challenge of their conference. The coaches are also very nice and the team is pleasant." Head Scots Coach Pepe Fernandez was immediately interested in Gabby as well: "We think Gabby has many attributes that she brings to our program; she is a good athlete with good soccer skills. We expect her to challenge for playing time immediately as we see her playing either defense or midfield for us."
Billstrom plans on majoring in Exercise Science with a concentration in Physical Therapy.