Newark American Little League: Welcome
Newark American Little League
2015 Season Registration
Baseball sign-ups for 4–18 year olds
All registration days will be held at the NALL Board Room
Located at the Ernie Silva Sports Complex at:
Newark Jr. High 6201 Lafayette Ave. (by the baseball fields.)
For more information please contact NALL
Head Player Agent, Ken Dixon @ 510-385-2025
Email: kdixon@southlandind.com
SIGN UP/TRYOUT DATES:
Saturday: Jan 3rd, 10th & 17th*
*Only if Jan. 3rd or 10th are rained out
5-6 Year Olds 8:30am - 9:30am
7-8 Year Olds 9:30am - 11:00am
9 Year Olds 11:00am - 12:30pm
10 Year Olds 1:00pm - 2:30pm
11-12 Year Olds 2:30pm - 3:30pm
2015 Registration Fees
$50.00/Challenger
$100.00/T-Ball
$140.00/Child – Farm & Higher
$220.00/Family (2 children)
$70.00/each child 3rd or more
Now accepting credit card payments
Phone: 510-494-1303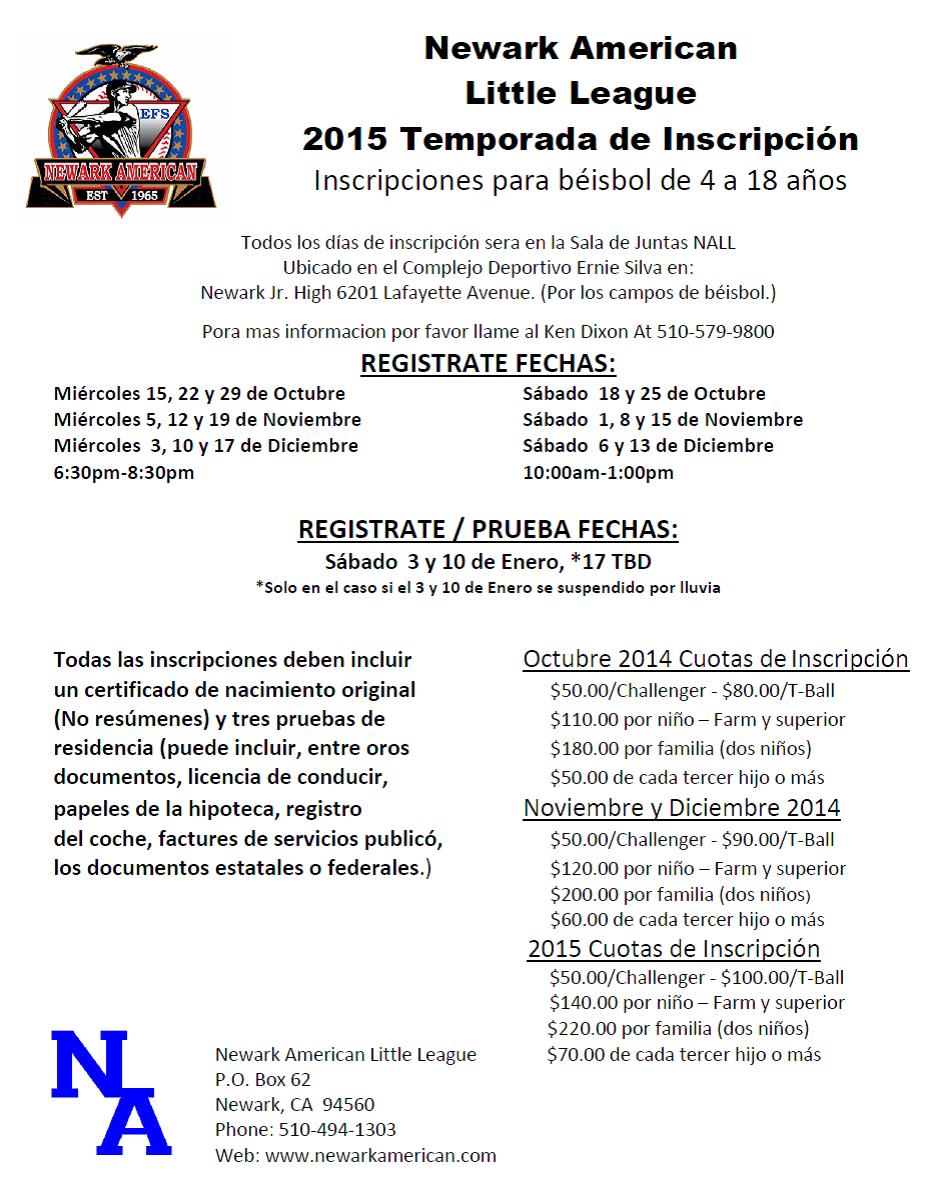 Friday, December 12
Free Baseball Camp
NEWARK MEMORIAL
Coaching Staff will be hosting a
FREE Baseball Camp
Sunday Jan 4th and 11th
60 kids in each age group
Rain or Shine: if it rains the camp will be in the old gym
Jan 4th will cover: Throwing Technique, Ground Balls, Fly Balls, Fielding,
Catching, infielders will learn to glove side and back hand side balls
Jan 11th will cover: Hitting/Batting, Bat Grip, Bunts, Swing, How to Get
Away From Pitch,
Check in Times:
4-6 Year Olds: 8:30 am. Please bring a glove, 2 pairs of shoes, baseball
cap and bottle of water.
7-10 Year Olds: 10:30 am. Please bring a glove, baseball cap, cleats and
bottle of water.
11-15 Year Olds: 12:45 pm. Please bring Please bring a glove, 2 pairs of
shoes, baseball cap and bottle of water.
Parent must sign release during sign in.
Call Coach Lemas (510) 393-2994 to reserve your spot today.
Sunday, December 14
Umpire Clinic:Tuesday, December 16
OH COME ALL YE FAITHFUL
LEAVE JOYFUL AND TRIUMPHANT!!
THE AMAZING OPPORTUNITY
At this month's Umpire Meeting we will be discussing Obstruction & Interference.
· * Come and learn the difference between the two.
· * Experience the different types of Interference (not personal of course, that would be a different session!)
· * Find out how to watch out for what's going on.
· * Understand what penalties to apply.
· * Get answers to all your questions
WHO SHOULD ATTEND
· All those who umpire, whether you do 1 game or 50 games
· Managers & Coaches who want to understand the topic to better teach the kids
· Anyone who wants to better understand the game at all levels
WHEN
· 7pm, Tuesday December 16 at Centerville Round Table.
ANYTHING ELSE
· If you have any questions or situations you'd like addressed, please send an email to langford.vic@gmail.com and we'll make sure they are covered.
Get a head start on the season and come join us.