Newark American Little League: Welcome
Newark American Little League (NALL)
Welcome to the official web site of Newark American Little League Baseball, home of the 2009 Delaware State Big League Champions, 2007 District 2 Senior Champions, 2005 District 2 Junior Champions and 2002 District 2 Major Champions. NALL is located in Newark, Delaware and has been providing youth baseball programs for 58 years. Please be sure to visit and thank this year's sponsors. We'll list all of them on our
Sponsors Page
.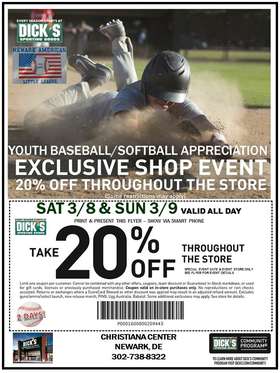 Dick's Coupon Flyer
Monday, February 24
Dick's Sporting Goods Appreciation Day
Newark American LL is celebrating Youth Baseball/Softball Appreciation Day at Dick's Sporting Goods (Christiana) on March 8th and 9th!! All Newark American families will receive 20% off their entire purchase when they present the flyer at checkout. You may print the flyer or show it via your smartphone! YOU CAN FIND A PRINTABLE COPY OF THE FLYER AT THE BOTTOM OF THE PAGE UNDER THE HANDOUTS SECTION OF THIS WEBSITE!
Saturday, January 11
Little League Rules Clinic
District II Umpire/ Coach/ Family, Little League Rules Clinic
Saturday February 22th 2014 8:00 to 12:00 noon
Bible Fellowship Church 806 Old Baltimore Pike Newark close to Rt.72, (not the round church at the intersection of Old Balt. Pk and Rt.72).
The Clinic is a great opportunity for Parents, Coaches, and Umpires to be informed of the rule changes for the 2014 season.
Wednesday, January 1
2014 Newark American Registration Information
2014 REGISTRATION DATES:
Saturday, 1/25, 9:30-12:30
Wednesday, 1/29, 6:30-8:30
Saturday, 2/1, 9:30-12:30
Thursday, 2/6, 6:30-8:30
Saturday, 2/8, 9:30-12:30
All will be held at the VFW building located right next to our main VFW field.
Fees for 2014:
T-Ball= $50
Minor A (formerly coach pitch)= $90
Minors = $90
Majors= $90
Junior/Senior/Big League = $125
Raffle Tickets= $30 per player
Tag Day Buyout= $30 per player (n/a for Junior/Senior/Big League)
LATE FEE OF $25 FOR ALL REGISTRATIONS AFTER 2/8!!!!!
Tryout dates 2/16 and 2/22 1:00-3:00 at Newark High School
Opening Day....April 5th
Pictures....April 5th
To be eligible to play at Newark American, players must qualify as follows:

1. They must reside within the established boundaries of Newark American Little League OR attend a school that lies within the established boundaries. Residence shall be established and supported by documents from THREE OR MORE of the following categories to determine residency of such parent(s) or guardian:
A. Driver's License
B. Voter's Registration
C. School records
D. Welfare/child care records
E. Federal records
F. State records
G. Local (municipal) records
H. Support payment records
I. Homeowner or tenant records
J. Utility bills (i.e., gas, electric, water/sewer, phone, mobile phone, heating, waste disposal)
K. Financial (loan, credit, investments, etc.) records
L. Insurance documents
M. Medical records
N. Military records
O. Internet, cable or satellite records
P. Vehicle records
Note: Example – Three utility bills (three items from No. 10 above) constitute only ONE document.
All documents must be dated between 2/1/2013-2/1/2014.

Also, a player will be deemed to reside within the league boundaries if:
A. His/her parents are living together and are residing within such league boundaries, OR;
B. Either of the player's parents (or his/her court-appointed legal guardian) reside within such boundaries. It is unacceptable if a parent moves into a league's boundaries for the purpose of qualifying for tournament play. "Residence," "reside" and "residing" refers to a place of bona fide continuous habitation. A place of residence once established shall not be considered changed unless the parents, parent or guardian makes a bona fide change of residence.

2. They must bring legal proof of age (Birth Certificate) and be accompanied by at least one parent or guardian. Proof of age documents must be issued by Federal, State, Province, County, Parish Town, City, Borough or Village departments or bureaus having jurisdiction. These may be original "Birth Certificates," notification of birth registrations or birth registration cards; or certified copies thereof. Photo copies are not acceptable as such unless duly acknowledged as a true and correct copy by an authorized public official. Little League Headquarters Statement in lieu of Birth Certificate is acceptable. Baptismal Certificates are not acceptable. After examination by the player agent and the league president, these documents will be immediately returned to the parents.


Little League requires all board members, managers, coaches, and other volunteers or hired workers who provide regular service to the league or/and who have repetitive access to or contact with players or teams fill out the new volunteer application. Additionally, the league will be required to conduct a background check on each of these individuals. The volunteer application form can be found in the "Handouts" section of our website. You must provide your social security # in order for a background check to be completed.
Welcome to Newark American Little League
Monday, January 27
TRYOUTS
Tryouts will be held at Newark High School on the following dates from 1:00-3:00:
Sunday, Feb 16th
Saturday, Feb 22nd
You MUST attend one of these dates if you plan on playing in the minor or major division this spring.
The only exception is for returning majors players. If you are returning to the majors, you will remain on the same team as last spring.