New Milford Little League Baseball: Welcome
Welcome to the Official Website of the
New Milford Little League
Incorporated in 1951
New Milford Little League • PO Box 86 • New Milford, NJ 07646
Proud Host Town for 2017 Summer NEBAS League
♦ ♦ ♦ ♦ ♦ ♦ ♦ ♦ ♦ ♦ ♦ ♦ ♦ ♦ ♦ ♦ ♦ ♦ ♦ ♦ ♦ ♦ ♦ ♦ ♦
Having trouble viewing this website?
eTeamz is currently experiencing trouble with Internet Explorer. To view this website in its entirety, try Firefox or Google Chrome.
♦ ♦ ♦ ♦ ♦ ♦ ♦ ♦ ♦ ♦ ♦ ♦ ♦ ♦ ♦ ♦ ♦ ♦ ♦ ♦ ♦ ♦ ♦ ♦ ♦
---
All-Star Saturday
NMLL All-Star Saturday
This Saturday, June 17th, we will be celebrating players in all of New Milford Little League's Divisions (ages 5-12) at Connelly Field
9:00 AM • Clinic Awards Presentations
All Clinic players will be honored with medal presentations. Please have players wear uniforms as we celebrate them.
T-Ball players will receive their medals at their games as requested by coaches.
10:00 AM • Clinic Future Stars Game
Come on and check out the future stars of NMLL!
12:00 PM • Minor League All-Star Game
Cheer our Minor League All-Stars On!
2:00 PM • Major League All-Star Game
Cheer our 10-12 Year-Old All-Stars On!
4:00 PM • 12-Year-Old All-Star Game
Cheer our Graduating 12 Year-Old Players On As They Play In Last & Final Little League Game!
• Please note that times are approximate due to game lengths. Teams and participating players in the games have been selected in advance by their managers.
---
Congratulations 2017 Champions
CONGRATULATIONS TO OUR
WORLD SERIES CHAMPIONS!
MAJOR LEAGUE CHAMPIONS
TONY D. LANDSCAPING YANKEES
Runners Up:NEW MILFORD PBA BREWERS
MINOR LEAGUE CHAMPIONS
ANGELINA'S PIZZA WILDCATS
Runners Up: BIG JIM'S PIZZA CRIMSON TIDE
Thank you to all coaches, parents, and most importantly all of our Major & Minor League Players for a great season!
---
Thursday, June 8
Majors & Minors Playoff Schedule
Majors & Minors Playoff Schedule*
(*Subject to Change)
ALL GAMES AT CONNELLY FIELD
Wednesday May 31
1 6:00 Majors • Brewers L vs Pirates W
8:00 Majors • Nationals vs Yankees suspended 2nd inning (lightning)
Friday June 2
Crimson Tide 14
Crimson Tide:
Joe G: 73,
Cicai: 14
Wolverines:
Joe S: 71,
Alex S: 56
Cowboys:
Orourke 75,
Kelm 7,
Langschutz 50
Wildcats:
Kyle 49,
Block 32,
Hibinski 20
Saturday June 3
Yankees 8
Nationals 3
Yankees:
Brendan O. - 52, Brandon Olivo - 38
Nationals:
Noah G.- 52, Devin R. - 27
Yankees 12
Pirates 11
Yankees:
Brandon O.83,
AJ S. - 82
Pirates:
Andrew W.-44,
Nylen N.-15,
Mike Minya.-73,
Dylan R.- 76
Brewers 13
Nationals 11
Nationals:
Johnny 75,
Devin 22
Brewers:
Matty A 85,
Tyler C 73
Brewers 9
Pirates 6
Brewers:
Derek 84,
Sebastian 20
Pirates:
Braeden 85,
Neylin 30,
Andrew 26
Wednesday June 7
Crimson Tide - 7
Wildcats - 12
Crimson Tide:
jalmarrio 75,
dunne 49,
s ermita 8,
gugliotta 17
Wildcats:
tennant 75,
block 48,
s hibinski 38
(Cowboys eliminated)
Cowboys:
Joe L: 64,
John O'R: 35,
Jake G: 39
Wolverines:
Alex S: 48,
Ben N: 38
Saturday June 10
(Wolverines eliminated)
Crimson Tide:
Joe G: 47,
Santino E: 53,
Kris D: 29
Wolverines:
Christian E: 51,
Alex S: 70
Brewers 3
Yankees 12
Congratulations to Tony D's Lanscaping Yankees World Series Champions!
Tuesday June 13
8:00 Minors • Crimson Tide vs Wildcats
(Championship Round - Crimson Tide eliminated with a loss, series is over)
Friday June 16
6
:00 Minors • Final Game if necessary
(Winner is Champion)
---
---
---
Congratulations Seniors!
Congraulations NMHS Varsity Award Winners
Each year, thanks in part to efforts with our "Shake the Hat" and other fundraisers, New Milford Little League is able to present some of our former players who also played with the NMHS Knights baseball program with scholarships to help with their college expenses. These players were selected with their dedication, sportsmanship and character in mind throughout their entire Little League and High School careers. We are proud to report that this year we were able to present four graduating players with $500 scholarships each. Congratulations to this year's winners...
Ryan Mulligan
Eddie Rynander
Dane Terry
Michael Valente
We wish them all the best of luck in the next stage of their journey through life.
We also want to congratulate all former New Milford Little League players graduating, not only from New Milford, but all high schools this year.
---
Snack Stand Volunteer Signups
SNACK STAND VOLUNTEER SIGN-UPS
As stated at registration, each NMLL family is required to do one shift minimum (2 hours) at our 'Connelly Cantina' Snack Stand
during the season.
Rather than the league assigning your shifts, we utilize SignupGenius so that you can pick your shift (first come, first serve basis) based on your schedules. We hope this makes this easier for all. Please visit the link below to choose your shift. Our game schedule for the season is being emailed, and you should receive a printed one from your Coach and/or Team Parent as well in the coming days.
At registration, each family paid an advance volunteer fee of $40. At the conclusion of this shift, you will receive your $40 deposit back.
Please visit the link below to sign up now!
http://www.signupgenius.com/go/10c0f4eaeac2ba2fa7-volunteer
---
2017 New Milford Baseball Team Store Is Now Open
is Now Open!!!
Merchandise included features Tee's, Hoodies w/ HOLLOWAY & UNDER ARMOUR Products for Players, Mom's & Dad's
ORDER DEADLINE DATE:
March29th
RECEIVE MERCHANDISE BY:
April 19th
CLICK LINK TO ORDER NOW

Showroom located in Emerson, NJ
Scoreboard & Dugout Sponsors
Thank you to our Scoreboard & Dugout Sponsor
Click The Image Above To Learn More About Joseph Binetti and ReMax
Thank you to our Dugout Sponsor
Progressive Mortgage Services
& John Psarianos
---
Weather Forecast
Visit NMLL on Facebook
Visit New Milford Little League's New Page on
facebook.com/newmilfordlittleleague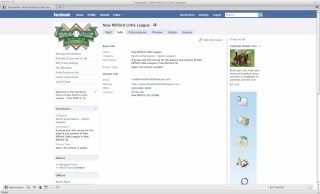 Get Updates, Give Feedback, Share Memories, Keep in Touch with Teammates... Just Have Fun!
---
New Milford Little League