New Milford Little League Baseball: Welcome
Welcome to the Official Website of the
New Milford Little League

New Milford Little League • PO Box 86 • New Milford, NJ 07646
Proud Host Organization of 2013 Summer N.E.B.A.S. Travel Baseball & Tournament
♦ ♦ ♦ ♦ ♦ ♦ ♦ ♦ ♦ ♦ ♦ ♦ ♦ ♦ ♦ ♦ ♦ ♦ ♦ ♦ ♦ ♦ ♦ ♦ ♦
Having trouble viewing this website?
eTeamz is currently experiencing trouble with Internet Explorer. To view this website in its entirety, try Firefox or Google Chrome.
---
Monday, May 20
Updated Schedule Changes for Later This Week
Updated Schedule Changes for Later This Week
Due to various circumstances, we must move several games. They are as follows...
Wednesday, May 22
Farm game between the Angels and Mariners will now be at Warren Street Park at 5:30pm
Clinic game between the Mets and Giants will now be at Pavone Field at 5:30pm on Wednesday, May 22nd
Thursday, May 23
Minor Game (makeup game) between the Reds and Pirates Is at Pavone Field at 5:30 pm
Minor Game between the Mets and Diamondbacks will be at Connelly Field by now at 6:00pm
Major Game between the Braves and Diamondbacks originally scheduled for Friday, will now be played on Thursday at 8pm.
---
Wednesday, May 22
NMLL Playoff Schedule
2013 Playoff Schedule
Minor & Major League Divisions
Major WS
- best out of five
Minor WS - best out of three
Major RR - 1st round - 3rd place team draws a bye; 4th vs. 5th and the winner plays 3rd place team in a best out of three.
Minor RR - All single games
Note: Tiebreaker for teams with identical records will be the head-to-head record. If that is equal there will be a one game playoff only if it affects one of the teams qualifying for either World Series.
All playoff games must go 6 innings, except if the Minor League run rule takes effect. All games are at Connelly Field.
June 3 • MNWS (Game 1) 5:30 PM / MAJWS (Game 1) 8:00 PM
June 4 • MNRR (#3 vs #6) 5:30 PM / MNRR (#4 vs #5) 8:00 PM
June 5 • MAJRR (#4 vs #5) 7:00 PM
June 6 • MNWS (Game 2) 5:30 PM / MAJWS (Game 2) 8:00 PM
June 7 • MNRR (Championship Game) 5:30 PM / MAJRR (Game 1; 3rd place team plays w/o 4vs.5) 8:00 PM
June 10 • MNWS (Game 3 - if necessary) 5:30 PM / MAJWS (Game 3) 8:00 PM
June 12 • OFF
June 13 • MAJRR (Game 3 - if necessary) 5:30 PM / MAJWS (Game 4 - if necessary) 8:00 PM
June 14 • OFF
June 17 • MAJWS (Game 5 - if necessary) 7:00 PM
---
Memorial Day Parade
New Milford Memorial Day Parade
Monday, May 27th

New Milford Little League will be marching in this year's parade.
All interested marchers are to meet at the Senior Citizen Center on River Road (on River Rd. & Demarest).

The parade will begin at 9:15 sharp and go down River Road ending at Borough Hall.

We encourage all marchers to remain afterwards for the singing of the National Anthem at the Veterans Memorial at Borough Hall.

Please wear your uniform and comfortable shoes. There will be a sign at the staging area where we are to gather.


---
Tuesday, May 14
Rescheduled Games
Rescheduled Games
The following are rescheduled dates for games postponed recently. Umpire and snack stand volunteers will report on these dates/times to make up from the original date.
Please note some games have changed from originally announced make up dates.
May 20 14 - 13
May 23 15 - 14
May 24 13 - 12
May 31 11 - 16

All games will be at 5:30 at Pavone Field
Clinic, Farm and T-Ball games will go to a date to be announced.
Thank you.
---
Saturday, May 11
Rain Outs...
Rainout Today
Saturday, May 11th's games are postponed.
Today's games at Connelly and Pavone Fields are postponed due to weather and field conditions.
Makeup dates will be announced soon. Check the website in the coming days and with your team's manager for updates.


Snackstand volunteers and Umpires from rained out games will go to the rescheduled date(s) when they are announced.
---
50/50 Loot-Meter
LOOT
METER
Our jackpot is now $4,700
($9,400 Collected)
Let's keep it going! Drawing June 5th!
Prizes for the most tickets sold...
---
Sunday, April 7
Opening Day Thanks!
Thanks To All!
We would like to extend gratitude to all who helped make our 2013 opening day a success. Without the hard work of the many volunteers -- board members, coaches, concession stand managers and people just willing to help -- we could not do this. And let's not forget all of the players and families who continue to support us.
Here's to a successful, safe and fun 2013 season!
---
Sunday, March 10
Online Concussion Safety Course
Heads Up Concussion In Youth Sports
Free Online Training Course for All NMLL Coaches

Click the Image Above To Take Course Or Go To The Link Below
This Online Course Is A NMLL Requirement For All Coaches This Year
At The Completion Please Save Your Proof Of Participation
---
Weather Forecast
Visit NMLL on Facebook
Visit New Milford Little League's New Page on
facebook.com/newmilfordlittleleague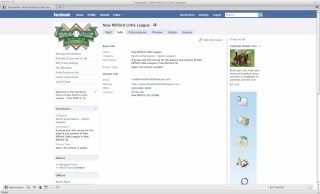 Get Updates, Give Feedback, Share Memories, Keep in Touch with Teammates... Just Have Fun!
---
New Milford Little League