New Haven Little League: Welcome
| | |
| --- | --- |
| | Click Here to Register for the 2015 Season |
Welcome to the New Haven Little League Association website.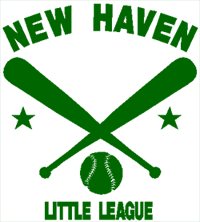 NEW HAVEN, MICHIGAN
Machine Pitch and Tee Ball schedules Have been added to the Handout section
Machine Pitch Coaches
1
Forest Green
Joe
Kaferle
2
Royal Blue
Joanne
Hilmon
3
Black
Tim
Morehouse
4
Red
Angie

Drum
Tee Ball Coaches
1
Red
Ken
Brickel
2
Orange
Tim
Moorehouse
2
Orange
Daniel
Shagena
3
Royal Blue
Stacy
Czaiczynski
3
Royal Blue
Phino
DeLeon
4
Navy Blue
Eric
Bosco
4
Navy Blue
Ken
Penberthy
5
Maroon
Nicolas
Baron
5
Maroon
Gary
Chateneauf
6
Gold
Paul
Grishkevich
7
Gray
Geoff
Klein
7
Gray
Joe
Sheridan
8
Purple
Dayna
Taylor
8
Purple
Rebecca
Vanderwyngaard
Do you own or know a business that would like help sponsor our program? Sponsorship forms are located in the "handout" section.
PRINT a registration form from the "handout" section of this website.
Mail in Registration:
NHLLA
27820 28 Mile Road
New Haven, Mi 48048
*please remember to include a $50 check for the volunteer fee.
UPDATE: Volunteer opportunities have been added to the Handout section
Our fields are located at 30375 Clark St. New Haven, 48048
Click on the locations link on the left hand side of this page for a map.
Volunteer applications can be found in the "handout" section of the website.
FOR QUESTIONS email: nhll2009@yahoo.com or call Jason Walker 586-854-1068
Tuesday, January 31
New Haven (MI) Little League