New Haven Little League: Welcome
| | |
| --- | --- |
| | Click Here to Register for the 2014 Season |
Welcome to the New Haven Little League Association website.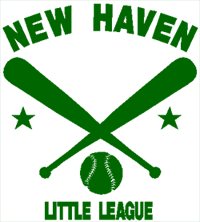 NEW HAVEN, MICHIGAN
2014 Walk-in Registration Dates
Endeavour Middle School (Outside of Gymnasium Enter in back of School)
Friday February 21st 6:00 PM - 8:00 PM
Saturday Feb. 22nd 12:00 PM - 2:00 PM
February 28th 6:00 PM - 8:00 PM
Saturday March 1st 12:00 PM - 2:00 PM
New Haven Elementary School Lobby (Decora Park)
Thursday February 27th 6:00 PM - 8:00 PM
**LAST WALK-IN DATE Thursday March 13th 5:00 PM - 8:00 PM (during Conferences)
LAST DATE for Walk-In Registration is MARCH 13th at New Haven Elementary 6PM to 8PM
PRINT a registration form from the "handout" section of this website.
Mail in Registration:
NHLLA
27820 28 Mile Road
New Haven, Mi 48048
*please remember to include a $50 check for the volunteer fee.
UPDATE: Volunteer opportunities have been added to the Handout section
Our fields are located at 30375 Clark St. New Haven, 48048
Click on the locations link on the left hand side of this page for a map.
Volunteer applications can be found in the "handout" section of the website.
FOR QUESTIONS email: nhll2009@yahoo.com or call Jason Walker 586-854-1068
Tuesday, January 31
New Haven (MI) Little League