RiverBandits Baseball: Welcome
2013 Great Lakes Regional Champions!
Witness the last out & Dog Pile HERE!
2013 Ohio State Champions!
Witness the last out & Dog Pile HERE!
Wednesday, October 8
Traffic Alert for Miami All Star Weekend!
If you are coming down on Route 127, there is a MINOR detour South of Greenville..........Here are the directions, which takes you in the back of Oxford. It is the quickest way AND you avoid Eaton.
You will eventually see "road closed ahead" signs...........avoid the first two and continue on. 5 MILES later you will eventually have to turn at the third sign.
Turn RIGHT on Otterbein/Ithaca Road Stay on that for 2 miles till you get to a 4 way stop.
Turn LEFT on Preble Co Rd for 2 miles where it will dead end.
Turn LEFT on State Route 726 and you will go thru ELDORADO. Continue 5 miles.
Turn RIGHT on State Route 40 and go 3 miles
Turn LEFT on Oxford/Gettysburg Rd which runs in FRONT on National Trail HS. Road deadends in 6 miles.
Turn RIGHT on State Route 122 and go just 1 mile.
Turn LEFT on Wyatt Road. This road will eventually turn into Route 732. Continue to Oxford.
Once in Oxford, turn LEFT at the Best Western light which is Sycamore St
Go down to the stop sign where the basketball arena is on the left, but turn RIGHT.
You only go down a little bit and turn LEFT in a service drive where you will see a sign for McKee field. The baseball field sits behind buildings...............
Directions provided by BACHquest..............not to be confused with MapQuest!! See ya
Sunday
!
2014 Great Lakes Regional
Bandits Headed Back to Great Lakes Regional
For the second consecutive year the Bandits qualify for the Great Lakes Regional
Follow the Napoleon River Bandits quest for a Regional Championship
on Twitter at @napoleonbandits or @legionbaseball. On the web at Great Lakes Regional Tournament.
Welcome to River Bandits Baseball

Since 1998, the River Bandits Baseball program has been committed to excellence... top-shelf players, exceptional staff, and consistent results. The River Bandits have become one of the most well-respected American Legion Baseball programs in the United States. The outstanding results of the program are a reflection of everyone involved, past and present - their commitment, work ethic, character, and passion for the game of baseball.
District Champions: 99, 00, 01, 04, 05, 06, 07, 09, 10, 11, 13, 14
OH State Champions: 00, 01, 11, 13
Runners-Up: 99, 09, 10, 14
Regional Champions: 01, 13
Runners-Up: 11
Appearances: 00, 01, 11, 13, 14
Connie Mack State Champions: 02, 04
World Series Appearances: 01, 13
The River Bandit tradition is never taken lightly... expectations are always high as the program continues to build upon the successes of the past. For River Bandit players, the commitment to participate is tremendous, as the typical summer season consists of 50-60 scheduled games within 7 weeks, including participation in several weekend tournaments,
The River Bandits' success is second to none, measured by the outstanding season results, the number of participants that have continued playing at the college level, as well as the professional level.
The River Bandits are sponsored by the American Legion Napoleon OH Post 300, for which their support is a direct influence on the program's success.
American Legion Baseball
Since 1925, the American Legion has sponsored a nationwide youth baseball program. During these past eight decades, millions of young players have enjoyed playing baseball. The American Legion, and their 2.8 million members, have raised millions of dollars each year for players to learn the importance of teamwork, discipline, leadership and good sportsmanship. The American Legion sponsors American Legion Baseball to give players an opportunity to develop their skills, personal fitness, leadership qualities, and compete at the highest levels.
Each year there is an average of over 5,000 American Legion Baseball teams in the US, Canada, and Puerto Rico, with more than 90,000 players, age 15 to 19. On average, 55 percent of all Major League Baseball players have participated in American Legion Baseball, and nearly 90% of all college players.
Annually, the American Legion National Headquarters spends over $1 million to operate and host 64 teams that qualify for the National Tournament. Each year 1,280 players and coaches on 64 teams compete at eight Regional Tournaments, with the Regional Champions advancing to The American Legion World Series. American Legion Baseball is the only amateur youth baseball program that funds 100% of the cost of hotels, transportation, meals, umpires, and baseballs for this National Tournament.

American Legion Code of Sportsmanship
I will:
Keep the Rules,
Keep Faith with my teammates,
Keep my temper,
Keep myself fit,
Keep a Stout heart in defeat,
Keep my pride under in victory,
Keep a sound soul, a clean mind, and a healthy body.
2013 Regional Champions
Bandits Punch Their Ticket to Shelby, NC
2013 American Legion Great Lakes Regional Champions - Qualify for the AL World Series!!
Follow the Napoleon River Bandits quest for a World Series Championship
on Twitter at @legionbaseball. On the web at www.Legion.org/Baseball.
All games can be watched on ESPN3 HERE.
Follow LIVE play-by-play GameTracker, ESPN3, boxscores, photos & brackets HERE.
1st game for the Bandits is this Friday, August 16th @ 9:30 AM
Witness the 2013 Regional Championship Dog Pile HERE!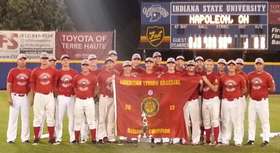 2013 Great Lakes Regional Champions
2014 Fall League Registration
Sign-up now for the 2014 River Bandits Fall League. This Fall Baseball Camp will enable High School players to prepare for their upcoming season. The Camp is open to all players that will have High School eligibility in the spring of 2015 (also 8th graders) and we will utilize baseball fields such as Edon, Delta, Defiance College, Van Wert, Napoleon, Tinora and others. Play will begin on Sunday, August 25th, and continue each Sunday through September 29th (NO rain dates). Each Sunday includes a double-header of play. The premier players in the camp will be invited back for an additional 2 weeks of All-Star competition in front of college coaches and scouts (at Adrian, Michigan and Miami University). Please note – registrations are limited in number, and we always fill up quickly – please use the below Registration Form and mail it in as soon as possible!
Handout:
2014 Fall Registration