Northwest 45 Little League: Welcome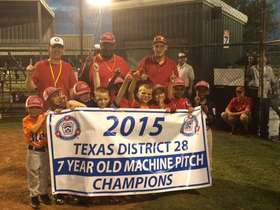 MP7 District Champions
WELCOME TO NORTHWEST 45 LITTLE LEAGUE
HOME OF 2015 DISTRICT 28 MP7 , PW9 & JR CHAMPIONS !!
***************
JR/SR Registration (late registration for all ages until full)
Saturday 2/6 10 am - 12 pm (concessions near Lone Star)
JR/SR tryouts - Saturday 2/13 10 am Field 7
++++++++++++++++++
Spring 2016 Prices by division
TBall - $100
CP6 - $130
MP7/8 - $150
PW9/Minors - $160
Major/Jr/Sr - $180
** Online Registrations are ONLY still open for JR/Sr with $60 Buyout: HERE
Don't forget to signup at RAINEDOUT.COM!
(Stay Up to Date on Field and Game Changes Due to the Weather)
*********
NW45 is now on Instagram!! Make sure you tag us in your pictures when you post with
#NW45Baseball #NW45LL
******
Help make a difference for our NW45 Players- Join the Parents Auxiliary!
Contact Carrie Phillips at cmphillips118@gmail.com
********
Find all the latest info on Spring High School Baseball Lions in Links Tab
******
IS IT RAINING? SIGN UP AT RAINEDOUT.COM AND RECEIVE TEXT MESSAGES ON RAIN OUTS AND BE UPDATED WHEN THE FIELDS ARE CLOSED
IF YOU NEED MORE INFORMATION PLEASE EMAIL US AT - info@NW45LL.com
You can also find us on Facebook!
https://www.facebook.com/NW45LL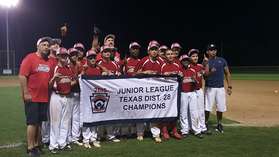 Junior District Champions