WWW.NRLL.ORG: Welcome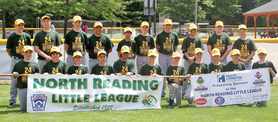 21 NRLL 12-Year-Olds Participated In The 2017 Chaloux Game.
Congrats to the Majors champion Diamondbacks, Minors champion Thunder, Farm champion Blue Jays, and Big Diamond Junior champion Orioles.
Another Chaloux Success
A group of 21 North Reading Little Leaguers took part in the 5th Annual NRLL/Tim Chaloux 12-Year-Old Appreciation Game on Father's Day at Benevento Fields. Parents and siblings joined the players on the field for "Family Catch" before the game, and the contest saw the Hammering Hornets defeat the Benevento Bombers, 12-7. Alex Carucci was named game MVP and Liam Rodger received the Chaloux Spirit Award. The game is played as a way to celebrate the youngsters who are completing their Small Diamond careers and to remember the life and legacy of Tim Chaloux, a former NRLL standout who died tragically in 2013 at the age of 18.
Summer League Signups Now Open!!!
Sign up now for the Jimmy Fund League and support a great cause while representing North Reading on the ballfield this summer. Three divisions: ages 8/9, 9/10, and 11/12. Nine-game season, mostly on weeknights, runs from early July through early August. For more info and to register, go to the "Sign up for NRLL & Clinics" link in the left column. If you have any questions, contact Summer League Director Allen Burgess at NRLLSummer@gmail.com. If you have issues with registration, contact mcorreal@comast.net.
Support our Sponsors:
ACE HOME Medics, LLC • Advanced Photo • APECS Engineering Corp • Baystate Disposal • Braga's Landscaping • C.R. Signs • Century Bank • Cervizzi Family Law • Cervizzi Martial Arts • China Cuisine • Classified Realty Group • CPR Cell Phone Repair • ERA Russell Realty Group • Farrelly Realty Group • GARVIN BROWN Construction Products • Heavenly Donuts • Heffron Materials "UNCLE MILTIE" • Horseshoe Grill • JH Insurance Group • Joe Fish Restaurant • Kitty's Restaurant • Law Office of David M Baker • LAZ Ultimate Hospitality • Moynihan Lumber • One Stop Liquors • Premier Homes Real Estate • Proex Physical Therapy • R.J. Puliafico Electrical • Rams Athletic Complex • RE/MAX Renaissance Realtors • Royal Air Systems • Ryer's Country Store • Scribner Lawn Care • The Loft Steak & Chop House • The Savings Bank • The UPS Store • Tower Root Beer • Trischitta insurance • Vadala Masonry • Valvoline Instant Oil Change • Viking Tree
Friday, June 7
Jimmy Fund Signups Underway!
North Reading Little League is now accepting registrations for the 2013 Jimmy Fund summer season.
This is a sign-up league open to all players ages 8-12 years old. North Reading will field teams that play against other local towns, primarily on weeknights, starting in early July and ending in early August. This league is an outstanding way for players to continue developing their skills in a somewhat competitive, fun environment while representing their town.

Teams are broken down into age groups: 8/9, 9/10, and 11/12 for the small diamond. The cost is $110 per player, which includes a $30 donation to the Jimmy Fund and the $45 North Reading Parks and Recreation user fee. The balance of the fee is used to offset some of NRLL's costs for uniforms, baseballs, umpires, and other expenses incurred by the league.

We are also looking for coaches for these teams, and the link below will allow you to sign up to be considered for a coaching slot. If you want to coach you have to select the Volunteer link where you sign your child up. Also if you don't have an active CORI on file with NRLL you must apply for a CORI check at the same place.

For any questions specific to the Jimmy Fund program, please contact Allen Burgess atallen_burgess@hotmail.com . If you have any questions regarding signups or have problems registering, e-mail Mike Correale at mcorreal@comcast.net

Please use your username and password from the 2013 Spring Season.

http://www.sportssignup.com/North-Reading-Little-League-Online-Registration.start
Monday, May 29
12-Year-Old Appreciation Game Set For June 18
North Reading Little League is proud to announce that the 5th Annual NRLL/Tim Chaloux 12-Year-Old Appreciation Game will take place on Fathers Day, Sunday, June 18, at Benevento Memorial Fields.
NRLL introduced this event in 2013 as a way to thank our 12-year-old players as they complete their small diamond careers and prepare to move on to the big diamond. It is also a day to honor the memory of Tim Chaloux, a former NRLL player who was a senior at the Pingree School when he tragically died five years ago.
The day has quickly become one of the most highly anticipated on the NRLL calendar, and ALL of the league's 12-year-olds are invited to play.
Activities start at 10:30 am with registration and the opportunity for players and their families to have a game of catch on the Benevento fields. That will be followed by team warm-ups, player introductions, dedications, and a six-inning game starting at 12 noon. At the game's conclusion, NRLL and Stan Chaloux (Tim's father) will present the Tim Chaloux Spirit Award to the player who best exhibits the hustle, passion, and effort that defined Tim on the field.
Hot dogs, potato chips, and ice cold tonic will be provided free of charge throughout the day to players, parents, and fans.
SIGN UP YOUR SON/DAUGHTER: All you need to do to sign up for this event is send an email to info@nrll.org. Please include your son/daughter's name, Majors team, best email address(es) to receive updates, and the number of family members who will be attending. Please respond ASAP and no later than Friday, June 9, so that we can get the best headcount possible and produce a program that includes the names of all participants.
Thank you and we hope to see you on Father's Day for what's become another great NRLL tradition!
Tuesday, May 23
And the Pizza Goes To ... The Angels
Congratulations to the Instructional League Angels, who won the 2017 NRLL fundraising contest by being the first team to sell all their Discount Cards. For their great work, the team received a pizza party at Benevento following their Saturday game on May 20. A big thanks goes out to team parent Ilona Garvin for organizing the team!
Saturday, May 13
NRHS Baseball Team's Varsity Day Draws Dozens of Little Leaguers
More than three dozen North Reading Little Leaguers took part in high school team's "Varsity Day" at Carey Park on Saturday afternoon, May 13. The event drew players from the NRLL Majors, Minors, and Farm divisions.
The event included contests and competitions allowed the NRLL players to learn from and interact with the North Reading varsity. Lunch was provided for each player in attendance.