North Anaheim Little League: Welcome
Tuesday, May 7
ALL NALL FIELDS OPEN TUES 5/7/13
Dear parents managers and coaches,
All NALL fields are open again effective Tuesday 5/7/13/. The only fields closed are La Palma LL (Sage Field). Thank you.
NALL
Thursday, May 2
NALL Angel Day this Sunday May 5th 2013
Dear Parents,
Well the big day is finally here! Angel Day 2013 at Angel Stadium!
The Angels will be playing the Baltimore Orioles this Sunday 5 de Mayo at 12:35 PM. Weather says partly cloudy with 69 degrees for a high. Here is some of the info that District 46 shared with us:
·
2 Coaches and 1 Team Mom maximum per team and must wear JERSEY or a Team Shirt in order to PARADE
·
Little Leaguers must also be wearing JERSEY provided by Little League
·
Little Leaguers, 2 Coaches and 1 Team Mom need game ticket to enter parade
·
Parade is on a 1st come 1st serve basis, earlier teams line up earlier get on field
·
Parade Line-Up 10:00AM-11:00AM by Gate 6 near the "Big A"
·
Parade Starts at 11:10AM
by Gate 6 near the "Big A" and exits Left Field
·
Parade Ends at 11:55AM or as last team enters tunnel whichever comes first
·
No family or friends allowed in parade - No autographs allowed
·
Families can enter the stadium through Gate 4 or Gate 6 starting at 11:00am to take photos
·
Family and friends NEED TICKET to enter stadium stands to take photos of Little Leaguers
·
No Drinks, Food or Strollers Allowed On Field. THANK YOU.
·
Players will exit by Left Field
As you know, North Anaheim secured a large area of the Northeast parking lot last year for all of our teams. We will be doing that again. For those parents interested, you can meet at Sunkist school at 7 AM to caravan over to Angel Stadium. Otherwise you can head over any time you like. The entrance to take is off of Katella near Honda Center. Turn South on Douglas Road, and when you enter the Angel Stadium parking, make a right. You will see a number of vehicles and Board Members from NALL. The Board Members will be there EARLY to secure a spot for our large group. Please remember that you can only take GAS grills, NO CHARCOAL! Also alcohol is prohibited, but it seems that some fans are able to take red cups to enjoy adult drinks (at your own risk). Please remember to pack sunscreen, water and drinks for the kids and snacks or food to enjoy. We recommend you get together with your team mom and come up with a potluck menu or some other way to enjoy your Angel Day as a team. If you have any questions that day, just call one of the Board Members from NALL. Our numbers are listed at the league website www.eteamz.com/NALL. We hope to see all of you there!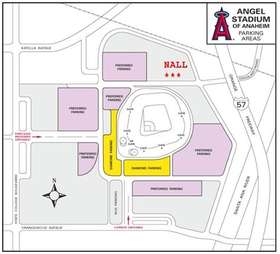 Sunday, May 5
Angel Day is May 5th 2013 at 11 AM
Good afternoon parents!
We wanted to let you know that Angel Day is scheduled for May 5th, 2013. All the leagues from District 46 will be in attendance at Angel Stadium to represent Little League Baseball. The game is at 12:30 PM, and is against the Baltimore Orioles.
The players will be waling in the parade on the field at 11 AM. On the field will be the players, 2 coaches, manager and team mom. Everyone else will be allowed to enter the stadium to take pictures from the stands. HOWEVER, TO ENTER THE STADIUM YOU MUST HAVE A TICKET! If you do not have a ticket you will not be allowed to enter.
We have purchased 250 tickets from the District, and they are $20 each. The price is the same for adults and kids. Please let your team mom know how many tickets you need and get the money to your team mom so that they can get that information to the board. Please make checks payable to NALL.
We will be sending out more info in the following weeks. Please make sure to let your team mom know how many tickets your family needs and get the money to them. If you have any questions please send them to nalltix@hotmail.com.
Monday, March 25
SEASON WELL UNDER WAY
Good morning Parents, Coaches and Managers....
Hope everyone is enjoying the Season so far. Games are well under way, and the weather should start warming up. This should make for some enjoyable afternoon and weekend games. Please remember, if there are any concerns in regards to the games, umpires, or fields, please let a NALL Board Member know. We cannot fix a problem if we are not aware of it. We hope the season is going good for all of you. Have fun and enjoy your games.
Ben M, NALL Board
Thursday, February 14
District 46 Coaching//Pitching/First Aid/Umpires Clinic CANCELLED
Good evening parents! We wanted to let you know that District 46 has cancelled their scheduled Coaching/Pitching/First Aid/Umpires Clinic scheduled for this Saturday, Feb 16th, 2013 at Juarez Park. We will notify you when District 46 reschedules this clinic. Thank you. If you have any other questions please email benNALL@hotmail.com
Friday, February 1
Our League is Run by Volunteers
By everyone working together, our league offers players a fun place to be, where they learn team work and respect as well as the game of baseball. We rely on our VOLUNTEERS to make the season a reality. Whether you can volunteer the whole season or just a few days during the season, we have a job for you. Please let us know how you can help OUR league:
Volunteer opportunities:
* Manage and/or Coach a Team
* Umpire Games
* Serve as Team Parent for your player's team
* Serve as Scorekeeper for your player's team
* Help get our fields ready for the season on Field Maintenance Days
* Work extra shifts in the Snack Stand
Our league does hold training meetings for the Managers, Coaches, Umpires, Scorekeepers and Team Parents. Board Members are always available for questions during the season.
For more information, please talk to any Board Members or send an email to benNALL@hotmail.com
Thursday, November 8
NEW FORMS ADDED TO SITE
Good evening everyone! Wanted to update all of you and let you know that we have uploaded some new forms to the website. We have added the following forms so you can download them if you wish:
*Little League Age Chart for 2013
*2013 Medical Release Form
*NALL 2013 Calender of Events
*2013 Little League Volunteer Application (Please remember we need a copy of your drivers license with the application, and we do need EVERYONE to include their Social Security number.)
We will be updating the website in the coming weeks. And we also want you to know that the 2012-2013 NALL Board is working hard to make next season even better. If you have any questions or concerns, or comments on how to make next season even better, please call Junior Chavez at 714-936-1614 or send an email to the webmaster benNALL@hotmail.com. Have a great weekend everyone!
Friday, November 30
Welcome to North Anaheim Little League!
Welcome to North Anaheim Little League! Please feel free to look around the website, as we will be updating information throughout the year. Also if you have any suggestions or questions about the website, please send an email to the webmaster at
benNALL@hotmail.com
. Thanks for stopping by.