Monrovia High School Boys Varsity Soccer: Sponsors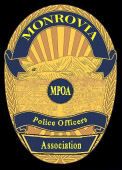 Monrovia Police Officers' Association
PO Box 106
Monrovia, California
91016


We would like to assure you that every officer of the Monrovia Police Department as well as all members of the Monrovia Police Officers Association proudly serve the Monrovia community. We have chosen to work for the City of Monrovia for some of the same reasons you have chosen to live and or work here. We serve this community with pride, dignity and respect. Each and every member of the Monrovia Police Officer's Association truly enjoys working with the Monrovia Community and we thank you deeply for your valued support.


Flintridge Family Chiropractic
1039 Foothill Blvd Ste., A
La Canada, California
91011


Dr. Zimmerman is trained, certified, and practices in the following disciplines:

Chiropractic Doctor: Gonstead, Diversified, SOT, Cranial-Sacral, Webster technique
Sports Medicine/Rehabilitation Therapy
Instructor and Trainer- Health, nutrition, exercise
Professional Overview...
Dr. Zimmerman is an excited and motivated Chiropractor specializing in preventative hands on care with extensive knowledge related to athletes and nutrition. Dr. Zimmerman has been a patient of chiropractic since the age of eight, which continues to give him the drive to provide chiropractic care for individuals of all ages. He has excellent communication and cross-cultural skills that assist with education both in and out of his practice.
Phone: (818) 952 - 0172
The Monrovian Family Resturant
534 S Myrtle
Monrovia, California
91016

Foothill Federal Credit Union
Post Alarm Systems
Weaver & Associates Inc.