Minnesota Finishers: MINI FINI SUMMER CAMP
Monday, July 4
MINNESOTA FINISHERS 2011 GIRL'S BASKETBALL CAMP
MINNESOTA FINISHERS GIRL'S BASKETBALL CAMP AUGUST 22- 26 2011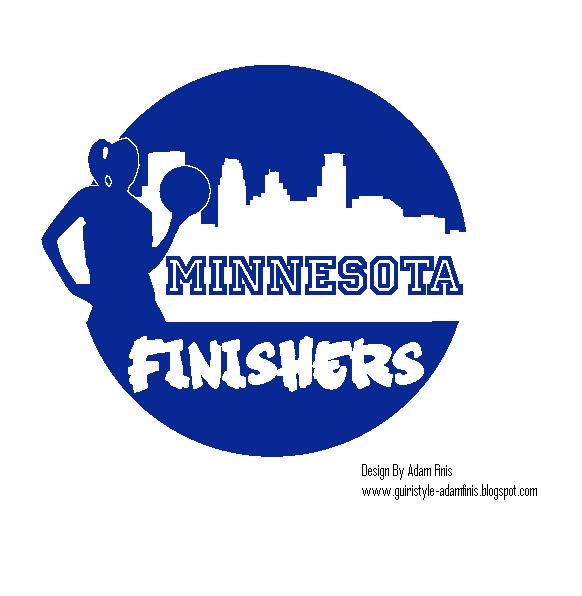 SPECIAL GUEST MAYA MOORE OF THE MINNESOTA LYNX WILL BE MAKING AN APPEARANCE ON AUG. 25TH!!!
CAMPERS WILL HAVE A CHANCE TO MEET MAYA MOORE, TAKE A PICTURE, GET AN AUTOGRAPH AND RECEIVE INSTRUCTION FROM ONE OF THE BEST FEMALE ATHLETES IN THE HISTORY OF WOMEN'S BASKETBALL!
TAYLOR HILL, MINNEAPOLIS SOUTH AND OHIO STATE STAND OUT WAS JUST ADDED AS A GUEST SPEAKER!!!
REGISTRATION FORMS CAN BE FOUND BELOW OR UNDER THE HANDOUT TAB. REGISTER NOW ONLY 200 SPOTS AVAILABLE PER GROUP!!! DEADLINE MONDAY AUGUST 1ST!
COME JOIN THE MINNESOTA FINISHERS THIS SUMMER FOR THEIR FIRST ANNUAL YOUTH BASKETBALL CAMP!
WHO ARE THE FINISHERS?
THE MINNESOTA FINISHERS IS A GIRL'S BASKETBALL ORGANIZATION DEDICATED TO HELPING GIRLS ACHIEVE THEIR GOALS ON AND OFF THE FLOOR! THE FINISHERS PARTICIPATE IN SUMMER AAU COMPETITIONS. COACH AND CAMP DIRECTOR SHANNON FINIS STARTED THE FINISHERS 4 YEARS AGO OFFERING A PROGRAM WHERE GIRLS CAN HAVE A POSITIVE EXPERIENCE AND TAKE THEIR GAME TO THE NEXT LEVEL. SHANNON PLAYED COLLEGE BASKETBALL AT BARTON COLLEGE IN NORTH CAROLINA AND CURRENTLY PLAYS ON THE MINNESOTA JAGUARS WOMEN'S SEMI PRO TEAM. IN ADDITION TO COACHING AAU, SHANNON HAS COACHED HIGH SCHOOL BASKETBALL FOR MINNEAPOLIS SOUTH AND MINNEAPOLIS SOUTHWEST AS WELL AS AN ASSISTANT AT MINNEAPOLIS COMMUNITY COLLEGE. OUR COUNSELORS THIS SUMMER COME FROM VARIOUS BACKGROUNDS. WE WILL HAVE CURRENT AND FORMER COLLEGE PLAYERS AS WELL AS SOME OF THE CURRENT FINISHERS HELPING OUT THIS SUMMER. CHECK THE SITE FOR INFO ON COUNSELORS AND GUEST SPEAKERS!
CAMP INFO:
MINI FINI CAMP AGES: 6-10: 9a- 1p (Thurs 25th all day)
CAMPERS WILL HAVE A GREAT TIME LEARNING AND PLAYING THE GAME OF BASKETBALL. CAMPERS WILL WORK ON FUNDAMENTAL SKILLS SUCH AS BALL HANDLING, SHOOTING, PASSING AND GAME SKILLS.
FINISHERS CAMP AGES: 10-13: 1p- 5p (Thurs 25th all day)
THIS CAMP IS FOR CAMPERS WITH EXPERIENCE AS WELL AS GIRLS THAT ARE NEW TO THE GAME. CAMPERS WILL WORK ON FUNDAMENTAL SKILLS AS WELL AS MORE ADVANCED SKILLS PREPARING THEM FOR HIGHER COMPETITION AT EITHER THE AAU OR HIGH SCHOOL LEVEL.
MEET SOME OF YOUR CAMP COUNSELORS!!!
UNIVERSITY OF ILLINOIS- JENNA SMITH
UNIVERSITY OF MINNESOTA- ASHLEY ELLIS-MILAN
CONCORDIA ST. PAUL- GILLIAN BJERKE
UNIVERSITY OF MN-DULUTH TANYSHA SCOTT
BETHEL- LAKITA DAVIS
WHY CHOOSE THE FINISHER CAMP THIS YEAR?
* A NEW, FUN AND UNIQUE ATMOSPHERE!
* CAMP INSTRUCTION FROM CURRENT AND FORMER COLLEGE PLAYERS (LEARNING PROPER SHOOTING AND BALL HANDLING TECHNIQUE AS WELL AS OFFENSIVE AND DEFENSIVE SKILLS AND STRATEGIES).
* MEETING MAYA MOORE- LEARN ABOUT MAYA'S EXPERIENCE PLAYING BASKETBALL AND WHAT IT TOOK TO GET HER TO THE PROS! EACH CAMPER WILL GET A TEAM PHOTO AND AUTOGRAPH WITH MAYA!
* A SPECIAL GUEST SPEAKER EACH DAY OF CAMP! LEARN FROM FORMER COLLEGE ATHLETES ABOUT WHAT IT TAKES TO GET TO THE NEXT LEVEL!
** MINNEAPOLIS SOUTH AND OHIO STATE ALL STAR TAYLOR HILL JUST ADDED AS A GUEST SPEAKER!!!
* EACH CAMPER WILL RECEIVE A T-SHIRT AND COOL PRIZES FROM LOCAL SPONSORS
* EACH CAMPER WILL RECEIVE TWO TICKETS TO THE LYNX GAME VS SAN ANTONIO AUGUST 26TH AND A CHANCE TO GET ON THE FLOOR FOR STARTING LINE-UPS (ONLY 100 SPOTS AVAILABLE) FOLLOWED BY A TEAM/CAMP PIC ON THE FLOOR AFTER THE GAME!
*** LUNCH AND SNACKS PROVIDED FOR ALL CAMPERS ON THURSDAY FOR THE FULL DAY OF CAMP***
* AWARDS WITH COACH EVALUATIONS THE LAST DAY OF CAMP!
CAMP WILL BE HELD AT THE MIDTOWN YWCA IN THE MINNEAPOLIS SPORTS CENTER: 2121 EAST LAKE STREET, MPLS 55407
FOR REGISTRATION QUESTIONS EMAIL SHANNON AT MNFINISHERS@YAHOO.COM OR CLICK ON THE HANDOUTS TAB ON THE LEFT or click link below.
Handout:
Camp 2011