Medford Little League Baseball: Welcome
Welcome Parents and Players, to the Official Website of Medford Little League Baseball. The Medford Little League Staff is dedicated to serving Medford's Youth. This site contains all of the important information regarding Medford Little League as well as important updates regarding the current season. Please bookmark the site and visit often for up to date information. Feel free to look around and drop in and sign the guestbook.
Monday, April 6
Calendar At a Glance
Opening Day Parade is Postponed due to conflict with the Carnival at City Hall. Opening Day games will still be played but Festivities will be rescheduled date is TBD.
Teams rosters are finalized. If you have not heard of your team assigment please email John D'Orazio at torjvd2003@yahoo.com
Tuesday, May 6
2014 Opening Day
Friday, May 16
We Need Your Help To Be A Good Neighbor
Please keep in mind, many of our parks are in neighborhoods. Medford Little League strives to be a good neighbor but we need everyone's cooperation.
1) All cars should be parked legally and in no manner should they fully/partially block a neighbor's driveway.
2) All trash should be disposed of properly at canisters supplied within the parks.
3) All park lights will be shut off by 10 p.m. Parks should be vacated accordingly.
Tuesday, May 20
REMINDER!
NO SMOKING WITHIN 100 FEET OF THE PLAYING FIELD, DUGOUT, OR STANDS per order of Little League Baseball.
Managers, PLEASE remind all of your parents of the NO SMOKING policy.
Wednesday, January 15
Sign up for our Email List
If you're not already on our e-mail list, you'll want to sign up here to get the latest and greatest information about Medford Little League. For our eyes only. We do not share this list with anyone!
Hosted by MailChimp
Little League Pledge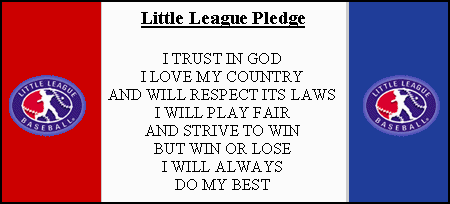 Facebook
| | |
| --- | --- |
| | Yup. We're on facebook. This is a great way to get you updated information throughout the season. and we are having a little fun while we are at it. |