Medford Little League Baseball: Welcome
Welcome Parents and Players, to the Official Website of Medford Little League Baseball. The Medford Little League Staff is dedicated to serving Medford's Youth. This site contains all of the important information regarding Medford Little League as well as important updates regarding the current season. Please bookmark the site and visit often for up to date information. Feel free to look around and drop in and sign the guestbook.
Friday, September 5
Calendar At a Glance
Sept. 7th, Fall Ball Registration Deadline
Sept. 13th (Saturday) Fall Ball Starts
Sept. 13th (Saturday), 7:30 - 9:30, Wrestling Night @ Gillis FUNDRAISER CANCELLED
Sept. 16th (Tuesday), 6:30 - 8:30 Minor League Banquet @ Malden Irish American
Sept. 18th (Thursday), 6:30 - 9:00 Major League Banquet @ Malden Irish American

Sept. 29th (Monday), Annual Meeting - Location TBD
Tuesday, September 9
Fundraising Event CANCELLED
Due to unexpected regulations, Medford Little League must cancel the Victory Championship Wrestling fundraising event scheduled for Gillis Park on Saturday, September 13th.
We thank those who provided assistance in the organizing of this event and we will continue to de
velop fun and viable fundraising events with the purpose of providing entertainment to our supporters and the intent of improving Medford Little League for all.

Please contact Fundraising Chair, Michael Cataldo at cataldomll@comcast.net for full ticket refund of any pre purchased tickets.
Friday, September 5
Upcoming MLL Meetings
Want to hear more about what's going on with Medford Little League? Got questions, comments and concerns? Want to be part of the effort to make all of this happen?
Annual Meeting (elections)- September 29th, time and TBD.
Medford Fall Baseball is Back!!!
What are you doing this Fall?
Medford Little League's popular Fall Ball program is back for it's 10th season. If your child isn't playing a fall sport, or just wants more baseball, then this is perfect for your family. Fall Ball games are typically played on Saturday and Sundays. Fall Ball is a very laid back environment geared towards simply coming down to the field and enjoying playing some baseball in the cool weather. The season consists of 14 games, running from September 13th to the last weekend in October.
How much does it cost?
Registration costs remain at the low cost of $60/player. Registration fees cover a player's team shirt and hat as well as the cost of league equipment, umpires, and field permit fees. Registration deadline is September 7th.
Who can register?
Teams and individuals may sign up at anytime before September 7th. Players must be age 5 - 12 by May 1st. Players do not have to be a resident of Medford to play. If your child has a friend or a coach you would like them to be on the same team as, we will accomodate to the best of our abilities in any division.
What levels is right for my child?
Instructional League (Ages 5-7) - Instructional Baseball for ages 5-7. This is a great opportunity for players who have played in Tee-Ball or Farm League for one year and are looking for more instruction.
Minor League (Ages 7-9) - Instructional/Competitive Baseball for ages 7-9. This is a great opportunity for players who have played in the Farm League or Minor Leagues the last few years and plan to tryout in the spring for the Minor League.
Major League (Ages 9-12) - Competitive/Instructional Baseball for ages 9-12. This is a great opportunity for players who have played in the Minor Leagues the last few years and plan to tryout in the spring for the Major League.
How can I register my child?
By Mail: Registration forms can be downloaded here and mailed with registration fee of $60 (check or money order payable to Medford Little League) directly to Medford Little League at
Medford Little League

Attn: Fall Ball

P.O. Box 381

Medford, MA 02155
In Person: Registration forms will be available at all concession stands starting Saturday, July 26th and can either be mailed to the address above or handed in with registration fee of $60 (preferably check or money order payable to Medford Little League) at the concession stand.
Online: Click here to be directed to ONLINE SIGN-UPS and follow the instructions once you've created your account.
Registration deadline is September 7th.
When and where do we play?
Fall Ball is played at Drane Field and Memorial Park in Medford; Gillis Field is also available for play as necessary. For directions to fields, please click on the "Park Locations" link in the menu.
Games are played on Saturdays and Sundays unless a week night reschedule is agreeable to both team managers. Games times vary.
When will I know the season schedule and what team my child is on?
Team assignments and season schedule will be available by September 10th.
Handout:
Registration Information
Tuesday, August 5
2014 Jimmy Fund Tournament Wrap Up
Thank you to all MLL players who participated in the 2014 Jimmy Fund Tournament and congratulations to the the MLL 9 Year Old Blue and MLL 10 Year Old teams for winning their respective championships.
While the Jimmy Fund Tournament provides our youth with a month of summer baseball, it more importantly raises much needed funds to support The Jimmy Fund. Off the field, our young heroes take to the communities to raise vital funds for the Jimmy Fund, while learning the importance of philanthropy and volunteerism.
Players who have yet to turn in their donation cannisters can do so either through their team manager or by contacting Alysia Rourke at alysiarourke@gmail.com. All fund should be turned by August 15, 2014.
Tuesday, May 20
REMINDER!
NO SMOKING WITHIN 100 FEET OF THE PLAYING FIELD, DUGOUT, OR STANDS per order of Little League Baseball.
Managers, PLEASE remind all of your parents of the NO SMOKING policy.
Friday, May 16
We Need Your Help To Be A Good Neighbor
Please keep in mind, many of our parks are in neighborhoods. Medford Little League strives to be a good neighbor but we need everyone's cooperation.
1) All cars should be parked legally and in no manner should they fully/partially block a neighbor's driveway.
2) All trash should be disposed of properly at canisters supplied within the parks.
3) All park lights will be shut off by 10 p.m. Parks should be vacated accordingly.
Tuesday, May 6
2014 Opening Day
Little League Pledge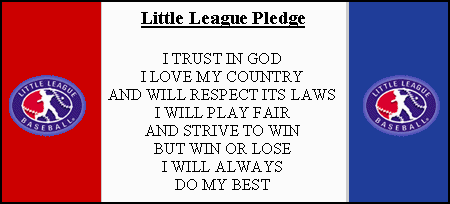 Facebook
| | |
| --- | --- |
| | Yup. We're on facebook. This is a great way to get you updated information throughout the season. and we are having a little fun while we are at it. |
Wednesday, January 15
Sign up for our Email List
If you're not already on our e-mail list, you'll want to sign up here to get the latest and greatest information about Medford Little League. For our eyes only. We do not share this list with anyone!
Hosted by MailChimp