Welcome to the Official Angie's Mark II Softball Team Website!
2015 Angie's Mark II Team
We mourn the loss of Angie, our dear friend, team's namesake and Mark II manager/bartender over our 38 seasons, who passed away 11/18/15, just after her 54th birthday and less than 4 months after her cancer diagnosis.
Angie's outgoing personality, upbeat attitude and genuine camaraderie will be sorely missed by our players, groupies and fans with whom she cheered at the games and welcomed as friends back at the bar for so many great seasons.
Although the Mark II Lounge may now lack her physical presence, Angie's spiritual presence will fill that place and have its own special place in our hearts forever!
Thanks, Angie...we love you!
Angie's Mark II Softball Team
This site is the electronic home of the "Original" Mark II Softball Team--playing 12" slow-pitch softball for the Mark II Lounge since 1978!

The 2016 season "Marked" our 39th season of summer softball fun sponsored by the Mark II Lounge! We once again played in the Wednesday Night Mens' League at Evanston's Crown Park where Angie's Mark II finished the Regular Seaon with a 6-5 record (7th Place among the 12 team league) and went 1-1 in the Playoffs, for an overall record of 7-6.
See the "Web Update" section below for the latest team news and narrative summaries of this summer's league play, etc.
Please explore all the areas of our site by clicking on one of the links in the pane to the left. Note that the "Handouts-Sheets" folder leads to our 2016 stats, boxscores and administrivia (Team Calendar, League Schedule & Rules and IWBYABs). Other links in the "Handouts-Sheets" folder will lead to all the Mark II Softball Team historical stats from the 2015 "Stat Pack" as well as all the final stat "Sheets," weekly "Updates," etc for each individual summer league season since 2000.
For futher info, sign our "Guestbook" or send e-mail to: MarkIISoftball@aol.com

See you out there!
Lloyde Nelson, 8-11-16
Evanston Rainout Hotline: 847-859-7822 (ext 1199)
Follow Lloyde on Twitter: For timely and important updates, player availabilities, scores, etc, please sign up to be a follower on my Twitter account "@LloydeNelson"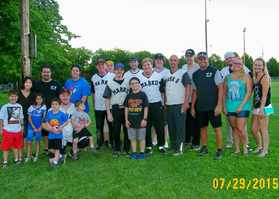 2015 Angie's Mark II Team & Groupies


Centerfield (Let's Go!)
Handout: Current Administrative--Schedule, Roster, Financials & Rules

Friday, September 30


Mark II Current Web Update




Last Updated: Friday, 9/30/16:

From the 9/29 Update:

Mark II Your Calendars!

Sunday, October 23 we will celebrate Schmidtty's 70th(!) birthday with a get-together at the Mark II starting around 7:00! We hope as many of you as possible can make it out that night to share this special occasion with Bob who--as he does every time he does anything--becomes the "Oldest Active Mark II Player to..." (fill-in the blanks). The get-together routine should be familiar...we will have bar snacks, a Kitty (or buy your own), cake and ice cream and, later in the evening, a Mr Salty salute to Schmidtty...and, don't forget to sign the card!

As an added bonus, there's a chance that the bar's many TVs will be blazing as Schmidtty's beloved Cubs might be playing in game 7 of the NLCS that night (assuming they're still alive in the playoffs and haven't already secured a berth in the World Series in the first 6 games of the NLCS).

Hope to see you out there!

Administrivia:

Slugs II: Under Coach Rich, the Crown Wednesday Fall League conglomerate team of Slugs players and Angie's Mark II players (including Jeff, Bob B & Jonas as regulars and Mark, Ryan and me as occasional subs) won the first 4 games and is now 5-2, in a 3-way first place tie with Milford Mudlarks and Advocates. Three games remain in the regular season—Glory Days & 2 against Advocates. Wins have been over Spiders, Mudlarks, Glory Days and 2 (mostly) new "The" teams, The Dirty Dozen and The Machine while the losses came against Mudlarks & Batmen.

Gin N'Duece: Meanwhile, over at Laramie on Thursdays, co-coaches Jeff & Ryan have reinvigorated their Proesel Sunday morning summer team by adding Angie's Mark II talent (Oron, Zave and Mark as regulars with Jonas, Bob B & Lil Tony as occasional subs). They are out to a 2-2 record in that very tough league that includes a lot of the Usual Suspects (Alkoholics, Akkadians, SWAT, Rhombones, etc) not to mention (aaargh!) the usual skill-challenged Skokie Administrative Staff of "Coach" & Bob DeL who, assuming no rainouts, hope to complete the regular season by 11/3 and start the playoffs 11/10.

Erin & Jeff & Co: Congratulations to Groupies Erin & Jeff McMorrow who have announced that they are pregnant with a human (unknown to me yet is whether it's a Lloyde or Lloydette)! Soon-to-be Grandpaw(!?!) Shawn sent a photo from Erin's Facebook page that says it all (and shows most of it)...

Jeff & Jen: First comes marriage...then the house...Our Kid Couple is moving on up to the West Side (DesPlaines) and will close on their first home in late October. In the meantime, they're immensely enjoying living at the Loach Home & Zoo where Jen (no new job yet!) gets to stay home days and "play" with Bonnie and Flo while Jeff gets to ride to and on the train downtown in what undoubtedly is yet another touching father-son Loach family event (on the rare occasion when Mark actually leaves the house for "work").

Injury Report: After literally limping through the last year or so, an MRI last week found a tear in the medial meniscus of my left knee, which I will have scoped on October 28th. After the procedure and more PT (plus my weekly pickup hockey sessions with Ess, et al) I hope to be able to limp much better with much less pain come next summer!

See you out there!

LN, 9-29-16

From the 8/23 Update:

Another Anton! Tony and Gia along with big sister, Sarah, have welcomed the latest arrival to the Anton clan, a baby girl. Little Sophie was born in Romania on 8/21 a healthy and strong 18.5" long and weighing 6.5 pounds. Mother and baby are said to be doing fine. Father is said to be smiling all the time! The entire family expects to be back in the States around October/November!

From the 8/17 Update:

Our summer season ended on Wednesday, 8/3/16 when, as the #7 seed, we won our first round playoff game against #10-seeded,The Slugs, 6-5 in an 8th-inning walk-off, before we fell (real badly) in our second-round playoff game that night, 20-2 in just 3-1/2 innings against the #2 seeded, These Cats. It was thus déjà vu all over again this year as we duplicated both our regular season and playoff "run" from last year finishing the regular season with a 6-5 record (.545), 7th among the 12 teams (last year we finished 5th among 12) and loving/hating the playoffs with a 1-1 record. The playoffs went exactly according to Hoyle as ultimately, #1 Any Given Wednesday beat #2, These Cats in the Championship Game. As we near the end of the summer, some are still playing in various fall leagues, but the next time our Angie's Mark II Softball Team gathers as a team it will be to celebrate Thanksgiving. So, I hope to see you at our annual "Off Season 'Conditioning' Meeting" on Thanksgiving Eve, Wednesday, 11/23/16! (Need I remind you to "Mark II" your calendars)?

I have posted the preliminary finals for the 3 spreadsheets that comprise most of the weekly "Sheets" (Team Statistics; Individual Statistics; and the League Standings and Playoff Results). To access all three sheets, follow this link: http://www.eteamz.com/MarkIISoftballTeam/handouts/index.cfm?cat=13561&subsite=489816#handout1058162 or navigate to the "2016 'Sheets'" category after opening the "Handouts--Sheets" folder in the pane on the left side of this page. Stay tuned for more analysis paralysis when the Stat Pack is released/posted Thanksgiving Eve!

Angie's Mark II Regular Season Results:

Overall, we finished the regular season with a 6-5 record (.545), exactly the same as last year, but we finished 7th among the 12 teams this year (last year we finished 5th). We can take pride in the fact that we battled every team—our margin of defeat/victory against the other 11 teams (in regular season finish order) were: -5 runs against 1st place (AGW); -1 vs #2, -1 vs #3, -1 vs #4, +10 vs #5, +1 vs #6, -2 vs #8, +1 vs #9, +10 vs #10, +16 vs #11 & +3 vs #12. That averages a nice 6.8 run margin in our 6 wins but a frustratingly close -2.0 run margin in our 5 losses! For all the boxscores follow this link:http://www.eteamz.com/MarkIISoftballTeam/handouts/index.cfm?cat=13561&id=1057977 or click on the "Handout: 2016 Boxscores" link on the bottom of this page or navigate to the "2016 Boxscores" category after opening the "Handouts--Sheets" folder in the pane on the left side of this page

Angie's Mark II Playoff Results:

First Round vs #10 The Slugs: It took 8 innings, but we eventually earned a walk-off win over The Slugs, 6-5. Follow this link to the boxscore: (http://www.eteamz.com/admin/sitez/download.cfm?id=2506016&site=489816) or click on the "Handout: 2016 Boxscores" link on the bottom of this page or navigate to the "2016 Boxscores" category after opening the "Handouts--Sheets" folder in the pane on the left side of this page

Second Round vs #2 These Cats: Unfortunately, after walking-off in our earlier game, we were walked-over--all over—in the nightcap as These Cats stomped us in a 3-1/2 inning slaughter, 20-2. Follow this link for the boxscore: (http://www.eteamz.com/admin/sitez/download.cfm?id=2506437&site=489816). or click on the "Handout: 2016 Boxscores" link on the bottom of this page or navigate to the "2016 Boxscores" category after opening the "Handouts--Sheets" folder in the pane on the left side of this page.

Final Wednesday Night League Playoff Results:

Every game of this year's playoffs was won by the higher-seeded home team! So here's how that played out. (Except our two games and one other second round game, I cannot report the final scores of any of these games as ERD only published the final bracket without adding the scores). In the first two rounds, #5 Spiders beat #12 Cardinal IP but then lost to #4 Swingers; #6 Glory Days beat #11 Growlers but then lost to #3 Advocates; #7 Angie's Mark II beat #10 The Slugs (6-5 in 8 innings) but then lost to #2 These Cats (20-2); and #8 Batmen beat #9 Milford Mudlarks but then lost to #1 Any Given Wednesday (I heard this was just 13-12). Then, in the Semi-Finals, #1 Any Given Wednesday beat #4 Swingers (thus eliminating last year's champions); and #2 These Cats beat #3 Advocates. Any Given Wednesday then took the Championship Game as, again this year, These Cats (AKA The Chronicles) were the bridesmaids.

From the Last Update of the Summer Season (8/17):

Administrivia:

Mark II Moments:
Albeit eliminated from the playoffs, that win over The Slugs nevertheless earned us one last Mr Salty round for the season—and it was, unofficially, the biggest Salty round of the year (10 Salties, 2 Wusses & 1 Shot-o-Beer). Steff first showed Adriana the ropes on how to construct the classic Mark II "Screaming Mimi" Salty Shots, then showed everyone her pipes with the also classic booming announcement: "The Mark II Lounge would like to congratulate Angie's Mark II softball team for it's 8-inning 6-5 playoff win over The Slugs" (add your loud cheering here: ________________________________).

Of course, much of the talk at the bar centered on the upcoming Loach-Wirth nuptials. Jen showed off her recently-acquired new hair color/style and lovely instant tan while repeatedly—and not at all calmly—referring to all her recent stressful activities. ("I'M PLANNING A WEDDING")!!! Meanwhile, Jeff was non-plussed by the appearance of yet-another of Jen's "old" friends (who happened to be a guy) as Jeff sat quietly and continued to threaten that might miss Friday's event since he had booked a flight to Mexico the following day.
So, here's a bit about the Loach-Wirth wedding (for you Twits who Tweet, check out a nice pic and Liz' comment at "#LoachIsWirthIt"). The ceremony was under the gazebo at Walton Island Park, an island in the Fox River accessible only by a foot bridge. An enormous wedding party (at least compared to Peg and my "party" of 2 adults & 2 kids) included all the Jeff & Jen siblings and at least one cousin plus our own Ryan and our Groupies, Liz & Bri. Like many others, my personal favorite part of the ceremony was the personalization of the vows—besides the usual commitments to love & honor during good and bad times, etc, Jeff and Jen each added that they would also do so: "When the Blackhawks win the Stanley Cup and when they don't make the playoffs. When you go 4-for-4 and when you go 0-4..." Nice touch!
The reception was a blast with similarly-themed entrances (Blackhawks boat-horn & Chelsea Dagger), sign-the-mementos (home & away Blackhawks jerseys and a tree stump?) and, of course, food from start (waiters-with-apps) to finish (late-night pizzas) with a double-meat dinner, cake & ice cream, dessert table, chocolate fountain, etc all in between. My personal favorites were: Dean's Father-of-the-Bride speech and the fact that apparently Millennials could care less with whom, if anyone, really, that they are dancing (or what the heck those "steps" are that they're doing out there on the dance floor). Of note, not unlike many a night at the Mark II, the Usual Suspects from the team were the last to leave! Not including some of the players and Groupies in the wedding party, once the K-Macks left, it was the old-timers, the Nelsons and the Schmidttys, who were left to stand guard at the "Players Table." (Not sure if Schmidtty left on both of his own two left feet—and who even knew he drank real alcohol, for that matter?—but Bobbie was as "happy" as I've seen him since he famously "high-fived" the post at the Mark II during the celebration of his 65th birthday)!
IWBYABIYATFPATMTTTM: I used up most of my onesy-twosey leftovers from throughout the year to put together an "Odds & Ends" IWBYAB... on what turned out to be our last Ehhhn & Bing-Bing session of the year.
(1) What was significantly different about the 6/29 "This Day in Mark II History" than every other one of this year's Wednesdays' "This Day..."? This was a good way to elicit a lot of guesses and it did—ranging from the ridiculous, but wrong (whatever Jonas guessed) to the reasonable, but wrong (the day I started our website) to the sublime, but wrong (whatever anyone else guessed). But, in the end, no one guessed the simplest summary that of all the TDIMTHs that I published on the Wednesdays' sheets, 6/29 was the only one for which we had accumulated a losing record (a horrible losing record of 2-6, at that). Indeed, although we've certainly had some losing days in our long history, all but one of this year's Wednesdays fell on a day where we had a .500 or better record!
(2) Speaking of "This Day in Mark II History," what is significant in Mark II history about the date of May 16, 2006? Slowly but surely, the teaming masses narrowed this one down (and eventually got the hint from question #6). Kevin C finally got a hit and won the freebie (and didn't choke on it). That date, a little over 10 years ago, was the last time I missed a Mark II game. As Jen eventually learned (#6), my streak stands at 227 games, since I attended but could not play in that day's Avengers (Donkey Punchers Tuesday version) game in 2006 due to a Plantar Fasciitis flare-up.
(3) This season, in "round" numbers, how many "hits" have we had on our website (first within 50)? This one—believe it or not—was too tough for the mathematical geniuses in the room to figure out, so it went unrewarded, albeit not without ridiculous guesses ranging from zero (Schmidtty, thinking the question meant how many times he had "hit" the website this year) to 3000 (Jen thinking that Jeff is known to hit our website every day, all day long). In actuality, our total hits this year is right around 1000—we had just gone over 21,100 total and we started the year with just over 20,100.
(4A & 4B) Who leads the team this year in: (A) strike outs; and (B) batted into double plays? I rarely look at or publish so-called negative stats, so this was a good candidate for the Odds & Ends Day. Ryan, no doubt recalling all the times this year he has had to dodge bats and/or violent cursing from the batter who usually batted in front of him, got this one for guessing that Jonas held the dubious honor with 4 Ks this year. And, fo r double plays, Kevin C doubled up and stole this one guessing that Mark held the honors this season having hit into 2 DPs, one each against AGW & Advocates (although Mark became tied with Neal that night as Neal had a GIDP in each of our playoff games).
(5) After which game and why did I (finally) change the Individual Stats Sheet from portrait to landscape? This was way too esoteric for this group, but I had expected Jen would figure this one out...she didn't (probably because SHE WAS PLANNING A WEDDING!). Anyway, usually after 8 or 9 games I find that space utilization and maximization of font size (for all the old & blind) necessitates that I go from one long column in portrait to two columns in landscape. This year, however, we won both our 8th and 9th games. So, Jen, et al, have you learned nothing this year?!? As any Bull Durham fan should realize, I didn't change this (or much of anything) until after our 10th game which we lost 4-3 to These Cats because "You never f%@& (mess) with a winning streak!"
(6) How many Mark II weekday summer league games in a row has LN now played (first within 10)? Again math skills and a simple tie-in with question #2 woulda/shoulda gotten people a lot closer than the first 20 or 30 guesses, but finally Jen got lucky and got within 10, guessing 237 games in a row vs my actual 227. I thought—wrongly (Ehhhn!)—that someone would have simply thought: "Hmmm...2006 to 2016 is 11 seasons at an average of, say, 20 games a year. I think I'll guess 222." Incidentally, that 2006 game that I missed ended a 257 game streak I was on dating back to 7/15/96 meaning I have missed one game out of our last 484. (And the one before that was in 1987...)!
(JHFB?) What significant typo did Jonas find and bring to my attention this season which he found on the home page of our website
(while trying to "cheat" and find an answer to another question)? Either due to pride or lack of memory, Jonas refused his last chance this season at a gimme-freebie by disdaining/forgetting he came across the typo I made in the very first line of the website: "Wecome to the Official Angie's Mark II Softball Team Website!" instead of "Welcome...".
See you out there!
LN, 8-17-16
A Tribute to Angie from Bob B, 11/18/15:
To the Mark II Softball Team Family,
A little bit of all of us died today. And it's hard to imagine the sun will be able to shine as brightly again .
Angie loved life more than anyone we've ever known. She's the most optimistic person we've ever known.
Angie started working at the Mark II before our softball team was even an idea. Back in the 70's, Lloyde and the other Shure Brothers gang (OBO, Marty, Russ, Wally, Gary, Schmidtty, etc. etc.) hung out at the Mark after work and after their company softball games, and the Mark II camaraderie was what spawned the Mark II softball team. Angie was always there. No one took fewer vacations than Angie. She acted like working behind the bar was a vacation. She worked at the Mark six days a week, and during the baseball season, she spent her day off — Saturday — working the mob scene at Mullen's in Wrigleyville. She spread joy wherever she went. And she bragged about our team all the time. I still remember the night she introduced Lloyde and me to Joe Hudek, shortly after we had won our first championship. Joe (a former college ballplayer who became one of our best players ever) acted like we had reeled off a dozen titles in a row, and he politely requested a tryout. He had been listening to Angie. And in those few years we had losing records, Angie focused on all the championships we had won. To her, we were champions every time we walked into the Mark.
It's been difficult to process how suddenly and rapidly Angie fell ill and died, especially since it basically happened in the short time period since our season ended. Lloyde got word last week that Angie was in Evanston Hospital, and he and Peg and I had a chance to visit her last Thursday. She was weak, not just due to the cancer but also an& nbsp;infection that had set in, but she was cheerful and optimistic as always, talking about going home the following day. She enjoyed talking about the great run the Cubs had during the playoffs and their prospects for winning the World Series next season. A misguided well-wisher had brought her a White Sox pennant, which I dutifully removed Thursday morning, and which Lloyde and Peg replaced with flowers and some Cub paraphernalia Thursday afternoon. I also advised her that I had obtained a liquor license and was arranging for a juke box to be installed in her room that afternoon, so she'd better be ready to start serving drinks. Her daughter Steff was at her side, as she had been throughout the illness, so she was designated as bouncer. Spirits were high. Death was nowhere in sight. Right until the end, Angie never changed, a lesson for us all.
I can't even imagine what it will be like to walk into the Mark and not see Angie. But I know she'll be there. God bless us all.
Handout:
2016 Boxscores