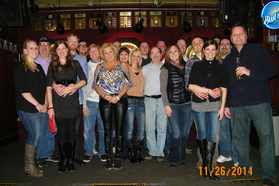 2014 Thanksgiving-Eve 'Conditioning Meeting'
Wecome to the Official Mark II Softball Team Website!
2014 Angie's Mark II Team (Wednesdays)
Electronic home of the "Original" Mark II Softball Team--playing 12" slow-pitch softball for the Mark II Lounge since 1978!

In 2015, we "Mark" our 38th season of summer softball fun sponsored by the Mark II Lounge! We are playing in the Wednesday Night Mens' League at Evanston's Crown Park. See the "Web Update" section below for current details about the summer league as well as the latest team news.
Please explore all the areas of our site by clicking on one of the links in the pane to the left. Note that the "Handouts-Sheets" folder leads to our 2015 stats, boxscores and administrivia (roster, rules, Team Calendar, etc) as well as all the historic stats from the 2014 "Stat Pack" and all our final stat "Sheets," Updates, etc for each individual summer league season since 2000.
For futher info, sign our "Guestbook" or send e-mail to: MarkIISoftball@aol.com

See you out there!
Lloyde Nelson, 6-11-15
RAINOUT INFORMATION: Evanston's Crown Park (Wednesdays): Call 847-859-7822 x1199 (after 4:00 PM) or check online at http://www.cityofevanston.org/parks-recreation/recreation/softball-leagues/ or sign up at this online site to receive automated text or e-mail notifications.
Follow Lloyde on Twitter: For timely and important updates, player availabilities, scores, etc, please sign up to be a follower on my Twitter account "@LloydeNelson"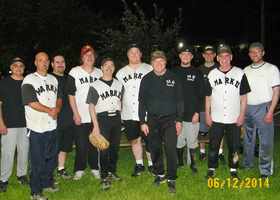 2014 Pete's Mark II Team (Thursdays)


Centerfield (Let's Go!)
Handout: 2015 Administrative: Schedules, Rules, Roster & Financials

Tuesday, July 28

Mark II Current Web Update
Last Updated: Tuesday, 7/28/15, ~11:30 AM
Upcoming Schedule and Player Status:
Wednesday, 7/29: The Playoffs start! We play at 6:45 vs #12 Dark Knights (1-10) on Diamond #1. Although there were a couple of minor surprises in the makeup games last Friday (notably, Swingers perfect season was ruined in an 11-9 upset by Glory Days), the seeds pretty much ended up where we projected them (see the "Handouts-'Sheets'" folder on the right for the Final Regular Season Standings and Results as well as the complete 2015 Playoff Schedule). We finished the regular season in 5th Place (6-5) and, thanks to our tie-breaker win over Advocates, we earned the playoffs "Best of the Rest" honors (after the Top 4 who get round 1 byes). Dark Knights have struggled to score all year, having scored just 48 runs in the 10 games they actually played (their perfectly imperfect season was marred only by a 7-0 forfeit win back in June). You may recall that they were our Meat Night appetizers as we slaughtered them in 5 innings, 13-2. All the regulars are expected: Jonas, Jeff, Mark, me, Larry, Bob B, Ryan, Bob Se, K-Mack, Shawn and Neal.
Note that even with a round 1 win at 6:45, we will be done for the first night. We would then advance to our second round game the following week against #4-seed, Milford Mudlarks, who finished 8-3, losing only to each of the Top 3. Loren and his guys, many of whom still play at Laramie on Thursdays as Master Batters, beat us 12-5 on Opening Night. Looking ahead, that second round game will be on Wednesday, 8/5, also at 6:45 and also on Diamond #1. It could be--hopefully will be--a very busy night for us that night as the semi-finals will then be played at 8:00 and the Championship Game will then follow at 9:15.
Wednesday,

7/22: We went from "clench" to "clinch" in a week as, after a "disastrous and offensive" performance against Swingers, we tightened up the "D" (2 unearned runs allowed) and put together our best hitting night of the season just when we needed it the most, roaring back from down 2 after our first 3 with a noisy 19 in our last 3 to slaughter Advocates, 23-12 in 6!
By doing so, we finished the regular season with a 6-5 record and clinched 5th Place in the standings and claimed the tie-breaker over Advocates who also finished 6-5. Although our start was acceptable (2 each in the 1st & 3rd), we still trailed after all 3 of the first 3 as Advocates showcased their left-leaning lineup (8 lefties among their 13-man(!) egalitarian lineup, including 5 of the first 6 hitters & 3 of the last 4). The well-known, well-traveled Advocates, a team comprised of Mort, Prof, their kids/families and their friends, came out gang-busters scoring 5 in their 1st when their first 5 men reached on 2 doubles, 2 singles and a walk. It could have been worse (and wasn't as bad as our not-again post-inning cursing) as they left the bases loaded so our 2 errors (Aaargh!) didn't lead to any unearned runs and we trailed just 5-2 after allowing 6 hits, a walk and 2 SEs. After 1-2-3 inning #2s for each team, we minimized the gap to 5-4 in our half of the 3rd albeit, symmetrically, also failing to take advantage of their 2 errors. Two of the brothers Denlow then went back-to-back leading off their 3rd, but a fortuitous K-Mack-to-Kevin C-to-Bob Se perfect relay gunned down Andrew for the Cardinal Sin-breaking first out at home plate and temporarily broke their offensive momentum as they would stall for the rest of that inning (leading just 6-4) and go scoreless the next. That momentum change and/or the dreaded leadoff walks skillfully worked by K-Mack in each of the next two innings finally awoke the sleeping giant that can be our hitting-is-contagious offense.

Over the next 3 innings Advocates surprisingly found themselves chasing 4, then 11 & then 13 over the rest of our impressive six-inning slaughter. Indeed, we went hitting-crazy in our 4th, 5th & 6th with a bat-around, a bat-around-plus-2 and a bat-around-minus-1, respectively, scoring 6-7-6 (of which 5-4-1 came with 2 outs!) as we seized the lead, stretched the lead and, after failing to close them out when they scored 4 runs (2 unearned) in the 5th, grabbing some composite stick again to regain the slaughter margin-plus and close the deal on our second try in the 6th (the game ending on a low foul tip that stuck in Jeff's belly which few, if any, Advocates realized is an out in 21st century ASA Softball)! It was our best offensive show of the year (hopefully, to date!)--in just 6 at bats we achieved our single-game season-highs in AB (43), R (23), H (25) & RBI (21) while our AVG (.581) & OB% (.673) were second-highest, the latter by just .001. Individually, all 11 players had at least 1 hit (8 had 2 or more); 10 players scored at least 1 run; and 8 players had RBIs--2 or more for each of those 8, in fact. Mr Salty honors were split among the 6(!) guys who had 3-hit games with Salty vs Honorable distinctions decided decidedly old-school style--Marty and OBO will be pleased (assuming they're still alive)! So, Mr Salty (6-3-1-1) was awarded to the "3-fers there": Jonas (3-3-3-4 RBI-2B-2 BB with that double clearing the bases for our last 3 "margin" runs), me (3-3-3-3 RBI-Sac), Mark (4-3-3-4 RBI) & Larry (4-2-3-2B & what Larry wants "Marked" into the record--his if-ever-seen three 5U forceouts identically-placed by the
same
batter, Zack, in each of his 3 ABs). That left Honorable Mentions for the "3-fers not there": Bob Se (5-4-3-2 RBI-SE) & Neal (5-0-3-2 RBI). It would sure be nice for us to remain "butter" as #5-seeded Mrs Gaertner's Mark II now looks ahead to staying "on a roll" into and through the Playoffs, starting next game against #12 Dark Knights and continuing the following week with two tough games against #4 Milford Mudlarks and, probably, #1 Smylie Brothers Swingers in order to get to that 9:15 Championship Game. For the boxscore click on the "Handout: 2015 Boxscores" link on the bottom of this page or navigate to the "2015 Boxscores" category after opening the "Handouts--Sheets" folder in the pane on the left side of this page
.
Administrivia (from the 7/28 Update):
Attendance is Down This Year So We May Have to Cut the Payroll: Here's a shout-out to Paulie
whose attendance and support at our last game was much appreciated as it ballooned our total fan attendance at the game to 1 (0 paid). Jen missed only her second, maybe third, game last week, but she apparently had a good reason--she was trying to fix up the Blue (or was it the Red?) Knight at Medieval Times with a girlfriend. (Maybe she'll have better luck at our game tomorrow with a Dark Knight)? Rumors of Paul's attendance were actually hotly circulating among the players on both teams even before Paulie showed up--if that's what you can call Josh and my brief conversation on the field as he inquired why Paulie hadn't shown up yet! (Full disclosure: Josh and Paul work together and Paul had told Josh he planned to be there for the big 5th Place clash...by the way, does anyone need to re-finance a home mortgage or know someone to refer to Paulie)?!? Hopefully, we'll see a few more fans out there this week and, all things assumed, next week. I'm just sayin'...if you said, "I'm going to make it out there to a game this year" this/these will be your last chance(s)!
Regular Season Wrap Up:
As expected Smylie Brothers Swingers won the regular season crown, but, not expected was that their effort to achieve a perfect season fell short as they lost to Glory Days, 11-9 in last Friday's makeup games.

Also on Friday, Any Given Wednesday made a clear statement on who's #2 by slaughtering The Chronicles, 24-4, to claim the tie-breaker as both finished 9-2, each losing to Swingers (while AGW was upset by Glory Days).

As expected, our game against Advocates determined 5th and 6th Places.

Meanwhile, Glory Days surprising surge in the last 2 weeks (they beat AGW 6-5 and Swingers 11-9—wonder if they might be "loading up"?!?) boosted them into a 3-way tie of the teams with 4-7 records which was settled 3-way tie-breaker fashion among Spiders #7 (they beat both teams), Glory Days #8 (they split) and Slugs #9 (they lost to both).

Finally, Team Random (3-8), Growlers (2-9) and Dark Knights (1-10) brought up the rear with the #10-#12 double-digit spots.

Random had a couple of "upset" wins (Spiders and Glory Days); Growlers upset Random; and Knights were completely Dark, except for their forfeit win over Glory Days.
Playoff Schedule:
#1 Swingers (10-1), #2 Any Given Wednesday (9-2), #3 The Chronicles (9-2) and #4 Milford Mudlarks (8-3) all have the first round byes.

Swingers and AGW will get to play their second round games this week, while Chronicles and Mudlarks are completely off until 8/5.

So, in round 1, the 6:45 games this week will be: #5-#12 (Mrs Gaertner's Mark II - Dark Knights) and #6-#11 (Advocates – Growlers).

The winners will not play their round 2 opponents, #4 Mudlarks and #3 Chronicles, respectively until 6:45 next Wednesday, 8/5.

Meanwhile, the 8:00 games this Wednesday will be #7-#10 (Spiders – Team Random) and #8-#9 (Glory Days – Slugs).

The winners of those games will then play again at 9:15 against their round 2 opponents, #2 AGW and #1 Swingers, respectively.

The winners of these 2 games will qualify for the semi-final games at 8:00 next Wednesday, 8/5 after the 6:45 round 2 games determine their opponents in the semi-finals.

Finally, the winners of the 8:00 semi-final games on 8/5 will play in the 9:15 Championship Game on Diamond #1.
IWBYABIYATFP
ATMT
TTM
: Having neither the inclination (given the late-night 9:15 game) nor the patience (given the past performances of the contestants), I went to the "bank" with last week's IWBYAB session asking (and in some cases re-asking) rather easy "Odds & Ends" questions: (1) Give me the first names of Mort's 3 sons and his son-in-law who all play with him on the Advocates team.

Larry actually got the answer—but failed to remember the "at the Mark" part as, when leaving the park he named all the Advocates' Denlows, Mort (P), Josh (SS & AH), Andrew (LF & AH) and Mikey (RF & AH) and the Denlow wanna-be, Keith Glanz (3B) who, it turns out, is now apparently out for the season with a leg injury.

Later, at the bar, Bob B followed the rules and reiterated the names while acknowledging that Larry had said them earlier and offering Larry the free beer.

Larry declined, so Bob claimed the Shandy beer anyway.
(2) Name all the players among those who have played this year who were in the "Mark II Photo of the Week" of Neal & Stacey's wedding in last week's Update.

Having been humiliated into accepting his namesake Humanitarian freebie last week (in front of his brother, no less) Jonas was quick to find yet another way to "take advantage of the system" and claim a beer—yes, he guessed correctly that Bob B, Schmidtty, Mark, Neal and I were the 5 in the Resnik wedding picture still playing, but Jonas was slow to close his email account on his smart(er) phone revealing the obvious source of his sudden wealth of knowledge.
(3) Acronym time: What does any one of the following acronyms stand for: IWBYABIYATFPATMTTTM, TDIMTH or TOPIMTHT.

Only the second acronym was correctly solved—in this case by Mark, who recognized this repeat question as referring to the critically acclaimed section of the Sheets, "This Day In Mark II History."

Despite having just coined the last acronym in that week's Update, everyone had already forgotten the translation for TOPIMTHT—although no one got it, I still bought Schmidtty a freebie as he can now lay claim to being "The Oldest Person In Mark Two History To"...not know what TOPIMTHT stands for.

Of course, everyone knew that the long first acronym was the title of this amusing little game we play every week and that it had something to do with me buying them a beer.

Fortunately, despite the years of questions and "Ehhhn"s, none of those assembled could concentrate on this long string long enough to string out every word in the correct order...usually putting the "At The Mark" too early or fading before the final "To Tell Me."

When it comes up next (and, it surely will, Shirley) I'm not even sure someone will finally remember it correctly: "I Will Buy You A Beer If You Are The First Person At The Mark II To Tell Me..."!
(JHFB?) What does JHFB? stand for?

(Maybe Aaron will tell his brother the next time Jonas wants to answer a Humanitarian Free Beer question)?
See you out there!
LN, 7-28-15
Old News of Some Value (from the 4/28 Update)...
ERD Schedule & Rules--Review & Analyses:
Schedule: The Wednesday Night League again has a full complement of 12 teams. That makes for a nice single-round 11 game regular season after which there will be single-elimination all-teams-qualify two-week-long Playoffs, with the #1-#4 seeds getting a first round bye. We drew a 5 home-6 away schedule with a good mix--never more than 2 in a row at home or away with 3 of our first 4 away and 2 of our last 3 home. We drew a nice split on the times with 4 each 6:45 & 8:00 games and just 3 games at 9:15. We get half of our 6:45 games in the first 2 weeks (when you can get frostbite playing the later games); 3 of our 4 games in May are at 8:00; and all 3 of our 9:15 games are in June, including Rivalry Games against Advocates and The Slugs the last two weeks of June. We play 6 games on Diamond #1 (Dodge & Main), 5 of which are in June-July when/where the warm SW winds will presumably be blowing out and 5 games on Diamond #2 (2 is on Lee), 4 of which are in April-May when/where the CNL winds will also presumably be blowing out.
Teams: At first blush, the league appears to feature 7 returning and 5 new teams, based on the limited information from the schedule (team names and unknown-to-us captains). The returning teams and our career Crown Park records against them include: Any Given Wednesday (0-1 in 2014, 4-2 & 1-0 between 2002-2007 as Any Given Thursday and 2-0 & 1-0 in 1998 as Dinosaurs & Enemies); Advocates (1-0 in 2014 and 3-2-1 & 1-0 between 2002-2007); The Slugs (0-1 in 2014 and 5-0 & 1-0 between 2002-2006); Milford Mudlarks (0-1 in 2014 and 2-0 & 0-0 in 2003-2004); Glory Days (0-1 in 2014) and Spiders (0-1 in 2014). The possibly new teams include Growlers, Team Random, The Chronicles (could that be the old Chronic/Skokie House/Cadillac Sam's team who we played from the 2002-2007 Thursday leagues?), Dark Knights (could that still be the same thespian-laden team from our 2001 & 2004-2005 Tuesday leagues?), and Smylie Brothers Swingers (could that be Tommy Nevin's/Swingers with a new captain?). Apparently missing in action from last year's Wednesday League are: The Goodfellas (3rd Place at 8-3 and won the League Playoffs); Unfinished Business (4th at 7-4); Swingers (5th at 7-4 and Playoff Runners-Up); Kekambas (6th at 7-4); and Cardinal IP (12th at 1-10). Note that some of these teams have likely been re-named/re-captained as one of the 5 new-to-us teams. We'll no doubt learn more about these teams as the season unfolds...stay tuned.
Rules: It would be a good idea for everyone to review the Evanston Rules which, along with the League Schedule, Roster and Financials, are posted on this website (follow the "Handout: 2015 Administrative..." link near the top of this page or navigate to the "2015 Administrative..." category after opening the "Handouts--Sheets" folder in the pane on the left side of this page). The most important rules from a player perspective include: unlimited arc; "floating" pitcher's mound; illegal bats (see the ASA website, a link to which is available on our website); limit of 2 courtesy runners; foul third strike is dead; no "fake" tags; the lightning policy; etc.
Rain:
Evanston's Rainout Hotline is 847-859-7822 x1199. Evanston also has a Rainout Status on their ERD softball page (http://www.cityofevanston.org/parks-recreation/recreation/softball-leagues/). And--this is a great convenience(!)--you can sign up to receive an automatic rainout notification text message and/or e-mail message if/when ERD issues an update--sign up for this on the above mentioned softball page (top right). Note that rainout information is not generally posted/updated until after 4:00 PM and may not be posted until right around game time, so never assume a game is canceled. These accounts and the Rainout Hotline numbers are listed on the bottom of the Team Calendar and the Team Roster and all are also available on our website Home Page (http://www.eteamz.com/MarkIISoftballTeam/). The bottom line on rainouts:

If the Hotline is not reporting that the games are postponed and you can't reach me and I have not sent out an e-mail and/or updated our website and/or my Twitter account is not reporting a rainout or postponement, always assume we are playing & show up!

(Every year we're amazed and surprised at least once or twice when we've played even though it looked like we wouldn't play right up until game time)!
Administrivia:
Money:
Based on the Mark II Lounge covering about one-half of our league fees and costs,
I will need $50 from each "regular" player this year
. I've already paid the $675 in fees, bought a new "Book" and renewed our website subscription, so my checking account would much appreciate your prompt attention to this matter! As always, regular attendance at the Mark II after our games would go a long way in reciprocating the generosity the Anton Family has shown toward our teams for 38 seasons!
Missing a game: If/when you know that you'll miss game(s) due to a vacation or schedule conflict, please make sure I record those dates on my calendar. The sooner I know, the easier it is for me to plan and get subs.
Handout:
2015 Boxscores