Wecome to the Official Angie's Mark II Softball Team Website!
2015 Angie's Mark II Team
We mourn the loss of Angie, our dear friend, team's namesake and Mark II manager/bartender over our 38 seasons, who passed away 11/18/15, just after her 54th birthday and less than 4 months after her cancer diagnosis.
Angie's outgoing personality, upbeat attitude and genuine camaraderie will be sorely missed by our players, groupies and fans with whom she cheered at the games and welcomed as friends back at the bar for so many great seasons.
Although the Mark II Lounge may now lack her physical presence, Angie's spiritual presence will fill that place and have its own special place in our hearts forever!
Thanks, Angie...we love you!
Angie's Mark II Softball Team
This site is the electronic home of the "Original" Mark II Softball Team--playing 12" slow-pitch softball for the Mark II Lounge since 1978!

The 2016 season "Marks" our 39th season of summer softball fun sponsored by the Mark II Lounge! We are once again playing in the Wednesday Night Mens' League at Evanston's Crown Park. Playing in the same league in 2015, Angie's Mark II finished the Regular Seaon with a 6-5 record (5th Place among the 12 team league) and went 1-1 in the Playoffs, for an overall record of 7-6.
See the "Web Update" section below for the latest team news and narrative summaries of this summer's league play, etc.
Please explore all the areas of our site by clicking on one of the links in the pane to the left. Note that the "Handouts-Sheets" folder leads to our 2016 stats, boxscores and administrivia (Team Calendar, League Schedule & Rules and IWBYABs). Other links in the "Handouts-Sheets" folder will lead to all the Mark II Softball Team historical stats from the 2015 "Stat Pack" as well as all the final stat "Sheets," weekly "Updates," etc for each individual summer league season since 2000.
For futher info, sign our "Guestbook" or send e-mail to: MarkIISoftball@aol.com

See you out there!
Lloyde Nelson, 5-2-16
Evanston Rainout Hotline: 847-859-7822 (ext 1199)
Follow Lloyde on Twitter: For timely and important updates, player availabilities, scores, etc, please sign up to be a follower on my Twitter account "@LloydeNelson"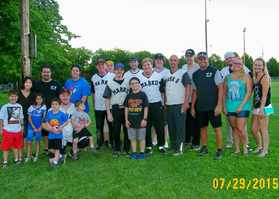 2015 Angie's Mark II Team & Groupies


Centerfield (Let's Go!)
Handout: Current Administrative--Schedule, Roster, Financials & Rules

Monday, May 30


Mark II Current Web Update




Last Updated: Monday, 5/30/16:

Upcoming Schedule & Player Status:

Wednesday, 6/1: 6:45 at Any Given Wednesday (2-1) on Crown's "West" Diamond. Time for another "service break" while avenging recent history? Last year, they finished in 2nd place in the regular season at 9-2 (losses to Swingers and Glory Days), but, after beating #7 Spiders in the 2nd round of the playoffs, they lost to #3 The Chronicles in the semi-finals. Their only blemish this year was their last time out, losing to now 3-0 Spiders by an 8-4 score. Earlier, they took care of business against Cardinal IP, 27(!)-1 on Opening Night and seemingly upset last year's champs, Swingers, 7-6 on 5/11. Of all the current teams, Any Given (Fill-in the day of the week) and their ancestor, Dinosaurs & Enemies, is the weekday leagues' team against whom we have played the most games (12) and have the most victories (8). Unfortunately, we haven't had a victory against them since before our Crown Park 2008-2014 hiatus having lost both games against their team with the Wednesday moniker (15-5 last year & 11-8 in 2015). In the "old(er)" days of 2002-2007, we built a 5-2 record against the Thursday version and back even further in our first year at Crown, we had a great 3-0 record against (a few of) them as Dinosaurs & Enemies in 1998. Shawn is not expected (arm), Grandpa Bob B is still in Australia (grand-daughter's birthday hangover) and Eric is out (Cubs game). Both Tony and Zave have said they can sub (guys, please confirm). All the other regulars are expected: Jonas, me, Mark, Zave(?), Larry, Bob Se, Ryan, Tony(?), K-Mack, Jeff and Neal.

On Deck...

Here's a link to the Game Summary and Boxscore for previous game(s) against this week's opponent:

http://www.eteamz.com/admin/sitez/download.cfm?id=2496261&site=489816

Recent Results

Wednesday, 5/25: All games, including our 9:15 matchup against The Slugs were cancelled by ERD due to the rain that started right around 6:00. These games have now officially been tacked onto the back end of the schedule so that means that the make up date is Wednesday, 7/20 and the playoffs are now 7/27 and 8/3. This also means that since we've now had the allotted two nights of cancellations, ERD will likely schedule any future cancelled games on Fridays (or maybe Tuesdays or Thursdays since Crown Park is dark on both those nights, too).

From the Last Update (5/30):

Administrivia:

Mark II Moments: There were none...we didn't go to the bar!

Thanks for reading (Part 1): Heard from Mark II Alum, Jason Norris (.354 / .447 / .473 in 75 games between 1988 and 1996—has it really been 20 years since "young" Jason played)? Anyway, Jason apparently not only still gets excited about sitting in a boat all day holding his pole and hoping he'll get lucky, but also about reading these weekly (weakly?) Mark II Updates. Here's Jason's quote (and I swear, despite the red hair, that he's not related to me): "The amount of stats, metrics, biographical, medical, meteorological, personal, ancestral, and general administrative minutiae you record, amass, remember and document, all in the name of a saloon sponsored softball team is simply extraordinary. Your weekly updates have more information in one issue than Roger Water's entire Wikipedia page. I always love keeping up with the team and appreciate the updates!" Thanks, Jason...you can put away that Roget's Thesaurus and get back to work, now!

Thanks for reading (Part 2): Also heard from Mark II Groupie Maria Mackey who wants to settle the Schmidttys' wedding anniversary issue once and for all (until next year): "Hi Lloyde! To clear up the uncertainty, I believe Kevin's uncle will be married 42 years (I remember joking that we threw them one heck of a 30th anniversary party :)" Thanks, Maria, for not only spelling my name correctly, but saving Schmidtty from having to do anything more than "30+" math on this topic every 5/30 from now on!

Happy Days: OK, we got through the May players' events that I track. I apologize for missing anniversaries, spouse and kids' birthdays, etc, for those of you I haven't been very diligent about recording. Players-wise, I don't think we have any upcoming June events until the last day (unless you count Medicare starting for me on June 1), so let me know if there's any significant event happening among you and yours this month and you, too, can see your name highlighted herein!

Injury Report: Shawn's still out indefinitely (and definitely for this week); Neal is still ready to return this weak, apparently having gotten rid of his pain in the neck

Money: Closer and Closer! We're talking...Chase QuickPay attempts by our 2 remaining holdouts apparently failed last week, so I remain remunerated by a total of 9 with 2 to go! Based on the Mark II Lounge covering about one-half of our league fees and costs, I've been collecting $50 from each "regular" player. I gladly accept cash, checks or electronic fund transfers (via Chase QuickPay to my LN630@aol.com email address). As always, regular attendance at the Mark II after our games would go a long way in reciprocating the generosity the Anton Family has shown toward our teams for 39 seasons!

IWBYABIYATFPATMTTTM: No bar...no free beer! You'll just have to wait until this week (next week for you Update fans) as I'll carry over the questions from last week. Hint: study up on your Mark II genealogy!

See you out there!
LN, 5-30-16

Old News of (Mostly) High Value (from previous Updates):

Rosters: If you haven't already done so, please see me to sign the official team rosters/waivers which I must turn into ERD before Game 1 and finalize by Game 6.

Missing a game: If/when you know that you'll miss game(s) due to a vacation or schedule conflict, please make sure I record those dates on my calendar. The sooner I know, the easier it is for me to plan and get a sub.

ERD Schedule & Rules--Review & An alyses:

Schedule: The Wednesday Night League again has a full complement of 12 teams. That makes for a nice single-round 11 game regular season after which there will be single-elimination all-teams-qualify two-week-long Playoffs, with the #1-#4 seeds getting a first round bye. We drew a 5 home-6 away schedule with a very odd mix—5 straight home games to open the season followed by 6 away games. We drew a nice split on the times with 5 games starting at 6:45, 4 at 8:00 and just 2 at 9:15 (weeks 5 & 7). Our Rivalry Games are week 5 (Slugs at 9:15) and week 10 (Advocates at 6:45). The new regime has apparently made its "Mark" by dropping the numbers from the diamonds and using the compass for simplicity. So, we now will play 6 games on the "West" Diamond (formerly #1 or #4—the one on Dodge & Main) and 5 games on the "East" Diamond (formerly #2 and #3--is on Lee). Not much of a pattern this year: E-W-W-W-E-W-W-E-W-E-E.

Teams: Assuming The Chronicles are indeed returning as These Cats, all 11 teams are "retuning teams" (albeit one was last seen in 2014). That team, Cardinal IP, against whom we were 1-0 in 2014, returns and replaces last year's last place Dark Knights (1-0 & 1-0). Unless they pull a WTTW Channel 11 on us (ask Mark), Cardinal IP is likely to replace Dark Knights in the standings, too, as both were 1-10 in their previous Crown League seasons. (We should know more before our week 7 late game against them). So, that means the returning teams and our career Crown Park records against them (regular season & playoffs, if applicable) are: Any Given Wednesday (0-1 last year; 0-2 since 2014 as Wednesdays, 4-2 & 1-0 between 2002-2007 as Thursdays and 2-0 & 1-0 in 1998 as Dinosaurs & Enemies); Advocates (1-0 last year; 2-0 since 2014 and 3-2-1 & 1-0 between 2002-2007); The Slugs (0-1 last year; 0-2 since 2014 and 5-0 & 1-0 between 2002-2006); Milford Mudlarks (0-1 & 0-1 last year; 0-2 & 0-1 since 2014 and 2-0 & 0-0 in 2003-2004); Glory Days (1-0 last year; 1-1 since 2014 ); Spiders (1-0 last year; 1-1 since 2014); Growlers (1-0 last year), Batmen (1-0 last year as Team Random), Swingers, who apparently dropped the Smylie Brothers affiliation this year (0-1 last year; 0-2 since 2014) and finally, These Cats (0-1 last year) assuming they played as The Chronicles.

Rules: I did a side-by-side comparison of the 2016 & 2015 ERD Rules. It appears they are identical EXCEPT that Rule 9, Sec 3 has been eliminated. That's the rule that allowed the pitcher to pitch from anywhere up to 6' (straight) behind the rubber. Jonas, before you go all Mumbles Doomsday about this, let me check with Ray as to whether this omission was intentional and why—hard to believe ERD would take away a rule just put in as a safety improvement. That aside, it would be a good idea for everyone to review the Evanston Rules (attached) before we start playing. The most important from a player perspective include: unlimited arc; illegal bats (see the ASA website, a link to which is available on our website); limit of 2 courtesy runners; foul third strike is dead; no "fake" tags; the lightning policy; etc.

Communication:

Rain:

Evanston

's Rainout Hotline is 847-859-7822 x1199

. Evanston also has a Rainout Status on their ERD softball page (

http://www.cityofevanston.org/parks-recreation/recreation/softball-leagues/

). And--this is a great convenience(!)--you can sign up to receive an automatic rainout notification text message and/or e-mail message if/when ERD issues an update--sign up for this on the above mentioned softball page (top right). Note that rainout information is not generally posted/updated until after 4:00 PM and may not be posted until right around game time, so

never assume a game is canceled. These accounts and the Rainout Hotline numbers are listed on the bottom of the Team Calendar and the Team Roster and all are also available on our website Home Page (

http://www.eteamz.com/MarkIISoftballTeam/

).

The bottom line on rainouts:

If the Hotline is not reporting that the games are postponed and you can't reach me and I have not sent out an e-mail and/or updated our website and/or my Twitter account is not reporting a rainout or postponement,

always

assume we are playing

& show up!

(Every year we're amazed and surprised at least once or twice when we've played even though it looked like we wouldn't play right up until game time)!

Tweets: Yes, I am a twit who tweets...but only Mark II Softball Team matters, I promise! So, if you're a twit, please become one of my followers(I'm up to 19!) so you can receive game status changes, field condition updates, etc promptly (and in less than, or equal to, 140 characters)! My Twitter account is @LloydeNelson (https://twitter.com/LloydeNelson). As I use this account only to communicate to the team and not as a dialog with me, please do not use the "Reply to:" capability of Twitter as I am very unlikely to promptly review any replies--I still prefer either a phone call or an e-mail/text reply if/when you have new news about your availability, etc. Finally, our Website also has a link to my Twitter account (in case you've forgotten my name, or--more likely--can't spell it).

A Tribute to Angie from Bob B, 11/18/15:

To the Mark II Softball Team Family,

A little bit of all of us died today. And it's hard to imagine the sun will be able to shine as brightly again .

Angie loved life more than anyone we've ever known. She's the most optimistic person we've ever known.

Angie started working at the Mark II before our softball team was even an idea. Back in the 70's, Lloyde and the other Shure Brothers gang (OBO, Marty, Russ, Wally, Gary, Schmidtty, etc. etc.) hung out at the Mark after work and after their company softball games, and the Mark II camaraderie was what spawned the Mark II softball team. Angie was always there. No one took fewer vacations than Angie. She acted like working behind the bar was a vacation. She worked at the Mark six days a week, and during the baseball season, she spent her day off — Saturday — working the mob scene at Mullen's in Wrigleyville. She spread joy wherever she went. And she bragged about our team all the time. I still remember the night she introduced Lloyde and me to Joe Hudek, shortly after we had won our first championship. Joe (a former college ballplayer who became one of our best players ever) acted like we had reeled off a dozen titles in a row, and he politely requested a tryout. He had been listening to Angie. And in those few years we had losing records, Angie focused on all the championships we had won. To her, we were champions every time we walked into the Mark.

It's been difficult to process how suddenly and rapidly Angie fell ill and died, especially since it basically happened in the short time period since our season ended. Lloyde got word last week that Angie was in Evanston Hospital, and he and Peg and I had a chance to visit her last Thursday. She was weak, not just due to the cancer but also an infection that had set in, but she was cheerful and optimistic as always, talking about going home the following day. She enjoyed talking about the great run the Cubs had during the playoffs and their prospects for winning the World Series next season. A misguided well-wisher had brought her a White Sox pennant, which I dutifully removed Thursday morning, and which Lloyde and Peg replaced with flowers and some Cub paraphernalia Thursday afternoon. I also advised her that I had obtained a liquor license and was arranging for a juke box to be installed in her room that afternoon, so she'd better be ready to start serving drinks. Her daughter Steff was at her side, as she had been throughout the illness, so she was designated as bouncer. Spirits were high. Death was nowhere in sight. Right until the end, Angie never changed, a lesson for us all.

I can't even imagine what it will be like to walk into the Mark and not see Angie. But I know she'll be there. God bless us all.





Handout: 2016 Boxscores