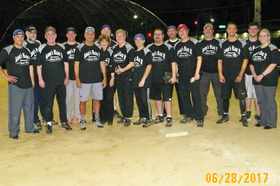 2017 Angie's Mark II Softball Team & Groupies
Welcome to the Angie's Mark II Softball Team Website!




This site is the electronic home of the "Original" Mark II Softball Team--playing 12" slow-pitch softball for the Mark II Lounge since 1978!

The 2018 season will "Mark" our 41st(!) season of summer softball fun sponsored by the Mark II Lounge! We will once again be playing in the Wednesday Night Men's League at Evanston's Crown Park where, in 2017, we finished the Regular Season with a 5-5 record (7th Place among the 12 team league) and went 0-1 in the Playoffs, for an overall record of 5-6.

See the "Web Update" section below for the latest team news and narrative summaries of this summer's league play, etc.

Please explore all the areas of our site by clicking on one of the links in the pane to the left. Note that the "Handouts-Sheets" folder leads to our 2016 stats, boxscores and administrivia (Team Calendar, League Schedule & Rules and IWBYABs). Other links in the "Handouts-Sheets" folder will lead to all the Mark II Softball Team historical stats from the 2017 "Stat Pack" as well as all the final stat "Sheets," weekly "Updates," etc for each individual summer league season since 2000.

Note that the 2017 "Stat Pack" was distributed at our annual "Off-Season 'Conditioning' Meeting" on Thanksgiving Eve--if you didn't get yours that night, I'll give you your copy the next time I see you! (Most of these "Stat Pack" stats have also now been uploaded to this website).

For futher info, sign our "Guestbook" or send e-mail to: MarkIISoftball@aol.com

See you out there!

Lloyde Nelson, 4-12-18

Evanston Rainout Hotline: 847-448-0034 (then "50#")

Evanston Rainout Website: https://rainoutline.com/search/extension/8474480034/50

Follow Lloyde on Twitter: For timely and important updates, player availabilities, scores, etc, please sign up to be a follower on my Twitter account "@LloydeNelson"



Centerfield (Let's Go!)
Handout: Current Administrative--Schedule, Rules, Roster, etc

Saturday, May 26

Mark II Current Web Update
Latest News...Last Updated: Saturday, 5/26/18, 10:00 AM:
Upcoming Schedule:
Wednesday, 5/30: 7:45 at Batmen on the West Diamond. Stay tuned for more details...
Player Status: Larry remains on the DL, but Tony A will be able to play again. Mark is out (business travel) and Bob B (heel injury) is questionable. So, we're expecting: Jonas, Shawn, Eric, Bob B(?), Bob Se, Tony, Jeff, Kevin C, K-Mack, Tony C and Neal.
The Last Time(s) We Saw These Guys...Here is a link to the Game Summaries and Boxscores for previous game(s) against this week's opponent (may open Word document directly or require you to download the Word file first, then open it with Word, depending on your operating system, browser and/or local settings)...Stay tuned.
Recent Results:
Wednesday, 5/23: Beat Milford Mudlarks, 14-5...Follow the link below for a preliminary copy of the boxscore. Stay tuned for the narrative and more details...
Milford Mudlarks Boxscore (Preliminary): http://www.eteamz.com/admin/sitez/download.cfm?id=2555158&site=489816
Note: If the boxscore link above isn't working, you should be able to access any/all boxscore(s) by clicking on the "Handout: 2018 Boxscores" link on the very very bottom of this page or navigating to the "2018 Boxscores" category after opening the "Handouts--Sheets" folder in the pane on the left side of this page.
The Individual Stats "Sheet" has been updated through the 5/23 game while the last-published Team & Standings/Results "Sheets" are still up to and including the 5/16 game(s). These "Sheets" are available (in the "Handouts--Sheets" folder in the pane on the left side of this page).
See you out there!
LN, 5/26/18
From the last Mark II Update (5/22):
Administrivia:
Mark II Moments:
What a difference a week makes! We were the only crowd at the bar when we got there--no feather boas and Jonas was the only one dressed in fishnet anything. Speaking of Jonas, sartorial sarcasm often focused on the new "pedal-pushers" or whatever those athletic tights were that Jonas debuted at the games that night. Unfortunately, the new wardrobe was apparently only half-effective as Advocates must have been distracted while Swingers are obviously used to bad fashion statements (based on their gaudy blue/yellow pinstripe uniforms).

Also unlike last week, Rafaela had no trouble taking care of our crowd (and the Kitty) and kept the pizzas coming at rate that was even faster than Schmidtty could down them, although there were complaints (mine) that a Chicago-cut (squares) is generally preferred at the Mark II to the New York cut (pie-slices)...if for no other reason than the corners--just sayin'.

Kevin C, Bob B & Peg had their creative hats on as among the three of them they decided that we needed to more succinctly describe the administrative nightmare that is/has been the Evanston Recreation Department. As their conversation evolved, Bob wanted to include "typical" and the word SNAFU (Situation Normal All F**ked Up) was bandied about. Peg believes it was Kevin who came up with the final new acronym which I will henceforth celebrate by endlessly driving into the ground, TERDFU (for Typical ERD F**k Up). And you thought Kevin was just good for hitting tape-measure foul balls (before grounding out weakly to second).

Speaking of a SNAFU, Tony C laid another one on all of us last week which was, of course, relayed to Grandma Steff and Uncle Tony. Seems, despite my personal text, not to mention the plethora of information sent/posted on emails/our website, Tony was nonplussed to discover after game 1 that we were scheduled to play a doubleheader! Tony had made plans—yes, a woman or women were involved—for that time and had to sheepishly beg off to attend "a planning meeting for his late June/early July trip to Greece" per Steff. Fortunately, with Kevin C arriving as scheduled for game 2 and Steven available to stay/play, we had enough bodies. Unfortunately, Bob Se, had apparently decided ERD was like MLB and he had 30 minutes or so between games, so when Kirk the Ump said "Play Ball" I had to convince Tony to stay and play (third) until Bob reappeared (naturally, within an out or two). It turned out Swingers' leadoff man tested Tony, who flawlessly if not sure handedly got the assist on the 5-3 play. And, as a reward/punishment, I let Tony bat leadoff in the bottom of the first—Tony singled sharply (to the cheers of 6 or 7 fans on their side), then scored sliding home on Kevin C & Shawn's back-to-back singles, then having to leave the game, replaced by Bob. So, it appears there may be a little of Bob Se in "Don't Call Me Little" Tony—good and bad—but there's still a lot more Bob Se in Bob Se (eg, did I mention he showed up at game 1's start time, tied his shoes, grabbed a bat and not only walked/scored to leadoff, but also went 3-3-3-4 RBI-2B-BB for the game)?

Hey, it had been so long that we almost forgot about Mr Salty! Almost...but not. While our 19-3 Advocates victory was declared to be a Team Mr Salty (6-2-1) the Honorable Mentions were duly recognized (yeah, I gotta work on shortening those speeches): for having multiple hits in our "W" the HMs went to Bob Se, Eric, Neal, Bob B, K-Mack & Mark. As a side note: Tony Anton didn't have whatever is needed to make a Buttery Nipple—probably used it all up for the NU coeds last week—so his 2 Wuss shots were "Nutty Irishman." (A Google search finds: "The Nutty Irishman is a fun, sweet cocktail that mixes Irish whiskey with Bailey's and Frangelico. The dominant flavor is definitely the hazelnut, but the woodsy notes of whiskey come through strongly." As I recall, both Bonnie and Peg enjoyed it, although neither used words like fun, cocktail or hazelnut, or the expression "woodsy notes of whiskey" after downing her shot.

Also eerily similar to last week, The Slugs' usual suspects showed up to celebrate their third in a row just as we were leaving, inheriting our tables, as, by 11:15/11:30, the bar had begun to fill up by the time they finished their 9:45 game (another TERDFU--their first of 3 consecutive weeks of playing the late late games thanks to the scheduling geniuses at ERD).
Thanks for Reading (reactions and feedback from Update readers & other trolls)...Jason, (finally understanding why the guy he always called "Mike" Koc was never really fond of him and wondering, in fact, whether Doug—or, possibly anyone—was ever really fond of him; also, trying to educate me on the use of "(sic)" [Sic]); Jonas (claiming the Embedded JHFB as only he could); Cathy "Tall Kathy" Sponholtz (thanking me for bringing joy to her work days on Tuesdays, while drawing similarities to my struggling/staggering softball and South Side teams); Paulie (thanking me for the birthday shoutout/writeup & wishing us luck); Joe C (volunteering to change his dad schedule if we really couldn't find an outfield sub); Jeff (taking Joe off the hook—likely with Beth—in lining up Steven to sub); and Mark (deathly afraid of his designation as "emergency" outfielder). Keep those cards and letters rolling in, fans!
Happy 56th birthday next Monday, 5/28 to Bob Se, who, as we all should have known after reading the 5/8 Update, shares his birthday with Legendary Michael "Don't Call Me Mike, Jason!" Koc and Coulda/Woulda-Been-a-Legend Matt "Flash-and-Dash is in My Blood!" Longley. Also of note, somewhere halfway across the world Bob B's granddaughter, Mara, will be celebrating her third birthday this Friday, 5/25 (which will have been our Thursday, 5/24...or something like that).
Injury Report: Larry (right arm/shoulder) had his MRI which came back negative (no torn Rotator Cuff or any torn muscles). For now, he's back to a month of PT and, if that doesn't work, possibly a shot to try to break up the scar tissue that's restricting his movement. Tony A is ready to go again after nursing his left shoulder the last two-plus weeks.
New Blood: Steven "Call Me Any Name" Bonilla, a friend of Jeff's from his and Ryan's Thursday night and Sunday morning teams of 2016, filled in admirably in the outfield last week. Steven wasted no time, grabbing a "!" on his first defensive play in LC and getting on base on 2 of his 4 PAs with an SE-4 and an RBI-single. I haven't had much time to chat with Steven, but besides knowing Jeff and Ryan, it turns out Steven also knew Tony C from hanging out at the Mark II. Steven lives in the Rogers Park neighborhood near the bar and has (at least) one small child at home.
Money: Bad week...our kids need new shoes—they are wearing out their socks! No one else has paid in a couple of weeks as I remain stuck on 7 paid! For those of you regulars who haven't paid yet, please pay me $30 ASAP—I accept cash, check, PayPal or Chase Pay.
Around the Park: No TERDFU on getting the results this week—Logan sent them out Friday afternoon (mind you, still absent any information about the 5/2 rainout makeups). If you read this section last week (everyone does, right?) I was pretty much right on my predictions as These Cats (9-2 over Milford Mudlarks), Swingers (x2: 14-8 over Glory Days & too many-too few over us) and Batmen (19-12 over C-A-T-S) all held service over their lesser opponents while The Slugs and Glory Days won close contests: The Slugs 13-11 over Spiders and Glory Days, earned a split for the night winning their close-as-you-can-get game 9-8 over Advocates (who made it a double-dip). There appeared to be just one time-will-tell-if-it's-really-an-upset among the also-rans as Sons of Pitches (1-9 & 0-1 last year) claimed just their second summer league non-forfeit "W", 8-6, over one of the new teams, Second Wind (apparently belying SW's 12-6 win over Glory Days on 5/9). As an aside: our last two regular season games are against these teams whom we have never played, Second Wind & Sons of Pitches. Anyway, looking at the standings after between 2 and 5 games played (gotta love this scheduling!), it appears that the cream has started to rise to the top. The last two Champions, These Cats and Any Given Wednesday are undefeated at 3-0 (and had their matchup rained out 5/2) while the 2015 Champions, Swingers, find themselves in a 3-way tie for third at 3-1 with last year's #2 Batmen and (surprise!?!) The Slugs (3-7 last year). Sons of Pitches (2-1), Second Wind (1-1) and Glory Days (2-3) are fighting it out for middle-of-the-pack honors. That leaves the 5 ones-and-zero teams at the bottom, looking up and trying to look way up: Milford Mudlarks (our opponent this week at 1-2), Advocates and Spiders at 1-3, we are at 1-4 and C-A-T-S, winless in 4. Finally, a quick look at this week's matchups: AGW likely will go to 5-0 with a DH sweep against Advocates and Sons of Pitches (who first have to play Swingers); Milford Mudlarks play Second Wind before they play us while Second Wind follows their MM game with an interesting game against Spiders. The best late game features a rematch of last year's Championship, These Cats vs Batmen, while the most lopsided late game is likely The Slugs playing their second of 3 straight 9:45 games against 0-fer C-A-T-S. Glory Days, the only other team to have played 5 games, will enjoy Bye Days this week.
IWBYABIYATFPATMTTTM (5/16/18): So I went to the ATM Wednesday afternoon to make sure I had plenty of cash for the night as I fully expected I'd spend it all on a 6-pack of freebies given the uber-easy questions I had lazily scribbled down for this week's IWBYAB. Not so, camel breath! (Ack: Carnac the Magnificent). Apparently, the thought that regular readers of the Update(s) would easily quench their thirsts was flawed in one major way—no one reads this crap! Anyway (if you're still reading) here are the 6-pack+JHFB? I asked, just barely 4 of which (after many rounds and hints, not to mention rampant discussions among the knowledgeable 1 or 2 and the other 6 or 7 morons) were actually solved. The "Ripped from the Headlines" (Ack: Law & Order) set up: "You know you read that somewhere recently...Odds and ends questions extrapolated from recent Mark II correspondence"...
(1) What 2 current actives each hit a home run in our game against Bent Bombers 15 years ago yesterday? The source for this was the previous day's Update, in the TDIMTH section. No one got the correct answer nor did anyone bother to do the easy research (which I'm sure a young Loach or two would have done if Elly didn't keep them from quenching their thirst for a freebie). Indeed, although both Bob B & Kevin C were at the bar and guessing randomly with the others, neither remembered what he had for lunch much less his homer in that game 15 years ago. To his credit, however (but not deemed worthy of a freebie), Bob did remember that he set the all-time record for assists, 10, in that game—indeed, that 10 was 3 better than my next-to-Best 7 which I achieved 7 times between 1997 & 2011, at least as of the 2012 season which was the last time that Mark got off his "couch" and compiled any such stats for me/us. (Actually, I checked without Mark and his couch...a quick review of the year-end sheets since 2012 shows I had a second-to-Best-ever 9-assist game on 7/16/14 vs Kekambas and that Bob B joined my fan club—plenty of room--with his own 7-assist game on 7/23/13 against Rombones—both losses).
(2) Who were the 2 "ringers" we used in the 2000 Sunday Morning Tournament/Championship (the only 2 games they played that year)? The source for this was also the previous day's Update, in the Photo of the Week section. Bob B knew his Championship Day history and knew (as he confessed, without having even read the Update) that we called on both Shannon and Jonas to come out that morning when 5 of our regulars (Bob Se, Neal, Joe C, Billy & Rich) were not available for one reason or another.
(3) Shared birthdays: What 3 players (2 alums & an active) share a May 28 birthday and what 2 active players share a February 9 birthday? The main source for this question was the 5/8 Update in the "Legendary" Administrivia story covering Michael "Don't Call Me 'Mike'" Koc's surprise 70th birthday party we attended. I actually thought it was too easy just to remember that Michael had the same birthday as Bob Se and Matt Longley, so I threw in a second "gimme" for anyone who had attended any of the recent winter birthday celebrations we've had for Shawn and/or Jonas. As it turned out, either one of the two dates proved too mentally challenging for the huddled masses, so this question turned out to be the second stumper of the night (alas, though, no free beer(s) for me...yet).
(4) Who were the 2 well-known-to-us Swingers' players who missed our 2016 game against them when Swingers won 4-3 in an 8th inning walkoff? The source for this one was/were the website Home Page, 5/16 Update and/or the TLTWSTG coverage/team reviews of that night's opponent, Swingers. Whether he read any of those (doubtful) Mark nevertheless knew the answer instantly upon reading the question—both David Ionatti (captain of the Stone Ponies at Laramie) and Brian Rowell (former Angie's Mark II player and Bob Best trained Little Leaguer) were well known to us and, unfortunately, not absent in this Wednesday's game, David going 2-2-2-3 RBI-Sac and Brian "just" 2-2-2-2 RBI. Quick updates on both: I reminded David that he had missed another game back at Laramie for his wedding and he advised that he's still married and enjoys chasing his 1-year old around the house. Meanwhile, both of Brian's parents were in the house, Mac (sp?) sitting on our side while Betsy came over to visit from the dark side—both were proud to be celebrating Brian's first day on his dream job as an Evanston policeman!
(5) Who are the "Hardcore-Four" and what 2 active players joined them at the Mark II after our 9:45 game on 5/8/18? The source for this question was the "Mark II Moments" section of the previous day's Update. Kevin C almost got this one—not really as he added Jonas to the H-C-4 and seemingly forgot(!?!) that he, Kevin, was one of two actives. K-Mack salvaged a Bing! Bing! Bing! Bing! for guys named Kevin, however, as he properly identified the H-C-4 (AKA "Old and In the Way"; The Sexagenarians (although Schmidtty has since graduated); and Enjoying Retirement Sect) as Schmidtty, Bob B, Peg and me while adding the actives watching last week's bad NU fashions show as Jonas and Kevin C.
(6) According to the 2018 ERD Rules, what is the ERD official written rule concerning infield warm-ups between innings? The source for this question goes all the way back to the first full Update of the year dated 4/24 and/or the 2 or 3 places on the website where the rules are discussed. After much—too much help from Bob B and/or Mark if you ask me—Kevin C sheepishly claimed the freebie for knowing that this was a trick question—there is no official statement about infield warm-ups on the current ERD Rules document. Rather, the statement about no infield after the 1st inning was dropped (along with several other important areas) in the 2017 Rules TERDFU hatchet job performed by Logan & Ray. Meanwhile, poor Schmidtty and Jonas spent the night guessing every version of a possible rule about no only infield warm-ups, and (who even asked?) about pitcher warm-ups, in an effort to prove they knew nothing (no proof necessary, guys).
(JHFB?) Who won the "Embedded JHFB?" in this week's Update? While Jonas didn't deign to name himself as the answer for this humanitarian freebie, he was completely satisfied in accepting a free BM for having been tricked into answering the previous day's Update version. Indeed, as soon as he read the Update, Jonas knew and quickly replied that Bob Best was our regular pitcher in the 2000 Sunday League with Paulie having started just 2 games and Jonas having relieved Bob B in the 3rd inning of the Championship Game.
From previous Mark II Updates:
ERD--Dazed & Confused:
Crown Park: The 2018 season promises to be more of a challenge than usual thanks the major construction project scheduled for Crown Park starting in mid-to-late June (see photo). The schedule released by Logan on 4/15 includes a 13-team, 10-game regular season all played in the 8 Wednesdays between April 25 and June 13 by including scheduled doubleheaders/byes, playing 4 games a night on each diamond (6:45 / 7:45 / 8:45 / 9:45 with no inning allowed to start after 55 minutes of play), playing the last week at another park (Fleetwood-Jordain in north Evanston) and with no provisions announced for rain outs. The rules state that a single-elimination tournament will be played after the regular season, but there is no mention of how many teams qualify for the tournament nor when and where makeup or tournament games will be played. Stay tuned...
Schedule: The Wednesday Night League is inexplicably loaded with 13(!?!) teams. That, and the 10-game schedule jamming 4 games per night on each diamond imposed by the park's construction schedule, makes for a horribly-confusing regular season schedule in which some doubleheaders are required (we play 2, in weeks #1 & #4) with an-equally head-scratching number of bye weeks (we have 1, in week #2) . We were one of 4 or 5 teams to draw a seemingly-unfair 4 home-6 away schedule with a very odd mix—2 straight home games to open the season, another in week #4 and then not another until the last scheduled week (#9). We drew an OK split on the times, weighted somewhat by our early-time doubleheaders, with 4 games starting at 6:45 (weeks 1, 4, 7 & 9), 3 at 7:45 (weeks 1, 4 & 6) just 1 at 8:45 (week 5) and just 2 at the dreaded 9:45 timeslot (weeks 3 & 8). Our Rivalry Games are both at 6:45 (Advocates on 5/16 as the first of a doubleheader and The Slugs on 6/6). Since there are 12 other teams and only 10 games in the regular season, we don't get to play our buddies from Candlelite (Spiders) or one of the new teams (C-A-T-S). And, we don't play the two other teams in the league who we've never played before--Second Wind (new) and Sons of Pitches (rained-out last year)--until the last two weeks of the regular season schedule. In terms of location, get used to the "West" Diamond (formerly #1 or #4—the one on Dodge & Main) where we play 7 of our 9 Crown games with only our Rivalry Games on the "East" Diamond (formerly #2 and #3--is on Lee). As noted above, our "last" regular season scheduled game, week #9, is at Fleetwood-Jordain. Here's a link to the full (original) schedule: http://www.eteamz.com/admin/sitez/download.cfm?id=2552879&site=489816.
Teams: Ten of our 12 opponents are known-to-be returning teams with just one team gone from last year (Cardinal (R)IP, after their 3-season 1-20 & 0-3 "run"). The two new teams appear to be C-A-T-S and Second Wind, but, we will have to see if either is, in fact, a reincarnation of a team we've seen prior to last year. The known returning teams and our career Crown Park records against them (regular season & playoffs, if applicable) are: Any Given Wednesday, (1-0 last year; 1-3 since 2014 on Wednesdays, 4-2 & 1-0 between 2002-2007 on Thursdays and 2-0 & 1-0 in 1998 as Dinosaurs & Enemies or Wolves); Advocates (0-1 last year; 2-2 since 2014 and 3-2-1 & 1-0 between 2002-2007 at Crown); The Slugs (1-0 & 0-1 last year; 2-2 & 1-1 since 2014 and 5-0 & 1-0 between 2002-2006); Milford Mudlarks (0-1 last year; 1-3 & 0-1 since 2014 and 2-0 & 0-0 in 2003-2004); Glory Days (1-0 last year; 3-1 since 2014 ); Spiders (1-0 last year; 3-1 since 2014); Swingers (0-1 last year; 0-4 since 2014); Batmen (0-1 last year; 1-2 since 2015 when they started as Team Random); These Cats (0-1 last year; 0-3 & 0-1 since 2015 when they started as The Chronicles); and Sons of Pitches (0-0 & 0-0 last year due to the rain-out that was not made up).
Rules: You may remember that after many many years with League Supervisors patching the ERD Rules together such that it had become disorganized and 6 pages long, Ray and Logan did an almost complete re-write/re-format of the rules last year and got it down to 3 disorganized pages. This year they went back to the patch-it-up system, doing (surprised?) as little new work as possible. Comparing last year's rules to this year, I found just 3 significant additions/changes:
(5) Specified that the bases are 70' apart & pitcher's rubber is 50' from home and (7) clarified that the pitcher can pitch from anywhere behind the rubber inside a rectangle 24" wide by 6' long (no new news in either case).
(9) The "no new inning shall begin" time limit for our games is now 55 minutes (was 70) as it has been for the Women's & Coed leagues because our games are now scheduled 60 minutes apart instead of the usual 75 minutes.
(10) The Tie-Breaker rule (placing a man on second to start an extra inning) is now limited to just one extra inning--if the game is still tied, both teams will be given a tie in the league standings.
Every player is encourage to read this year's version (attached, and previously sent to the players and, as always, posted on our website). As a reminder, here are the highlights of the new or significantly changed rules from last year's rewrite:
-General League Rules:
(4) Teams may "'borrow' another player" from a non-playing team, if approved by the opposing captain (in the regular season only).
(5) 5 minute grace period after start time of each game before a forfeit is called.
-Playing Regulations:
(1) Minimum of 8 players required to start/finish.
(3) Pitcher is allowed 5 warm-up pitches in 1st & just 2 in each inning thereafter--any others will be called a ball (but NO rule about infield warm-ups?!?).
(4) Those wanting a courtesy runner must remind the ump before each at bat and, any/all hits by those batters will be limited to a single.
-Equipment: The punishment for using an illegal bat is ejection for player only, not captain; league suspension of the player only (not captain) for second offense.
-Player Conduct: Tougher on the use of profane/obscene language "even casual" by anyone/everyone.
-Forfeits: Overly-wordy definition of "3 forfeits and you're out" rule; request to notify ERD & opposing captain if you know you have to forfeit; no refund given.
-Rainout/Cancellation: ERD claims "every attempt will be made to complete all games" but "reserves the right to manage the softball program as it deems appropriate"; suspended game now less than 4-1/2 or 5 innings and "official game" now at least 4-1/2 or 5 innings.
Lightning Policy: A total cut-and-paste from previous editions.
Somewhat important rules that now seem to be missing (may be covered by ASA or posted rules--we will have to assume they remain in force and/or cover with the umps):
No infield warm-ups after the first inning rule?
Extra player (EP or DH) and roster batting rules?
Free substitution rule?
Fake tag rule?
Slide/collision avoidance rule?
Advancing on 2-strike foul ball rule?
Administrivia:
Injury Reports: First the good news: Kevin C has fully recovered from last year's torn hamstring and will be a regular this year! Now the bad news: Shawn and Larry both have serious right arm injuries, although Shawn has been able to pick up a bat and take his regular cuts (he just can't throw without pain). For the time being, it looks like Shawn will replace Joe H as our catcher with a good stick and a bad arm. Meanwhile, Larry's condition appears more serious--after weeks of physical therapy, he still wasn't able to swing a bat, much less throw a ball last week--looks like he's on the PUP List until further notice. And, finally, while my heart is healthy/healthier--today is the one-year anniversary of my angioplasty surgery implanting a stent in my right coronary artery--my knee remains problematic After my 10/28/16 medial meniscus surgery and sitting out last year, I can skate, but I can't run at all and I have pain most of the time when I walk/limp. An MRI this February found no serious damage (just arthritis), but 8 PT sessions and 2 (of the 3 planned) injections of a gel called Euflexxa have not helped me to date--so it looks like I'll start (and probably finish) the year on the PUP List.
Rosters: Please see me to sign the official team rosters/waivers which I must turn into ERD by 5/25. In addition to the 12 regulars, our current rostered subs include: Tony A, Joe C, Oron, Zave, Nate, Schmidtty and me.
Money: And so begins the annual appeal, so admired by so many of you (based on the fact that you like to see it in the Updates throughout May, June and often, July)! Based on the Mark II Lounge covering about one-half of our league fees and costs, I will need just $30 from each "regular" player this year (down from $50 as we carried over funds not spent last year--no Meat Night--and the league fees were reduced $75 due to the shortened season). I've already paid the $600 in fees, bought a new "Book" and renewed our website subscription, so my bleeding checking account would much appreciate your prompt attention to this matter! As always, regular attendance at the Mark II after our games would go a long way in reciprocating the generosity the Anton/Christiansen Family has shown toward our teams since 1978!
Missing a game: If/when you know that you'll miss game(s) due to a vacation or schedule conflict, please make sure I record those dates on my calendar. The sooner I know, the easier it is for me to plan and get subs.
Rain: Evanston's Rainout Hotline is 847-859-7822 x1199. Evanston also has a Rainout Status on their ERD softball page (http://www.cityofevanston.org/parks-recreation/recreation/softball-leagues/). And--this is a great convenience(!)--you can sign up to receive an automatic rainout notification text message and/or e-mail message if/when ERD issues an update--sign up for this on the above mentioned softball page (top right). Note that rainout information is not generally posted/updated until after 4:00 PM and may not be posted until right around game time, so never assume a game is canceled. These accounts and the Rainout Hotline numbers also available on our website Home Page (http://www.eteamz.com/MarkIISoftballTeam/). The bottom line on rainouts: If the Hotline is not reporting that the games are postponed and you can't reach me and I have not sent out an e-mail and/or updated our website and/or my Twitter account is not reporting a rainout or postponement, always assume we are playing & show up!
Tweets: Yes, I am a twit who tweets...but only Mark II Softball Team matters, I promise! So, if you're a twit, please become one of my followers (I'm up to 27!) so you can receive game status changes, field condition updates, etc promptly (and in less than, or equal to, 140 characters)! My Twitter account is @LloydeNelson (https://twitter.com/LloydeNelson). As I use this account only to communicate to the team and not as a dialog with me, please do not use the "Reply to:" capability of Twitter as I am very unlikely to promptly review any replies--I still prefer either a phone call or an e-mail/text reply if/when you have new news about your availability, etc. Finally, our Website also has a link to my Twitter account (in case you've forgotten my name, or--more likely--can't spell it)
See you out there!
LN, 4/24/18

Old News of Some Value:
2017 & Historic Reading & Entertainment:
The 2017 "Stat Pack" was distributed at our annual "Off-Season 'Conditioning' Meeting" on Thanksgiving Eve--if you didn't get yours that night, I'll give you your copy the next time I see you! As noted above, most of these "Stat Pack" stats have also now been uploaded to this website. Follow this link: http://www.eteamz.com/MarkIISoftballTeam/handouts/index.cfm?cat=520 or navigate to the Handout titled "Stat Pack-Career Stats" after opening the "Handouts--'Sheets'" folder in the pane on the left side of this page.
Results of the 2017 Wednesday League Playoffs:
Wednesday, 8/2: As the #7 seed based on our 5-5 Regular Season record, we bowed out of the 2017 Playoffs in the first round, falling to the #10 seeded The Slugs, 12-5. Our offense flamed out; scoring just 1-seventh-inning run after the game was tied 4-4 though the first 3 innings. Credit goes to The Slugs, who grabbed a six-pack in their fifth inning rally and added a couple of late insurance runs in the sixth while Eli and the defense were stout with numerous "!" individual plays, frustrating our efforts to get our offense rolling. For the boxscore, follow this link: http://www.eteamz.com/admin/sitez/download.cfm?id=2539586&site=489816 or click on the "Handout: 2017 Boxscores" link on the bottom of this page or navigate to the "2017 Boxscores" category after opening the "Handouts--Sheets" folder in the pane on the left side of this page.
Elsewhere on the first night of the playoffs (8/2/17): The Slugs were eliminated in the second round, 19-4, by #2 Batmen; #9 Milford Mudlarks eliminated #8 Spiders, 12-2, in their first round game, but the Mudlarks then fell to # 1 These Cats by a close/low score of 7-6; and, in the last first round game of the night, #6 Advocates beat #11 Sons of Pitches, 19-10. since #5 Glory Days had earned a forfeit win over #12 Cardinal IP in their first round, they played their second round game on 8/2 and upset #4 Any Given Wednesday, 7-2.
The playoffs were then completed on Wednesday, 8/9/17: #6 Advocates completed the second round play, falling 10-5 to #3 Swingers, but Swingers then fell 11-10 to #2 Batmen in one semi-final. At the same time, #1 These Cats beat #5 Glory Days 16-7 in the other semi-final. Finally, in a matchup of the top two teams from the regular season (both with 9-1 records) #1 These Cats won their first League Championship in the head-to-head game again, prevailing 11-7 over #2 Batmen. Here's a link to the ERD Playoffs bracket summary for a quick visual of all these games/results: http://www.eteamz.com/admin/sitez/download.cfm?id=2539936&site=489816.
See you out there!
LN, 8/2/17
A Tribute to Angie from Bob B, 11/18/15:
To the Mark II Softball Team Family,
A little bit of all of us died today. And it's hard to imagine the sun will be able to shine as brightly again .
Angie loved life more than anyone we've ever known. She's the most optimistic person we've ever known.
Angie started working at the Mark II before our softball team was even an idea. Back in the 70's, Lloyde and the other Shure Brothers gang (OBO, Marty, Russ, Wally, Gary, Schmidtty, etc. etc.) hung out at the Mark after work and after their company softball games, and the Mark II camaraderie was what spawned the Mark II softball team. Angie was always there. No one took fewer vacations than Angie. She acted like working behind the bar was a vacation. She worked at the Mark six days a week, and during the baseball season, she spent her day off — Saturday — working the mob scene at Mullen's in Wrigleyville. She spread joy wherever she went. And she bragged about our team all the time. I still remember the night she introduced Lloyde and me to Joe Hudek, shortly after we had won our first championship. Joe (a former college ballplayer who became one of our best players ever) acted like we had reeled off a dozen titles in a row, and he politely requested a tryout. He had been listening to Angie. And in those few years we had losing records, Angie focused on all the championships we had won. To her, we were champions every time we walked into the Mark.
It's been difficult to process how suddenly and rapidly Angie fell ill and died, especially since it basically happened in the short time period since our season ended. Lloyde got word last week that Angie was in Evanston Hospital, and he and Peg and I had a chance to visit her last Thursday. She was weak, not just due to the cancer but also an infection that had set in, but she was cheerful and optimistic as always, talking about going home the following day. She enjoyed talking about the great run the Cubs had during the playoffs and their prospects for winning the World Series next season. A misguided well-wisher had brought her a White Sox pennant, which I dutifully removed Thursday morning, and which Lloyde and Peg replaced with flowers and some Cub paraphernalia Thursday afternoon. I also advised her that I had obtained a liquor license and was arranging for a juke box to be installed in her room that afternoon, so she'd better be ready to start serving drinks. Her daughter Steff was at her side, as she had been throughout the illness, so she was designated as bouncer. Spirits were high. Death was nowhere in sight. Right until the end, Angie never changed, a lesson for us all.
I can't even imagine what it will be like to walk into the Mark and not see Angie. But I know she'll be there. God bless us all.
Handout:
2018 Boxscores