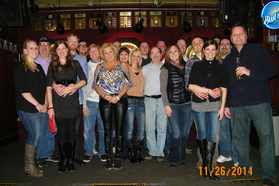 2014 Thanksgiving-Eve 'Conditioning Meeting'
Wecome to the Official Mark II Softball Team Website!
2014 Angie's Mark II Team (Wednesdays)
Electronic home of the "Original" Mark II Softball Team--playing 12" slow-pitch softball for the Mark II Lounge since 1978!

In 2015, we "Mark" our 38th season of summer softball fun sponsored by the Mark II Lounge! We are playing in the Wednesday Night Mens' League at Evanston's Crown Park. See the "Web Update" section below for current details about the summer league as well as the latest team news.
Please explore all the areas of our site by clicking on one of the links in the pane to the left. Note that the "Handouts-Sheets" folder leads to our 2015 stats, boxscores and administrivia (roster, rules, Team Calendar, etc) as well as all the historic stats from the 2014 "Stat Pack" and all our final stat "Sheets," Updates, etc for each individual summer league season since 2000.
For futher info, sign our "Guestbook" or send e-mail to: MarkIISoftball@aol.com

See you out there!
Lloyde Nelson, 6-11-15
RAINOUT INFORMATION: Evanston's Crown Park (Wednesdays): Call 847-859-7822 x1199 (after 4:00 PM) or check online at http://www.cityofevanston.org/parks-recreation/recreation/softball-leagues/ or sign up at this online site to receive automated text or e-mail notifications.
Follow Lloyde on Twitter: For timely and important updates, player availabilities, scores, etc, please sign up to be a follower on my Twitter account "@LloydeNelson"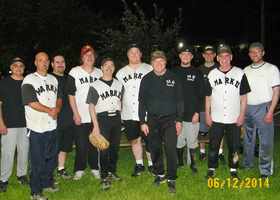 2014 Pete's Mark II Team (Thursdays)


Centerfield (Let's Go!)
Handout: 2015 Administrative: Schedules, Rules, Roster & Financials

Tuesday, July 7

Mark II Current Web Update
Last Updated: Tuesday, 7/7/15, ~9 AM
Upcoming Schedule and Player Status:
Wednesday, 7/8: 6:45 vs Dark Knights (1-7) on Diamond #1 (with Meat Night after the game)! They're a new-to-us team who have struggled mightily as their only win is a forfeit win and, not including the 7-0 forfeit nor last week's loss to The Slugs by an unknown score, they've been outscored 110-37 (18-6 on average). Although their moniker (and, apparently, their game) is the same as the thespian-laden Dark Knights team from the early 2000s' Tuesday leagues, this team is instead a group of younger guys who take their name from the Vincent van Gogh "Starry Night" painting displayed on their uniforms. Ryan is out (traveling to NY) and Bob Se's status is TBD/TBA. Tony will sub for Ryan and Kevin C should be available to sub for Bob Se (depending on when Kevin's plane arrives at ORD). We're currently expecting: Jonas, Jeff, Mark, Bob B, Larry, me, Tony, Bob Se(?) and/or Kevin C(?), K-Mack, Shawn and Neal. We are still waiting to hear from some of you about your attendance at the Meat Night Party after the game...all are invited. Please RSVP ASAP!
Wednesday, 7/1: The "Bad" Mark II offense showed up again, as we fell meekly to now 7-1 Any Given Wednesday, 15-5.

Neither the hype about stepping up our game to play a first-division team, nor the unfounded concern that they had become the league's Nasty Boys, proved accurate. We didn't step up and compete and they couldn't have been nicer about administering the beat down. For the fourth time this season, we scored just 5 runs in a full 7-inning game...Aargh! Our Top 7 got us 3 runs on 4 hits and an SE their first time around and our Middle-to-Bottom 5 got us 2 more runs on 3 hits, a Sac and an RBI groundout their second time around, but, exasperatingly, that was the extent of our scoring (3-0-0-2-0-0-0). Indeed, we were just a collective 4-for-19 in our other 5 innings--hardly the "and often" we expect to follow our "score early" offensive approach. On the other hand, AGW did a little of both while building an eventually insurmountable lead with an enviable 16-man bat-around 3rd inning and a just-for-grins double-double of security runs late (3-1-7-0-0-2-2). Meanwhile, our pitching and "D" wasn't as good as it has been and certainly not as good as it needed to be to make a silk purse win out of yet another 5-run sow's ear offense. Indeed, we gave them 3 free-passes and committed a season-high 5 errors (although surrendering "just" 3 unearned runs). We're back to .500 and I suppose we can take solace in our consistent mediocrity. Except for our Slugs loss, we have "held-service" in what appears to have become a 3 division league. We're 0-3 vs the top 4; 2-0 vs our comparables in the middle 4; and 2-1 vs the bottom 4--with one regular season game remaining against each division (Swingers, Advocates and Dark Knights, respectively). Hopefully, we'll tighten our defense and find our consistent-and-contagious offense in those games so we're ready to make a run in the playoffs. By the way, Mushy-Ball conspiracy theorists might want to consider why we've averaged 17 runs in our 4 wins or, better yet, why we've been outhit in our last two games 22-11 & 19-10...I'm just sayin', we're all playin' with the same "mushy" 300 lb compression ball.

For the boxscore click on the "Handout: 2015 Boxscores" link on the bottom of this page or navigate to the "2015 Boxscores" category after opening the "Handouts--Sheets" folder in the pane on the left side of this page

.
Administrivia (from the 7/7 Update):
Meat Night 2015 will be at the Nelsons' following tomorrow night's 6:45 game! Players, Groupies and alums are all invited to enjoy in Joe C's meat! We're still not sure how many of you are planning to be there, so please let me or Peg know ASAP if you and yours will be joining us! The cost of the meat and refreshments will be covered by the team fund.
IWBYABIYATFPATMTTTM: The annual Age Stat Chat meant that the IWBYAB would be a simple one based on ages. I swore I'd only allow one round of guessing (as the "official" IWBYAB Rules specify), however, I failed to come up with questions so simple that it still took the simple-minded crowd a couple of rounds for at least a couple of answers! With that night's Stat Chat (see attachment) providing the birthdates/ages of the 16 players who have played in at least one game this year, I asked: (1A) Among just this year's 16 active players, who was the oldest at the time of his first weekday league plate appearance? (1B) How old was he? Turns out this was the hardest question of the evening and it took a while and several really bad guesses (Ryan?!? at 34+?) and not so bad (Shawn, who formerly held the record at 40+) before the team's only apparent reasoning/thinking man hit the name nail on the head (even though no one got the age right)—Zave was the oldest current player when he appeared in his first weekday league game on 5/1/14 at the age of 47! (2A & 2B) Same questions, but substitute oldest with youngest, I might as well have called this one the K-Mack Humanitarian Free Beer Question, because after waiting his turn as people got "Ehhhn"'d (usually for guessing Jeff) K-Mack had had enough and grabbed his freebie with both answers—K-Mack was just 19+ on 5/18/94 when he became the youngest current active to appear in a weekday game.
(2A, 2B & 2C) Among just this year's 16 active players, who was the oldest active player to have a double, a triple and a homer at the time of their EBH? As expected, this generally required only one round of guesses, not that there weren't a couple/three "Ehhhn"s first. Logically, guessing one of the three sexagenarians was most likely to give you a one-third chance of being right, however, with guys like Shawn and Larry on the other side of double-nickels, it may not be long before they qualify! Anyway, Shawn, Mark and Jonas (no, that is not a typo!) each got me for a beer for picking the right 60-something: respectively. (2A) is Bob Sc with his double on 5/8/14 at age 67+. (2B) is Bob B with his triple on 5/23/13 at age 63+. (2C) is me with my homer way back on 7/13/06 at age 55+. With Jonas having recalled the homer Stat Chat a few weeks back, his earned freebie negated his having to go to the well for the JHFB? which was: How old was Jonas when he played his first Mark II softball game (at Rogers Park on 5/5/99)? Presumably, Jonas would have been able to calculate that given his 2/9/63 DOB, he was 36+ years old on the day Mumbles Doomsday made his first Mark II appearance.
See you out there!
LN, 7-7-15
Old News of Some Value (from the 4/28 Update)...
ERD Schedule & Rules--Review & Analyses:
Schedule: The Wednesday Night League again has a full complement of 12 teams. That makes for a nice single-round 11 game regular season after which there will be single-elimination all-teams-qualify two-week-long Playoffs, with the #1-#4 seeds getting a first round bye. We drew a 5 home-6 away schedule with a good mix--never more than 2 in a row at home or away with 3 of our first 4 away and 2 of our last 3 home. We drew a nice split on the times with 4 each 6:45 & 8:00 games and just 3 games at 9:15. We get half of our 6:45 games in the first 2 weeks (when you can get frostbite playing the later games); 3 of our 4 games in May are at 8:00; and all 3 of our 9:15 games are in June, including Rivalry Games against Advocates and The Slugs the last two weeks of June. We play 6 games on Diamond #1 (Dodge & Main), 5 of which are in June-July when/where the warm SW winds will presumably be blowing out and 5 games on Diamond #2 (2 is on Lee), 4 of which are in April-May when/where the CNL winds will also presumably be blowing out.
Teams: At first blush, the league appears to feature 7 returning and 5 new teams, based on the limited information from the schedule (team names and unknown-to-us captains). The returning teams and our career Crown Park records against them include: Any Given Wednesday (0-1 in 2014, 4-2 & 1-0 between 2002-2007 as Any Given Thursday and 2-0 & 1-0 in 1998 as Dinosaurs & Enemies); Advocates (1-0 in 2014 and 3-2-1 & 1-0 between 2002-2007); The Slugs (0-1 in 2014 and 5-0 & 1-0 between 2002-2006); Milford Mudlarks (0-1 in 2014 and 2-0 & 0-0 in 2003-2004); Glory Days (0-1 in 2014) and Spiders (0-1 in 2014). The possibly new teams include Growlers, Team Random, The Chronicles (could that be the old Chronic/Skokie House/Cadillac Sam's team who we played from the 2002-2007 Thursday leagues?), Dark Knights (could that still be the same thespian-laden team from our 2001 & 2004-2005 Tuesday leagues?), and Smylie Brothers Swingers (could that be Tommy Nevin's/Swingers with a new captain?). Apparently missing in action from last year's Wednesday League are: The Goodfellas (3rd Place at 8-3 and won the League Playoffs); Unfinished Business (4th at 7-4); Swingers (5th at 7-4 and Playoff Runners-Up); Kekambas (6th at 7-4); and Cardinal IP (12th at 1-10). Note that some of these teams have likely been re-named/re-captained as one of the 5 new-to-us teams. We'll no doubt learn more about these teams as the season unfolds...stay tuned.
Rules: It would be a good idea for everyone to review the Evanston Rules which, along with the League Schedule, Roster and Financials, are posted on this website (follow the "Handout: 2015 Administrative..." link near the top of this page or navigate to the "2015 Administrative..." category after opening the "Handouts--Sheets" folder in the pane on the left side of this page). The most important rules from a player perspective include: unlimited arc; "floating" pitcher's mound; illegal bats (see the ASA website, a link to which is available on our website); limit of 2 courtesy runners; foul third strike is dead; no "fake" tags; the lightning policy; etc.
Rain:
Evanston's Rainout Hotline is 847-859-7822 x1199. Evanston also has a Rainout Status on their ERD softball page (http://www.cityofevanston.org/parks-recreation/recreation/softball-leagues/). And--this is a great convenience(!)--you can sign up to receive an automatic rainout notification text message and/or e-mail message if/when ERD issues an update--sign up for this on the above mentioned softball page (top right). Note that rainout information is not generally posted/updated until after 4:00 PM and may not be posted until right around game time, so never assume a game is canceled. These accounts and the Rainout Hotline numbers are listed on the bottom of the Team Calendar and the Team Roster and all are also available on our website Home Page (http://www.eteamz.com/MarkIISoftballTeam/). The bottom line on rainouts:

If the Hotline is not reporting that the games are postponed and you can't reach me and I have not sent out an e-mail and/or updated our website and/or my Twitter account is not reporting a rainout or postponement, always assume we are playing & show up!

(Every year we're amazed and surprised at least once or twice when we've played even though it looked like we wouldn't play right up until game time)!
Administrivia:
Money:
Based on the Mark II Lounge covering about one-half of our league fees and costs,
I will need $50 from each "regular" player this year
. I've already paid the $675 in fees, bought a new "Book" and renewed our website subscription, so my checking account would much appreciate your prompt attention to this matter! As always, regular attendance at the Mark II after our games would go a long way in reciprocating the generosity the Anton Family has shown toward our teams for 38 seasons!
Missing a game: If/when you know that you'll miss game(s) due to a vacation or schedule conflict, please make sure I record those dates on my calendar. The sooner I know, the easier it is for me to plan and get subs.
Handout:
2015 Boxscores