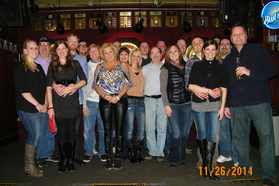 2014 Thanksgiving-Eve 'Conditioning Meeting'
Wecome to the Official Mark II Softball Team Website!
2014 Angie's Mark II Team (Wednesdays)
Electronic home of the "Original" Mark II Softball Team--playing 12" slow-pitch softball for the Mark II Lounge since 1978!

In 2015, we "Mark" our 38th season of summer softball fun sponsored by the Mark II Lounge! We are playing in the Wednesday Night Mens' League at Evanston's Crown Park. See the "Web Update" section below for current details about the summer league as well as the latest team news.
Please explore all the areas of our site by clicking on one of the links in the pane to the left. Note that the "Handouts-Sheets" folder leads to our 2015 stats, boxscores and administrivia (roster, rules, Team Calendar, etc) as well as all the historic stats from the 2014 "Stat Pack" and all our final stat "Sheets," Updates, etc for each individual summer league season since 2000.
For futher info, sign our "Guestbook" or send e-mail to: MarkIISoftball@aol.com

See you out there!
Lloyde Nelson, 6-11-15
RAINOUT INFORMATION: Evanston's Crown Park (Wednesdays): Call 847-859-7822 x1199 (after 4:00 PM) or check online at http://www.cityofevanston.org/parks-recreation/recreation/softball-leagues/ or sign up at this online site to receive automated text or e-mail notifications.
Follow Lloyde on Twitter: For timely and important updates, player availabilities, scores, etc, please sign up to be a follower on my Twitter account "@LloydeNelson"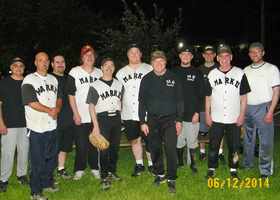 2014 Pete's Mark II Team (Thursdays)


Centerfield (Let's Go!)
Handout: 2015 Administrative: Schedules, Rules, Roster & Financials

Thursday, August 20


Mark II Current Web Update




Last Updated: Thursday, 8/20/15, ~10 AM

Upcoming Schedule and Player Status:

We're done...we were eliminated from the Playoffs in the second round on Wednesday, 8/5.

Wednesday,

8/5: We eliminated ourselves from the 2015 Playoffs with yet another offensive failure falling to #4 Milford Mudlarks by a final score of 11-4.

Our "0-0-2-0-0-1-1" linescore will haunt us when we recall this season's anti-climactic finish. Unfortunately, with our slow start of just 2 runs over the first 5 innings (Aargh!), we didn't really give Mudlarks much of a challenge. Although we held the smallest of leads, 2-1 after our half of the 3rd, once they took a 5-2 lead after their half, they were able to just play catch us if you can--and we couldn't--the rest of the way out (1-0-4-1-3-2-x). Our problem was putting hits together and getting the timely hit (preferably big hit) when we needed it--although we had 14 hits (2 EBHs--Bob Se's double and Mark's triple) against their 17 hits with 1 triple (in one less inning's of at bats) we failed to coax any walks out of Loren (losing that battle 4-0), and both teams had just 1 SE (resulting in 1 unearned run for/against each). So, with virtually no freebies, we needed 3 or 4 hits an inning to score our 1s and our "big" 2, and we never had an inning where we had more than 6 PAs and could put up a real crooked number or two. They, on the other hand, sent 8 guys to the plate 3 of their last 4 at bats. They had 4 guys with multiple hits to our just 2 (K-Mack and Jeff, each with real nice 3-for-3s, all on line shots). Unfortunately for us, hitting wasn't contagious...K-Mack and Jeff saw Mark II guy(s) on base in only 2 of their 6 plate appearances and the hitters immediately following our multi-hitters followed their successes with successes just twice in 6 chances (ditto the guys after the guys).

Meanwhile, their 4 multi-hit guys included their #3 & #6 hitters who had 3 singles each in 8 total PAs, but with 6 of those 8 coming with at least one man already on base.

And, their battery of #10 Loren & #11 Johnny also killed us with their 2-2-2-BB and 3-2-3, respectively, igniting 2 of their 3 crooked-number innings. For the boxscore click on the "Handout: 2015 Boxscores" link on the bottom of this page or navigate to the "2015 Boxscores" category after opening the "Handouts--Sheets" folder in the pane on the left side of this page

.

Administrivia (from the 8/20 Update):

Our Season Summary

: As it was in the beginning (our 12-5 loss to Mudlarks on Opening Night) so it was in the end (our 11-4 Playoff Elimination loss to them). In between, we spent the entire summer trying (and failing) to prove that we could generate enough offense to score enough runs to run with the Top 4. Instead, we will have to live with our "Best of the Rest" 5th Place 6-5 (.545) regular season finish and seeding-predicted second round exit from the playoffs (1-1) for an overall record of 7-6 (.538). In the final analysis of our Jekyll-Hyde season, we lost each of the 5 games we played against the Top 4 by an average margin of almost 8 runs (average score of 12.2 - 4.4) while we won 7 of 8 against the "Eliminated Eight" by an average margin of over 10 runs (average score of 16.9 - 6.4) with our 10-5 "upset" loss to The Slugs the lone "outlier" of our season. It appears our composites failed us too often when we needed them the most, as we never had a "close game" (smallest margin of loss, 5 runs, twice) while our defense & pitching generally kept us in the game (slaughtered only once).

Unfortunately, our final batting and slugging averages for the year of .450 and .543 were both our second-worse in the DeMarini-era since 2000 (behind only 2013)--that's 33 and 83 points, respectively, behind our 15-year averages for batting and slugging. Yes, our defense and pitching had their horrible moments (eg, 8 errors in that slaughtered-by-the-Swingers game; career-low 4 DPs turned in 13 games; my complete suckage in the field all year; our getting "out-walked" 9-3 in the playoffs; etc), but our .908 team fielding average was actually our best since 2010 and actually 3 points above our 27-year average and our opponents' AVG was just .425, their lowest since 2008 and 1 point below our 24-year average while our pitchers' WHIP of 2.7 was our lowest since 2011, just 0.1 above our 24-year average.

So, I guess we really can't blame that side of the field.

Playoff Results:

With the exception of the #3 vs #2 semi-final game, every playoff game this year went exactly according to that guy Hoyle.

Looking back on the first two rounds (AKA, the Elimination of the Other Eight)...they started on 7/29 when we (#5 with our 6-5 regular season & 1-1 playoff records) beat #12 Dark Knights (1-10 & 0-1) and #6 Advocates (6-5 & 1-1) beat #11 Growlers (2-9 & 0-1).

Also on 7/29, after #8 Glory Days (4-7 & 1-1) defeated #9 The Slugs (4-7 & 0-1), 23-5, #1 Smylie Brothers Swingers (10-1 & 3-0) easily handled Glory Days 11-1.

Meanwhile, after #7 Spiders (4-7 & 1-1) beat #10 Team Random (3-8 & 0-1), 5-1, #2 Any Given Wednesday (9-2 & 1-1) beat Spiders, 16-11.

Then, on 8/5, we were eliminated by #4 Milford Mudlarks (8-3 & 1-1) while The Chronicles (9-2 & 2-1) eliminated #6 Advocates.

Thus, the Top 4 all made it to the Final Four, where #1 Swingers first beat the #4 Mudlarks in one semi-final while #3 Chronicles upset #2 Any Given Wednesday in the other semi-final.

Swingers then won it all by beating Chronicles in the Championship Game.

Note that these are the unofficial results as Roe has yet to publish the final results and scores, but according to David from the Swingers, both of their 8/5 wins were close games (unlike most, if not all, of the games from the first two rounds).

So, congratulations to the Swingers!

I trust that the Swingers players celebrated their Championship heartily back at Smylie Brothers--more than enough to wash away their loss in last year's Championship Game to The Goodfellas.

Kids're Alright(?):

Jeff & Ryan have organized a team that's playing on Thursdays in the fall league at Crown Park under the Mullens moniker (why not Mark II, the Next Gen (or, Jen?)).

Hopefully, Jeff will distribute a schedule and keep us in the loop so we can go out and watch a game or two (and keep track of our prospects, both on the field and at the bar).

Texas Two-Step

: Birthday shout outs go to our TX-2,

Kimmy, who celebrated her Nth birthday on 8/9

(where N is a whole number divisible by both 3 and 10) and the man she's followed (stalked?) all the way to Texas,

Patrick, who will turn 35 next Monday, 8/24.

Mark II Your Calendars: Wednesday, 11/25/15 is the date for our annual Thanksgiving-Eve Offseason "Conditioning" Meeting.

I plan to have the "Stat Pack" ready for distribution then—nothing like a book full of stats to get you through those long winter nights!

We hope to see you and yours out there on Thanksgiving-Eve for the annual team event.

Speaking of Thanksgiving(s), Bob B has announced that Andrew (who shares the 8/9 b'day with Kim, albeit a year older) and Victoria have set a wedding date...11/19/16, the Saturday before Thanksgiving 2016 (and 4 days before next year's annual Thanksgiving-Eve Offseason "Conditioning" Meeting.

IWBYABIYATFP

ATMT

TTM

:

Since it was our last night of summer play, I tried to find a way to "Mark" the last milestone recently achieved by each of the usual suspects at the bar.

While some of the categories were a stretch, some were eye-openers and, it turns out, many/most were hard-to-impossible to guess (including the JHFB?!?).

Of course, that didn't mean that I "won" any free beers (Joe H still leads that category with many/all still tied for second at zero).

It just meant that I got to "Ehhhn" long into the night!

(1A) What was the last innings-pitched milestone that Jonas achieved this year (on 5/16/15)?

1500...Jonas started the year with 1496 career innings pitched in weekday games for which we have pitching records (since 1991), far ahead of others like Nate (735), Luke (552), Mark (193), Mike W (179), Bob B (176), etc, down to Bob Sc (1) & Bob Se (0.67).

(1B) What pitching decisions milestone did Jonas pass on 6/25/14?

Jonas is our first pitcher with over 250 decisions—late last year he lost his 250th decision, a 22-11 loss to Unfinished Business, for a 144-105-1 record in his first 250 (now, 151-113-1).

(For the record, Jonas notched his first Mark II win on 8/2/99, a 16-5 slaughter in 5 innings over the nightmare that was Dream Team).

As with innings, Jonas leads all pitchers in decisions and wins (and losses) by a huge margin with Nate being the only other pitcher with more than 100 decisions (75-48).

Neither Jonas nor any of the other guessers came anywhere near getting either of these milestones (despite that night's pitching stats Stat Chat).

(2) What was the last career attempts milestone that Bob B achieved on 4/29/15?

This one stumped even Bob, as it's not easy trying to figure out how many attempts per year a busy infielder gets and multiplying that by the 28 seasons we have defensive stats.

Anyway, Bob soon found out that he entered this season with 1997 recorded attempts and thus clicked past 2000 on Opening Night.

(3) What was the career games played milestone that Neal achieved on 6/24/15?

Neal wasn't there to guess wildly, so Jen took the freebie with a little math and a lot of guesses—Neal started this year with 593 weekday games under his ever-increasing belt and thus played in his 600th weekday game on 6/24.

(4A) What was the last consecutive defensive attempts without an error milestone that Mark passed on 5/27/15 and (4B) what's his current streak?

I gave this one to Mark as he didn't quite give me the milestone I was looking for, but still had an argument that 75 attempts without an error which he achieved on 7/8/15 was as much a milestone as the 50 on 5/27/15 I wanted.

Mark was errorless in that night's game too, so his errorless streak now stands at 85 attempts.

(5) What was the last unique hitting milestone that Ryan achieved on 5/13/15?

Given his Rookie status it wasn't easy to find a "milestone" so this one was a stretch, albeit one that Bob B came up with (while straining to consult his sheet in the light of the hall).

Against Glory Days, Ryan hit a double, triple and homer, achieving the EBH-cycle, while missing the official cycle by just the single.

(6) What was the last age milestone that Jeff achieved just the previous week, on 7/27/15.

Again, stretching for milestones with youngsters, I was nevertheless surprised that no one remembered back to the 7/1 Stat Chat which featured our annual look at our ages.

If someone had recalled that Stat Chat and/or the bar chat we had that night, they would have scored an easy freebie.

Back then, Jeff, our lone member of the 20-somethings' "Kiddy City" was also the only rostered player with less than 10,000 days on this earth!

That's no longer true, as Jeff is now officially a 5-digit-days-old guy (but still acts like a 7,000-day-old).

(7A) What was the last consecutive games played milestone that I achieved on 7/16/14?

No one could freebie-fathom that I achieved the 200th consecutive game milestone just before the end of last season and now have 215, having last missed a game on 5/16/06.

(My all-time "Mark" of 257 games in a row between 7/15/96 & 5/16/06 looks to be Ripkinesque at this point, given...(7B) Who's currently #2 for consecutive games played at 16 (15+tonight)?

Given just 5 of us made each of the 13 games this year, #2 had to be guessed within 4 guesses, right?

Wrong, after about 7 tries, Jonas(?!?) got the blind squirrel award getting the fact that among Bob B, Mark, K-Mack & Neal, K-Mack was the last guy to have missed a game near the end of last year, so he's #2, just 199 games behind me).

(8) What was the last income dollar amount milestone (achieved 7/29/15) by the Mark II Team for its recorded financial history?

Obviously, no one is auditing our books (or even knew this info was readily available on the website), but first-time-Groupie Becky eventually got the big-enough dollar amount when she guessed that our coffers have now handled over $50,000 since we first started keeping track with our first $150 cash award after the 1984 season.

Unfortunately, we've pretty much pissed it all away, too, mostly on league fees, uniforms and Meat Nights, so while I've collected $50,099.50, we've spent $49,998.52, leaving us an unusually comfortable $100.98 in the black.

(JNSHFB?) What was the JHFB? the last time Jonas accepted his namesake freebie?

The added "NS" was for "not so" as I wanted to make it a little harder on Jonas in his last chance at the "automatic" this season...good thing he cashed in on that earlier guess, because he failed this required memory test.

The last time Jonas accepted his namesake freebie was just three weeks prior when, during the "What's New?" IWBYAB session he knew that Ryan was the "new" regular player on the team this year.

See you out there!

LN, 8-20-15

Old News of Some Value (from previous Updates)...

(From the 7/28 Update)...

2015 Regular Season Summary:

Regular Season Wrap Up:

As expected Smylie Brothers Swingers won the regular season crown, but, not expected was that their effort to achieve a perfect season fell short as they lost to Glory Days, 11-9 in their final game, a Friday makeup games.

That same night, Any Given Wednesday made a clear statement on who's #2 by slaughtering The Chronicles, 24-4, to claim the tie-breaker as both finished 9-2, each losing to Swingers (while AGW was upset by Glory Days).

As expected, our final game 23-12 slaughter over Advocates determined 5th and 6th Places.

Meanwhile, Glory Days surprising surge in the last 2 weeks of the season (they beat AGW 6-5 and Swingers 11-9—wonder if they might be "loading up"?!?) boosted them into a 3-way tie of the teams with 4-7 records which was settled tie-breaker fashion among Spiders #7 (they beat both teams), Glory Days #8 (they split) and Slugs #9 (they lost to both).

Finally, Team Random (3-8), Growlers (2-9) and Dark Knights (1-10) brought up the rear with the #10-#12 double-digit spots.

Random had a couple of "upset" wins (Spiders and Glory Days); Growlers upset Random; and Knights were completely Dark, except for their forfeit win over Glory Days.

(From the 4/28 Update)...

ERD Schedule & Rules--Review & Analyses:

Schedule: The Wednesday Night League again has a full complement of 12 teams. That makes for a nice single-round 11 game regular season after which there will be single-elimination all-teams-qualify two-week-long Playoffs, with the #1-#4 seeds getting a first round bye. We drew a 5 home-6 away schedule with a good mix--never more than 2 in a row at home or away with 3 of our first 4 away and 2 of our last 3 home. We drew a nice split on the times with 4 each 6:45 & 8:00 games and just 3 games at 9:15. We get half of our 6:45 games in the first 2 weeks (when you can get frostbite playing the later games); 3 of our 4 games in May are at 8:00; and all 3 of our 9:15 games are in June, including Rivalry Games against Advocates and The Slugs the last two weeks of June. We play 6 games on Diamond #1 (Dodge & Main), 5 of which are in June-July when/where the warm SW winds will presumably be blowing out and 5 games on Diamond #2 (2 is on Lee), 4 of which are in April-May when/where the CNL winds will also presumably be blowing out.

Teams: At first blush, the league appears to feature 7 returning and 5 new teams, based on the limited information from the schedule (team names and unknown-to-us captains). The returning teams and our career Crown Park records against them include: Any Given Wednesday (0-1 in 2014, 4-2 & 1-0 between 2002-2007 as Any Given Thursday and 2-0 & 1-0 in 1998 as Dinosaurs & Enemies); Advocates (1-0 in 2014 and 3-2-1 & 1-0 between 2002-2007); The Slugs (0-1 in 2014 and 5-0 & 1-0 between 2002-2006); Milford Mudlarks (0-1 in 2014 and 2-0 & 0-0 in 2003-2004); Glory Days (0-1 in 2014) and Spiders (0-1 in 2014). The possibly new teams include Growlers, Team Random, The Chronicles (could that be the old Chronic/Skokie House/Cadillac Sam's team who we played from the 2002-2007 Thursday leagues?), Dark Knights (could that still be the same thespian-laden team from our 2001 & 2004-2005 Tuesday leagues?), and Smylie Brothers Swingers (could that be Tommy Nevin's/Swingers with a new captain?). Apparently missing in action from last year's Wednesday League are: The Goodfellas (3rd Place at 8-3 and won the League Playoffs); Unfinished Business (4th at 7-4); Swingers (5th at 7-4 and Playoff Runners-Up); Kekambas (6th at 7-4); and Cardinal IP (12th at 1-10). Note that some of these teams have likely been re-named/re-captained as one of the 5 new-to-us teams. We'll no doubt learn more about these teams as the season unfolds...stay tuned.

Rules: It would be a good idea for everyone to review the Evanston Rules which, along with the League Schedule, Roster and Financials, are posted on this website (follow the "Handout: 2015 Administrative..." link near the top of this page or navigate to the "2015 Administrative..." category after opening the "Handouts--Sheets" folder in the pane on the left side of this page). The most important rules from a player perspective include: unlimited arc; "floating" pitcher's mound; illegal bats (see the ASA website, a link to which is available on our website); limit of 2 courtesy runners; foul third strike is dead; no "fake" tags; the lightning policy; etc.

Rain:

Evanston's Rainout Hotline is 847-859-7822 x1199. Evanston also has a Rainout Status on their ERD softball page (http://www.cityofevanston.org/parks-recreation/recreation/softball-leagues/). And--this is a great convenience(!)--you can sign up to receive an automatic rainout notification text message and/or e-mail message if/when ERD issues an update--sign up for this on the above mentioned softball page (top right). Note that rainout information is not generally posted/updated until after 4:00 PM and may not be posted until right around game time, so never assume a game is canceled. These accounts and the Rainout Hotline numbers are listed on the bottom of the Team Calendar and the Team Roster and all are also available on our website Home Page (http://www.eteamz.com/MarkIISoftballTeam/). The bottom line on rainouts:

If the Hotline is not reporting that the games are postponed and you can't reach me and I have not sent out an e-mail and/or updated our website and/or my Twitter account is not reporting a rainout or postponement, always assume we are playing & show up!

(Every year we're amazed and surprised at least once or twice when we've played even though it looked like we wouldn't play right up until game time)!

Administrivia:

Money:

Based on the Mark II Lounge covering about one-half of our league fees and costs,

I will need $50 from each "regular" player this year

. I've already paid the $675 in fees, bought a new "Book" and renewed our website subscription, so my checking account would much appreciate your prompt attention to this matter! As always, regular attendance at the Mark II after our games would go a long way in reciprocating the generosity the Anton Family has shown toward our teams for 38 seasons!

Missing a game: If/when you know that you'll miss game(s) due to a vacation or schedule conflict, please make sure I record those dates on my calendar. The sooner I know, the easier it is for me to plan and get subs.


Handout: 2015 Boxscores