Welcome to the Official Angie's Mark II Softball Team Website!
2015 Angie's Mark II Team
We mourn the loss of Angie, our dear friend, team's namesake and Mark II manager/bartender over our 38 seasons, who passed away 11/18/15, just after her 54th birthday and less than 4 months after her cancer diagnosis.
Angie's outgoing personality, upbeat attitude and genuine camaraderie will be sorely missed by our players, groupies and fans with whom she cheered at the games and welcomed as friends back at the bar for so many great seasons.
Although the Mark II Lounge may now lack her physical presence, Angie's spiritual presence will fill that place and have its own special place in our hearts forever!
Thanks, Angie...we love you!
Angie's Mark II Softball Team
This site is the electronic home of the "Original" Mark II Softball Team--playing 12" slow-pitch softball for the Mark II Lounge since 1978!

The 2016 season "Marks" our 39th season of summer softball fun sponsored by the Mark II Lounge! We are once again playing in the Wednesday Night Mens' League at Evanston's Crown Park. Playing in the same league in 2015, Angie's Mark II finished the Regular Seaon with a 6-5 record (5th Place among the 12 team league) and went 1-1 in the Playoffs, for an overall record of 7-6.
See the "Web Update" section below for the latest team news and narrative summaries of this summer's league play, etc.
Please explore all the areas of our site by clicking on one of the links in the pane to the left. Note that the "Handouts-Sheets" folder leads to our 2016 stats, boxscores and administrivia (Team Calendar, League Schedule & Rules and IWBYABs). Other links in the "Handouts-Sheets" folder will lead to all the Mark II Softball Team historical stats from the 2015 "Stat Pack" as well as all the final stat "Sheets," weekly "Updates," etc for each individual summer league season since 2000.
For futher info, sign our "Guestbook" or send e-mail to: MarkIISoftball@aol.com

See you out there!
Lloyde Nelson, 5-2-16
Evanston Rainout Hotline: 847-859-7822 (ext 1199)
Follow Lloyde on Twitter: For timely and important updates, player availabilities, scores, etc, please sign up to be a follower on my Twitter account "@LloydeNelson"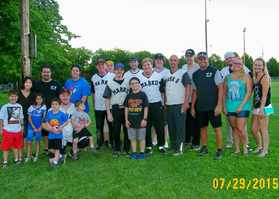 2015 Angie's Mark II Team & Groupies


Centerfield (Let's Go!)
Handout: Current Administrative--Schedule, Roster, Financials & Rules

Sunday, July 24


Mark II Current Web Update




Last Updated: Sunday, 7/24/16:

Upcoming Schedule & Player Status:

Tuesday, 7/26 (Note special night): 6:45 vs These Cats (7-2) on the East Diamond. This is the makeup of our Meat Night rainout which was a makeup of our Opening Night rainout. Last year we knew them as The Chronicles when they handled us 10-5 in week 2, en route to their 9-2 third-place regular season finish and playoff surge that saw them beat both Advocates and Any Given Wednesday before losing in the Championship Game to (Smylie Brothers) Swingers. This year, they've fallen to just Any Given Wednesday (17-9) and Spiders (8-7). In their 7 wins, they've slaughtered the 2 winless teams and Milford Mudlarks and had close wins over then-first-place Advocates and The Slugs (both by 1), Batmen (by 3) & Glory Days (by 5). Four of our regulars cannot play that night, but Tony, Kevin C and Zave can all sub, so we expect: Jonas, me, Larry, Bob Se, Ryan, Bob B, Tony, Kevin C, K-Mack, Zave and Neal.

On Deck...Here's a link to the Game Summary and Boxscore for our previous game(s) against our Tuesday opponent (These Cats): http://www.eteamz.com/admin/sitez/download.cfm?id=2503096&site=489816)

Wednesday, 7/27: 8:00 at Spiders (6-3) on the West Diamond. This is the makeup of our 6/22 rainout. After starting out the season with 3 straight closely played victories (10-9 over Milford Mudlarks, 9-8 over The Slugs & 8-4 over Any Given Wednesday) they fell on hard and even harder times dropping their next 3 (10-0 to Swingers, 14-10 to Glory Days & 22-8 to Advocates), but seemed to have recovered, winning their last 3 (an 8-7 upset over These Cats, folowed by the expected slaughters of both the 0-fers, 20-9 over Growlers & 30-5 over Cardinal IP). We've gotten to know these younger guys (except Advocates, who aren't younger?) over the last season or two as they have been known to stop by the Mark II after their game/postgame at Candlelite (although we've yet to see them this season). Like us, they play well but have had their ups and downs. They slaughtered us 20-10 in 2014 when they finished 6-5 (7th), but we avenged their slaughter with one of our own last year, 15-5 as they finished 4-7 (also 7th). They won their #7-#10 playoff first round games both years, then followed each with close second round losses to the #2s. All the regulars are expected at this point: Jonas, me, Mark, Eric, Larry, Bob B, Jeff, Ryan, K-Mack, Shawn, Bob Se and Neal.

On Deck...Here's a link to the Game Summary and Boxscore for our previous game(s) against our our Wednesday opponent (Spiders): http://www.eteamz.com/admin/sitez/download.cfm?id=2499302&site=489816

Recent Results:

Wednesday, 7/20: An early Slugfest by the Slugs turned into a Slug-feast by Angie's Mark II as we methodically came from behind to catch, pass and walkoff slaughter The Slugs, 16-6 in 6 innings! Stay tuned for more details. In the meantime, for the boxscore, follow this link: http://www.eteamz.com/admin/sitez/download.cfm?id=2504943&site=489816 or click on the "Handout: 2016 Boxscores" link on the bottom of this page or navigate to the "2016 Boxscores" category after opening the "Handouts--Sheets" folder in the pane on the left side of this page.

From the Last Update (7/19):

Administrivia:

Mark II Moments: N/A—we didn't go to the bar last Wednesday!

Meat Night Meaty Moments:
Not long after everyone made it to our house and Joe's Meat (Thanks, Joe!) was cooked by sous chef Joe H (Thanks, Joe!) and ready to be served up, the rain had already stopped, the sky had cleared and we enjoyed great weather to go along with great meat (and food) and great company for the rest of the night!

The (1st) Annual Long Distance Traveler Award went to Kimmy who admitted she just liked seeing her name (and picture) in print in these Updates, so I made up this award to keep her happy!
Meat Night Stats: $111.20 worth of meat was consumed by the 19 meat-eating adults (14 players/alums & 5 Groupies) along with another $148.31 worth of food and refreshments, the latter, by my next-day recycling bin count, totaling 83(!) beers, 4 pops, 2(?) waters and 3 "little guy" wines (Pink Chardonnay, really Kim?)!
Department of Redundancy Department: Mark II your calendars! As stated previously, we will be playing last Wednesday's makeup game against These Cats next TUESDAY, 7/26 at 6:45 on the East Diamond. The playoffs thus remain on schedule for 8/3 (first-round and half of the second round) and 8/10 (last half of the second round followed by the semi-finals and the Championship Game).
Injury Report: I "worked out" Shawn last Friday at Laramie—he looked very Shawn-like throwing, hitting and fielding. While he awaits word on the "possible nerve damage to his neck" and the treatment recommended by Dr Howard, Dr Howard & Dr Fine, Shawn has decided that he can't do any (more) damage by playing, so he will give it a try this week! Given the extra week to heal, Mark reports that he should be 80% this week (could we get at least 120%, please?) in his recovery from the knee bruise he sustained in the 7/10 Sunday morning game he pitched for Gin 'n Dueced, the Kids' team at Proesel.
IWBYABIYATFPATMTTTM: I love the Meat Night IWBYABs!!! I reasoned that those who could reason would have a good reason to do so last week with a next-time-at-the-Mark II-freebie in play, so I designed a few reasonable questions that—with one exception—didn't include Kevin "Mr Meat" Carlson as the default answer:
(1) Name the 5 players who have played in all (still 10) of our Meat Night games. This question got the quickest action and took "just" 5 or 6 faulty responses, most incorrectly including Shawn (9), Kevin C (7), K-Mack (6), or Bob Se (3), before Mark correctly delineated the Usual Suspects: Bob B, Mark, Jonas, Neal and me.
(2) Name the 4 players who have played this year, but have never played in any of our previous Meat Night games. Because it only required a little thoughtful reasoning and processing, this was one of the last questions that was correctly answered?!? Bob B methodically reduced it to Eric (a gimme, given his Rookie status), the Brothers Domsky, Zave and Oron (who have only been infrequent subs since 2014) and Ryan (who missed 2 games in his Rookie year last year, one of them falling on Meat Night)
(3) Name the top 3 players for multi-hit Meat Night games. This one stumped the band well into the night (or at least into the night up to the point where I revealed that ALL these questions could be researched/answered using the full Meat Night "Sheets" included as the attachment in last week's Update—you mean you don't read/memorize the info on the attachments)? In this case, although Jonas' lips were moving, it sure sounded like Tony's voice as Jonas recited: Kevin C (6 multi-hit games), Mark (5) & Jonas (5). Want that freebie split into 2 glasses this week, Jonas? Had I gone one place deeper, we have a three-way tie for fourth highest number of multi-hit Meat Night games: Bob B, Neal and me, all with 4, all of which collected votes when the guessers were still guessing.
(4) Name the player who earned his first-ever Mr Salty award in a Meat Night game. Pretty much a gimme, or at least easy to narrow down to two players, because just about everyone on today's team had earned his first Salty long before we started having Meat Nights in 2005. Disdaining her favorite boss, while choosing her "other half" (certainly not "better" half), Jen picked up the beer credit by guessing Jeff, who turned the trick (sharing with Kevin C, Jonas and Shawn) in our 2013 Meat Night 13-9 win over Stone Ponies when he was 2-1-2-2 BB-PO. Ever the humble kid, Jeff also pointed out that, with his 2-2-2-BB line in his only other Meat Night in 2015, he leads everyone ("Perfect Meat"?) with his 2-career Meat Night games totals of 1000 AVG, 1000 OB% & 1000 FL%...yeah, Jeff, that and $1.99 will get you tomorrow's Tribune!
(5) Kevin C has earned the nickname "Mr Meat"...what nicknames have I used in print (to describe the Meat Night performances) for any 3 of the following guys: Tony, Jeff, Lloyde, Jonas or Schmidtty? This one provided (me) the most amusement of the night (although others seemed to think Jonas' guess of me as "Dick Meat" was most amusing to them)! No one really got any of the answers although someone (an unnamed Update researcher/cheater) eventually got the non-performance-based nicknames for Jonas ("Mumbles Meat"), Jeff ("Kid Meat") and Schmidtty ("Old(est) Meat") during the free-for-all lightning guess round. Performance-wise, I had to reveal Tony's nickname ("Homer Meat" given his team leading—by 2—3 homers) and my nickname ("Jr Meat" given not only my moniker as Lloyde Jr, but also my status as #2 behind only Mr Meat in AVG at .591 & OB% at .690 and third to Mr Meat and Homer Meat in SL% at .818).
(6) What's the breakdown of the 11 Meat Nights (including this year) by days of the week? This took until a long time...until Tony opened the Meat Night Team Stats Sheet and counted the days of the week. Although Meat Nights have fallen on all 3 nights that we've played regularly over the last 15-20 years, Tuesday was the early common choice because we could also watch the MLB All-Star Game. As such, the Tuesday-Wednesday-Thursday split is dominated by Tuesdays at 7-2-2 (and that includes last Wednesday when we had Gameless Meat Night).
(7) Against what team(s) have we had to play extra innings on Meat Night? This too was a lightning round of bad and horrible guesses. Finally, Bob B had had enough and, although having already earned a beer for #2, he ended the ranting and "stole" this beer with the right answer. We have only had one extra inning Meat Night game—our very first one when we lost to SO, 20-13, as we got 3 to tie it 13-13 in the bottom of the 7th, but promptly gave up 7 runs in their top of the 8th for the final embarrassing margin!
(JHFB?) Which of our Meat Night pitchers has surrendered the most runs, hits and walks in Meat Night games as well as having the highest Meat Night WHIP? Jonas doesn't play my silly game when either the beer's already free, or (wonder of wonders...or, with friendly" help) he wins one with a non-humanitarian normal question, but, if it's after midnight and he still hasn't won one, he'll lower his already-low standards. As usual, Jonas is the answer to his "special" question. In this case, he's actually the only pitcher to have ever pitched in a Meat Night game having compiled full stats of 10 games started/finished with a 7-3 record, allowing 83 runs on 138 hits.
See you out there!
LN, 7-19-16
Old News of (Mostly) High Value (from previous Updates):
Missing a game: If/when you know that you'll miss game(s) due to a vacation or schedule conflict, please make sure I record those dates on my calendar. The sooner I know, the easier it is for me to plan and get a sub.
ERD Schedule & Rules--Review & An alyses:
Schedule: The Wednesday Night League again has a full complement of 12 teams. That makes for a nice single-round 11 game regular season after which there will be single-elimination all-teams-qualify two-week-long Playoffs, with the #1-#4 seeds getting a first round bye. We drew a 5 home-6 away schedule with a very odd mix—5 straight home games to open the season followed by 6 away games. We drew a nice split on the times with 5 games starting at 6:45, 4 at 8:00 and just 2 at 9:15 (weeks 5 & 7). Our Rivalry Games are week 5 (Slugs at 9:15) and week 10 (Advocates at 6:45). The new regime has apparently made its "Mark" by dropping the numbers from the diamonds and using the compas s for simplicity. So, we now will play 6 games on the "West" Diamond (formerly #1 or #4—the one on Dodge & Main) and 5 games on the "East" Diamond (formerly #2 and #3--is on Lee). Not much of a pattern this year: E-W-W-W-E-W-W-E-W-E-E.
Teams: Assuming The Chronicles are indeed returning as These Cats, all 11 teams are "retuning teams" (albeit one was last seen in 2014). That team, Cardinal IP, against whom we were 1-0 in 2014, returns and replaces last year's last place Dark Knights (1-0 & 1-0). Unless they pull a WTTW Channel 11 on us (ask Mark), Cardinal IP is likely to replace Dark Knights in the standings, too, as both were 1-10 in their previous Crown League seasons. (We should know more before our week 7 late game against them). So, that means the returning teams and our career Crown Park records against them (regular season & playoffs, if applicable) are: Any Given Wednesday (0-1 last year; 0-2 since 2014 as Wednesdays, 4-2 & 1-0 between 2002-2007 as Thursdays and 2-0 & 1-0 in 1998 as Dinosaurs & Enemies); Advocates (1-0 last year; 2-0 since 2014 and 3-2-1 & 1-0 between 2002-2007); The Slugs (0-1 last year; 0-2 since 2014 and 5-0 & 1-0 between 2002-2006); Milford Mudlarks (0-1 & 0-1 last year; 0-2 & 0-1 since 2014 and 2-0 & 0-0 in 2003-2004); Glory Days (1-0 last year; 1-1 since 2014 ); Spiders (1-0 last year; 1-1 since 2014); Growlers (1-0 last year), Batmen (1-0 last year as Te am Random), Swingers, who apparently dropped the Smylie Brothers affiliation this year (0-1 last year; 0-2 since 2014) and finally, These Cats (0-1 last year) assuming they played as The Chronicles.
Rules: I did a side-by-side comparison of the 2016 & 2015 ERD Rules. It appears they are identical EXCEPT that Rule 9, Sec 3 has been eliminated. That's the rule that allowed the pitcher to pitch from anywhere up to 6' (straight) behind the rubber. Jonas, before you go all Mumbles Doomsday about this, let me check with Ray as to whether this omission was intentional and why—hard to believe ERD would take away a rule just put in as a safety improvement. That aside, it would be a good idea for everyone to review the Evanston Rules (attached) before we start playing. The most important from a player perspective include: unlimited arc; illegal bats (see the ASA website, a link to which is available on our website); limit of 2 courtesy runners; foul third strike is dead; no "fake" tags; the lightning policy; etc.
Communication:
Rain:
Evanston
's Rainout Hotline is 847-859-7822 x1199
. Evanston also has a Rainout Status on their ERD softball page (
http://www.cityofevanston.org/parks-recreation/recreation/softball-leagues/
). And--this is a great convenience(!)--you can sign up to receive an automatic rainout notification text message and/or e-mail message if/when ERD issues an update--sign up for this on the above mentioned softball page (top right). Note that rainout information is not generally posted/updated until after 4:00 PM and may not be posted until right around game time, so

never assume a game is canceled. These accounts and the Rainout Hotline numbers are listed on the bottom of the Team Calendar and the Team Roster and all are also available on our website Home Page (

http://www.eteamz.com/MarkIISoftballTeam/

).

The bottom line on rainouts:

If the Hotline is not reporting that the games are postponed and you can't reach me and I have not sent out an e-mail and/or updated our website and/or my Twitter account is not reporting a rainout or postponement,

always

assume we are playing

& show up!

(Every year we're amazed and surprised at least once or twice when we've played even though it looked like we wouldn't play right up until game time)!
Tweets: Yes, I am a twit who tweets...but only Mark II Softball Team matters, I promise! So, if you're a twit, please become one of my followers(I'm up to 19!) so you can receive game status changes, field condition updates, etc promptly (and in less than, or equal to, 140 characters)! My Twitter account is @LloydeNelson (https://twitter.com/LloydeNelson). As I use this account only to communicate to the team and not as a dialog with me, please do not use the "Reply to:" capability of Twitter as I am very unlikely to promptly review any replies--I still prefer either a phone call or an e-mail/text reply if/when you have new news about your availability, etc. Finally, our Website also has a link to my Twitter account (in case you've forgotten my name, or--more likely--can't spell it).
A Tribute to Angie from Bob B, 11/18/15:
To the Mark II Softball Team Family,
A little bit of all of us died today. And it's hard to imagine the sun will be able to shine as brightly again .
Angie loved life more than anyone we've ever known. She's the most optimistic person we've ever known.
Angie started working at the Mark II before our softball team was even an idea. Back in the 70's, Lloyde and the other Shure Brothers gang (OBO, Marty, Russ, Wally, Gary, Schmidtty, etc. etc.) hung out at the Mark after work and after their company softball games, and the Mark II camaraderie was what spawned the Mark II softball team. Angie was always there. No one took fewer vacations than Angie. She acted like working behind the bar was a vacation. She worked at the Mark six days a week, and during the baseball season, she spent her day off — Saturday — working the mob scene at Mullen's in Wrigleyville. She spread joy wherever she went. And she bragged about our team all the time. I still remember the night she introduced Lloyde and me to Joe Hudek, shortly after we had won our first championship. Joe (a former college ballplayer who became one of our best players ever) acted like we had reeled off a dozen titles in a row, and he politely requested a tryout. He had been listening to Angie. And in those few years we had losing records, Angie focused on all the championships we had won. To her, we were champions every time we walked into the Mark.
It's been difficult to process how suddenly and rapidly Angie fell ill and died, especially since it basically happened in the short time period since our season ended. Lloyde got word last week that Angie was in Evanston Hospital, and he and Peg and I had a chance to visit her last Thursday. She was weak, not just due to the cancer but also an infection that had set in, but she was cheerful and optimistic as always, talking about going home the following day. She enjoyed talking about the great run the Cubs had during the playoffs and their prospects for winning the World Series next season. A misguided well-wisher had brought her a White Sox pennant, which I dutifully removed Thursday morning, and which Lloyde and Peg replaced with flowers and some Cub paraphernalia Thursday afternoon. I also advised her that I had obtained a liquor license and was arranging for a juke box to be installed in her room that afternoon, so she'd better be ready to start serving drinks. Her daughter Steff was at her side, as she had been throughout the illness, so she was designated as bouncer. Spirits were high. Death was nowhere in sight. Right until the end, Angie never changed, a lesson for us all.
I can't even imagine what it will be like to walk into the Mark and not see Angie. But I know she'll be there. God bless us all.
Handout:
2016 Boxscores