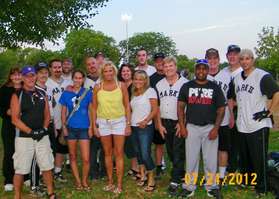 Angie's Mark II (Tuesdays)--Team & Groupies, 2012
Wecome to the Official Mark II Softball Team Website!
Pete's Mark II (Thursdays)--Team Photo, 2012
Electronic home of the "Original" Mark II Softball Team--playing softball for the Mark II Lounge since 1978!

Indeed, 2013 "Marks" our 36th season of playing softball sponsored by the Mark II Lounge! This summer we again played in both the Tuesday and the Thursday night leagues at Skokie's Laramie Park (Niles Center Road just north of Touhy Avenue). Our Tuesday team finished 2-8 and our Thursday team finished 4-6 in the regular season. We did not qualify for the playoffs in either summer league.
See the "Web Update" section below for more details about the summer leagues as well as the latest team news.
Please explore all the areas of our site by clicking on one of the links in the pane to the left. Note that the "Handouts-'Sheets'" folder leads to our 2013 stats, boxscores and administrivia (roster, rules, Team Calendar, etc) as well as all the historic stats from the 2012 "Stat Pack" and our final stat sheets, Updates, etc for each individual summer league season since 2000. The preliminary final "Sheets" for the 2013 have now been posted. All the final sheets for 2013 plus the updated historic stats are now being prepared and will be posted soon...stay tuned!
For futher info, sign our "Guestbook" or send e-mail to: MarkIISoftball@aol.com

See you out there!
Lloyde Nelson
8-27-13
NEW FOR 2013:
For timely and important updates, player availabilities, scores, etc, please sign up to be a follower on my Twitter account "@LloydeNelson."
HOTLINE FOR SKOKIE'S LARAMIE PARK RAINOUT INFO:
Call 847-674-1500 x2196 (after 4:00 PM) or check Twitter's "@SkokieFields" account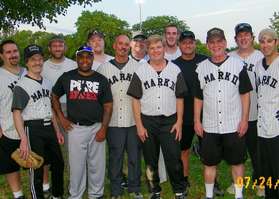 Angie's Mark II (Tuesdays)--Team Photo, 2012
Handout:
2013 Administrative: Roster, Calendar, Financials, Rules etc
Monday, September 30
Mark II Current Web Update
New News of High Value...
Mark II Your Calendars! Wednesday, November 27th...the annual Mark II Softball Team's Thanksgiving Off-Season "Conditioning Meeting" at the Mark II any time after 7:00 PM!
I hope to see you that night—players, alums, groupies and fans are all invited! No need to reply, no need to bring anything, no need to need for anything, except a beverage or two…see you out there!
LN, 9-30-13
Old News of Low Value...
Summer League Results:
Thursday League Playoffs: With our 4-6 regular season finish (including losing our last 4 games) we fell one game short of making the playoffs. The four teams that did make the playoffs, including the two division champions, played on 8/8. In the semi-finals, #3 seeded Master Batters upset #2 seeded Alkohaliks, 20-10 and #4 seeded Yellowstone upset #1 seeded Chicago Akkadians, 10-7. In the League Championship Game, Yellowstone then came from at least 8 runs down to defeat Master Batters (final score unknown). Meanwhile, in the so-called Division Championship Game, Chicago Akkadians beat Master Batters (final score unknown).
Tuesday League Playoffs: With our 2-8 regular season finish we didn't earn a playoff berth. The five teams that did make the playoffs, including the two division champions, played on 7/30 and 8/6. The first round went according to Hoyle as #2 Well Jesus beat #3 Balls Out, 14-6, and #2 Alkohaliks beat #4 Crush, 6-5. In the semi-finals, #1 Rombones then beat #2 Well Jesus, 13-9, and #2 Alkohaliks upset #1 Boss in a 14-1 slaughter—ouch! Alkohaliks then claimed the championship (possibly their first at Laramie?) when they beat Rombones, 13-7 in the League Championship Game. Meanwhile, in the so-called Division Championship Game, Rombones beat Boss, 15-8.
Administrivia (from the 8-21 Update):
Slugs Update: The Slugs (9-2 & 2-1) beat #4 Swingers, 7-4 in the semi-finals on Wednesday, 7/31, to advance to the Championship Game against #3 Milford Mudlarks. The Championship Game was then suspended by rain after 5 innings, with the Mudlarks leading 6-4. The game was resumed on Wednesday, 8/7, but unfortunately for The Slugs, neither team scored in the last 2 innings. The Slugs thus ended their best-ever season with a close loss in the Championship Game won by Milford Mudlarks.
IWBYABIYATFPATMTTTM: The Thursday 8/1 IWBYAB was an "Odds & Ends" edition with a number of subjects covered to illustrate the usual suspects' breadth of knowledge (or lack of it, in the case of Jonas, Mark, Schmidtty, et al). The questions and answers were: (1a & 1b) To the nearest thousand, (a) how many "hits" have we had on our Mark II website since its inception and/or (b) how many hits have we recorded in our weekday games since we started recording stats in 1983? Turns out Jonas is a better student of the internet game than the softball game, as he was real quick to guess 13,000, just a few off from the 13,372 website hits we had through 8/1. Meanwhile part b stumped everyone that night as there were no good guesses within 1000 of the 10,799 hits the team had accumulated in weekday leagues over the last 31 recorded seasons. (2a, 2b & 2c). What is the website address for: (a) our Mark II Softball Team website; (b) my Twitter account; and (c) the Mark II Lounge's website. Eventually, with a lot of false starts and prompting Schmidtty got Eteamz.com/MarkIISoftballTeam; while no one got the tougher (?!?) Twitter.com/@LloydeNelson nor the practically impossible MullensBarandGrill.com/Mark-II (3). What is the full name of "Coach," the park district field supervisor. Although a few idiots tried Mr Coach or The Coach, Bob B was quick to grab an easy freebie, knowing that Jim Tanner is his real name. (4) Within $50 what is the current balance of the Mark II Team Fund? None of the fiscally irresponsible gathered even knew the color of our ink, much less than had the cents to know the dollars (nor had anyone apparently checked that file on the website)—we are currently $446.78 in the red! Although we started the year basically even at ($10.91), a couple of revenue shortfalls have hurt us this year. (5). Speaking of files, what information would one find in the Mark II file named "TDIMTH.xls"? This was a total stumper for the acronym-challenged as no one could figure out that this file contained our This Day in Mark II History information. Finally, the (JHFB?) was not necessary this time around as Jonas proved that even a blind squirrel can still find an occasion nut (in this case, a Blue Moon) by proving he has way too much free time on his hands at work and must spend it on the Mark II website (probably accounting for a thousand or so of those 13,000+ hits)! It may have proven too difficult anyway as I wanted Jonas to tell me that the IWBYABIYATFPATMTTTM acronym for this wonderfully entertaining contest (?) actually stands for "I will buy you a beer if you are the first person at the Mark II to tell me…"
See you out there (at the Mark II on Wednesday, 11/27)!
LN, 8-21-13
Handout:
2013 Boxscores--July & August