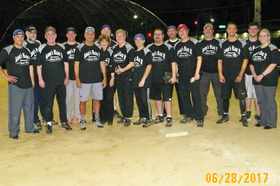 2017 Angie's Mark II Softball Team & Groupies
Welcome to the Angie's Mark II Softball Team Website!




This site is the electronic home of the "Original" Mark II Softball Team--playing 12" slow-pitch softball for the Mark II Lounge since 1978!

The 2017 season "Mark"ed our 40th(!) season of summer softball fun sponsored by the Mark II Lounge! We once again played in the Wednesday Night Mens' League at Evanston's Crown Park where we finished the Regular Seaon with a 5-5 record (7th Place among the 12 team league) and went 0-1 in the Playoffs, for an overall record of 5-6.

See the "Web Update" section below for the latest team news and narrative summaries of this summer's league play, etc.

Please explore all the areas of our site by clicking on one of the links in the pane to the left. Note that the "Handouts-Sheets" folder leads to our 2016 stats, boxscores and administrivia (Team Calendar, League Schedule & Rules and IWBYABs). Other links in the "Handouts-Sheets" folder will lead to all the Mark II Softball Team historical stats from the 2016 "Stat Pack" as well as all the final stat "Sheets," weekly "Updates," etc for each individual summer league season since 2000.

Note that the 2017 "Stat Pack" is scheduled to be distributed at our annual "Off-Season 'Conditioning' Meeting" on Thanksgiving Eve--if I don't see you there that night, I'll give you your copy of the latest Stat Pack the next time I see you!

For futher info, sign our "Guestbook" or send e-mail to: MarkIISoftball@aol.com

See you out there!

Lloyde Nelson, 9-11-17

Evanston Rainout Hotline: 847-448-0034 (then "40#")

Evanston Rainout Website: https://rainoutline.com/search/extension/8474480034/40

Follow Lloyde on Twitter: For timely and important updates, player availabilities, scores, etc, please sign up to be a follower on my Twitter account "@LloydeNelson"



Centerfield (Let's Go!)
Handout: Current Administrative--Schedule, Rules, Roster, etc

Monday, August 14


Mark II Current Web Update




Latest News...Last Updated: Monday, 8/14/17:

Mark II your Calendars!

Our annual Thanksgiving-Eve Off-Season Conditioning Meeting will be on Wednesday, November 22 at the Mark II Lounge...See you out there!

Results of the Wednesday League Playoffs:

Wednesday, 8/2: As the #7 seed based on our 5-5 Regular Season record, we bowed out of the 2017 Playoffs in the first round, falling to the #10 seeded The Slugs, 12-5. Our offense flamed out; scoring just 1-seventh-inning run after the game was tied 4-4 though the first 3 innings. Credit goes to The Slugs, who grabbed a six-pack in their fifth inning rally and added a couple of late insurance runs in the sixth while Eli and the defense were stout with numerous "!" individual plays, frustrating our efforts to get our offense rolling. For the boxscore, follow this link: http://www.eteamz.com/admin/sitez/download.cfm?id=2539586&site=489816 or click on the "Handout: 2017 Boxscores" link on the bottom of this page or navigate to the "2017 Boxscores" category after opening the "Handouts--Sheets" folder in the pane on the left side of this page.

Elsewhere on the first night of the playoffs (8/2): The Slugs were eliminated in the second round, 19-4, by #2 Batmen; #9 Milford Mudlarks eliminated #8 Spiders, 12-2, in their first round game, but the Mudlarks then fell to # 1 These Cats by a close/low score of 7-6; and, in the last first round game of the night, #6 Advocates beat #11 Sons of Pitches, 19-10. since #5 Glory Days had earned a forfeit win over #12 Cardinal IP in their first round, they played their second round game on 8/2 and upset #4 Any Given Wednesday, 7-2.

The playoffs were then completed on Wednesday, 8/9: #6 Advocates completed the second round play, falling 10-5 to #3 Swingers, but Swingers then fell 11-10 to #2 Batmen in one semi-final. At the same time, #1 These Cats beat #5 Glory Days 16-7 in the other semi-final. Finally, in a matchup of the top two teams from the regular season (both with 9-1 records) #1 These Cats won their first League Championship in the head-to-head game again, prevailing 11-7 over #2 Batmen. Here's a link to the ERD Playoffs bracket summary for a quick visual of all these games/results: http://www.eteamz.com/admin/sitez/download.cfm?id=2539936&site=489816.

The "Sheets":

I've posted the preliminary final of the 2017 Individual Stats on this website. Follow this link: http://www.eteamz.com/admin/sitez/download.cfm?id=2539585&site=489816 or navigate to "2017 Wed Individual Stats (Prelim Final)" in the "2017 'Sheets'" category after opening the "Handouts--Sheets" folder in the pane on the left side of this page. Also, here's a link to the preliminary finals of the 2017 Team Stats (http://www.eteamz.com/admin/sitez/download.cfm?id=2539938&site=489816) and the 2017 League Results/Standings (http://www.eteamz.com/admin/sitez/download.cfm?id=2539937&site=489816) either of which can be similarly found by navigating to their titles in the in the "2017 'Sheets'" category after opening the "Handouts--Sheets" folder in the pane on the left side of this page.

Old News of Some Value:

From the 8/9/17 Update:


Administrivia:

Mark II Moments:
We had another nice crowd at the bar (10 players & 5 Groupies by my count) as we got there early enough to get all the good tables & experience the new upscale pizza brand (not to mention the fancy new silver pedestal serving plates) and stayed late enough to say hello/goodbye to all the usual Mark II Usual Suspects for 2017—Rafaela, Adrianna, "B-Ra" and, of course Steff and Peter!

This year it was The Slugs turn to stroll in a little later after our 8:00 first round game and their second round loss—at least Rich, Mike, Ben and Eli could celebrate their first round "W" with whatever The Slugs version of a round of Screaming Mimis is. And, as recently usual, we did a post-mortem beer or two with the last 3 Spiders still standing as they rolled in from the Candlelite having already finished the full-team season-ending activities of their 6:45 loss to Milford Mudlarks.
Thanks for Reading (reactions and feedback from Update readers & other trolls)...
Heard from (Tall) Kathy who chimed in with her compliments for the new uniforms and appreciation for the weekly Update keeping her updated weekly (and overly well-informed of the trials and tribulations of my trying to collect fees and recover uniform costs).

I heard from Jason (of course)! He was excited about celebrating the 29th anniversary of his first Mark II start (and Mr Salty) comparing his storied career with the Cubs' Jerome Walton's—started out with all the pizzazz and ended without any. I'm guessing he celebrated the anniversary like most every occasion—going Phish'g then fishing.
Infamous-for-his-7-3-force-outBruce Weinstein & his wife Steffi were our celebrity fans, having arrived that afternoon from Tampa. They stopped by to watch the first 5 or 6 innings before heading downtown to enjoy the first couple of days of pretending they were 40 years younger and liked standing shoulder-to-shoulder with kids in their 20s watching bands (a few of whom someone might have actually ever heard of) at Lollapalooza again this year!
IWBYABIYATFPATMTTTM: Avid readers (really?!?) and the ASPCA will note that I occasionally beat a dead horse. This week, that horse continued to be the Crown Park stats since 2014. So, I managed to milk this topic for 3 weeks—basically, using one data set to mine for team, individual and, this week, playoffs stats. As a proper subset of last week's research, I pulled all the numbers, and, as we approach the end of the fourth season since our less-than-triumphant return to Crown, I put together a spreadsheet (see this week's attachment) showing the individual PLAYOFFS stats for all current players in the Wednesday Night League games since 2014. The contest was simple: for each stat category, identify the "Playoffs King of Crown" #1 ranked player and also #2 & #3 (in any order) for all Crown games played since we returned to the league in 2014:
(1) Playoffs Hits: "Playoffs King of Crown" Neal (9); #2 Bob Se (8); #3 (Tie) K-Mack & Jonas (7)
(2) Playoffs Extra Base Hits: "Playoffs King of Crown" Bob Se (2—2B & 3B); #2 (6 Tied with just 1 EBH) Shawn (HR); Tony A, Bob B, Kevin C, Mark (3Bs); & K-Mack (2B),
(3) Playoffs RBIs: "Playoffs King of Crown" Shawn (5); #2 K-Mack (4); #3 (Tie) Bob B, Jeff & Mark (3)
(4) Playoffs Walks: "Playoffs King of Crown" (Tie) Jonas & Jeff (3); #3 (Tie) Bob B & Mark (2)
(5) Playoffs Putouts: "Playoffs King of Crown" Mark (17); #2 Bob Se (13); #3 Shawn (12)
(6) Playoffs Assists: "Playoffs King of Crown" Bob B (8); #2 Lloyde (5); #3 Jonas (4)
For the averages, only qualifying players are included (i.e., a player had to have 2 PAs per total Mark II playoff games played (5) to qualify). Those who had fewer than 10 PAs were: Tony A, Kevin C, Tony C, Joe H, Eric, Nate and Schmidtty leaving just the following qualifiers: Bob B, Shawn, Larry, Jeff, Mark, K-Mack, Jonas, Neal and Bob Se.
(7) Playoffs Batting Average: "Playoffs King of Crown" Neal (.563); #2 (Tie) Jonas & Jeff (.500)
(8) Playoffs Slugging %: "Playoffs King of Crown" Bob Se (.647); #2 Bob B (.625); #3 Neal (.563)
(9) Playoffs On Base %: "Playoffs King of Crown" Jonas (.647); #2 Jeff (.643); #3 Neal (.588)
For fielding average, only qualifying players are included (i.e., a player had to have 2 Attempts per total Mark II games played (5) to qualify). Those who had 10 or more Attempts included: Bob B, Shawn, Mark, Lloyde and Bob Se.
(10) Playoffs Fielding %: "Playoffs King of Crown" Mark (1000); #2 Bob Se (.933); #3 (Tie) Shawn & Lloyde (.923)
(JHFB) Name the only pitcher who has started an Angie's Mark II Playoff Game at Crown since our return in 2014. From the start to the end of the season, Jonas (probably trying to impress Lori) steadfastly refused to accept a single Humanitarian Freebie this year, seemingly preferring an unquenched thirst to humiliation! Yes, Jonas started all 5 (now 6) of our Crown Park playoff games (and carries the 2-3, now 2-4 record that goes with that honor).
See you out there!
LN, 8-9-17
From the 4/22/17 Update:
The Bottom Line on Rainouts:
If the Evanston Hotline (847-448-0034, then "40#") or the Evanston website, https://rainoutline.com/search/extension/8474480034/40 is not reporting that the games are postponed and you can't reach me on either of my phone numbers and I have not sent out an e-mail or text and/or updated either our website or my @LloydeNelson Twitter account reporting a postponement, always assume we are playing & show up! (Every year we're amazed and surprised at least once or twice when we've played even though it looked like we wouldn't play right up until game time!)
ERD Schedule & Rules--Review & Analyses:
2017 Schedule: The Wednesday Night League again has a full complement of 12 teams. That makes for a nice single-round 11 game regular season after which there will be the usual single-elimination all-teams-qualify two-week-long Playoffs, with the #1-#4 seeds getting a first round bye. We drew a 6 home-5 away schedule with a very odd mix—4 straight home games to open the season followed by 5 away games before a season-ending 2 game home-stand. We drew an OK split on the times, albeit, again, not in an orderly order with 3 games starting at 6:45 (weeks 2, 9 & 11), 4 at 8:00 (weeks 1,7, 8, & 10) and 4 at 9:15 (all 4 in a row, from weeks 3-6, i.e., the last 4 Wednesdays of May). Our Rivalry Games are week 5 (Advocates at 9:15) and week 11 (Slugs at 6:45). We don't play the "new" team until week 8, while facing teams that finished ahead of us in last year's standings early and often (weeks 2, 3, 4, 5, 7 & 9). In terms of location, we will play 6 games on the "West" Diamond (formerly #1 or #4—the one on Dodge & Main) and 5 games on the "East" Diamond (formerly #2 and #3--is on Lee) in this "pattern": W-W-W-E-E-W-E-W-E-W-E (note that we alternate starting week 5).
2017 Teams: Ten of our 11 opponents are returning teams with just one team gone from last year (Growlers, after a 2-year 3-19 & 0-2 "run"). The one "new" team has the same moniker, Sons of Pitches, that was used last year at Laramie by captain David Ianotti (who captioned Stone Ponies and Wrecking Crew when we played there), but it must be just a coincidence as Jeff has confirmed that David will still be playing with Swingers. The known returning teams and our career Crown Park records against them (regular season & playoffs, if applicable) are: Any Given Thursday, who strangely are listed as "Thursday," not Wednesday(!?!) this year (0-1 last year; 0-3 since 2014 on Wednesdays, 4-2 & 1-0 between 2002-2007 on Thursdays and 2-0 & 1-0 in 1998 as Dinosaurs & Enemies or Wolves); Advocates (0-1 last year; 2-1 since 2014 and 3-2-1 & 1-0 between 2002-2007 at Crown); The Slugs (1-0 & 1-0 last year; 1-2 & 1-0 since 2014 and 5-0 & 2-0 between 2002-2006); Milford Mudlarks (1-0 last year; 1-2 & 0-1 since 2014 and 2-0 & 0-0 in 2003-2004); Glory Days (1-0 last year; 2-1 since 2014 ); Spiders (1-0 last year; 2-1 since 2014); Swingers (0-1 last year; 0-3 since 2014); Cardinal I.P. (1-0 last year; 2-0 since 2014); Batmen (0-1 last year; 1-1 since 2015 when they played as Team Random); and, finally, These Cats (0-1 & 0-1 last year; 0-2 & 0-1 since 2015 when they played as The Chronicles).
2017 Rules: After many many years with League Supervisors patching the ERD Rules together such that it had become disorganized and 6 pages long, Ray and Logan did an almost complete re-write/re-format of the Rules this year and got it down to 3 disorganized pages. Every player is encourage to read this year's version (attached, and previously sent to the players and, as always, posted on our website). Here are the highlights of the new or significantly changed rules:
-General League Rules:
(2) Changed: Rosters are due 5/26.
(4) New: Teams may "'borrow' another player" from a non-playing team, if approved by the opposing captain (in the regular season only).
(5) Changed: 5 minute grace period after start time of each game before a forfeit is called.
-Playing Regulations:
(1) Changed: Minimum of 8 players required to start/finish.
(3) Changed: Pitcher is allowed 5 warm-up pitches in 1st & just 2 in each inning thereafter--any others will be called a ball (but NO rule about infield warm-ups?!?).
(4) All New (READ IT!): Those wanting a courtesy runner must remind the ump before each at bat and, any/all hits by those batters will be limited to a single!
(7) Point of emphasis: The 70-minute rule will be enforced by the ump.
(8) New: Tie-breaker rule: If the game is tied, a runner will be placed on second base at the the start of any extra innings (or innings after the 70-minute rule).
(9) Changed: Slaughter rule now applies to all tournament games, too.
-Equipment:
Pretty much the same, but the punishment for using an illegal bat has been changed (ejection for player only, not captain); league suspension of player only (not captain) for second offense.
-Player Conduct:
Tougher on the use of profane/obscene language "even casual" by anyone/everyone.
-Protests:
Clarified, cleaned up and eliminated or reduced onerous requirements about timing and money.
-Forfeits:
Added; overly-wordy definition of "3 forfeits and you're out" rule; request to notify ERD & opposing captain if you know you have to forfeit; no refund given.
-Dugouts/Field Expectations:
I couldn't find anything that was changed significantly but scorekeepers are apparently not included in allowed dugout personnel (while dogs apparently are allowed anywhere?!?).
-Postseason:
I couldn't find anything that was changed significantly (except I won my case that fewest total defensive runs allowed should be the #3 tie-breaker before most total runs scored, so teams aren't encouraged to run up the scores).
-Rainout/Cancellation:
ERD claims total control "to manage the softball program as it deems appropriate"; suspended game now less than 4-1/2 or 5 innings and "official game" now at least 4-1/2 or 5 innings.
-Lightning Policy:
A total cut-and-paste from previous editions.
-Somewhat important rules that now seem to be missing (may be covered by ASA or posted rules--we will have to assume they remain in force and/or cover with the umps):
No infield warm-ups after the first inning rule?
Extra player (EP or DH) and roster batting rules?
Free substitution rule?
Fake tag rule?
Slide/collision avoidance rule?
Advancing on 2-strike foul ball rule?
Pitcher's rubber extended back 6' rule?
No dogs in park rule??? (There's hope for Hope)!
Administrivia:
New blood: Tony 'TC' Christiansen is not just new blood, he's blood, period. We've invited the son of our team's namesake to come out from behind his family's bar on Wednesday nights and see what he can contribute to the team named in his mother's honor! Tony played hardball in his school days and had the ubiquitous "cup of coffee" with Jeff and Ryan's Laramie Fall League team.
Missing a game: If/when you know that you'll miss game(s) due to a vacation or schedule conflict, please make sure I record those dates on my calendar. The sooner I know, the easier it is for me to plan and get subs.
Tweets: Yes, I am a twit who tweets...but only Mark II Softball Team matters, I promise! So, if you're a twit, please become one of my followers (I'm up to 23!) so you can receive game status changes, field condition updates, etc promptly (and in less than, or equal to, 140 characters)! My Twitter account is @LloydeNelson (https://twitter.com/LloydeNelson). As I use this account only to communicate to the team and not as a dialog with me, please do not use the "Reply to:" capability of Twitter as I am very unlikely to promptly review any replies--I still prefer either a phone call or an e-mail/text reply if/when you have new news about your availability, etc. Finally, our Website also has a link to my Twitter account (in case you've forgotten my name, or--more likely--can't spell it).
See you out there!
LN, 4/22/17 (Updated 4/29/17 & 5/30/17)
A Tribute to Angie from Bob B, 11/18/15:
To the Mark II Softball Team Family,
A little bit of all of us died today. And it's hard to imagine the sun will be able to shine as brightly again .
Angie loved life more than anyone we've ever known. She's the most optimistic person we've ever known.
Angie started working at the Mark II before our softball team was even an idea. Back in the 70's, Lloyde and the other Shure Brothers gang (OBO, Marty, Russ, Wally, Gary, Schmidtty, etc. etc.) hung out at the Mark after work and after their company softball games, and the Mark II camaraderie was what spawned the Mark II softball team. Angie was always there. No one took fewer vacations than Angie. She acted like working behind the bar was a vacation. She worked at the Mark six days a week, and during the baseball season, she spent her day off — Saturday — working the mob scene at Mullen's in Wrigleyville. She spread joy wherever she went. And she bragged about our team all the time. I still remember the night she introduced Lloyde and me to Joe Hudek, shortly after we had won our first championship. Joe (a former college ballplayer who became one of our best players ever) acted like we had reeled off a dozen titles in a row, and he politely requested a tryout. He had been listening to Angie. And in those few years we had losing records, Angie focused on all the championships we had won. To her, we were champions every time we walked into the Mark.
It's been difficult to process how suddenly and rapidly Angie fell ill and died, especially since it basically happened in the short time period since our season ended. Lloyde got word last week that Angie was in Evanston Hospital, and he and Peg and I had a chance to visit her last Thursday. She was weak, not just due to the cancer but also an infection that had set in, but she was cheerful and optimistic as always, talking about going home the following day. She enjoyed talking about the great run the Cubs had during the playoffs and their prospects for winning the World Series next season. A misguided well-wisher had brought her a White Sox pennant, which I dutifully removed Thursday morning, and which Lloyde and Peg replaced with flowers and some Cub paraphernalia Thursday afternoon. I also advised her that I had obtained a liquor license and was arranging for a juke box to be installed in her room that afternoon, so she'd better be ready to start serving drinks. Her daughter Steff was at her side, as she had been throughout the illness, so she was designated as bouncer. Spirits were high. Death was nowhere in sight. Right until the end, Angie never changed, a lesson for us all.
I can't even imagine what it will be like to walk into the Mark and not see Angie. But I know she'll be there. God bless us all.
Handout:
2017 Boxscores