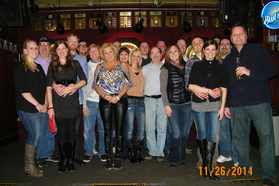 2014 Thanksgiving-Eve 'Conditioning Meeting'
Wecome to the Official Mark II Softball Team Website!
2014 Angie's Mark II Team (Wednesdays)
Electronic home of the "Original" Mark II Softball Team--playing 12" slow-pitch softball for the Mark II Lounge since 1978!

2015 will "Mark" our 38th season of fun sponsored by the Mark II Lounge! We have registered to play in the Wednesday Night 12" Mens' League at Evanston's Crown Park where the regular season is scheduled to start April 22nd.
See the "Web Update" section below for more details about the summer league(s) as well as the latest team news.
Please explore all the areas of our site by clicking on one of the links in the pane to the left. Note that the "Handouts-Sheets" folder leads to our 2014 stats, boxscores and administrivia (roster, rules, Team Calendar, etc) as well as all the historic stats from the 2014 "Stat Pack" and our final stat sheets, Updates, etc for each individual summer league season since 2000.
Note that the 2014 Stat Pack was distributed at our annual Thanksgiving-Eve Get Together...if you didn't get your copy, you will, when I see you next! In the meantime, the stats from the Stat Pack are also posted on this site.
For futher info, sign our "Guestbook" or send e-mail to: MarkIISoftball@aol.com

See you out there!
Lloyde Nelson
3-24-15
RAINOUT INFORMATION:
Evanston's Crown Park (Wednesdays): Call 847-859-7822 x1199 (after 4:00 PM) or check online at http://www.cityofevanston.org/parks-recreation/recreation/softball-leagues/ or sign up at this online site to receive automated text or e-mail notifications.
Follow LN on Twitter:
For timely and important updates, player availabilities, scores, etc, please sign up to be a follower on my Twitter account "@LloydeNelson"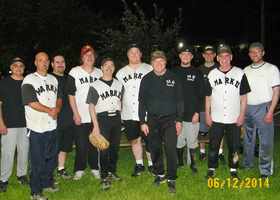 2014 Pete's Mark II Team (Thursdays)


Centerfield (Let's Go!)
Handout: 2015 Administrative: Calendar, Schedules, Rules & Financials

Saturday, March 21


Mark II Current Web Update




New News of High Value...

Practice? Practice?!? It's Just Practice!:

Starting Sunday, 3/29, we will implement our regular practice schedule and hope that we get good enough weather one or two days a week for the remaining 3+ weeks. In case you've forgotten, we will schedule practices every Sunday morning at Central Park in Skokie (anytime after 9:30 AM) and every Tuesday and Thursday at Crown Park in Evanston (anytime after 5:30 PM). So, starting Sunday 3/29, you should assume we're having practice every Sunday, Tuesday and Thursday unless you see an Update email or text(!?!) from me or Bob B to the contrary.

As always, I don't expect everyone to make every practice, but I do expect each of you to make enough practices to be ready to go on 4/22. I can usually get out there early or stay later and will make every effort to accommodate your schedules, so if you can only make it earlier or later, or want to have a practice any other day(s), let me know. We may also announce a last-minute practice or game if/when we're surprised by a shockingly warm beautiful weather day, so keep an eye out for an Update email. With the Slugs expected to have their practices on Wednesdays at Crown, I will also be trying to schedule practice games with them on Wednesdays and/or Sundays starting about two weeks before the opener.

League Status Updates:

In Evanston, Roe has released a confirming e-mail to the captains welcoming us back and promising that he's working on the schedules for the Wednesday Night League which is still scheduled to start 4/22. Typically, we don't see a schedule until a week or so before the season starts, so I guess we'll have to wait another 2 weeks or so.

No new news on any other league...that Monday night 50+ league in Morton Grove never got off the drawing board and while we've investigated a couple of other options in Chicago, nothing looks promising. I've also recently searched the other local suburbs' websites for 12" Mens' leagues with no luck. If anyone has a lead on a league worth investigating--particularly a Monday league--please let me know ASAP.

See you out there!

Old News of Low Value...

2014 Summer League Results:

Angie's Mark II Team in the Wednesday League at Crown...After a 2-9 Regular Season finish (11th Place in the 12 team league) we lost in the first round of the playoffs, 14-13 to #6 seeded Kekambas (7-4 & 1-1).

Wednesday League Results...

The 12 team Playoffs were played out on 7/23 & 7/30.

The Goodfellas won it all, playing/winning all 3 of their games on 7/30. After their bye in the first round, The Goodfellas first beat #6 Kekambas (the team that had eliminated us in the first round), scoring 4 runs in the bottom of the 7th inning for the walkoff stunner. The Goodfellas then completely steam-rolled an equally-stunned #2 seeded, The Slugs, 12-1, in the semi-final game as Goodfellas scored early and often including "bagging their limit" with 3 fence job homers (the last two, both solos, coming back-to-back late in the slaughter-shortened 6-inning game) while The Slugs just couldn't muster any offense the entire night. Meanwhile, the other semi-final pitted #1 seeded, Any Given Wednesday, against #5 Swingers who had beaten #4 Unfinished Business and then continued their upset streak beating AGW (score unknown). Swingers streak ended there, however, as the Championship Game was then won by The Goodfellas (score unknown).

Pete's Mark II Team in the Thursday League at Laramie...Given our 0-10 Regular Season finish (4th Place in our 4 team division with the 8-team league's worst record), we failed to qualify for the Laramie playoffs in which only teams with .500 or better records are invited to play.

Thursday League Results...There were two champions crowned at Laramie on 7/24 & 7/31. First, on 7/24, in the game between the two regular season division champions, Stone Ponies won the Divisional Championship Game over Savages (score unknown). Then, in games played on 7/24 & 7/31, the 6-team League Championship Playoffs were played out with Alkohaliks eventually prevailing over Stone Ponies in the Championship Game, by a score of 10-7. Other than knowing that Stone Ponies and Alkohaliks eventually prevailed, I don't know the results/scores of the other 4 games that led to that final game.



Stairway to Heaven
Handout: 2014 Wednesday & Thursday Leagues at Crown & Laramie