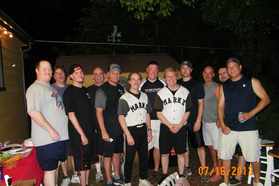 2013 Meat Night
Wecome to the Official Mark II Softball Team Website!
2013 Pete's Mark II (Thursdays)--Team and Groupies
Electronic home of the "Original" Mark II Softball Team--playing softball for the Mark II Lounge since 1978!

Indeed, 2014 "Marks" our 37th season of playing softball sponsored by the Mark II Lounge! This summer we have registered to play in two leagues--one as a "new" team and the other as a "returning" team. As a new team, we will be returning to Evanston's Crown Park (where we last played in 2011) to play on Wednesdays (a day on which we last played in 2001). Meanwhile, we are again playing at Skokie's Laramie Park on Thursdays.
See the "Web Update" section below for more details about the summer leagues as well as the latest team news.
Please explore all the areas of our site by clicking on one of the links in the pane to the left. Note that the "Handouts-'Sheets'" folder leads to our 2013 stats, boxscores and administrivia (roster, rules, Team Calendar, etc) as well as all the historic stats from the 2013 "Stat Pack" and our final stat sheets, Updates, etc for each individual summer league season since 2000.
For futher info, sign our "Guestbook" or send e-mail to: MarkIISoftball@aol.com

See you out there!
Lloyde Nelson
4-15-14
RAINOUT INFORMATION:
Evanston's Crown Park (Wednesdays): Call 847-859-7822 x1199 (after 4:00 PM) or check online at http://www.cityofevanston.org/parks-recreation/recreation/softball-leagues/ or sign up at this online site to receive automated text or e-mail notifications.
Skokie's Laramie Park (Thursdays): Call 847-674-1500 x2196 (after 4:00 PM) or check Twitter's "@SkokieFields" account .
Follow LN on Twitter:
For timely and important updates, player availabilities, scores, etc, please sign up to be a follower on my Twitter account "@LloydeNelson"
2013 Angie's Mark II (Tuesdays)--Team and Groupies
Handout:
2014 Administrative: Roster, Calendar, Financials, Rules etc
Sunday, April 13
Mark II Current Web Update
New News of High Value...
This week's practice schedule (check your email for any weather-related updates):
Tuesday, 4/15: No practice. Happy Birthday, Bob B! (Will we still need you? Will we still feed you?)
Wednesday, 4/16: Practice at Crown Park with The Slugs anytime after 5:30.
Thursday, 4/17: Practice at Crown Park anytime after 5:30.
Sunday, 4/20: Practice anytime after 9:30 at Central Park in Skokie (if we get enough guys, including Slugs, we'll have a practice game).
League Updates:
ERD has released the Wednesday Night League schedule; we open Weds, 4/23 at 9:15 vs Spiders on Diamond #2. It'll be a 12(!) team league this year with 4 new teams! I posted the schedule on our website (http://www.eteamz.com/MarkIISoftballTeam/files/ERD...WednesdsaySummerSchedule2014(4-8-14).pdf) or click on the "2014 Administrative" link above. I'll also include the schedule and other details in the next full Update.
SPD still has not released the schedule for the Thursday Night League which opens Thursday, 5/1.
See you out there!
LN, 4-13-14
From the Last Update (4-7-14):
Practice? Practice?!? It's Just Practice!: It looks like it's finally time to start our spring practice regimen as the just-won't-quit winter has delayed and reduced our practice time to a scant two-plus weeks. (Remember just two short springs ago when temps in the 60s, 70s and even 80s allowed us to have some 16 practices)? Starting this week, we will have practices on Tuesday and Thursday at Crown in Evanston (anytime after 5:30 PM) and Sunday morning at Central Park in Skokie (anytime after 9:30 AM). I am also trying to schedule a practice game the week before the opener, on Wednesday, 4/16. As always, I don't expect everyone to make every practice, but I do expect each of you to make enough practices to be ready to go on 4/23. I can usually get out there early or stay later and will make every effort to accommodate your schedules, so if you can only make it earlier or later, or want to have a practice any other day(s), let me know. We may also announce a last-minute practice or game if/when we're surprised by a shockingly warm beautiful weather day, so keep an eye out for an Update email.
Leagues: In Evanston, Roe has released an e-mail to the captains welcoming himself back and promising that he's working on the schedules for

the Wednesday Night League which is still scheduled to start 4/23 (just 16 days from today)!

. In Skokie, Bob B attended the Skokie Captains' Meeting for me last week. The only new news of high value coming out of SPD is that the league's opening night has been moved up a week, so

the Thursday Night League will now commence on 5/1.

The other "news" coming out of the SPD meeting is that the bat rules have changed again--unfortunately, apparently no one can explain them well enough to determine eligibility and a new electronic gizmo that SPD has purchased to measure/certify bats won't be available until the budget dollars are available!?! Don't buy a new bat until we get more clarity.
Rosters
:

We currently have 11 regulars on Wednesdays and 9 regulars on Thursdays

. There are 8 guys who will be playing regularly on both nights: Bob B, Shawn, Larry, Mark, Jonas, Neal, Bob Se and me. On Wednesdays, Tony, Kevin C and K-Mack are the other 3 regulars. On Thursdays, Jeff is the other regular. Tony, Kevin C, K-Mack and Jeff may be available to sub on their off day. Our other subs currently include: Nate, Craig & Schmidtty. On Thursdays, our sub pool will expand to include guys from the Slugs (Rich, Eli, Joe L, etc) and Gary Popadowski (new captain of the Boss team in the Tuesday Skokie League). Unfortunately, we learned last week that it looks like Patrick is out for the year.

I would still like to get commitments from two more regulars (outfielders) for the Thursday team and fill out our roster with other guys who can/will sub.

In that light, Bob B has a feeler out to Tom Cary's son as a regular or sub and Bob Se has a guy, Ari, who may be interested in a role.

If any of you has a candidate for a regular or sub role, please let me know about him and, by all means, please invite him out to one of our practices this week or next.
Fees: The Evanston League is $675 and the Skokie League is $750, plus we have the usual incidentals (scorebooks, eTeamz website fees, and "Meat Night" costs) Assuming Tony and the Mark II's support will cover about a third of our total expenses, I am looking for

$50 per player per night played as a regular

. As always, prompt payment is appreciated.
See you out there!
LN, 4-7-14
Old News of Low Value...
2013 Summer League Results:
Thursday League Playoffs: With our 4-6 regular season finish (including losing our last 4 games) we fell one game short of making the playoffs. The four teams that did make the playoffs, including the two division champions, played on 8/8. In the semi-finals, #3 seeded Master Batters upset #2 seeded Alkohaliks, 20-10 and #4 seeded Yellowstone upset #1 seeded Chicago Akkadians, 10-7. In the League Championship Game, Yellowstone then came from at least 8 runs down to defeat Master Batters (final score unknown). Meanwhile, in the so-called Division Championship Game, Chicago Akkadians beat Master Batters (final score unknown).
Tuesday League Playoffs: With our 2-8 regular season finish we didn't earn a playoff berth. The five teams that did make the playoffs, including the two division champions, played on 7/30 and 8/6. The first round went according to Hoyle as #2 Well Jesus beat #3 Balls Out, 14-6, and #2 Alkohaliks beat #4 Crush, 6-5. In the semi-finals, #1 Rombones then beat #2 Well Jesus, 13-9, and #2 Alkohaliks upset #1 Boss in a 14-1 slaughter—ouch! Alkohaliks then claimed the championship (possibly their first at Laramie?) when they beat Rombones, 13-7 in the League Championship Game. Meanwhile, in the so-called Division Championship Game, Rombones beat Boss, 15-8.
Handout:
2013 Boxscores--July & August