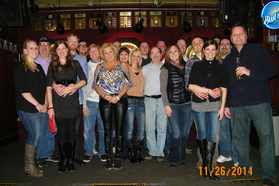 2014 Thanksgiving-Eve 'Conditioning Meeting'
Wecome to the Official Mark II Softball Team Website!
2014 Angie's Mark II Team (Wednesdays)
Electronic home of the "Original" Mark II Softball Team--playing 12" slow-pitch softball for the Mark II Lounge since 1978!

In 2015, we "Mark" our 38th season of fun sponsored by the Mark II Lounge! We are playing in the Wednesday Night Mens' League at Evanston's Crown Park. See the "Web Update" section below for current details about the summer league as well as the latest team news.
Please explore all the areas of our site by clicking on one of the links in the pane to the left. Note that the "Handouts-Sheets" folder leads to our 2014 stats, boxscores and administrivia (roster, rules, Team Calendar, etc) as well as all the historic stats from the 2014 "Stat Pack" and our final stat sheets, Updates, etc for each individual summer league season since 2000.
Note that the 2014 Stat Pack was distributed at our annual Thanksgiving-Eve Get Together...if you didn't get your copy, you will, when I see you next! In the meantime, the stats from the Stat Pack are also posted on this site.
For futher info, sign our "Guestbook" or send e-mail to: MarkIISoftball@aol.com

See you out there!
Lloyde Nelson, 4-27-15
RAINOUT INFORMATION: Evanston's Crown Park (Wednesdays): Call 847-859-7822 x1199 (after 4:00 PM) or check online at http://www.cityofevanston.org/parks-recreation/recreation/softball-leagues/ or sign up at this online site to receive automated text or e-mail notifications.
Follow Lloyde on Twitter: For timely and important updates, player availabilities, scores, etc, please sign up to be a follower on my Twitter account "@LloydeNelson"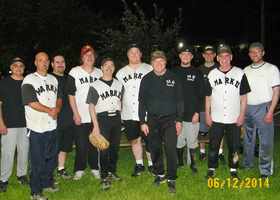 2014 Pete's Mark II Team (Thursdays)


Centerfield (Let's Go!)
Handout: 2015 Administrative: Schedules, Rules, Roster & Financials

Thursday, May 21

Mark II Current Web Update
Last Updated: Thursday, 5/21/15, ~10 AM
Upcoming Schedule and Player Status:
Wednesday, 5/27: 8:00 vs Growlers (1-2) on Diamond #2. We have no Book on this team, nor do I know anything about them or their captain, Adam Chiss. They beat Dark Knights, 16-15 for their lone victory, and were slaughtered in both their other games, 15-5 by 2-1 Spiders on Opening Night and 22-4 by 3-0 Smylie Brothers Swingers in week 3. We're expecting all the regulars...please advise ASAP if otherwise.
Wednesday, 5/20: Our game against Smylie Brothers Swingers was cancelled due to weather. Bob B went over to the park and talked to Roe about 5:30 as he was making the final assessment...although the fields were in great shape and the rain was just a mist/drizzle, I think Bob was able to convince Roe that if it was 75-degrees out we could play, but clearly, playing in 45-degree weather would be horrible for everyone (and possibly dangerous) especially when the rain-out date is 7/15...so, thanks, Bob.
Wednesday, 5/13: We got off the 2015 "schneid" with an impressive 5-inning slaughter of Glory Days, 19-4! With few exceptions, we generated more offense in this one 5-inning game than our total 14-innings worth of offense from our first two games! Indeed, the linescore of 38-19-24-19 RBI-3 2B-2 3B-HR-3 BB-SAC, except for the PAs & BBs, easily beat our going-in two game totals of 59-10-20-2 2B-0 3B-0 HR-9 BB-SAC. Hell, in the first inning alone we had 7 hits (including two doubles and a triple)--more than the 6 hits we had in the previous week's 7 inning loss! With that 7-spot "in the wink of a young girl's eye" and our habitual scoring all night (7-4-1-3-4) we made a clear statement to them that "Glory Days...they'll pass you by!" We averaged 8.4 PAs per inning with 8 of our 11 batters having multiple-hit nights including the 5 Salty-Honorables who each had at least 3 (and K-Mack garnering 4)! Thanks to that balanced attack on offense, we not only scored early (the season's first bat-around (plus 1) in the first), but also, scored often, proving this wouldn't be a "One-Inning Wonder," (building an 11-0 lead after 2 and 12-3 after 3 and then achieving/assuring the slaughter margin with a 15-4 lead after 4 and a 19-4 final after our 5th inning rally). On the other side of the ledger, our pitching and defense continued to get the job done while leaving some room for improvement--like a stain on genuine leather. Jonas and the 'D' limited them to just 27 PAs allowing just 8 hits with 2 EBHs--both doubles--and although we made 2 infield errors, we sucked it up and didn't let the extra-outs hurt us, surrendering no unearned runs. Additionally, Jonas surrendered 3 walks (1 to their first hitter of the night--again this week?--and another to their #10 hitter--Aaarrgh!), but none of those walks scored or figured in the scoring either. And, finally, although Peg was stingy, awarding no defensive "!"s, we did have a couple of notable defensive plays, turning another Grumpy Old Men 6-4-3 DP to get out of a first-inning jam and seeing Jonas make the never-seen-that 1-U putout at second base stranding 2 runners to end their fourth. The long-awaited (since 6/18/14!?!) Mr Salty (6 Mimis-1 Cheesecake) went to the Team, with Honorable Mentions to the guys in the Middle--K-Mack, Ryan, Oron, Neal and Larry (newly dubbed "The Milkman" by Shawn)--who each had 3 or more hits and combined for an eye-popping 20-18-16-14 RBI-2 2B-3B-HR linescore, led by K-Mack's 4 hit-4 RBI night and including Ryan's 3 EBH cycle-minus-only-the-single; Oron's first 3 hits of the year (with a double & 4 RBI) and Neal and Larry's 3 each singles! For the boxscore click on the "Handout: 2015 Boxscores" link on the bottom of this page or navigate to the "2015 Boxscores" category after opening the "Handouts--Sheets" folder in the pane on the left side of this page.
Administrivia (from the 5/19 Update):
Belated Happy Birthday #54 to Paul(ie) Kramer this past Sunday, 5/17! Unfortunately, I forgot to include the birthday wish in last week's Update (although Paulie did make it on the equally prestigious Wednesday Sheet's "Mark-O-Gram"). For those with the second-thing-to-go syndrome, Paulie was a stalwart of the Mark II battery for our Sunday Morning Team at Proesel Park starting in 1998 all the way through our final Sunday season in 2011. Paulie is still pitching on Sunday mornings as he plays on Bob Se's team in the Kosher League at Central Park. Paulie also had a "cup of coffee" with the weekday teams, pitching in 1 Crown Park game each in 1999 & 2000 and holding a perfect 2-0 record with impressive "W"s over Simply En Fuego (9-8 on 8/4/99) and The Phoenix (8-4 on 6/19/00).
Alumni Tour: The Bests and Nelsons headed to Dayton Ohio last week for a couple of days of touring with the Zimmermans and a great Friday night dinner with the Fredericks!
Don Zimmerman played for the Mark II for 36 games in the 1987-1989 seasons--he played third base and compiled a respectable .341 / .388 / .447 split during the early aluminum bat era. A University of Minnesota grad, Don worked with Peg at Mercer, et al, and has the distinction of being the only player recruited to the team by Peg. Eventually, Don and his wife, Cindy Horst, also a Mercer person, moved to Cleveland and started their own benefits company. They are now both retired.
Big Dave Frederick was likely the biggest, or at least, best-built player to ever model a Mark II uniform--even given the "Thousand Pound Outfield" of the late 90s. Dave came by it naturally as he played guard on the Northwestern football team back in the John Pont era. Bob B and I met Dave through his co-worker, Scott Falknor, when we all started playing in a basketball league at Crown Park. Unfortunately, we have no stats for Dave as the big lefty played fulltime only 1 year in our pre-stat era (1978-1982) before his job's road responsibilities left him unable to play regularly. Dave is also famous for his bat--The Screaming Mimi (no relation to the Mr Salty shot of the same name)--an early-model aluminum bat so coveted by Marty that he pleaded with Dave to let him buy it when Dave left town. Dave and his wife Kathy returned to their home town of Buffalo, NY, where Peg and I visited in 1992 and Dave treated us to a dinner at The Anchor Bar, home of the original Buffalo-style Chicken Wings. Dave and Kathy now live and work in the Cincinnati area where they have 2 grown children and an 8-year old grandchild.
Speaking of old alums, I got a text last week from Marty Ryg who claimed that he was "officially" carded while in Nashville. Of course, given Marty's age (63-1/2) and appearance, I'm sure Marty was simply carded and caught trying to get the Early Bird Senior Discount at the Old Country Buffet, not buying alcohol. So, until I get verification from a credible source, I'll still claim that I hold the record between the two of us as I was legitimately carded--with a witness--while at Wrigley Field at age 62.
Money: Week 3 collections amounted to a collection--just 1 regular bellied up to my bar, bringing the total to 7 with 4 holdouts! Based on the Mark II Lounge covering about one-half of our league fees and costs, I will need $50 from each "regular" player this year. I've already paid the $675 in fees, paid for a couple of uniforms, bought a new "Book" and renewed our website subscription, so my checking account would much appreciate your prompt attention to this matter! As always, regular attendance at the Mark II after our games would go a long way in reciprocating the generosity the Anton Family has shown toward our teams for 38 seasons!
IWBYABIYATFPATMTTTM: Get On & Get 'Em In was the topic for last week's beer giveaway. Given our offensive struggles in the first two weeks, I thought it would be interesting to know who we could expect to pull us out of it as our leaders in getting on (hits, walks or safe-on-errors) and getting guys in (RBIs). So I asked 2 questions, each with the same four separate beer award categories for career stats per plate appearance: (1) Among this year's players only, name 2 of the top 3 for career (a) RBIs/PA; (b) Hits/PA; (c) BBs/PA; or (d) SEs/PA. (2) Same question, but among only those Mark II players with more than 100 weekday games played. Only Ryan (career BBs/PA for this year's players) and Mark (career BBs/PA for players with >100 games) chose to guess long-enough to win beers (albeit choosing the "easiest" of the 8 categories). I'll just give you the answers (and, for the complete rankings, see today's attachments): (1a) RBIs/PA: Shawn .400, Neal .350 & Oron .343; (1b) Hits/PA: Bob Se .494, Shawn .489 & Zave .487; (1c) BBs/PA: Jeff .307, Jonas .177 & me .158; and (1d) SEs/PA: Neal .069, Bob Se .050 & Bob B .048. (2a) RBIs/PA: Kevin C .424, Shawn .400 & Shannon .390; (2b) Hits/PA: Kevin C .513, Bob Se .494 & Shawn .489; (2c) BBs/PA: Jonas .177, me .158 & Bob B .140; and (2d) SEs/PA: "Luke" .082, Wally .075 & Neal .069. (JHFB?) I asked, given Jonas' career stats in these 4 areas, .249 RBIs/PA, .425 Hits/PA, .177 BBs/PA & .022 SEs/PA, what's his career On Base %? Of course, his all-time OB% (.624) is simply the sum of his Hits/PA+BBs/PA+SEs/PA, which, had he taken the time to realize, not get fooled by the extraneous RBIs/PA data and correctly add, Jonas could have easily claimed his humanitarian free beer...but he didn't do any of that as he was apparently in too much pain nursing his tennis-elbow (were those "Grand Prize Socks" worth it, now?!?) with a big bag of ice!
See you out there!
LN, 5-19-15
Old News of Some Value (from the 4/28 Update)...
ERD Schedule & Rules--Review & Analyses:
Schedule: The Wednesday Night League again has a full complement of 12 teams. That makes for a nice single-round 11 game regular season after which there will be single-elimination all-teams-qualify two-week-long Playoffs, with the #1-#4 seeds getting a first round bye. We drew a 5 home-6 away schedule with a good mix--never more than 2 in a row at home or away with 3 of our first 4 away and 2 of our last 3 home. We drew a nice split on the times with 4 each 6:45 & 8:00 games and just 3 games at 9:15. We get half of our 6:45 games in the first 2 weeks (when you can get frostbite playing the later games); 3 of our 4 games in May are at 8:00; and all 3 of our 9:15 games are in June, including Rivalry Games against Advocates and The Slugs the last two weeks of June. We play 6 games on Diamond #1 (Dodge & Main), 5 of which are in June-July when/where the warm SW winds will presumably be blowing out and 5 games on Diamond #2 (2 is on Lee), 4 of which are in April-May when/where the CNL winds will also presumably be blowing out.
Teams: At first blush, the league appears to feature 7 returning and 5 new teams, based on the limited information from the schedule (team names and unknown-to-us captains). The returning teams and our career Crown Park records against them include: Any Given Wednesday (0-1 in 2014, 4-2 & 1-0 between 2002-2007 as Any Given Thursday and 2-0 & 1-0 in 1998 as Dinosaurs & Enemies); Advocates (1-0 in 2014 and 3-2-1 & 1-0 between 2002-2007); The Slugs (0-1 in 2014 and 5-0 & 1-0 between 2002-2006); Milford Mudlarks (0-1 in 2014 and 2-0 & 0-0 in 2003-2004); Glory Days (0-1 in 2014) and Spiders (0-1 in 2014). The possibly new teams include Growlers, Team Random, The Chronicles (could that be the old Chronic/Skokie House/Cadillac Sam's team who we played from the 2002-2007 Thursday leagues?), Dark Knights (could that still be the same thespian-laden team from our 2001 & 2004-2005 Tuesday leagues?), and Smylie Brothers Swingers (could that be Tommy Nevin's/Swingers with a new captain?). Apparently missing in action from last year's Wednesday League are: The Goodfellas (3rd Place at 8-3 and won the League Playoffs); Unfinished Business (4th at 7-4); Swingers (5th at 7-4 and Playoff Runners-Up); Kekambas (6th at 7-4); and Cardinal IP (12th at 1-10). Note that some of these teams have likely been re-named/re-captained as one of the 5 new-to-us teams. We'll no doubt learn more about these teams as the season unfolds...stay tuned.
Rules: It would be a good idea for everyone to review the Evanston Rules which, along with the League Schedule, Roster and Financials, are posted on this website (follow the "Handout: 2015 Administrative..." link near the top of this page or navigate to the "2015 Administrative..." category after opening the "Handouts--Sheets" folder in the pane on the left side of this page). The most important rules from a player perspective include: unlimited arc; "floating" pitcher's mound; illegal bats (see the ASA website, a link to which is available on our website); limit of 2 courtesy runners; foul third strike is dead; no "fake" tags; the lightning policy; etc.
Rain:
Evanston's Rainout Hotline is 847-859-7822 x1199. Evanston also has a Rainout Status on their ERD softball page (http://www.cityofevanston.org/parks-recreation/recreation/softball-leagues/). And--this is a great convenience(!)--you can sign up to receive an automatic rainout notification text message and/or e-mail message if/when ERD issues an update--sign up for this on the above mentioned softball page (top right). Note that rainout information is not generally posted/updated until after 4:00 PM and may not be posted until right around game time, so never assume a game is canceled. These accounts and the Rainout Hotline numbers are listed on the bottom of the Team Calendar and the Team Roster and all are also available on our website Home Page (http://www.eteamz.com/MarkIISoftballTeam/). The bottom line on rainouts:

If the Hotline is not reporting that the games are postponed and you can't reach me and I have not sent out an e-mail and/or updated our website and/or my Twitter account is not reporting a rainout or postponement, always assume we are playing & show up!

(Every year we're amazed and surprised at least once or twice when we've played even though it looked like we wouldn't play right up until game time)!
Administrivia:
Money:
Based on the Mark II Lounge covering about one-half of our league fees and costs,
I will need $50 from each "regular" player this year
. I've already paid the $675 in fees, bought a new "Book" and renewed our website subscription, so my checking account would much appreciate your prompt attention to this matter! As always, regular attendance at the Mark II after our games would go a long way in reciprocating the generosity the Anton Family has shown toward our teams for 38 seasons!
Missing a game: If/when you know that you'll miss game(s) due to a vacation or schedule conflict, please make sure I record those dates on my calendar. The sooner I know, the easier it is for me to plan and get subs.
Rosters: Please see me to sign the official team rosters/waivers which I must turn into ERD by Game 6.
Handout:
2015 Boxscores