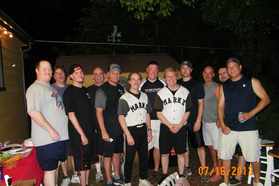 2013 Meat Night
Wecome to the Official Mark II Softball Team Website!
2013 Pete's Mark II (Thursdays)--Team and Groupies
Electronic home of the "Original" Mark II Softball Team--playing softball for the Mark II Lounge since 1978!

2014 "Marked" our 37th season of playing softball sponsored by the Mark II Lounge! In the summer we were registered to play in two leagues--one as a "new" team and the other as a "returning" team. As a new team, we returned to Evanston's Crown Park (where we last played in 2011) to play on Wednesdays (a day on which we last played in 2001). Unfortunately, neither the return to the park nor return to Wednesdays was successful as we finished the regular season 2-9 (11th place in the 12 team league) and lost our only playoff game. Meanwhile, we again played at Skokie's Laramie Park on Thursdays where our failures this year were record-setting (0-10 and failed to qualify for the playoffs)! Aaargh!
See the "Web Update" section below for more details about the summer leagues as well as the latest team news.
Please explore all the areas of our site by clicking on one of the links in the pane to the left. Note that the "Handouts-'Sheets'" folder leads to our 2014 stats, boxscores and administrivia (roster, rules, Team Calendar, etc) as well as all the historic stats from the 2013 "Stat Pack" and our final stat sheets, Updates, etc for each individual summer league season since 2000.
Note that the 2014 Stat Pack was distributed at our annual Thanksgiving-Eve Get Together...if you didn't get your copy, you will, when I see you next! In the meantime, most of the stats from the Stat Pack will be posted on this site soon...stay tuned.
For futher info, sign our "Guestbook" or send e-mail to: MarkIISoftball@aol.com

See you out there!
Lloyde Nelson
12-16-14
RAINOUT INFORMATION:
Evanston's Crown Park (Wednesdays): Call 847-859-7822 x1199 (after 4:00 PM) or check online at http://www.cityofevanston.org/parks-recreation/recreation/softball-leagues/ or sign up at this online site to receive automated text or e-mail notifications.
Skokie's Laramie Park (Thursdays): Call 847-674-1500 x2196 (after 4:00 PM) or check Twitter's "@SkokieFields" account .
Follow LN on Twitter:
For timely and important updates, player availabilities, scores, etc, please sign up to be a follower on my Twitter account "@LloydeNelson"
2013 Angie's Mark II (Tuesdays)--Team and Groupies
Handout:
2014 Administrative: Roster, Calendar, Financials, Rules etc
Tuesday, December 16
Mark II Current Web Update
Old News of Low Value...
We're off until spring, 2015...See you out there!
2014 Summer League Results:
Angie's Mark II Team in the Wednesday League at Crown...After a 2-9 Regular Season finish (11th Place in the 12 team league) we lost in the first round of the playoffs, 14-13 to #6 seeded Kekambas (7-4 & 1-1).
Wednesday League Results...
The 12 team Playoffs were played out on 7/23 & 7/30.
The Goodfellas won it all, playing/winning all 3 of their games on 7/30. After their bye in the first round, The Goodfellas first beat #6 Kekambas (the team that had eliminated us in the first round), scoring 4 runs in the bottom of the 7th inning for the walkoff stunner. The Goodfellas then completely steam-rolled an equally-stunned #2 seeded, The Slugs, 12-1, in the semi-final game as Goodfellas scored early and often including "bagging their limit" with 3 fence job homers (the last two, both solos, coming back-to-back late in the slaughter-shortened 6-inning game) while The Slugs just couldn't muster any offense the entire night. Meanwhile, the other semi-final pitted #1 seeded, Any Given Wednesday, against #5 Swingers who had beaten #4 Unfinished Business and then continued their upset streak beating AGW (score unknown). Swingers streak ended there, however, as the Championship Game was then won by The Goodfellas (score unknown).
Pete's Mark II Team in the Thursday League at Laramie...Given our 0-10 Regular Season finish (4th Place in our 4 team division with the 8-team league's worst record), we failed to qualify for the Laramie playoffs in which only teams with .500 or better records are invited to play.
Thursday League Results...There were two champions crowned at Laramie on 7/24 & 7/31. First, on 7/24, in the game between the two regular season division champions, Stone Ponies won the Divisional Championship Game over Savages (score unknown). Then, in games played on 7/24 & 7/31, the 6-team League Championship Playoffs were played out with Alkohaliks eventually prevailing over Stone Ponies in the Championship Game, by a score of 10-7. Other than knowing that Stone Ponies and Alkohaliks eventually prevailed, I don't know the results/scores of the other 4 games that led to that final game.
See you out there!
Handout:
2014 "Sheets" (Note: Preliminary Finals)