Manchester A's Baseball: Welcome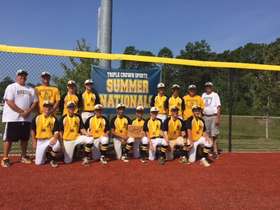 4th of 64 at Triple Crown Nationals
Manchester A's 2016
The Manchester A's are looking for dedicated athletes for their 2016 teams. We are looking for players who want to work hard, compete against the best, and improve as baseball players. We offer one of the finest youth baseball fields in Northeast Ohio; training from former professional and collegiate baseball players; winning tradition since 1979.
Location: Crown Field 760 W Nimisila Rd. Akron, OH 44319 teams 10U,11U,12U play here
For information regarding the 2016 14U A's contact Ben Hymes (330)907-7123
The A's organization would like to congratulate the 2015 13U A's on a 4th place finish at the Super 64 Nationals tournament in Myrtle Beach, South Carolina. You played with heart and we couldn't be more proud of you all!
Also, we would like to congratulate Benjamin "Benny" Hymes #12, on making the "All Impact Player Team" at the Triple Crown Sports Summer Nationals. Congrats Benny on this prestigious accomplishment.
If you have any questions regarding the A's organization, please contact Ian Dunn (330)608-4650; ian.dunn@jrayl.com