( 14U ) Manassas Generals: The Trophy Case
Generals Finish Second in the Halloween Bonanza!!
Manassas Generals - 2nd Place
The Manassas Generals played an outstanding weekend in Reading, PA for the East Coast Tournament Baseball's (ECTB) Halloween Bonanza (12U). The Generals worked their way through the weekend, manueuvering themselves into the third seed for the championship round, then beating the second seed, which set up a rematch for an earlier game on Saturday against the #1 seed.
The Generals played 6 innings of awesome baseball, as they played a very good team from Pennsylvania, the Central PA Capitals. For 6 innings, the two teams traded one run leads, as they fought to take the game. In the bottom of the 6th, the Generals had a one run lead and a chance to take the whole tournament. A very good Capitals team strung together several key hits, with two outs left, to take the win 7-6.
This was a great weekend for the Generals, and since this was a qualifier and the Generals finished second, they have earned a bid to the 2004 ECTB World Series next summer!
Great job to all the Generals!
Sunday, October 31
Generals Finish Second!!
In a truly team effort, the Manassas Generals finished second in the ECTB Turn Back the Clock Event in Salisbury, MD.

In a weekend that marked some incredible offense by the Generals, our success was dependent on some incredible fielding by everyone on the team. Ronnie at second base was flying around the field making some incredible plays. Dustin, Katelyn, and Aaron anchored an outfield that turned what should have been 7 extra base hits by our opponents into outs by cutting down the lead runners.

On the mound, Jonathan was absolutely superb. He threw almost 12 innings over the weekend, and was always in control. Shawn S. and Dustin also looked great on the mound.

Travis spent most of the weekend behind the plate, and received a game ball from the UMPIRES in the Championship Game!! We don't think we have ever seen him play better.

On offense, the Generals looked like an artillery battery with the Army (this was stated by a parent with a team from Delaware). There were 6 Generals repeatedly hitting balls over 250 feet all weekend. We had 51 hits in 5 games!! Everyone got into the action, with even our ten year olds scoring the winning run in the semi-finals (a shot to center by Sean G. to score Jordan). The scoring by the Generals was incredible, as you can see below...

Runs scored:
33 New York Gothams
32 Manassas Generals
20 South County Hawks
18 Delaware Outlaws
16 Delaware Redsox
7 New Jersey Sting

A great job by the entire team. When we needed an incredible play or a hit, somebody came through. Great job, Generals!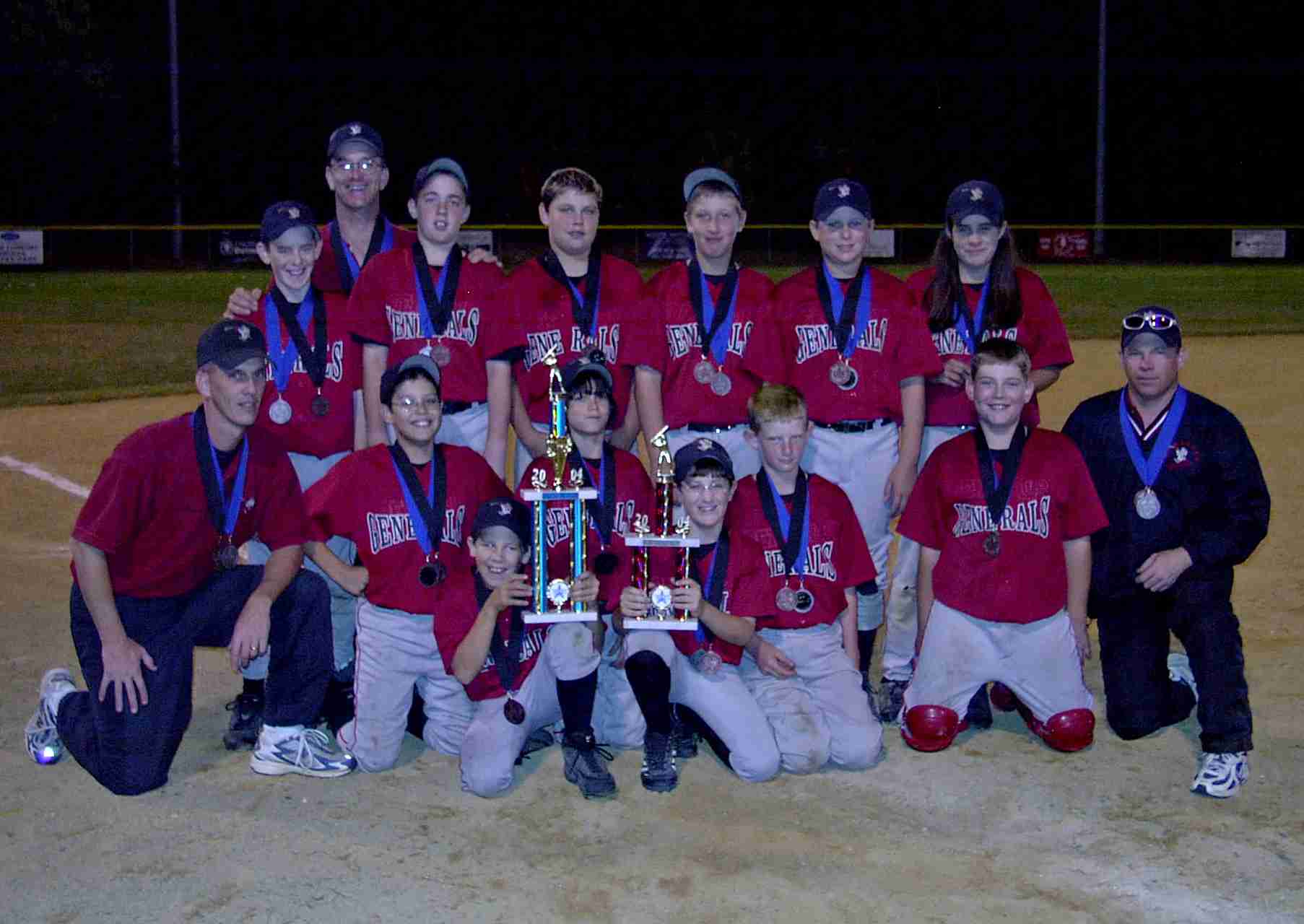 2nd Place