Malden Golden Tornadoes: Welcome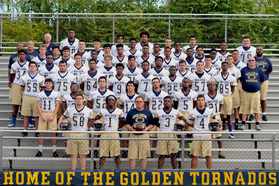 The 2015 undefeated GBL Champions!
Saturday, January 30
Newly Crowned Captain Matt Geer
2016-17 Captains are named. Josh Simon and Matt Geer are chosen to lead the Golden Tornadoes!
Malden scores the most points ever on Thanksgiving in a 59 to 36 victory. In addition, the Golden Tornadoes score 4 defensive touchdowns in the 1st half.........Martino and Ibanda return fumbles and Danley Exilhomme picks off 2 passes and returns them for scores. Christian Vital almost makes it a 5th defensive score when a sniper's rubber bullet takes him down!!!!!!! D.J. Exilhomme has 3 rushing TD's and James Knox pounds a 2 point conversion in from his tackle spot! The 2015 Golden Tornadoes are one of only 10 teams ever who defeats Somerville, Everett and Medford in the same season. Coach Pappagallo resigns his Head Coaching position at the conclusion of the recruiting season.
Eight (8) Golden Tornadoes are named GBL allstars. Sophomore Jared Martino, Junior Joshua Simon and seniors Mack Brunot, James Knox, Robert Collins, Lincoln Ibanda, Danley Exilhomme & Djorggenson Exilhomme. The brothers were also named Co-MVP's by the coaches of the GBL!
GBL CHAMPS FOR THE FIRST TIME SINCE 1987!!!!!!!!!!
Malden found a way!!!! After a 24 year drought, the Golden Tornadoes defeat rival Everett, 22 to 19. The defense leads the way with 2 magnificent goal line stands! T.J. Elie returns an interception 55 yards for a score and Jared Martino runs for a touchdown and throws another to Robert Collins. D.J. Exilhomme wins the Alberti award by making tackle after tackle and Josh Simon seals the deal with an interception at the 10 yard line as the Malden portion of 5 thousand fans in attendance storm the field!!!!
The Golden Tornadoes head to Peabody Friday night as the 5th seed in the division 1 state playoffs to take on the 4th seeded Tanners. Game time is 7 PM!
"WINNERS find a way"
THE SUMMER SCHEDULE IS NOW POSTED!
The game schedule for 2015-16 has been posted.....check it out!
Anthony Boulay, Josh Bessey and Jensen Ayuk will be playing their college football for defending MESCAC Champions, Framingahm State University!
Senior Captains Jarad Accardi and Isaac Bethea will be playing their college football at Bridgewater State University!
Skip Langston will be attending Monroe Community College!
Former Golden Tornado, Garvin Cius signs a full scholarship to play for Acadia University in Nova Scotia Canada. The 2011 GBL allstar played the past 2 years with Holland Junior college and was an all star corner back for the Hurricanes. He joins former teamate, Vernon Sainvil who will now be an opponent as he attends Saint Francis Xavier University which is also in the province of Nova Scotia. Congrats Garvin!!!!!!!!!!
CONRATS TO MALDEN GRADUATE WITCHEVALENCE EXILHOMME WHO RECEIVED A FOOTBALL SCHOLARSHIP TO AMERICAN INTERNATIONAL UNIVERSITY!!!!
Notre Dame by Joe P
Thursday, February 21
2012 - 2013 Football Banquet
Sunday, February 24
Former Golden Tornado Vernon Sainvil moves on to bigger and better things.......
Friday, November 23
MALDEN WINS GAME #125 32 TO 6.........GAME STORY BELOW
Check out the VIDEO game story by clicking the link above.....then scroll down to sports.....high school....then click on the "Malden high crushes Medford" video.