The Official website for the Macomb Illinois Little League: Welcome
Attention: Parents, Players, and Fans!!
Online Registration OPENS February 1st, 2017!
The most convenient way to register is to Click on the REGISTER NOW BUTTON BELOW
We will also be having In-Person Registrations at Hy-vee in Macomb on:
February 4th 9am-12pm
February 11th 9am-12pm
February 18th 9am-12pm
February 25th 9am-12pm
**If you are interested in becoming an Umpire, or know someone who might be, please email
Shanda Mainland smainland@macombinsurance.com
Macomb Little League provides boys and girls ages 5-14 who reside in Macomb School District the opportunity to learn and develop their baseball and interpersonal team skills through various programs. League age is determined by the child's age as of April 30, 2017. Watch for the flier coming home from school for more details!
DON'T FORGET TO FOLLOW US ON FACEBOOK!
THAT WILL BE THE BEST WAY FOR UP-TO-DATE INFORMATION!
Thank you and we look forward to seeing you on the field in April!
Thanks to all the Teams and Sponsors for making the 2016 Season a great success!
Special Thanks to:
WIU Head Coach Ryan Brownlee
WIU Assistant Coach Matt Igara,
Director of Operations Matt Risdon
LL Board Member Pat Osterman
LL Board President Jeff Mabrey
Reconstructing the Pitcher's Mound at Everly Park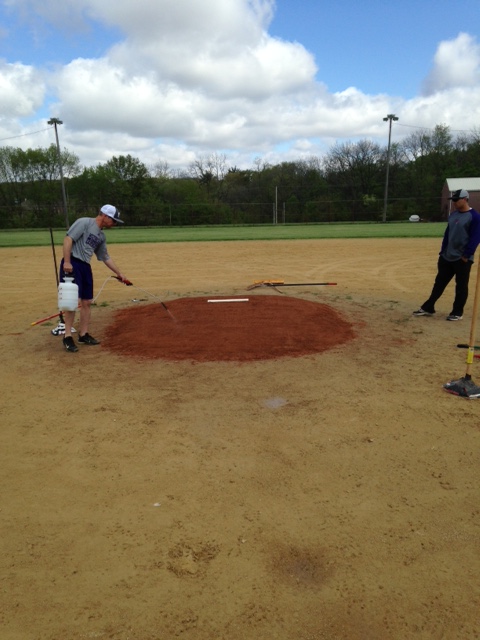 TEXTING: Just a reminder, please don't forget to sign up (SEE BELOW) on this website for the texting program. This is very helpful if a game is cancelled due to rain. We will send out a mass text. It is league specific, so please make sure you sign up for the league(s) in which your child(ren) play(s). You can sign up for more than one league. You have to sign up EACH YEAR.
BOARD MEMBERS: We are looking for new board members. You must be able to attend meetings which are usually in the evenings after 5pm and will last at least 1-2 hours. We have meetings once a month, sometimes we have them twice a month when getting ready for the season at the beginning of the year. We prefer to have someone who is interested in staying on the board for several years. You will be required to participate in Opening Day, Assessment Day, and will be assigned supervisor shifts during the season. Please respond to this email if you are interested. Please pass the word if you know someone that might be interested.
Check the Calendar Below For Official Dates and Times And Be Sure To Like and Share Us On Facebook!
---
All volunteers must complete the application regardless of past years service.
---
---
2016 Macomb Little League Text Alerts
To receive "Text Alerts" for the upcoming season regarding rain outs or schedule changes please click the
SMS
icon
.
All prior cell phones numbers will no longer be used.
Text are LEAGUE SPECIFIC if you have a child in more than one league please sign up for all leagues that apply.
---
Any Thoughts or Suggestions?
If you have any thoughts or suggestions that you feel may help the Macomb Little League Board improve the league please
contact Us
please include your name and the league(s) your child (children) played in this year.
---
Here is a list of 5 Parent Tips on how you can best support your child, coach, and the League during the upcoming season.
---
Macomb Little League Calendar
---
Macomb Little League Locations.
Coach Pitch - Patton Park *** Pee Wee - Patton Park Lower Diamond *** Minor League - Patton Park Upper Diamonds *** Junior League - Everly park ***
For Field conditions that apply to Rain Outs:
Go to the Park District
WEB SITE
or call the Macomb Park District after 3pm 837-park/ 309-837-7275 or tune in to K100, WJEQ, or WIUM. The Park District will dictate if the Fields are in Playable condition as of 3pm. After 2pm the decision is up to the MLL Board or it's president. Field drainage and/or rainfall may affect the ability to play games as scheduled.
---
Want to be a Sponsor of the Macomb Little league?
Contact the Macomb Little League:
P.O. Box 381 Macomb, IL 61455
---