Miami Youth Baseball Association: Welcome
Monday, September 3
2018 FALL SEASON
USSSA - MYBA 2018 FALL Classic
Schedules - USSSA - MYBA 2018 FALL Classic
Schedules for all Divisions (Except the 6U Coach Pitch) Are NOW POSTED on the USSSA web-site The Pitching records will also be on the USSSA site.
USE THE USSSA Tournament LINK BELOW TO CHECK YOUR AGE GROUPS SCHEDULE...
http://www.usssa.com/baseball/event_gameCenter/?eventID=310787
The 6U Coach Pitch is scheduled on the MYBA Tournament site www.MYBATournaments.com - Click on "Schedules" on left menue to view.
-----------------------------------------------------------------------------------------------------------
MYBA 2018 FAL SEASON
COACHES BACKGROUNDS AND ID'S
NOTICE: All Coaches MUST Complete their On-line Background Applications (Use the LINK in the Article below) - Then submit Passport style photos (No caps or glasses) via email to MYBA2006@Aol.Com - Make sure you provide your name and team name when submitting your pictures.
This is your responsibility - we will not be chasing you down - The DEADLINE is Tuesday, September 25th - After this date no one without an ID Badge and completed/approved Background will be allowed in the dugouts or on fields.
SCHEDULES
Schedules are now Posted through September 18th - (USSSA Fall Classic Tournament -Sept 19-23) - Schedules for Sept 24th forward will be posted later this week.
Coaches: Please complete your ROSTER FORM and email it to MYBA2006@Aol.Com
Additional Information: Alex Delgado 305) 710-3405 E-Mail MYBA2006@Aol.Com
Centerfield (Let's Go!)
Tuesday, June 12
Miami Youth Baseball Association - Background Check and ID Card Policy and Procedures
The MYBA requires mandatory
Criminal Background Screening and Compulsory Use of ID Cards
for all managers, coaches, instructors, umpires, staff, and volunteers.
Effective IMMEDIATELY - NO ONE will be allowed in the Batting Cages, Dugouts, or Playing Fields without their ID CARDS hung on the outside of their shirts/tops.
PROCEDURES
BACKGROUNDS CHECKS All candidates for the above mentioned positions must sign a Release Form for Criminal History and National Sex Offender Registry Search which gives the MYBA the right to check criminal history, national sex offender registry search, verify social security number, and address history search. This work is executed directly, through Protect Youth Sports, and the secure URL at which all candidates can execute their MYBA Background Check request.
Note: Coaches that have an Approved Background that was submitted during the 2018 Spring Season You DO NOT need to have a new Backgruond for the 2018 Fall Season.
the URL to request and authorize YOUR background Check is: https://opportunities.averity.com/MiamiYBA
No other personal information (e.g. work history, financial, credit, etc.) is checked or researched. The company executing the Background Checks has agreed to such terms contractually, and confirms such annually.
The company never forwards and individual's information to the league where no issues are discovered. In the event that negative information surfaces, the MYBA Screening Committee will review the information to determine the individuals eligibility to participate in the candidates applied for capacity with MYBA.
All information is strictly confidential and will not be made public under any circumstances.
COMPULSORY USE OF ID CARDS Photo for MYBA Coaches ID: Upon completion of your Background Application - Coaches MUST provide a "Passport Style" photo (No caps or sunglasses) - This would be a shoulder level head shot picture. The photo can be taken utilizing a cell phone and emailing the photo to MYBA2006@Aol.Com - Please ensure that the Team Name and Coaches Name is on the email.
All managers, coaches, instructors, umpires, staff, and volunteers MUST Wear their ID Cards while at the Parks, in the batting cages, dugouts, and playing fields.
ID CARDS will not be issued without the completion of an approved Background Check
NO ONE will be allowed in the Batting Cages, Dugouts, or Playing Fields without their ID CARDS hung on the outside of their shirts/tops.
Lost of misplaced ID CARDS will be replaced at a Cost of $15
If a team does not have an eleigible/approved coach for a scheduled game, the game will be FORFEITED!
Saturday, September 1
2018 MYBA - USSSA FALL Classic
USSSA - MYBA FALL CLASSIC
September 19-23, 2018
Click on Schedule Link below
-----------------------------------------------------------------------------------------------------------------
Sanctioned as a USSSA Qualifier Event!
6U/7U/8U Coach Pitch $300 (Plus Pay at the Plate Umpires)
OPEN & AAA Divisions
8U/9U/10U/11U/12U $325 (Plus Pay at the Plate Umpires)
13U/14U/ $340 (Plus Pay at the Plate Umpires)
UMPIRES FEES:
6U/7U/8U Coach Pitch $25 Each -
8U Kid Pitch through 12U $35 Each
13U & 14U $40 Each
Included in Team Fee
* Champion Rings (Each Player)
* Runner-Up Rings (Each Player)
* Division MVP
* Game Baseballs
Who's Coming? Updated Sept 10th
6U Coach Pitch- Miami Bison, Futures, Latinoamericana
8U Coach Pitch - Phenoms, Sharks, Blue Print, Miami Piartes, Miramar Canes Elite, Latinoamerocana, Little Ballers
9U - Hollywood Heat, Pl Bulldogs, Miami Lions, Scorpion Dynasty, Latinoamericana
10U- CA Sharks, Canes United, Elite Squad Miramar, Elite Squad Prime, Kachi White Sox, MIami Cubs, Miami Madball, MIami TIgers
11U- Chibas Cubs, Florida Elite, Industriales, King SLuggers, Knight BB, Miami Madball, Miami Outlaws, Phenoms Prime, Miai SCorpions, Phenoms (Recio), Rawlings Stealth, WPPO Cobras, Latinoamericana, SF Contenders
12U- Blue Jays, Bulldogs, Gardens Gators, Florida DEvils, Palmetto Aces, I AM Baseball, Industriales, Kachi Ninjas, MIami PRospects, Metropolis Red Capes, MIami Ballers, Miami Phenoms, Miami Rebels, Outlawss, PLO Bulldogs, SF Ballhogz, Tamiami Marlins, Team Florida 2025
13U- King Squad, Miami National, Team Clutch, Team Kaos, Phantoms
14U- All Stars, Banditos Black 2023, Capitolio Cubs, Kendall Hammocks, Team 305, WTB Prime 14U, Clemente
AGE-CUT OFF: May 1st, 2019 Next Years Cut-off (Players age as of April 30th, 2019 is the players tournament age)

Limited to 8 Teams per age division
Three (3) Game Guarantee (Weather Permitting)
AGE-CUT OFF: May 1st, 2019

TO REGISTER FOLLOW THESE THREE (3) EASY STEPS: .

FIRST - Read our rules, format and register for the tournament.
SECOND - Complete your Roster with USSSA.Com
Once you pay the annual team fee and fill in the information you will then be sent your Team ID and Password to use to log in and complete your Team Roster with USSSA.Com
E-mail the Tournament Director at MYBA2006@Aol.Com and advise that the on-lineTeam Roster process has been completed.
LASTLY - Prepare your Team Book with 2018 MYBA USSSA Back to School Classic Tournament Roster and copy of Birth Certificates (Team book will be returned after last game).
TOURNAMENT REGISTRATION LINK
Contact Alex Delgado 305) 710-3405
e-mail MYBA2006@AOL.Com
Handout:
2018 USSSA Baseball Qualifier
Monday, August 13
2018 MYBA Fall - On-line Player Registration (Click here for link)
2018 MYBA Fall Season-Individual Player On-Line Registration
Begin the process - Click on any of the links - the left menu (Online Player Registration) - or Click on the title above

This Registration includes all the required documents for the 2018 MYBA Fall Season
IMPORTANT !!!!!!! Upon finishing the online registration, the parent MUST click on "View and Print Waivers" Tab that appears in BLUE on the Confirmation page - PRINT the form and turn it in to your team manager/coach.
Managers/Coaches MUST submit these to the league with your Team Roster.

Any parent or coach falsifying a child's age will cause the team to be eliminated from the league and the child will be banned from ALL MYBA LEAGUES & TOURNAMENTS.
These registrations must be completed by your first game.
Saturday, September 1
MYBA Playing Rules and Regulations (Revised September 1, 2018)
The Official Playing Rules and Regulations for the MIAMI YOUTH BASEBALL ASSOCIATION
To view and upload the MYBA Rules and Regulations "Click" on the HANDOUT below.
Handout:
MIAMI YOUTH BASEBALL ASSOCIATION: Rules & Regulations
Saturday, September 1
MYBA OFFICIAL Team Roster, Player Registration, Coaches Registration and Player Add-Drop Forms
MYBA LEAGUE FORMS, RULES & REGULATIONS, PLAYERS & COACHES FORMS, AND OTHER DOCUMENTS:
ALL FORMS AND DOCUMENTS MAY BE VIEWED AND DOWNLOADED FROM THE WEB-SITE.
Click on "League Documents" on the left menu and the select and clik on the desired Handout or click on the "Handout" at the bottom of each section for the desirted forms..
MYBA Official Team Roster - Player Registration and Add/Drop Form:

The MYBA Official Team Roster Form MUST be completed with all information for each player (Player's Full Name, Date of Birth, Address, Parental/Guardian Authorization Siganature, and School Attended). Additionally, copies of each player's BIRTH CERTIFICATE & PARENTAL PARTICIPATION AUTHORIZATION FORM MUST be attached to the Roster Form.

The COMPLETE package MUST be turned in to the LEAGUE COMMISSIONER prior to the teams first scheduled game.

Players may not be added to the Roster after October 8th, 2018 . The MYBA Player Add/Drop Form w/ copies of Birth Certificates and Parental Participation Authorization Form for each player added MUST be submitted prior to the player elegibility approval.

NOTE: Once a player plays in one league game with a team/organization, he may not quit and play with another team/organization in the same age group.
Handout:
MYBA Team Roster -Player Registration -Player Add/Drop Forms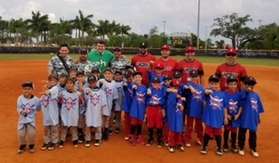 6U Line Drive vs Powerhouse
Sunday, May 27
2018 Spring 6U Championship
Line Drive defeated Powerhouse 7-6 by scoring three runs in the last inning to earn their back to back MYBA League Championship.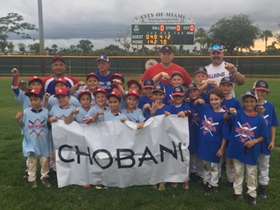 8U AAA Bulldogs vs Latino White
Sunday, May 27
2018 Spring 8U AAA Championship
The Bulldogs defeated Latino White 14-11 in taking the 8U AAA Crown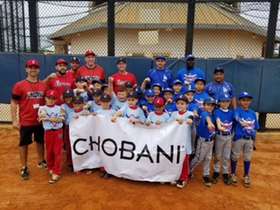 8U Majors Latino Blue vs Line Drive 7U
Sunday, May 27
2018 Spring 8U Majors Championships
The Latino Blue squad took the League Championship by defeating Line Drive 7U in two straight in the Best-of-Three Finals - by scores of 10-0 and 6-1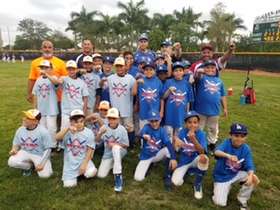 9U AAA Latino Blue vs Miami Stars
Sunday, May 27
2018 Spring 9U AAA Championship
Latino 9U beats Miami Stars 14-6 and wins the 9U AAA Spring Championship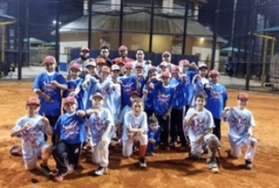 9U Majors Outlaws vs Miami Tigers
Sunday, May 27
2018 Spring 9U Majors Championship
The Outlaws win two in a row of the Best-of-Thrre Finals against Miami Tigers and takes the Crown of the MYBA Spring League - Scores 10-0 and 3-1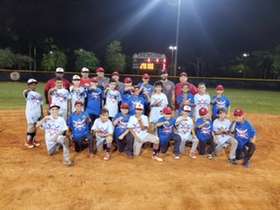 9-10 AAA Miami Warriors vs Team Miami Minors
Sunday, May 27
2018 Spring 9-10 AAAA Championship
Miami Warriors edge out Team Miami Minors 6-5 in a nail biter Finals.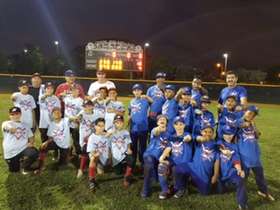 10U AAA Chibas Cubs vs Havana
Sunday, May 27
2018 Spring 10U AAA Championship
Chibas Cubs wins its first League Championship by beating Havana 10-4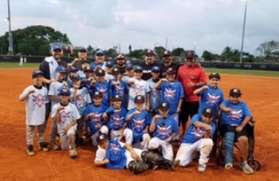 10U Majors Elite Squad vs SF Contenders
Sunday, May 27
2018 Spring 10U Majors Championships
The Elite Squad continued its dominance of the 10U Division in taking the league championship title by defeating SF Contenders 10-1 and 7-1 in two straight games in the Best-of-Three Finals.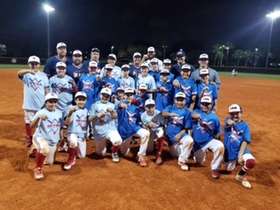 11U Majors I AM Baseball vs Metropolis Red Capes
Sunday, May 27
2018 Spring 11U Majors Championships
One of the best Championship Finals ever - I AM Baseball edges out Metropolis Red Capes 2 games to 1 in the Best-of-Three Finals: All games were decided by one run - with game 1 going extra innings. Game 1 I AM Baseball edged Metropolis Red Capes 7-6 Game 2 - Metropolis Red Capes defeated I AM Baseball 6-5 and in Game 3 I AM Baseball scored the winning run in the bottom of the 6th with 2 Outs to win the Championship 11-10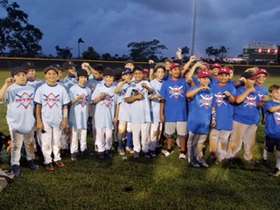 11U AAA Kachi Ninjas vs Blue Devils
Sunday, May 27
2018 Spring 11U AAA Championship
Kachi Ninjas outlasts the Blue Devils 9-7 in the 11U AAA Finals
11-12 AAA Mater Lakes Bears
Sunday, May 27
2018 Spring 11-12 AAAA Championship
The Mater Lakes Bears defeats Phantoms in another close finals 6-5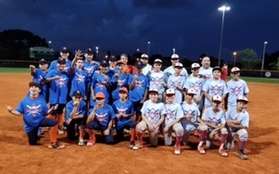 12U Majors Miami Titans vs Team Miami
Sunday, May 27
2018 Spring 12U Majors Championships
Another Best-of -Three finals that was decided in the rubber match game 3 - Miami Titans defeated Team Miami by taking Game 1 4-1 and Game 3 14-5 Team Miami won Game 2 10-6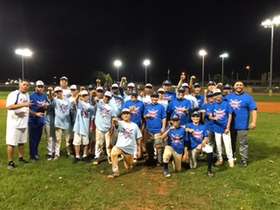 13U AAA Doral Thunder vs Impact Baseball
Sunday, May 27
2018 Spring 13U AAA Championship
Doral Thunder wins the 13U AAA Championship beating Impact Baseball 10-7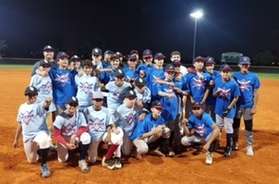 13U Majors All Stars vs Top Gun
Sunday, May 27
2018 Spring 13U Majors Championships
The All Stars continued its dominance in the MYBA by capturing its fourth straight League Championship - However, it took a Game 3 to decide the Champions. Top Gun showed it could stand up to the All Stars squad by taking Game 14-8 The All Stars game back without outstanding pitching in Game 2 to win 4-1 The All Stars prevailed in the final Game 3 14-8
Sunday, February 25
The Miami Youth Baseball Association would like to thank DICK'S SPORTING GOODS for their continued support to the youth of our community.
Thursday, February 1
2018 MYBA Spring Season - Opening Ceremonies
The 2018 MYBA Spring Season kicked off today with Opening Ceremonies
The 2018 MYBA Spring Season got off to great start with some exciting baseball. This season the MYBA will play host to a USSSA Super NIT March 1-4, 2018. Once again the league is affiliated with USSSA Baseball.
Click below icon for Video
Opening Ceremonies
Wednesday, August 1
MYBA Parks and Locations with Directions
MYBA Participating Parks and Locations with Directions

For locations, address and directions to all playing facilities click on "Locations" on the menu at left. Scroll and select the park/field of choice. From here you can link to YAHOO.MAPIT by clicking on the "Compass Icon" next to the park address.
Saturday, February 5
MYBA Baseball Commissioner Alex Delgado and his beautiful family with City of Miami Mayor Tomas Regalado.

Miami Mayor Tomas Regalado and Commissioner Willy Gort throwing FIRST PITCH
Saturday, February 5

Mayor Regalado, Commissioner Gort with Alex Delgado & Ulpiano Puente of the MYBA
Opening Day for the Miami Youth Baseball Association
Opening Day was a success with a total of 28 games played. The MYBA had the honor of the City of Miami Mayor - Tomas Regalado, and City Commission Chairman Willy Gort throwing out the First Pitch. This season we have 81 teams and over 1,100 kids playing Americas' past-time.
We would like to thank all the parents for their dedication, and a special thanks to the Mayor and City of Miami Commission for their continued support of our programs. It takes a true team effort in order to put together the best program possible for our kids.
May the best teams win!
Saturday, April 14
Official Major League Baseball Rules - ( Web link click Here )
Official Major League Rules
.
You can also link to Official Web-sites of Major League Teams and other baseball general information.
Monday, August 20
The NEW Grapeland Park Sports Complex is INAUGURATED
City of Miami Commissioner Angel Gonzalez throws out the first pitch to Inaugurate the NEW Grapeland Park Sports Complex on Saturday, August 18th, 2007 We want to thank Commissioner Gonzalez for giving the youth of our community first class recreational facilities such as those now at Grapeland Park.
At left is Commissioner Gonzalez throwing out the first pitch.
Pictured below is Commissioner Gonzalez with some of the players representing the numerous teams the will be participating in the 2007 Fall MYBA Season
Wednesday, May 4
Miami Dade Commissioner Carlos Gimenez - Throws Out the First Pitch

Miami-Dade Commissioner Carlos Gimenez throwing the first pitch
Miami-Dade County Commissioner and former City Manager of the City of Miami, CARLOS GIMENEZ, threw out the first pitch this past Saturday, April 30th at the Grapeland Park Sports Complex. Commissioner Gimenez was instrumental as City Manager of the City of Miami in getting the bonds on the ballot, and approved by our residents, in order for us to be able to today enjoy the great recreation and sports complex at Grapeland Park. The complex includes the Water Park, Golf Course Clubhouse, Baseball Complex, and Community Center.
In addition to being a strong supporter of the Miami Youth Baseball Association, Carlos has always been an advocate of recreation and sports, and the role they play in the development of our future leaders (our youth).
The MYBA wishes Commissioner Gimenez the best in the upcoming Miami-Dade County Mayoral election on Tuesday, May 24th.

Commissioner Gimenez enjoying himself at the MYBA ball park