Miami Youth Baseball Association: Welcome
Tuesday, June 7
2016 MYBA FALL SEASON
2016 FALL SEASON
2016 FALL SEASON Starts Tuesday, September 6th, 2016
Secure your slot now with a $350 team deposit!
Centerfield (Let's Go!)
Tuesday, June 7
2016 MYBA FALL League
MYBA FALL 2016 Season starts Tuesday, September 6th, 2016
Returning for FALL 2016- Brothers to the Rescue Park-Flagami (2420 SW 72 Ave.) is now available as a League Venue and Home Field for teams registered through this facility. You will play half your scheduled regular season games here.
Call Alex Delgado at 305) 710-3405 for additional information, and to secure your place with a deposit of $350.
MANDATORY COACHES MEETING: Tuesday, August 9th at 7 PM, in the GRAPELAND PARK COMMUNITY CENTER (1550 NW 37 Ave, Miami, Fl. 33125)
Full Payment of League Fees are due prior to August 16th, 2016.
DOCUMENTS REQUIRED: Initial Rosters with Parental Authorization Release Forms and copies of Birth Documentation, along with Team Playing Calendar are due Tuesday, August 9th at the manadatory coaches meeting.
League Fees: Note: To Register at Brothers to the Rescue (Flagami Park) as your HOME FIELD Contact Alex Delgado at 305) 710-3405 for details.
6U 7U & 8U Coach Pitch $1,295
8U Kid Pitch /9U/10U/11U/12 $1,495
13U/14U $1,595
May 1, 2017 Age Cut-Off (Next Years Age Cut-off)

Be Part of the MYBA! The best facilities and most organized league in South Florida! Where the Stars of tomorrow play today!
Who's Playing: To view who is playing click on the "Teams" on left menu - Please note that Divisions with more than 10 teams will be split into AAA & Majors for Play-offs (unless the age division is already divided into a AAA & Majors).
6U--- LA Blue, LA White,
8U Coach Pitch--- LA Blue, LA White,
8U Kid Pitch --- Latino Blue
9U--- LA Blue
10U-- LA Blue
9/10 AAA --- Latino White
11U-- LA Blue,
12U-- LA Blue
11/12 AAA --- Latino White,
13U-- LA Blue,
14U-- (60/90)--
14U-- (54/80) --LA Blue,
What you need to register!
A Check for Registration League Fee in the amount of $1,295 for 6U, 7U & 8U Coach Pitch, $1,495 for 8U Kids Pitch/9U/10U/11U/12U - $1,595 for 13U/14U
Teams playing in the MYBA receive a $50 discount on the
2016 MYBA Thanksgiving CLASSIC tournament fee.

NOTE (The league will schedule all games)
A Roster and TEAM Photo of Players.
No Additions to Roster after October 10th, 2016.
Birth Certificates. They will be checked and kept in league file
League Rules. Download from the this web-site.
Exact Address of your Home Park. Name of Park with Directions.
Ideas on how we can improve the league (If you played last year).
Dates and Days YOU CAN / CAN NOT PLAY.
Please download the Team Calendar and Registration Form & Flyer from the "Handout" below for this purpose. Please note dates & time of Home field availability.

DOWNLOAD Registration Form, Roster Form, and Rules from this site.

Click on Handout below to download REGISTRATION FORM & FALL 2016 CALENDAR
If you have any questions, please call Alex Delgado at 305) 710-3405
Friday, June 24
MYBA OFFICIAL Team Roster, Player Registration,Coaches Registration and Player Add/Drop Forms
MYBA LEAGUE FORMS, RULES & REGULATIONS, PLAYERS & COACHES FORMS, AND OTHER DOCUMENTS:
ALL FORMS AND DOCUMENTS MAY BE VIEWED AND DOWNLOADED FROM THE WEB-SITE.
Click on "League Documents" on the left menu and the select and clik on the desired Handout or click on the "Handout" at the bottom of each section for the desirted forms..
MYBA Official Team Roster - Player Registration and Add/Drop Form:

The MYBA Official Team Roster Form MUST be completed with all information for each player (Player's Full Name, Date of Birth, Address, Parental/Guardian Authorization Siganature, and School Attended). Additionally, copies of each player's BIRTH CERTIFICATE & PARENTAL PARTICIPATION AUTHORIZATION FORM MUST be attached to the Roster Form.

The COMPLETE package MUST be turned in to the LEAGUE COMMISSIONER prior to the teams first scheduled game.

Players may be added to the Roster prior the Team's 4th scheduled league game in the MAJORS Division and prior to the Team's 10th scheduled league game in the AAA Division. The MYBA Player Add/Drop Form w/ copies of Birth Certificates and Parental Participation Authorization Form for each player added MUST be submitted prior to the player elegibility approval.

NOTE: Once a player plays in one league game with a team/organization, he may not quit and play with another team/organization in the same age group.
Handout:
MYBA Team Roster Player Registration Player Add/Drop Forms
Tuesday, June 7
MIAMI YOUTH BASEBALL ASSOCIATION: Playing Rules
The Official Playing Rules of
THE MIAMI YOUTH BASEBALL ASSOCIATION.
If you are a registered team, and have some rule suggestions, please e-mail use your recommmendations to
MYBA2006@AOL.COM
Handout:
MIAMI YOUTH BASEBALL ASSOCIATION: Rules & Regulations
Friday, June 24
MYBA FALL Team Calendar and Registration Form
MYBA FALL TEAM CALENDAR & REGISTATION FORM:
Each TEAM MUST complete the FALL CALENDAR and TEAM REGISTRATION FORM. The Forms along with payment of League Fees MUST submitted Prior to August 9th, 2016.
Teams may block off up to a maximum of Ten (10) CAN NOT PLAY dates, with a maximum of Three (3) Saturdays blocked off. No dates may be blocked off for the Play-Off period of Novemeber 21 through December 18th, 2016. Regular Season games Will be scheduled two (2) Sundays a month. However, other Sundays Will be reserved for Rain Make-Up Dates. NO GAMES will be rescheduled (Only Rainouts). If a Team can not play as scheduled the game will be a FORFEIT.
Handout:
2016 MYBA FALL League Registration Form & Calendar
Friday, June 24
MYBA Coaches Registration and Background Authorization Forms
Official MYBA Coaches Registration and Coaches Backgound Authorization Forms.
Handout:
Coaches Background Authorization & Registration Forms:
Saturday, February 5
MYBA Baseball Commissioner Alex Delgado and his beautiful family with City of Miami Mayor Tomas Regalado.
Wednesday, August 1
MYBA Parks and Locations with Directions
MYBA Participating Parks and Locations with Directions

For locations, address and directions to all playing facilities click on "Locations" on the menu at left. Scroll and select the park/field of choice. From here you can link to YAHOO.MAPIT by clicking on the "Compass Icon" next to the park address.
Thursday, December 10
8U Majors Championship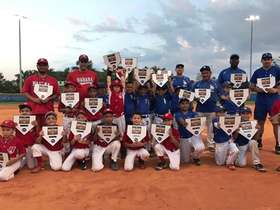 SF Contenders and Powerhouse
8U Coach Pitch Majors CHAMPIONSHIP
SF Contenders 13 Powerhouse 9

Miami Mayor Tomas Regalado and Commissioner Willy Gort throwing FIRST PITCH
Saturday, February 5

Mayor Regalado, Commissioner Gort with Alex Delgado & Ulpiano Puente of the MYBA
Opening Day for the Miami Youth Baseball Association
Opening Day was a success with a total of 28 games played. The MYBA had the honor of the City of Miami Mayor - Tomas Regalado, and City Commission Chairman Willy Gort throwing out the First Pitch. This season we have 81 teams and over 1,100 kids playing Americas' past-time.
We would like to thank all the parents for their dedication, and a special thanks to the Mayor and City of Miami Commission for their continued support of our programs. It takes a true team effort in order to put together the best program possible for our kids.
May the best teams win!
Saturday, April 14
Official Major League Baseball Rules - ( Web link click Here )
Official Major League Rules
.
You can also link to Official Web-sites of Major League Teams and other baseball general information.
Monday, August 20
The NEW Grapeland Park Sports Complex is INAUGURATED
City of Miami Commissioner Angel Gonzalez throws out the first pitch to Inaugurate the NEW Grapeland Park Sports Complex on Saturday, August 18th, 2007 We want to thank Commissioner Gonzalez for giving the youth of our community first class recreational facilities such as those now at Grapeland Park.
At left is Commissioner Gonzalez throwing out the first pitch.
Pictured below is Commissioner Gonzalez with some of the players representing the numerous teams the will be participating in the 2007 Fall MYBA Season
Wednesday, May 4
Miami Dade Commissioner Carlos Gimenez - Throws Out the First Pitch

Miami-Dade Commissioner Carlos Gimenez throwing the first pitch
Miami-Dade County Commissioner and former City Manager of the City of Miami, CARLOS GIMENEZ, threw out the first pitch this past Saturday, April 30th at the Grapeland Park Sports Complex. Commissioner Gimenez was instrumental as City Manager of the City of Miami in getting the bonds on the ballot, and approved by our residents, in order for us to be able to today enjoy the great recreation and sports complex at Grapeland Park. The complex includes the Water Park, Golf Course Clubhouse, Baseball Complex, and Community Center.
In addition to being a strong supporter of the Miami Youth Baseball Association, Carlos has always been an advocate of recreation and sports, and the role they play in the development of our future leaders (our youth).
The MYBA wishes Commissioner Gimenez the best in the upcoming Miami-Dade County Mayoral election on Tuesday, May 24th.

Commissioner Gimenez enjoying himself at the MYBA ball park