Mt. Juliet Youth Football and Cheerleading: Welcome
Welcome to the official web site of the Mt. Juliet Youth Football & Cheerleading Bears. This site was created to give as much information as possible to everyone involved in our program.
Our organization is for children between 5 and 14 years of age. We offer cheerleading (ages 5-14) and competitive tackle football (ages 5-12). MJYFC is a non-profit organization that is managed completely by VOLUNTEERS. We are part of the Tennessee Youth Football League, otherwise known as TNYFL.
Our home field is located at The Mundy Memorial Park in Mt. Juliet, Tennessee. Games are played at Mundy Park and 21 other facilities around the middle Tennessee area.
Fall 2015 Registration Information
Football practice begins July 20th at 6:30pm. Cheerleading practice begins July 27th @ 6:30pm
· All practices are held at Mundy Memorial Park.
· Registration is an online process which all participants must complete.
· Participants must attend one of the uniform fitting dates shown below.
· A birth certificate is required to participate. Please present during uniform fitting.
(certificate must be a state certified copy, not a hospital or mothers copy)
Click on "Register Now" to go directly to our online registration site.
Uniform & equipment fitting will be held at Dick's Sporting Good's in Mt. Juliet on the following dates:
July 10th 5:00pm to 9:00pm
July 11th 10:00am to 2:00pm
July 18th 10:00am to 2:00pm
No appointment is required. Child must be present for fitting.
Registration Fees:
Cheerleading: $210.00 (new participants) $120.00 + needed uniform items (returning participants)
Football: $155.00 (all participants)
More information about practices, age groups & additional equipment needed can be found under the Cheerleading and Football sections of this web site.
Congratulations to our Battle in Rocky Top Champions!!!
Two teams from Mount Juliet traveled to east Tennessee to participate in the Battle in Rocky Top. Both of those teams brought home the championship in their divisions! Congratulations BBB and CC!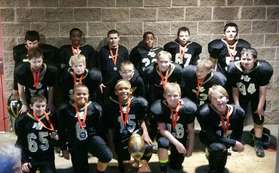 Battle in Rocky Top BBB Team
Battle in Rocky Top CC Team
2014 TYFA Championships
MJYFC would like to congratulate all of our teams on a great season! We would also like to congratulate the following TYFA Championship Competitors.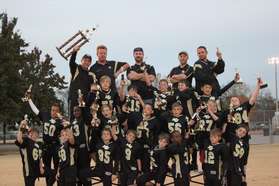 AA Black - TYFA Champions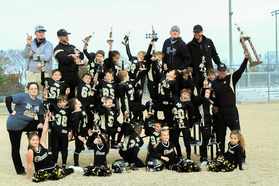 CC - TYFA Champions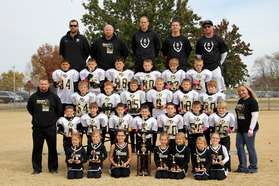 C White - Division Champions
We are excited about the move our program made in the summer of 2013 to Mundy Memorial Park. This move as allowed us space to grow and allowed for more community use of Charlie Daniels Park. We no longer have to worry about being able to play ball whenever we need to. Your Board of Directors continues to work hard to make this move a huge success. We greatly appreciate your support and patience as we all continue to adjust and make improvements at the park.
Board of Directors meetings are held on the first Wednesday of each month @ 6:30pm. The meetings are held in the office above the concession stand at Mundy Memorial Park. You do not have to be a board member to attend. Please become involved and help make The Home of the Bears better, stronger and A GREAT place for our children to be !!!!! Meetings are open to all registered in our program.