Mt. Juliet Youth Football and Cheerleading: Welcome
Welcome to the official web site of the Mt. Juliet Youth Football & Cheerleading Bears. This site was created to give as much information as possible to everyone involved in our program.
Our organization is for children between 5 and 14 years of age. We offer cheerleading (ages 5-14) and competitive tackle football (ages 5-12). MJYFC is a non-profit organization that is managed completely by VOLUNTEERS. We are part of the Tennessee Youth Football League, otherwise known as TNYFL.
Our home field is located at The Mundy Memorial Park in Mt. Juliet, Tennessee. Games are played at Mundy Park and 21 other facilities around the middle Tennessee area.
Flag Football Coming Soon!!!
We have exciting things happening during the off-season!! MJYFC is in the final stages of planning a Spring Flag Football League. Details including signups will be available by mid-December so watch Facebook, Twitter, this website and your email. This will be a co-ed league, ages 5 through seniors in high school.
Pee Wee Competition Squad
Congratulations to our Pee Wee Competition Squad on their 1st place finish in PW Rec Division and our Junior Competition Squad on their 3rd place finishin the Junior Rec Division at competition. GREAT JOB Girls!!!!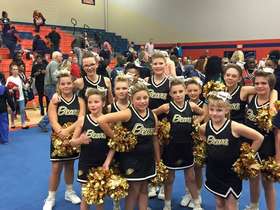 Junior Competition Squad
Board of Directors meetings are held on the first Wednesday of each month @ 6:30pm. The meetings are held in the office above the concession stand at Mundy Memorial Park. You do not have to be a board member to attend. Please become involved and help make The Home of the Bears better, stronger and A GREAT place for our children to be !!!!! Meetings are open to all registered in our program.
We are excited about the move our program made in the summer of 2013 to Mundy Memorial Park. This move as allowed us space to grow and allowed for more community use of Charlie Daniels Park. We no longer have to worry about being able to play ball whenever we need to. Your Board of Directors continues to work hard to make this move a huge success. We greatly appreciate your support and patience as we all continue to adjust and make improvements at the park.