Meadville Menace: Welcome
12U is still looking for a few players. In need of more pitchers.
16U is still in need of a pitcher.
We are still looking for a few more 10U players.
Like us on Facebook


The Meadville Menace is looking for a few good sponsors!
A Meadville Menace Team Sponsorship is only $100 in exchange the sponsor will get their logo displayed on our website and on a banner that the team will display at every game we play. The tournaments we will be playing in this year typically attract thousands of people who will all know the sponsor supports girls fastpitch softball. These contributions help cover tournament entry fees, uniform costs, umpire fees, and team equipment. For more information please download the sponsorship letter and form from our handouts page.
Heart is the difference between those that attempt and those that achieve.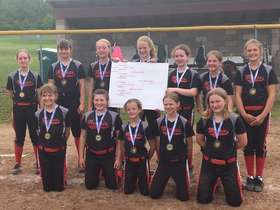 Congratulations to the 12U girls. 2017 Lady Bison Champions